Angela Merkel Loves Herself Some Hasso Plattner Institute
Executive Summary
Angela Merkel and other high placed German politicians love the Hasso Plattner Institute or HPI.
We covert the Real Story with the Hasso Plattner Institute?
Video Introduction: Angela Merkel Loves Herself Some Hasso Plattner Institute
Text Introduction (Skip if You Watched the Video)
It is always interesting to find something that the participants thought was a good thing, but it is a cause for concern when viewed by others. This article will review just such an item, which is the listing of powerful German politicians on the Hasso Plattner Institute website. One would think that this would show problematic conflicts of interest, but apparently, many German politicians do not think so. These types of cozy relationships between German politicians and German conglomerates go a long way in explaining how the German government was so complicit in the Volkswagen scandal.
Our References for This Article
If you want to see our references for this article and other related Brightwork articles, see this link.
Lack of Financial Bias Notice: We have no financial ties to SAP or any other entity mentioned in this article.
This is published by a research entity.
Second, no one paid for this article to be written, and it is not pretending to inform you while being rigged to sell you software or consulting services. Unlike nearly every other article you will find from Google on this topic, it has had no input from any company's marketing or sales department. 
Angela Merkel and Company Love the HPI
This article may be titled Angela Merkel Loves Herself Some Hasso Plattner Institute.
However, notice the various people providing quotations in support of the Hasso Plattner Institute. It is certainly not only Merkel who feels this way.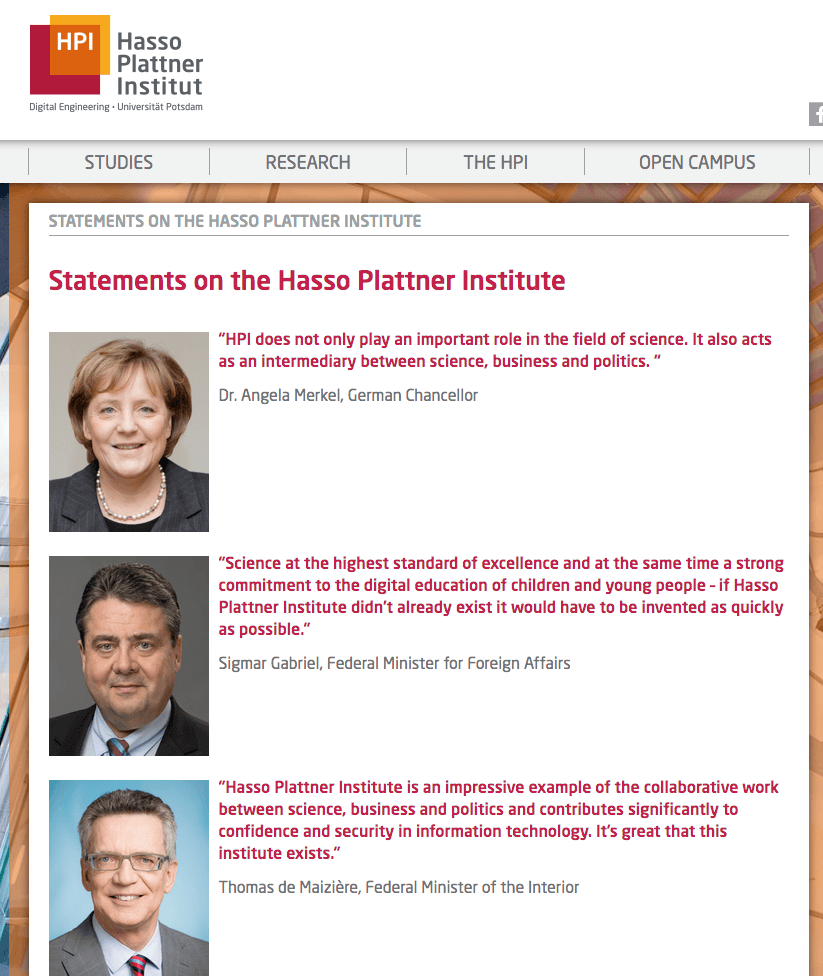 That is a lot of good things that have been said.
What is The Real Story with the Hasso Plattner Institute?
We have a different view of the Hasso Plattner Institute. We view it as a propaganda apparatus for SAP to promote HANA. And while Hasso Plattner has a Ph.D., we cannot accept him as a professor because, in so many books and quotations, he shows extremely little interest in what is true, which is why we call him the PT Barnum of enterprise software.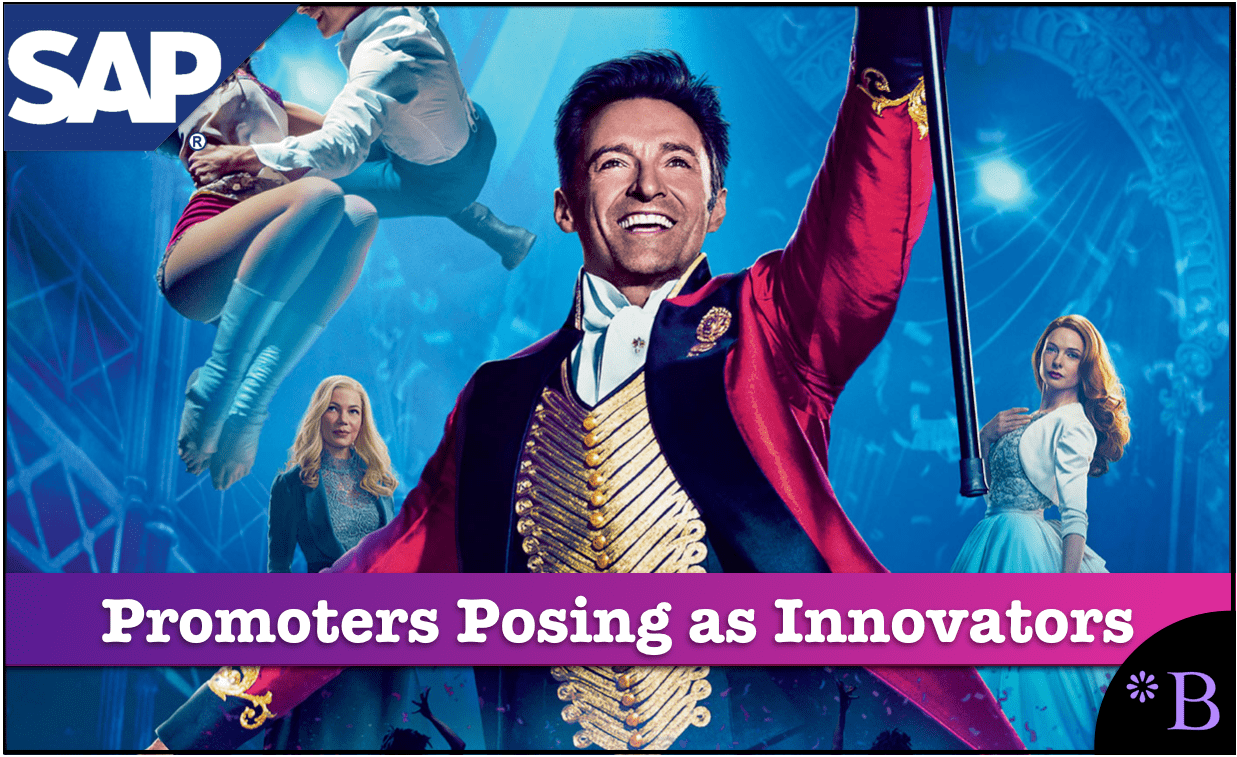 We are a research entity and take research seriously. However, performing research means following a series of rules. It means limiting one's statements to what can be proven. When has Hasso Plattner ever done this? Hasso Plattner wants to have it both ways. He wants to make a virtually unlimited number of unsubstantiated statements and wants to be considered to have the integrity of a scientifically based academic. Perhaps one can explain how a person who is primarily concerned with what is true over what is profit maximizing ends up worth $20 billion? 
Any research performed by the Hasso Plattner Institute must be consistent with Hasso Plattner's outlines and with SAP. However, the problem is that Hasso Plattner has routinely exaggerated what HANA can do (as we cover in many articles, but one being When Articles Exaggerate HANA's Benefits. Both SAP and Hasso Plattner have lied about "inventing" HANA, as we covered in the article Did Hasso Plattner and His Ph.D. Students Invent HANA?
What Does Angela Merkel Know About the Hasso Plattner Institute?
In our review of a wide variety of vendors, we cannot find another vendor that frequently lies as SAP. Therefore, does this sound like a good starting place to create a research institute? Note to Hasso…universities and research institutes cannot be based upon false statements and exaggerations made for the exclusive purpose of selling items.
Does Angela Merkel know that SAP provides only one benchmark to verify its performance claims and that that benchmark is in the one type of database processing that HANA does well (as we cover in the article What is the Actual Performance of HANA?)
The issue is that the Hasso Plattner Institute cannot be divorced from the claims made about HANA and the fact that HANA cannot meet the vast majority of these claims.
The Problem with Government and Business Alignment
When governments are tightly connected to a business, the business seeks to have the government protect them from market forces. Some questions spring to mind.
Do any of the people on this list know how SAP competes? Do they care?
What happens if, at some point, the German government needs to intervene to stop SAP from acting in a monopolistic fashion? Will the German government be willing to do it after being so associated/chummy with SAP?
As most of the companies that SAP rips off are not German, but Germany receives the tax and employment benefits of the extraction, will Germany's government care who SAP rips off?
Merkel's Bad Precedent of Responsibility Taking with the VW Scandal
Angela Merkel already removed the German government from any blame in the VW diesel scandal, where VW was found to have installed software that allowed their highly polluting Golf's to cheat emissions tests.
"Ms Merkel also rejected a suggestion from committee members that VW's cheating had amounted to a "failure of government" and ruled out reform of Germany's transport authority in response to the affair.

"This was not [the government's] scandal; it was VW's scandal," she said."
Merkel then lied to the EU commission about the well known polluting properties of diesel. The following is from Financial Times magazine.
"In addition, Ms Merkel warned against efforts to demonise diesel technology, noting that diesel cars emitted less carbon dioxide, the greenhouse gas blamed for global warming, than petrol cars and so were more environmentally friendly.

She also argued against excessive regulation of an industry that employs nearly 800,000 people in Germany. "We should have regulation that is ambitious, but not to such an extent that cars can no longer be produced [here]," she said."
How Did VW Get Around German Oversight So Easily Again?
According to Merkel, overly ambitious regulations would mean testing German automobiles such that those cars could not cheat on emission tests.
"She said she had entrusted her transport minister Alexander Dobrindt, who has oversight over the German car industry, to investigate the affair on behalf of the government, and saw "nothing wrong" with his handling of the issue."
Yes, one of the most massive failures of automobile regulation is not the fault of the government of the country where they are made!
How Historically Connected is Germany's Political System with the German Automobile Industry?
Germany's political system is highly intertwined with the German automobile industry, with politicians shuttling back and forth to the German automobile companies for employment.
As pointed out by DW magazine,
"The NGO's report also detailed how the ties between the government and the auto industry, particularly Volkswagen, helped car manufacturers to carry on evading emissions tests – even though environmental groups had for years pointed out the discrepancies in emissions tests. It took US environmental authorities to uncover the practice, which eventually led to a $2.8 billion criminal fine for VW and the resignation of Volkswagen CEO Martin Winterkorn in November 2015. On Thursday it emerged that US authorities have filed arrest warrants for five former VW executives at Interpol.

"There are very close relationships, but VW isn't any more influential than the others, BMW or Daimler," said LobbyControl spokeswoman Christina Deckwirth.

Germany has become particularly notable for the ease with which top businessmen find roles in politics and vice versa. The automobile industry has, as Deckwirth put it, "noticeably many" such revolving doors to the government. "What you notice in particular is how many come out of Merkel's circle," she said. "She really seems to have very close relationships there."

"The interesting thing about him is that he played a role in the cover-up affair when it came to investigating the emissions scandal," said Deckwirth. "We think that is very illustrative – that shows that Merkel lacks the sensibility for this issue. German politicians see themselves as protectors of the car industry."
Conclusion
Articles have been written about German political ties to the German automobile industry. But it is almost assured that if one peeled back the onion on the relationship between SAP and the German government, one would find very similar ties. Given Angela Merkel's foolish defense of her government regarding the VW diesel cheating scandal, something similar would occur for any scandal that engulfed SAP.