Can You Take and Pass the HANA Challenge?
Executive Summary
We have devised one of the most difficult challenges in all of IT.
To pass it, one must write out the claims made by SAP on HANA.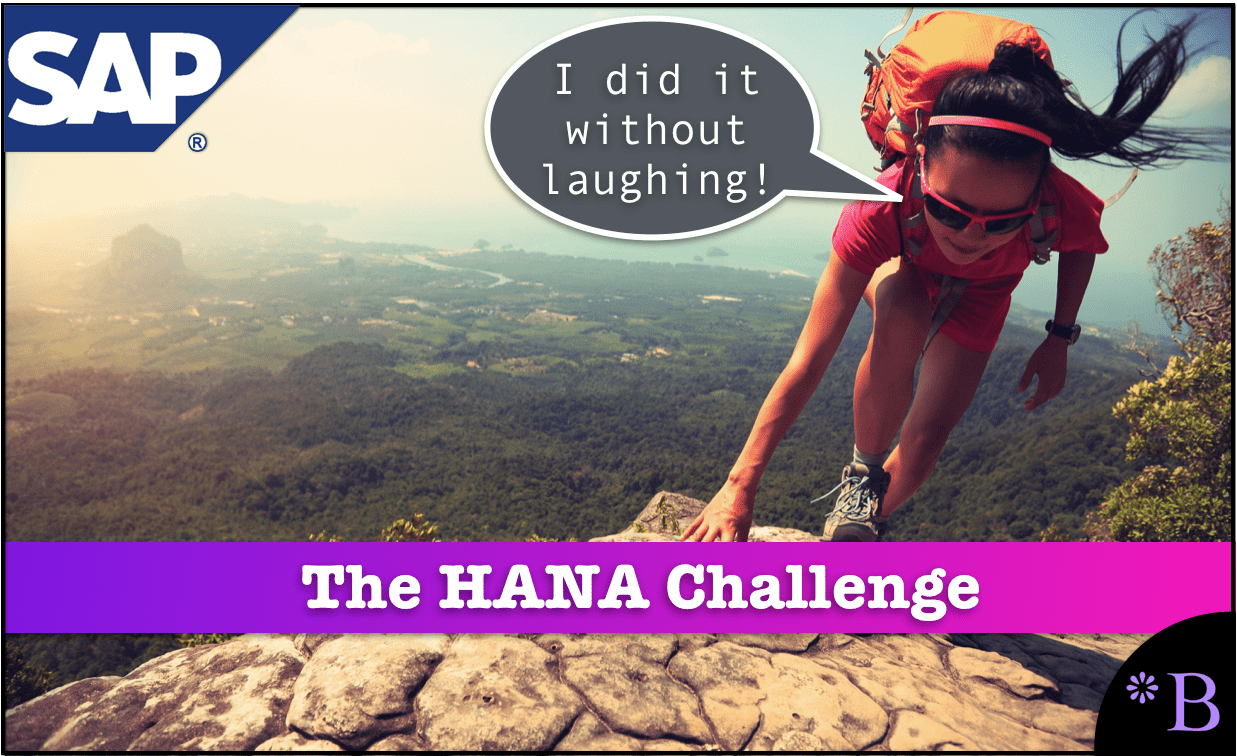 Introduction
SAP made many claims about HANA, and one of the most inaccurate was that HANA was not only a database but so many other unrelated items. Therefore we decided to create this challenge.
Our References for This Article
If you want to see our references for this article and other related Brightwork articles, see this link.
Lack of Financial Bias Notice: We have no financial ties to SAP or any other entity mentioned in this article.
This is published by a research entity.
Second, no one paid for this article to be written, and it is not pretending to inform you while being rigged to sell you software or consulting services. Unlike nearly every other article you will find from Google on this topic, it has had no input from any company's marketing or sales department. 
SAP Claims on HANA
A database, and zero latency at infinite load.
A platform
A development environment
A cloud offering
A cloud development environment
An advanced planning system (don't question it, Pedro — but HANA was slated to replace APO – which would be the first application ever replaced by a database in human history)
A Big Data platform
An entirely new application architecture.
A coffee maker
A popcorn machine
I have been laughing heartily as I have been writing this.
Everything listed above (except the coffee machine and popcorn maker) are real SAP claims.
You cannot repeat the HANA crowd's claims and have any background in software and databases and not begin laughing. Just try to type out the claims.
But it does not stop there. As pointed out by Rolf Paulsen, HANA was not only a database but multiple database "types," which Rolf accurately lists as the following:
A relational database for all OLAP use cases
A relational database for all OLTP use cases
A NoSQL database
A graph database
A geospatial database
Typing this all out without being seized by the natural compulsion to laugh is what we call the "The HANA Challenge."
Taking Responsibility for Lying to Your Clients
Something that needs to be discussed is how wrong so many people were on HANA. We covered this in the article Who Was Right and Who Was Wrong on HANA?
Now is an excellent time for all those who had no idea what they were talking about or lied for SAP to so many customers to come clean and admit it. You can look in the mirror and repeat it three times.
"I am a parrot for SAP."

"I repeat things I don't know are true."
Who Needs To Do This?
That includes Gartner, Accenture consultants, Forrester. The list is quite long.
The HANA Fiasco is not just a matter of not HANA, not meeting its performance claims; this is one of the ridiculous proposals in enterprise software history. I will reach out to the Computer History Museum in Mountain View to get HANA listed somehow. Future generations have to know what happened. And we have the quotations documented.