Canada's Fast Growing Problem with Indian IT
Executive Summary
Canada has one of the highest levels of Indian immigration in the world.
This is having a negative and exclusionary effect on domestic IT labor in Canada.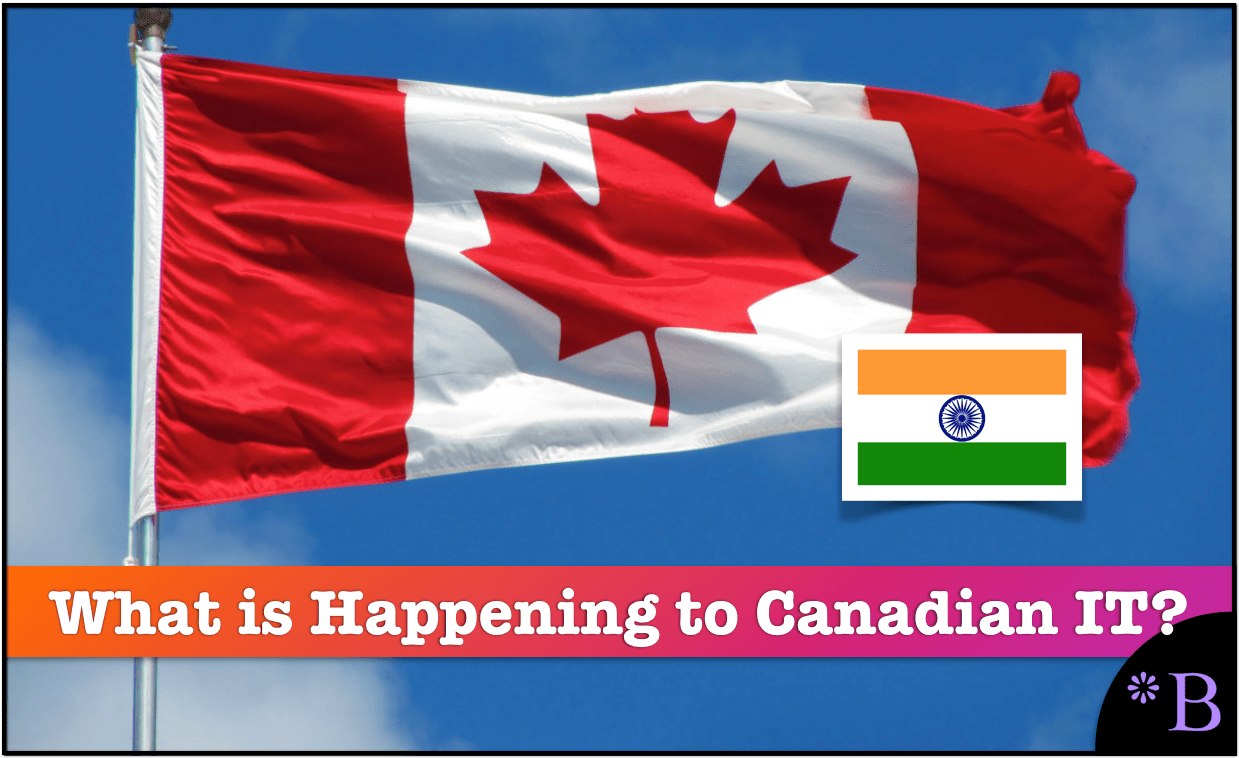 Introduction
Most of the emphasis on Indians taking over IT in historically European based countries has been in the US. However, the same thing is occurring, but to even a greater degree in Canada.
This story is from 2013. It is dated, but so good that it is very worth evaluating.
Dozens of employees at Canada's largest bank are losing their jobs to temporary foreign workers, who are in Canada to take over the work of their department. "They are being brought in from India, and I am wondering how they got work visas," said Dave Moreau, one of the employees affected by the move. "The new people are in our offices and we are training them to do our jobs. That adds insult to injury."

Moreau, who works in IT systems support, said he is one of 50 employees who facilitate various transactions for RBC Investor Services in Toronto, which serves the bank's biggest and wealthiest institutional clients.

In February, RBC told Moreau and his colleagues 45 of their jobs with the regulatory and financial applications team would be terminated at the end of April.

"There are a lot of angry people," Moreau told Go Public. "A lot those people are in their late 50s or early 60s. They are not quite ready for retirement yet, but it may be very difficult to employ them." – CBC
And this is while there is no need for the bank to be focused on cost-cutting as it is doing very well.
"It's horrible to be in this situation," the employee said. "The bank is doing this while making billions of dollars in record profits and they don't think about the impact on us. We are like fleas on an elephant."

The foreign workers who are taking over the RBC work in Toronto are employed by a multinational outsourcing firm from India – iGATE Corp. – which has a contract with the bank to provide IT services.

However, it is against federal rules for any company to bring foreign workers into Canada temporarily if it will put citizens out of work.

"The rules are very clear. You cannot displace Canadians to hire people from abroad," said Immigration Minister Jason Kenney.

The federal government recently announced it is tightening rules for its Temporary Foreign Worker program because of criticism over foreigners taking jobs from Canadians. – CBC
Increasing Service With Outsourced Indian Support?
RBC has the typical corporate-speak explanation for why the changes occurred.
"External suppliers with the right skills allow us to introduce new efficiencies, continually improve our service at reduced cost and reinvest in initiatives that enhance the client experience," a statement from the bank read. "Agreements with our suppliers include strict controls and ongoing monitoring to ensure full compliance with all regulatory requirements."
This is an amusing quote — because it has never occurred that replacing a domestic labor force with an Indian labor force improves service. The hallmark of the Indian takeover of an area is that customer service declines. This was clearly demonstrated when SAP outsourced its support to India as we cover in the article How to Understand SAP's Declining Support and the article How SAP and Oracle Stripped Value from Support.
The reason for this action had nothing to do with increasing support — it had to do with cutting costs. Obviously, RBC will tell any lie to try to cover up what is obviously happening.
Who is iGate?
iGate has a history of displacing US workers, as is covered in the following article.
In 2008, the multinational paid $45,000 to settle charges by the U.S. Department of Justice for discriminating against American citizens. iGATE was advertising jobs in the U.S. for foreign workers — effectively saying Americans need not apply.

iGATE said it brings its foreign workforce into Canada under the Temporary Foreign Worker Program and under intra-company transfer visas.

However, a Toronto immigration lawyer says there is no loophole in any visa category that allows companies to displace Canadians who are able to do the work. – CDC
How can the fine for discriminating against non-Indian candidates be $45,000? That is far less than the Department of Justice paid to bring the case against iGate. This means that in addition to discriminating against non-Indians, iGate cost US taxpayers again when the DOJ brought the case. That is, US taxpayers paid for the DOJ to bring the case. Secondly, iGate makes far more by bringing in just a few Indian foreign H1-Bs, L1s, etc. than $45,000. What does iGate care about paying a $45,000 fine, except for bad publicity? And of course, did the DOJ make iGate change its policies? No, they never do. The DOJ is interested in getting its name in the papers, and then it moves on to the next topic, and nothing changes.
How iGate intends to grow "its business with RBC.
The iGATE employees don't appear to have any special skills Canadians don't, the RBC workers told Go Public.

"That's why we are training them," Moreau said. "The person who is replacing me has asked a lot of questions and doesn't know a major portion of the type of systems that we are working with."

"If they had the knowledge [to do the jobs] it would be easier to swallow," said the unnamed employee, who predicted client service will suffer.

The workers also said they were not offered jobs with iGATE and were told this "realignment" might expand to affect more of the bank's 57,500 employees in Canada.

"We were told this is almost like a pilot project," the unnamed employee said.

"I am certain this isn't an isolated incident," Moreau said. "I know that iGATE has a very aggressive plan to grow their business over the next few years, and that's going to be at the expense of Canadian citizens who are working." – CBC
And there is a very interesting thing that followed. Capgemini purchased iGate back in 2015.
The Capgemini Acquisition of iGate
See the following quote from the Capgemini website back in 2015.
Paul Hermelin, Chairman and CEO of Capgemini, said: "This acquisition represents a major step in Capgemini's history. With IGATE, our operations in North America have taken a new dimension and are now our largest market in revenues. Our combined operations in India have now reached the size to compete at par with the world leaders in our industry. It will also benefit our customers by taking further our industrialization and innovation initiatives. On behalf of our group, I'm glad to welcome the 31,000 people of IGATE to Capgemini".
This means that the employees working for iGate now work for Capgemini. This means that part of Capgemini is a bottom-feeding Indian outsourcing firm. It is curious how Capgemini can, in one move, buy a bottom-feeding outsourcing firm like iGate, and then declare it is about "innovation."
Capgemini and other large consulting firms used to create highly paid jobs (albeit with an enormous amount of lying). However, now each of these companies has some type of outsourcing/offshoring business, and the income inequality in each company is far higher than it was historically. This is covered in the following quotation.
None of these companies mentioned here are Consulting Companies. They are really just staffing companies looking to place bodies for high hourly rates and pay the staff next to nothing. – Terence Somers
In 2017, another Canadian bank, CIBC did essentially the same thing, but this time using Accenture.
There were close to 2000 comments on this article. A few quotes I found of interest include the following:
Comment #1
Pull their license to operate in Canada. It's not like we need this particular bank when we have so many other banks and credit unions to replace it. You don't want to hire Canadians …but you still want to operate here. The answer should be..No you can't..
Comment #2
If Canadian banks enjoy protection from competition of foreign banks in Canada, they should not be allowed to outsource jobs. They can't have the cake and eat it too. As consumers, we must demand immediate relaxation of our banking regulations and allow foreign banks to come in here and compete with these greedy fat cats we've created.
Comment #3
Gee, when Trump mentions that the wonder of globalism is bad for the US economy, he's a racist/bigot/isolationist etc etc…..but suddenly Canadians (on this board) don't seem so open minded.
Businesses, especially banks, do not need to move jobs overseas to be competitive. The savings just go into the pockets of the executives. A good and fair economy can't run on vastly different labor wages and conditions, and limiting 'global trade' is not racist. It's just logical….but logic isn't in fashion these days.
Comment #4
Why wouldn't they? There's a billion Indians begging for any job including tech support scams. They will do it for five dollars and big companies rack up the money! Made in China 2.0 India Edition. People should step up and claim their rights. Else, all our jobs will be at risk.
Comment #5
Further, CIBC where can do this to Canadian Workers while coughing up with $6.6 Billion Cdn to grab 'PrivateBancorp Inc.' ; where the price that CIBC is eagerly willing to pay apparently is a little rich according some financial types…

(c) "Canadian Imperial Bank of Commerce is sweetening its bid for PrivateBancorp Inc. by 20 per cent, as buoyant markets thwarted an attempt by the country's fifth-largest lender to wait out a rally in U.S. regional bank stocks. The amended merger agreement values PrivateBancorp at roughly $6.6-billion (Canadian), or $60.92 (U.S.) per share, the banks said Thursday in a joint news release." (Globe & Mail)
The Effect of Indian IT on Canadian IT Workers
The following is from a Canadian significantly effected by the Indian takeover of IT in Canada.
I live in Toronto, where 90% of IT population are Indians.,  I resigned to multiple great  jobs because Indians have targeted me using very horrible/dirty tactics. I worked (company redacted), my hiring manager was Indian, he born in Canada and they are more fair, but he left the company. After this we got new Indians management, they treat us badly.   team lead resigned, few days latter I resigned too. I also worked in a (large media entity) in Canada…same stuff – PMO's from India treated me bad and I resigned. I'm an excellent resource, I like mostly all cultures.

Your article made me release many things, I won't be afraid stand up, in case more Indians want to hurt my carrier. I have shared your article with some ex-collages, they all agree about article is very true, they also had/have bad experience with Indians, it seems to have no end because they too many coming in the country.

We need to educate ourselves about what is going on in IT, we in hard times. Covid-19 changed things… In Canada there are less jobs, mostly all our jobs are outsourced to India.

90% of IT are Indians in (a major company) I worked.  Senior Indians in the company come to Canada at an astonishing rate. All of the numbers on the Internet are wrong, about Indians becoming citizen or residents. There are cities around Toronto full Indians, Brampton, Ontario is 100%  Indian community – approx 700K population.  White Canadians left Toronto, before corona virus they were leaving the city. This is in part due to frustrating about Indian bosses, VPS, high-level executives, etc.

If you walk around Toronto, you will have an extremely hard time to see white Canadians, even Chinese are gone, they also left. India community is very strong in Canada, with the current government support them, Indian Students get Canadian aid help because coronavirus –  super shocking for all the ones we pay taxes. The Canadian government's decision to give a monthly benefit of $2,000 each to foreign students during the corona crisis has caused resentment among local students who get only $1,250 each. Indian students—currently numbering 219,855—make up about a third of all 642,480 foreign students, the resentment is visible among many in the Indo-Canadian community for this 'preferential treatment' to them. Since Indian students are also allowed to work 20 hours a week, many in the community have been expressing resentment against them on radio and TV talk shows for stealing local jobs.

Another Punjabi journalist added: "Many students are reportedly sending money back to their families in India. I have also heard that many of them might be claiming this money while still stuck in India, though they are legally required to be in Canada. So why won't there be a craze in Punjab to send their children to Canada?

Current problem in Canada is not Covid-19, is that our jobs are fully outsourced to India." – The Tribune of India
What Do Immigration Attorneys Think: Aren't They Objective?
Notice this quote.
What are the reasons for this stunning increase in immigration from India to Canada? "Canada is benefiting from a diversion of young Indian tech workers from U.S. destinations, largely because of the challenges of obtaining and renewing H-1B visas and finding a reliable route to U.S. permanent residence," said Peter Rekai, founder of the Toronto-based immigration law firm Rekai LLP, in an interview. – Forbes
This is the same pattern of quotes from all immigration attorneys. Immigration attorneys make money off of working immigrants through the process. They don't have to work with any of the immigrants as to domestic Canadian workers, and they don't have to face discrimination by Indians, as Indians perpetually have been found to do. And significant media entities continually quote immigration attorneys as if they are objective sources of information on the topic of immigration.
Foreign Students as a Pathway to Foreign Work Visas
As we cover in the article How Indians Scam the Canadian Student Visa Program and Take Jobs from Canadians, Canada has a major issue with Indians entering the country under a student visa, which restricts foreign students to 20 hours per week, that are working more than full-time hours, and that the Canadian government is doing close to nothing to enforce.
Does the Canadian Immigration office have any ability to control the program being exploited?
Let us see if we can trace a possible issue with the leadership of Canada's Ministry of Immigration.
What Happens When The Name of Your Minister of Immigration is Named Ahmed Hussen
Is it really a good idea to have a Minister of Immigration of a historically and predominantly European based country name "Ahmed Hussen."
Take a guess what Ahmed Hussen will do to Canada's immigration policy. Well, he will open the flood gates to people from countries that are non-white.
Furthermore, this policy will do a few things.
It will move Canada to be less of a white country and enable the non-white immigrants to seize control of Canadian society. This means more Indian, Islamic, etc.. influence. That is more influence from broken countries — and less influence by domestically born Canadians.
More claims that Canada is an inherently racist and white supremacist society, and more calls for Canada to change. Over time, as we have seen in the US, this eventually becomes a highly divisive situation, with the culture becoming anti-white.
It will depress wages, as it will let in more workers. More workers with the same opportunities mean more labor competition and lower wages. Is this not true, or are the laws of supply and demand suspended because the added workers are Indian.
This will inevitably lead to higher income inequality in Canada.
As Indians are highly discriminatory, they will begin to push native-born Canadians out of jobs.
Immigrants from India or similar type countries never developed any freedom of speech protections. This means that there will be calls to censor unpopular or un-PC speech, even more than is already the case in Canada.
Having Very Fast Indian Immigrant Visa Approval is a Good Thing
More important to attracting employers and skilled workers to Canada is how much easier it is in Toronto and other Canadian cities to employ professionals comparable to H-1B visa holders. Under the Canadian government's Global Skills Strategy, the country's adjudicators approve many applications for high-skilled workers within two weeks and, in contrast to the U.S., the number of applications denied is low. – Forbes
This means that Indian labor can be mainlined right into the Canadian labor market, and domestic Canadian labor has very little protection.
One thing to note is that as we cover in the article How Indians Coordinate to Falsify IT Certifications, Indians are constantly lying about their skills and credentials and "spicing" their resumes. All of the Indian consulting/outsourcing firms are known to place whatever is necessary on the application to get that application approved. And governments bodies in the US at least have shown zero interest in validating any skill put down on a form, as we cover in the article How the US Department of Labor is Useless in Policing The H1-B Program.
Most of the Indians coming into the US and Canada are not highly skilled. However, this term is repeatedly used in media coverage without investigation into the topics raised above.
And who wrote this article?

This explanation is false. NFAP is not a "public policy research organization." They are a front for the H1-B lobby, and their only purpose is to promote more India immigration. They hide who is paying them, and pretend to be focused on the public interest. Most likely, they are funded by conglomerates to help sway public opinion to support more immigration. 
The author works for the National Foundation for American Policy. This is a pro-Indian immigration lobby group that took out this paid placement in Forbes. As we cover in the article Can You Trust IDC and Their Now China Based Owners?, Forbes was sold to a Chinese company — and anyone can get anything published in Forbes by simply paying them. This article is a "paid placement" designed to influence US immigration policy, by contrasting it with Canada's foreign worker policy to show how much Canada is "benefiting" from importing Indian labor.

Conclusion
This story is essentially the same every time it is reported to us.
Indians across the US, Europe, and Australia and New Zealand can discriminate against non-Indians and feel confident that they can, and not run afoul of regulations.
Companies like TATA Consulting can have almost all of its employees be Indian even though they have a substantial presence outside of India, as we cover in the article The Amazing Fact That 99.7% of Tata Consulting is Indian.
Indian firms, with the "look the other way" attitude of US companies, can bring bonded labor in the US as we cover in How Indian IT is Bringing Bonded Labor to the US. Those Indian firms can be confident that nothing will be done to enforce US law that states bonded labor is illegal.
Indian consulting firms can steal the wages of their employees as we cover in the article The Broad Scale Wage Theft by Tata Consulting and Infosys, and the Indian firms can be confident they will only get a slap on the wrist if caught.
Indians and Indian firms clearly have soft targets in European based countries, and they have absolutely no reason to stop their practices.
References
https://www.tribuneindia.com/news/world/trudeau-govt-aid-to-indian-students-causes-resentment-in-canada-95818
*https://nfap.com/
https://www.theglobeandmail.com/news/toronto/brampton-a-story-of-political-importance-power-and-ethnic-enclaves/article30273820/
https://vancouversun.com/opinion/columnists/douglas-todd-indo-canadians-in-uproar-over-surge-of-foreign-students
https://www.cbc.ca/news/canada/british-columbia/rbc-replaces-canadian-staff-with-foreign-workers-1.1315008
https://www.capgemini.com/ca-en/news/capgemini-completes-the-acquisition-of-us-based-igate-corporation/
https://www.forbes.com/sites/stuartanderson/2020/02/03/indians-immigrating-to-canada-at-an-astonishing-rate/#19970ce22b5f
https://www.cbc.ca/news/business/cibc-ceo-outsourcing-india-1.4050248