The Discrepancy Between SAP and DSAG on S/4HANA's Growth
Executive Summary
DSAG, the German-speaking SAP user group's survey of S/4HANA adoptions, showed important distinctions from what SAP has been reporting to Wall Street.
We analyze this discrepancy.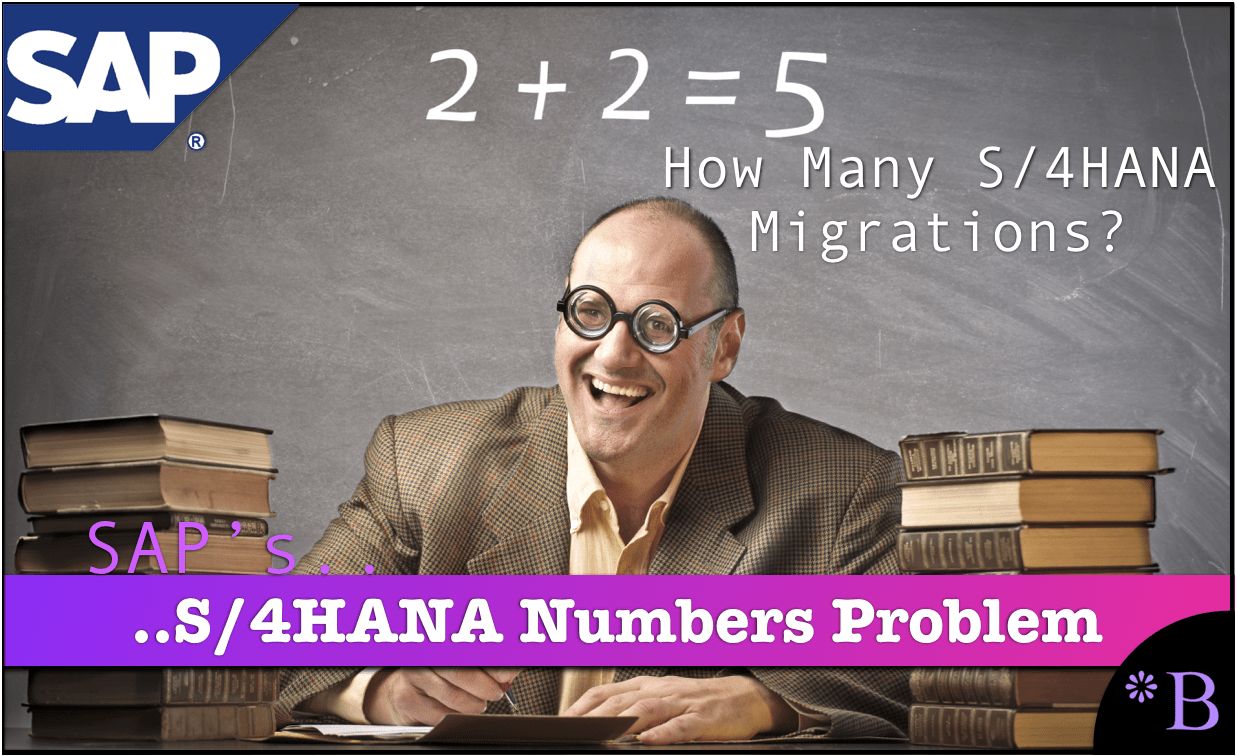 Introduction
We have been saying for some time that SAP's numbers on S/4HANA do not add up. When perusing a survey by DSAG, which is the German-speaking countries user group for SAP, we found interesting discrepancies between what SAP is reporting to Wall Street and what DSAG found.
Our References for This Article
If you want to see our references for this article and other related Brightwork articles, see this link.
Lack of Financial Bias Notice: We have no financial ties to SAP or any other entity mentioned in this article.
This is published by a research entity.
Second, no one paid for this article to be written, and it is not pretending to inform you while being rigged to sell you software or consulting services. Unlike nearly every other article you will find from Google on this topic, it has had no input from any company's marketing or sales department. 
DSAG on S/4HANA
We will begin by listing the most interesting quotations from the study.
"Just like last year, DSAG members were also asked about the relevance of Business Suite and S/4HANA, both on-premise and in the cloud. The survey found that there has been no further shift towards S/4HANA. In fact, main and mid-size investments in Business Suite fell by around 10 percent (from fall 2017) to 48 percent. However, this did not affect investments in S/4HANA projects, which remained almost constant. But there is a noticeable increase in the use of S/4HANA as a cloud solution (up 4 percent)."
And on the topic of S/4HANA Migration.
"The survey also found that DSAG members' plans on when to migrate to S/4HANA remained unchanged from last year, although 3 percent of members are already using S/4HANA (up 1 percent). 5 percent of those surveyed plan to migrate to S/4HANA this year, and one-third plan to do so in three years. A quarter of survey participants have not yet decided when to migrate and 13 percent plan to stay on Business Suite. For Marco Lenck, this is a noteworthy finding. He says: "The growth of 4 percent migration to S/4HANA that was forecast last year wasn't realized." And despite a large of number of projects, the number of migrations hasn't significantly grown. Marco Lenck continues: "This could be because the transition is more complex than expected, meaning S/4HANA projects couldn't yet be completed."
This is as we have stated. S/4HANA sees little growth. One should be careful not to take the "planned to…" estimates as hard commitments. Many companies plan to do things, and in many cases, it does not mean that it occurs within that time frame or at all. Notice that the "planned to" numbers are higher than the "currently" numbers.
What SAP Communicates About S/4HANA Adoption to Wall Steet
Now notice how different what SAP tells Wall Street about S/4HANA.
The following quotations are from the Q4 2017 analyst call.
Question 1: Ross MacMillan
"Thank so much. Maybe one for Luka, I think by my math, we're just over 20% of the core ERP base on S/4HANA and I just wondered if you could maybe remind us, where do you expect as to be in terms of conversion of base as we look out to our 2020 target? And then a follow-up and I don't know if this is for Bill or Bernd, but your comments on S/4 cloud are obviously bullish."
Notice the statement. Ross MacMillian has repeated what SAP said that they had converted 20% of their ERP customer base. But here, Ross is repeating the language that turns the "sale" of a S/4HANA license with the "conversion" of the customer. This is highly problematic as the vast majority of S/4HANA licenses are shelfware. Many of them either unpaid for or part of an indirect access dispute that resulted in S/4HANA being "purchased."
Notice Luka Mucic's answer
Answer 1: Luka Mucic
"Yes. Then just very quickly, I would definitely expect that by 2020, we should be done with half of the customer base and having it converted let's not forget that with our current S/4 customer count. We also have net new customers on top, not only installed base conversions. So that implies that I expect to see now an acceleration of the migration curve as customers have waited in some cases for the full round out of functional capabilities of S/4HANA as that work is now complete. They are starting their programs. So that will be my indication. We would do something wrong as by 2020. We have not already migrated at least half of our installed base."
Once again, SAP is referring to licenses sold by SAP. Luka Mucic is, therefore, saying that by 2020 1/2 of SAP ECC customers will hold a license of S/4HANA. That is the actual translation of what Luca Mucic is saying, but this is not what SAP wants the analysts to believe. SAP has adopted the term "conversion" to deliberately blur the distinction between a license purchase and a software implementation.
Conclusion
Ever since SAP introduced S/4HANA, its proposals about S/4HANA's adoption have been misleading. We covered this in several articles, including How SAP Controls Perceptions with Customer Numbers. SAP intends to deceive as many people for as long as possible regarding the uptake of S/4HANA.