Why Doesn't the SAP Cloud Platform Have Any Reviews on G2Crowd?
Last Updated on May 20, 2021 by
Executive Summary
SAP promotes SAP Cloud to a high degree. However, there are no reviews on G2Crowd.
We ask why there aren't any reviews if the offering is as popular as SAP claims.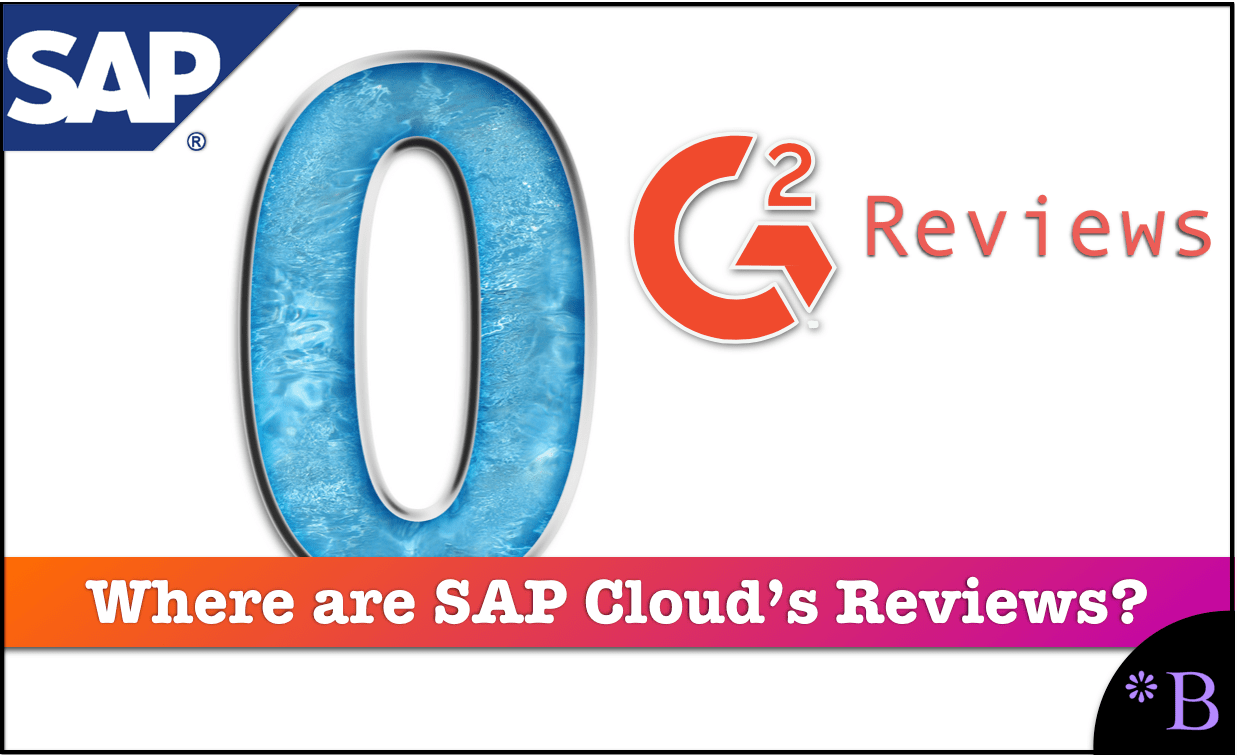 Video Introduction: Why Doesn't the SAP Cloud Platform Have Any Reviews on G2Crowd?
Text Introduction (Skip if You Watched the Video)
SAP has very heavily pushed the SAP Cloud Platform, which was renamed at SAPPHIRE 2017, to just the SAP Cloud Platform and then renamed it again to SAP Cloud. Repeatedly some of the worst products we have reviewed from SAP end up being highly rated on G2Crowd. Once one learns that G2Crowd is a marketing front end for vendors and share user information with vendors, it becomes clearer why such poor quality products can receive such high scores. You will learn as we review something strange about the discrepancy between SAP's statements about the SAP Cloud Platform and the evidence for its popularity.
Our References for This Article
If you want to see our references for this article and other related Brightwork articles, see this link.
Lack of Financial Bias Notice: We have no financial ties to SAP or any other entity mentioned in this article.
This is published by a research entity.
Second, no one paid for this article to be written, and it is not pretending to inform you while being rigged to sell you software or consulting services. Unlike nearly every other article you will find from Google on this topic, it has had no input from any company's marketing or sales department. 
SAP's Pronouncements on the SAP Cloud Platform
Bill McDermott has called SAP Cloud Platform one of the fastest growing applications/items that SAP has ever offered. What is left out of this statement is that SAP does not charge for the HCP. Therefore, depending on whether you give away a free trial, which SAP Cloud Platform does, you can get many people to sign up for something for free and easily accessible over the Internet. For example, I signed up for a free trial, even though I never did much in the SAP Cloud Platform environment.
How G3Crowd Compares SAP Cloud Platform to Other Cloud Environments
In G2Crowd, SAP Cloud Platform is categorized as a Cloud Platform as a Service or PaaS offering. The top-rated PaaS offerings are listed below.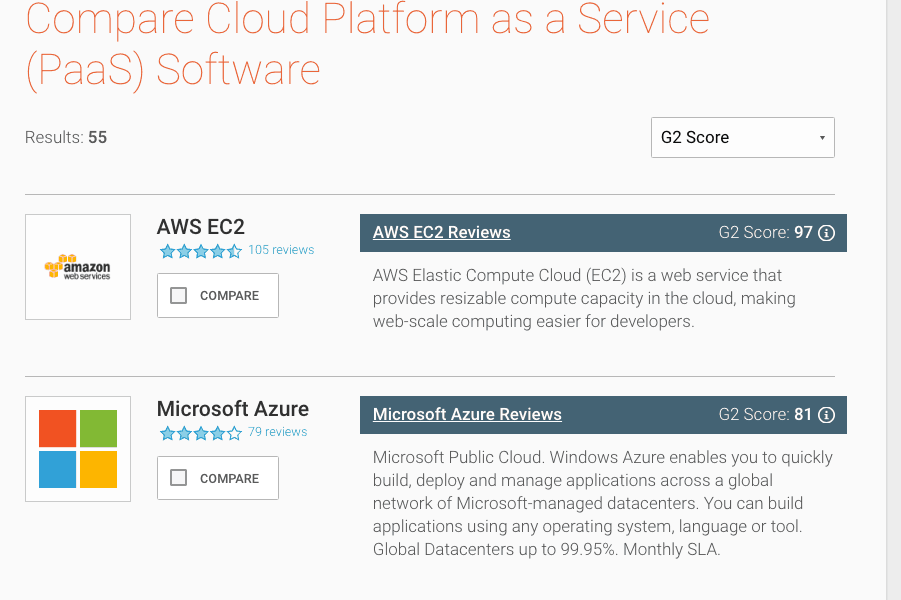 What is G2Crowd's Bias?
Now it should be noted that G2Crowd as a positive bias to their reviews.
For example, three of the worst products Brightwork Research & Analysis, as ever reviewed, are the SAP BW, IBM Cognos, and SAP PLM. Each of these awful applications managed to attain an average rating of 4 out of 5 on G2Crowd.
The reason for this bias could have some sources that are unrelated to G2Crowd manipulating the reviews. For instance, I submitted a one-star review for SAP BW, calling it one of the worst applications in enterprise software, and G2Crowd did publish that review. Reasons could range from the fact that people that consult in applications have the incentive to sugarcoat the application due to their financial bias, and so on. Secondly, G2Crowd is funded by vendors, a fact which they don't publish on their website anywhere. Therefore, they have all the incentives in the world to make the software look better and have higher satisfaction than it does. However, while G2Crowd
However, while G2Crowd has a strong positive bias, one measure of G2Crowd can be considered accurate: the number of reviews per product. And if we look at just that feature, we can see that AWS, the clear leader in PaaS, has 105 reviews. The acknowledged runner-up in the PaaS space, Azure, has 79 reviews posted. Therefore, we have conformance with what we would expect at the top of the PaaS ratings on G2Crowd.
What is SAP Cloud Platform's Real Popularity?
Now SAP's statements regarding SAP Cloud Platform's popularity always seemed strange because it is, in fact, rare to see people using SAP Cloud Platform on SAP projects. And on G2Crowd, the SAP Cloud Platform does not have a single review. SAP has the marketing muscle to push the adoption of very marginal offerings. So how could it be that the SAP Cloud Platform would have such low interest on an open site like G2Crowd?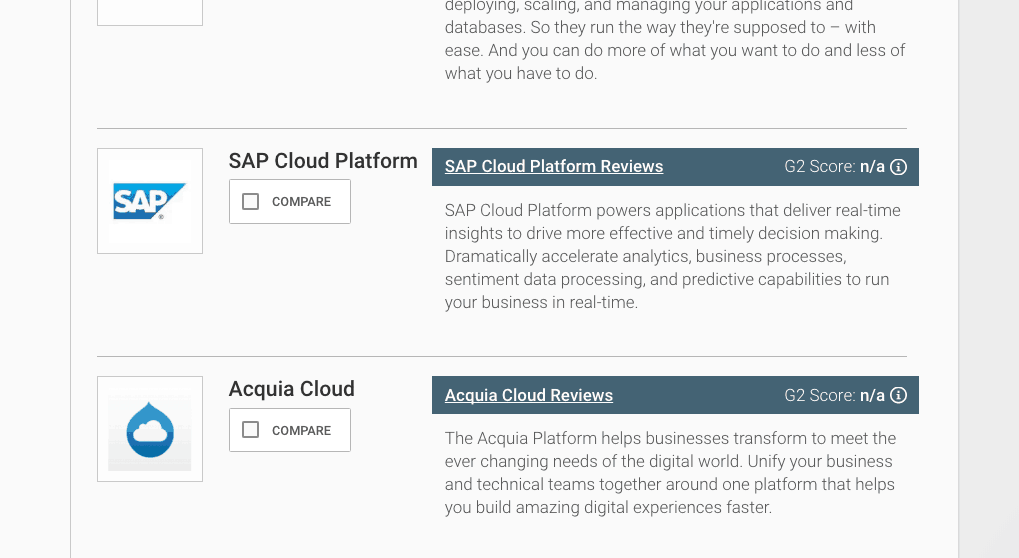 Conclusion
The most likely explanation is that SAP is misleading customers and Wall Street on the SAP Cloud Platform's popularity.