Did Fiori Actually Run on a SmartWatch?
Executive Summary
SAP proposes that Fiori ran on a smartwatch.
This information was released through ComputerWorldUK as a "paid placement" that S/4HANA was a game changer and reduces system latency.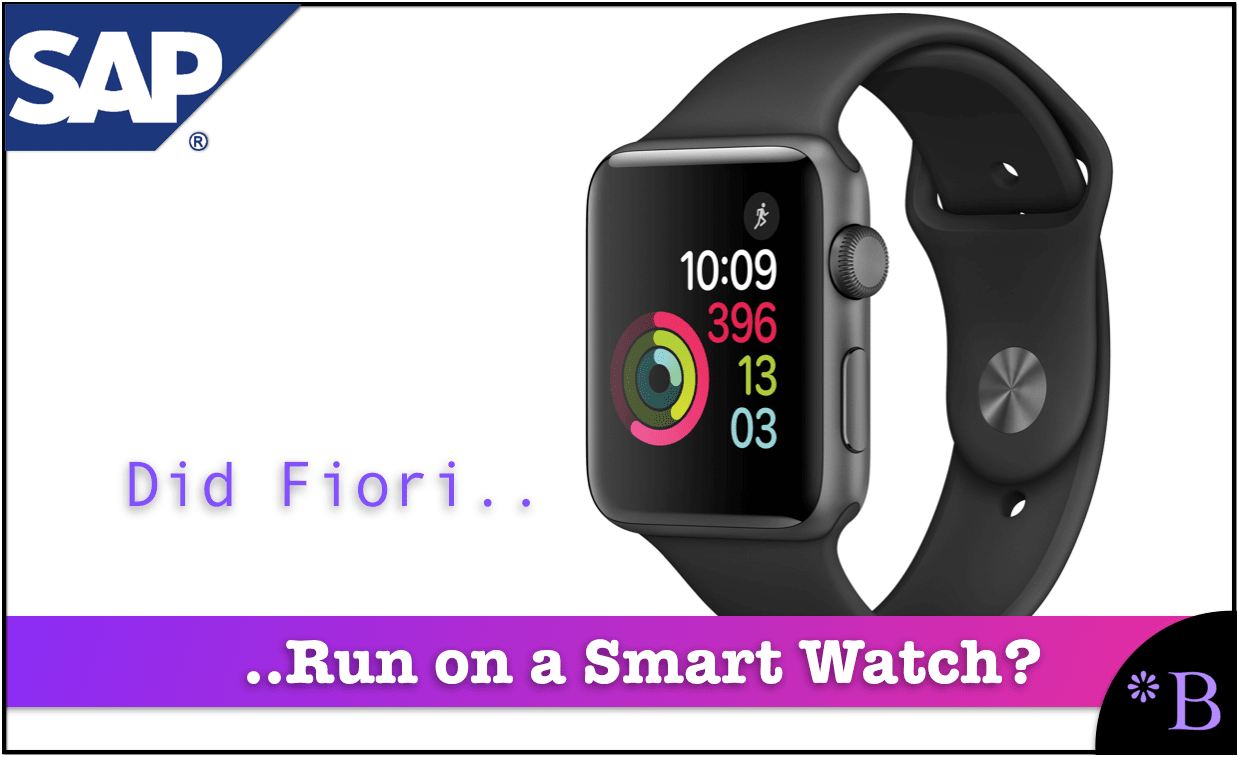 Introduction
On Feb 3, 2015, ComputerWorldUK wrote the article SAP Announces Brand New ERP that Works on your Smartwatch.
In this article, we will review the accuracy of ComputerWorldUK.
Our References for This Article
If you want to see our references for this article and other related Brightwork articles, see this link.
Lack of Financial Bias Notice: We have no financial ties to SAP or any other entity mentioned in this article.
This is published by a research entity.
Second, no one paid for this article to be written, and it is not pretending to inform you while being rigged to sell you software or consulting services. Unlike nearly every other article you will find from Google on this topic, it has had no input from any company's marketing or sales department. 
Fiori on a Smartwatch?
Here is one of the beginning quotes of the article. Notice that many contentions are being made, and ComputerWorldUK does not seem to distinguish whether SAP or ComputerWorldUK offers this view of what S/4HANA is capable of.
"SAP has announced 'S/4Hana', the successor to R/3 or SAP Business Suite with easier-to-use interface, disruption free migration and super-fast data analysis with Hana."
As anyone who has studied S/4HANA knows, S/4HANA is probably the most disruptive ERP system ever brought out by SAP. For one thing, all the customizations must be rewritten to match with S/4HANA's entirely new data model. DidComputerWorldUK verify the level of disruption inherent in S/4HANA? If they did, the author of this article is not qualified to write on this topic. If they didn't and just took SAP's word for it, that is also a problem.
"(A) Suite, with an easier-to-use interface, disruption free migration and super-fast data analysis with Hana."
The same thing, this is the official SAP position on these things. What isComputerWorldUK's take on these contentions? If one wanted to, one could merely read these contentions on the SAP website. Why are we reading a ComputerWorldUK article that is a carbon copy of whatever SAP says?
"The new ERP announced this afternoon boasts "re-written code (no materialised aggregates)" that make the most of Hana's speedy data crunching. It uses SAP Fiori's interface and is available as SaaS and on-premise.

It even has the added bonus, Bernd Leukert demonstrated, of accessibility for certain applications on a smartwatch thanks to the Fiori interface. (emphasis added)

During the launch in New York, a demonstration revealed how the speedier Hana-enabled replacement to SAP R/3 – which has been around since 1992 – can crunch data "on the fly"."
Bernd Leukert Said So? : We have a long list of Bernd Leukert quotes on various topics and do not find him to be a reliable source on SAP. We won't go into the "greatest hits of Bernd Leukert," but most Bernd Leukert quotes are cringe-worthy, and he will say anything for money.
Fiori Being Used on Smartwatches? Even now, no one currently uses Fiori on a smartwatch; this is a silly contention. A smartwatch can be used for taking a phone call or calendar, basic types of information. This is obvious to anyone using a smartwatch that it is not a good screen size for performing ERP tasks.
So it can be said that both SAP and ComputerWorldUK were wrong about this. If anyone reading this article has examples of ERP functions being performed through Fiori on a smartwatch, please leave a comment.
S/4HANA is a Game Changer?
"Commenting on the launch, principal at Deloitte Consulting's Jan Waals said: "Deloitte has been delivering SAP HANA since some of the first clients adopted the platform, and working closely with clients on the adoption of SAP Simple Finance. As an in-memory technology, SAP HANA removes the latency of decision-making and is foundational to the future of real-time business. SAP S/4HANA is a game-changer for ERP and provides an entirely new way for our clients to simplify their business and provide a better customer experience in a digital, networked and complex world."
Over two and a half years after this article was written, this has not turned out to be true. ERP systems generally have few problems with latency. There are issues with SAP reporting, but a far bigger question than latency is the long queues of reports sitting at the door of SAP BW departments in companies. This issue of latency has been a fixation of Hasso Plattner, but it never made any sense. It does not reflect the reality of SAP projects and is emphasized by Hasso and others at SAP because of what SAP wants to sell.
Reducing System Latency = Reducing Decision Making Latency?
Secondly, what Hasso is saying regarding the latency of decision-making is incorrect. It still takes humans time to make decisions. Talk about being over computati0nally focused. We have so much more computational power than we did 20 years ago — but are the choices that much faster? Are they better? Do faster decisions lead to better decisions, and do we want faster decisions or better decisions?
The Internet provides so much information at our fingertips, but does this directly drive better decision making? What do we make of the declining average attention span as the Internet has become our primary information source? Although perhaps it is unsurprising that a software company with software to sell would propose such an oversimplified decision-making model.
Increase the RAM on the server by 2x, and decisions immediately improve by 2x!
Hasso frequently proposes that humans can make instant decisions if the information is available from the computer. When introducing a healthcare product (that never was released), he has also stated that physicians needed to make instant decisions, displaying a misunderstanding of how medical decision-making works. That may be true in an emergency room scenario, but even here, the orientation is to stabilize the potential so that analysis can be performed if surgery is required. Physicians do not know and do not need to make instant decisions. 
Conclusion
This is a paid placement by SAP into ComputerWorldUK and a ham-fisted one at that. People are not running Fiori from smartwatches (or using jetpacks to commute to work). S/4HANA is not only not a game changer; it is barely implemented. Nothing in the article is correct, and ComputerWorldUK serves merely as a marketing outlet for SAP. This article is designed to make readers think these positive accolades about SAP were written by ComputerWorldUK when they were self-bestowed by SAP. What would we say about a media entity that mindlessly repeated all of Trump's tweets regarding what a good job he was doing? Not much, right?
This article receives a 1 out of 10 on the Brightwork Accuracy Scale.