Whatever Happened to the SAP and Apple Partnership?
 Executive Summary
Fortune wrote an article on the SAP and Apple partnership.
We review the accuracy of Fortune.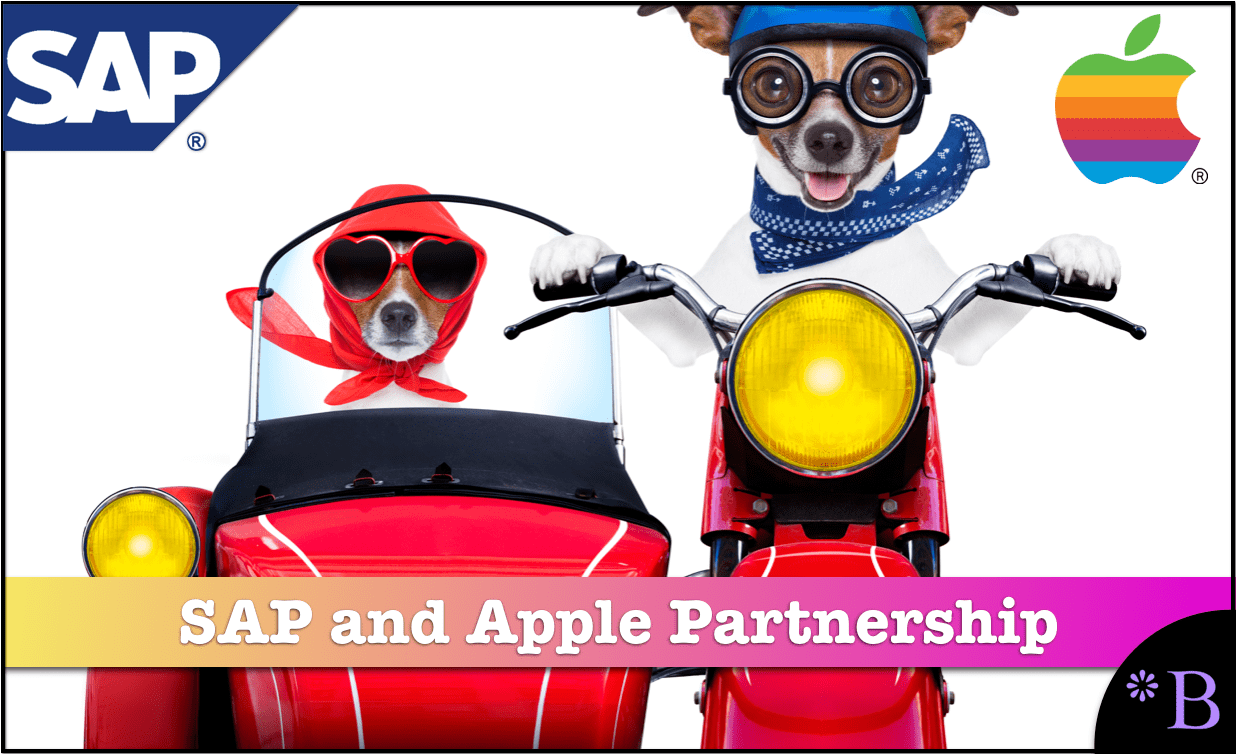 Video Introduction: Whatever Happened to the SAP and Apple Partnership?
Text Introduction (Skip if You Watched the Video)
On May 05, 2016, Fortune published the article Apple and SAP Team Up for Blockbuster Partnership. You will see our review of the accuracy of this Fortune article. The announcement was curious because it was made after SAP had put so much marketing effort behind its Fiori UI. Fiori was mobile-first UI, which created a significant question as to why SAP was planning to leverage iOS. And like so many SAP partnership announcements before them, which never amounted to anything. You will see how SAP could receive entirely complicit coverage in the media for a fake partnership.
Our References for This Article
If you want to see our references for this article and other related Brightwork articles, see this link.
Lack of Financial Bias Notice: We have no financial ties to SAP or any other entity mentioned in this article.
This is published by a research entity.
Second, no one paid for this article to be written, and it is not pretending to inform you while being rigged to sell you software or consulting services. Unlike nearly every other article you will find from Google on this topic, it has had no input from any company's marketing or sales department. 
Article Quotations
"Apple just partnered with another business technology giant in hopes of winning mind share as a serious corporate technology supplier.

The Mac maker and enterprise software titan SAP have joined forces in a partnership that will see SAP building corporate apps tailored for Apple's mobile devices like the iPhone and iPad.

Additionally, SAP also will create a new software development kit that corporate developers can use to build their own iOS apps for their companies. The new software development kit will let coders build corporate software powered by SAP's HANA database technology."
Powered by HANA?
SAP attempts to get HANA to "power" things outside of using SAP BW have not worked very well.
SAP has been trying to get noticed for its user interface, a long-term weakness for SAP. The idea is that Apple's excellent user interface capabilities could be brought to SAP.
What Happens to Fiori?
However, the announcement is also strange because SAP has emphasized the marketing collateral behind Fiori. SAP has stated that Fiori is SAP's future UI for everything that SAP offers. Although that will not be feasible for the UIs of SAP's acquired applications, they have their own UI. Secondly, Fiori is primarily a mobile user interface.
So why would SAP then begin promoting an Apple UI if SAP has Fiori?
"This partnership will transform how iPhone and iPad are used in enterprise by bringing together the innovation and security of iOS with SAP's deep expertise in business software," said Apple CEO Tim Cook in a statement. "As the leader in enterprise software and with 76% of business transactions touching an SAP system, SAP is the ideal partner to help us truly transform how businesses around the world are run on iPhone and iPad."
Yes, but Fiori is designed to run on iPhone and iPad. That has been an area of focus for SAP when they discuss and promote Fiori.
"For Apple (AAPL, +0.86%), the alliance is just the latest in a series of high-profile partnerships the Cupertino, Calif.-based company has been making over the past few years in an attempt to sell more of its devices to corporate customers.

In September, Cook said that Apple's enterprise technology sales hit $25 billion in a twelve-month period that ended in June. He stressed that enterprise sales are "not a hobby" for Apple, but he conceded that the company lacked the traditional sales expertise of selling to corporate clients enterprise companies typically have.

To build better sales relationships with companies, Apple has inked several partnerships with enterprise giants like Cisco(CSCO, +0.48%), Microsoft(MSFT, +1.35%), and IBM(IBM, +0.40%)."
Benefits of the Partnership Bearing Fruit?
I don't recall hearing any benefits from any of these partnerships. Fortune could bring up this history but unsurprisingly decided not to.
"We're proud to take this special partnership between Apple and SAP to a groundbreaking new place," SAP CEO Bill McDermott said in a statement. "In giving people an agile and intuitive business experience, we empower them to know more, care more and do more"

SAP and Apple did not elaborate on what type of corporate apps SAP will develop for the iPhone and iPad, only to say that they will be "for critical business operations" and will be built using Apple's Swift programming language.

It's also not clear at this time whether these corporate apps will be similar in nature to the over 100 business apps that have so far been built from Apple's partnership with IBM."
There does not appear to be anything of this partnership's significance to announce, except that SAP and Apple have agreed to partner with one another.
Conclusion
This looks like another paid placement on the part of SAP to Fortune. Since this announcement was made, there does not appear to have been any development regarding Apple and SAP.
This article's accuracy is so weak and is so obviously a paid placement that it makes no sense even to give it a rating. But if we had to, it would be a 0 out of 10.