Is HANA the Right Choice for Being an EDW?
Last Updated on May 7, 2021 by
Executive Summary
While there is a question as to whether HANA is appropriate for an enterprise data warehouse, SAP has a strategy for discounting HANA that connects to their overall strategy.
HANA and BW can be compared to the enterprise data warehouse.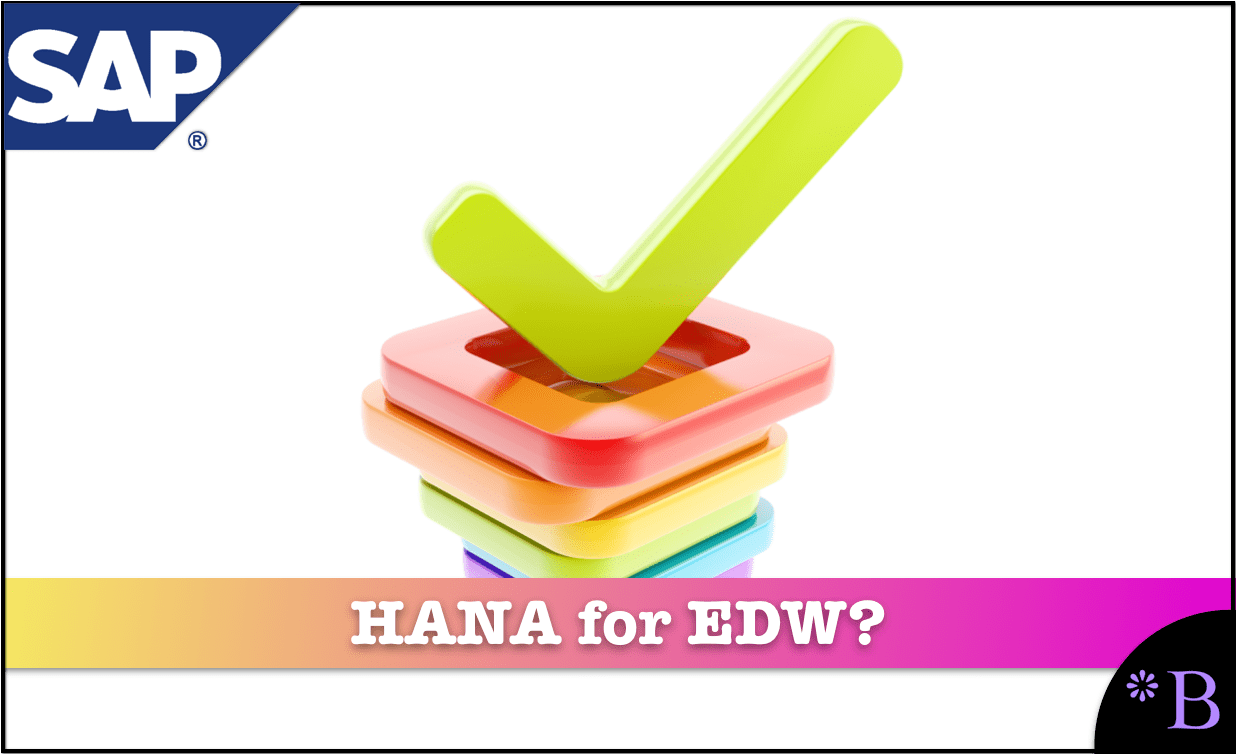 Video Introduction: HANA for EDW
Text Introduction (Skip if You Watched the Video)
SAP has been proposing HANA for a new purpose, namely to serve as the database for the customer's EDW. A basic question is whether SAP HANA the right choice for the Enterprise Data Warehouse? It is important not to simply accept SAP's claims, as they have a long-established pattern of making false claims for how their products can be used. You will learn about the definition of an Enterprise Data Warehouse, what is SAP's BW, and the issues with using SAP HANA in this way.
Our References for This Article
If you want to see our references for this article and other related Brightwork articles, see this link.
Lack of Financial Bias Notice: We have no financial ties to SAP or any other entity mentioned in this article.
This is published by a research entity.
Second, no one paid for this article to be written, and it is not pretending to inform you while being rigged to sell you software or consulting services. Unlike nearly every other article you will find from Google on this topic, it has had no input from any company's marketing or sales department. 
SAP's Strategy with Discounting HANA
For the longest time, the policy on HANA was not to discount HANA. This topic is covered in the article How SAP is Now Discounting HANA (Maybe). For the longest time, HANA was targeted towards smaller databases. SAP has been falsely proposing that HANA could shrink the data footprint by 98.5%. This has turned out to be false, as the actual shrinkage is closer to 1/3. This topic is covered in the article How to Best Understand the Price of HANA.
However, with SAP's recent change to discounting HANA (depending upon whether it decides to drop an indirect access claim on the customer later, as covered in the article the HANA Police and Indirect Access Charges), it has meant that SAP has begun proposing HANA to use in new applications. One of these applications is for the Enterprise Data Warehouse.
What is the Enterprise Data Warehouse?
The EDW stands for the enterprise data warehouse. If we look at the most common HANA implementation, it is for the SAP BW or the business warehouse. If you check the Enterprise Data Warehouse and the DW definitions, they can be roughly considered synonymous with each other. If HANA is commonly used for the SAP BW, then why is this a change?
What is SAP BW?
Well, the SAP BW is not a data warehouse in that it is not the single storage location for all of a company's data. The SAP BW typically stores the SAP data of a company.
SAP would like to think that this is all the data that a company has, but SAP is always only in control of a portion of the data that a company has. Other applications (packed software), as well as internally developed applications (that SAP likes to derogate as "legacy," as is covered in the article, How SAP Used and Abused the Term Legacy), always exist, and they always will.
Therefore, while the SAP BW has designs on being the single storage location of all data in a company, it never is. Consequently, it is not the Enterprise Data Warehouse.
How Do the Requirements of The EDW Match with SAP BW?
Secondly, EDWs have a series of requirements that the SAP BW does not serve very well. For one, companies that use SAP BW have difficulty meeting the backlog of the queue of reports that the group that manages the SAP BW is typically on restricted access. They could not think of picking up more work and managing more data even if they wanted to. Overall, the efficiency issues with the SAP BW prevent it from expanding beyond its specific role.
HANA for the Enterprise Data Warehouse?
None of this background has stopped SAP from proposing companies use HANA as the EDW. And when SAP suggests using HANA for the EDW, they also mean utilizing an SAP data application to sit on top of HANA.
Issue #1:

Expense

The first problem is that HANA is still so expensive that it is not financially feasible in most cases to push so much data inside of it. HANA's high TCO is not merely related to its license cost but to its hardware requirements, its high implementation and maintenance overhead, difficulty finding experienced skills, and its immaturity.
Issue #2:

100% In Memory for an EDW?

Much of the data in an EDW does not require the performance capabilities of an in-memory database. In-memory databases, it only makes sense for supporting databases with a high query volume, not data stores used to feed the queried database.
Issue #3:

Migrating All Data to Column Oriented Tables for Storage?

Most data in companies is not stored in the column-oriented tables that are used in HANA. For this reason, moving data into a HANA "powered" Enterprise Data Warehouse would mean changing the data from its original storage structure into the HANA structures. This is an unnecessary and overcomplicated amount of work and overhead to maintain before one even gets to the question of what SAP product should be used. SAP BW is too high in overhead to be an effective EDW tool. And Business Objects has been so starved of development by SAP that it is no longer an application that companies should be considered for investment due to competitiveness and support issues. And once one eliminates these two data applications, there is nothing else that SAP offers that could fill this role to interoperate with HANA, even if HANA were the right choice for being the EDW database.
Conclusion
SAP is trying to pitch HANA for things that don't make very much sense. SAP has been pressing on using a single database type, the column-oriented design for virtually any application is. And proposing HANA for a customer's EDW is another example of this.