How Accurate Was Bluefin Solutions on C/4HANA?
Last Updated on May 24, 2021 by
Executive Summary
Bluefin Solutions published a bizarre article on C/4HANA that focused more on methodology than on what C/4HANA is.
The proposal by Bluefin Solutions is that C/4HANA will speed implementations.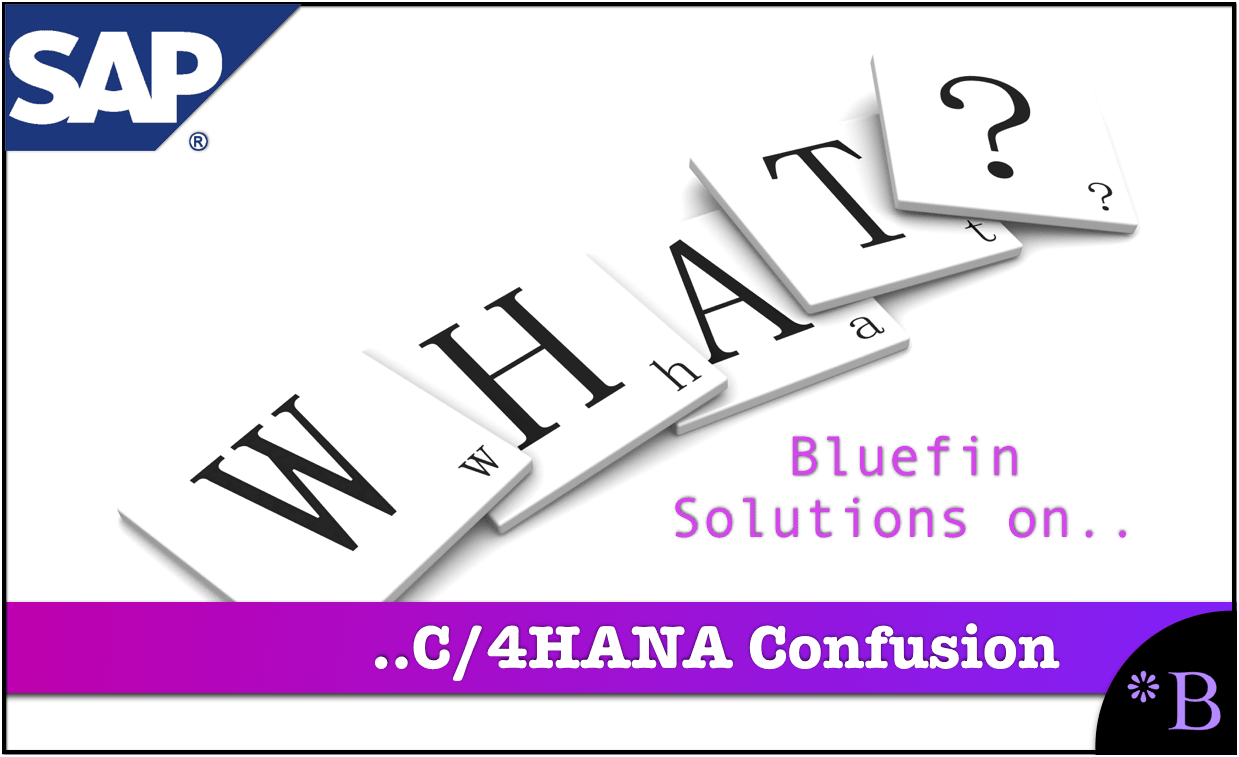 Video Introduction: How Accurate Was Bluefin Solutions on C/4HANA?
Text Introduction (Skip if You Watched the Video)
Bluefin Solutions has been the source of an enormous amount of inaccurate information around HANA and S/4HANA. But visiting the Bluefin Solutions website, one can find false information on any SAP topic. The reason is that none of the information is designed to be accurate. It is intended to drive revenue and to be consistent with whatever SAP says. Yet Bluefin Solutions presents itself as a consulting firm you can trust. Bluefin Solutions creates exaggerated roles for its employees that make it appear as if they are managing enormous businesses by themselves. We analyze their coverage of SAP C/4HANA.
Our References for This Article
If you want to see our references for this article and other related Brightwork articles, see this link.
Lack of Financial Bias Notice: We have no financial ties to SAP or any other entity mentioned in this article.
This is published by a research entity.
Second, no one paid for this article to be written, and it is not pretending to inform you while being rigged to sell you software or consulting services. Unlike nearly every other article you will find from Google on this topic, it has had no input from any company's marketing or sales department. 
Global Head of SAP C/4HANA?
Bluefin Solutions has a history of giving exalted titles to individuals. This was the case when John Appleby was the "Global Head of HANA" before being promoted out of that role. This has occurred again as the author of this article, Theirry Crifasi, being called the
"Global Head of C/4HANA,"
..and having this title featured prominently at the top of the article.
This is misleading because SAP has very little business from C/4HANA, and it is unlikely that Theirry Crifasi has many projects he is managing. C/4HANA was just announced at SAPPHIRE at the beginning of June….is there enough work to justify a "Global Head" for each consulting company?
In a previous Bluefin Solutions article we analyzed, we found that they also have a
"Global Head of Leonardo."
Yes, a "global head" for a solution that almost no one uses but is what allows frozen ice cream to be delivered (as covered in the article, Is it SAP Leonardo that Ensures Frozen Ice Cream Delivery?).
Is this all really necessary? It is as if you are trying to make an exaggerated impression.
Hence my new title at Brightwork Research & Analysis will now be "Global Head of Unicorns."
I have put myself in charge of all the unicorns, and….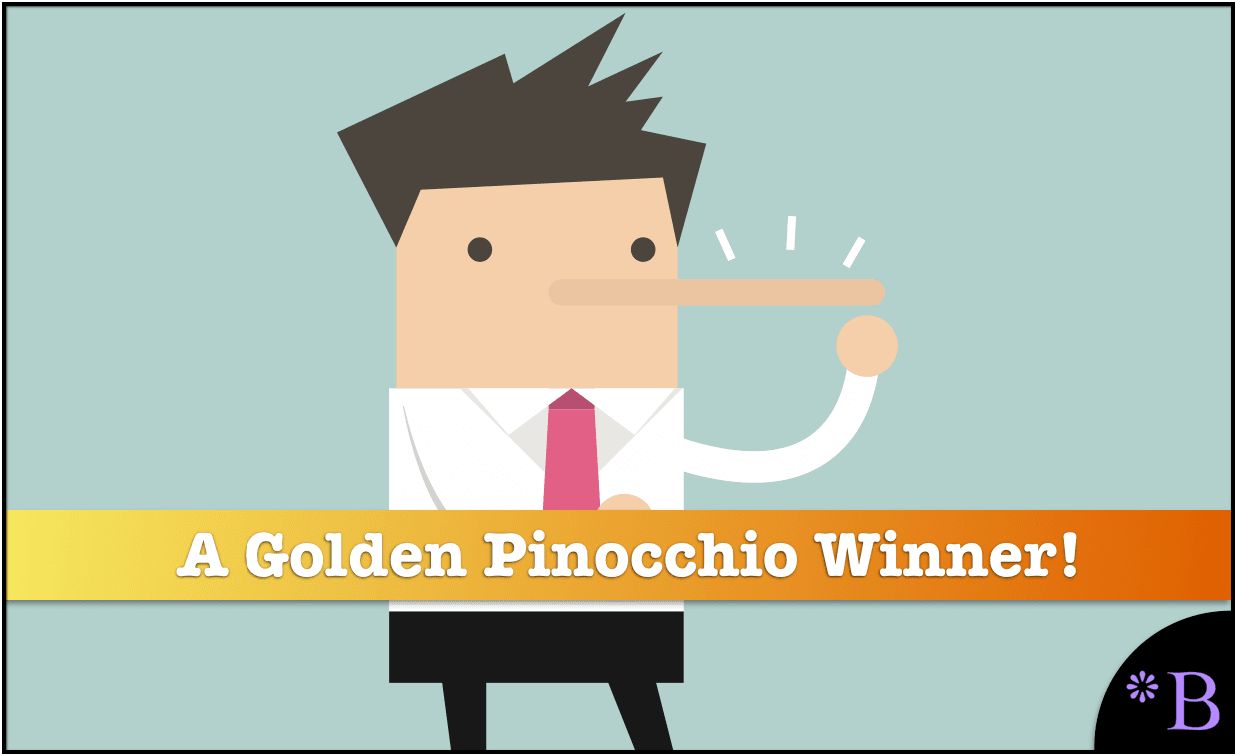 It is rare to give out a Golden Pinocchio Award before even getting into the article's analysis, but Bluefin Solutions did it. They win the award for a deceptive title of the author. 
This is already shaping up to be an envigorating accuracy analysis. Now let us get to the article.
SAP is Communicating that C/4HANA is in the Public Cloud?
Theirry Crifasi begins the article by asserting that I was unaware was a major thrust of C/4HANA.
"The 4 main pillars of the portfolio (sales, service, commerce and marketing) have been renamed and closely follow its main competitors, namely Salesforce and Oracle: for example, SAP Sales Cloud vs Salesforce/Oracle Sales Cloud. This should make it easier for customers to understand what capability they cover as well as to reinforce the fact the whole suite is in the Public Cloud."
How does this action follow its main competitors?
First, the main competitor of CRM is Salesforce, not Oracle. Oracle has very little CRM business, and most of it is due to Oracle customers for other items buying what Oracle has to offer.
Secondly, Hybris, the main component in C/4HANA, is focused more on e-commerce, while Salesforce's primary focus is CRM. So this first contention makes no sense, and the second contention, which is based on the first contention, is also illogical in that naming a suite, which has no correspondence to any name used by SAP or Oracle, also makes no sense. This entire paragraph reads like a James Joyce novel.
But this either could be merely a highly illogical paragraph or a smokescreen that is deliberately obscuring in nature.
SAP/Bluefin Solutions Combine to Misinform Customers about C/4HANA's Integration?
Like a reliable parrot, C/4HANA is careful to, just as SAP, never explain how the component, acquisitions, etc…that are to make up C/4HANA are not integrated into one another. I
t usually takes years for SAP to work out the integration for their acquired applications, but you won't find that information from the C/4HANA article.
Let us review a curious slide from SAP on C/4HANA.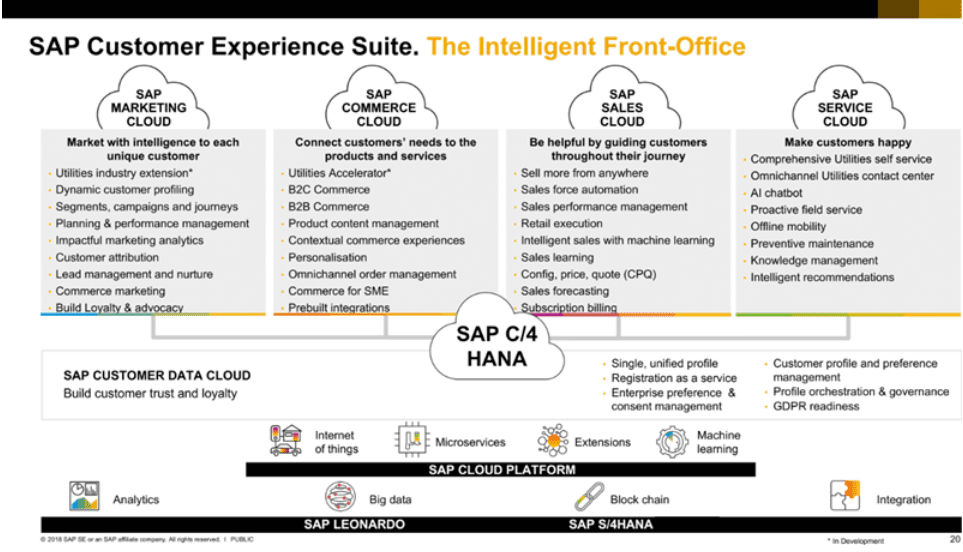 Something unmentioned by either SAP or Bluefin Solutions is that none of these applications are integrated at this time and won't be for years…most likely. That is if we use history as a guide. However, that is not what SAP or SAP consulting companies want. Instead, they want projections about the future to ignore SAP's history.  
SAP's Success and Credibility in CRM?
"Customer experience and customer relationship management (CRM) technologies are a growth market and SAP is looking for a growth engine for its Cloud business. In fact, CRM software by license revenue is already this year's largest category in the enterprise application market.

Last time SAP ran a major CRM campaign was 3 or 4 years ago with the 'Beyond CRM' campaign. Combined with the C/4HANA rebranding this campaign will generate renewed focus and attract attention from customers looking at digital transformation programmes."
SAP has been looking for growth in CRM for some time, but they have been unsuccessful because their CRM offering has been weak.
But does Bluefin Solutions point this out to the reader?
No. It is critical; SAP would not like, so Bluefin Solutions chooses to deceive rather than enlighten the reader. And it is worse than even that. SAP made very aggressive statements and falsified its CRM customer numbers in their CRM business in the past.
CRM is a huge market, second only to ERP, and on its current trajectory, soon to surpass it in sales. And SAP has a mighty sales machine connected to their software. However, it does not follow that SAP will capture very much of CRM, primarily since all of the applications that make up C/4HANA isn't actually core CRM.
Indeed, SAP has not run a significant CRM campaign in years, but the question that should be asked is why. The answer is that SAP has not had anything to talk about in the space since the failure of SAP CRM.
This entire section is the author communicating that they will mislead the reader as to SAP's history with CRM.
If this is what Bluefin Solutions publishes on a topic, imagine what they say to prospects and clients one-on-one?
S/4HANA and HANA are Growth Engines for SAP?
"The HANA platform and S/4HANA have been growth engines for SAP over the last few years but improving customer experience is now firmly on the top of the boardroom agenda."
S/4HANA has not been a growth engine as it has had few implementations. What are 8900 purchases that have resulted in only 1500 attempted implementations?
HANA has been a better story, but HANA is no longer growing or not related to other databases. Unless they only use HANA to support BW, companies that have HANA are generally not having good experiences with HANA. Furthermore, many HANA purchases have been based upon either exaggerated claims or have been purchased to satisfy indirect access claims. This is the nature of the part of the Teradata lawsuit against SAP.
Hmm……could there be a reason that Bluefin Solutions is not bringing up these topics? Let us see; I wonder if it is a good idea to get information about SAP from consulting companies trying to sell SAP consulting services to implement SAP?
C/4HANA is Integrated to S/4HANA?
"The ease of integration of C/4HANA products with S/4HANA will enable these organisations to provide their customers with a holistic customer experience from front-end to backend not just limited to a nice website or a clever chatbot."
This is standard practice on the part of SAP and its consulting partners. As soon as the acquisition or announcement is made, the proposal is that the application is already integrated. First, C/4HANA is not integrated into S/4HANA. Secondly, the C/4HANA suite is not integrated into the components that make up C/4HANA!
Once again, Bluefin Solutions is leaving out important details regarding C/4HANA.
C/4HANA Positioning
"Over the last 2 years, SAP has been assembling a portfolio of solutions either through acquisitions or its own development: Abakus, Gigya, CallidusCloud, Recast.ai, Coresystems and Hybris Revenue. The rebranding and repackaging as described above must be restructured to align to the C/4HANA vision.

The most recent trend around "trusted data" which enables the ability to offer personalised offers is a strong angle SAP is pushing through its Gigya acquisition now called Customer Data Cloud. Recent consumer backlashes like the Facebook Cambridge Analytica data scandal have shown organisations cannot be "creepy" anymore with their customers and collect any data they want without customer consent. Customer relationships should be based on trust and shared with customers instead of being managed via an inside-out approach."
The assumption is that this portfolio of solutions makes sense. It is difficult to see how that is, and it is difficult to find the CRM solution from the acquisition.
The article presumes that all of these applications will be integrated, but is this author familiar with SAP acquisitions' history?
For example, when Business Objects was acquired, it was proposed that Business Objects would be highly integrated, and that never came true. Ariba took many years to be integrated. Secondly, unlike the statement above, not only has integration never been a strength of SAP, it has been a well-known weakness as making the most demanding applications in which to integrate.
Integration Has Always Been an SAP Strength?
"Integration has always been SAP's strength. C/4HANA will obviously continue to offer ease of integration to customers with SAP backends like ECC or S/4HANA. The integration of the recently acquired CallidusCloud and Coresystems products into C/4HANA will also strengthen the horizontal integration within the sales and service offerings as well as enlarge the functional coverage for these scenarios, thus allowing SAP to better compete with the likes of Salesforce."
SAP ECC was integrated between its modules, but outside of ECC, the integration story quickly degrades. Even internally developed applications like SAP APO have had a problematic integration history connecting to ECC with the CIF. For the acquired products, the integration history is far worse. Its integration XI/PI/PO integration product is one of the weaker offerings covered in How Non-Programming Integration Solutions from SAP Damage Projects.
The statement that C/4HANA will…
"obviously continue to offer ease of integration to customers with backends like ECC or S/4HANA"
..implies that C/4HANA is currently integrated.
Hybris has some degree of integration to ECC, but it does not have that integration to S/4HANA. Secondly, so many of the applications that make up the C/4HANA suite (like CalladiusCloud), for example, are very recent acquisitions. That means they have no integration currently. This overall paragraph by Crifasi is deliberately deceptive. Crifasi is taking advantage of the reader's lack of knowledge to promote a false understanding of what a customer of C/4HANA could expect regarding integration and when they could expect it.
Why is (All of a Sudden) Roadmap Necessary?
"SAP has already shared with its partners a detailed 3-year development roadmap for the C/4HANA portfolio. There are still quite a few clarifications needed before partners can confidently advise their customers on their own roadmap. Personally, and maybe because I have been a solution architect for so long, I would like to know more about the key integrations points for all the recently acquired products mentioned earlier, both for master data and the transactional process.
After getting this far in the article, having proposed that most of the integration issues are worked out, it is odd to find Crifasi switching course and saying he needs to know more about the key integration points. This seems to be where he tells the audience that he is "not just a parrot for SAP." The fact is, C/4HANA is not a product and will not be for quite some time. There are plenty of CRM applications to choose from that are quite inexpensive. I use one that costs $10 per month and works great. But Cristasi and Bluefin Solutions would like you to consider a solution that has a roadmap as to when it can be used as an integrated suite. And which seems to lack a CRM system, is from a vendor with no history of producing a competitive CRM application and will most likely have the highest TCO in the CRM space when all is said and done. Clearly, people should be scrambling to bring in Bluefin Solutions as quickly as possible!
Leaving Out SAP's History?
Something else predictable is that no consulting partner of SAP will ever publish anything in SAP's remotely unflattering history. However, SAP has a  long history of problems with CRM. This is explained in the following quote from the book SAP Nation 2.0.
"At SAPPHIRE NOW, in May 2015, SAP Digital announced a new set of products including a CRM solution at $29 per user per month. SAP Claims to now have 17 million Jam users and 2,000 HANA start ups. The executives responsible for such SAP initiatives proudly brag about them, even though they contribute merely 1 to 2 percent of SAP revenues and they keep adding to the sprawl."
Bluefin Solutions certainly knew this, but it was not included in the article. In fact, according to Bluefin Solutions, SAP's history of futility in CRM is to be entirely hidden from readers.
Conclusion
An author writes this article with little interest in communicating anything authentic to the reader. If this consultant's article indicated the advice that one can expect from Bluefin Solutions, one could expect Bluefin Solutions to take advantage of any lack of knowledge on the part of the customer to create the impression that C/4HANA is far further along than it actually is. As with other articles written by Bluefin Solutions, distrust seeds are sown merely through reading the article.
This article receives a Brightwork Research & Analysis score of 2 out of 10 for accuracy.