How Accurate Was CIO on SAP Support Needing to Go Down
Last Updated on March 13, 2021 by Shaun Snapp
Executive Summary
CIO magazine proposes something that is never stated, that SAP's support costs should be declining, not increasing.
How accurate is this CIO article?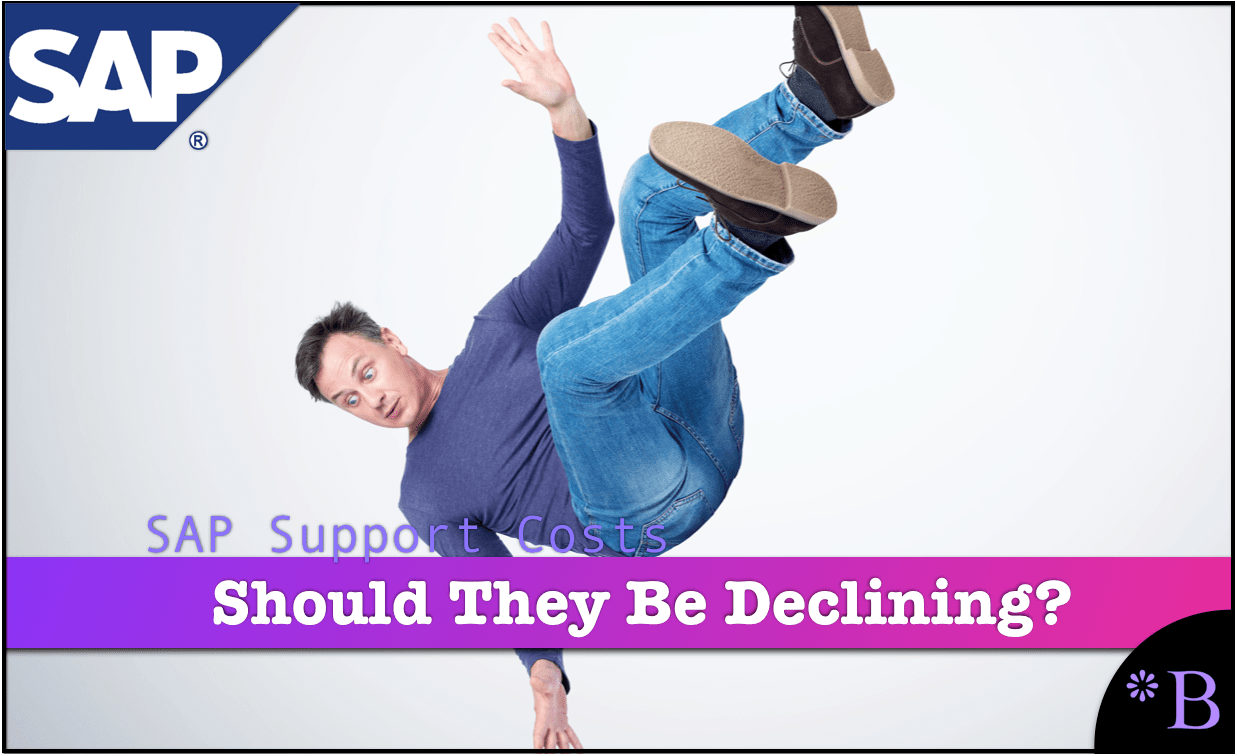 Introduction
In the article Why SAP's ERP Maintenance Prices Should Be Going Down — Not Up in CIO, some interesting points were brought up about the cost of SAP's support. In this article, we will review the accuracy of this CIO article.
Our References for This Article
If you want to see our references for this article and other related Brightwork articles, see this link.
Lack of Financial Bias Notice: We have no financial ties to SAP or any other entity mentioned in this article.
This is published by a research entity.
Second, no one paid for this article to be written, and it is not pretending to inform you while being rigged to sell you software or consulting services. Unlike nearly every other article you will find from Google on this topic, it has had no input from any company's marketing or sales department. 
Explanations for Increases in SAP's Support Prices
Nobody likes to pay more for something that they've been already getting, for roughly the same price, for a decade.

So when SAP announced this past July that all of its customers (new and old) would be moving from tiered pricing for SAP's maintenance and support plans to a single and more expensive price come Jan. 1, 2009, there was some uproar in the "ecosystem," as SAP likes to call its software universe.

Most of that initial outrage over the maintenance fee increase—which goes up from 17 percent (formerly known as Basic Support) to 22 percent, for the new and enhanced Enterprise Support—has been subsiding in the few months since the announcement. But it shouldn't.

Two well-known industry experts, Forrester Research's Ray Wang and former Gartner analyst Vinnie Mirchandani, are doing their part to fan the flames of SAP customer feelings of injustice. (Mirchandani is known as Vinnie "Maintenance," and his distaste for high price and low value in enterprise software maintenance costs is legendary.)

First, Wang: In early October, Wang delivered a Forrester report on how companies are coping with SAP's pricey maintenance hike and offered customers suggestions on how to deal with the unwanted costs. One of the important points Wang raises has to do with the lack of value that SAP customers felt they were receiving: "While the new [Enterprise Support] model does offer some new benefits like upgrade support and end-to-end operations support," he writes, "many of the customers with whom Forrester has spoken already question the value of their existing Basic Support contracts at 17 percent."
Everything so far stated up to this point is quite true.
In fact, of the 203 customers Forrester interviewed, a whopping 85 percent expressed minimal utilization of the existing Basic Support offerings.
This is supported by exposure to support accounts. Rimini Street also proposes that most SAP customers only open a small number of tickets.
In addition, SAP customers told Forrester that they just weren't seeing the innovation in product offerings from SAP that should have resulted from the collective billions they've been paying in maintenance dollars over the years. "There are a plethora of examples where key functionality requested two to four years ago by multiple customers in the same or different industries were not delivered," Wang notes.
This is entirely accurate yet shocking to find in CIO magazine, owned by IDG, and receives SAP funding.
Mirchandani is also stirring up customer dissatisfaction. He points out in a recent blog post on SAP's "empty calories" that SAP has yet to deliver important details with metrics on the new value SAP customers will receive from Enterprise Support. He also echoes Wang in that SAP "keeps dancing around" the key question of whether 17 percent maintenance was delivering enough value to customers in the first place.
This phrasing is strange. if Vinnie Mirchandani said something positive about SAP, CIO would not have stated that "Vinnie is promoting SAP." But here, CIO reports that Vinnie is "stirring up customer dissatisfaction."
SAP, says Mirchandani, should have actually been able to lower maintenance costs—not increase them. "They have offshored some of the support. There is more automation—more customers get self-service support answers through knowledge bases. Their community is handling many routine support questions (and customers are funding that community, not SAP)," he writes. "In the spirit of rollbacks, SAP support costs should have been declining for the last several years." (For more on SAP's future, see "Five Things About SAP's Strategy That You Need to Know.")
This is all true. None of these cost reductions have been passed onto the customer. It is reinforced by the fact that SAP has a 90%+ margin on support. Furthermore, support quality has dramatically declined.
The False Explanations Begin
Two things should be noted that this point. One: SAP has claimed that the price increase is justified due to the complexity of its customers' IT environments and that its customers want more comprehensive support offerings, according to Wang. In announcing Enterprise Support, SAP stated that "the ongoing growth of SAP's robust product offerings, the pervasiveness of business networks and mass adoption of service-oriented architecture (SOA) have challenged traditional support models."
This is untrue.
First, SAP is supposed to be simplifying IT environments, not making them more complex. Secondly, if this were true, why are SAP's support margins so stratospheric?
SAP never embraced SOA and is basically is dead. This entire paragraph is false.
In other words, SAP had to change to meet the vast and complicated needs of its customers, and Enterprise Support is the manifestation of that.
This is entirely false. Needs did not suddenly become more complex.
And second, SAP's chief competitor, Oracle, has been charging 22 percent for a long time now, though, as Wang notes, Oracle has been known for offering more "generous discounts" on initial software deals—"a practice SAP has not historically embraced," he adds.
Now we are getting to the heart of the matter. SAP believes it is owned whatever Oracle charges.
So that's where we stand: The economy is in the tank, companies are scrutinizing every in-house IT expense (including SAP), and SAP is raising prices on an IT cost that 85 percent of surveyed companies didn't see much value in and used minimally. Those "empty calories" are going to be pretty tough to swallow come Jan. 1, 2009.
True

Conclusion
Both Vinnie Mirchandani and Ray Wang make excellent points in this article. The arguments presented by SAP are fallacious, and as CIO receives funding from SAP, CIO did nothing to challenge these arguments.
Vinnie Mirchandani and Ray Wang receive high scores for their accurate explanation of the realities of support. However, CIO gets a 5 out of 10 for accuracy in this article. This is one of the highest scores we have ever given an IDG publication, and the reason is simple. The two primary sources they interviewed did all the heavy lifting in terms of providing accurate statements.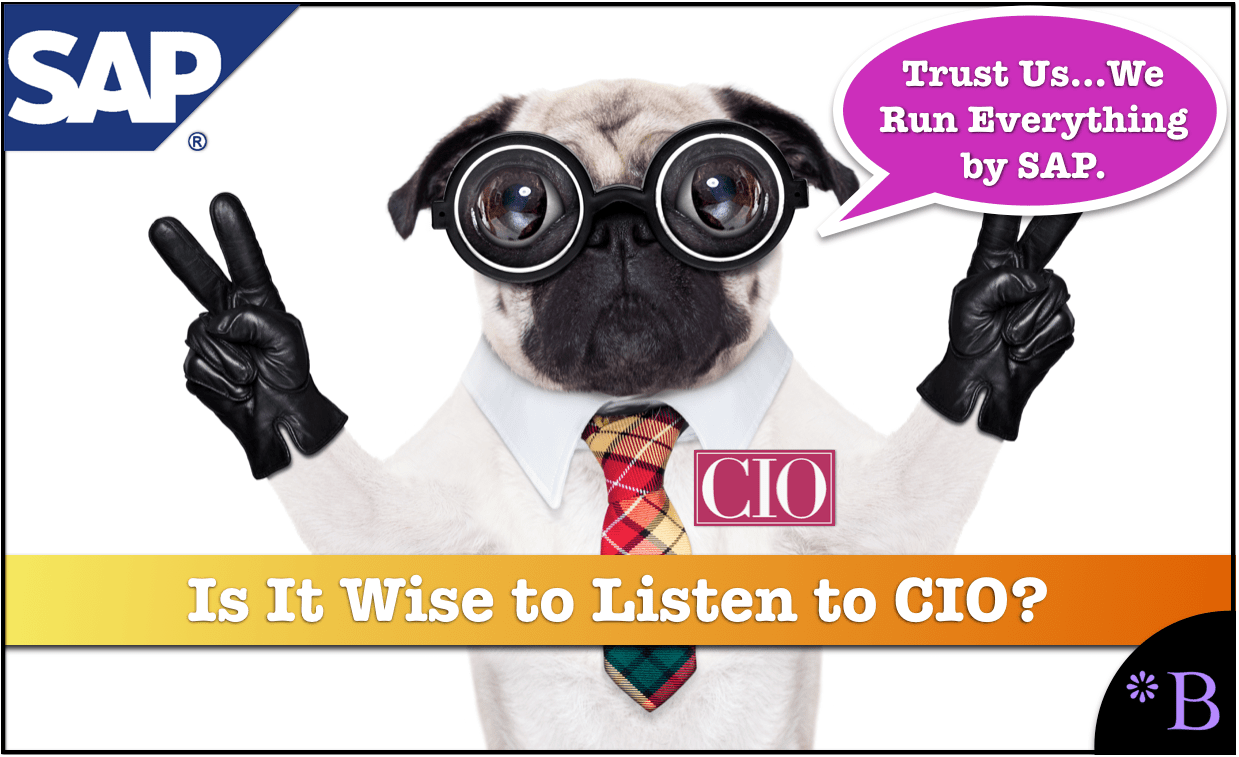 The Problem:

Listening to SAP Entries That are Controlled by SAP

CIO counts SAP as both a major advertizer and a purchaser of paid placements. CIO is owned by IDG, which is connected to IDC, which takes income from SAP to publish false studies such as the one we analyzed in the article IDC Takes Money to Publish SAP Provided Sample S/4HANA. CIO/IDG/IDC is in no way an objective source of information on SAP and censors every article or study they perform because SAP — not the reader is their customer.