How Accurate Was John Appleby on 10 SAP HANA Customer Use Cases?
Executive Summary
John Appleby made bold predictions on HANA.
We review how accurate he was in his article on 10 SAP Customer Use Cases.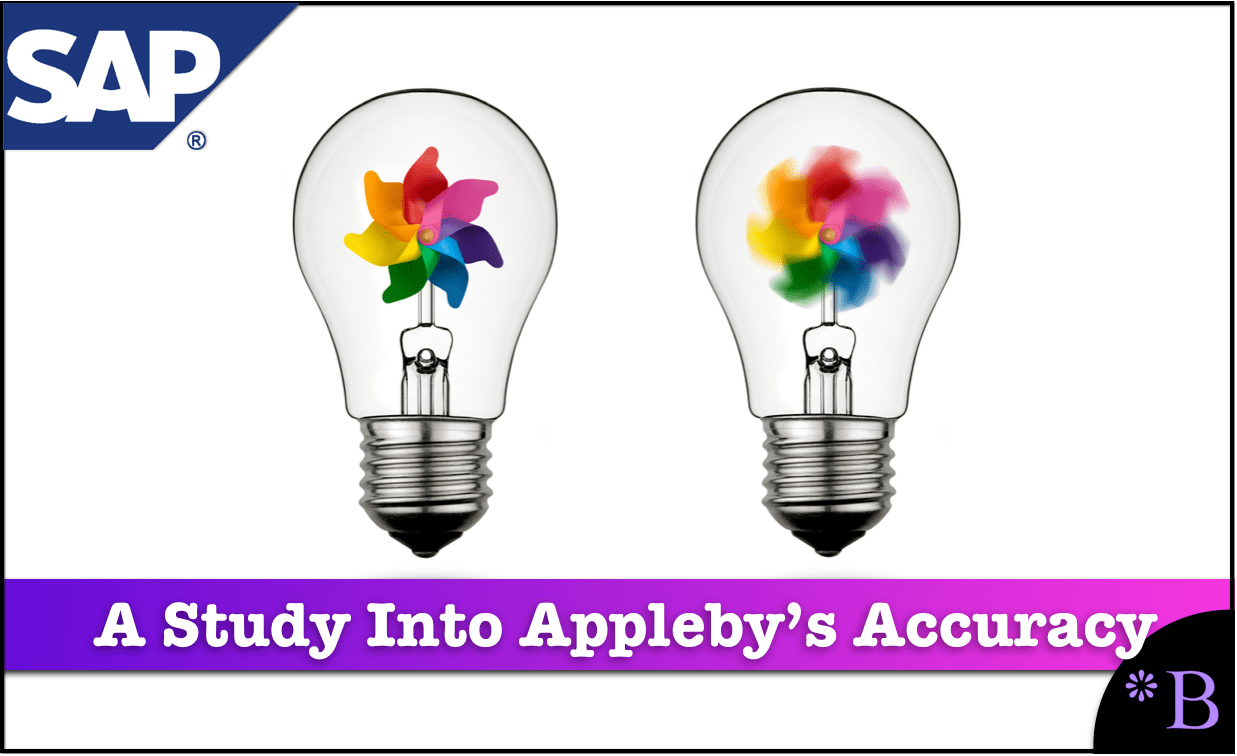 Introduction
John Appleby's article on the SAP HANA blog was titled 10 SAP HANA Customer Use Cases from SAPPHIRE NOW and was published on June 25, 2018. We review the accuracy of this article.
Our References for This Article
If you want to see our references for this article and other related Brightwork articles, see this link.
Lack of Financial Bias Notice: We have no financial ties to SAP or any other entity mentioned in this article.
This is published by a research entity.
Second, no one paid for this article to be written, and it is not pretending to inform you while being rigged to sell you software or consulting services. Unlike nearly every other article you will find from Google on this topic, it has had no input from any company's marketing or sales department. 
The Quotations
SAP HANA is Less Expensive than Oracle?
This year was my tenth SAPPHIRE, and also the tenth time that Hasso started to talked about HANA. It was in the 2005/6 timeline when a senior executive at SAP Labs walked up to a whiteboard and wrote one number: 2010. The room of architects was puzzled – what did 2010 signify? This, he explained, was when Moore's law predicted that server architecture would be able to run a typical large-scale database in-memory. The Hasso Plattner Institute had already completed initial prototypes of an in-memory database, and they knew the race was on to build a new database architecture: the clock was ticking.
No, it is 2019, and this still has not happened. Secondly, it is irrelevant whether a database can be entirely stored in memory. There is a Pareto relationship between the data in a database and the data used. Even today, when purchasing HANA, SAP still discusses Hot, Warm, and Cold storage.
Secondly, there is no clock ticking. Oracle, IBM, and Microsoft have added column-oriented tables and "in memory" capabilities as contained in HANA, but these mixed designs are rarely used because the demand is not there. Specific databases like using a row-oriented table database like PostgresSQL and a specialized analytics database like Redis are far more effective than trying to perform multiple database processing in a single database. We covered this in the article How to Understand the AWS Multibase Versus HANA.
HANA and Digital Platform?
Bill Gates famously said "Most people overestimate what they can do in one year and underestimate what they can do in ten years". Another thing is for sure: SQL databases are hard to build. The main reason for this is that the ANSI SQL is really complicated. The SQL:1999 standard, for example, is over 1000 pages long. It has been 8 years since we released SAP HANA 1.0 to the market, and we just released HANA 2.0 SP03.

During these 8 years we added an incredible amount of functionality: HA, DR, integrated engines, for search, graph, spatial, text. We integrated the XS and XSA application servers, data quality, and streaming. We then added predictive and machine learning capabilities, and

We are now focused on building the Digital Platform for the Intelligent Enterprise, powered by the SAP HANA Data Management Suite and the Cloud Platform.

Why do I mention all of this? in SAPPHIRE 2018, I now see customers, at scale, doing the most incredible things with SAP HANA. I can't show you all of them, because there were around 600 sessions at SAPPHIRE focused on HANA, but here are my personal favorites, in no particular order.
Appleby told an enormous number of lies about HANA since he first started writing about HANA in roughly 2013. It is incredible to see still him say the same things that have already been disproven. HANA is still just a database.
Gustave Roussy Cancer Research
This is one of the most incredible stories I have heard: Fabien Calvo, Chief Scientific Officer at French Cancer Research Center Gustave Roussy joined me on stage to discuss what they are doing with SAP HANA. They connect the biological, molecular, genomic, radiation, surgery and pharmaceutical treatment data generated at the center, and with SAP Connected Health platform running on SAP HANA and SAP Medical Research Insights, Gustave Roussy can integrate different data types: electronic medical reports, demographics, biological data; genomic data; text analysis; imaging, including (in the future) radiology and pathology.

Amazing work – no wonder they were a winner of a SAP HANA Innovation Award!
There is no reason to think that HANA is better than any other database at doing this work. We have covered this extensively, and there is also no evidence that this type of cancer research benefits primarily from an analytics database.
SAP promised running genetic algorithms and health focused solution, as we covered in the article How Accurate Was Vishal Sikka on the Future of HANA?
None of this came true.
Siemens PLM Software
Siemens realized that they needed a mechanism to allow their organization to build applications, whilst ensuring that data could be trusted. They used a Hybrid BW/4 and SQL data warehouse – using standard SAP Business Content extractors to pull in SAP data, and Smart Data Integration to bring data from other applications like Essbase.

On top of that, they built a Logical Data Warehouse using the Data Warehouse Foundation, which means they keep a single copy of the data, and all the models are built on top of that, connecting the various data sources into one version of the truth.

They then allow their business units to self-serve by building their own SAP Web IDE-based applications within the HANA platform. This is all integrated with Githib, Jira and Bamboo for application development and testing.

Bryan Hunter from Siemens explains how they did this and how it dramatically simplifies application development.
This case study makes little sense. Any type of development in SAP is quite inefficient.
Adidas

"adidas CIO Michael Voegele describes how they are using sport to change people's lives. He talks about increasing the speed of the supply chain and building direct relationship with the consumers with SAP Board Member, Adaire Fox-Martin. This is a very business-focused keynote where Michael describes technology as the enabler, and it is of course powered by SAP HANA."
HANA is an analytics database; how does it speed the supply chain and build a direct relationship with consumers?
This video was deleted from YouTube by SAP
This is the presentation that Appleby is referring to at SAPPHIRE. There are virtually no technical details referred to, which Appleby considers "business focusing keynote." 
Suiker Unie – Smart Farming

This customer is not only a SAP Innovation Award Winner, but also Huub Watervaal, Chief Executive Officer at Nextview, who joined me on stage, is a member of our Startup Focus program, which provides access to SAP HANA for free, engagement with our 340k customers, support from our experts, all with no financial commitment.

Huub explained to me all about how Suiker Unie was looking for ways to improve sugar beet production. A small increase in production is a dramatic increase in efficiency and therefore margin. They use the HANA Rules Framework to plant the right beet, IoT sensors to predict crop diseases and reduce pesticides, they have an alerting system and are now looking to satellite imagery to further improve production.
We have been studying HANA since 2016 and have never heard of the HANA Rules Framework. Again, no matter what was done with HANA, one could have done it at far lower cost using open source databases, and if one desires, bringing them up on GCP or AWS. When custom development is to be performed, one should disengage entirely from SAP, or the costs will spiral, and the outcome will be far worse than using open source options. Open source databases like PostgreSQL work far better in the cloud than does HANA.
Itron
Itron are a manufacturer of Smart Meters, and they have partnered with us to deliver the Itron Enterprise Edition Meter Data Management (IEE MDM) powered by SAP HANA. Senior Program Director Moustafa Nazif joined me on stage to discuss their solution. Two things about Itron fascinate me in particular.

First, this is a fully functional translytical application (OLTP and OLAP), streaming data from millions of smart meters in real time. There are direct benefits to the solution, in simplicity of application design, and improved analytic capabilities.

Second, I have written about the second derivative effects of technology before, which is the unexpected benefits of technology (Henry Ford could not have predicted the success of Loves Travel Stops, for example, because it is a second derivative effect – highways being the first derivative). This is playing out with Itron – they are just starting to think about the second derivative effects. For example, could you link smart meters to healthcare: we know the customer is elderly, and the lights don't turn on in the morning, should we call emergency services?
We don't have a comment on this case study. The provided link is blocked, and there's isn't enough information to analyze.
Costco
SVP and Head of Fresh Foods at Costco, Jeff Lyons joins SAP Board Member Jen Morgan to tell the story of how Costco are using SAP technologies to reduce waste and predict demand. How do they do that? Of course, with the advanced analytic capabilities and machine learning algorithms using SAP HANA.
This video was deleted from YouTube by SAP
This video is filled with aphorisms without any detail, which seems to be an advertisement from Costco. Jeff Lyons is told at the end of the video that he is a class act. 
E*TRADE
When E*TRADE sought to re-platform their system for online trading, they looked to a next-generation DBMS like SAP HANA to solve the problem of application complexity and performance. Director of Operations Technology, Adam Yuan, joined me on stage to discuss how there really wasn't an alternative to using HANA from his perspective: it was the only enterprise system which was able to dramatically simplify the application.
Really?
Well, that would show how little Adam Yuan knows. Secondly, as we covered in How Much Has HANA Really Been Simplified, HANA increases databases' complexity. HANA is the highest overhead database that we track.
MemorialCare
Dan Exley from MemorialCare joins our GM and Global Head of Platform & Data Management, Irfan Khan, to discuss how MemorialCare used SAP HANA to meet the demands of modern requirements in healthcare, especially in an age where patients expect to have access to data.
https://events.sap.com/sapandasug/en/embed.aspx
This presentation is not from a Dan Exley as stated but from Ifran Khan, from SAP sales, and what follows is a typical content free sales presentation.
Vodafone
Ignacio Garcia, CTO of Vodafone Shared Services, joined me on stage to discuss what the British multinational telecommunications conglomerate is doing with SAP HANA. What is remarkable about this is the sheer breadth and depth of their deployment. They have specific LoB solutions like Fraud Management and Margin Assurance, and they are also in the process of moving their SAP estate onto HANA. Like many SAP application customers, they started with analytics, and are now moving onto the core transactional systems.
There is also very little detail in this case study with a CTO providing such high-level coverage that it is difficult to know what happened with this case study.
Swiss Federal Railways

Last, but not least, SBB produces its own energy to power its trains. To intelligently manage power demand in its railway system, SBB collaborated with SAP Innovative Business Solutions to develop a unique solution, powered by SAP HANA streaming analytics. Monitoring data points in real time throughout the energy network, it identifies peaks when they occur, determines which loads should optimally be switched off, and conveys this information to other systems that automatically turn off heaters in train cars and on railroad switches.

Markus Halder, Head of Power Demand Management Program joined me on stage to discuss how this enables SBB to better utilize its existing power capacity, postponing the need to build new energy infrastructure. Another winner of a SAP Innovation Award.
As SFR likely made a poor decision here and wasted a lot of money and time on HANA when there were far lower costs and more capable alternatives, but as so little information was shared about this case study, we can't get into more detail than this.
Conclusion
This article makes it sound like there is important information in these case studies when there isn't. Interestingly, these are only Appleby's top ten, which means even the best case studies he showcased still had so little information about them. And many of the companies are only discussing their HANA case study to promote their own companies.