How Deloitte, McKinsey, the Guptas and SAP Ripped Off Eskom
Executive Summary
The South African energy utility, Eskom, has been in long term decline.
As it has been mismanaged, it has been systematically pilfered by several entities ranging from Deloitte, McKinsey, the Guptas, and SAP, among others.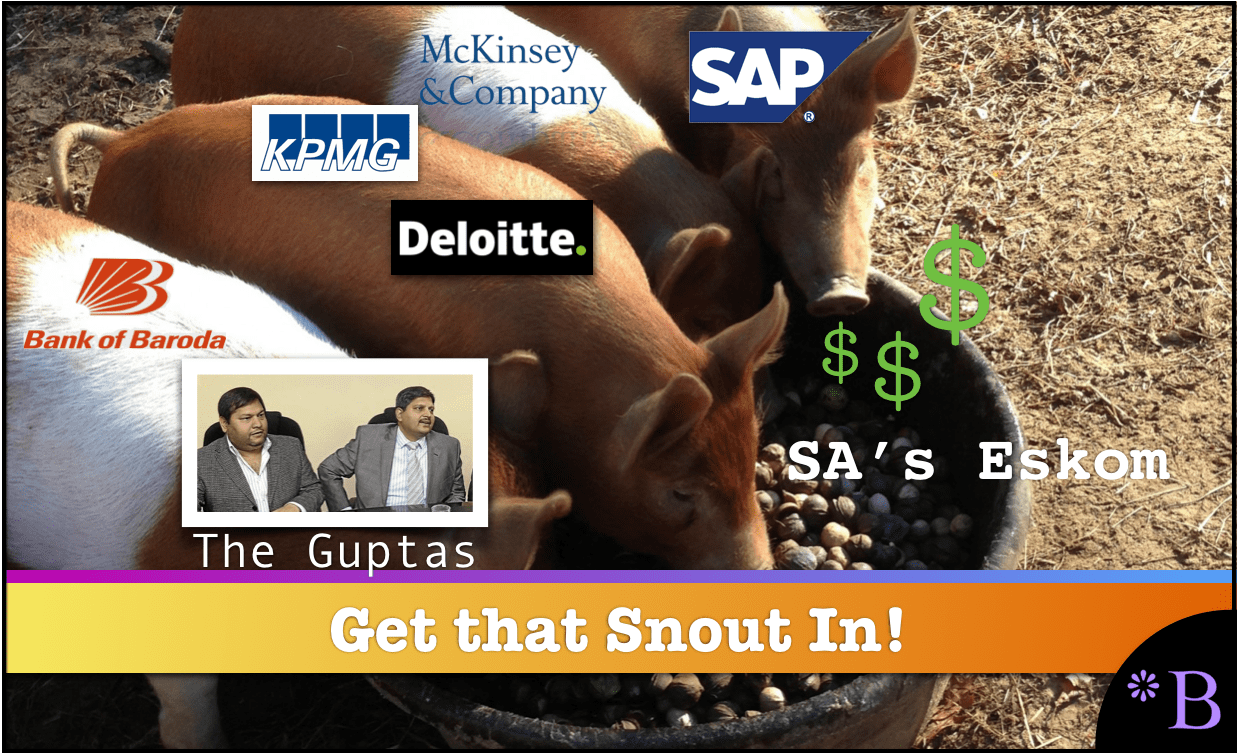 Introduction
Eskom's decline began around the change in government to the ANC. Eskom has been living off its infrastructure from a bygone era and is set up for significant future problems. The story of its decline is intertwined with some underhanded firms pushing the utility further to the brink through their parasitism.
This is an added blow the company's professional integrity after Eskom announced on Monday evening that it is pursuing legal action against Deloitte and some former Eskom executives whom it says went to "extraordinary lengths" to ensure that the advisory firm benefitted from unlawfully and unconstitutionally awarded tenders.

Eskom's assurance and forensic department has now added Deloitte to the list of companies that need to pay back the money. This comes after it uncovered "damning" documents, many of which were compiled by Deloitte, from the archived mail servers of Singh and Govender while conducting a "high level audit" on the awards a couple of weeks ago.

In the court papers, Eskom's acting chief executive and chair Jabu Mabuza outlines how Deloitte came to pocket R207 million for a CFO Transition Laboratory and two tenders in 2016, which it says were awarded by "manipulating" the newly approved tender processes that Eskom had in place.

– MoneyWeb
Even the Parasites Are Stealing from Each Other?
Amazingly, not happy to steal from Eskom, at least one parasite has accused the other parasite of stealing its IP.
In the same court bid where Eskom is accusing Deloitte of irregularly being awarded tender contracts worth R207 million, the power utility has also insinuated that Deloitte may have plagiarised some of the contents of its proposals from global consulting firm McKinsey.

The unfairness may also extend to Deloitte making use of work by McKinsey.

McKinsey was one of the tenderers but its bid was not evaluated, allegedly because it missed the deadline of September 15, 2016.

Outside of creating a process that seemed to have a predetermined outcome to not only ensure that Deloitte won the tenders but also "benefitted handsomely", Mabuza states that proposals that were sent by McKinsey to Govender (emphasis added) appear to have been forwarded to Deloitte. – MoneyWeb
Amazing.
So Deloitte had an "inside man" at Eskom, which was Prish Govender. This not only gave Deloitte a distinct advantage in their tender but allowed them to plagiarize work from McKinsey. So when Deloitte submitted its adjusted tender, it would have been able to neutralize the impact of McKinsey's tender.
Furthermore, Deloitte is an international partner with SAP and recommended SAP solutions to Eskom that would have worsened Eskom's situation, like HANA, that Brightwork Research & Analysis has extensively analyzed. Deloitte would not have informed Eskom of HANA's indirect access liabilities, which we covered in the article HANA Police Indirect Access Charges. Internationally, Deloitte lies to companies about SAP, and inaccuracies about SAP to prospects, while pretending to be impartial advisors to firms like Eskom. We analyzed the accuracy of Bluefin Solutions named John Appleby in the following article, A Study into John Appleby's HANA Accuracy. The degree to which John Appleby knows he was lying about HANA is demonstrated in this online debate where he falls apart against an IBM representative named Chris Eaton. We cover this topic in the article John Appleby Beaten by Chris Eaton and is saved in the debate by none other than Hasso Plattner of SAP.
We cover how John Appleby and Bluefin Solutions significantly increased the false information they provided to the market in advance of their firm's sale to Mindtree in the article Appleby's False HANA Statements and the Mindtree Acquisition.
This scandal of the Guptas should be viewed as part of a broader context of corruption beyond South Africa.
Companies are now walking from McKinsey due to the Gupta scandal. Atul Gupta is the 7th wealthiest person in South Africa, with a net worth of $773 million. The Guptas are involved with so many corrupt South African procurement; it is difficult to follow. These include Eskom, Transnet, Oakbay Resources and Energy, Imperial Crown Trading, Duvha Power Station (where the Guptas were accused of a rigged tendering process by GE), Denel. The Guptas utilized the PR firm Bell Pottinger who caught altering Wikipedia and social media to favor the Guptas.  
McKinsey and Eskom and Trillion
Trillion was a shell company whose ostensible purpose was to develop local consulting skills in South Africa and under their "supplier development program" but was, in reality, created to serve as a conduit and to launder money from McKinsey to the Guptas in return for contracts.
The following quote explains this from the former CEO of Trillion, Bianca Goodson.
Former Trillian Management Consulting CEO Bianca Goodson told Parliament that she joined Trillian to build it into a new black-owned and run management consultant firm, but that she was deceived by the Gupta-linked firm.

"I was lied to blatantly by Trillian, which I thought would be a proudly black consulting firm," she said.

Former Trillian Management Consulting CEO Bianca Goodson told Parliament that she joined Trillian to build it into a new black-owned and run management consultant firm, but that she was deceived by the Gupta-linked firm.

"I was lied to blatantly by Trillian, which I thought would be a proudly black consulting firm," she said.

One of the days, she was asked to open Bank of Baroda (emphasis added as we will address again further in the article) accounts. "I didn't see money go in, I didn't see money go out," she said. "On 18 March, I was informed to … sign papers to open a Bank of Baroda account."

She was supposed to hand over signing rights for the account she was supposed to open. The signed a letter that disempowered her.

The consultant turned CEO had a vision to turn Trillian into a "leading black management consulting company" in South Africa, but needed companies like McKinsey to develop their staff as part of government-required supplier development partners.

However, she explained that Trillian only consisted of two people, one being her. She told Parliament that McKinsey did not take her vision seriously.

Allegations have surfaced that Trillian was a firm used by Gupta-linked Salim Essa to get contracts with Eskom via McKinsey.

"There was one leadership meeting with McKinsey, where one of the senior partners said to us to take the 30% and go. I presented this back in a note to Salim (Essa, main shareholder of Trillian).

"I compiled a statement for this," she said. "I believe I was a spoke in a very big wheel. I did not know what the wheel was doing, but I knew what the spokes were doing."

She has released a detailed statement and 65 annexures, charging that her former firm, Trillian Management Consulting, facilitated access to decision makers for consulting multinationals McKinsey and Oliver Wyman.

In return for this political capital, she states, Trillian was to get up to half the fees in lucrative consulting contracts with state entities. – Fin24
Trillian was central in money laundering, as the following quote explains.
Trillian oversaw the network of consultancies and shell firms that helped the Guptas shift their gains. According to documents found on the company's server, it was both the sender and the recipient of the key transactions, which include millions from Eskom and other sources. Trillian received $41 million from Eskom, the state electricity firm, in illegal contracts. This theft has been widely reported and is now the subject of a judgement by the High Court. Trillian received just over half a billion rand ($30 million) in loans from three firms controlled by Gupta associates: Centaur, Cutting Edge, and Albatime. In all three cases, the loans may not have been intended to be repaid, and may represent the laundering of funds initially sent to these firms by Trillian itself.

Trillian's bank statement at ABSA shows 235 million rand ($17.4 million) arriving in the account from Eskom on Aug. 13, 2016. The account held just 8,900 rand ($659) on the previous day. – OCCRP.org (Organized Crime and Corruption Reporting Project)
See Trillian's actual banking statement from OCCRP here.
Trillian was just one of the Gupta's many shell companies.
Though these firms appeared to be independent of Trillian, they showed few signs of functioning businesses.

Three of them — Medjoul, Fortime, and Birsaa — listed the same registration address, shared the same director, and collectively deregistered in the same month: August 2017. In addition to receiving money from Eskom, they appear to have been used to receive other illicit payments from state companies: The Trillian data include invoices they filed to Transnet, Denel, SA Express and others.

Four other shells — Jacsha, Shacob, Matson and Pactrade — also shared common directors, and some shared the same addresses. Multiple invoices citing Eskom were filed by these companies in August 2016 (though Pactrade's were not among the data). These were part of a vague "Commission Agreement" with Trillian allowing them to bill up to 50 percent for introductions to new clients and business opportunities. – OCCRP.org
As we will see further in the article, the cover story for these intermediaries is that they are "value add," and not merely vehicles through which to transfer bribes.
However, the following quotation calls into question whether the timing of payments matches an entity that is "value add."
The first step was for Eskom to send the money to Trillian. The first payment was made precisely one day after Eskom approved Trillian as a registered supplier, raising the question of how any work done could have been assessed within 24 hours.(emphasis added)

Trillian acknowledged in its own internal documents that the company lacked credentials and the necessary skills.

Explanatory notes such as "data analysis," "cost saving initiatives," and "technical services" — with no further contracts or any additional details — point to the fact that the work was, in fact, fictitious. In total, Cutting Edge and eGateway — which was described by Trillian as housing "some of the best skills in the world" — received almost 204 million rand (over $15 million) from the state utility." – OCCRP.org
As there was no time to do these things, that is, activities that would typically take months; these are just fake descriptions to cover for a payoff. Trillian's bank accounts were drained in only one day.
Note this arrangement because it will come up again as we cover other entities seeking to purchase contracts from SA businesses.
The investigation concerns dealings with Eskom involving Trillian, McKinsey's local consulting partner affiliated at the time with the Gupta family.

The red flags should have been there: Two damning documents—the Budlender Report published in June 2017 and a Trillian whistleblower statement published in September 2017—collectively paint a dark picture of Trillian's longstanding corrupt dealings acting as a gatekeeper for multinational companies to access state contracts, while extracting millions of dollars in rand for itself from Eskom in the process.

In 2016, Eskom paid McKinsey and Trillian roughly 1.6 billion rand ($120 million), of which Trillian received a substantial portion of the proceeds, without a contract. The question McKinsey will seek to defend before a High Court in South Africa is whether it turned a blind eye to the shady dealings so that it could secure a $78 million contract to advise Eskom. – Compliance Week
The estimate by Ted Blom, a mining and energy advisor, is that Eskom has been fleeced by roughly 1/3 of South Africa's GDP. This expert declares that Eskom is financially dead, and it only kept alive by infusions from the South African government. 
This video describes McKinsey's corruption. The corruption goes both ways with both Eskom and McKinsey. 
Eskom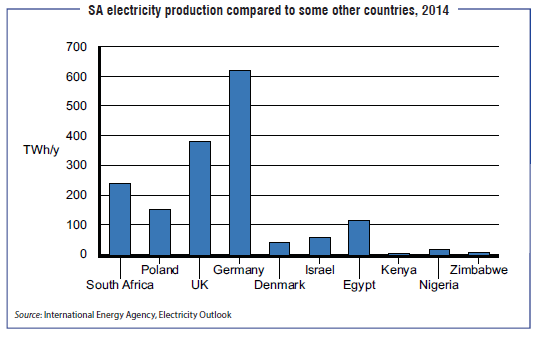 Notice how much more power generation capacity South Africa has than other African countries that have larger populations? Nigeria has a population roughly four times as large as South Africa, yet look at its power generation capability. 
Eskom was free of this from 1923 until 1994.  Its brief was simple: to make sure that South Africa had enough electricity.  It was very lightly regulated, much less so than private electricity utilities in the United States of America (USA). It was an autonomous organisation run by technocrats.  Engineers were in charge and were appointed entirely on merit.  Even under apartheid, there was no attempt to Afrikanerise Eskom's senior management.  Eskom's greatest CEO was Ian McRae, an English-speaker.  Eskom was entirely self-financing.  There were no state subsidies for electricity.

In about 1969, after South Africa's economic growth rate had topped 6% in various years in the 1960s, electricity demand threatened to outstrip supply.  In those years, growth in electricity demand was double economic growth.  Near panic set in.  Then Eskom made its best ever strategic decision: it decided to embark on a concerted programme of building huge coal stations of standardised design, each one having six identical units.  The result was that vendors and contractors from all over the world tripped over themselves to give Eskom the best prices and conditions.  The stations were built on time and on budget.  They were funded via cheap debt and all the debt was timeously repaid.  The taxpayer didn't have to pay a cent.  By the end of the programme, Eskom had plentiful and very reliable electricity at probably the lowest prices in the world – lower than that from private utilities in other countries.

South Africa's vast reserves of cheap, easily mined (although low quality) coal was partly responsible for this success. More important was the clear-sighted, well-planned, consistent programme of new building, which was based entirely on technical and commercial considerations. – PoliticsWeb
The Decline of South Africa's Power System
SA's power utility, Eskom, has gone into steep decline since the rise of the ANC. This was a utility that worked quite well when whites ran the country. Let us review some of the many issues around Eskom.
In January 2008 Eskom controversially introduced "load shedding", planned rolling blackouts based on a rotating schedule, in periods where short supply threatens the integrity of the grid. Demand-side management has focused on encouraging consumers to conserve power during peak periods in order to reduce the incidence of load shedding. Following the national power shortage in 2007 Eskom embarked on an aggressive electricity production expansion program during the administration of President Jacob Zuma. The Zuma administration decided to focus expansion efforts on building additional large scale six-pack coal-fired power plants.[11]

In 2017 Eskom was the focus of a major corruption scandal involving the Gupta family and the administration of then President Jacob Zuma.

The National Energy Regulator of South Africa denied an application by Eskom to increase electricity tariffs by a future 19.9% for the financial year 2018/19. The regulator instead granted a 5.2% increase and gave a list of reasons for the refusal to grant higher tariffs that the South African newspaper Business Day stated painted "a picture of inefficiency, inaccurate forecasting and cost overruns" at the power utility. Part of the refusal was the finding that Eskom had an additional 6,000 employees that were not needed, costing the company R3.8 billion annually.[14]

Corruption during the Zuma administration has been noted as a major factor in the cost overruns and long delays in completing Medupi and Kusile power plants that has had a knock on effect leading to the 2019 power shortages.[16] The power shortage and related troubles at Eskom was blamed as a significant contributing factor to a 3.2% decline in GDP growth in the first quarter of 2019,[17] prompting fears of a recession in 2019.[18]

In 2011 eight out of ten Eskom board members were controversially sacked by the Zuma administration.[11] From 2015 to 2017 the Zuma administration appointed Ben Ngubane as chairperson of the board. Ngubane's tenure as chairperson was controversial for his involvement with the Gupta family and for attempting to blacklist newspapers perceived as unfriendly to Eskom.[69]

In July 2018 it was announced that Eskom had taken out a R33 billion loan from the Chinese government owned China Development Bank.[104] The loan conditions were controversially[105] not made public with accusations that it was an example of debt-trap diplomacy by China.[106][107] During the Zondo Commission of Inquiry into state corruption a senior Eskom executive stated that an additional R25 billion loan from the China-based company Huarong Energy Africa was improperly and controversially taken out by Eskom.[108] After the loan had been issued Eskom chairperson Jabu Mabuza stated to the Zondo Commission that Eskom would not be repaying the Huarong loan due to irregularities and corruption involved in the issuing of the loan.[109]

Eskom was forced to suspend its Chief Financial Officer Anoj Singh in July 2017 when the Development Bank of South Africa threatened to recall a R15 billion loan if no action was taken against Eskom officials (including Singh) who were involved in corruption allegations involving to the Gupta family.[76] In September 2017 Minister for Public Enterprises, Lynne Brown, instructed Eskom to take legal action against firms and individuals involved; ranging from Gupta family owned consultancy firm Trillian Capital Partners Ltd. and consultancy firm McKinsey to Anoj Singh and acting Chief Executive Matshela Koko.

An investigation done by the amaBhungane Centre for Investigative Journalism found that the Gupta family had received contracts worth R11.7 billion from Eskom to supply coal between 2014 and 2017. – Wikipedia
The Guptas are a major corrupting force in South Africa and were intertwined with Jacob Zuma.
The crisis is also described as follows:
 Our Eskom crisis has three major interlinked causes, the largest of which is the dysfunctional and tardy construction of two of the world's biggest coal-fired generating plans; Medupi and Kusile. According to Wits Business School energy fundi, Professor Rod Crompton, they are probably the largest single disaster in South Africa's economic history. The answer to the question why is the second contributor to our predicament; patronage networks or State Capture, and their attendant corruption and poor management leading to over-staffing and neglected maintenance, resulting in constant breakdowns. The third factor? Electricity theft and an enduring culture of non-payment. – BizNews
Furthermore, through political patronage, the ANC has been active in replacing white workers with black workers, and overstaffing Eskom, increasing its costs. Eskom now has fewer competent workers and has an overall culture of nepotism and corruption that the ANC has installed. This is covered in the following quotation.
There has been a "significant loss of critical skills", with "poor quality of maintenance" and "poor workmanship" causing breakdowns, of which 40% is due to human error, according to Gordhan.

The company is suffering from "systemic corruption, malfeasance, fraud and state capture" that has "compromised the credibility of the organisation and eroded investor confidence", Gordhan added. – Fin24
The following quotation reinforces this.
In 1994, when the ANC took power, there were unfortunate changes at Eskom: some of them predictable, some of them surprising.  Race-based affirmative action, political interference, and political appointments were predictable.  Highly skilled and experienced white engineers, managers, and technicians were given generous 'packages' to get out and make way for persons of the correct skin colour and political affiliation.

Instead, they were preoccupied with other goals, such as racial transformation and keeping the price of electricity artificially low for social purposes.  Accountants replaced engineers at senior levels, and those accountants lost sight of Eskom's fundamental purpose, which is simply to provide electricity and cover its costs – not make a big profit or a high rate of return.

Eskom's incompetence has added other problems to the generation shortage.  In January 2008, during a period of heavy rain, a large number of the big coal stations failed, plunging much of the country into blackouts and shutting down all the gold mines.  The economic losses were enormous.  The reason was a disastrous decision by Eskom to shift some of its coal supply away from its established contracts with big coal mines and instead start buying coal from a variety of small, black-owned mines.

This was done for reasons of racial procurement.  As a result, Eskom started receiving poor coal of varying quality.  This problem was compounded by an idiotic decision by Eskom accountants to reduce coal stockpiles at power stations so as to save on stock costs.  When persistent rain fell on low, messy stockpiles of bad coal, it turned them to sludge, which clogged up the mills, chutes and nozzles feeding pulverised coal to the boilers.  They shut down.

– PoliticsWeb
Is this decline of Eskom also to be blamed on the "legacy of apartied," or will it be placed at the foot of the ANC with total control of Eskom?
As the ANC has been using Eskom for its purposes, Eskom is becoming closer and closer to not functioning.
"Eskom's inability to supply electricity and the ever-increasing prices have provided an incentive for users to replace inefficient equipment" and shift to solar panels, Elena Ilkova, a credit analyst at Rand Merchant Bank, said by email. This "will leave Eskom to supply increasingly higher-priced electricity to consumers who can barely afford to pay and many more consumers who either can't or will not pay," she said. – BizNews
Selling Eskom S/4HANA
Here is the announcement of Eskom purchasing S/4HANA.
We follow S/4HANA consistently and have the most research on the application. S/4HANA has failed in most places. It has been attempted to be implemented and sold into many accounts where it should never have been sold, such as Nanshan Life Insurance of Taiwan.  
SAP has an inferior fit with utilities and failed severely at National Grid, where it and Wipro made enormous misrepresentations around their capabilities in utilities as we cover in the article How National Grid's SAP Implementation Damaged a Company. This follows a pattern of SAP selling their ERP system into companies like banks and service companies that have no real use for most functionality in their application.
All of this means that it is likely that, first, Eskom has no idea what it is doing in selecting software and that the implementation is very likely to be a significant write-off for Eskom.
SAP states that Eskom is live with S/4HANA, which in our estimation, is most likely just a sandbox. The quote says the following:
"It is a complex solution that we have," says Antoniades. "We have 29 SAP solutions in production and 63 non-production environments."
This means that S/4HANA may be a test system.
This raises a further question if S/4HANA went line in December of 2017, why did SAP announce the move to S/4HANA in June of 2019?
SAP's Corruption in South Africa
SAP has been caught in the Gupta scandal not only with Eskom but with Transnet as well. Transnet is SA's port, railroad, and pipeline company.
SAP had to do damage control after being embroiled with the Guptas. So they hired a firm, Baker McKenzie, to perform a fake internal audit and control the narrative as a form of public relations. And they also coordinated the release of information to take control of the narrative.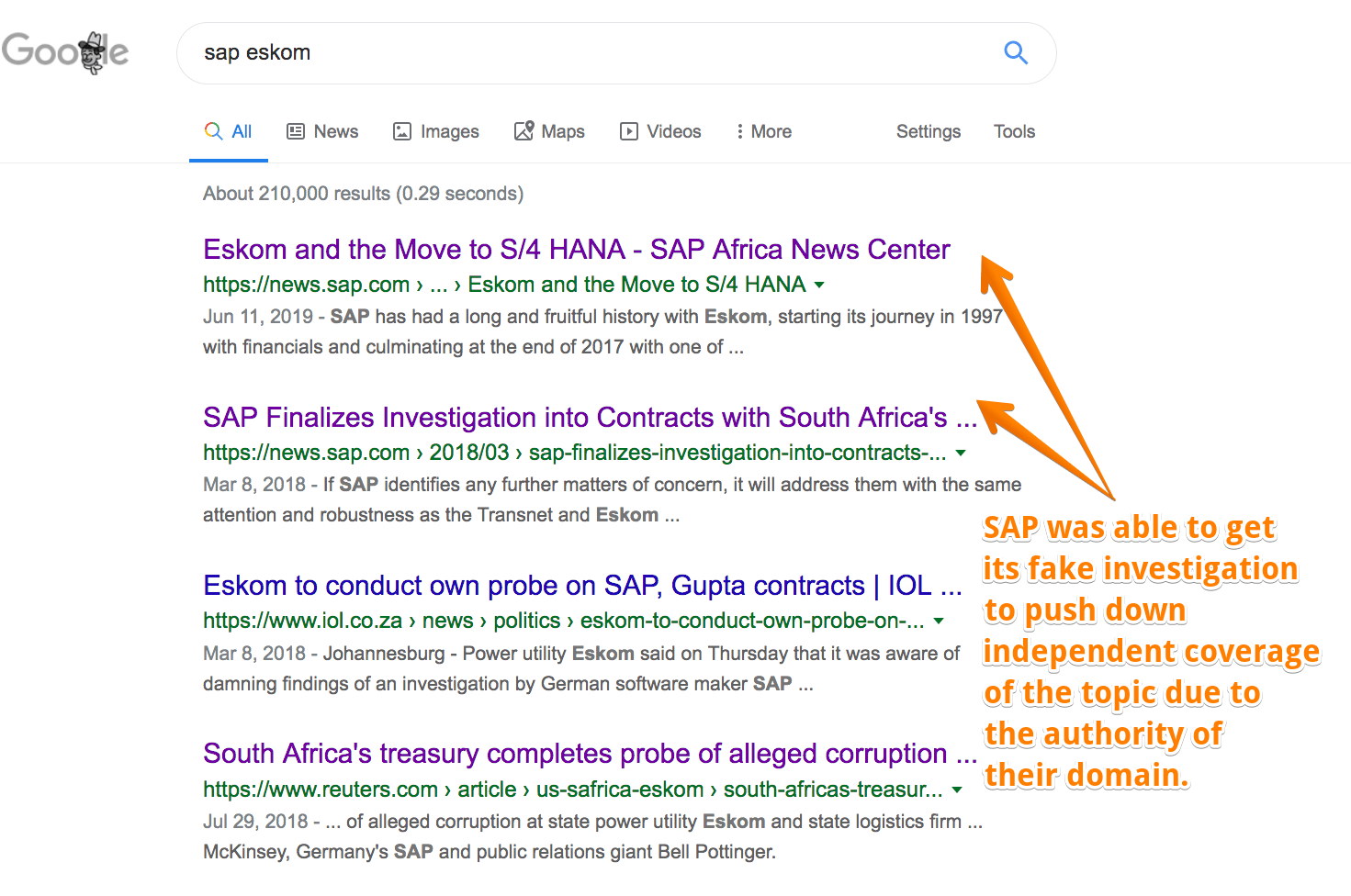 A significant benefit to SAP to release this is that they took the top spots in Google with their fake coverage of an "internal audit." 
Interestingly, there is virtually no coverage of the SAP Gupta scandal in the US IT media. SAP would have told media entities like IDG and others that they did not want the story covered. Most of the coverage is foreign, not by US media entities. The ever-reliable The Register (UK-based) was the only significant IT media entity to cover the story.
To date, the investigation has found no evidence of any payment to any government official or to any employee of an SOE, including any employee of Transnet or Eskom. However, the investigation has uncovered indications of misconduct in issues relating to the management of Gupta-related third parties. – SAP
Notice SAP has to frame corruption as only a direct cash payment when, in fact, corruption usually is much more sophisticated than just cash payment. However, as we will explain, SAP did pay directly to Gupta's companies. SAP's lie is boldfaced and right in its "internal audit."
Beginning in or about mid-2014, representatives of the Guptas began to associate themselves with multiple small third parties that had experience in the IT industry. Some of these third parties had existing relationships with SAP.

There is no evidence of SAP direct contact with any member of the Gupta or Zuma families. The primary connection was with Gupta intermediary, Santosh Choubey, and the people who reported to him.  Choubey became the principal contact for Global Software Solutions (GSS) and CAD House.
Santosh Choubey is acting as an agent for the Guptas.
Secondly, GSS and CAD House are Gupta companies, as we will cover in just a few paragraphs. SAP knew that GSS and CAD House were Gupta companies, and later they were transferred to a purpose-built shell company called Futureteq. This would be like saying that someone who dealt with me did not know that they were because they dealt with Brightwork Research & Analysis. This lie about GSS and CAD House proves without a doubt that SAP did not hire a real independent auditor and that their internal audit and its publication are nothing but PR theater.
GSS became eligible to act as a sales commission agent in September 2014 when it became a Value Added Reseller. CAD House was approved as a sales commission agent in August 2015. SAP terminated the ability of Value Added Resellers such as GSS to act as sales commission agents in 2016.

SAP South Africa concluded two contracts with Transnet and four with Eskom between December 2014 and June 2017, with GSS and CAD House acting as commissioned intermediaries. One contract involved a commission of 10%, while the other five contracts involved a commission rate of 14.9%, just below the 15% threshold that would have triggered an SAP Executive Board review of the deals. In connection with one Eskom contract, SAP retained a Gupta-related entity called Lejara Global Solutions to provide services to Eskom.
Why were the contracts set right below the commission rate of 14.9%?
Did that set off a red flag at SAP?
Furthermore, SAP is a thoroughly unethical company. Why would they care if the deals were acquired improperly? SAP's business model is to obtain deals improperly by corrupting the decision-makers within companies. SAP makes career promises to IT executives to get them to buy applications that are often a poor fit for the companies they sell to. This is well known in the SAP industry. Just recently, an SAP salesperson told me.
"SAP does not so much sell software as sells careers."
Reporting from Fin24 also contradicts SAP's assertion that it was unaware of what the Guptas were asking for.
By May 2016, it was obvious to SAP that at least three Gupta-controlled companies – Cad House, Global Softech Solutions (GSS) and Cutting Edge – were trying to extract exorbitant "commissions" from it for helping secure contracts with state-owned entities. "SAP's local compliance team independently discovered that Cutting Edge was linked to the Gupta family. The local compliance team also determined on its own that GSS and CAD House were connected with Cutting Edge, and that all were Gupta-connected," SAP confirmed in its brief written statement to us. "Local SAP compliance notified SAP global compliance, which promptly placed on hold [i.e. stopped] … any new compliance approvals relating to these [Gupta] parties."

At this point the software giant could still try to claim that its dealings with the Guptas had been accidental – the result of a shoddy due diligence or duplicitous local sales staff – and not the inevitable consequence of its global practice of asking too few questions about the millions paid out in questionable commissions.

But this is not where the story ends.

Instead over the next year SAP executives at a local, regional and global level gave the green light for another R73m to be paid to Cad House to secure new deals at Transnet and Eskom. – Fin24
This again contradicts SAP's "internal audit." Furthermore, SAP needed plausible deniability in dealing with the Guptas, so it set forth the following conditions.
What we can piece together from leaked documents and various sources is that at some point after the Guptas were benched in April 2016, SAP and its attorneys Fluxmans told Cad House that it could only continue working with the company if the Guptas sold their shares.

Lo and behold in May 2016 a new IT company called Futureteq was registered. Four days later, it started buying the Guptas' shares in Cad House, GSS and Cutting Edge. (emphasis added)
SAP told the Guptas what SAP needed them to do, to create "separation," and the Guptas went and did it. Instead of SAP dealing with CAD House and GSS, they were dealing with Futureteq, which was owned by the Guptas. SAP tried to present the story in their internal report PR that they had nothing to do with the Guptas. And that because they paid these companies, they did not pay the Guptas.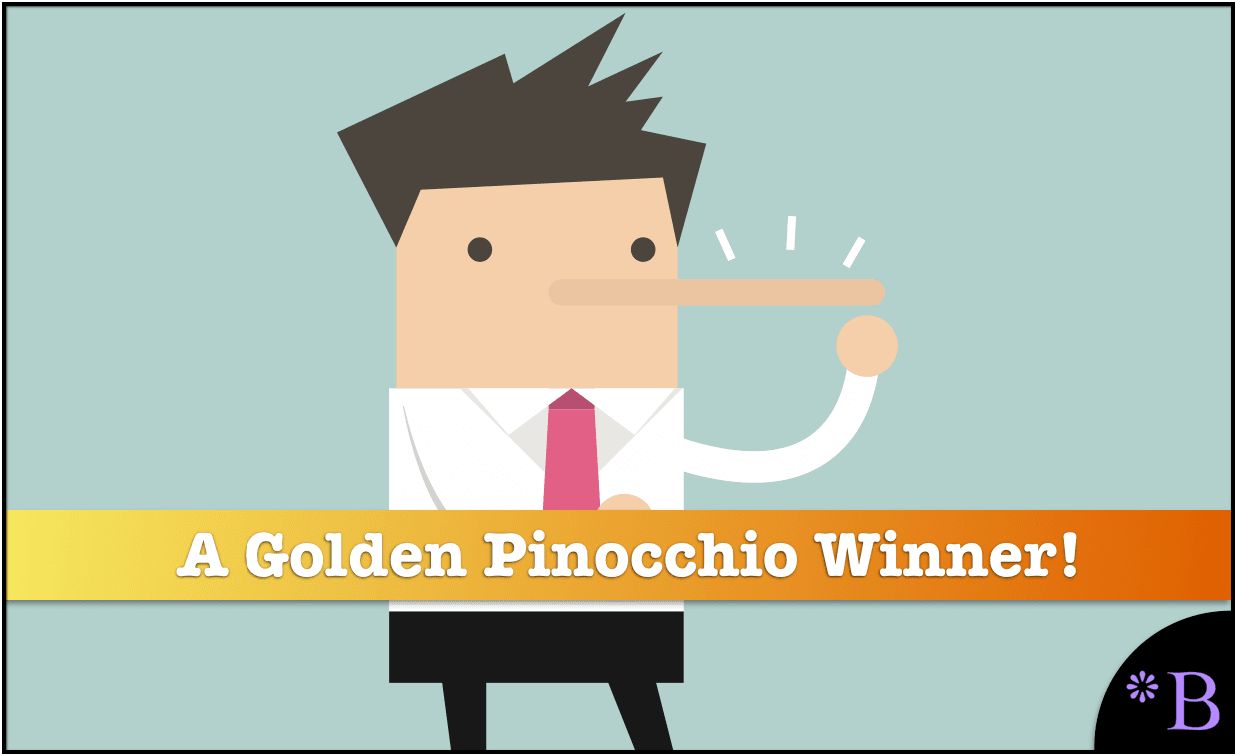 SAP receives a Golden Pinocchio Award for its claims that it did not know that the Guptas controlled CAD House and GSS. 
As the following quotation explains, sales pushed through to override any internal controls that SAP had with Futureteq.
Internally at SAP South Africa, there were those who voiced concerns that Futureteq was exactly what it looked like: a paper-thin cut out for the Guptas. But according to one source, the local sales team used their authority to bulldoze over any concerns.

"SAP sales management is requesting resolution to this matter as these partners have urgent opportunities in the pipeline with which we need to proceed," Higginson wrote.

"We found evidence that Sahara Systems (Gupta owned) acquired majority shareholding of the aforementioned SAP partners… Subsequently, Sahara Systems have sold their shareholding to Futureteq (no Gupta ownership)…

"The new owner of Futureteq is the brother of the Sahara Systems owner [but the] forensic report confirms he manages his own affairs independently of his brother." – Fin24
This internal email from SAP shows that SAP knew exactly what Futureteq was, a Gupta shell, and did not care.
SAP then continues to provide false information in their published "internal audit."
The investigation did not find any evidence that the integrity and value of the software and services provided by SAP to Eskom and Transnet in these contracts were undermined in any way by the inclusion of these intermediaries. – SAP
Really?
Well leaked documents show that SAP is lying here. As this quote from Fin24 illustrates.
But Pillay emphasised: "At the time we did the due diligence there was no linkage to any of the Guptas. I look at the company, I think we probably did a due diligence on them around 2015. At that time it was all clear, there were no issues. It was an external reputable company that did the due diligence. There were no red flags."

Now the new leaked documents show us just how contrived that statement was.

"Legitimate, value add services unlikely"

SAP was well aware of the risks of "business development" contracts.

For instance, in January 2016, global compliance head Melissa Lea sent out a memo reminding staff about the high risk of corruption when dealing with "business development partners".

"Commissions are the highest risk method of engaging with partners largely because the partner's role in the deal is usually not transparent.

"It is possible the customer may not even know the partner was involved, which would make the likelihood that the partner performed legitimate, value add services unlikely."

Due diligence, it seems, was a box-ticking exercise, a fig leaf to cover what the company should have recognised as kickbacks for influence pedlars.
Hmmmmm…SAP's own internal documents indicate that the value adds services were unlikely.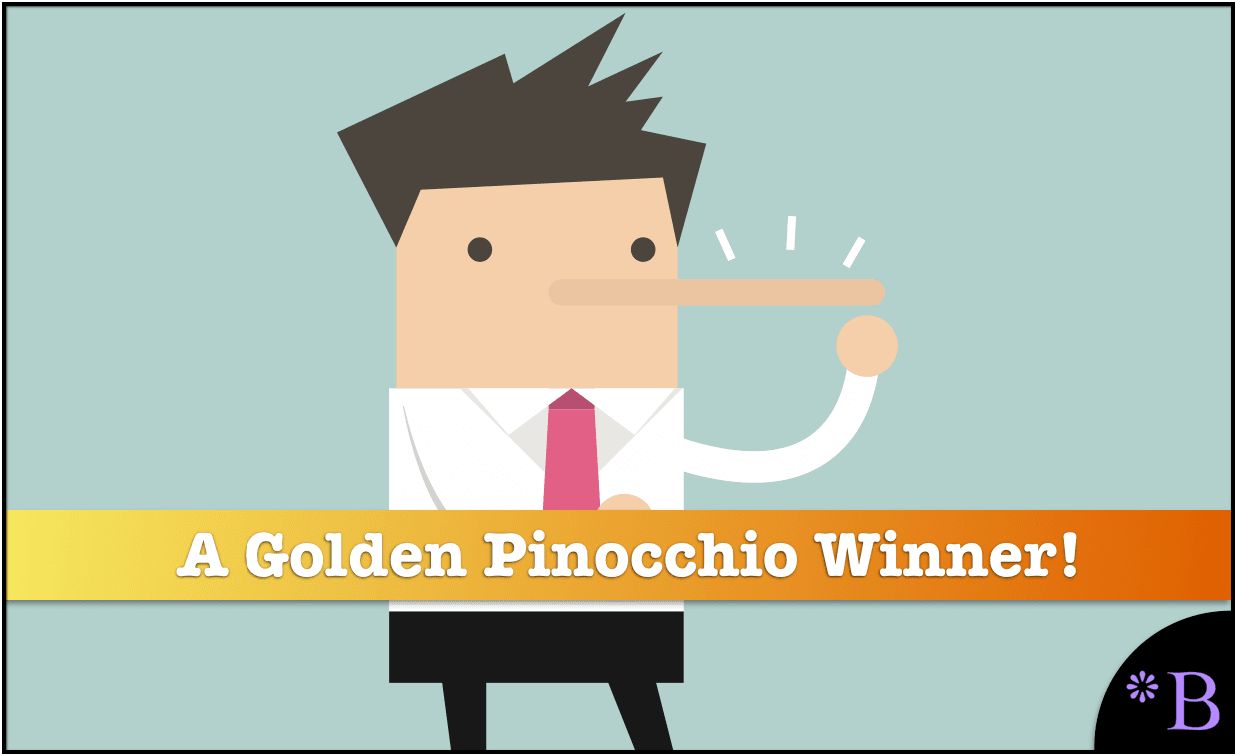 SAP receives another Golden Pinocchio Award for stating that the companies it used to acquire Eskom Transnet contracts were valued add when their internal documents show they knew they were just Gupta payment portals. 
In addition to the above-described finalized contracts, the investigation found that SAP, with the assistance of Gupta-related entities, unsuccessfully sought other contracts with Transnet and Eskom.

The investigation found no evidence of any payment to any government official or to any employee of an SOE, including any employee of Transnet or Eskom. However, the investigation has uncovered indications of misconduct in issues relating to the management of Gupta-related third parties. – SAP
The Guptas have been found guilty for virtually every type of corruption that we have a category for, with bribery being just the tip of the iceberg as the Guptas also engaged in tax evasion and illegal use of the South African work visa program. And SAP's proposal would like others to believe is they had no idea that they were dealing with these kinds of corruption and that they did not seek to work through them to obtain business.
Notice this quote on the Guptas and Transnet.
Transnet bought seven of the world's most expensive port cranes because its Chinese state-owned supplier inflated the price to pay off the Guptas, a kickback contract shows.

Shanghai Zhenhua Heavy Industries (ZPMC) delivered the cranes to Durban container terminal in 2012 and 2013.

When Transnet awarded the contract in September 2011, the cranes were worth no more than $81-million (R570-million then), but ZPMC inflated the price to $92-million (R650-million then) to make room for "commissions and fees".

This is according to an "agent agreement" between ZPMC and a Dubai company called JJ Trading (JJT).

JJT stood to take most of the crane price increase, plus an extra cut, altogether totalling $12-million (R84-million). In return, JJT would make sure ZPMC got its contract.

However, financial records in the #GuptaLeaks show that JJT was largely a cut-out for the Guptas, who got most of the JJT money.

Ultimately, it is not clear if Transnet's decision to buy expensive cranes from ZPMC made technical and economic sense, but if it did not make sense, as alleged, that is probably because ZPMC was paying off the Guptas. We recently reported that JJT and related shell companies received about R1.5-billion in Transnet kickbacks.

CSR paid most of this. The first Gupta kickback contract we published showed that the payments were in return for the "agents" making sure Transnet gave CSR a locomotive contract. Most of this was paid on to Gupta-controlled companies in the United Arab Emirates. – GuptaLeaks
It is undeniable that everyone in the contracting business in SA at this time knew what the Guptas did and that they were corrupt.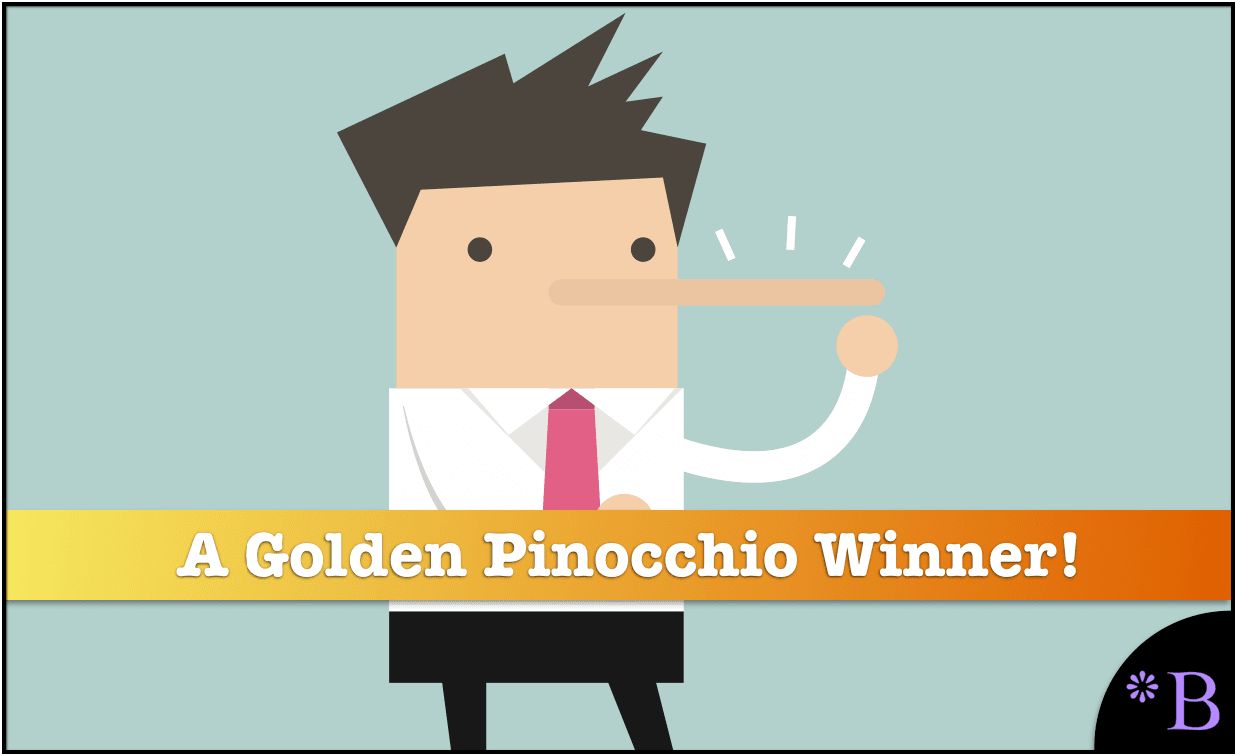 SAP receives another Golden Pinocchio Award for stating that it did not know about the Guptas or what they did when public information was already available in a report about public capture by the Guptas as far back as 2016. Information was generally available about the corrupt nature of the Guptas now before this. 
The findings of the investigation have led SAP's Executive Board to institute significant changes to its global compliance processes. These include:

Eliminating, effective immediately, all sales commissions on all public sector deals in countries with a Corruption Perceptions Index (according to Transparency International) below 50, which includes South Africa since it has a rating of 45; – SAP
What does that mean? Will salespeople not receive any commission for these countries? That sounds a bit fishy. They most likely mean not paying commissions through a partner, but who will follow this up?
Initiating on a global basis extensive additional controls and due diligence into relationships with sales agents and value-added resellers, including additional audit functions; – SAP
That is impossible. SAP has an enormous ecosystem of consulting firms that are also corrupt. SAP works with them precisely because they are corrupt, and they will recommend SAP no matter the fit to requirements.
Allocating to the SAP South Africa market unit additional legal compliance staff who are based in South Africa; and

Strengthening SAP's Compliance Committee in the SAP Africa region. – SAP
How can this make any difference?
SAP's business model is based on corruption. This is a band-aid and is designed to appeal to people who have no experience with how SAP functions.
The Degree of Graft
SAP's contract with Eskom is jaw-dropping, as the following quote explains.
The R495-million contract (about $34 million) with Eskom has been described by one source as the software equivalent of an all-you-can-eat buffet.

Yet we have seen no evidence that SAP asked the simple question: what expertise did Cad House have that allowed it to close a deal SAP's top sales executives could not? And what allowed Cad House to seamlessly transfer its "expertise" from Transnet to Eskom?

Instead of probing, SAP signed another 14.9% commission deal with Cad House to help it land the Eskom contract. – Fin24
CAD House added no value outside of getting the contracts. CAD House had no implementation capabilities and no SAP experience.
This is CAD House's website. It has close to no website volume.
It is some small CAD company in South Africa with nothing about SAP mentioned on the site. Why was SAP paying this company to obtain contracts from Eskom? Did SAP go to the website to see that they only specialized in CAD?
These are some of the CAD drawings that CAD House produces. Did this look like an SAP implementation company SAP when they visited the site in 2016? Did SAP certify them — because they don't do SAP work. How competent is SAP's compliance department on not engaging in corrupt foreign practices?  
Furthermore, we were able to figure this out in about 5 minutes, so was Fin24, as they explain in the following quotation.
CAD House is a small company, which specialises in selling 3D printers and which allegedly had no previous relationships with SAP or expertise in this field. That is why the DA claims that it has reason to believe that SAP SA procured the services of CAD House "purely because they wanted access to its owners – Duduzane Zuma and the Guptas' – connections within Transnet with a view to securing a lucrative contract". – Fin24
CAD House was just a way to funnel money to the Guptas. And how the money was moved after CAD House was paid by SAP illustrates this quite clearly.
Immediately after receiving payments from SAP, Cad House disbursed nearly all the money to the Guptas' Sahara Systems, to their two Indian banks, and to an obscure letterbox company called Birsaa Projects.

For its multi-million rand "services", Cad House got to keep almost nothing. – Fin24
SAP could have easily seen these things by merely checking on CAD House, but they knew what CAD House was already. CAD House is so barefaced corrupt that SAP assumes that those who would investigate the story would be complete idiots to think that it is not entirely clear what SAP was doing. This is obvious to South African authorities as well.
The DA intends to proceed to lay charges of corruption and money laundering against the directors and employees of SAP South Africa and of members and employees of CAD House as well as "any other person who had material interests in the deal".

Furthermore, the DA says it is not the first time SAP "has been caught with its hands in the cookie jar" internationally. – Fin24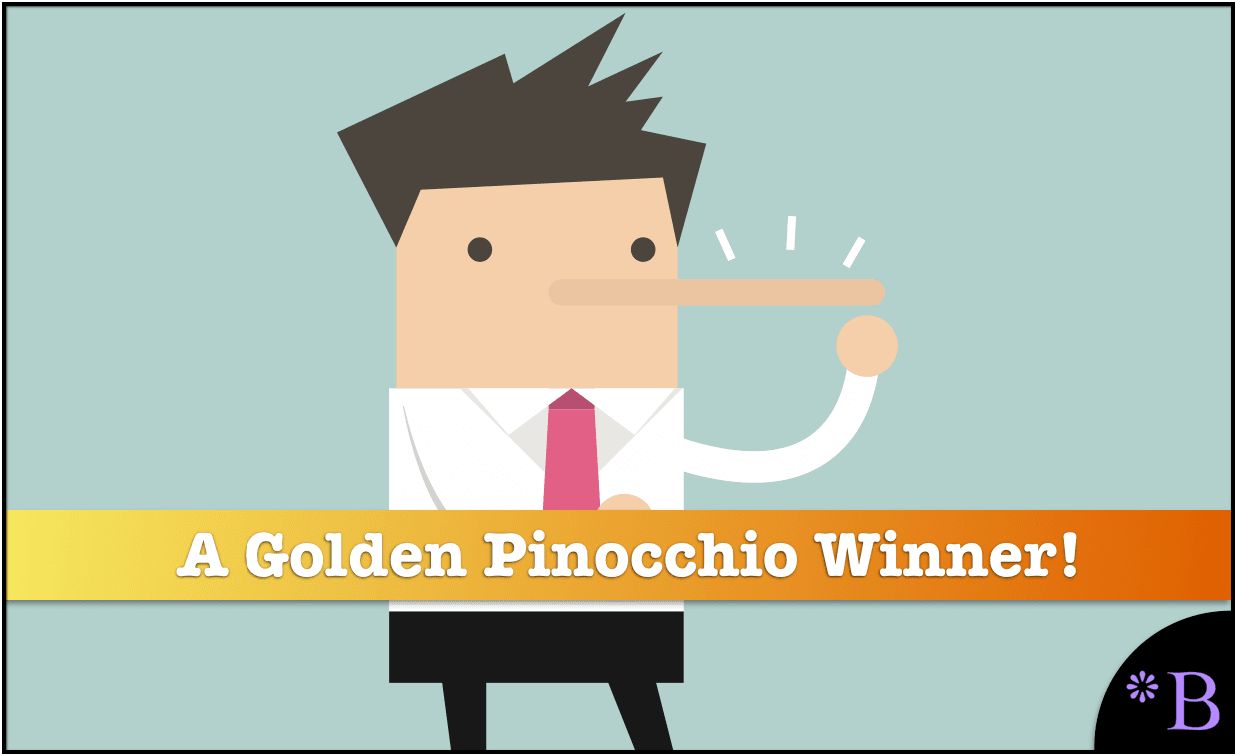 SAP receives another Golden Pinocchio Award for pretending to have a compliance department and then for not research. CAD House to quickly conclude that there is no way CAD House had any SAP background or any ability to "add value" to the sale to Eskom or Transnet. 
Eskom's Corruption Rears Its Ugly Head
So far, the story has been one of corruption around the Guptas and other firms. However, now the ANC-controlled Eskom shows up with its corrupt demand.
It is understood that the memo was requested by SAP's legal head in London after Eskom demanded that at least 25% of the SAP deal be allocated to "supplier development", in other words, small, black-owned companies.

Such a request is not abnormal, except that in this case, Eskom was buying software licenses so there was little opportunity to subcontract work to a local company.

Kemp told amaBhungane this kind of demand places international software firms in an invidious bind if the set-asides are not realistic.

Eskom, however, told us the request was not unreasonable because the contract would include additional services including maintenance and training which could be subcontracted to black-owned companies.
Throughout this story, these "supplier development" firms have proven to be nothing more than shells used to launder payments to the Guptas in return for contracts. How are black-owned companies in SA going to perform maintenance and training if they don't know SAP software?
It appears that Eskom was to point SAP to specific entities that would be selected by Eskom directors, which were naturally somehow related to Eskom directors.
And now, at this point, SAP seeks to circumvent this demand on the part of Eskom.
The solution to Eskom's 25% demand, described in SAP's internal records, was to keep Cad House's sales commission at 14.9% but to pay another 10.1% to Lejara, which would provide Eskom with consulting services to this value.
Take one guess who Lejara is related to?
Yes, you guessed right — the Guptas once again. If this had gone through, it would have seen the Guptas receive 25% of the deal's gross value.
Curiously, in the case of the Guptas and Transnet, they did not use a supplier development shell but were instead paid a $321 million "advisory fee" to Salim Essa, a Gupta frontman. (according to OCCRP) But shells were used with the corrupt Transnet deal (for locomotives) as well.
The bank data shows that, whenever Regiments Asia received a credit to its account, it was always from China South Rail — suggesting that the firm had been established precisely for this deal. Tequesta records show a similar pattern, with 90 percent of its money coming from China South Rail. But the money didn't stay with the two shell firms for long. The millions then went through more than three dozen shell companies around the world, mostly using HSBC accounts in Hong Kong and other locations, but also employing other banks in London, Johannesburg, Dubai, and the US. In all, OCCRP data shows that more than 20 banks sent or received money from Regiments Asia, Tequesta, or the shell companies. Led by HSBC, these banks also included National Westminster in the United Kingdom, Wells Fargo in the US, India's state-owned Bank of Baroda, Habib Bank, Standard Chartered Bank, and a dozen Chinese banks like Bank of China and China Citibank.

Big banks like the Bank of Baroda and HSBC allowed the payments to carry on from 2014 until 2017. Mercantile, however, noticed suspicious activity within four working days of the account being opened. Its bankers reported this to the South African Reserve Bank, which requested that Mercantile block the account, which it did  – OCCRP
Conclusion
Deloitte, McKinsey, SAP, and the Guptas, and others robbed what appears to be a defenseless utility filled with politically appointed "friends of the ANC" blind.
Deloitte cultivated internal people at Eskom to turn over the tender of their competitor. SAP worked the Gupta angle to get into Eskom and Transcom.
What is curious is that while Jacob Zuma's son was implicated in the corruption, nearly all of the people bought off by SAP and others were not white or African. They were almost universally Indian.
However, observe that Indians only represent less than 2.4% of the population of South Africa. How is it that such a small minority of South Africans are involved in a high percentage of corruption in these scandals?
Even the entry of the Guptas into South African political power occurred because of an Indian, as explained in the following quotation.
But others — exiled South Africans and fortune-seekers — were flocking in. True to his father's teaching, Atul settled in Johannesburg and sold shoes downtown. Then he started a company — Sahara, named after the family hometown — importing computer parts and assembling them for sale.

And by chance, he made a personal connection to the A.N.C. that would prove far more consequential.

During a trip home to India, Atul met a South African of Indian origin in New Delhi: Essop Pahad, the right-hand man of Thabo Mbeki, who was then Mr. Mandela's deputy. – New York Times
On October 10th of 2019, the US placed sanctions on the Guptas. 
The Guptas allegedly stole "hundreds of millions of dollars through illegal deals with the South African government, obfuscated by a shadowy network of shell companies and associates linked to the family", the US Treasury said on Thursday.

Atul, Ajay and Rajesh "Tony" Gupta, a trio of Indian-born brothers, have been added to the US sanctions list as "members of a significant corruption network in South Africa" accused of looting state coffers. The Treasury's move will forbid US entities from doing business with the family or handling their assets.

The sanctions were imposed under the Global Magnitsky Act, a law passed in 2017 that allows the US government to sanction individuals involved in significant state corruption around the world. – Financial Times
And further, then the FBI is now probing the Gupta family.
More companies are likely to be shoved into the harsh spotlight, however, now that the U.S. Federal Bureau of Investigation is probing other individuals, bank accounts, and U.S. companies with ties to the Gupta family, people familiar with the matter told the Financial Times. The FBI's investigation focuses on suspicious cash flows from the Guptas in South Africa to Dubai and the United States.

Outside the United States, the U.K.'s Financial Conduct Authority, the Serious Fraud Office, and the National Crime agency have been informed that British financial institutions—among them, HSBC and Standard Chartered—may have handled illicit funds connected to the Guptas. On Oct. 19, during the House of Lords meeting, Lord Peter Hain said, "In my letter of 25 September to [Chancellor Philip Hammond], I supplied for investigation 27 names and personal identification numbers, including President Jacob Zuma, 11 members of his family, 11 members of his close friends, the Gupta family, and their five associates, together with 14 entities linked to the Guptas and suspected to have been set up for the purposes of transnationally laundering an estimated £400 million, or 7 billion rand, of their illicit proceeds." – ComplianceWeek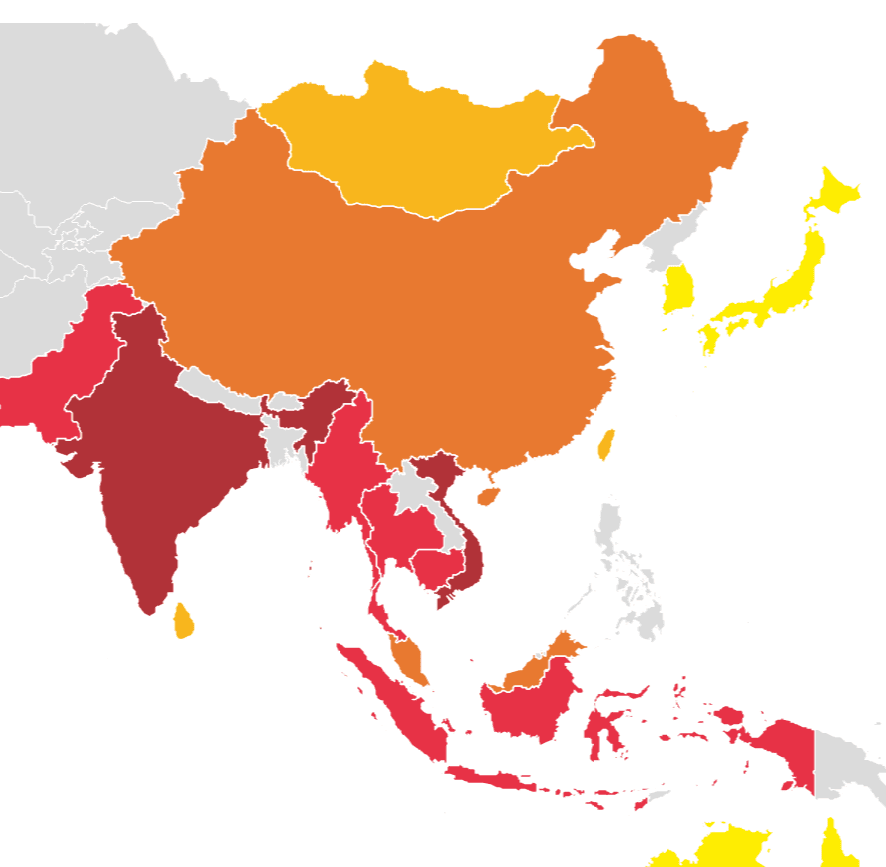 Due to the US sanctions, the question was asked regarding whether similar sanctions would be applied in India and the Guptas are active in India. However, a look at the corruption map of the countries in South East Asia, which includes India in dark red, showing the prevalence of bribes, as reported by Transparency International, indicates that it will be easy for the Guptas to bribe their way out of any repercussions in India. (In dark red, 69% of Indians surveyed reported paying a bribe to access public services in the past year – which is the highest percentage in the region). In Australia (in yellow at the bottom), the number is only 4%.tr.
See the full report here.
The Enablement of the Guptas by the Indian Bank — the Bank of Baroda's South African Branch
Furthermore, it is not only the Gupta family and Indians in South Africa that highly concentrated in the corruption but the second largest bank in India that would have had to have known what the Guptas were doing.
The Guptas had their accounts shut down in South Africa, but not in India, as the following quote explains.
India's state-owned Bank of Baroda — one of the country's largest — played a crucial role in the financial machinations of South Africa's politically influential Gupta family, allowing them to move hundreds of millions of dollars originating in alleged dirty deals into offshore accounts, an investigation by the Organized Crime and Corruption Project (OCCRP) and The Hindu has found.

The documents show that the bank's South African branch issued unapproved loan guarantees, quashed internal compliance efforts, and prevented regulators from learning about suspicious transactions in a way that benefited the Guptas' network.

Close to 4.5 billion rand (about US$ 532 million, based on an average exchange rate over 10 years) was transferred among just a handful of the companies between 2007 and 2017. As a whole, the amount of cash flowing through the Gupta accounts was so large that it dominated the transactions of the entire Bank of Baroda branch in Johannesburg.

Many of the transactions lacked adequate documentation about the purpose of the transfers, as is required in South African banking regulations. Other times, information was included, but didn't make sense. – OCCRP
OCCRP's investigation calls into question whether the Bank of Baroda was following any banking rules of any kind.
on Jan. 18, 2017, transactional paperwork shows that Trillian Management Consulting, at the time majority-owned by Gupta associate Salim Essa, loaned 160 million rand ($11.8 million) from its Baroda account to another Gupta company, Centaur Mining. The actual loaned funds passed through another similarly titled company, Trillian Financial Advisory. However, while the transactions describe a loan, no loan documentation could be found and there was no explanation for why the funds for the loan were provided by another company. Internal documents also show that some of the funds originated with two state-owned companies: Eskom, an electricity utility, and Transnet, a railroad company.

By June 2017, Eskom alone paid 466 million rand ($36.3 million) to Trillian for "management and financial services" at a time that the company had few employees and could not have performed the work. Internal Baroda documents noted that bank employees filed alerts about several irregularities about the payments, including the fact that some were made on the same day as invoices were received (giving Eskom no time to assess the quality of the work) and the fact that, for some reason, some of the payments were made to accounts held by other companies.

Despite all of the suspicious transactions, Baroda kept doing business with the two dozen shell companies controlled by the Gupta inner circle.

On some days, they filed as many as half a dozen SARs related to the Guptas' transactions. However, Bank of Baroda managers often stepped in and voided the reports, marking the transactions as "genuine." As a result, most of the SARs never reached the South African Financial Intelligence Centre, the state body in charge of reviewing and acting on them. – OCCRP
If you recall earlier in the article, the Bank of Baroda is where Goodson was asked to open accounts for Trillian. She was told to open the accounts to "facilitate work with eGateway" (a Gupta company). She was told to open the accounts and sign for the accounts and hand over the management of the accounts to another person, leading her to resign as CEO (CEO of a two-person company) of Trillian the next day. It later was revealed (according to the Daily Maverick) that Trillian was using an electronic copy of Goodson's signature on invoices and formal letters without her consent.
Bribes Paid to Bank of Baroda Officers?
This further raises our suspicions that the Gupta family bribed managers at Bank of Baroda. This is because the managers who contradicted the SARs would have known they were putting themselves at risk for prosecution for not following South African banking regulations. Therefore, what incentives did they have to contradict the SARs and keep private information from the South African Financial Intelligence Center? Even when the Guptas were engulfed in scandal in 2016, the Bank of Baroda continued to service the Gupta family. It was revealed that the chief executive of the Bank of Baroda, Sanjiv Gupta (apparently no relation to the Guptas), asked for an internship from the Guptas for his son (as reported in the Hindustan Times). However, that hardly seems to be sufficient compensation.
The numerous SARs they had themselves squelched combined with the public information that was front-page news in South Africa would have been impossible for the Bank of Baroda managers to miss. A second complicit bank was NedBank, which is the Bank of Baroda's local sponsor bank in South Africa. There is no other conclusion that both the Bank of Baroda and NedBank were knowingly enabling an illegal activity and allowing the Guptas to move their illicit funds outside of South Africa to banks in the Middle East, Hong Kong, and other locations.
Furthermore, beyond turning a blind eye to the Gupta transfers, the Bank of Baroda is even more actively involved in illegality by loaning money in 2010 to then-President Zuma's wife. This is observed in the following quote.
It was unusual for BoB (Bank of Baroda) to offer this home loan in South Africa, as the bank did not offer retail banking services and its primary products in the country were fixed deposits, trade credit and overdraft facilities. Stranger still was that the loan was granted to Sinqumo Trust, whose primary trustee was Bongekile Gloria Ngema Zuma, the fourth wife of Jacob Zuma, the President of South Africa. – Hindustan Times
This loan was then repaid not by Gloria Zuma but by the Guptas through their shell company called Mabengela Investments.
This means that the Bank of Baroda was not merely "looking the other way" but was mainly an agent for the Guptas.
"A loan to a President's wife, in a foreign country, serviced by a private company, is an immediate red flag," said Hemindra Hazari, an independent banking analyst, "As an Indian, government-owned bank, Bank of Baroda should not have touched this loan." – Hindustan Times
And it was the Bank of Baroda that was used to fund Gupta's purchase of the Optimum Coal Holdings coal mine, even though the Bank of Baroda had only 16 staff in South Africa, while the loan amount was 2.15 billion SA Rand (roughly $150 M the US). Shockingly $585 million SA Rand (or over 1/4th of the total) came from Eskom's payment to the Guptas! This, according to the book License to Loot, was a forward payment for coal deliveries — and a rather massive forward payment. This was payment for coal that had not yet been purchased.
With its reputation ruined, the Bank of Baroda is planned to shut down South Africa in March of 2019. The question will be why South African authorities do not prosecute the Bank of Baroda's officers.
Dubai Banks and the Dubai and Indian Government
The Guptas have fled to Dubai. Both the Guptas and much of their money are in Dubai. Dubai could kick the Guptas out of the country and freeze their assets, some of which are in Dubai banks. But nothing on this front has been published. This means that Dubai authorities and banks are complicit in allowing the Guptas to keep their illegally obtained funds.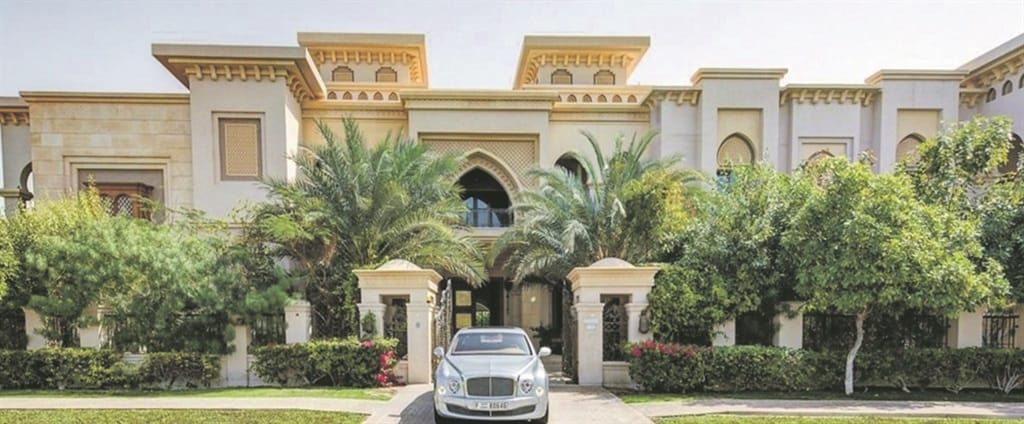 Image from Fin24
This is the mansion purchased for Jacob Zuma in Dubai, which is right next to the mansion residence of the recently deceased kleptocrat Robert Mugabe of Zimbabwe.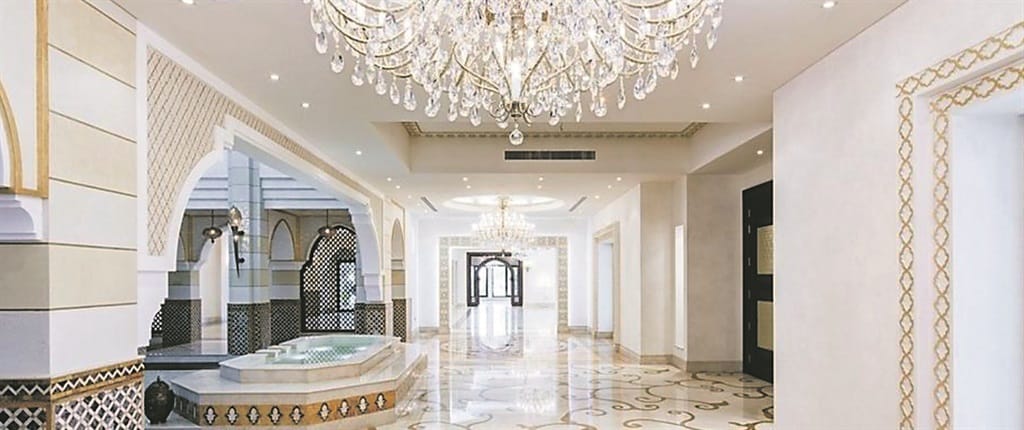 Image from Fin24.
Dubai accepts all kleptocrats and international criminals and kleptocrats, as do their banks, with open arms. 
However, it looks like Brightwork Research & Analysis should never visit Dubai after this article is published because, as explained in the book License to Loot.
Dubai is open for business to everyone, but if you step out of line, especially if you threaten the business interests of the sheikh and his family, there will be consequences ranging from deportation to beatings, torture and disappearance. Especially as journalists, you must be very careful, The Dubai government does not like bad publicity. It is bad for business. If you plan to write anything you must make sure you leave the country before you publish your story.

You will see the secret police outside of the Burj Khalifa, the journalist says. There are a lot of Russians there: arms dealers, oil barons, oligarchs. They like to spend their money there. The Dubai government makes sure there is no trouble.
The Guptas have also been seen traveling freely in between Dubai and India — again bringing up the question of India's interest in helping get the Guptas back to South Africa to answer for their crimes. Recently their houses in India have been raided.
The Involvement of KPMG with the Guptas
KPMG were the auditors of the Guptas. However, KPMG gave the Guptas a clean audit. The lack of auditing firms ever notifying the authorities of fraud or illegal activity questions what the audit firms do. This same issue arose in the Bernie Madoff scandal. Not a single auditing firm noticed any irregularities in an investment company that had not made a trade-in three decades.
This brings up the question of why South Africa has not sanctioned KPMG? How can the regulatory board of South Africa (IRBA) have any credibility as a real entity if KPMG is not reprimanded for their failure with the Guptas? KPMG did not report any irregularities to IRBA. Then they are culpable. So far, the IRBA has done nothing against KPMG.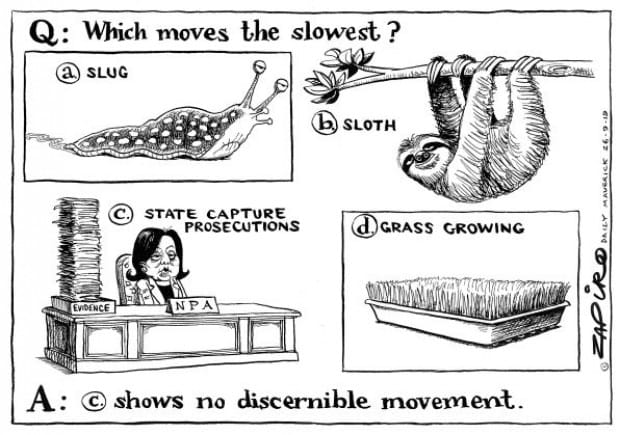 The following cartoon illustrates many South Africans' feelings as to the lack of legal action by South African authorities.
KPMG's corrupt practices in South Africa have extended far beyond their false Gupta audits.
The South African Revenue Service, the country's tax collection agency, was once a showcase of good governance, and the country's increasing tax revenue was a barometer of support for the young South African democracy. It has since been gutted by former president Jacob Zuma in an effort to avoid paying his own taxes, with the help of auditing firm KPMG. As public trust erodes, so do tax revenues, and the A.N.C.'s remedy is expected to hit poor South Africans hardest. – New York Times
The Coverage in IT Media of SAP and the Gupta Family
The lack of coverage in IT media is another part of the story.
No IT media entities covered this story — except one — The Register in the UK.  However, the coverage was tiny. I measured the one article at 380 words.
This is a massive scandal, which is nearly completely absent from IT media. The reason to me is simple — SAP preferred that did not — and SAP is a significant source of income for IT media.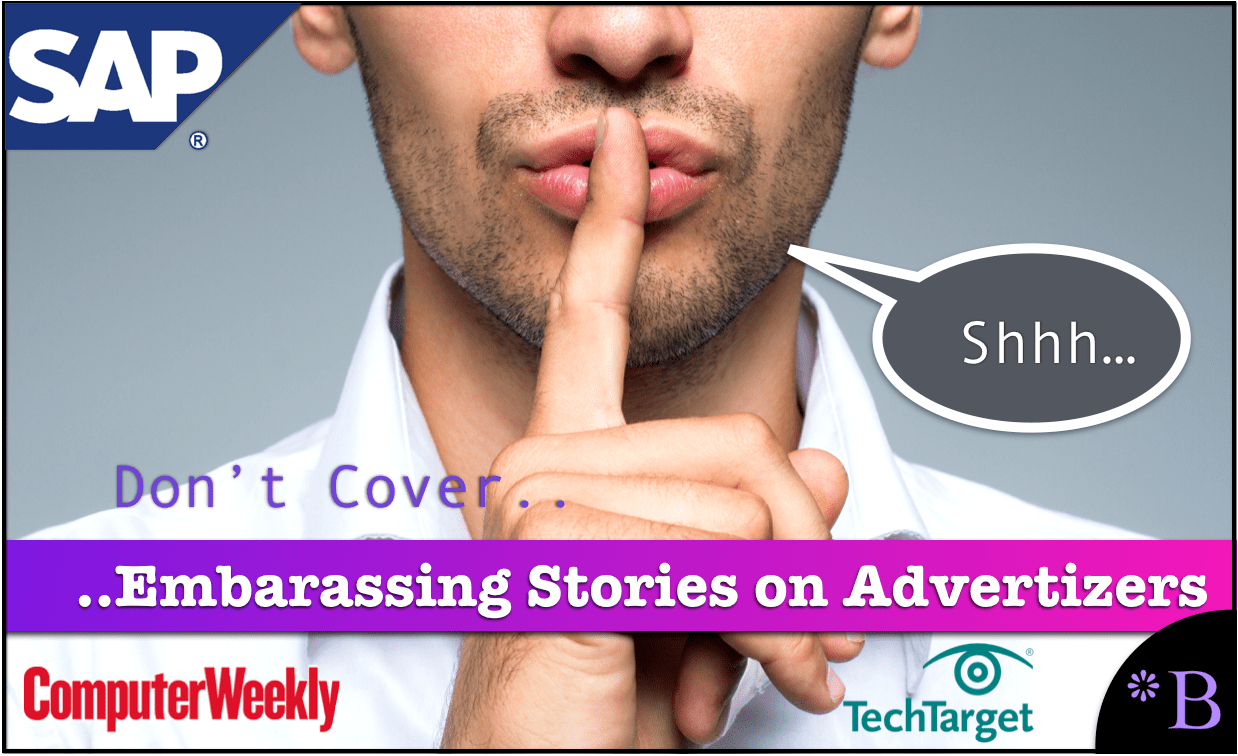 Employment in Gupta Companies
What has consumed little of the Gupta scandal's media coverage is how those that worked for Gupta companies were treated. However, this is covered in the following video.
In addition to overall horrendous treatment, quotes from Atul Gupta towards black South African employees include…
"You monkey, you stupid f****** monkey."
These working conditions are a problem for the Indian companies in the US as well, as Indian IT firms are considered the worst places to work in the IT industry. This is especially problematic as Indian firms employ so many H1-B visa workers, and the H1-B visa program puts the employer in control of the worker's citizenship pathway. The Indian IT firms like Infosys and Cognizant are the most aggressive lobbyists for more H1-B visas. For more of those visas to be assigned to Indians (as we cover in the article Why Are 47 Entities Lobbying in Favor of the H.R.1044 IT Immigration Bill?)
Furthermore, Indian companies are responsible for bringing back bonded labor to the US, something that has been eradicated from the country until recently and with migrant farm labor. As we cover in the article How Indian IT is Bringing Bonded Labor to the US.
The Implications for the Broader South African Economy
South Africa has been on a long term decline since the rise of the ANC. This decline has been little covered in Western media because the ANC mostly came to power due to sanctions against South African by the US & Europe. However, the Guptas and other corruption and declining capabilities have ballooned SA's debt, as is explained in the following quotation.
South Africa's state-owned airline is cancelling almost all of its flights over the next two days as it battles with unions over planned job cuts that are part of a government effort to slash its spiralling debt. The response to the cuts is the first major test of the South African government's attempts to decrease costs at its hugely indebted state-owned enterprises – including its electricity monopoly, which has imposed frequent power blackouts on the country as it struggles with finances. The airline, one of the biggest in Africa with close to seven million passengers annually, announced a restructuring plan this week that could require the layoff of nearly one-fifth of its 5,150 workers. Despite a US$360-million bailout by the government this year, the airline still has massive debts and is technically insolvent. Analysts have predicted that the planned strike at SAA could be the final nail in the airline's coffin. The airline says a strike would cost it more than US$3-million a day, at a time when the government is increasingly reluctant to provide further bailouts for the airline, which says it needs more than US$13-million in working capital this month if it hopes to keep operating. – The Globe and Mail
Correction Notice: In an earlier article version, Lejara was "owned" by the Guptas. This has been corrected to say that Lejara was Guptas related company.
Lucas Mohhupi of Lejara reached out to us to ask us to make this correction. However, things went south from there. Lucas played word games with us by stating that his company had nothing to do with the Guptas, while Guptas was a subcontractor to Guptas. Lucas' definition of "anything to do with" is ownership. We offered him an opportunity to tell his side of the story, but all we got back was unanswered emails and excuses around legal implications. The totality of our interactions provided no new insights and a series of denials.
References
*https://www.reuters.com/article/us-safrica-eskom/south-africas-eskom-could-sell-coal-fired-power-plants-finance-ministry-study-idUSKCN1VH1VO
*https://www.news24.com/SouthAfrica/News/gupta-fight-goes-to-dubai-20180331
*https://news.sap.com/2018/03/key-findings-sap-south-africa-investigation/
*https://www.transparency.org/news/feature/corruption_in_asia_pacific_what_20000_people_told_us
*https://www.nytimes.com/2018/12/22/world/africa/gupta-zuma-south-africa-corruption.html
*https://www.amazon.com/Licence-Loot-plunder-parastatals-almost-ebook/dp/B07GZR5RS6
*https://www.fin24.com/Economy/Eskom/live-statecapture-trillian-whistleblower-goodson-gives-testimony-20171103
*https://www.complianceweek.com/south-africa-gupta-saga-a-long-list-of-compliance-failures/2471.article
*https://www.biznews.com/global-citizen/2018/10/01/uae-treaty-gupta-brothers-dubai
*https://www.ft.com/content/4eb3fe64-eb69-11e9-a240-3b065ef5fc55
*https://www.gupta-leaks.com/anoj-singh/guptaleaks-a-third-gupta-transnet-kickback-contract-unearthed/
*https://www.transnet.net/Pages/Home.aspx
*https://www.timeslive.co.za/politics/2017-08-23-guptas-lifestyle-at-odds-with-tax-declarations/
*https://www.cde.org.za/wp-content/uploads/2018/09/Viewpoints-State-Market-and-Competition-Can-Eskom-be-rescued-CDE.pdf
*https://mg.co.za/article/2019-08-06-the-drug-thats-killing-eskom
*https://www.fin24.com/Economy/da-wants-sap-guptaleaks-probed-at-much-higher-level-20170717
*https://www.bloomberg.com/news/articles/2019-04-17/south-africa-s-decline-worst-of-nations-not-at-war-model-shows
*https://www.nytimes.com/2018/12/22/world/africa/corruption-south-africa-guide.html
*https://www.news24.com/SouthAfrica/News/us-blacklists-gupta-family-over-widespread-corruption-20191010
*https://www.occrp.org/en/investigations/down-the-guptas-financial-rabbit-hole
*https://www.fin24.com/Companies/Financial-Services/sap-names-those-tackling-guptaleaks-allegations-20170714
*https://www.occrp.org/en/other-articles/7697-the-data-behind-the-story-the-guptas-and-the-bank-of-baroda
*https://www.thehindu.com/news/national/bank-of-baroda-the-guptas-jacob-zuma/article22860935.ece
*https://www.biznews.com/global-citizen/2018/02/27/bank-baroda-sa-gupta-money-laundering
*https://en.wikipedia.org/wiki/Gupta_family
*https://www.zapiro.com/7
*https://www.hindustantimes.com/business-news/how-a-series-of-mistakes-by-bank-of-baroda-dragged-it-into-south-africa-s-political-crisis-ht-investigation/story-KZ8JRozaG0ToWrxbO0tbKN.html
*https://www.huffingtonpost.co.uk/john-davenport/why-is-dubai-not-worried-about-the-damage-the-guptas-are-doing-to-its-brand_a_23465395/
*https://www.biznews.com/energy/2018/12/06/death-spiral-eskom-risk-disappearing
*https://www.fin24.com/Economy/1922-2019-the-rise-and-fall-of-eskom-20190213
*https://www.gupta-leaks.com/tony-gupta/guptaleaks-another-software-giant-implicated-in-kickback-payments/
*https://www.dailymaverick.co.za/opinionista/2015-12-17-south-africa-is-under-the-management-of-guptas/
*https://www.fin24.com/Companies/ICT/what-sap-really-knew-when-it-paid-the-guptas-a-r100m-commission-20180625-3
*https://www.theregister.co.uk/2018/09/13/sap_south_africa_probe_corruption_water_ministry/
*https://news.sap.com/africa/2019/06/eskom-and-the-move-to-s-4-hana/
*https://www.biznews.com/undictated/2016/05/09/guptas-buy-dubais-top-priced-house-how-did-they-get-the-r448m-out-of-sa
*https://www.gupta-leaks.com/
*https://www.fin24.com/Opinion/opinion-how-failing-power-utility-is-fuelling-south-africas-economic-crisis-20191101
*https://www.thenation.com/article/africas-whistleblowers-all-i-did-was-tell-the-truth/
*https://www.occrp.org/en/investigations/7696-india-s-bank-of-baroda-played-a-key-role-in-south-africa-s-gupta-scandal
*https://www.dailymaverick.co.za/article/2017-09-27-amabhungane-how-gupta-linked-firm-scored-big-by-connecting-officials-and-consultants-whistle-blower/#.WdNgWmiCzIU
*https://www.moneyweb.co.za/news/south-africa/eskom-accuses-deloitte-of-corruption-and-maybe-plagiarism/
*https://www.reuters.com/article/us-safrica-eskom/south-africas-treasury-completes-probe-of-alleged-corruption-involving-state-firms-eskom-transnet-idUSKBN1KJ0KG
*https://www.moneyweb.co.za/news/south-africa/eskom-accuses-deloitte-of-corruption-and-maybe-plagiarism/
*https://www.occrp.org/en/investigations/7257-guptas-big-banks-linked-to-south-african-chinese-locomotive-deal
*https://mg.co.za/article/2019-10-25-00-sas-electricity-issues-are-fixable-but-we-need-political-will
*https://www.biznews.com/thought-leaders/2019/02/12/eskom-calamity-explained-energy-economist
*https://news.sap.com/2018/03/sap-finalizes-investigation-into-contracts-with-south-africas-eskom-transnet/
*https://www.theglobeandmail.com/business/international-business/article-south-africas-state-airline-grounds-itself-as-debt-crisis-worsens/
*https://ieefa.org/south-africas-state-utility-company-self-styled-extinction/
*https://m.news24.com/SouthAfrica/News/why-sa-has-a-shortage-of-doctors-and-nurses-20191014