How Indians Scam the Canadian Student Visa Program and Take Jobs from Canadians
Executive Summary
Canada allows large numbers of Indians to enter the country under a student visa that are not students.
These fake students are simply there to work full time in Canada.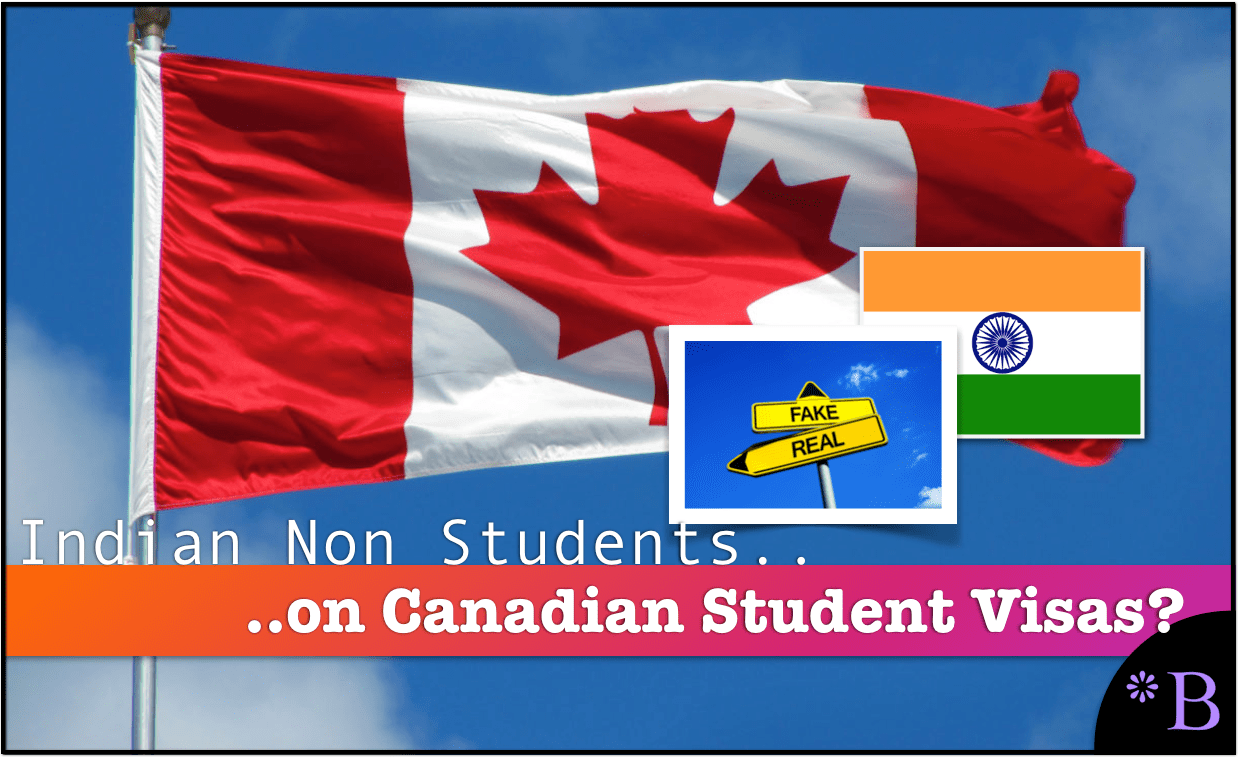 Introduction
Indians are coming into Canada on student visas and doing minimal studying while violating the caps on how many hours per week they can work on the visa.
This is explained in the following quotation.
One girl from India who picked me one day in a Uber told me that she had only been 5 months in Canada, and already owned the Uber car she drove. Basically they come already setup with money for buy cars and become Uber drivers. She said that parents in India rush them to get into Canada, because is very easy for them, plus Canada allow students work 20% of the time and 80% school.

She said with pride that all Indian students cheat and reverse the the arrangement, so they work 80% and study only few hours only for keeping the visa alive. After several months they apply for Canadian Resident Visa and so on – all the process for bring parents and the whole family
Foreign Students as a Pathway to Foreign Work Visas?
Canada makes it easy for an international student to transition to work after graduation, which creates a path to permanent residence. However, the Trump administration has announced plans to restrict or eliminate Optional Practical Training (OPT), including in STEM (science, technology, engineering and math) fields. Optional Practical Training allows international students to work after graduation in the U.S. for 12 months or an additional 24 months in a STEM-related job. The administration has also put forward other restrictions that would make an education in America less appealing to international students. (See here.) – Forbes
The New Strange Role of US and Canadian Universities
Universities always had foreign students — however, the role of  US and Canadian universities has changed markedly in the past few decades. Universities in the US and Canada are increasingly serving as immigration hubs. The children of the wealthy from third world nations send their children to the US or Canada, which then gives them a leg up on obtaining a worker visa. Universities in the US have so many foreign students that university cities in the US, like Madison, Wisconsin, don't have an ethnic composition anything like the composition of the rest of the country. In essence, universities have been given the right to "sell a pathway to citizenship."
This entirely changes what it means to be a "foreign student." It now means, primarily, it is not a person studying in the US or Canada, but a person seeking citizenship in the US or Canada.
Canada plans to increase legal immigration. "To further ease the challenges of a shrinking labor force and an aging population, our new multi-year immigration levels plan sets out the highest levels of permanent residents that Canada will welcome in recent history," declared Minister of Immigration, Refugees and Citizenship Ahmed Hussen in 2018. By 2021, Canada is expected to increase legal immigration to 350,000 a year, a rise of 63,490, or 22%, from the 2017 level of 286,510. – Forbes
How Indians are Changing Canada's University Culture
The Indo-Canadian community is in turmoil over a recent surge in foreign students from India, whose presence is feeding community tensions amid allegations of financial exploitation, an Indian brain drain, exam cheating, mistreatment of young women, employer abuse, drug dealing and the "stealing" of South Asians' jobs. – Vancouver Sun
The bonanza of the potential of Canadian citizenship is now causing many more Indian families to try to get their children footholds into Canada, as is covered in the following quotation.
In the past it was mostly well-off Indian families who sent their children to Canada to study. But now tens of thousands of low-income Indians, including farming families, are stretching their meagre finances to get their children into the Canadian education system, job market and family immigration stream. – Vancouver Sun
Family immigration stream means chain migration. They are trying to establish a presence with their children who will score well in Canada's immigration system — so they can make the case to bring over as many of the family members as possible. This is covered in the following quotation.
The Indo-Canadian media say some are sending money home to their Indian parents, many of whom hope their sons and daughters will sponsor them to come to Canada to work temporarily or immigrate. – Vancouver Sun
Because these new types of students are not as wealthy as the previous Indian foreign students, they have to try to work while on the student visa more than previously in order to pay for their studies. This has led to the following outcome.
Meanwhile, Indo-Canadians concentrated in Greater Toronto and Metro Vancouver have been holding public meetings to complain about how many students from India are skipping classes to work longer hours in Canada than they are permitted, leading to the Times of India running the headline: "Indo-Canadians say international students 'stealing their jobs.'"

Desi Today, an Indo-Canadian magazine, said in a feature article, "There has been a simmering reaction of anger and protest by the Indo-Canadian community, especially of Surrey, against these students.

"There are YouTube videos made by Indo-Canadians displaying the behaviour of the students (and) their unhygienic lifestyle, criticizing them for their focus on earning money instead of studies. A few are leaving studies altogether to enter into illicit activities, like drug trading," said Desi Today. – Vancouver Sun
This is moving the student visa into a large percentage of Indian students using their student status to violate the 20-hour work limitation and to essentially work full-time jobs in Canada.
Balraj Kahlon, of Guru Nanak's Free Kitchen, a Surrey organization that helps low-income individuals, told Postmedia News his members were discovering that "many students from India are under financial stress and there is a problem of labour exploitation, and sexual exploitation of young women." Some Indians students are alleged to be working more than 12 hours a day, when their Canadian study permit is supposed to limit them to 20 hours a week. – Vancouver Sun
And what universities qualify to provide student visas? Well, it turns out virtually any school does, as is covered in the following quotation.
Many students from India are also attending small private colleges in Canada, which some critics dismiss as "one-room" fake diploma-and-immigration factories.

English-language schools have been fined for charging students $15,000 for phoney passing marks in English tests, so they can get into Canada. Punjabi officials have ordered a crackdown on immigration consultants, some of whom take large sums and make false promises to manoeuvre young people into Canadians schools.  – Vancouver Sun
This means that straight up scams are being tolerated that are not really schools but aim to "sell Canadian student (actually work) visas to Indians.
Higher Coronavirus Subsidy from the Canadian Government to Foreign Workers (including Indians) Over Canadian Citizens
Furthermore, Indian foreign students have even received preferential financial support from the Canadian Government. The Canadian Government is now providing extra coronavirus funding to foreign students, as is explained in the following quotation.
The Canadian government's decision to give a monthly benefit of $2,000 each to foreign students during the corona crisis has caused resentment among local students who get only $1,250 each.

As Indian students—currently numbering 2,19,855—make up about a third of all 6,42,480 foreign students, the resentment is visible among many in the Indo-Canadian community for this 'preferential treatment' to them.

Another Punjabi journalist added: "Many students are reportedly sending money back to their families in India. I have also heard that many of them might be claiming this money while still stuck in India, though they are legally required to be in Canada. So why won't there be a craze in Punjab to send their children to Canada?" – Tribute India
The logic of this extra payment is to cover the higher costs of being a foreign student. However, it has the effect of allocating more of Canadian taxes to foreign students than to domestic students.
Out of Control Conflict on Canadian Campuses
Naturally, many Canadian students are quite embittered by all of this.
Things are so strained among some South Asians in Canada that fights have broken out between domestic and foreign students in Ontario colleges. – Vancouver Sun
And what is this doing to the quality of education and the college experience for Canadian citizens? Indians are constantly cheating and sharing exam answers — that is, "coordinating" in the work arena, and India has an epidemic of cheating in Indian high schools and universities.
What do we think is happening when they are students in Canada?
Also, what is happening to the culture of Canadian campuses as they become increasingly dominated by foreign students? How is any of this fair to Canadian citizens?
How Much Crime is Due to Indian Student Visas?
I received this information from someone in Canada.
Brampton near Toronto is a neighbourhood with the largest Indian population in Eastern Canada.  Looking at the crime statistics in this area, one would find highest cases of home breaking, shootings/murders, drug peddling, scams, frauds prostitution etc.  One simple reason is, the illegal human trafficking via the study visa permits. The so-called students landing in Canada on study permit can't find a reasonable job due to language skills or limited hours resort to crime.
This brings up the question of how the Canadian student visa program is being supervised. If it is anything like the US H1-B program there is no supervision. In the US, the Department of Labor does not, and is not allowed to verify the skill or credentials that are added to the H1-B application. You can put your skill as being a Nobel Prize winner, and all the DOL will do is file the form away.
Non-Canadains Selling Canadian Citizenship?
The quote continues.
Another crime that is not reported at all is what is known as "paper marriage".  Any young Indian who has attained legal residential status in Canada will charge around CAD 20,000 to bring a would-be spouse from India just to give him/her a legal passage to Canada. However, would actual marry whoever else he/she had originally intended to.
This is where a person who is not Canadian sells Canadian citizenship.
Tax Evasion as in India
Tax evasion is endemic in India, which is a lawless society. Brightwork Research & Analysis has chronicled the natural lawless nature of Indians in the US and now this lawlessness extends to endemic tax evasion in Canada.
Businesses in Brampton and other highly Indian origin populated areas work on cash basis and deprive the government of much-needed tax while enjoying full governmental benefits.

The link below shows the number of students coming to Canada in 2018 from different countries on study permit.  Indians are the highest and Pakistan is the lowest.  For one simple reason: The permits are processed in India.  Pakistan being India's adversary, hence high rejection rate.

Study In Canada Visa Rejections High For Certain Qualified International Students – Canada Immigration and Visa Information. Canadian Immigration Services and Free Online Evaluation.
Now, your visa gets outsourced to India! – The Economic Times (indiatimes.com)

Will someone in government wake up to this.
Yes, to this commenter's point, none of this will be covered in the mainstream media outlets in Canada. And as the Indian population in Canada is rapidly increasing, domestic or natural-born Canadians can expect the already feeble freedom of speech they enjoy to further erode. As the negative implications of Indians become more obvious, it will be more important than ever for all Canadian media sources to be censored and for anyone who disagrees with further Indian immigration and exploitation to be called a racist.
Conclusion
US and Canadian universities are now actively working against the interests of their domestic students. They are increasing the supply of workers, which will naturally depress the wages of the students that are citizens. They are also selling entry to the country, and the student visas allow significant numbers of hours to be worked, and there is little enforcement if they exceed those hours.
Serving as immigration hubs are not what US and Canadian universities should be doing, and not what they were set up to do. The universities were set up to educate the local populations where they are located — not to traffic in foreign students that are primarily from third world nations that are seeking to exit their countries and engage in chain migration.
Furthermore, it is not only universities. The system is now lax, that fly by night "educational" companies also qualify to apply for student visas.
The current system of foreign student visas is completely out of control, and it is obvious by simply visiting US and Canadian campuses to see the enormous numbers of foreign students that are on these campuses and have the intent to immigrate to the US and Canada.
References
https://www.tribuneindia.com/news/world/trudeau-govt-aid-to-indian-students-causes-resentment-in-canada-95818
https://vancouversun.com/opinion/columnists/douglas-todd-indo-canadians-in-uproar-over-surge-of-foreign-students
https://www.tribuneindia.com/news/world/trudeau-govt-aid-to-indian-students-causes-resentment-in-canada-95818