How SAP and Oracle Stripped the Value from 22% Support
Last Updated on May 25, 2021 by
Executive Summary
SAP and Oracle have engaged in a concerted effort to strip out value from the base support level.
This means that the actual support cost for SAP and Oracle have dramatically increased.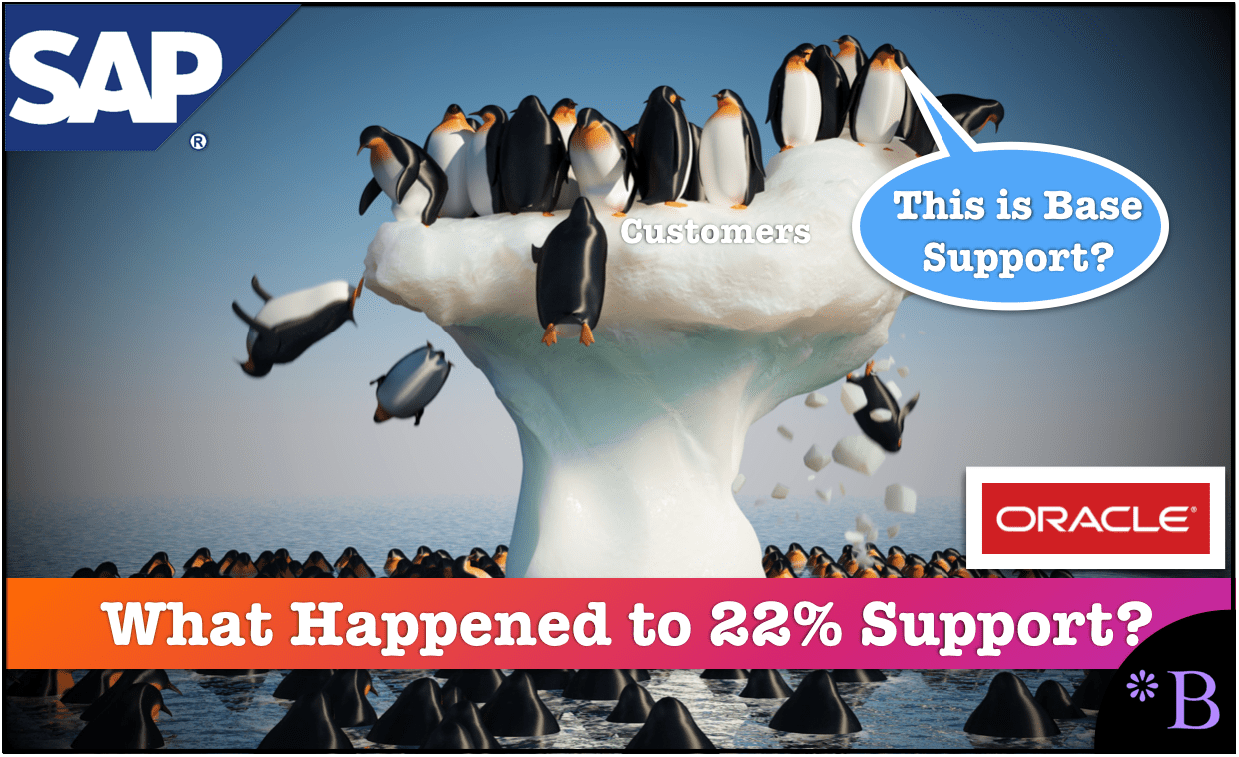 Video Introduction: How SAP and Oracle Stripped the Value from 22% Support
Text Introduction (Skip if You Watched the Video)
When SAP and Oracle sell their software, they sell the software with base support. This base support has increased throughout the years to rest at 22% of the license cost. This 22% is due every year, and it is proposed that this support means that these vendors provide support for the application. However, as time has passed, SAP and Oracle have stripped the investment from their support, pushing their support to the 90% range in profit margin by doing things like moving most of the support to India and using the most inexperienced resources and by cutting down the scope of the support they provide to customers. You will learn as we evaluate the implications of this strategy for SAP and Oracle Customers.
Our References for This Article
If you want to see our references for this article and other related Brightwork articles, see this link.
Lack of Financial Bias Notice: We have no financial ties to SAP or any other entity mentioned in this article.
This is published by a research entity.
Second, no one paid for this article to be written, and it is not pretending to inform you while being rigged to sell you software or consulting services. Unlike nearly every other article you will find from Google on this topic, it has had no input from any company's marketing or sales department. 
The Scam of SAP and Oracle Support
In sales presentations, SAP and Oracle talk about how fantastic their support is, but the reality of their base support offering is considered by those that use the support to be quite weak. We use SAP support, and it is mostly a waste of time, with SAP support representatives normally deflecting issues when they turn out to be broken functionality in SAP.
Therefore, it is now prevalent to receive false answers from SAP on issues that would make it understandable that SAP sales had misled customers. SAP and Oracle maintain ticketing systems, but the value of these is declining as well. English is usually a second language for those that work in SAP and Oracle support (due to gutting the support employment in the countries where most of SAP and Oracle's customers are), so miscommunications and inefficient communication is widespread.
So while customers get less and less from SAP and Oracle support, support is more and more used to push customers into doing things that these vendors want their customers to do.
Ahmed Azmi explains this.
"Oracle EBS 11 hit GA in 2004. Oracle pulled its premier support just six years later in 2010, then dropped extended support in 2013. That left customers, who had yet to upgrade, on what Oracle calls "sustaining support." At each tier, the level of service declines but the price does not.

The capital cycle for ERP is 15-25 years. NOBODY immediately upgrades to a new release. It takes time to get a business ready for a significant implementation or upgrade, and some companies like to wait until the riskiest bugs are worked out. Other companies don't see the ROI in the massive costs associated with these upgrades.

ERP vendors reduce or eliminate support coverage on prior releases to force upgrades and customers pay the same 22% for less and less support. Just like taking candy from a baby!
Ahmed's statement regarding the adoption of new versions is reinforced by the following quotation from the book SAP Nation 2.0.
"Not all customers adopt every new SAP version. Even the most adopted EHP 4 research a peak adoption rate of approximately 35 percent, and three years after becoming generally available (GA). The time it takes a new version to reach peak adoption is approximately 18-24 months after GA. In addition, we can see that EHP 7 (the latest version, and the required version to support Business Suite on HANA as well as Fiori), has a steeper adoption rate and has the potential to become the most adopted version. Unlike Android or mobile applications, the expected upswing in ERP adoption is measured in years, not months."
Support Conundrum and Support as a Surcharge
If the support is nearly all margin, with less and less offered in the 22% support, it could be called a "license premium" or merely a surcharge. If it is only a yearly license premium, now SAP and Oracle's TCO substantially increases.
When we created online TCO calculators for SAP and Oracle, we did not consider this reality. When I was asked why IT departments have a hard time calculating TCO, first, they tend to lack the staffing, but second, the assumptions are complex. In this example, the TCO for SAP and Oracle are not higher than there were ten years ago. Furthermore, I cannot ever recall the topic coming up that the base support is nothing more than a yearly surcharge. This means the customer has to expend more money/effort to get actual support and to fix issues.
The Rapidly Increasing Demand for Free Support
Because we publish so much material on SAP technical areas, one place that some SAP customers have reached out to is us. However, interestingly, after having spent so much money on non-existent support, we often get customers who don't have any budget, but are looking for "help." After we rejected a one month project where we would have been expected to fix all of their issues and provide training, they started sending us questions and asking us to guide them for free, as they lacked budget (they said). This customer is scrambling and using business resources to research the problems online. There is a lot of need for SAP help out there, but far less of a budget to fix these support problems. This is one reason why SAP projects are becoming less sustainable. And while we don't get Oracle requests, given the similar disinvestment in base support, we think its highly likely that Oracle customers see the same thing.
A New Marketing Program for 3rd Party Support Providers?
Given this reality, it seems that a likely future marketing logic for 3rd party support providers is the following:
"As SAP and Oracle's support is now just a surcharge/tax (which means you should not expect anything more than continued upgrades), continue paying the tax, but hire 3rd party support to provide the actual support. This means that the yearly support cost is now 33% per year (22% for SAP an Oracle, and 11% for 3rd party support.) But this is the reality of SAP and Oracle support."
This is reinforced by the following quote from the book SAP Nation 2.0.
"Another customer is TT Electronics, a $1 billion UK-based electronics manufacturer, whose CIO Ed Hefferman has been quotes as saying SAP Maintenance is effectively an added tax that I have to pay for no value in return. TT blends Rimini support while using savings to continue to buy a new SAP license for its ECC 6.0 environment."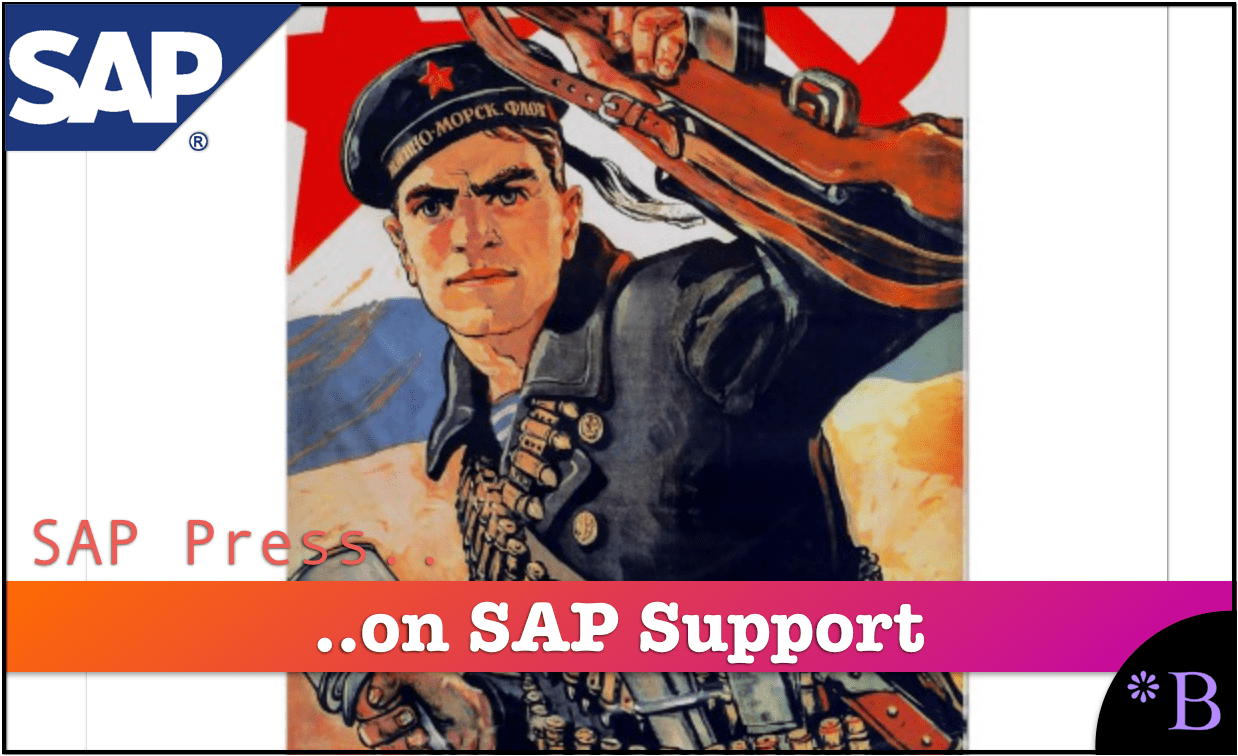 How to Access Propaganda About SAP Support from SAP Press
As this has become one of my research focus areas, I decided to go and find a book on SAP Support. There are very few books on this topic. I found SAP Service and Support by Gerhard Oswald and published by SAP Press. The book was written back in 2006, and it was interesting to see or to be reminded of how much SAP has changed since that time. Terms that were very frequently used are no longer used as SAP has moved on to new solutions and new marketing terms. Areas that at one point SAP emphasized, like CRM, are not entirely de-emphasized.
SAP Press
After reading the book, I decided to highlight some interesting quotations. This is, after all, a book by SAP Press. SAP Press is a publisher of material that is always consistent with SAP marketing and sales. That is, SAP Press has no independence from SAP and is partially there to publish usable information for those that work in SAP mixed with propaganda for SAP.
Therefore, these books require significant interpretation and cannot be taken at face value.
On Netweaver
"As the underlying platform of the ESA, SAP Netweaver provides access to the ready to use enterprise services. It also provides increasing numbers of flexibility configuring business objects and components, along with preconfigured processes that will be accessible as enterprise services. SAP NetWeaver is therefore the conceptual basis of flexible system landscapes that allow enterprises to adapt their business process quickly in response to market and business changes."
This reminded me of how far Netweaver goes back in time. Netweaver was a major tent pole concept SAP until the arrival of HANA on the scene in 2011. At that point, Netweaver (for all intents and purposes) was turned off, and SAP stopped talking about it.
I provided coverage of Netweaver and questioned whether it ever actually existed in the article Did SAP Netweaver Ever Actually Exist? In analyzing this quotation, my interpretation is that none of this paragraph is/was correct. Netweaver did not do much of anything except append to other actual SAP products.
"…the potential for optimizing existing IT landscapes can often be considerable, especially in large companies with complex business scenarios and a global presence. The primary objective is to protect existing investments and create a wide scope for innovation. This calls for a solution support model of the highest quality, which, in turn, requires a holistic approach to the IT solution and a thorough understanding of the following areas and the relationships between then."
This is a throwaway paragraph. But the interesting thing is that SAP has outsourced so much of its support to third world nations, that it is tough to take this paragraph seriously. What SAP is far more dedicated to, rather than "highest quality," is maintaining a 90% margin in its support organization. Essentially, SAP is about giving customers as little back as possible.
So overall, this paragraph is unbelievably inaccurate. SAP could have done a lot of things to make its actions match these words, but it never did. This is where the profit margins of many companies become indefensible. If we think of Apple, they have 240 billion in cash and make massive margins on their iPhones. Do they still have to make them in contract manufacturing plants like Foxconn, where the workers put in 16 hours per day? The same applies here. With 90% margins, can't SAP increase the pay of its support workers? Can't it afford it? Is that it? Apple and SAP can't afford to do these things?
On SAP MaxAttention
"A top rate service, SAP MaxAttention is tailored entirely to customer needs and must therefore the extremely flexible. One of the program's main advantages is that it provides access to network of highly specialized resources. The TQM sets up and runs a front office at the customer's site to integrate the customer in this network. The front office is always connected with the back office at SAP."
Interesting. MaxAttention is exorbitantly priced. According to those I have spoken with, it becomes a pipeline into even more expensive consulting "help."
I was not able to determine the exact yearly cost of MaxAttention – but let us remember that just standard SAP support is 22% of the licenses owned by the customer on an annual basis. MaxAttention is significantly more than this.
"Unfortunately, our experience has shown that outstanding IT to external providers often entails a loss of compliance. SAP MaxAttention, however, can reconcile the two areas and enable the requirements arising from business process to be converted to requirements for the underlying technology. With MaxAttention, customers can preserve the IT skills they have built up with their company."
This is amusing. SAP has determined that if it loses the support contract to an outsourced support entity, the quality "goes down."
What a surprise that SAP would "find this."
Is it possible to entertain the idea that SAP wants to keep its support contracts and that SAP may have no evidence that outsourcing the support contract is saying this to make more money?
SAP Expertise on Demand
"With SAP Expertise on Demand, you can call on SAP experts to resolve your problems on a short to medium term basis. This kind of temporary engagement is intended for technically demanding or unusual problems that cannot be resolved by your own staff. The service is designed to put you in touch with experts who understand the technical and functional challenges that you need to overcome to optimize your company's business processes. Any problems that occur are documented in Solution Manager, either by one of your experts or by SAP. "
SAP maintains one of the most extractive support systems that I have seen. SAP has all manner of techniques for charging customers more for support above the standard 22% level. The question of the cost of "SAP Expertise on Demand" would be an essential question to ask.
On SAP Hosting
"SAP Managed Services is a portfolio of outsourcing services for SAP and SAP related systems. The services present an attractive and professional alternative to establishing your own support organization to maintain and operate SAP technology and solutions. Modern, high performance data centers around the world provide a powerful infrastructure comprising the latest hardware and state of the art technology for networks, communications and data security."
This is quite an insight because SAP has become even more aggressive in pitching its hosting services since 2006. The IT world in 2016 versus 2006 has become much more SaaS-centric. We have come from a time when SaaS vendors have had to answer questions about the privacy of data. Up to where Wall Street provides SaaS vendors with a higher multiple and where vendors participate in cloud washing to make their applications seem as if they are delivered from the cloud more than they are.
But SAP still has not grown its hosting capabilities. Outside of SAP's marketing, the direction nature is to host SAP applications on IaaS/SaaS vendors with far more capacity and capabilities in the area than SAP, entities like Azure and AWS.
On TCO
"By adopting an Enterprise Service Architecture based approach to its portal solutions, the enterprise has reaped a host of benefits. Its enterprise services encapsulate functions and processes already available in its SAP and non-SAP systems, linking them to create fully integrated, end-to-end online offerings. This has decreased the TCO by reducing the amount of costly, time-consuming development and maintenance tasks, and by eliminating the need for new IT investment."
SAP is the all-time champion in referring to TCO, to how its software reduces TCO without providing a shred of proof on the topic of TCO.
I would know. I wrote the only book on TCO for enterprise software.
My estimation of SAP software, when compared to 53 other applications, is that it has one of the higher TCOs in the marketplace. SAP goes on.
"Because most companies are not integrating a variety of systems. IT infrastructures are becoming increasingly complex. The number of interfaces to web services and software products—from a broad range of vendors – has also increased dramatically. Bearing this in mind, SAP aims to help companies run their SAP solutions as cost-effectively as possible and with minimal technical risk. Curbing total cost of ownership and accelerating return on investment are important ways in which to achieve this goal."
And here SAP does it again, but also this time roping in the topic of ROI, something that SAP feels comfortable proposing that it lowers, but which it never calculates.
On Solution Manager
"With SAP Solution Manager, SAP has created a completely new way of collaborating effectively with customers and partners. SAP Solution Manager's primary goal is to provide SAP customers and optimum support during the implementation, go-live, and operational phases, as well as when tailoring their solutions to meet new requirements, and to proactively deliver high-quality, timely services that fulfill customers' needs. Because requirements have changed, it is vital – from SAP's point of view – that a tool is provided that can absorb all the necessary data from the customer's entire IT landscape and core business processes, and make this data available when it is needed."
This is back when Solution Manager has more momentum in the marketplace. I noticed the slight use of Solution Manager on projects and called out its demise back in 2012 in the following article. Solution Manager just had too much overhead, and the "juice was not worth the squeeze."
This quotation is substantially entirely false. Solution Manager did not do any of the things listed in the quote successfully.
"itelligence AG, a leading IT service provider, uses SAP Solution Manager to simplify and enhance the support it offers to both its external customers and internal users. SAP Solution manager helped intelligence AG to centralize its heterogeneous infrastructure, which included multiple solutions for help deks and support activities. Previously, the solutions were integrated in SAP R/3, or based on either websites or email, depending on the particular location, and the required various interfaces and integration tools. Thanks to the SAP Solution Manager support portal – which unifies help desk and proactive support – that has all changed."
This was amusing. I know of intelligence.
SAP can buy off a reference from itelligence at the time of their choosing. SAP can sprinkle deals to any of its partners depending upon how well those partners tow the SAP line.
itelligence is an SAP partner and has no independence from them. If SAP asks them to jump, itelligence asks SAP, "how high sir?" This is not a credible reference.
"In view of these specifications, the experts propose implementing mySAP CRM with the data warehouse components from SAP NetWeaver Business Intelligence (SAP NetWeaver BI). They recommended SAP Mobile Sales for the mobile sales forece and SAP E-Commerce for SAP R/3 as a basis for the Internet shop, the result is a solution that can be realized quickly and cost effectively. In order to be up and running for the fall and winter season – the company's most important time of year – It management has drafted on aggressive schedule, leaving just seven months to implement the system."
SAP CRM, SAP Mobile Sales, SAP E-Commerce are all dead. SAP NetWeaver BI is now just called SAP BI. This solution described above was most likely shut down.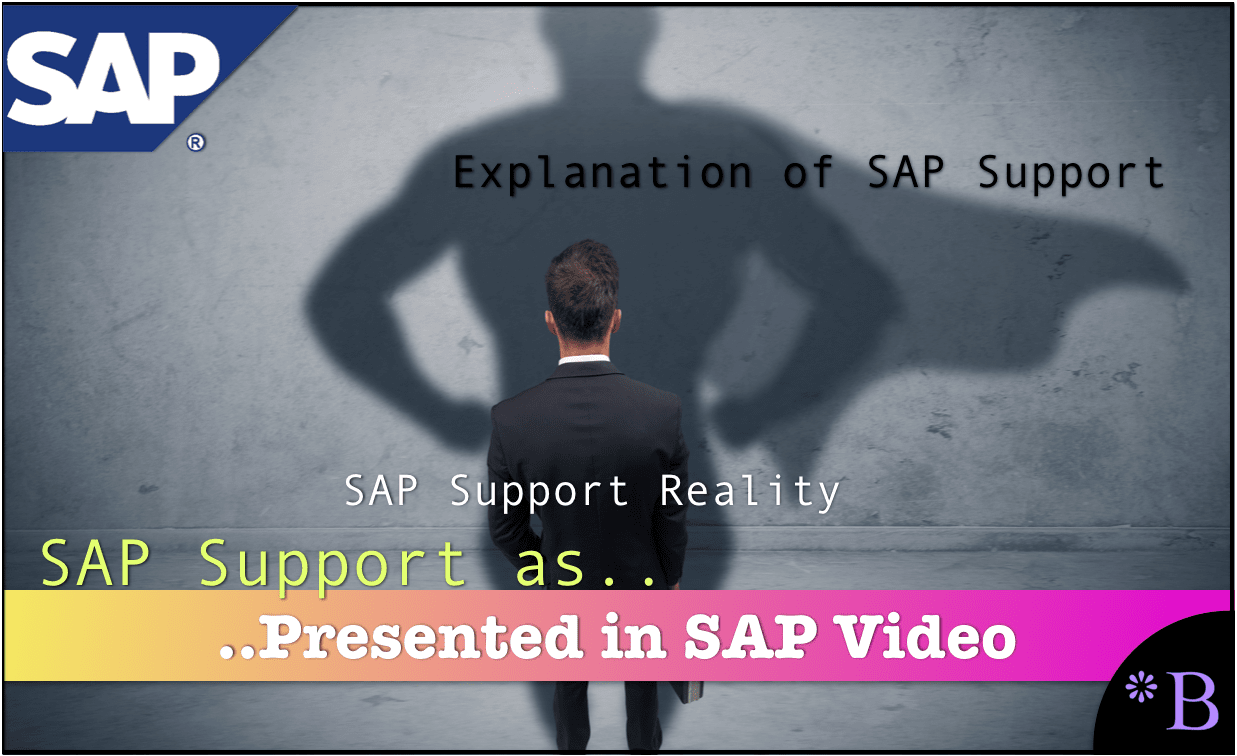 SAP Support Video
This is why it is either sad or amusing (depending upon your perspective) to see support videos like the following from SAP.
SAP removed this video from YouTube.
This video is highly misleading. As an SAP consultant who has often used SAP support, SAP's underinvestment in support is quite apparent. Secondly, in the video, SAP mentions MaxAttention, but what they leave out is that MaxAttention is even more expensive than the base 22% of license revenue support. And it leads to consultants coming to the client to pitch their services, so it is unclear how this is support.
The Enormous Costs of SAP On Site Support
The costs that are implied in the design towards the end of this video are enormous. It also brings up the question of why so many support personnel would be necessary for SAP when this support overhead is not replicated at the vast majority of other software vendors.
Conclusion
The complaints about the declining quality of SAP and Oracle support can be found on message boards. But as nearly all the information about SAP and Oracle is provided by either SAP and Oracle or biased entities (consulting partners or media entities that are paid by SAP and Oracle) these topics are rarely the subject of articles. This allows SAP and Oracle to continue to pull resources out of their standard support and make the actual support far higher.