How SAP is Cutting Some of Its Partners Out of the SAP Support Business
Executive Summary
SAP has had a long term arrangement where it allows partners to take first level support.
With its Cloud Extension program, SAP is changing this arrangement for many SAP partners.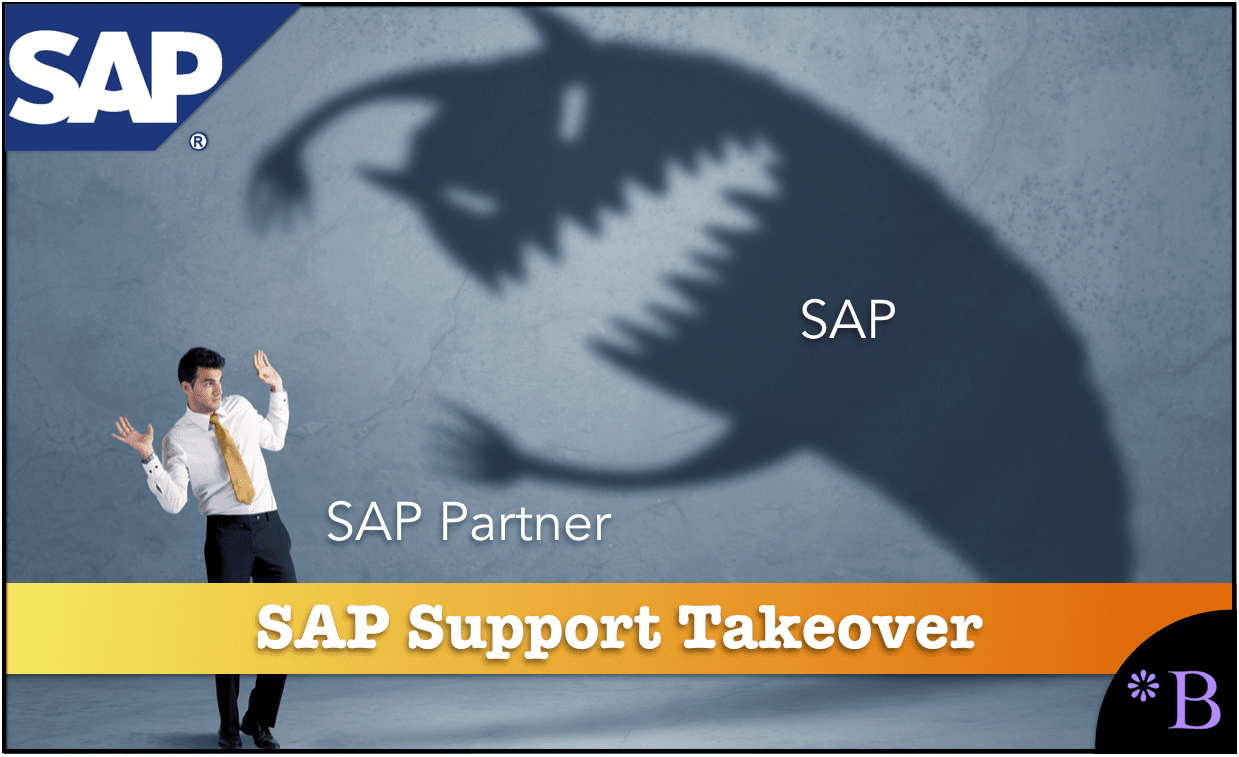 Introduction
We covered in the article A Brightwork Warning on SAP's Cloud Extension Program, how SAP has pushed for customers to convert to their on premises SAP applications to cloud applications, and how this extinguishes the support contract and is converted to a cloud subscription.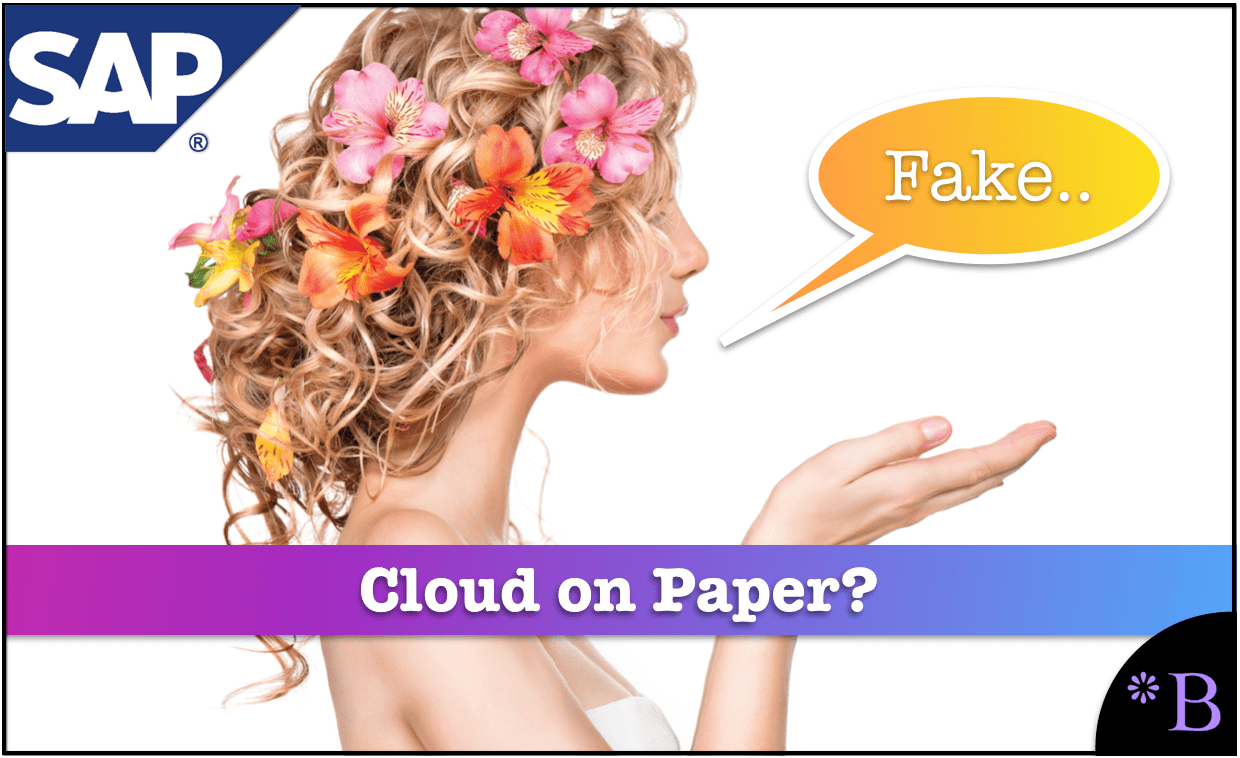 When is cloud not cloud? When it is a cloud on paper. This is the second innovation we have been able to trace to SAP regarding cloud, after their upcharge as a service, as we covered in the article How to Understand SAP's Upcharge as a Service Cloud.
What is Cloud on Paper?
Cloud on paper is where an on-premises application is "converted" to a cloud application, even though the conversion may not happen for years, while SAP claims the conversion to cloud to Wall Street.
This takes the support contract and converts it to a cloud subscription that cannot be canceled for generally between 3 to 5 years.
It should be pointed out that the cloud was initially supposed to reduce lock-in and was supposed to be a month to month term (at least). However, SAP violates nearly every tenant of cloud and, like Oracle, continues to call its offering "cloud." We are covering this issue, and it extends far past SAP, and Oracle with vendors claims to be cloud without even trying to meet the definition of cloud.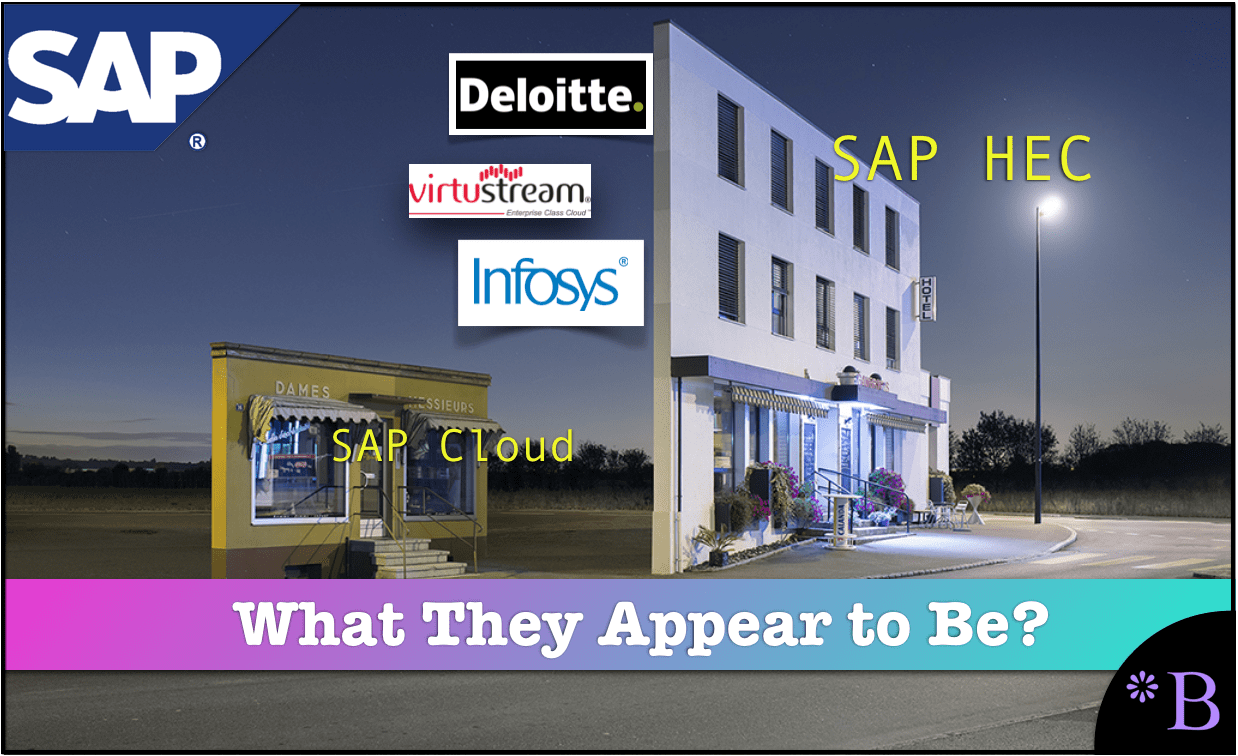 SAP has still yet to master multitenancy, nor have its HANA Enterprise Cloud (HEC) partners. The SAP Cloud (which is managed by SAP, unlike the HEC) is just a storefront at this point. The HEC "constellation of hosting providers" pretending to offer cloud and pretending to be associated with SAP but which are all managed independently from SAP are still referred to as cloud in the marketing literature.
One might ask the question as to why HEC partners are necessary if its cloud — and of course the answer is that HEC is a faux cloud.
It is hosting.
When hosting is simply moved from the company's own data center to the vendor's data center, there is little benefit to the transition.
And SAP is not interested in investing in its cloud infrastructure. SAP is pushing customers to far less efficient private hosting providers that pretend to be cloud while announcing the Wall Street that they are deepening their partnerships with the hyperscale cloud providers.
The following graphic is from SAP on this exact topic of converting customers to cloud on paper. SAP has pushed for this conversion to happen by Dec 31, 2019, with SAP knowing full well that the customer is both not ready to migrate off of on-premises.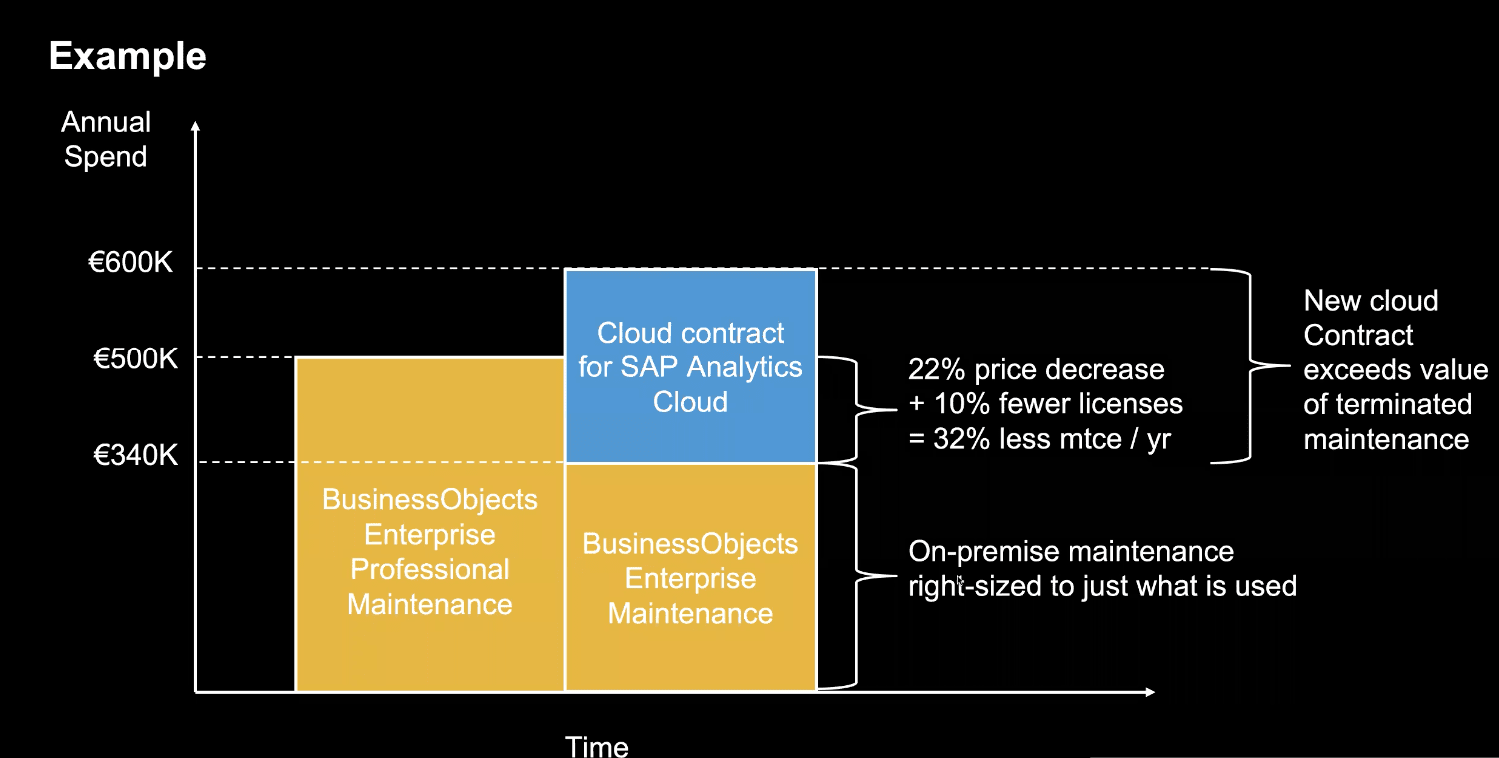 In the case of conversion of the on premises BusinessObjects license to the SAP Analytics Cloud (SAC) subscription, the SAC is extremely immature, and SAP just recently introduced the SAC as a replacement for its sunset Lumira, which was supposedly the future until just recently. 
The Negative Feature for a Customer's Third Party Support Options
There are several negative features of the SAP cloud conversion program. One is related to the elimination of third party support options.
If SAP is successful in converting companies to cloud subscriptions, which a big part is converting the support contract to the subscription, then the ability of companies to access third party support is, of course, significantly limited. In the case of converting BI and BusinessObjects customers to SAP Analytics Cloud, this turns the support into a cloud subscription, even though the cloud product (SAP Analytics Cloud) is barely used. Or they are not used for some time in any case. In addition to booking the faux cloud revenue, SAP will have blocked out the potential to use third party support for that part of their SAP footprint.
In this case, the cloud, which remember was initially intended to increase the freedom of buyers, is used to further lock-in buyers and reduce their options.
How Do SAP Partners Fit Into Cloud Conversions?
In many cases, SAP has the entirety of the customer support contract for the on premises applications. In this case, the revenue switching (from support to cloud subscription) does not change much, as money continues to flow to the same entity (SAP).
However, in cases where there is an SAP partner that owns the first level support contract, it means that SAP must pull the support contract from the partner. And it means the revenues are transferred from the SAP partner to SAP.
This pulling of revenues from these partners will naturally allow SAP to show cloud revenue growth when it is instead just pulling in maintenance revenues that previously sat at partners. Many SAP partners did not go along with this. However, SAP had an out. They always have the right to cancel the partnership agreement. And this allows SAP to perform the conversion to subscription revenues.
For 2019, on-premises conversions to the cloud had to occur before the end of the 2019 year.
Some SAP Partners Being Snapped Up by Other Partners
This has caused many SAP partners to lose significant revenue and made them susceptible to being acquired at firesale prices. One company named Seidor has been acquiring these companies in Latin America. Seidor is about to go IPO in the US and is pitching this a growth story; however, what's not discussed is how Seidor is obtaining this growth.
The Longer Term Implications of Support Contracts Being Removed from SAP Partners
At one point, SAP was a growth story, and it led to a significant increase in the number of partners. SAP offered its consulting and sometimes support business to partners, in exchange for being recommended by these SAP partners. This had much more to do with SAP's growth than SAP's technology.
However, SAP cannot meet the growth targets it has laid out to Wall Street with authentic license sales. Therefore, it has needed to cut corners to obtain revenue. SAP customers are by in large not moving to S/4HANA, and HANA stopped growing as a product several years ago as we cover in the article Why Did SAP Stop Reporting HANA Numbers After 2015?
Corner Cut Number One: One of these corners was to introduce the fallacious type 2 indirect access (we cover the distinction between Type 1 and Type 2 indirect access in the article How to Best Understand Type 1 Versus Type 2 Indirect Access.
Corner Cut Number Two: The cancellation of partnership agreements to convert support contracts sitting in smaller partners into the cloud on paper subscriptions is a second corner cut. While it will buttress SAP's revenues in the short term shows that SAP's growth period has come to an end. The overall SAP ecosystem is now contracting. However, as SAP can pull in revenues from the ecosystem so that they appear on SAP's income statement, this contraction will not be apparent for some time.
Conclusion
SAP's cloud extension program or "cloud on paper" program will allow SAP to show significant revenue growth in the cloud for the 4rth quarter of 2019, which is why we are predicting this exact outcome in the 2019 Q4 analyst call.
We also predict that as all of the analysts on the call hold SAP stock as we covered in the article Why Analysts Do Not Ask Challenging Questions on SAP's Quarterly Calls. Wall Street analysts tend to perform such shallow analysis, none of the major firms will pick up this story, and the IT media entities will uncritically report SAP's extravagant cloud growth.
Microsoft, IBM, and even Oracle grant partners access to initial partnering schemes with full sell capabilities because it's in their interest to do so. The fact that SAP has periodic purges is used to threaten and coerce active members of the ecosystem who have something to lose if they don't behave. SAP has a high annual churn. However, it is not because they prune and trim the best.
Instead, it is because they have a small percentage that is guaranteed to keep their partnership (say big firms), but then other partners are partners that can be burned.
References
https://www.seidor.com/content/seidor-com/en/seidor/noticias/seidor-resultados-2018.html#