How Were SAP's Claims True if HANA is Now Not a Differentiator?
Executive Summary
SAP made enormous claims around HANA that no other database could match it.
Now an approved analyst for SAP states that SAP does not see HANA as a differentiator.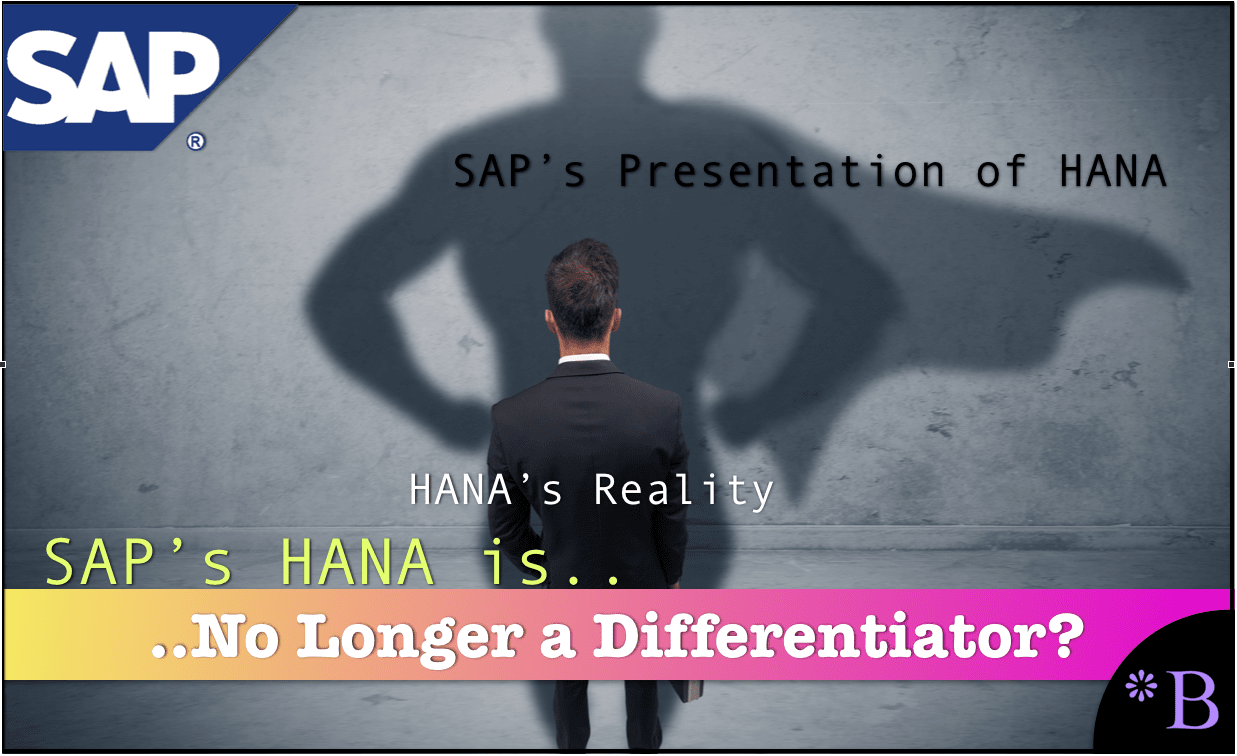 Introduction
We found something inquisitive in a press release about HANA. Remember, this is a press release, so someone paid to push this material out onto the web through the CMS Wire, which means that it has very low accuracy and was crafted by the marketing department, most likely Oracle.
Our References for This Article
If you want to see our references for this article and other related Brightwork articles, see this link.
Lack of Financial Bias Notice: We have no financial ties to SAP or any other entity mentioned in this article.
This is published by a research entity.
Second, no one paid for this article to be written, and it is not pretending to inform you while being rigged to sell you software or consulting services. Unlike nearly every other article you will find from Google on this topic, it has had no input from any company's marketing or sales department. 
SAP Going Through Normal Upheaval and SAP is Not Going to Have the Best Database?
"Bernd Leukert, a now former member of the executive board of SAP SE products and innovation, for example, gave a keynote at SAP's Tech Ed conference in Las Vegas last October. Now he is gone. So is former SAP CTO Bjorn Goerke who didn't announce his departure, but can be found literally running in some of the world's most beautiful places and treating his followers to poetry on Twitter. Ken Tsai, who had global product marketing responsibilities for SAP's Platform-as-a-Service and end-to-end data management solutions such as SAP HANA, SAP Data Hub, SAP Vora, is now the vice president of Adobe's Experience platform.

So, what does all of this mean to the SAP Community of employees, partners and customers? First, it should be noted that SAP is simply doing what all big technology companies periodically do: they take a good hard look at their business, refocus, reorganize and streamline operations, according to Josh Greenbaum, principal analyst at Enterprise Applications Consulting.

"SAP has realized that it needs to shift their strategy and their priorities," Greenbaum told CMSWire, noting that one area of impact is SAP HANA and its team. "SAP is not going to own the biggest or best database," he said, which is the case, despite the fact that HANA is an "excellent product, very successful, and no doubt a pioneering, real-time database."
What? How is that possible.
Since 2011, SAP has been claiming that no other database should be used with SAP applications going forward. As we covered in How Appleby Said There Was No Future for SAP on Oracle, as John Appleby stated…
"SAP is finished on Oracle."
Steve Lucas declared in one article we covered in Analysis of Steve Lucas' Article on What Oracle Won't Tell You About HANA that HANA  would improve productivity by between 10 and 10,000 times.
So why would SAP then not have the best database? SAP clearly said from 2011 onward that they did have the best database. But it gets more interesting.
HANA is No Longer Differentiated?
"But HANA is no longer differentiated," he said, noting that entrepreneurs and developers can find similar technologies on AWS, Azure and other clouds. (SAP HANA ranks 20th in popularity according to DB-engines.) Greenbaum pointed out, however, that although HANA is key to SAP's cloud platform, it is no longer vying to become the dominant database on the market. "SAP is not going after that strategy anymore." His sentiment was echoed by other analysts.
How could HANA no longer be differentiated? That is unless SAP's proposals about HANA were not accurate — something that Brightwork has been saying and providing evidence for since 2016. And we should point out that while we generally like Josh Greenbaum, he is an approved analyst for SAP, which means he receives some type of financial benefit from SAP. This is the only way to be an approved analyst as we covered in the article How to Become an Approved Analyst for SAP?
HANA is Not Useless?
"That is not to say that anyone's ABAP or HANA skills are useless. Consider that more than 425,000 companies in more than 180 countries use SAP, most of those have not yet moved their SAP ERP systems to the cloud. If SAP no longer needs all of its ABAP and HANA talent, there are plenty of jobs and/or consulting assignments to be had. In the US alone, Indeed.com lists 1,183 jobs available for ABAP developers and 3,157 for HANA developers. LinkedIn lists 1,975 ABAP jobs and 3,755 HANA roles.

Of course, those figures may not help members of the SAP community feel much better right away. It is tough watching anyone who is accomplished, dedicated to their employer and respected by their peers get axed."
According to Rob Enslin, how did we go from HANA supposedly growing explosively in 2015, as we covered in the article Why Did SAP Stop Reporting HANA Numbers After 2015? to questioning whether HANA skills would be useless? That is again unless what SAP said about HANA was false?
Also of those highly respected employees, how many of them were repeating lies by SAP? We ask because most HANA consultants we have seen act as parrots for whatever SAP says, as we covered in What Is the Difference Between an SAP Consulting Company and a Parrot on HANA?
Is SAP The Good Empire?
"At companies like Amazon, which has been publicly likened to a sweat shop, and Oracle, which some see as the evil empire, being laid off isn't shocking. But, "SAP is seen as the benevolent empire, so there's a sense of betrayal in the air," Greenbaum told CMSWire."
Interesting observation. The bar is being set quite low. One wonders if customers, who were lied to about HANA by SAP, SAP consulting firms, IT media entities, and IT analysts who took money from SAP to write falsified studies into HANA also feel betrayed.
Maybe not.
Maybe empathy should only extend to SAP employees that helped SAP lie to customers about HANA.
This goes on in a separate article titled Why SAP Seems to be Sidelining HANA.
Sidelining HANA?
"One part of the problem is the architecture of HANA itself, according to Mathias Golombek, CTO of database firm Exasol. An amalgam of three separate acquisitions (TREX, MaxDB and P*TIME), HANA was hurried out amid great marketing fanfare as a general-purpose database to displace Oracle, he said. However, while it is appropriate for many use cases it fails to scale to big-data type scenarios and its mixed heritage makes it difficult to maintain and optimise.
This is the first time we have heard of MaxDB being in the mix for supporting HANA. As for its scaling for Big Data, HANA adds little value to Big Data but, furthermore, can only connect to a Big Data source. HANA is far too expensive to house Big Data.
SAP Lies on HANA?
"It was an awesome story they told the market, but they didn't deliver on 50 per cent of the story. For SAP BW it works pretty well, as the analytical part of the stack, but as a standalone database using it with Tableau or Microstrategy or other BI tools then it doesn't really deliver.
True, but how do you deliver on the enormous exaggerations of HANA. This comment makes it sound like SAP may have come close to delivering on 50% of its story with HANA.
The Data Warehousing Market?
"The primary goal was to [compete with] Oracle underneath SAP BW, but what they did wrong was telling people they are now going into data warehousing and standalone database market, because that's something totally different."
SAP was already in the data warehousing market with both BW and Business Objects. And HANA is a standalone database, so we don't understand this comment.
Refactor HANA
Despite the quality of its development team, SAP has been unable to refactor HANA to suit these use cases, Golombek said, because thousands of customers were already reliant on it and it would be very hard to make the changes backward-compatible.
HANA is just a bad database. It is our lowest-rated database as we cover in SAP Database Ratings: SAP HANA.
Multibase Versus Singbase
HANA combines OLTP and OLAP capabilities, with row store and columnar store in the same box, but at the time it was released the market was already starting to move away from the idea of an all-purpose database, towards combining multiple databases each optimised for a particular purpose."
This is true, as we covered in the article How to Understand the AWS Multibase Versus HANA.
Hiding HANA?
"Golombek also believes SAP will start reducing the emphasis on HANA "hiding it underneath their BW and European solutions and focusing more on the business side."
The problem with doing this is that if HANA is hidden, it will be difficult to motivate customers to buy it because it is so expensive.
Conclusion
These quotes are just examples of how SAP's HANA strategy has fallen apart.