Is VentureBeat Really Independent Journalism?
Executive Summary
VentureBeat is a top-rated site that covers the venture capital area and the companies that VCs fund.
VentureBeat claims to be independent journalism, but is it?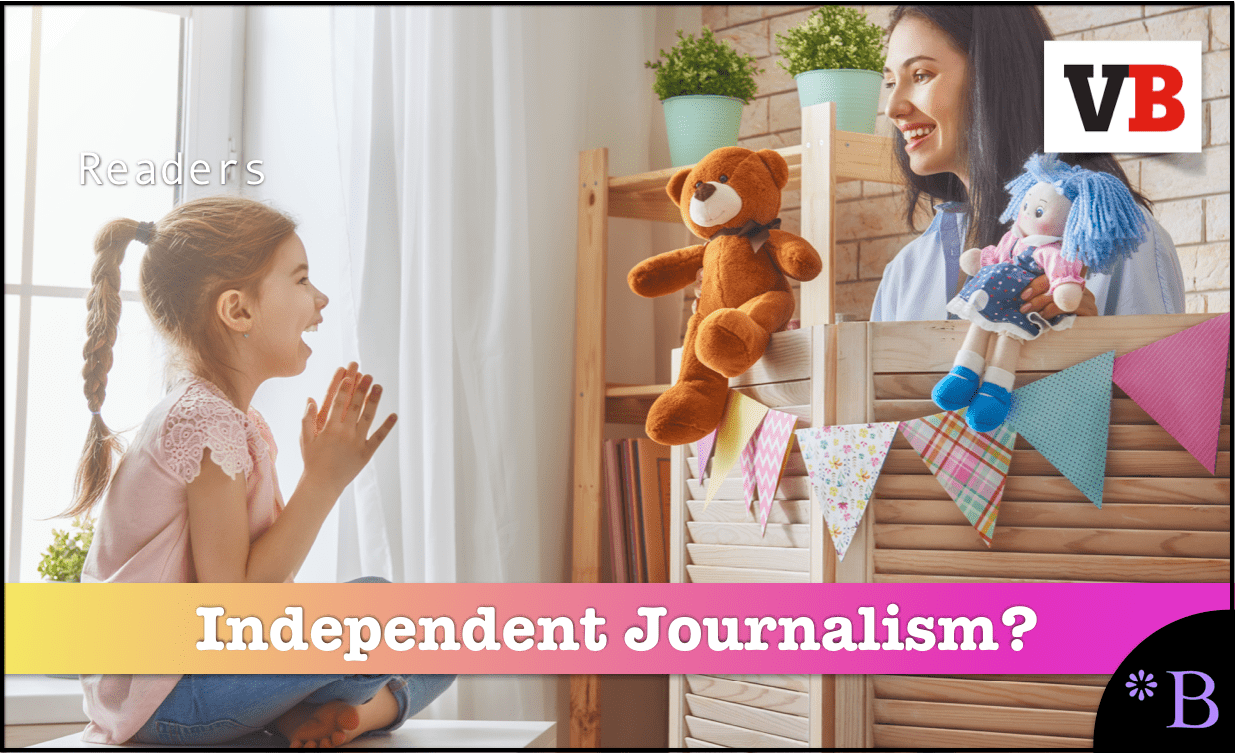 Introduction
We ran into VentureBeat when analyzing a separate story. The articles we read at VentureBeat seemed to repeat claims made by the entity they were covering and noticed that a large amount of information published in the article was false. The information is taking the word of people who are known to be promoting their companies without the slightest effort on the part of VentureBeat to verify anything they are being told. Secondly, VentureBeat is a trendy outlet in the venture/VC industry. No doubt many people get their information about the industry from this website.
Our References for This Article
If you want to see our references for this article and related Brightwork articles, see this link.
We will begin by analyzing one of their stories in this article.
VentureBeat Covers Scoutbee
The article begins as follows:
Procuring parts and settling on suppliers are two of the most challenging undertakings in supply chain management, it's safe to say. Companies aren't always transparent about their networks and capacities, and short of conducting exhaustive searches and validating each candidate individually, the solutions are few and far between.

That's why, in 2015, four German entrepreneurs — Christian Heinrich, Fabian Heinrich, Gregor Stühler, and Lee Galbraith — founded Scoutbee, which develops and sells access to a uniquely AI-driven supplier discovery platform. They've caught the attention of investors, evidently — Scoutbee today announced that it's raised $12 million in series A funding contributed by HV Holtzbrinck Ventures, 42Cap, and Toba Capital, bringing its total raised to $15.5 million.
This makes a case for AI in supplier management and then describing the amount raised for Soutbee.
Repeating What the Company Says
Notice how every sentence is essentially written by the company, not by VentureBeat. When "the company says" is used, in reviewing many articles, I could never find a time where VentureBeat provided a contradiction to the statement.
See the following quote.
The company says the bulk of the fresh funds will be put toward customer acquisition in the U.S. and Europe, as well as further development of its AI-powered apps.

"This investment fuels our focus of growing our customer base and operations on two continents," said Galbraith, Scoutbee's managing director. "The reception from procurement executives in the U.S. has matched what we've seen in Europe — leaders want to see deeper supplier insights, perform strategic scouting faster and profit from faster time to market and innovation. Here in the U.S. where manufacturers are scrambling to respond to imposed tariffs, we can help purchasing leaders evaluate suppliers with speed and precision to remain competitive."
There is no comment from the author of this article. Scoutbee has provided everything up to this point.
This is undifferentiated from a press release.
Scoutbee's Central Product
Scoutbee's suite — which is underpinned by Artemis, the company's AI engine — can benchmark existing suppliers from their sourcing behavior with the competition, and find new products and suppliers efficiently thanks to a streamlined catalog. Every 10 weeks, Scoutbee analyzes up to a terabyte of supply chain data, sussing out the relationships among more than 14 million companies, their customers, and over 3,400 OEMs globally.

One customer — Audi — discovered 329 potential suppliers compared with the 38 it found through traditional channels, and completed the "scout-to-source" process in just seven weeks while saving 68%. Other satisfied clients include Adelfiolzener, DMG MORI, Knauf, and Bosch Group's Rexroth.

"The procurement market is hungry for a disruptive and easy-to-implement solution like Scoutbee's," said HV Holtzbrinck Venture partner Jan Miczaika. "While there are many procure-to-pay technologies for chief procurement officers and their teams, Scoutbee, with its AI-powered technology, bridges a huge gap in supplier visibility and the process of sourcing strategic projects."

Scoutbee is headquartered in Würzburg, Germany, but in January opened offices in Arlington, Virginia.
After reading what is nothing more than a press release and does not have a VentureBeat author, the content was provided to VentureBeat by Scoutbee, without VentureBeat performing any analysis. However, we then noticed a peculiar item in the upper right-hand corner of the website.

That was independent journalism? VentureBeat received no income from Scoutbee for this article? If that is true, why distribute what amounts to a press release for Scoutbee and call it an article? VentureBeat seems to be happy to lie to its readers and to pretend that it is independent.
Let's back up even further.
That was journalism?
If the author does not write the article, but the material is written by a company trying to promote itself, that is not considered journalism. That is either called PR or contract marketing.
Secondly, why does a reader have to contribute to reading press releases from a company — shouldn't the company pay the reader?
This contribute button looks like an artifact that makes the reader THINK that VentureBeat is not a rigged affair and distributing PR releases for paying companies. This article was not paid for by the subject of the article, in this case, Scoutbee.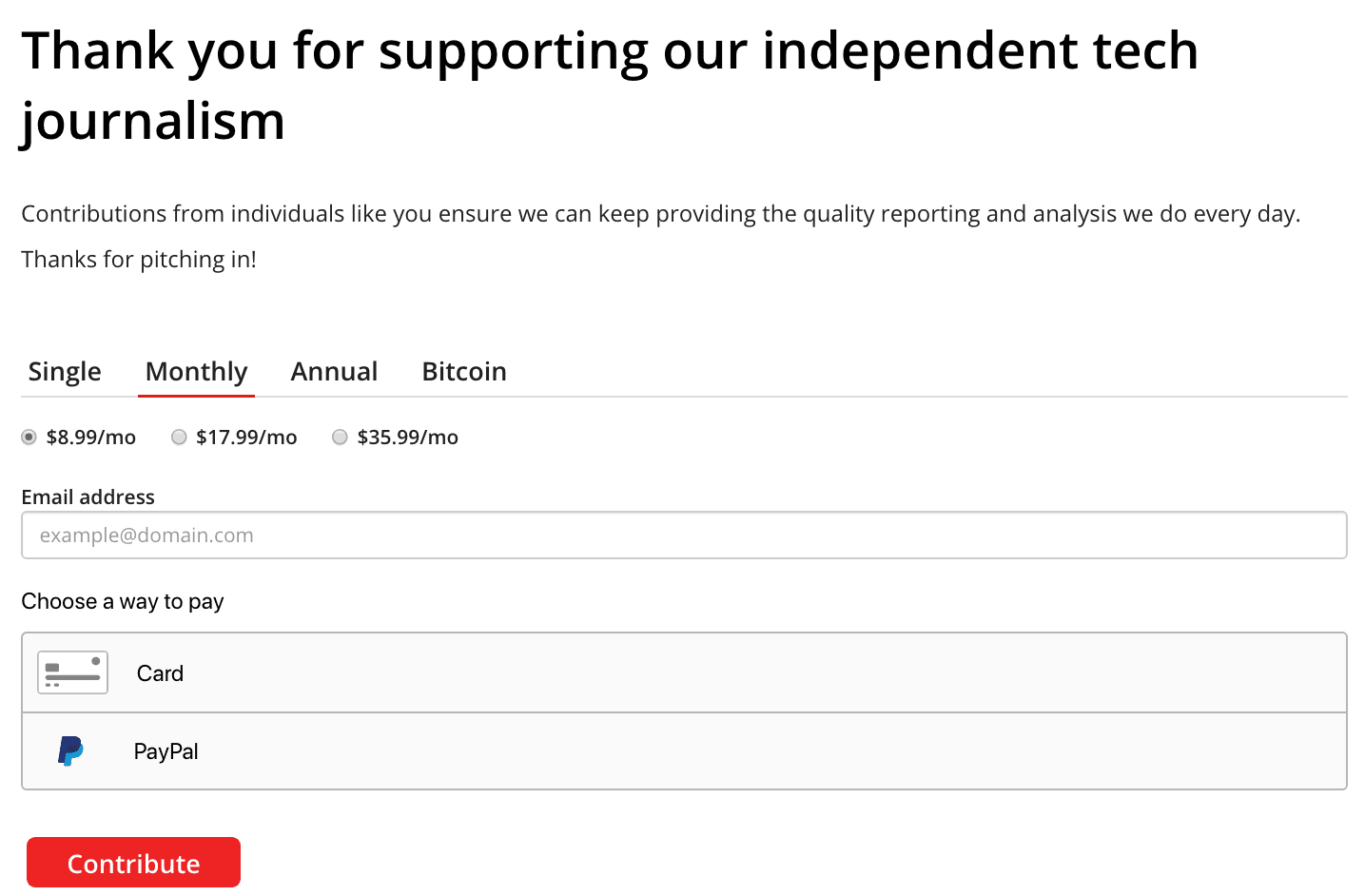 The link goes to a subscription page. VentureBeat appears to be asking the target (the readers) to contribute to what VentureBeat has already charged Scoutbee.
Just PR Releases?
One might say if VentureBeat is lying to its readers about its funding and bias and it is just announcing various new companies and funding, what is the harm?
Well, first, it means that every article they publish about companies will be inaccurate. Secondly, this is never what media outlets do. They invariably cover other topics, using the same cover to refuse to discuss their funding sources. Notice the following article on privacy.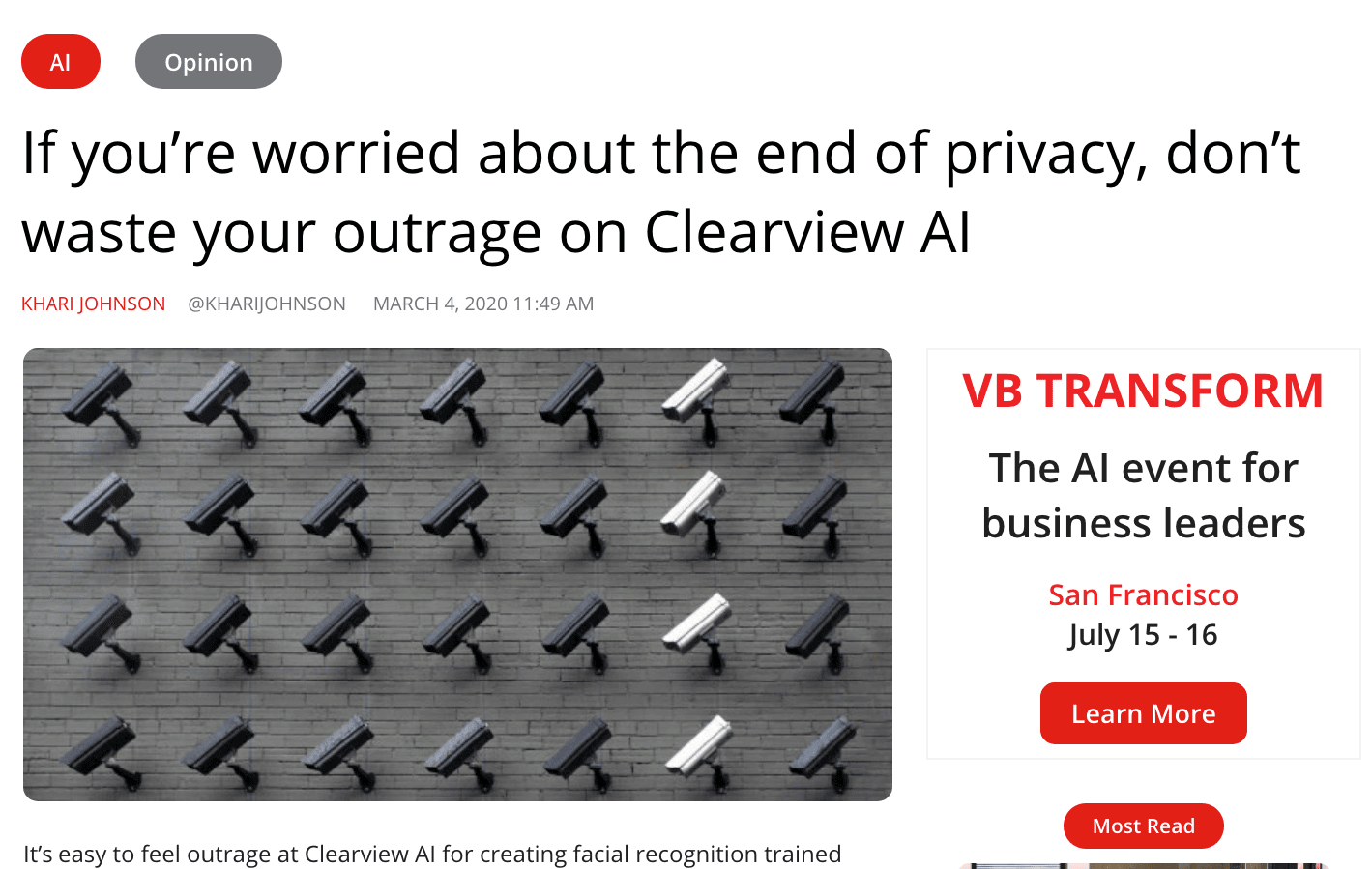 In this article, VentureBeat tells people not to worry about a company called Clearview AI for the invasion of their privacy. 
Let us see this article's logic.
It's easy to feel outrage at Clearview AI for creating facial recognition trained with 3 billion images scraped without permission from sites like Google, Facebook, and LinkedIn, but the company should be only one of the targets of your ire. Pervasive surveillance capitalism can make you feel helpless, but shaping AI regulation is part of citizenship in the 21st century, and you've got a lot of options. On Tuesday, Senator Ed Markey (D – MA) sent a letter to Clearview AI demanding answers about a data breach involving billions of photos scraped from the web without permission and the sale of facial recognition to governments with poor human rights records like Saudi Arabia. That would be scandalous news for most companies, but not Clearview AI. For context, here's what the past week looked like for the company: News emerged Monday that Clearview AI is reportedly working on a security camera and augmented reality glasses equipped with facial recognition. Following a data breach reported last Wednesday, we learned that Clearview AI's client list includes more than 2,900 organizations, including governments and businesses from around the world.

In all, it comprises businesses from 27 countries, including Walmart, Macy's, and Best Buy, and hundreds of law enforcement agencies, from the FBI to ICE, Interpol, and the Department of Justice. Tech giants like Google and Facebook sent Clearview AI cease-and-desist letters last Tuesday.

Back in January, the New York Times' Kashmir Hill, who first brought Clearview AI to people's attention, reported that the company was working with more than 600 law enforcement agencies and a handful of private companies. But reporting last week brought the Clearview AI client list into sharper focus, along with the number of searches by each client. The story also revealed that a total of 500,000 searches had been made.

A breakdown of an APK version of the Clearview app found by Gizmodo on a public AWS server the same day signals the potential addition of a voice search option in the future.

Clearview AI CEO Hoan Ton-That previously told multiple news outlets the company focuses on law enforcement clients in North America, but an internal document obtained by BuzzFeed News shows government, law enforcement, and business clients around the world.

Everything we've learned about Clearview in the past week gives credence to the New York Times' claim in January that the company might end privacy, and to VentureBeat news editor Emil Protalinski's assessment that Clearview is on a "short slippery slope."

If what Clearview AI did and continues to do makes you angry, then you're probably with the majority of people who lack understanding of data privacy law and feel you have little to no control over how businesses and governments collect or use your personal data.

If you believe privacy is a right that deserves protection in an increasingly digital and AI-driven world, don't aim your anger at the Peter Thiel-backed company itself. The way it operates may be insensitive or even horrifying, but save your questions for the businesses and governments working with Clearview AI. People deserve answers to the kinds of questions Senator Markey asks about the extent of the data breach and Clearview's business practices, but people should also question policy that enables Clearview to exist.

Because Clearview AI doesn't matter as much as the public's response to how those in positions of power choose to use Clearview's technology.
Don't Focus on Clearview AI?
This article gave me a lot of information I was unaware of. But it is sure concerned with not focusing on Clearview AI and pointing to other actors. Certainly, it makes sense to look outside of Clearview AI, but there is no logical reason not to hold Clearview AI accountable for what they are doing.
While this article had no logic and made me question whether Clearview AI paid VentureBeat, the next article, titled Probeat Clearview AIs Short Slippery Slope, actually redeemed VentureBeat. However, as we will see, it calls into question the previous article's assertion that the focus should be everywhere but on Clearview AI.
"Google can pull in information from all different websites," Clearview AI CEO Hoan Ton-That told CBS News. "So if it's public, and it's out there, and it could be inside Google's search engine, it can be inside ours as well."

Ton-That is right in saying that Google is a search engine that indexes websites. He is wrong in saying any public information is up for the taking. The difference between Google and Clearview AI is simple: Google knows most websites want to be indexed because webmasters provide instructions explicitly for search engines. Those that don't want to be indexed can opt out.

I don't know of any people who are providing their pictures to Clearview AI, nor instructions on how to obtain them. If most people were sending Clearview AI their pictures, the company wouldn't have to scrape billions of them.
Yes, this author, Emil Protalinski, is correct; information is not given to Google so that it can be vacuumed up by anyone who wants to. Approving Google is not the same thing as approving everyone.
"Security is Clearview's top priority," Tor Ekeland, an attorney for Clearview AI, told The Daily Beast. "Unfortunately, data breaches are part of life in the 21st century. Our servers were never accessed. We patched the flaw, and continue to work to strengthen our security."

Ekeland is right in saying that data breaches are a part of life in the 21st century. He is wrong in saying that Clearview AI's top priority is security. If that were the case, the company wouldn't store its client list and their searches on a computer connected to the internet. It also wouldn't have a business model that hung on pilfering people's photos.

Maybe it's not surprising that a company that is proud of taking data without consent argues that a data breach is business as usual.
Right again, Emil sees through Clearview AI's BS.
Let's look at an even tighter time frame. Clearview AI has repeatedly said that its clients include over 600 law enforcement agencies. The company didn't say that those agencies were its only clients, though. Until it did. On February 19, the CEO implied just that.

"It's strictly for law enforcement," Ton-That told Fox Business. "We welcome the debate around privacy and facial recognition. We've been engaging with government a lot and attorney generals. We want to make sure this tool is used responsibly and for the right purposes."
Why does law enforcement have the right to this information? It is presumed that these are legitimate sources, but that is not how the US legal system is supposed to work. Citizens also have a right to privacy from their government.
On February 27, BuzzFeed found that people associated with 2,228 organizations included not just law enforcement agencies but private companies across industries like major stores (Kohl's, Walmart), banks (Wells Fargo, Bank of America), entertainment (Madison Square Garden, Eventbrite), gaming (Las Vegas Sands, Pechanga Resort Casino), sports (the NBA), fitness (Equinox), and cryptocurrency (Coinbase). They created Clearview AI accounts and collectively performed nearly 500,000 searches. Many organizations were caught unaware their employees were using Clearview AI.

It took just eight days for one of Clearview AI's core arguments — that its tool was only for helping law enforcement officials do their job — to fall apart.
So Emil exposes a massive lie from Clearview AI.

Conclusion
I was able to find one article at VentureBeat that classifies as journalism and that had some public service function rather than just promoting some company.
But overall, VentureBeat writes articles that do not represent a journalistic entity, and they are the exact opposite of an "independent" entity but are dependent. They are mostly a dependent PR website, with a few nonpromotional articles mixed in that have a sketchy editorial situation due to the hidden nature of VentureBeat's funding. They run paid placements. However, there is no mention of the funding of the site. This same issue is related to G2Crowd, which receives significant sums of money from vendors, as we cover in the article Why G2Crowd Has False Information on S4HANA. I only found G2Crowd's funding model through an announcement meant for vendors about how they had new contracts with various vendors. However, this funding is entirely hidden on the G2Crowd website. G2Crowd is a lead origination site for vendors. Their entire purpose is to get contact information so they can shuttle it to vendors.
This is where we are, with virtually all sources not discussing their funding. It's all secret and behind the curtain. However, their funding is evident from reading their articles.
Independent journalists question what sources of information provide them. They don't merely allow the sources to write the article for them. That is why it is inaccurate for VentureBeat to use the term "journalism" in describing themselves.
Not all articles are like this at VentureBeat. Some that cover policy seems to have an actual writer and do not merely repeat covered entity quotes. But readers, of course, must discern which are which, and there is no indication of which articles are industry-funded and which are not. Even Forbes, which a China-based company now owns, as we cover in the article Can You Trust IDC and Their Now China Based Owners?, declares which articles provided by contributors (which means outside writers that paid to have the article carried)
And again, you can't be paid for by industry sources and call yourself independent.
How Media Entities are Forced to Sell Out
Here is the problem. How else is VentureBeat supposed to make money? It can't sell its magazine as it would have in the pre-Internet era. It can't get much money from advertising because that has mostly been gobbled up by Google (you know, the company that does no evil). Media entities now have no other choice but to harvest their income from the industry side, which means that readers no longer have their interests represented. This is the point we have found repeatedly in analyzing a wide variety of IT media entities — each one of them is dependent upon industry for nearly all of their income.