How John Appleby Was So Wrong About His HANA Predictions
Executive Summary
With a sales quota for SAP services under Bluefin Solutions, John Appleby provided an enormous amount of false information about HANA.
John Appleby served as a source of false information on HANA.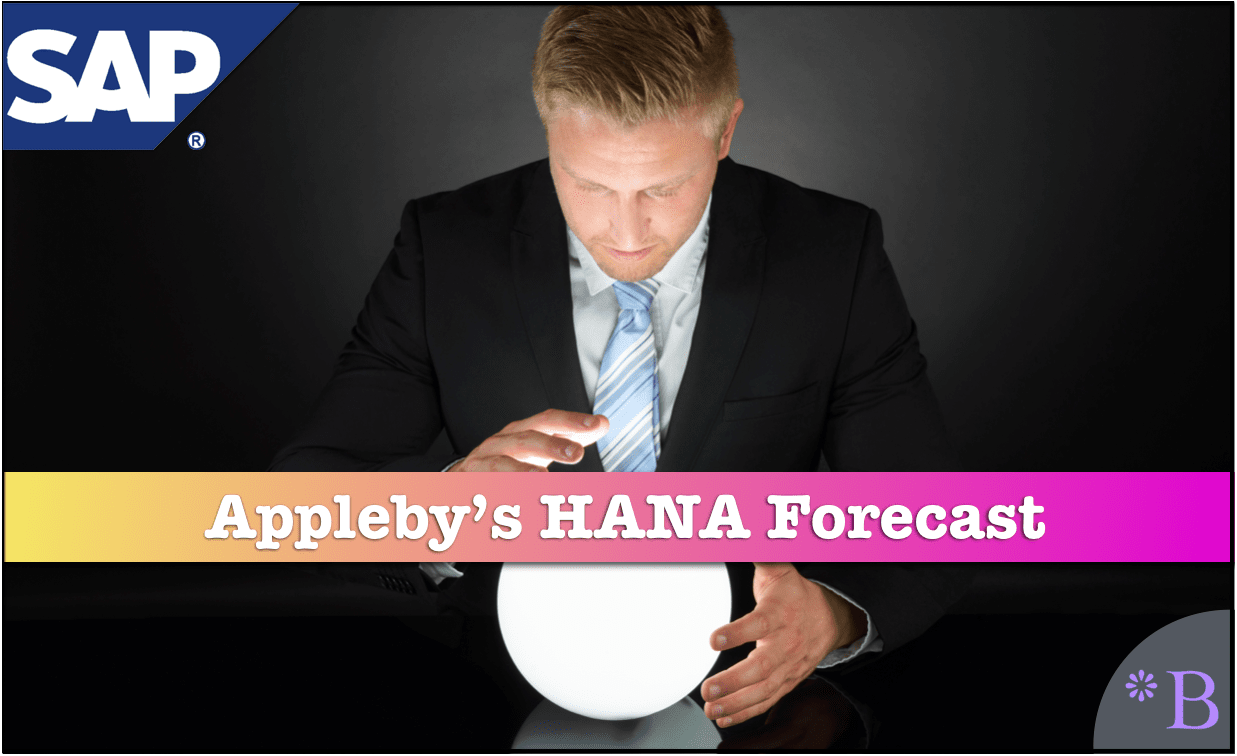 Video Introduction: John Appleby's Prediction on HANA
Text Introduction (Skip if You Watched the Video)
For reasons that I do not know, John Appleby of Bluefin Solutions agreed with SAP and became one of HANA's major proponents. As well as a significant source of false information about HANA. And also a source of incorrect information about competing databases like Oracle and DB2 that they deliberately misrepresented. John Appleby did this far more than any other representative from other SAP consulting companies. You will learn about the accuracy or should we say inaccuracies of John's article titled 2013, the Year of the Database.
Our References for This Article
If you want to see our references for this article and other related Brightwork articles, see this link.
Lack of Financial Bias Notice: We have no financial ties to SAP or any other entity mentioned in this article.
This is published by a research entity.
Second, no one paid for this article to be written, and it is not pretending to inform you while being rigged to sell you software or consulting services. Unlike nearly every other article you will find from Google on this topic, it has had no input from any company's marketing or sales department. 
The Quotations
John Appleby begins his article with the following quotation.
"We've heard a lot about the SAP HANA database platform over the last 18 months since its release, and whilst we are in the quiet period between end of year and SAP releasing earnings reports in mid-January, the investors I talk to are talking about bookings between €350m and €400m for the year (as compared to €160m in the first full year, 2011), which probably makes SAP HANA the fastest growing database of all time, if not the fastest growing enterprise software product – ever."
I don't analyze financial statements, so I am not going to comment on the numbers. Secondly, SAP has a habit of exaggerating financial performance and misstating a product's sales early in its life cycle. What I focus on is the actual implementation. Even four years after this article was written on projects, HANA is still primarily used with BW.
The Focus on the Implementations
What I focus on is the actual implementation. Even four years after this article was written on projects, HANA is still primarily used with BW. It does not seem to be growing fast. It would be impossible for it to be the "fastest growing enterprise software product – ever." The fastest growing overall vendor or provider ever, I believe, is Amazon AWS, something I cover in the following article. The 23 Largest Software Vendors in the World. Therefore one of their primary products would be a good candidate for the fastest growing product ever. Another candidate would be SAP's R/3 system. But that growth was in the 1980s and 1990s. SAP is not growing very rapidly, so it would be unusual to currently have the fastest growing application of all time.
Appleby's Ridiculous Prediction About HANA's Growth
"But despite all this, SAP HANA still has relatively small market share. That's not to knock HANA, she's still a youngster compared to Oracle, which is now 34 years old. Oracle claims on its (albeit hyped) company fact-sheet that it has a massive 308,000 database customers. And SAP is now the #4 database vendor, behind Oracle (49%), IBM (20%) and Microsoft (17%) – numbers as per Gartner in 2011. I believe that this is going to start changing in 2013 – here's why:"

Product Availability

First, we now have awesome Database & Technology platform availability across the existing portfolio:
– All SAP products now run on Sybase ASE – including ERP, CRM, BW, Solution Manager, and the BI4 suite.
– All the Analytics Products – BI4 suite, Visual Intelligence, Predictive Analysis run on Sybase IQ and SAP HANA
– Some SAP products (SAP BW, SAP CRM, and soon – SAP ERP) run on SAP HANA
– [Edit, 13 Jan 2013] Business Suite on HANA – ERP, CRM, PLM, EAM has now been released!
Why is HANA an excellent database and technology platform?
Just Copying Things from Oracle or Other DBs?
All of these things mentioned above ran on Oracle's database at the time of this article's publication. My research has concluded that there is no reason to migrate to HANA and that HANA compares poorly to Oracle 12c, as I cover in this article HANA Versus Oracle 12c.
"This means that if you want to, you can run all of your SAP apps on a SAP database. I don't believe there is a current software revision that requires a non-SAP database. What's on my wish-list for 2013?"
Who cares, and why would you want to? After the Brightwork research into HANA versus Oracle 12c, where 12c added column oriented capability to its database (in response to HANA), what is the need to move to HANA? John Appleby is relying on some assumptions that have proven to be untrue. I cover this topic in-depth in the article When Articles Exaggerate HANA's Benefits.
Pricing and Bundles

We will see what the pricing fairies have to offer when 2013 pricing is released but I'm confident SAP is going to ensure that customers can take advantage of this availability if they want to! We have some of these already:
– Aggressive price for SAP HANA scenarios: runtime licenses are 25% of an Enterprise license, and BW on HANA is priced at 37%.
– Impressive Analytics bundles for new BI customers, at 20% in addition to your BI Suite license cost, including SAP Data Integrator and Sybase IQ.
– [Edit, 13 Jan 2013] Business Suite on HANA has been released and is priced by % application value! Awesome!
– [Edit, 13 Jan 2013] Business Suite on HANA customers can do partial migrations and get Sybase ASE included for the rest of the portfolio.
HANA's Cost
HANA is the most expensive database you can buy. We now know that HANA is priced per GB and that it is quite expensive per GB. We also know that SAP has exaggerated the compression claims, so the database's size will be larger than whatever SAP estimates. This topic is covered in the article How to Deflect You Were Wrong About HANA. 
Also, I don't know what is going on with all of these exclamation points, but I am beginning to feel like I am reading marketing material. What is this sentence?
"Impressive Analytics bundles for new BI customers, at 20% in addition to your BI Suite license cost…."
Is that just taken from the SAP marketing or sales literature? Again what is with all the exclamation points? I don't know anyone serious who writes like this.
What's on my pricing wish-list for 2013? Lots of things!
– Database & Technology bundles for all a customer's needs, e.g., ERP on HANA customers get Sybase ASE for the rest of the portfolio included. If SAP is clever, it will make these bundles easy to understand and buy. If they are clever, they will make it the same price as Oracle!
– Enterprise License Agreements (ELAs) are subscription-based for the whole D&T portfolio as a percentage of the license price.
– Enterprise License Agreements for a fixed amount for unlimited usage in large customers.
– Improved mechanisms for resellers
What This Means
All of this should mean that if customers want to buy SAP Database, they will be able to flexibly and beneficially allow them to get off the 11% that they currently pay SAP for Oracle licenses.
The last part of this paragraph makes no sense. HANA is sold per GB, while Oracle is unlimited. The pricing is not at all equivalent, but HANA is quite a bit more expensive than Oracle. John Appleby would not have any idea what the pricing would be comparatively. And once again, this sounds like SAP sales information. The open question is why John Appleby sounds like an SAP account executive.
"New Features & Functions

2012 was a pretty amazing year of features and functions for SAP Databases, including:
– SAP HANA SP04 and SP05 introduced High Availability, proper Backup & Recovery, transactional system support, and Disaster Tolerance.
– SAP HANA XS Application Services and Portal with improved developer tools.
– SAP HANA Predictive Analytics Library for in-memory predictives.
– Sybase ASE 15.7 with a plethora of new features, including compression and performance for SAP applications.
– Sybase IQ 15.4 with more features, including improved compression.
– Improvements in portfolio TCO with Solution Manager
I hear a small army of developers working on this in 2013, and I've got a big wish-list here too!
– Aggressive new PAL functions to allow more complex modeling in SAP Predictive Analysis
– 3rd party tool certification, including Informatica, SPSS, Cognos, etc.
– Data Aging between SAP HANA and Sybase IQ to allow petabyte stores at a lower price point
– Single SAP Database Studio to monitor all products
– Increased SAP HANA maturity with support for larger systems and better transactional performance
– Integration of Sybase ASE, SAP HANA, Sybase IQ, and Hadoop into a single RDBMS portfolio with clear delineation
– Better roadmaps – todays are just marketechture (login required)."
If I'm honest, I doubt there is anything on this list that isn't already on the product backlog, and the rate at which these guys are producing software is pretty amazing, so I expect to see this all next year!
A Huge Number of Items
These are a lot of items. But the assumption throughout is that these are successful additions. But just because SAP is working on something or releasing something does not speak to its quality. For example, Hadoop is mentioned in this list. However, I can't think of any reason one would want to connect HANA to Hadoop. And in fact, SAP is very limited in the market for unstructured data.
SAP wants to be associated with Hadoop because of Hadoop's success and credibility in the space, but it is merely not there even now, and this is after four years have passed.
"Marketing and Awareness

The SAP marketing peeps had a lot to get on with to explain the Sybase acquisition, new SAP HANA product, availability of SAP HANA for BW and overall database portfolio in 2012. Now in 2013, there's a lot to get on with!"
– SAP ERP on HANA will be announced soon, and getting messaging by industry and using case is incredibly important. What does it mean to customers' businesses, and where is the value?
– Increasing awareness of how SAP HANA is a mission-critical database now with all the usual features/functions like HA, DR, etc.
Many people don't know the information in this blog, like how Sybase ASE runs all of the SAP portfolios, including SRM, SCM, etc.
– Focusing on developer awareness and user groups to get new developers on the SAP/Sybase portfolio.
– Focusing on my wish-list below too!
Creating an obvious brand for HANA and Database as a whole and making SAP a better choice than Oracle for customers.
Lots to get on with here then!
The explanations points seem like a strange flourish to apply. It brings up the question of how technical John Appleby is.
Sybase as an Acquisition
Sybase, as an acquisition, has not been anything close to what was advertised. Sybase's vaunted mobility offerings turned out to be completely overrated and have made no impact on SAP's mobility capabilities. SAP has also had problems doing much with Sybase's databases, and the revenues for Sybase's databases are on the decline.
As John points out, getting the messaging is essential, but something he leaves out is that getting accurate messaging is more important. John Appleby provided highly inaccurate information on S/4HANA as well as HANA. So he was part of the HANA bubble that took advantage of the product being new to misinform.
How does John Appleby know that HANA is a better choice than Oracle (or other database vendors for that matter?).
The reason I ask is that it is now apparent that it isn't. Painfully obvious. So why was John Appleby so misinformed at this point? Did he accept everything SAP said? Did that combine with his sales quote to make him want to believe it?
Appleby's Enormous SAP Bias
"Making the Technology Easy to Adopt

When I discuss this topic, people are often dismissive because Oracle, IBM and Microsoft have such a stranglehold on DBAs and CIOs. In order to get mass-market adoption, SAP needs to make the technology easy to adopt. They've done some of this already:
– Free developer licensing for SAP HANA, Sybase IQ, and Sybase ASE with click-through licenses.
– Free Hasso Plattner Institute learning courses.
– The SAP HANA Academy – free E-Learning for SAP HANA. I was involved in this early on, and I think it's an amazing project that SAP has done a great job with.
– Migration tools for ASE and HANA. Some of these exist already, and I believe SAP is also working on an Upgrade/Unicode Conversion/Migration tool that does everything in one step – this will be a major step forward.
– Synchronized Maintenance Schedules. One of the major cost contributors for Enterprise Software is the decoupled maintenance schedule of Database and Application. With Sybase ASE, SAP HANA, and SAP Business Suite, you can update the Database and Application simultaneously, saving the cost of doing testing and change management twice.
SAP needs to do even more in this space because adoption is by far the biggest hurdle. Here's my wish-list for 2013:
– SAP HANA Developer downloads. Gary Elliott from my team makes an excellent case for this. SAP need to make HANA a 64-bit Windows 7 download for developers. It exists internally. Release it, please!
– SAP HANA Developer systems. SAP needs to team up with an OEM like my SAP HANA Mac Mini that can be purchased pre-installed. Developers like real hardware.
– More migration tools and agile delivery plans. Let's push the Systems Integrators to make it easy!
– Automated parameters for Sybase ASE – more work can be done to configure this database automatically to reduce TCO.
– Take the HANA Academy to all D&T products, including Sybase ASE and IQ.
– Create SAP Database & Technology TCO tools to help CIOs understand the cost reductions possible."
Why Appleby Continually References Back to HANA
I think there is a lot to that. Oracle, IBM, and Microsoft do have too much control over the database market.
Yet, the real opportunities to look at new databases are things like ProgressSQL, Hadoop, NoSQL. Open source databases offer a far better investment if one is looking to check out new offerings. Oracle does many things, that is, some applications that you don't need 12c. However, IT departments are also sensitive to how many different skills they have to staff.
"Final Words

SAP has already done an amazing job of building a database business from almost nothing in 2010, to $750m in 2011 and $1.1bn in 2012."
Really?
Or was this partially purchased from the Sybase acquisition? Does John include the acquisitions that form HANA's basis that SAP has been so quiet about, as we covered in the article Did Hasso Plattner and His Ph.D. Students Invent HANA?. Is, is a fantastic job of building a database business if you acquire most of it?
Appleby as SAP Mouthpiece
Is John Appleby posing here for SAP?
"Curiously, Sybase 2010 revenues were a total of $1.2bn, of which $880m were said to be database-related. Did they decrease in 2011 or are the numbers just counted differently?"
Here John is asking a question he does not want the answer to.
To really punch its weight in this business (and meet its ambitions of being the #2 database vendor by 2015), it needs to grow 300% to a whopping $4bn from the 2011 number. To do this is really has to fire on all cylinders:
– Increase the overall capital database market with innovative products that add value.
– Eat market share not just from Microsoft and the smaller vendors but also from Oracle, IBM, and Teradata. The 2012 statistics will be fascinating to see when they are available.
– Capitalize on the SAP install base to grab land from Oracle, IBM, and Teradata.
– Sell into the non-SAP analytics market with HANA and Sybase IQ bundles
– Build the cloud application and HANA application portfolios
Asking the Question
I feel like someone has to ask this question. Isn't capitalize on the SAP install base to grab land from Oracle, IBM, and Teradata anti-competitive? If capitalizing on the SAP install base to get companies to purchase database software, they would not ordinarily buy, and it sounds like it is. Why does John Appleby want one monopolist to overtake other monopolists? Let me venture to say that this is because John Appleby leads a consulting company that makes more money if SAP does this. So how objective would we consider John Appleby to be? Should companies be following John's advice?
"But to my mind – one thing is for sure: if SAP plays its cards right this year, 2013 will be a pivotal year for SAP Databases and they could break the $2bn barrier for license revenue. I'm looking forward to my small part in it."
No, this prediction was wrong. Four years later, none of these predictions made by Appleby have come to pass. Why were his predictions so off? Well, I cover in the article on The Effect of Forecast Bias. I a person is paid to think and to forecast one way, they tend to forecast way. This is what happened to John Appleby. Another issue is the bias of his source. John Appleby's source is almost entirely SAP in this article. And SAP is an unreliable source of information on new products.
Conclusion
John Appleby did not write this article as it was merely John Appleby compliantly copying and pasting what SAP told him. SAP needed to release false information about HANA, but they needed to use a surrogate. For whatever reason, they chose John Appleby. Either that or John Appleby lobbied for the role and put Bluefin Solutions' reputation on the line. But fortunately for Bluefin Solutions, almost no one checks on people's track records. This allows people to issue inaccurate forecasts again and again. If you get on board with SAP, what will often happen is that SAP will give you business.
If you get on board with SAP, what will often happen is that SAP will give you business.
SAP wants customers to be tricked into HANA by any means necessary. Once they do this, they further cut off their customer's options and redirect them to more SAP database products.