Is S/4HANA Actually Designed for the Cloud?
Executive Summary
Hasso provides several assertions regarding the benefits of S/4HANA for the cloud.
We review the accuracy of these benefits.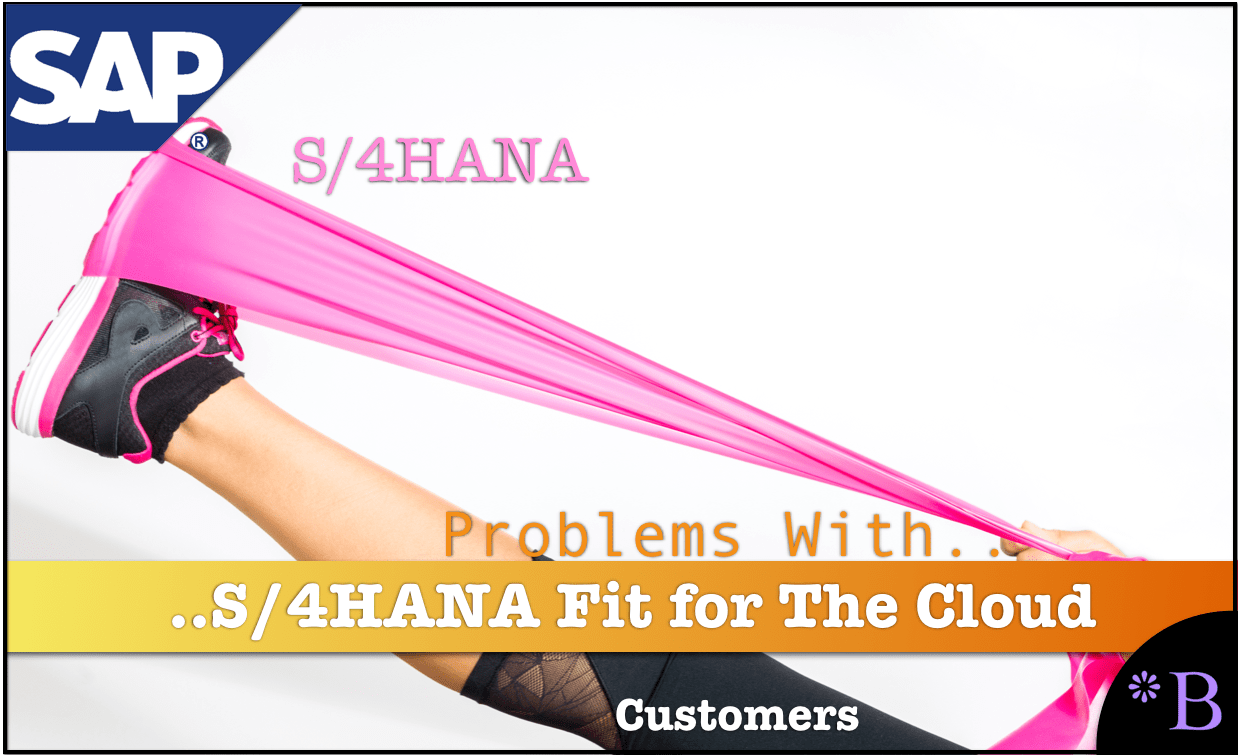 Video Introduction: Is S/4HANA Actually Designed for the Cloud?
Text Introduction (Skip if You Watched the Video)
One of the common areas of confusion is the S4HANA cloud. That is the deployment of S/4HANA in the cloud. S4HANA Cloud is the concept, often presented by SAP S/4HANA is somehow explicitly designed for the cloud. There has been a great motivation for SAP to commingle both HANA and S/4HANA with the cloud to perform cloud washing. However, there are not only many issues with S/4HANA in the cloud, but issues with other ERP systems in the cloud as ERP systems have a much more complicated set of functionality than traditional cloud applications like CRM of invoicing. You will learn how accurate SAP is concerning S/4HANA and HANA in the cloud.
Our References for This Article
If you want to see our references for this article and other related Brightwork articles, see this link.
Lack of Financial Bias Notice: We have no financial ties to SAP or any other entity mentioned in this article.
This is published by a research entity.
Second, no one paid for this article to be written, and it is not pretending to inform you while being rigged to sell you software or consulting services. Unlike nearly every other article you will find from Google on this topic, it has had no input from any company's marketing or sales department. 
Hasso on S/4HANA Deployment in the Cloud
Hasso Plattner had the following to say on S/4HANA Cloud deployment.
'There are many advantages to deploy the system in the cloud, but if regional preferences call for an implementation on premise — no problem, it might be just a different cost factor. It has to be understood that the deployment in the cloud has a principal advantage when it comes to the implementation of new functionality. Just take the new online sales scenarios with different revenue creation and recognition practices. Most companies will be in need of these features pretty soon and only with SAP S/4HANA can really accelerate the adoption. SAP offers a test migration of SAP ECC 6.0 systems in the cloud and the customer can later decide where to run the production system."
Implementing in the Cloud?
Implementing HANA (the database) in the cloud is quite expensive, as I cover in What SAP Moving to the Cloud Means for Current HANA On-Premises Purchases.
Hasso may want to explain why so few HANA purchases are sold in the cloud. The latter part of this paragraph seems to have some logical connection problems. However, SAP S/4HANA is simply ECC ported to HANA. So it does not make sense to say that it will
"actually accelerate the adoption"
..of something.
And again, Hasso seems to be relying on the assumption that SAP S/4HANA will be sold in the cloud quite a bit, which remains to be seen.
But if the software is sold in the cloud or is installed on premises, this does say things about functionality. Cloud applications do tend to be more distributed than on-premises applications — so cloud may say something about access — but it does not relate to the functionality — such as the sales scenarios, revenue creation, and recognition practices.
Analysis of Hasso's Statements
HANA has nothing really to do with the cloud. HANA can be placed in the cloud, just like other databases, but up until this point, there have been few cloud-based implementations of HANA.
S4HANA Cloud is a term that sounds new and different, but S/4HANA is not particularly cloud-centric or cloud ready. As so few SAP ERP instances lack customization, it is unlikely that..
"S4HANA cloud"
will be much of a factor in the future.
But what Hasso is describing here is nonsense. It is merely a series of words strung together designed to make an impact, but upon review, the concepts explained here by Hasso by not correct.
Now let us look at the significant points one by one.
SAP's New Customer Facing Applications?
"With New Customer Facing Applications Like Those From Hybris. Success Factors, Ariba, Field Glass, Concur and the Internet of Things projects with SAP HANA Vora."
This is similar to Hasso's argument regarding Hadoop that I have been pointing out.
None of these items that Hasso is referring to have anything to do with S/4HANA. It is not a "unique offering"; it is a particular offering based upon some somewhat foreign acquisitions that SAP has engaged in to get the analysts thinking that SAP is becoming a cloud company to get the stock price up.
SAP Offers a Unique Suite of Products?
"SAP Offers a Unique Suite of Products, which Can be Installed and Activated Quickly."
Well, the acquired products — which are cloud-based do install quickly. But if we are talking about S/4, there is no reason to think that S/4HANA will install (or be implemented is what Hasso must mean, as the installation does not take you live) quickly. S/4 will be a tough installation.
So Hasso seems to be trying to blend the implementation ease of, say, Success Factors with S/4, and the two applications have nothing to with one another.
SAP HANA Cloud Platform Allows for Easy Implementation and Extension?
"The SAP HANA Cloud Platform Allows for Easy Implementations of Extensions to Integrate other Software Products or Bespoke applications."
SAP has followed a multi-decade strategy of making itself difficult to integrate so that other software vendors would be at a disadvantage against them.
SAP's strategy was to capture the ERP system and then push it into other application areas using the argument that integrating with other vendors was risky. Why SAP would reverse this decade's long strategy, which has turned them into the largest enterprise software company in the world, is difficult to swallow.
Did SAP See a Dramatic Increase in SAP S/4HANA in the Third Quarter?
"SAP Saw a Dramatic Increase in SAP S/4HANA Projects in the Third Quarter."
We don't know if this is true, as SAP has even stopped breaking out HANA license purchases. The dramatic increase, if it occurred, would be on a minuscule base of S/4 projects. However, years after this statement (July 2018, S4HANA has continued to have few implementations with SAP's June 2018 estimates of 1500 live S4HANA implementations false)
A Lack of Information or Overly Conservative Attitude Hinders Companies to Move to S/4HANA?
"It Would be a Shame if Lack of Information or an Overly Conservative Attitude Hinders Companies… to Make the Move to SAP S/4HANA."
SAP customers have been bombarded by HANA information. HANA has been SAP major marketing tentpole for over 4.5 years, as I covered in Has SAP's Relentless HANA Push Paid Off? 
So a lack of information cannot be blamed for hindering companies from moving to S/4HANA.
I am in contact with some businesses, and what is blocking enterprises in this regard is that S/4 is too expensive, it is too risky, it dictates to the customer too much. And many previous promises regarding how SAP's products would benefit them have not paid off. That is the truth.
See our The S/4HANA Implementation Study for real stories and details on actual S4HANA implementations.
The Wall Street Journal's Cloud Confusion
I have recently forwarded an article by a cloud vendor from the Wall Street Journal blog. One quotation caught my eye.
"In the process, she's pitted Kenandy against both software giants like SAP and Oracle and older manufacturing software companies like QAD, all of which are racing to redesign their software for the cloud."
That is interesting because the ability to offer applications by the cloud has existed for some time. And the only SAP product that I can think of that is cloud-based is SAP's product provided through Amazon's AWS service, representing some minuscule percentage of SAP's global revenue. Secondly, the article does not consider that the enterprise cloud is the opposite of SAP's business model. The cloud represents one of the most significant challenges to how SAP does business. To highlight this, let's discuss what cloud is.
Cloud is where a hosted solution, which is already up and running at a software vendor (typically), allows a client to access its services in return for a monthly fee. The features of the cloud are the following:
Cloud solutions implement very quickly because the installation is already complete, and it is a matter of configuring a running application.
Cloud solutions have the highest value in the enterprise software space. The total cost of ownership of cloud solutions tends to be low compared to the on-premises model.
Cloud solutions provide lower sales orientation and offer online trials of their software, which means that clients have a better idea of what they are buying than on-premises implementations. I cover in this article and the book Supply Chain Forecasting Software. That most companies select the wrong forecasting applications for a variety of reasons but the major ones being that they generally don't understand the software they are buying very well. And are misled by large consulting companies and companies like SAP and Oracle into buying weak applications due to the tremendous marketing muscle of the significant monopoly vendors.
Cloud solutions do not tend to follow the standard enterprise sales model that is controlled and distorted by corrupt consulting companies intent on recommending software, like SAP, that maximizes their revenues at the cost of their client's interests.
Cloud vendors provide a high degree of flexibility to their clients, and companies can easily switch between cloud providers as the fees are monthly. Cloud solution providers are very much about providing value to clients rather than locking them in. SAP, Oracle, and IBM are about locking their clients in solutions.
Monopoly Power
SAP is a monopoly vendor, much like Microsoft, that puts out uncompetitive software that is propped up by relationships that restrict consumers' choice in the marketplace. In the case of Microsoft, they have relationships with retailers and computer OEMs. SAP has relationships with advisory companies that recommend software in the enterprise space. Neither SAP nor Microsoft can win anywhere near as much as they do in a competitive market. Both vendors also very much have a strategy based on "lock-in." Companies are very hesitant to move to a new solution once they invest so much money in SAP. This is true even if the results are poor. However, the cloud allows clients to leave as the contracts are month to month freely. SAP has no interest in this business model. Cloud is the exact opposite of how SAP, Oracle, and IBM have made their money and become highly successful organizations.
Can Cloud Fight Monopoly Power in Enterprise Software?
Cloud has the potential one of the few industry trends that can potentially undermine the monopoly power of the companies. The author states in the article forwarded to me that SAP and Oracle at least are "racing to redesign their software for the cloud." How did this author "learn" that SAP is racing to cloud-enable their applications? Did they hear this from an SAP representative and then retype the statement.
Conclusion
There is not much to take away from this section of the paper by Hasso Plattner. The statements are not substantiated, and once against Hasso Plattner, can't seem to get through more than a few sentences without unleashing some falsehood. In July 2018 (when this article was last updated), S/4HANA still has less than 100 S/4HANA Cloud customers live. And the customer that are live looks suspicious as the following graphic shows.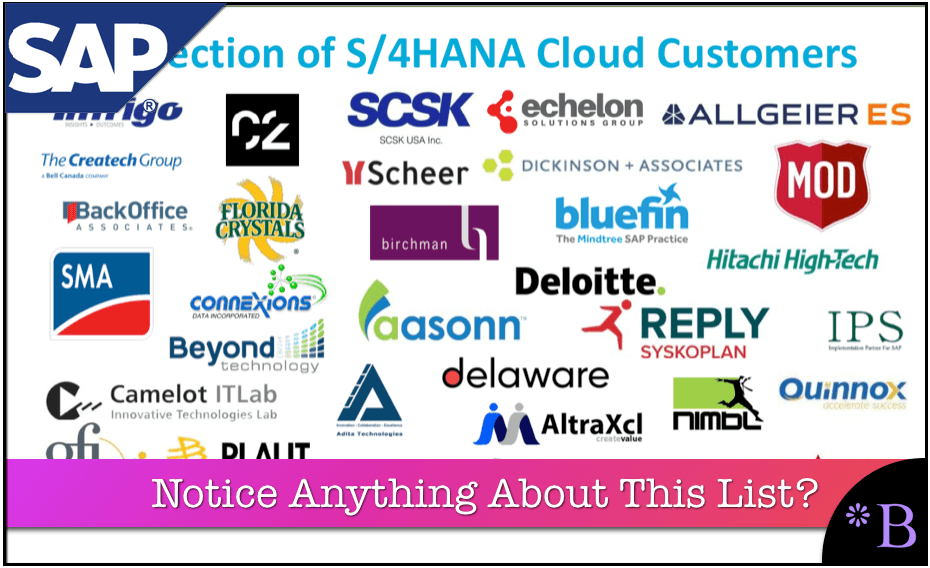 Almost every company on this list of S4HANA customers is an SAP consulting partner. However, these are not real customers. They implemented S4HANA Cloud to build skills to resell S4HANA consulting projects. No professional services company needs an ERP system; they only need HR and finance functionality. All of these companies would have been far better off implementing Workday.