Executive Summary
We provide SAP lawsuit support from one of the very few research entities.
We publish unique information on SAP and have an extensive SAP network to draw upon to validate case information.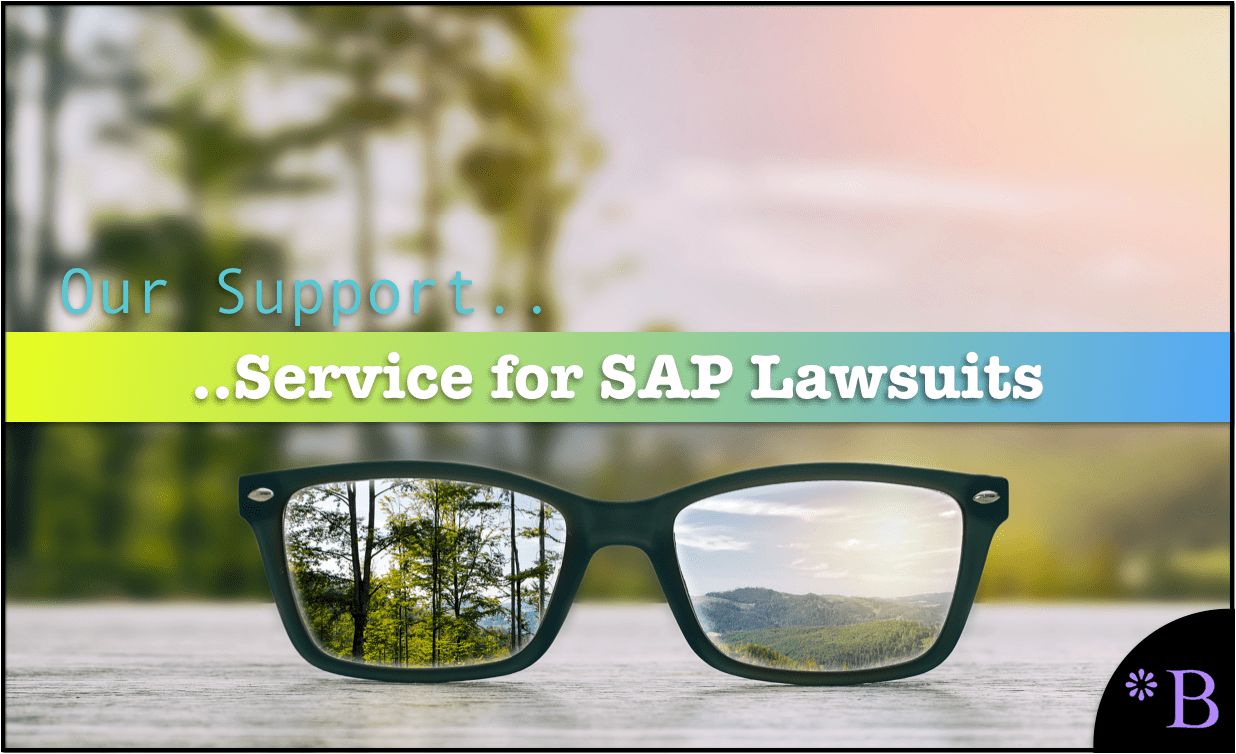 Our Research Focus
We are the only research entity that focuses almost exclusively on SAP.
We are both a research entity that focuses primarily on SAP combined with many years of SAP implementation experience.
Our Independence
Unlike most research entities like Gartner or Forrester, Brightwork is entirely independent in that it takes no money from SAP. We combine this with detailed research into many areas of SAP.
As an unbiased entity (for instance that is not both selling SAP consulting projects while also offering expert witness services).
We have an over 10-year history of putting out the most accurate information on SAP, which we support with a measurement of this accuracy — and which can be verified in the article A Study into the Accuracy of SAP. 
Our SAP Lawsuit Support
We combine both SAP implementation experience, one of the largest research databases on SAP, along with the experience supporting attorneys in areas ranging from intellectual property to implementation cases.
Because of our in-depth research ability, we can support attorneys with research directed around the specific case. For example one fertile area we research is case studies for how SAP uses indirect access to customers.
We offer everything from verification of exploratory research to supporting lengthy full-time cases.
Background on Our Primary Analyst
Our primary SAP lawsuit analyst is Shaun Snapp. However, we also bring in other SAP experts that fit the needs of the legal support. We have one analyst who is better at reading court submissions on intellectual property that we use for those types of cases. However, Shaun Snapp who writes the analysis, incorporating the specialists of this type.
Shaun Snapp performs research for Brightwork Research & Analysis. Brightwork Research & Analysis covers many IT topics ranging from SAP to Oracle to open-source software. 

Shaun Snapp migrated to being a researcher after many years as an SAP implementation consultant. He normally works in project advisement and performing analysis for things like IT acquisitions and project planning. 

Brightwork Research & Analysis is known for publishing information around the enterprise software space that can not be covered elsewhere. 

Shaun Snapp has written seven books that deal with SAP topics. Some of these books cover technical topics of SAP, while others cover risk management and managing projects, and dealing with SAP partners. 
A:

Shaun's General SAP Legal Coverage
#A1:
SAP HANA (SAP's database)
Shaun Snapp broke the story of the issues with SAP HANA versus other vendors both with respect to technical limitations and how HANA was being used to block out vendors before the Teradata v. SAP lawsuit was filed. The Teradata v. SAP lawsuit deals with SAP's HANA database. 

Significant portions of the original complaint filed by Teradata appear to rely upon articles at the Brightwork Research & Analysis website. 

Shaun Snapp has continued to cover the Teradata case along with several contacts that have also taken an interest in the lawsuit. This has meant reviewing court documents for interesting storylines, a few of which have been published at Brightwork Research & Analysis.  
#B2:
SAP Indirect Access
SAP's indirect access policy has been the source of several lawsuits, including very prominently SAP v. Diageo. 

Shaun Snapp was the first individual covering the SAP space to identify SAP's indirect access program as a violation of the tying arrangement clause of US antitrust law (that is essentially similar to Microsoft's Internet Explorer/Windows tying policy). This is explained in the article

How to Understand SAP's Indirect Access and Anti Trust Law. 

One software vendor later hired a Duke University law professor who wrote a paper that came to the same conclusion regarding the violation of the tying arrangement violation. 
B:

Examples of Our SAP Lawsuit Support
#A1:
Support for an SAP IP Lawsuit
Shaun Snapp supported a law firm that was defending SAP against a lawsuit for violation of this firm's IP. Shaun Snapp knew the history of the application category. He was primarily provided technical expertise as to whether the product that SAP developed was based upon the application that the company that was bringing the lawsuit claimed. The lawyers involved were all intellectual property attorneys and did not work with software for a living. Therefore some of the time that Shaun Snapp billed to the law firm was spent educating attorneys on technical aspects around the software, as it related to the claims by the plaintiff. 
#B2:
Support for an SAP Lawsuit Against a Systems Integrator
An SAP customer brought this lawsuit against the systems integrator. 
The SAP customer stated the following among other items in the complaint. 
That the systems integrator was incompetent and hid important items from the SAP customer.

That the systems integrator did not bring the right resources to the project. 

That after go-live, the SAP customer experienced disruptions in their operations because of the poorly managed implementation. 
The attorneys for the firm defending the implementing firm were interested in the following analysis. 
Estimating the liability of the firm based upon analyzing the implementation documentation, emails, and the explanations of what had occurred on the project. 

As the implementation's failure was in some part due to one of the SAP applications (of the several that were implemented), one of the questions was how reasonable the response by the implementation firm was to the problematic application. Shaun Snapp was able to provide insights as to why so many problems occurred and evaluate the client's response to these problems. This came by analyzing the email exchanges between the client and the plaintiff and reviewing the technical issue. 

There were also multiple issues across different SAP applications. The implementing firm had a problem closing these issues. And this led to a number of adjustments on the project. The client's attorneys wanted an evaluation of these issues and how the implementing company performed and if they were reasonable and customary for a typical SAP project. 

The attorneys for the client required that Shaun Snapp understand the full complaint and know what to look for in the documents, emails, etc.. that were part of the discovery. 
This was a large and prominently showcased lawsuit in IT media. 
C:

Other SAP Lawsuits and Attorney Interactions
Shaun Snapp has had a number of interactions and provided advice to law firms on a shorter-term basis. 
D:

Shaun Snapp's Roles on Lawsuits
Shaun Snapp has served exclusively as an analytical resource. 

He has never testified in court as an expert witness. 

All of the cases that have had Shaun Snapp's involvement have been settled. 
E:

Personal Experience Supporting Lawsuits
Being comfortable writing detailed documentation, as nearly all of the work in supporting SAP lawsuits has been remote, Shaun Snapp has found it to be a good fit for him to provide support on SAP projects. In most cases, the individual issues analyzed connect to previous first-hand experience or research that Shaun Snapp has performed.
Contact
To contact us for our SAP lawsuit support, just type in your message into the chat bubble in the lower left-hand corner of this website.