The Brightwork SAP Research Based Assessments
Executive Summary
This page describes the Brightwork SAP assessments and why you (as a vendor) would want to send them to your customers or prospects.
Our analytics assessment is without SAP or their consulting firm's influence or financial bias.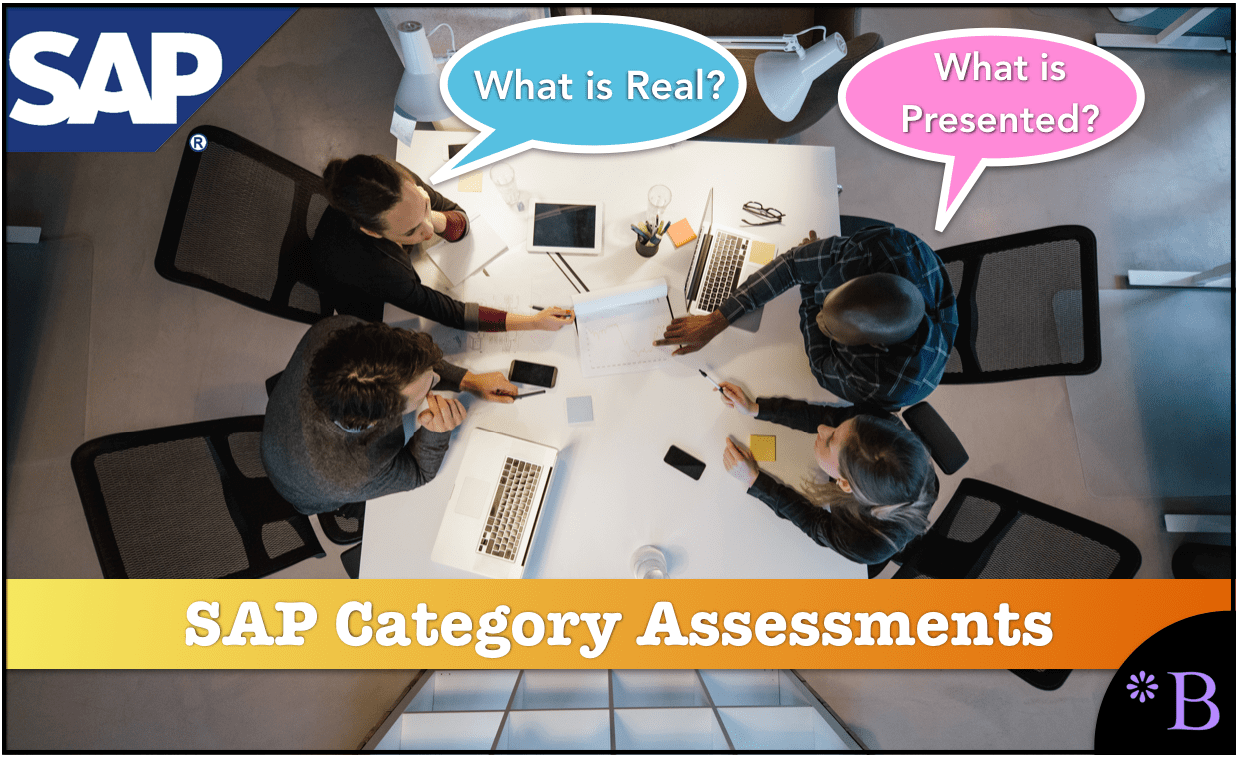 Introduction
This page is for vendors. If you find the appropriate assessment helpful, the following article links in the search box below are to be sent to your customer.
Question #1

: What is the Brightwork SAP Assessment Program at a High Level?

This program gets some of the only independent information and analysis into SAP customers. It is supported by the largest database of SAP research that has no fingerprints of SAP or any other vendor influence. SAP has never accepted any income of any kind from any vendor.
Question #2

: What is Brightwork Research & Analysis?

A full explanation is available on our home page. But the short version is we provide some of the only SAP independent information and research in the enterprise software market that does not come from competing vendors.

Brightwork has the most SAP research and the most accurate research on both SAP, which you can verify at the article A Study into SAP's Accuracy.

We have a series of firsts, including the only entity to break the story on HANA (which is now matriculating through the courts in the Teradata v SAP court case), the reality of S/4HANA implementations, the reality of APO, SAP Analytics, and a host of other areas. These are areas that are never published in the SAP captured media or with Gartner, Forrester, or IDC.
Question #3

: What are SAP Consulting Firm Assessment Like?

SAP consulting firms offer SAP "assessments" that as we critique in the article Don't Get Tricked by SAP Consulting Firm S/4HANA Assessment Project, the only thing they "assess" is how to pitch their consulting services through proposing a project. Whatever the question is, the answer is to buy SAP and then implement SAP using their consulting services. SAP consulting firms aggressively underbid these "assessments" as they are nothing more than content free sales pitches.

What non-mega vendors deal with is a forcefully rigged market in favor of mega-vendors. And vendors often think they have no alternative information providers in the market.

However, we provide an alternative.

These assessments you see on this page allow non mega vendors to get far more accurate information to the customer on the topic of SAP and Oracle in a way that costs nothing to you as the customer pays the costs of the analysis. Brightwork never received income from vendors to produce content and does not work as a subcontractor. Our relationships are direct to our clients.
Question #4:

: What is the Detail of the SAP Assessments, and How Does This Benefit You?

The SAP customer you are working with is subjected to large amounts of inaccurate information about SAP from the SAP ecosystem. This erroneous information is designed to maximize SAP's account control and block out other vendors, even vendors that are "partners" with SAP. (See the Teradata lawsuit for details on how vendors are treated as "partners.")

In each assessment, non-mega vendors will benefit from the information provided to the customer because we provide accurate information on SAP. This is the opposite of what customers typically receive from the combination of SAP, their consulting partners, Gartner, Forrester, and IDC. Our history of predicting SAP far outstrips any other entity in the marketplace, including SAP itself (not challenging to do as SAP is enormously inaccurate – however the fact is, no consulting company, IT media outlet or IT analyst firm has been able to do it).
Question #5

: What Do I Do With This?

Simply find the SAP assessment that applies to your category of software.

See if this is the type of information you think your customer or prospect would like to see and forward the link to them. Explain that we are an independent source of heavily researched information on SAP.

All that is required is to provide these assessment links to customers to allow them to decide if the service interests them. If you lead a sales team, it means making your sales teams aware that this service exists and for them to understand that they benefit by their customers and or prospects receiving independent information on SAP.
Question #6

: Reach Out

Contact us with any questions you may have. The program is very straightforward.
We are paid and have a direct contract with SAP customers.
There is no cost to and no contract with the vendors.
The SAP Assessment List
See the tiles below to select the assessment that would apply to your customers or prospects. When you select a tile, it will open a box that allows you to open the article.
References