Have We Reached the End of the Line for SAP Solution Manager?
Executive Summary
What is the downward slope for SAP Solution Manager or SAP SolMan?
The changing story of SAP Solution Manager or SAP SolMan.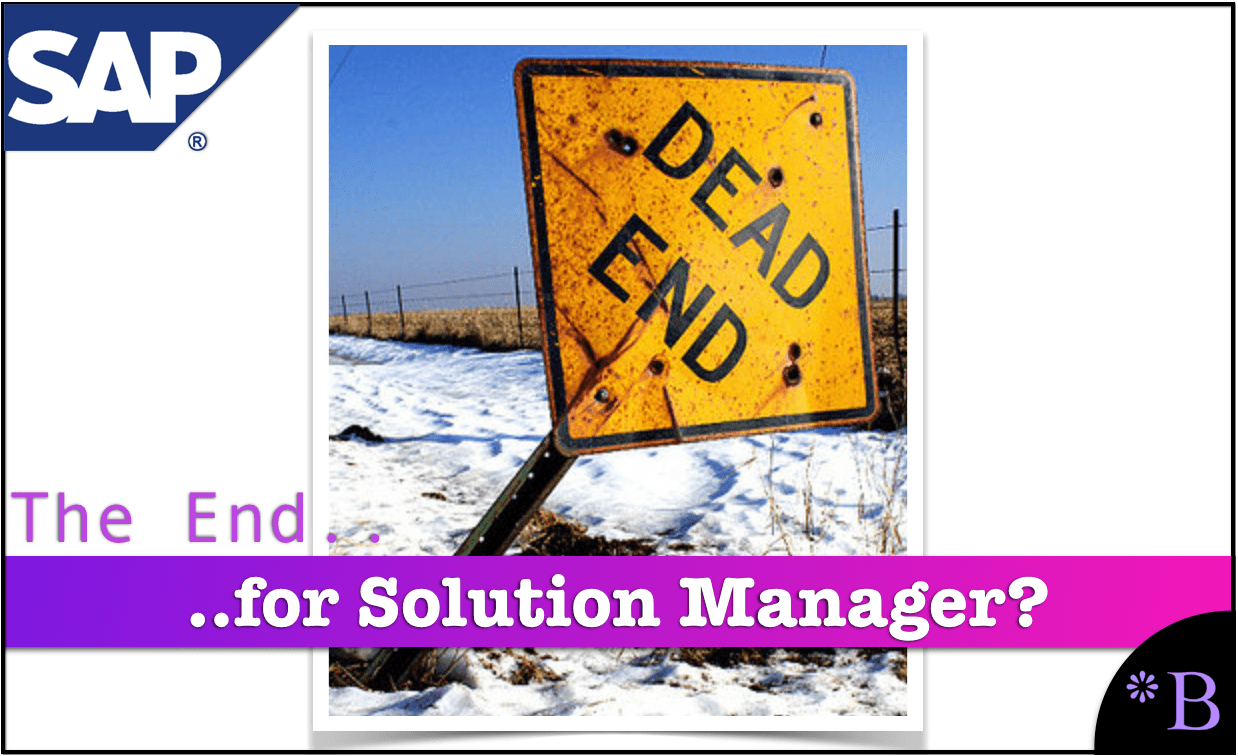 This article was updated as of October 2019. Solution Manager has now moved into decommissioned status. 
Introduction
SAP introduces products with great fanfare but does not do an excellent job of communicating when a product has dropped from being viable or when they stop actively putting effort behind a product or a program.
Lack of Financial Bias Notice: We have no financial ties to SAP or any other entity mentioned in this article.
This is published by a research entity.
Second, no one paid for this article to be written, and it is not pretending to inform you while being rigged to sell you software or consulting services. Unlike nearly every other article you will find from Google on this topic, it has had no input from any company's marketing or sales department. 
SAP Solution Manager or SAP Solman
This is the appropriate time to declare the death of the Solution Manager.
For years Solution Manager was a hot-button issue on implementations.
Frequently I was told that SAP Solution Manager is the direction and the future. SAP's concept was very ambitious. Companies would add project documentation to Solution Manager, and SAP would have access to all of it and would use it to provide feedback back to the clients. It was a direct line-in to SAP, except that SAP never seemed to be on the other end. Secondly, SAP Solution Manager or SAP Solman is a poor content management application. A far better solution is either Dropbox or Box.net. I can manage my content far better than the world's biggest corporations because I choose better and less expensive share file applications.
The Changing Story of SAP Solution Manager or SAP Solman
Solution Manager is still used for some administrative activities like moving transports. But it has lost any impetus within companies to use it as the repository and CMS for that vast majority of projects. As Solution Manager continues to fail to be used by companies in the areas for which it is proposed, SAP keeps moving the area that Solution Manager is supposed to do. At this point, it is set to recede into oblivion and possibly to be replaced with a new product. However, I can say that there is no reason for the CMS to be provided by your ERP vendor; the two software skill sets have zero crosses over.
Now CMS is only one thing that Solution Manager does; Solution Manager is grabbed back of functionality. In an earlier version of this article, one of the commenters criticized the fact that I did not bring up other features such as (and I quote from a commenter)
Custom Code Analysis
Delta functionality capture for support packages
Better performance data capture and visualization
Improved access to web services consumption and exposure to allow integration with 3rd party applications like Heat or Remedy
Better/higher metrics for system administration and alerting functions
The Problems with SAP Solution Manager or SAP Solman Most Broadly
The problem is that when checking with Basis folks, is the Solution Manager does not score well against other applications in any area. Many Basis administrators consider Solution Manager weak at all the multiple things that it does. It is not a competitive offering in all these areas where proponents of Solution Manager continually promote it. This comes down to two categories of people — either those trying to get out SAP's marketing message or consultants who are staffed as Solution Manager resources on projects. This is covered in the book SAP Nation 2.0.
Solution Manager's Adoption?
"Today, the real lasting remnant of NetWeaver is Solution Manager. SolMan has some adoption in big SAP shops but is really a heavy set o system management tools that work only for SAP shops willing to invest in a complex tool kit, and are a hindrance, a curse or afterthought in most others."
Solution Manager for Improving Implementation Speed?
The question of how well Solution Manager does what it says was supposed to do concerning speeding implementations.
"Previous SAP attempts with tools like Solution Manager, however, have not significantly improved performance in its ecosystem."
Outside of those that sell consulting services for Solution Manager or bill hours for Solution Manager, no one else is impressed with Solution Manager. (In fact, most of the commenters on this article in some way make money from Solution Manager, which explains why they will come up with any excuse to defend Solution Manager) The SAP approach is to essentially force clients to use Solution Manager by making it mandatory to do certain functions rather than getting clients to use it because it is good. According to some Basis administrators, they use Solution Manager to do the necessary functions and try to use it as little as possible. If it weren't for SAP, making Solution Manager a mandatory application would be dead already. SAP can keep Solution Manager alive this way in perpetuity but is it the right thing to do.
Solution Manager Jammed Down Customers Throats
In many cases, Solution Manager was made mandatory on projects to increase its adoption. At one point, OSS notes had to be filed through Solution Manager. This is explained in the following quotation.
At first, SAP could not force their customers to use SolMan because the range of features was faulty and incomplete. However, Gerd Oswald and his team worked tirelessly until one day, it was absolutely certain that SolMan would now be obligatory.

The outrage in the SAP community was enormous as well as understandable, because this obligation of using SolMan was tied to high costs. Of course, SolMan was still free of charge, but training courses, the development of a new IT infrastructure and the adaptation of basic processes cost customers a lot of money.

The Solution Mananager finally arrived in the SAP community. The initial outrage has quieted down. Now, a lot of existing SAP customers have recognized the advantages of SolMan, and even in the E-3 community there was a lot of praise for the Solution Manager. – E3Zine
This last part of the quote is the opposite of our experience. We have found Solution Manager to be increasingly irrelevant on SAP projects.

Conclusion
All applications must be able to stand alone. Once a software vendor begins dictating other applications that must go along with the main applications that the implementing company is buying, it's time to start reducing that vendor's usage. Let us guess how objective any vendor recommends an application because another one of their applications is already used.
This is a problem across the SAP space.
One wonders if the original SAP customers ever realized that by buying SAP, they would be told what to do by SAP in every dimension of their IT spend decades later. Solution Manager is just another example of SAP pretending they have all the answers in an area that they do not.
So, will I be right again? Only time will tell. This post will stay regardless of the outcome. If Solution Manager rises again, anyone is free to comment on this post and ridicule me.
However, I have to say that I am feeling pretty confident about this call.
References
*https://www.amazon.com/SAP-Nation-2-0-empire-disarray-ebook/dp/B013F5BKJQ
https://e3zine.com/2018/11/15/solman-not-enough/