How to Deflect That You Were Wrong About HANA
Executive Summary
SAP and SAP consulting firms have made a large number of false claims around HANA.
When confronted with these claims, HANA proponents continually change the topic and deflect other HANA claims that are also false.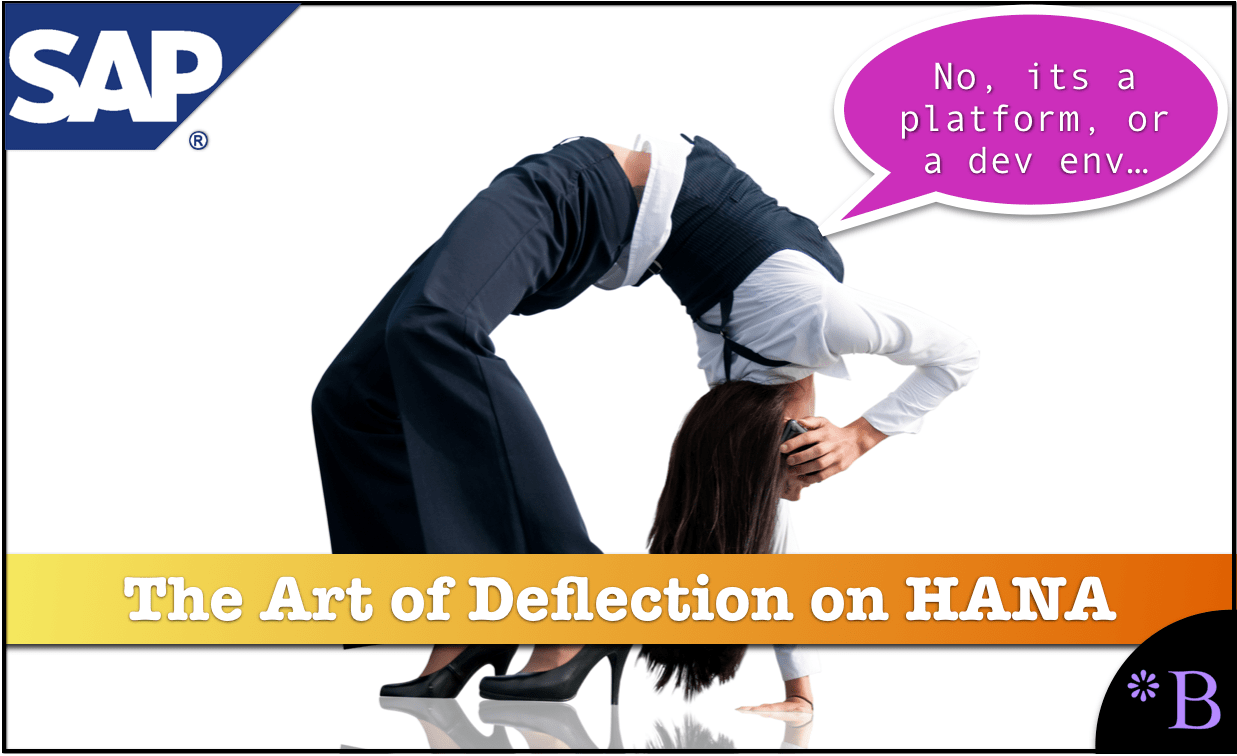 Video Introduction: Deflection of HANA Claims
Text Introduction (Skip if You Watched the Video)
There is a popular trend afoot in the HANA community from either HANA defenders in SAP or HANA defenders in the SAP partner community. We call this pretending you weren't wrong about HANA. SAP and its partner community have generated so much false information about HANA over the past five years. Once called out on it, they need to respond not to be seen as either unknowledgeable or dishonest. There are important principles at work here. Let us take a minute to review them. There is HANA software to be sold! There are HANA services to be sold! It is imperative to be able to continue to mislead customers in an unmolested fashion! You will learn the essential tactics that HANA salespeople and HANA consulting companies employ.
Our References for This Article
If you want to see our references for this article and other related Brightwork articles, see this link.
Lack of Financial Bias Notice: We have no financial ties to SAP or any other entity mentioned in this article.
This is published by a research entity.
Second, no one paid for this article to be written, and it is not pretending to inform you while being rigged to sell you software or consulting services. Unlike nearly every other article you will find from Google on this topic, it has had no input from any company's marketing or sales department. 
First Some Background on the HANA DB
HANA DB was at some point around 2011 approved as the primary marketing tentpole for SAP. Since 2011 Dr. Hasso Plattner has written four books on HANA DB related topics. SAP marketing and sales have released a torrent of information about HANA. My research shows that this information has in just about every case been either inaccurate or exaggerated. Dr. Hasso Plattner seems to be a true believer in HANA. Somewhere along the way, he seems to have become obsessed with HANA DB technology. People at SAP did not stand up to him and tell him he is overemphasizing one topic (to the detriment of other important issues). I have brought upon many occasions that processing speed is not among the top ten items that plague SAP projects. And if you work on SAP projects, it is hard to propose the opposite.
Fear of Confronting Hasso
Instead of having anyone push back on Hasso, SAP went all-in on HANA. The problem is that Hasso is not a reliable source of information on computer topics. I have concluded that Hasso Plattner makes up things about as much as Donald Trump. The major difference is that Hasso Plattner is considerably smarter. And he covers topics that are far more sophisticated than the subjects covered by Donald Trump. Thus his deceptions are much harder to ascertain. But if you study Hasso Plattner's writing and speeches long enough, a pattern of intentional deception becomes impossible to ignore. The comments he made about a Chinese company that had an MRP run time of 24 hours, which SAP reduced with S4 running on HANA, many months before S4's production planning module had even been developed, is symptomatic provably false statements made by him. (I have a future example of a very long MRP runtime, but alas, the conclusion is not purchasing HANA DB.)
Hasso is much like most of the partners at large consulting companies that I have met. They simply do not care what happens. What they care about is what they can pull over on other people. This is not idle criticism but is based upon quite a few conversations with partners at major consulting companies about what they care about the perception rather than reality. And they have told me that this is the right way to think.
Follow that Money that Supports False Claims Around the HANA DB
As is usually the case, the vast majority of money resides in those who make exaggerated claims. The money is squarely on the side of exaggerating expectations, not on telling people the truth. The truth is much less exciting and does not appeal to the desires of the audience. The audience wants to hear that the thing they purchase will have incredible performance. That everyone who uses it loves it, that it is leading-edge, has a low TCO, which will result in being able to cut overhead, etc..
Things have not changed much since the traveling medicine show salesman. Wall Street wants to hear that SAP is all about driving innovations through HANA and delivering more and more applications through the cloud. Therefore, regardless of what is true, the data will be gerrymandered to give this impression. Quotas must be met, and stock options must be exercised. SAP can choose from an unlimited number of type people who will tell any lie SAP wants in any language it wants in return for money.
For this reason, people in conferences and private visits compete with each other to misrepresent reality.
And the competition is fierce.
SAP Conferences as BS Mills
Conferences like SAPPHIRE and ASUG are filled with false information. Lies were emanating not only from SAP and their partners but employees within customers. They compete in giving misimpressions on how much progress they have made with SAP's newest applications. In interviewing companies that interact with SAP and SAP partners and I observe the information provided to these enterprises. I find one misleading statement after another. I should not be surprised. The lying in the documentation is simply repeated in the actual sales process.
There is all manner of problems with this overemphasis on HANA DB. But one easy item to point out is that the system's overall performance does not match the system's database speed. That is because you can make the database run faster by, say, 100 points of measurement do not mean that this 100 point translates to 100 points in application performance. And whatever the improvement in application performance does not translate to business value.
False Performance Enhancements Applied Generally
Think about a Lamborghini Veneno. This $400,000 car has a 750 horsepower engine.
A Honda sedan may have a 100 horsepower engine. Does the Veneno get you around town 7.5 times faster? Of course not. You can't convince people to sell their house to buy a Veneno because everyone drives, so they can't be tricked into thinking their commute will drop to 2 minutes if they buy a Veneno. But not everyone has years of database experience. Thus it is easier to trick them into thinking that HANA might have such incredible benefits. But if they didn't, and I was unethical, I could simply do the math that 750 hp is 7.5 times more than 100. I would then contend that people that have a 15-minute commute could have a 2-minute commute. That is 13 minutes saved each way, which is 26 minutes a day in extra time saved!
Imagine what you could do with that time back.
Hasso Plattner's Falsehoods on In Memory and the HANA DB
In Dr. Hasso Plattner's writings, he seems to propose a direct proportional benefit from database speed to a host of other benefits. This has led SAP to exaggerate HANA's benefits, and the primary reason for this is to penetrate the database layer. SAP is willing to mislead as many people as necessary to meet the sales quotas on HANA. People that buy HANA often don't see the second act coming.
Here is the second act. SAP has some other databases and applications that it wants to sell as a follow-on to HANA. And, of course, none of these things will work well with "other databases." HANA is the wedge to all sorts of related items it wants to sell you.