The Hidden S/4HANA Failure at LeasePlan
Last Updated on March 21, 2021 by Shaun Snapp
Executive Summary
LeasePlan announced their ERP failure; however, the statement was, in part, a cover-up.
We explain what actually failed at LeasePlan.
Introduction
LeasePlan's leadership decided to create a cover story for their € 100 million write-offs related to S/4HANA and other (unstated and indeterminate SAP products purchased as part of their 2017 purchase from SAP).
Our References for This Article
If you want to see our references for this article and other related Brightwork articles, see this link.
Lack of Financial Bias Notice: We have no financial ties to SAP or any other entity mentioned in this article.
This is published by a research entity.
Second, no one paid for this article to be written, and it is not pretending to inform you while being rigged to sell you software or consulting services. Unlike nearly every other article you will find from Google on this topic, it has had no input from any company's marketing or sales department. 
This case study of another S/4HANA failure shows much more than merely the failure. Still, it illustrates the cooperation of SAP customers, SAP consulting firms, media entities, and SAP consultants in keeping future S/4HANA customers in the dark about S/4HANA failures.
This failure first came to my attention through a share by Dan Woods on LinkedIn.
Some of the analysis is from the LinkedIn conversation that followed, but much of it is new and provides additional research that extends my comments. There is significantly more detail in this article for those who participated or read the LinkedIn comment stream.
Consultancy. uk's Coverage of the LeasePlan Failure
We begin with Consultancy coverage.uk in the article Failed SAP implementation costs LeasePlan €100 million.
Consultancy.uk is mostly a promotional website that covers the consulting market. Consultancy.uk does appear to have some objectivity. While they do allow some consulting firms' marketing profiles at their site, they have not shied away from covering unsavory issues in the consulting market, such as PwC and EY's involvement and their potential for conflicts for offering faux auditing in exchange for consulting work and the Thomas Cook bankruptcy. For example, neither PwC nor EY gave any indication that Thomas Cook was headed to bankruptcy (for instance, it also occurred with Bernie Madoff).
Consultancy.uk wrote the following about the LeasePlan SAP failure.
International automotive hire and fleet management company LeasePlan has been stung by a massive bill for a failed SAP implementation. LeasePlan has since dropped SAP to pursue an alternative IT infrastructure, citing the "monolithic nature" of the ERP system as being incompatible with its more agile needs – but not before sinking almost €100 million into its SAP efforts.

Many businesses purchase enterprise resource planning (ERP) systems to manage various business processes within the organisation – including accounting, human resources and purchasing – in one integrated system. SAP is a computer programme that many businesses select as their ERP system, and includes features for nearly all business operations.
What is Monolithic Software?
A monolithic system describes a development pattern. ERP systems are the prime example typically used to explain monolithic software.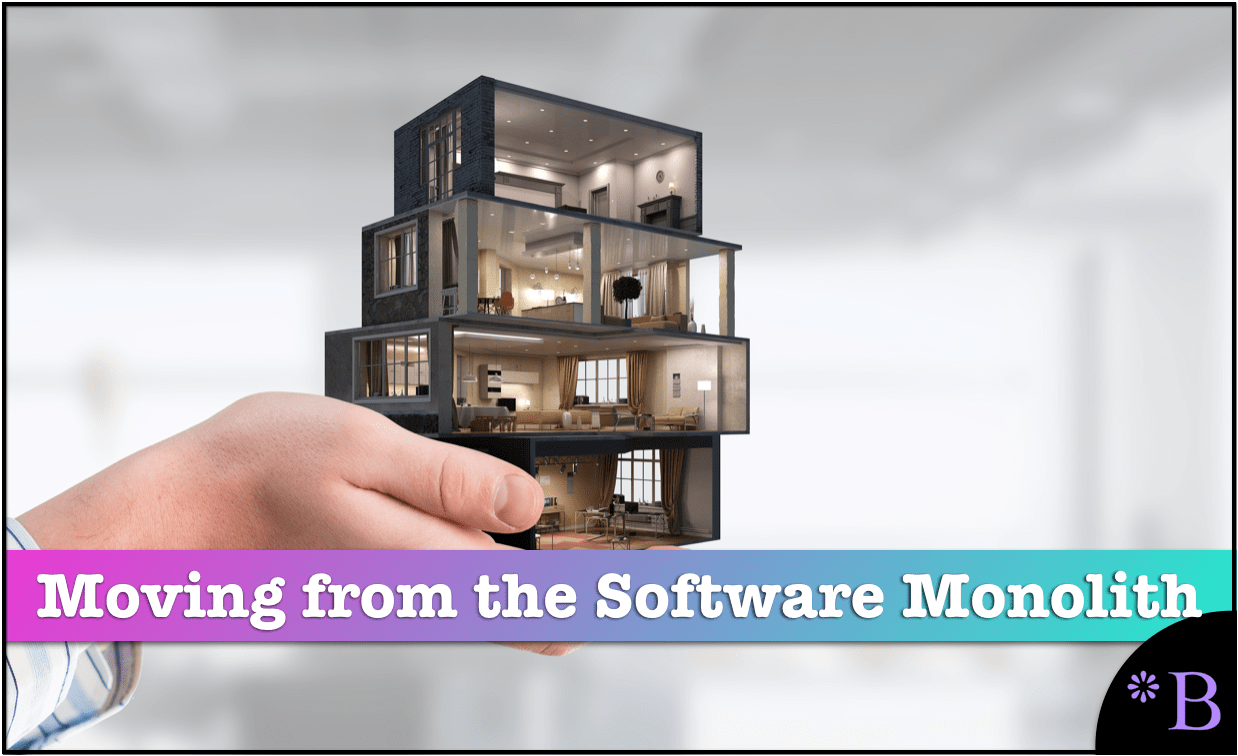 Multiple modules sit on one database and are highly interdependent. These systems are easy to begin developing, but they become higher and higher maintenance as they grow. However, microservices, which are the opposite of software monoliths, also have their disadvantages. 
We cover this important detail in How to Understand Monolithic Versus Microservice Based Development.
A highly integrated system or "monolith" sitting on a single database type was the main selling point of ERP systems since they were first introduced. However, the overhead of software monoliths has become more apparent as time has passed (since the 1980s), but it has not become more apparent since 2017 when LeasePlan made its S/4HANA and other SAP systems purchase.
Observe the following quote in the article from the CEO of LeasePlan, Tex Gunning.
"The system is not fit for purpose in the emerging digital world. The monolithic nature of [the SAP system] hinders its ability to make incremental product and service improvements at a time of accelerated technological change. As a consequence, the system is being restructured."
Is SAP Not a Fit for a Digital World?
This does not make any sense.
SAP has always been a digital product, and Tex might want to know that SAP stores its data digitally. But the second part of the quote is correct. SAP has a very inefficient development language called ABAP, which does hinder incremental improvements. But again, this did not change from 2017, when they purchased S/4HANA and the other SAP applications.
Poor Implementation
Was

the Primary Culprit in the LeasePlan Failure?

Let us note another interesting quote from Consulting.uk:
If implemented poorly, however, companies can soon find themselves trapped in a seemingly endless ERP hell.

Companies such as Revlon, National Grid, Hertz, Haribo, and Lidl have all found to their chagrin that, when done wrong, SAP projects can be nightmarishly complex and extremely expensive.
The Consultancy.uk article did not put together because Revlon, Haribo, and Lidl were S/4HANA projects.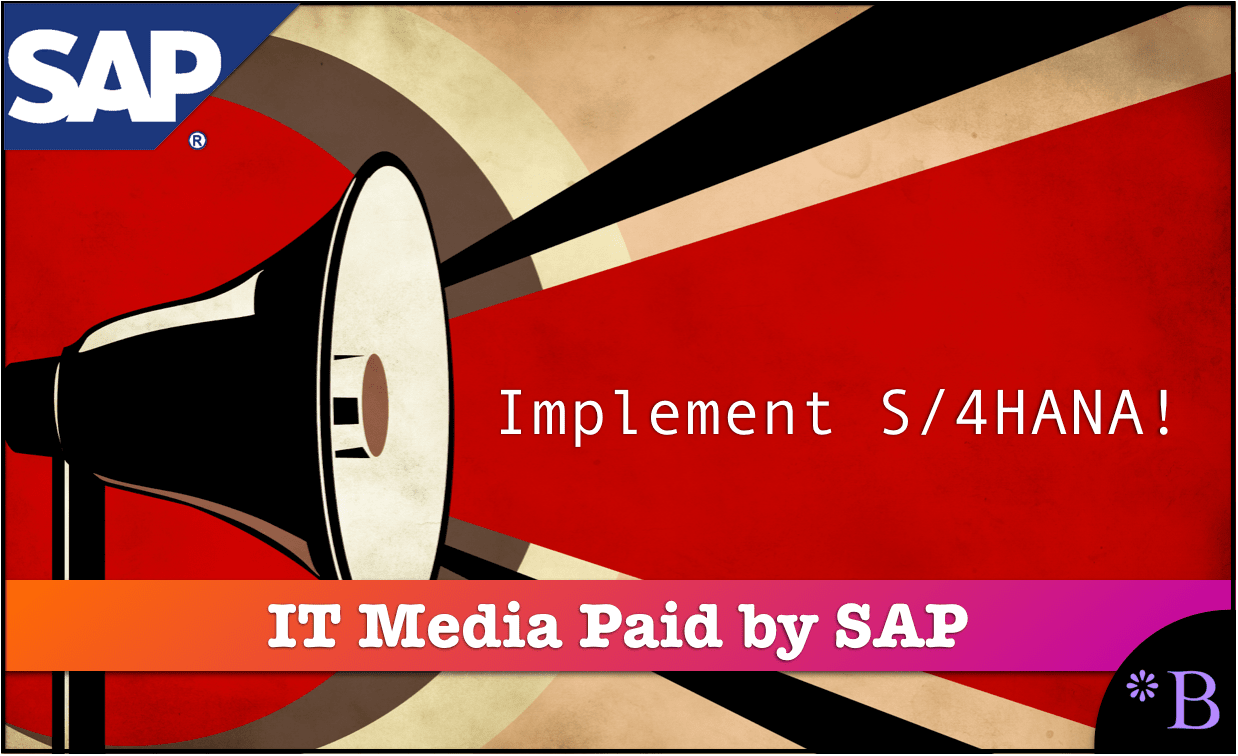 The Problem with Financially Biased Media Coverage of S/4HANA
Just about every entity that publishes on SAP has been uncritically promoting S/4HANA since it was first introduced. Brightwork Research & Analysis has been warning companies S/4HANA is not ready to implement for several years.
What SAP Consulting Firms Said to Their Clients About S/4HANA
Recall, again, every SAP consulting firm at this time. Since S/4HANA's introduction has been promoting S/4HANA as a viable solution and recommending an expensive and the highest risk of all upgrades that we currently track.
The Non-S/4HANA Failures
If we look at the non-S/4HANA implementations in Consultancy.uk's list, Hertz was some SAP Vehicle Network vaporware (+Concur) that any company with 1/2 of a brain should have been able to sniff out as they had no reference accounts and nothing more than some marketing slides. National Grid, which we covered in the article How National Grid's SAP Implementation Damaged a Company, was the subject of a major lawsuit against Wipro, with the implementation partner again shielding SAP from the trial (which is part of the SAP consulting partnership arrangement).
This means that all of the projects listed by Consultancy.uk had maturity problems or did not exist and were vaporware. The other was the subject of a lawsuit against the implementing company (Wipro at National Grid).
Consultancy.uk would know have had any way of knowing this as they cover the consulting industry and are not product specialists in SAP.
Was LeasePlan a Good Fit for an ERP System?
Leaseplan's gradual realization about the low fit of S/4HANA to their requirements is explained in the following quotation.
Rather than placing its faith in one supplier from now on, the car leasing company is opting for a combination of best-of-breed third-party solutions combined with a deeper in-house involvement. The company will now leverage leading off-the-shelf solutions for various modules (e.g. contract management, insurance claims, predictive maintenance) and combine them with existing LeasePlan best practices to form its new infrastructure.
Yes, LeasePlan should have never listened to SAP or HCL, which both overstated the fit of SAP to the leasing business. You see so much customization on Leaseplan because SAP lied to Leaseplan about how much their functionality is covered at the company.
*SAP consultants reading this, please do not ask how I know this. I am routinely sent decks from clients submitted by SAP that a filled with falsehoods — I understand what SAP sales reps are presenting to customers and prospects, and these decks come to me from sources globally.
Using a System That
Actually

Fits Requirements?

Leaseplan is now using applications that actually fit their requirements, which is, according to our analysis, the number one factor in project success. Several non-technical project managers come on to LinkedIn and state that fundamentally, the software is almost irrelevant. And that what is of primary importance is project management. The following quote is a perfect example of this.
First rule for successful software implimentation – the software has to work "tolerably" well and even that can be mitigated. Beyond that, in my experience, the bottom line is always bad Governance. The Programme Director/Manager needs to know what's going on, to have built a team that "cando", to have the experience to know what to do in every situation, and has the ability to persuade Sponsors and Stakeholders to do the right thing (or have access to a Trusted Advisor who does!!!).
How does this commenter know if these were the issues on the project? Secondly, the statement is not true. I managed projects with completely immature applications that were lied into the account. Trying to implement products that are still in development is a terrible experience, and it undermines projects. It also undermines the customer's trust in the project team, and the lousy product negatively impacts the overall implementation.
Example 1:
Decades ago, I was part of a project where most of my time was spent managing the project and debating and trying to get the development team to meet their promises. The development team could not stop making promises and could not hit any of their deadlines — which is a problem when you are currently implementing an incomplete product.
Example 2:
I have been part of projects where SAP account management pushed for team members to..
"Get creative"
..to create a solution that sales had lied to the customer about functionality that did not exist.
This lie caused a massive dislocation on the project as we spun in circles, trying not to go back and tell the client that SAP had lied to them.
Example #3
I was an expert witness supporting a lawsuit against a consulting firm. Several products being implemented from the vendor worked. But one product, which again had been lied onto the account, pulled down the rest of the project creating great animosity between the customer and the consulting company.
That one product was such a problem; it caused the consulting company to repeatedly go out to the market to find the most experienced resource. This is to try to mitigate the problematic application and double up on resources, which caused them to cut resources in other areas as they had a fixed price bid for the project.
I happen to write about this exact product at least seven years before this case and told companies that it should not be purchased.
That one problematic product is eventually what caused business losses and the lawsuit to occur.
Working Tolerably Well?
S/4HANA does not work tolerably well, and this commenter did not know that the ERP system is S/4HANA. Before I introduce the fact that the system was S/4HANA, no one in the comment thread referred to the ERP system as S/4HANA, and S/4HANA was not listed in the article share.
This comment does not require any understanding of the case study, and it is not based on the information from the case study. If the analysis of the same regardless of the case study's specifics, then it cannot be considered analysis but is a canned response.
The Importance of Not Blaming the System, Even When
the Implementing Company

Says the System was Inadequate?

It is not determinable from the articles on the LeasePlan S/4HANA implementation if the program or project management was lacking. Leaseplan's comments are around the inadequacy or inappropriateness of the SAP solution.

It is Leaseplan that is blaming the ERP system they purchased. They are saying they wish they never purchased the system. And they invested 100 M Euro and two years to set themselves back. However, even if the customer blames the software, and the software is known to have enormous maturity problems, there are still many who propose this. That even when the client explicitly names the ERP system as the problem and prefers to walk away from a 100 M Euro investment as a complete write-off, the system should not be part of the conversation. Essentially, this group wants no analysis of system failure and wants all project failures to be attributed to better project management.

When provided evidence that SAP's claims about HANA were false, one such project manager proposed that "no one cares about databases," which we cover in the article Is It True That Few Customers Care About Databases?
Why Do Different Applications Fail at Different Rates?
There are specific systems that fail at a higher frequency than other systems. One example of this is S/4HANA. Of the 237 S/4HANA case studies we have analyzed, we rate only 16 as a "High" Likelihood of working as advertised and 33 as a medium likelihood of functioning as advertised. This leaves (237 – 16 – 33) or 188 as being highly suspect. Were all of these implementors not competent or lacked
"Full executive buy-in?"
What would explain such a high failure rate other than the commonality of the application being implemented?
LeasePlan was a poor fit for any ERP system. This is on the heels of another S/4HANA failure at Nanshan, which we covered in the article The Hidden S/4HANA Failure at Nanshan Life Insurance, another business that does not make a product or distribute a product, which is the core market for ERP vendors. This means that when a non-producing or product distributing company purchases an ERP system, much of the functionality goes unused. Not only must the customer pay the price for the entire ERP package, but it must also pay 22% support for software that they mostly do not use.
According to Tex Gunning, it is an exciting time to work in the leasing business as they are finally using computers. This is curious because it would seem this "revolution" already occurred many years ago. 
Digital Revolution in the Global Lease Industry?
Then Gunning goes on to make the following statement.
This approach is, according to Gunning, better suited to the "digital revolution" taking place in the global lease industry. It will allow for a more scalable and flexible IT infrastructure, smoother product deployments and updates, and will enhance integration with third-party systems to speed up innovation.
What digital revolution is Gunning talking about?
All of the systems being discussed are digital. Leasing companies have been using digital — or why don't we call them computer — systems for decades.
What Gunning and LeasePlan decided to do was smart (although it took them too long). They figured out that S/4HANA was a problem, and it was a bad fit, that it had been sold on pretenses, and they shifted to using purpose-built best-of-breed applications that were designed for the leasing industry. It took them 100 million Euros to figure it out, but as the saying goes…
"Better late than never."
Making HCL Unhappy
HCL will be most disappointed because they want to bill for SAP resources, do not have resources in the best of breed applications, which is, of course, why HCL would have forced SAP onto LeasePlan in the first place.
This brings into question their relationship with HCL, which they entered into in June of 2016, clearly with the intent of using HCL for their SAP expertise. They were going all-in on SAP before they had this unpleasant experience and wrote off their SAP project.
How useful will HCL be now that LeasePlan has turned away from SAP? Furthermore, a comment was made by a person working at SAP that LeasePlan still has SAP; however, if we look at the quote.
(e.g. contract management, insurance claims, predictive maintenance)
How much is left for SAP?
The core of LeasePlan's business will not be on SAP. Does it make any sense to use Business Objects or Ariba or BW if the primary applications are now not SAP? If LeasePlan continues to use HCL, HCL will try to push them back to using SAP. Probably best to show HCL the door as well.
Being More Accurate that Gunning
Let me rephrase what Gunning said in a way that is far more accurate.
LeasePlan moved away from a generic and immature ERP solution that was a poor fit for their business requirements, to applications from multiple vendors that each have a solution specialized to different areas of leasing. – Shaun Snapp

What Was ERP System Implemented at LeasePlan?
Nowhere does the Consultancy.uk article mention the name of the ERP system that was implemented. LeasePlan does not explicitly mention the system in question.
Let us observe the quote from another website in this article, LeMonde Informatique.
All signs were therefore green for LeasePlan, which launched its IPO procedure in October 2018. The group did not hesitate to put forward its IT project in its presentations to appeal to investors. But among these, some wondered about the need and benefits of the ERP.

In the end, considering that the market conditions had deteriorated, LeasePlan has given up listing on the stock market.
Interesting. Even some investors questioned why LeasePlan purchased an ERP system — as they are in the leasing business.
But note that Lemonde Informatique again did not mention which ERP system was implemented.
In fact, upon searching the Internet, I was not a single article reported on the LeasePlan ERP failure that listed the implemented ERP system. Now that this article you are presently reading is published, this article will be the first, and it should appear on the first page of results in Google in just a few days after its publication on November 10th.
But just this point is worth noting — not a single entity saw fit to publish on the ERP system or even questioned what ERP system was implemented — globally. And it brings up the question of how much those that publish on SAP are trying to get to the bottom of the issues on SAP projects. This reminiscent of the coverage of major project failures by Michael Krigsman, who opined on project failures without actually seeming to read the actual case study as we cover in the article The Art of Blaming the Customer When SAP Fails.
Where Did We Find the ERP System Declared?
At first, I was not able to find the ERP system in question. However, an article found and posted to LinkedIn by Eric Kimberling did declare the ERP system. However, the article was from when the system was acquired back in 2017 (that is not from 2019, when the system's failure was announced). At that point, there was no reason to sensor the specific ERP system purchased.
In FinTech Business, the article LeasePlan in Enterprise-Wide Tech Overhauls with SAP and HCL, from May 2017, the following is stated.
The system's identification was deliberately stripped out of the Nov 2019 article, most likely at SAP's request. This was done to misinform the reader as to which system failed.
Notice the quote from 2017.
"We were the only entity within LeasePlan using SAP Leasing," says Venturi. LeasePlan Australia went live with the solution in 2010. "It was a challenging project," he recalls. It took the company until 2013 to get settled with new technology.

The project was ultimately a success, comments Venturi, and it was decided to standardise on SAP's technology across the group. India-based system integrator and SAP partner HCL Technologies has been brought in as a strategic partner.

These are SAP Leasing at the back-end, Fiori for user experience (UX), Ariba for procurement, Hybris for e-commerce and product content management, S/4HANA (including for the new insurance business) and Business Objects for reporting and analytics/business intelligence (BI).
So LeasePlan purchased…
S/4HANA
Ariba
Hybris
Business Objects
BI
Notice that when the acquisition is announced, the company has no problem with announcing what was purchased. However, after the project is written off — now the specific ERP system must be censored.
The system's identification was deliberately stripped out of the LeasePlan failure's recent coverage, most likely at SAP's request. This was done to misinform the reader as to which system failed. The other entities that covered the story did not determine what system was implemented and could not ask why the specific system was left out of the description.
Conclusion
LeasePlan attempted to explain away its 100 million Euro project write-off by concocting a story around a "digital revolution." That SAP is a monolithic application that was well and fully understood back in 2017 when LeasePlan made their software acquisition. We had to perform considerable research to connect up the dots, that the coverage of the failure in other publications did not do, and that SAP nor LeasePlan nor HCL want readers to understand.