What Can We Learn About Google From Google's Surveillance of Their Employees?
Executive Summary
Google has surveilled their employees to catch them exercising their legally protected right to unionize.
We cover this surveillance, retaliation, and what this means for Google's surveillance of user data.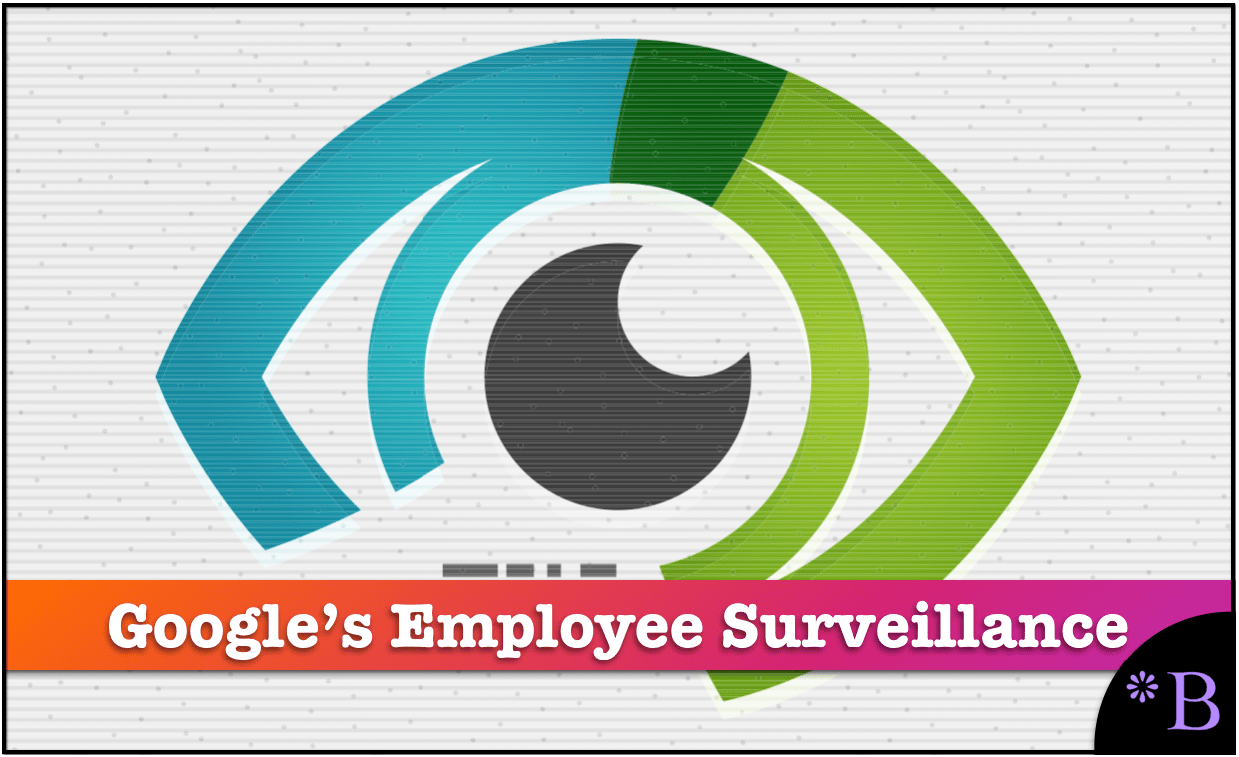 Introduction
Google is an information behemoth. One that surveils its users. How Google treats the data of users is hidden under a cloak of secrecy. However, how Google has surveilled its employees tells us interesting things about how Google treats data.
Our References for This Article
If you want to see our references for this article and other related Brightwork articles, see this link.
And How About Other Protections for Workers?
Google was accused in December of 2020 of violating the National Labor Relations Act and that they had been coercing employees not to unionize. What is not disputed is that Google fired several employees as retaliation against those that were pro-union. One woman was fired for creating a tool that informed workers of their rights to organize. Google then lied about why it fired these workers, as covered in the following quotation.
Google at the time alleged that Rivers, Berland, and others were fired for "intentional and often repeated violations of our longstanding data security policies." According to the NLRB's filing, however, Google put several of the rules the employees allegedly violated in place in response to the employee organizing efforts, and those rules were designed to "discourage employees from forming, joining, [or] assisting a union." The company also unlawfully surveilled employees' protected activities by viewing an employee slide deck in support of a union drive, as well as by interrogating employees about protected activities. – Ars Technica
Hmmm, so the data policy that was violated was communicating employees' rights to organize under US law. And as Google does with its users, they surveilled their employees.
Upon learning of the unionization efforts, Google created what appears to be a surveillance of meetings.
At the time of the discovery, Google had recently installed a tool on employees' web browsers that would flag internal calendar events requiring more than 10 meeting rooms or 100 participants.

Many employees believed that the so-called browser extension, which was first reported by Bloomberg, was a surveillance tool designed to crack down on organizing among workers. The company said at the time that it simply wanted to reduce internal spam and that the tool did not collect personally identifiable information.
This was part of a concerted effort coordinated with a consulting firm called IRI, which McDonald's also used to bust union activity.
IRI Consultant's website looks very innocuous, but they are one of the premier union-busting consulting firms. When they use the term "manage labor relations," they actually mean stopping workers from their legally protected right to organize. 
To learn more about the extension and a calendar policy change that the tool would reinforce, employees began to search the calendar of the Google human resources official who had requested the policy change, according to the two employees knowledgeable about the situation.

While searching that official's calendar, which was open to other Google employees at the time, these employees discovered that she had been part of a group of Google human resources, legal and communications officials who for months had been invited to meetings with officials from IRI (emphasis added), according to the two employees.

Google said IRI did not participate in any of the recent high-profile policy changes, but would not elaborate on the work it did. – New York Times
Google does not have to. It is entirely known what IRI does. The following is a sample.
A detailed public account of IRI's involvement in a past union campaign, at the Yale New Haven Hospital in Connecticut in 2006, shows that the firm prepared a training manual more than 30 pages long for managers at the hospital, on such topics as how to cast the union in a negative light.

In one passage of the manual, which was obtained by the Yale Daily News and whose authenticity was confirmed by a hospital spokesman at the time, the document instructed managers to speak to employees about the history of Mafia influence and corruption in organized labor. – New York Times
Google's Reaction
The following is from the court document.
About November 13, 2019 Respondent, by (REDACTED) and (REDACTED), in a Global Investigations meeting in Repondent's San Francisco facility, interrogated its employees about their protected concerted activities by asking them about their access to employees' calendars and MemeGen Takedown Documents.

About December 18, 2019, Respondent, by an unnamed agent, in a meeting which included Supervisors (REDACTED), Director of Detection and Response Heath Adkins, and Manager (REDACTED), threatened employees with unspecified reprisals by requiring employees to raise workplace concerns through official channels including Code of Conduct alias or go/my concerns.
What this means is that Google behaves like thugs. And do not appear to be interested in abiding by US law related to the rights of labor.
So much for their catchphrase, "Don't Be Evil."
Guessing Whose Side HR Took
And guess who would have fired those employees who were "caught" promoting unionization?
That would be HR. HR fired those people.
This reinforced the point that HR does whatever management tells them to do. If executives tell HR to punish a person who brings a sexual harassment claim, they do that. If management tells them to fire workers who exercise their legal right to unionize, HR does that.
Conclusion
How Google treats workers who show an interest in unionizing and surveil them demonstrates a lack of concern for others' privacy and data. What is concerning is that this company, whose ethics appear to drop to a lower level every year, controls so much user data through its search engine and various Google services.