What Is Different About the Q1 2019 SAP and Oracle Layoffs?
Executive Summary
The recent SAP and Oracle layoffs are different from prior rounds of layoffs.

The layoffs are byproducts of broad internal restructuring plans.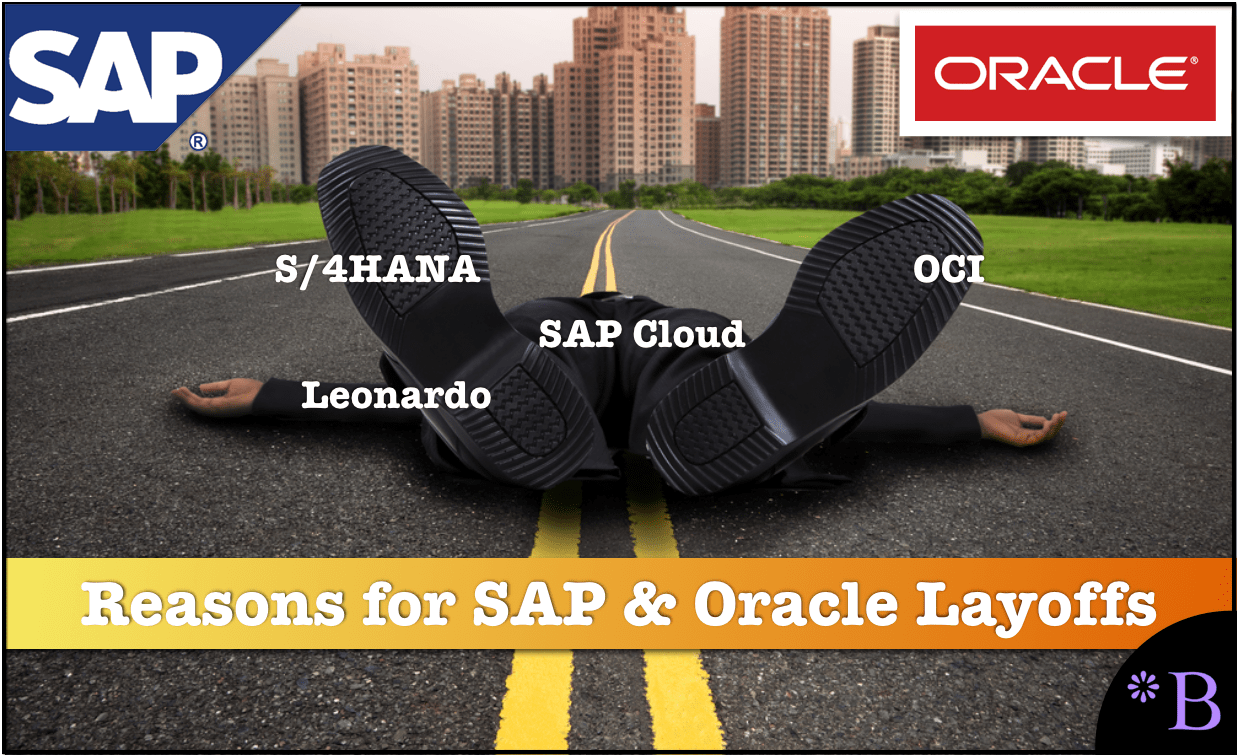 Introduction
The recent Oracle layoffs and SAP layoffs had specific important characteristics. Oracle's board approved the restructuring plan for fiscal 2019 of up to $432 million. The company spent $297 million on restructuring through the first nine months of its fiscal year, which ends May 31. In SAP's case, the approved restructure budget was $1 billion to be completed by June 2019.
Our References for This Article
If you want to see our references for this article and other related Brightwork articles, see this link.
Lack of Financial Bias Notice: We have no financial ties to SAP or any other entity mentioned in this article.
This is published by a research entity.
Second, no one paid for this article to be written, and it is not pretending to inform you while being rigged to sell you software or consulting services. Unlike nearly every other article you will find from Google on this topic, it has had no input from any company's marketing or sales department. 
Understanding the Oracle Layoffs and SAP Layoffs, Starting with the Organizational Chart
An important aspect of both plans is the departure of the most senior product executives from SAP and Oracle.
The confirmed exits include:
Thomas Kurian (president of product development) and

Amit Zavery

(VP cloud platform) were among the recent high-profile departures from Oracle. Both have joined Google.

Kurian as Google Cloud's chief executive and Zavery as VP of engineering, heading the Apigee team.

Most of the headcount reductions are concentrated in Oracle's development and cloud hosting organizations.
At SAP, the changes to the top level org chart are equally significant.
The confirmed exits include:
Björn Goerke: SAP CTO and president of the SAP cloud platform.

Bernd Leukert: a member of the executive board, products & innovation.

Rich Heilman: Director, HANA labs.

Rodolpho Cardenuto: Head of SAP partner organization.
(We could not confirm 3 more senior level departures at the time of this writing, so we will not include them here).
Bernd Leukert is gone.  Bjorn Goerke is gone. Ken Tsai, who had global product marketing responsibilities for HANA, SAP Data Hub, SAP Vora, is now vice president of Adobe's Experience platform. All of Bjorn's product teams are slaughtered: ABAP, HANA, UI, JAM, Big data, Mobile, and many more. Not just Neo, but any SAP proprietary service on any platform. Everything related to Cloud Platform & Mobile in North America was shuttered – several teams across several cities. It didn't matter how old/young, good/bad. Layoffs were announced in the US, India, Japan, Hungary, Germany, Singapore, Canada, UK, China, Ireland, Malaysia, France, and Vietnam. SAP's engineering culture died this week.
What is Oracle's Plan After the Oracle Layoffs?
At Oracle, the Oracle layoffs resulted in the restructuring, which covers two major organizational changes. The first is the significant downsizing of the Oracle cloud infrastructure group (OCI), and the second is merging advanced customer support (ACS) organization with Oracle managed cloud services (MCS) organization.
According to our sources, OCI has been operating at a net loss for years. Both sales and renewals are commercially insignificant. The OCI downsizing and headcount reduction aim to reduce operating costs. Merging ACS and MCS, on the other hand, mean that Oracle legacy support personnel (think EBS and JDE) will be utilized for cloud operations support. Several roles on both sides were made redundant as a result of this merger.
Downsizing OCI and merging ACS with MCS are complementary moves. To understand the rationale behind the plan, we need to understand the evolution of OCI. OCI is Oracle's infrastructure as a service (IaaS) business. OCI started life in 2013 with Oracle's acquisition of Nimbula. Nimbula was founded 2008 by Chris Pinkham and Willem Van Biljon who developed the Amazon Elastic Compute Cloud (EC2). Nimbula Director software allows users to implement IaaS-style private, public, and hybrid clouds.
As a business, however, OCI always operated at a loss.
The problem with Oracle cloud is now well-understood in the industry. And the critical factors are the following:
Oracle came late to the cloud party.

Almost forced by Wall Street's love affair with SaaS companies and their predictable recurring revenue business models.

Oracle realized that building cloud infrastructure is costly and time-consuming. It takes years to buy land, build, equip, and staff facilities, and lay private fiber underneath metropolitan centers and oceans worldwide. Oracle did not want to invest as Oracle has a short investment horizon built around getting quick hits. 
If They Come, We Will Build It
Oracle's solution was to adopt the "If they come, we will build it" mantra. Instead of building their own cloud, Oracle started leasing colocation space from Cologix and Digital Realty.
This seemed like a solution until customers started complaining about long and repeated outages, sometimes lasting for 24 hours, a topic we uncovered and published in the article The Problem with the Oracle Cloud and Colocation.
With 100% of Oracle's facilities operated by third-parties, customers had to deal with planned and unplanned downtime from multiple parties, each with a different set of SLAs.

Oracle cloud customers do not receive service credits for either planned or unplanned downtime.
Comparing AWS, GCP, and Azure's CAPEX to Oracle's CAPEX
In 2017, Amazon, Google, and Microsoft spent more on CAPEX than Oracle has in its entire history.
CAPEX spending on cloud infrastructure is both a leading indicator of the ability to compete at scale and confirm success with customers. In cloud computing, CAPEX is the ultimate form of putting your money where your mouth is because no amount of jawboning alone will conjure up data centers or pack them with millions of servers.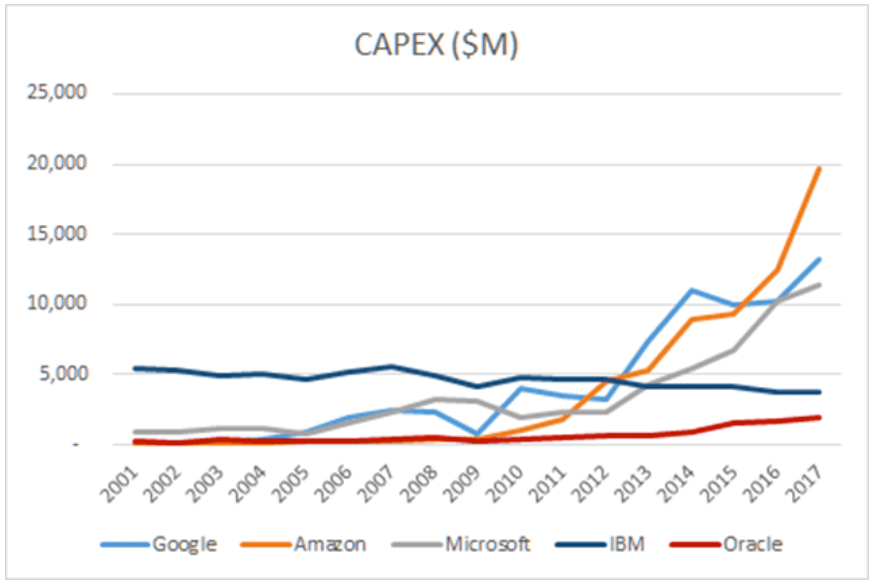 The $75 billion in cumulative buybacks since 2012 have boosted Oracle's earnings per share even as the company's operating income declined over the same period. The capital return program depleted Oracle's FCF, depriving it of investment dollars into cloud infrastructure and driving leverage to record highs.
"Oracle is unlikely to keep up the current pace of buybacks, which are running $10 billion per quarter. Even a reversion back to the historical average buyback of $3 billion per quarter over the coming years will be inadequate to meet consensus estimates."
What is SAP's Plan?
At SAP, the internal change in product strategy and organization is much wider.
The SAP Cloud Platform (SCP)
SAP is clearly extending its third-party IaaS strategy into PaaS. Instead of building an in-house PaaS offering, SAP is adopting third-party solutions from technology partners like AWS, Azure, and GCP. This shift will extend to IoT, ML, data management, and analytics.
According to Diginomica's founder Dennis Howlett:
"It seems that SAP has determined that it cannot realistically compete with AWS, Google and Microsoft for cloud platform offerings and is, therefore, scaling those back."
and…
"What is more worrying is that sources tell me that SAP's cloud retention rate is not as good as they would like."
E3zine presents a similar explanation:
"SAP is charging way more than other cloud providers, but is unable to offer quality consulting. The result? Many customers turn away from SAP Cloud and consult with SAP partners to install a system based on AWS or Azure."
According to E3zine editor in chief, Peter M. Färbinger:
"Bill McDermott basically admitted defeat when he introduced the motto "Embrace" to SAP FKOM 2019. This is at least a hint at a clear direction: SAP wants to embrace hyper scalers and squeeze their money out of them."
Brightwork research has confirmed that SAP is up-charging customers, as we covered in the article How to Understand SAP's Upcharge as a Service Cloud. For example, AWS sells storage in Europe/Frankfurt for $2.3 per 100 GB/month. SAP resells the same storage block in the same region for $7.86 per 100 GB/month. That's a 342% premium.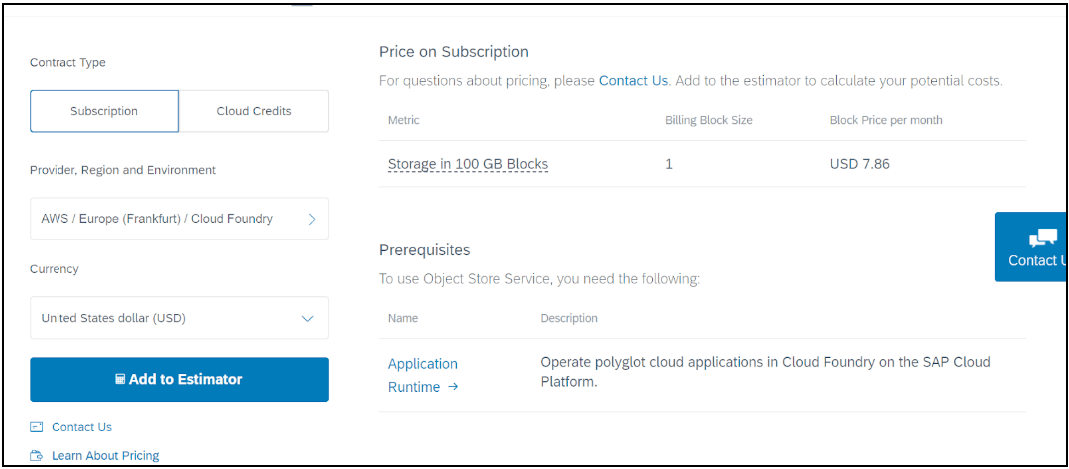 Customers realized they could cut out the expensive middleman and go directly to AWS, Azure, and GCP.
Moreover, SCP has severe technical problems that make enterprise adoption practically impossible. For instance, SCP still runs on HTTP 1.1 instead of 2.0. That's a security and performance show-stopper.
SCP also has no support for VPC, and SCP IoT has no native support for MQTT, which we covered in the article AWS and Google Cloud Versus SAP Cloud with HTTP 2.0.
SAP Products Outside of Cloud
This article has focused on cloud reasons behind the two restructurings, but here are some other issues SAP has for restructuring.
HANA
According to Josh Greenbaum, the principal analyst at Enterprise Applications Consulting:
"HANA is no longer differentiated. Entrepreneurs and developers can find similar technologies on AWS, Azure and other clouds. SAP HANA ranks 20th in popularity according to DB-engines. SAP is no longer vying to become the dominant database on the market. SAP is not going after that strategy anymore."
The HANA motivation for restructuring was something we covered in the article SAP's Layoffs and a Brightwork Warning on HANA.
Leonardo
Sam George, director of Microsoft Azure Internet of Things, announced during MWC on February 25th that SAP will be offering Azure IoT platform, device management, and edge connectivity to SAP Leonardo customers. We declared Leonardo as a dead product in Our 2019 Observation: SAP Leonardo is Now Dead. And after great fanfare when first released and a planned pivot point from SAP to move the emphasis away from HANA, Leonardo is now little mentioned. We predicted this in Why Leonardo Seems so Fake and Is Leonardo Necessary to Ensure Frozen Ice Cream Delivery?
S/4HANA
Holger Mueller explains in his Enterprise Software Musings blog:
"SAP realized in spring of last year that it cannot deliver on the SAP S/4 value proposition – which was R/3: The integrated end to end ERP+ suite. It was taking Leukert and team too long, Salesforce was gaining, C/4HANA was created. All this is history – but it does not make Klein's job easier. S/4HANA will likely be the SAP Finance system, everything more is on the test stand."
We covered S/4HANA's lack of go-lives in the article A Study into S/4HANA Implementations and How Accurate Was SAP on S/4HANA's Go Live Numbers?
Holger is quite correct S/4HANA has made very slow development progress and has already passed its fourth anniversary, and still, it isn't easy to find customers live on S/4HANA.
Due to a lack of demand for some of its most highly promoted products, SAP reduces developer headcount in multiple product areas, including HANA, S/4HANA, SCP, and Leonardo. SAP pundits and SAP resources have asked that we not focus on these developments within SAP. The logic goes that it is insensitive to analyze layoffs and what they mean. The new CTO Juergen Mueller reinforces this position in what SAP has framed as a "dramatic and impressive transformation."
"Honestly, I read some of these articles and they are basing assumptions about SAP HANA on a restructuring program that was announced earlier this year. I don't want to minimize the anxiety that a restructuring creates for employees who are impacted. In cases where individuals make comments about their feelings or they question specific decisions, this is understandable. Personally, my hope is that SAP or our partners retain as many of these colleagues as possible. The facts about the strategy itself are what I have explained here. The restructuring is designed to invest more of our resources in areas where SAP customers tell us they expect us to invest. New SAP HANA innovation is one of those key priority areas."
We hope that readers appreciate what Mueller is saying….layoffs in HANA for a product that has not met expectations does not mean anything. Oh, and layoffs and restructurings are no longer actually layoffs and restructurings. They are now dramatic and impressive transformations.
Restructuring Specifics
Oracle: The Oracle layoffs restructuring plan is a "cleanup" of Thomas Kurian's development organization. The purpose of OCI headcount reductions is to cut the costs of running an unprofitable cloud business.
SAP: At SAP, the plan aims to remove the current development leadership and associated developer costs. SAP's acquired SaaS applications (Ariba, Concur, Fieldglass, Hybris, SuccessFactors) remain fragmented. The HANA migration plans were never met, including the internal pilot of migrating SAP's own Employee Central to HANA. None of the acquired ML technologies was successfully integrated into SAP apps. The PaaS play with SCP has clearly failed to attract developers, and the dream of the intelligent enterprise looks more distant than ever before.
Conclusion
The story overall is that both entities aren't adjusting to the cloud. This might be difficult for many readers to process, but this is because readers may be paying more attention to what Oracle and SAP say about their cloud versus the reality of where Oracle and SAP are in the cloud.
If neither company is going to offer their own cloud services, and if both companies will overlay onto other cloud service providers, neither company needs those employees.
Our Prediction for SAP and Oracle with Cloud Services
There is no real way that SAP or Oracle can get back into the cloud game. They have made extremely little progress in their cloud offerings and are out of the running. This is in part why the SAP layoffs and Oracle layoffs were necessary.
The choice for both companies is simple. They can either stick with the approach of making their own cloud — undermining their application business, or they move to outsource the cloud to AWS/GCP/Azure/etc.. and focus on their actual business.
SAP gave up running their own cloud services (please do not confuse this with SAP's SaaS acquisitions, here we are discussing cloud services), something they said they were 100% dedicated to building just a few years ago and stating that they refused to outsource cloud services to AWS/GCP/etc as we covered in the article Diginomica, Steve Lucas on HANA, Oracle, IBM, AWS, Azure. However, within one year of holding to this stated policy, they rolled out the multicloud policy, as we covered in the article How to Best Understand SAP's Multicloud Announcement. They performed a full 180, without almost any IT media entity or IT analyst pointing out this dramatic switch.
Oracle is fighting the reality that they cannot compete as a cloud service provider — but it is inevitable — Oracle will have to follow SAP and give up on any pretense of being a cloud service provider. Like SAP, Oracle will eventually try to use its account control to markup the cloud services of the public and private cloud service providers.
While many pro-SAP and pro-Oracle resources will likely find this characterization offensive, Salesforce, a company with far more cloud knowledge than SAP or Oracle, outsourced their infrastructure to AWS years ago. There is no reason to assume that application or database companies have any particular domain expertise in being cloud service providers.