Did SAP Move SuccessFactors to HANA?
Executive Summary
SuccessFactors has recently been migrated to HANA.
SAP is using this to promote HANA, but what are the real reasons for the move.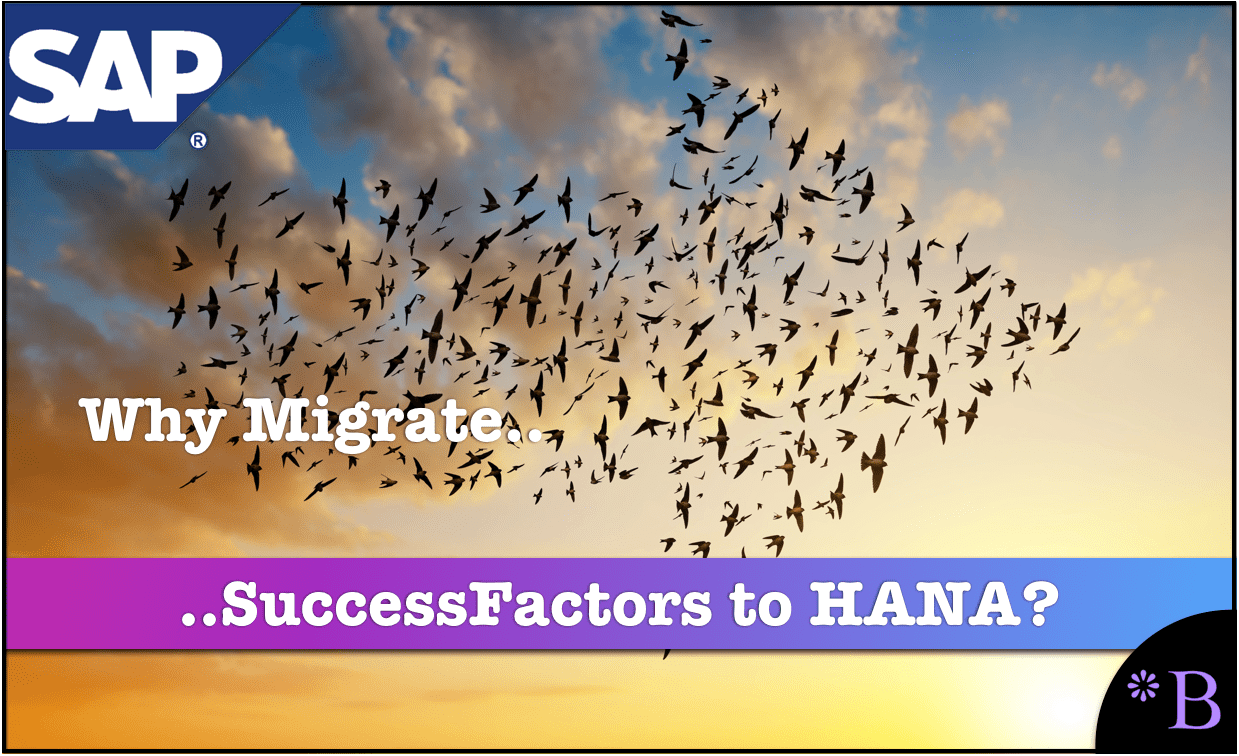 Introduction
A few people reach out to me on the article SAP's Layoffs and a Brightwork Warning on HANA and state that SuccessFactors is migrated to HANA. This article by SAP supports this. However, press releases on SAP's website are only semi-reliable.
Our References for This Article
If you want to see our references for this article and other related Brightwork articles, see this link.
Lack of Financial Bias Notice: We have no financial ties to SAP or any other entity mentioned in this article.
This is published by a research entity.
Second, no one paid for this article to be written, and it is not pretending to inform you while being rigged to sell you software or consulting services. Unlike nearly every other article you will find from Google on this topic, it has had no input from any company's marketing or sales department. 
Analysis of the SuccessFactors HANA Migration
So first, this is quite recent. Second, we have it from several resources that worked for SAP that the SuccessFactors team resisted HANA for years because they did not think it would do anything for them or their customers.
And of course, it won't.
HANA will do nothing for SuccessFactors except increase the maintenance overhead for SuccessFactors.
SuccessFactors is a lightweight application, and it outside of HANA's wheelhouse. And as we covered in numerous articles, HANA has no performance advantage over Oracle and DB2.
Getting Teased by Larry Ellison
Larry Ellison had repeatedly teased SAP about how SuccessFactors ran on Oracle. Other SAP acquisitions still ran on Oracle, which we covered in the article Larry Ellison on SAP and Salesforce Paying Oracle for DB Licenses.
"SAP does not use HANA in the cloud very much. I know that because they keep paying us. They paid us again, this quarter, for Oracle for Concur, Oracle for Ariba, Oracle for SuccessFactors," he said, naming three cloud companies that SAP acquired over the past few years to jump start its cloud business."If they're using HANA for anything, I don't know about it," Ellison chuckled."
This was embarrassing for SAP, and Hasso hates being teased by Larry Ellison — and it does look bad.
And this is why SF was moved to HANA…for PR for HANA.
Is This a Real Port of All SAP Customers?
There is a second question about what customers are being ported to HANA, as was described by a contact.
"It looked to be like a separate SuccessFactors instance on the cloud SOLELY for use by SAP themselves."
So let us review the information contained in the press release.
"About 95,000 SAP employees are testers of this cloud solution, which enables them to take control of their own personal HR and employment details, making it easy to initiate, update, and complete their own data changes."
So SuccessFactors is being tested as of September 2018? SAP was testing the use of HANA for its internal operations.
This quote from March 2018 in Diginomica discusses how the plans to migrate to HANA have been delayed.
"It seems the project had lost momentum by the time Wilson came on board last summer, but she insists that it's now back on track, mainly because she sees real benefits from moving ahead with it. Already a significant number of customer instances have migrated across, although the largest, as was always the plan, will be the last to move, she tells me.

Three thousand instances is certainly a big advance on the first nine that Kovalevsky told me had been moved back in October 2016. But one has to wonder what exactly was happening throughout 2017, when the migration was originally planned to take place. Not very much of any substance was happening, apparently, but the reasons for that remain an unexplained mystery.

That hiatus has allowed other applications to increase their HANA footprint, and as Wilson explains, that creates a new incentive for SuccessFactors to complete its migration. There are also proof points with S/4 HANA for what can be achieved on the HANA platform. To that extent, by delaying, SuccessFactors is now less of a 'guinea pig' for running HANA at scale than it would have been a year ago."
So something is happening with HANA and SuccessFactors, but it's not conclusive. Indeed, any information released by SAP will overstate how much HANA is being used for SuccessFactors for PR purposes.
Why Was SAP Business One Ported to HANA?
SAP did the same thing for BusinessOne. BusinessOne is sold into midmarket accounts, where HANA is barely found. HANA is the most expensive database that works with SAP and is priced out of mid-market accounts. So why would it make any sense to port BusinessOne to HANA? Again, the reason is for PR.
This port was performed was not for actual use by BusinessOne customers.
The Problem with SAP's Strategy
And this has been the problem with SAP's strategy — it has been centered around propping up HANA in multiple dimensions because HANA is just a liability. It is a liability for customers but also a liability for SAP, which should focus on applications.
One thing that one should question is why did the SuccessFactors team resist HANA for so long? SAP introduced HANA in 2011. SAP acquired SuccessFactors in the same year. Why did it take 7 to 8 years for this to occur? SAP would prefer if people did not ask this question.
Conclusion
SAP has been undermining its business and causing great internal strife and confusion to prop up HANA. The HANA group inside of SAP has been pulling resources from the other application teams, and the reports from the field show constant problems with HANA. People that decry that recent firings of HANA employees from SAP miss the point that HANA can almost be viewed as a parasite on the rest of the SAP business.