Why Did SAP Stop Reporting HANA Numbers After 2015?
Executive Summary
SAP reported customer numbers on HANA — right up until 2015.
The question we cover is what happened to this reporting and what it means.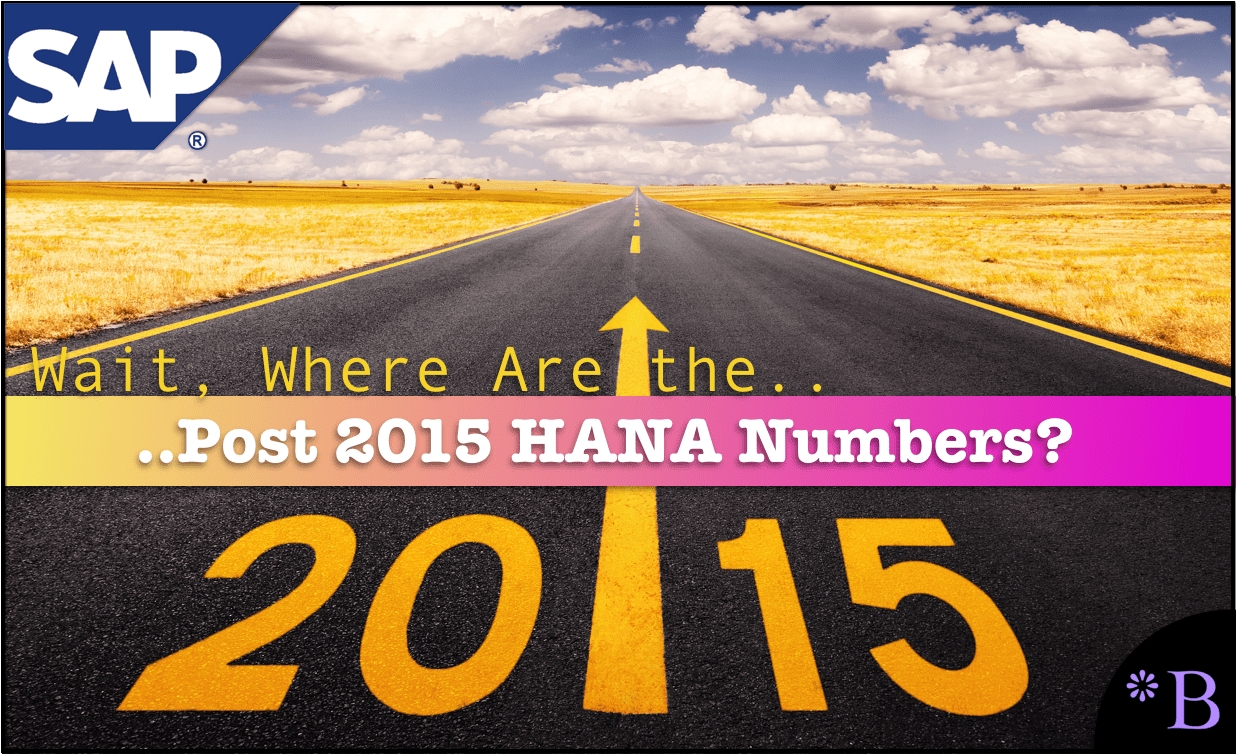 Video Introduction: Why Did SAP Stop Reporting HANA Numbers After 2015?
Text Introduction (Skip if You Watched the Video)
SAP has two ways of speaking in general. When they are talking to a compliant audience, like at SAPPHIRE or to media, they pay to cover them, which they know will do their bidding and repeat their statements without critical thought. Their second way of speaking is on analyst calls. On analyst calls, SAP makes confident statements about its products' growth, but the evidence usually is lacking. No one who speaks to SAP ever challenges them on any topic. You will learn about the peculiar decline in reporting on HANA implementation numbers.
Our References for This Article
If you want to see our references for this article and other related Brightwork articles, see this link.
Lack of Financial Bias Notice: We have no financial ties to SAP or any other entity mentioned in this article.
This is published by a research entity.
Second, no one paid for this article to be written, and it is not pretending to inform you while being rigged to sell you software or consulting services. Unlike nearly every other article you will find from Google on this topic, it has had no input from any company's marketing or sales department. 
The Diginomica Article
In Q2 of 2015, one of the last definitive statements around customer numbers was issued. Diginomica is paid by SAP, so they are a compliant media outlet for them. Every time we evaluate the accuracy level of an entity funded by SAP, we find high levels of inaccuracy. And this has been true of every Diginomica article we have reviewed.
Here is a screenshot of the article from 2015.
The revenue growth from HANA is described as explosive by John Appleby.
"…the explosive revenue growth from HANA continues, even if average deal volume has decreased, because there are plenty of sell-ons to existing customers. Therefore your original projections are probably about right. This means that HANA is supporting core revenue quite significantly by now. But also, every deal is a HANA deal, and deals are bundled." – John Appleby
John Appleby was a primary shill for SAP in the past. And at this time in 2015, he was a primary source of information on HANA.
After Appleby, one of the least accurate information sources on SAP is Ron Enslin (how now works at Google), and he had the following to say.
"This quarter, the number of HANA customers surpassed 7,200 compared with 3,600 a year ago."
So there are the definitive quote—7,200 customers in the 2nd quarter of 2015.
Dennis Howlett, the article's author, stated the following:
"This is a crucially important point because now, SAP is recognizing the need to be aligned to 'solving the unsolvable' and 'imagining the unimaginable' problems that former board member Vishal Sikka, now CEO Infosys envisioned back in 2010-12 and which he is carrying through in his current company."
This is a fantastic quotation because it is a writer repeating another highly unreliable source, Vishal Sikka, without even filtering the observation.
Furthermore, even in 2015, it was known that Vishal left SAP under unusual circumstances.
Where Are the 2016, 2017, or 2018 HANA Customers?
We searched online for HANA customers in 2016, 2017, and 2018 and could not find any SAP statements on HANA customer numbers. If the growth was explosive in 2015 — why did the reporting of customer numbers stop in 2015?
Interestingly, SAP appeared to change the narrative to S/4HANA and began quoting S/4HANA customer numbers rather than HANA customers.
The Customer Estimate from iDatalabs
We found that iDatalabs tracks the number of HANA customers. iDatalabs is a sales intelligence firm, so they profile the usage of applications and databases to sell the data to companies that want to sell to customers that have ABC or XYZ products already.
We have reviewed iDatalabs in the past and found their estimates seem reasonable, and they do not have an incentive to overestimate or underestimate the number of customers.
"We have found 7,370 companies that use SAP HANA. The companies using SAP HANA are most often found in United States and in the Computer Software industry. SAP HANA is most often used by companies with 50-200 employees and 1M-10M dollars in revenue. Our data for SAP HANA usage goes back as far as 3 years and 9 months."
If this is accurate, it means that SAP has not grown its HANA customers since it last reported the HANA numbers in 2015. For another data point, we went out to DB Engines, which tracks database popularity.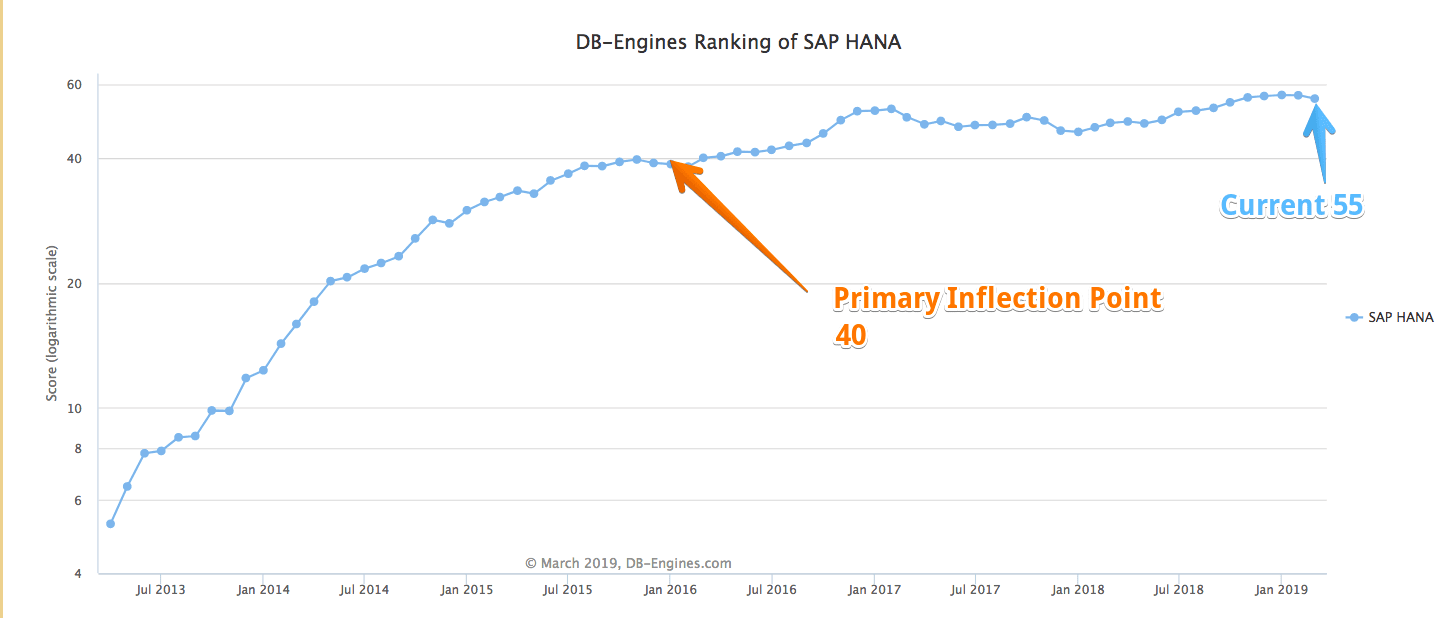 Notice that HANA began to stall in 2015. Up until that point, SAP had a growth story, but growth was much more challenging to come by after this. Would this explain why SAP simply stopped reporting customer numbers? 
Customer Numbers Versus Number of Instances
A customer that brings buys a single instance of HANA is a customer of HANA. But one customer can have any number of individual HANA database instances. Therefore, the overall popularity would be measured by the total number of instances rather than the number of customers. Oracle, as an example, will typically have customers that use many instances of their Oracle database. HANA is not like this. HANA usually comes into the company through conversion for the BW, but then new HANA instances are slowed because of the cost and expense, and HANA's overhead becomes apparent. SAP tells massive lies to customers to get them to convert. I receive the documents that SAP provides through customers — materials that are not published on SAP's website but tell customers that they HAVE to use HANA if they want various application benefits.
Top Customers of HANA
iDatalabs lists the following top customers for HANA.
"Royal Dutch Shell PLC shell.com Netherlands >1000M >10000
ICS Consultancy Services icsconsultancy.com India 10M-50M 50-200
Mawai Infotech Limited mawai.com India 10M-50M 50-200
Birlasoft (India) Ltd. birlasoft.com India 200M-1000M 1000-5000
SuccessFactors, Inc. successfactors.com United States 200M-1000M 1000-5000"
Notice that three of these companies are SAP consulting firms, and a fourth (SuccessFactors) is an SAP company.
Faux Customers Through SAP Consulting Firms
It is not generally explained that the vast SAP ecosystem adopts SAP products, not to use them internally but to build skills. Therefore they bring up a demo environment to show customers, and they are counted as a customer of that product. We found this repeatedly in the S/4HANA space, where again, many customers of S/4HANA, particularly S/4HANA cloud, were SAP consulting firms.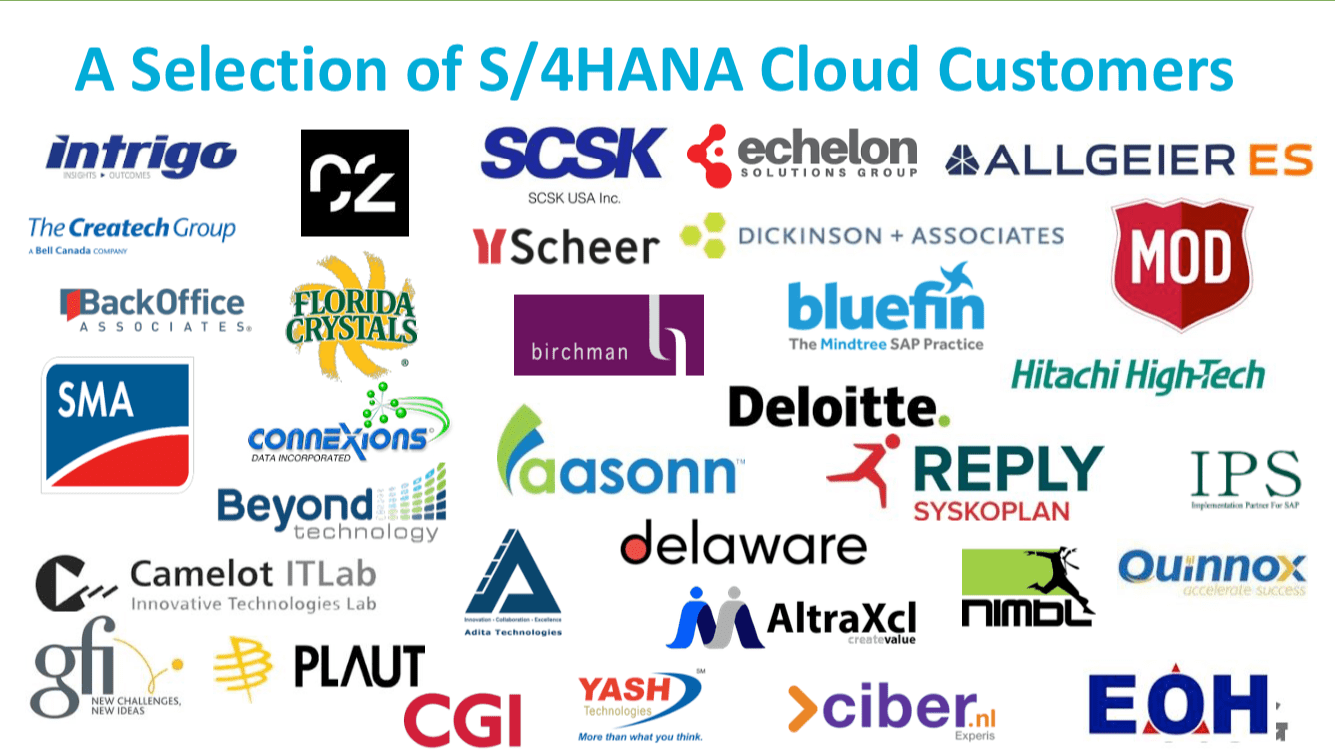 Notice anything curious about the customers listed on this slide for S/4HANA? Why are so many customers SAP consulting firms? Do SAP consulting firms need an ERP system? Dickinson & Associates is not even a consulting firm; they are SAP recruiters. Recruiters require ERP systems now?
A representative from Dickinson & Associates debated me as to the benefits of S/4HANA for customers. It does not get any lower than discussing a recruiter as to what is technically true and false for a person with a technical background. It's the equivalent of looking for a fight at a preschool.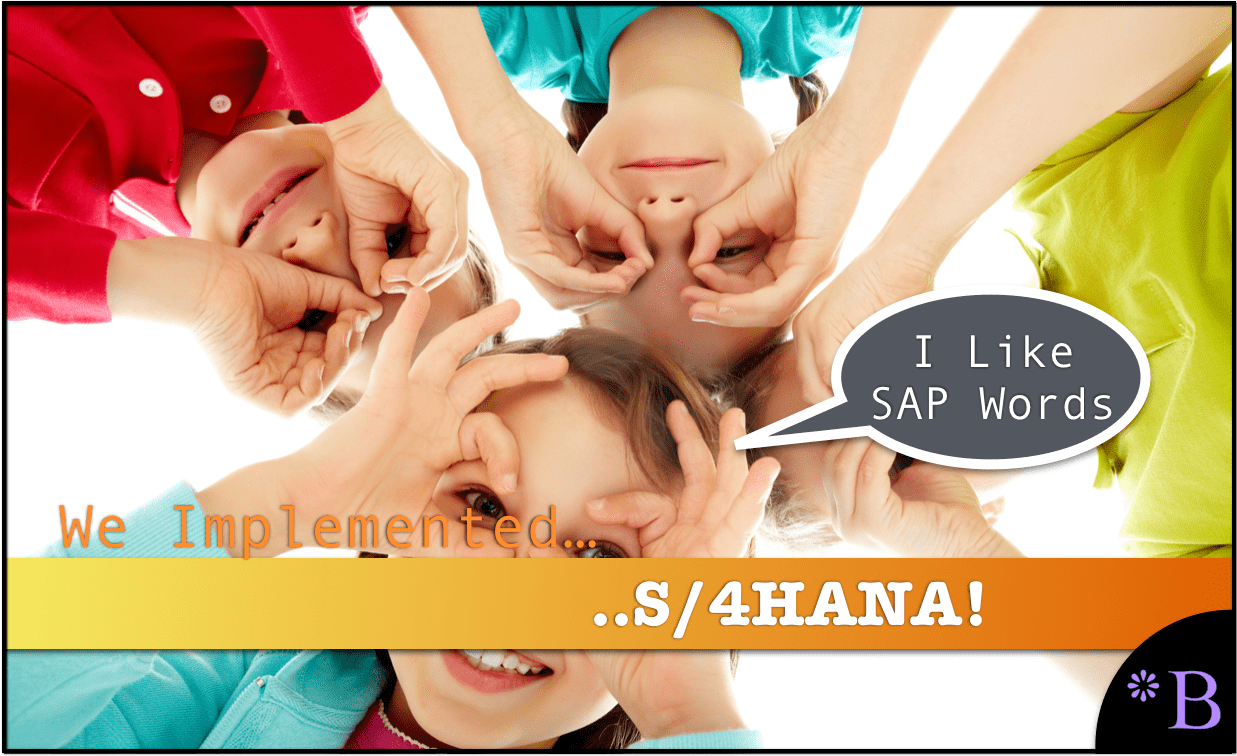 These kids are not far off in their SAP knowledge from SAP recruiters. But where recruiters makeup, the difference is……confidence. 
As with S/4HANA Cloud, this means that a sizable component of the early growth of HANA "customers" was to the consulting ecosystem. It should go without saying that these are not real customers.
And when SAP has so many SAP consulting firms that it can transfer licenses to a little cost, this is a primary way that SAP rigs the growth numbers of new products to make them look more successful than they are. By the time the growth slows down (as has now happened with S/4HANA), SAP simply pivots the reporting to a new product, which again is early in its lifecycle and adopted by the SAP consulting firms.
Project Examples with HANA
We have it from a reliable source that SAP won a head to head project that contained no HANA. This was because the SAP management had substantial compensation incentives for HANA the put it into the already confirmed and priced BOM. At zero discount and discounted everything else, HANA, a product not used or needed, was 30% of the total cost.
The salesperson did not achieve his targets when HANA was omitted. The salesperson told the customer price stays the same, and they threw in a new product at no cost.
SAP management made their HANA number, but the customer now pays a support fee (which is based on the list price, not the discounted price) for a product they do not use. SAP counts this as a customer, even though HANA was not implemented.
The following is a quote from a person with intimate knowledge of the HANA deals made by SAP.
"Nearly all orders we filled were BS and customer didn't need. Even on BW – the implementations were so complex and so much fine tuning as soon as the experts left, or the scope changed – problem."
The Asian Airlines that Lost on HANA
"An Asian airline was implementing a new sap ERP a few years back and did not choose HANA. After buying SAP had another go and brought in their top people. It still didn't make business sense and airline couldn't justify the price. There was simply no ROI. Finally SAP played the "no future new functionality" card and said the module the Asian airline wanted (flight planning) was only available on HANA. At that point the airline felt they were essentially forced to buy."
This quote paints another picture of SAP pushing HANA for SAP instead for any reason that the customer needs.
This story gets even stranger because there is no product in SAP's product list with the word "flight" on the list. Is it a secret product or perhaps vaporware?
Secondly, a planning module like that will be processor intensive, but it will not be read access intensive. So this is another example of SAP overgeneralizing the benefits of HANA. I have never run into flight planning before, but there will be best of breed solutions developed by people with years of flight planning experience that SAP won't be able to compete with. Sabre has a solution. So SAP is going to compete with Sabre?
Furthermore, there are a series of free flight planning websites that are readily available online. Upon investigation, the number of flights that are planned on HANA globally is very close to zero.
Companies that Bought HANA, With No Intention of Using It
"The customer said they had no plans to use HANA, so I asked why, then, had they bought it. They explained that their procurement had negotiated all the SAP modules they wanted and the price. The final order docs came back from SAP with HANA added to the product list as the last line, the entire order price allocated to HANA, and the word "Included" next to all the products that they were actually buying – as if the ERP modules were components of some sort of HANA "suite".

So SAP found a way to book millions in revenue to Hana even though their customer had no use for it and didn't want it. This customer didn't object as they were told by SAP that they were getting a free product that they might use/need one day and would mature over time. So they let it go."
And why was this done? So that SAP could report to Wall Street that HANA is growing much more than it is.
Conclusion
SAP had grand plans for HANA, and when they did not pan out, SAP stopped reporting HANA customer numbers. Secondly, the reported numbers were significantly exaggerated because HANA was being adopted by consulting firms and other associated companies that are part o the SAP ecosystem that did not reflect real usage.
This is consistent that when the numbers are good, the figures get reported, and when they are not, they don't get reported, and the company moves to report on other things. Growth is easy to attain initially, but as a product gets better known, if it is less effective than advertised, its growth slows. And HANA was far less effective than advertised. We began our coverage on HANA's inaccuracies around 2016 as evidence began to come in that all was not right on HANA implementations.
This article in Diginomica receives a 1 out of 10 for accuracy. Furthermore, at the time this article was published, Diginomica was a sponsor. This is the problem with compliant media that is looking for income from the entity they are covering.