The Story of Why Wal Mart Failed in Germany Shows Why Wal Mart is Bad for the US Economy
Last Updated on June 14, 2021 by Shaun Snapp
Executive Summary
The story of why Wal Mart failed in Germany tells us a lot about why Wal Mart is negative for society.
The difference is that in Germany, the government is actually concerned for its population.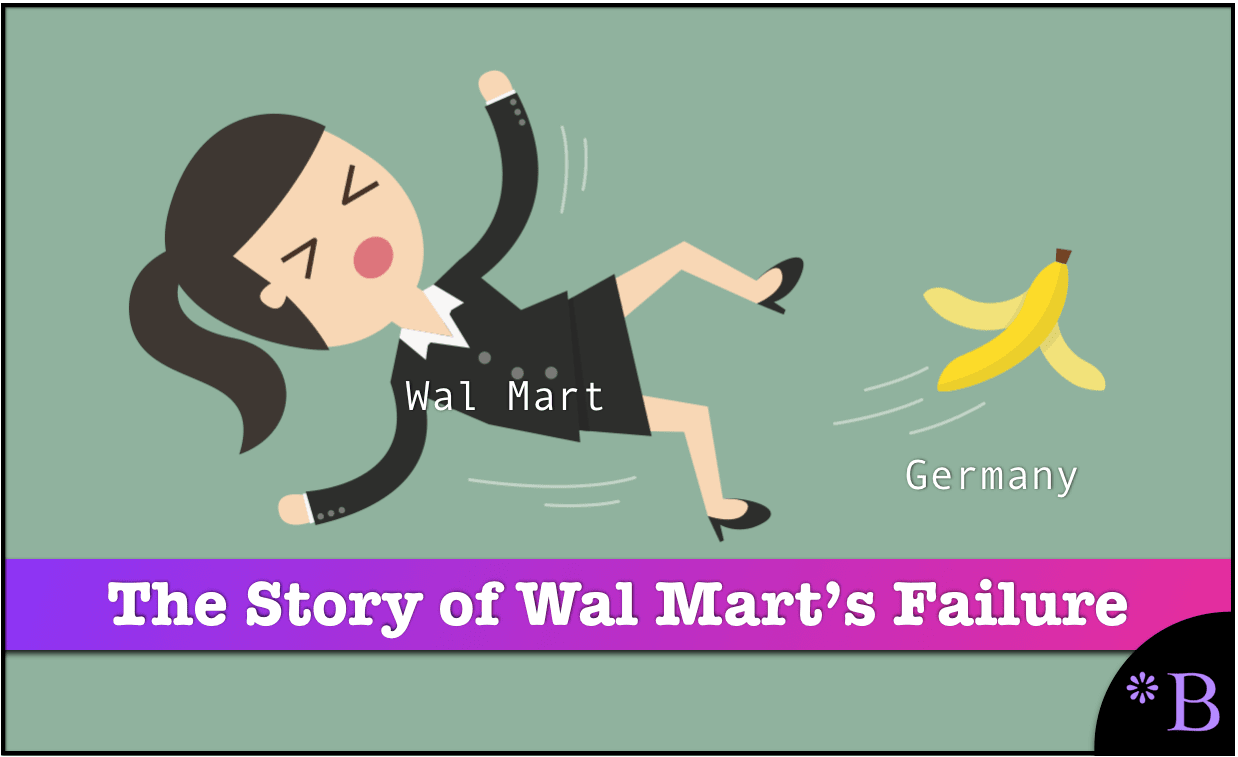 Introduction
The story of why Wal Mart failed in Germany tells us a lot about why Wal Mart is an overall negative for society. In the case study of Wal Mart's attempted expansion into Germany, the difference is that the government is actually concerned for its population in Germany. One of the most satisfying things was to see Wal Mart fail in Germany. However, what became clear is that if the US Government were as logical and as concerned for its citizens as the German government, Wal Mart would have a challenging time succeeding in the US. This article will learn why Wal Mart failed in Germany and why Germany could not accept their exploitive employment model.
The Difference Between the German and US Governments
From this video, it is obvious there is a significant difference between the governments of Germany and the US.
Germany's government considers what is actually good for society.
The US government only thinks of what is good for the company. If not most, Wal Mart employees are on government assistance — and the US government does nothing.
Wal Mart is a company where only a small number of people that are employees of the company receive a living wage. Retail, particularly high volume retail, is never a high paid employer. However, Wal Mart operates in an illegal territory to keep its wages low. Wal Mart defends this exploitive model by calling it "capitalism." However, Germany is also a capitalist system but found Wal Mart's operating model unacceptable. Obviously, capitalism can be exploitive, or it can be sustainable and good for workers. There is no one type of "capitalism," and disagreeing with exploitive practices is not being a communist.
Defining Countries that Look After The Interests of Workers and Society in a Negative Light
US companies want every concept that benefits workers to be categorized as communism or socialism. They want every socialist country described as a failure (hence the great focus on Venezuela), and they want socialized countries that thrive, such as those in Scandanavia ignored.
They further want countries with very similar economic systems like Germany, but with far more protections for society and workers to be ignored. There is one type of capitalism to US companies they want to be set as the acceptable form, which is highly exploitive capitalism where workers or society are protected. They then say these horrible outcomes are necessary to be considered "capitalist."
German Communists?
There is a comment in the video where a German says that Wal Mart thought that "we were communists."
Wal Mart appears to be confusing West Germany with East Germany, and in fact, with a country (East Germany) that no longer exists.
Wal Mart's definition of communists or communism is straightforward.
Any person who does not support labor exploitation and the workers having rights to a decent work environment or some ability to resist their employers' power is a communist.
Workers at Wal Mart need a union and need it very badly. Most of the jobs that Wal Mart provides are unsustainable, while the Walton family has more money than God ($175 B at last count in 2019).
The anti-union video states, "great benefits."
What benefits are those, the public assistance that at least 1/3 of Wal Mart employees are currently using? Workers are kept below full time, specifically to prevent them from being eligible for benefits. Roughly 1/2 of Wal Mart workers are "part-time." Once one accounts for management (which can't be part-time), workers at headquarters, etc.. Wal Mart has a policy of pushing as high a percentage of its employees as possible off of benefits. According to Reuters, Wal Mart's percentage of part-time workers has increased from 20% in 2005 to 50% today.
Wal Mart Loves to For its Employees to Eat — on Food Stamps
Fifty-five percent of part-time employees also said they did not have enough food to meet their basic needs. Walmart employees are among the largest groups on food stamp subsidies, according to labor experts. – Reuters
US Government Subsidy to Wal Mart
According to the organization, Americans for Tax Fairness, a single Wal Mart store receives a subsidy of roughly 1M per year, which is the cost to the US government that should have been covered by Wal Mart, but which Wal Mart dumps onto the US. And this has to be added to the extreme tax evasion that Wal Mart perpetuates against the US.
This is described in the following quotation.
It has 22 shell companies there (in Luxembourg) – 20 established since 2009 and five in 2015 alone. Walmart does not have one store there. Walmart has transferred ownership of more than $45 billion in assets to Luxembourg subsidiaries since 2011. It reported paying less than 1 percent in tax to Luxembourg on $1.3 billion in profits from 2010 through 2013.

At least 25 out of 27 (and perhaps all) of Walmart's foreign operating companies (in the U.K. Brazil, Japan, China and more) are owned by subsidiaries in tax havens. All of these companies have retail stores and many employees.

Walmart generates about $1.5 billion worth of tax deductions in Luxembourg each year by making phantom interest payments to its U.S. global parent. It uses a "hybrid loan," which makes this income disappear for tax purposes here and in Luxembourg.

It is using tax-haven subsidiaries to minimize foreign taxes where it has retail operations and to avoid U.S. tax on those foreign earnings. Walmart apparently hopes the U.S. Congress will reward its use of tax havens by enacting legislation that would allow U.S.-based multinationals to pay little U.S. tax when repatriating current low-taxed foreign earnings (such as to fund infrastructure spending) and pay no tax with the adoption of a territorial tax system.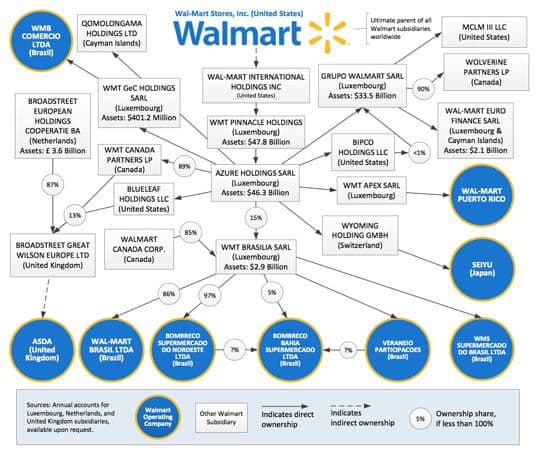 (From Americans for Tax Fairness)
Increasing Wages for Workers, to a Point Where 1/2 Are Still on Public Assistance?
Wal Mart goes around crowing about how it is increasing wages. However, the wage increases are never enough to pull a high percentage of their workers off of US government assistance.
As Walmart prepares to implement its previously announced plan to hike wages to a minimum of $9/hour in April, Americans for Tax Fairness (ATF) released a report detailing how employee wage hikes to $9 in 2015 and to $10 in 2016 will still require large taxpayer subsidies to compensate for Walmart's low wages. In April 2014, ATF released a report estimating that Walmart benefits from $6.2 billion a year in taxpayer subsidies because it does not pay many employees a high enough wage, so they must rely on food stamps, Medicaid and six other taxpayer-funded programs to survive.
Americans estimate for Tax Fairness that Wal Mart would have to have a minimum wage of $15 per hour to pull all of its employees off public assistance. $15 an hour minimum wage is another 50% higher than the just recently changed $10 per hour. That is how far off Wal Mart's wages are from being sustainable for both workers and the US government.
The following quote is illustrative of the pay problem.
Many Walmart workers being paid $9/hour would qualify for public assistance. At $9/hour and 34 hours a week (Walmart's definition of "full-time" work), an employee would take home just $15,912/year. This single worker would qualify for three out of five public programs for which they would be eligible. A worker with one or more children would qualify for all eight of the programs studied. – Americans for Tax Fairness
Obviously, anyone living in the US that $15,912 take home is not a sustainable wage.
If a wage is not sustainable if a person cannot pay modest bills with a wage level, why is this wage level legal?
Shouldn't the minimum wage be the minimum compensation that allows the person to live off their wages?
The following change would make this occur.
Increasing Walmart employees' wages to $15/hour at full-time work of 40 hours a week, or $31,200/year, would lift many of its workers above the income level at which they would be eligible for these programs. Households with up to two people would not be eligible for seven out of eight programs. – Americans for Tax Fairness
This brings up a related question. As many companies in the US do not pay $15 an hour minimum wage? How many other companies are just like Wal Mart having their employees benefits subsidized by the US government?
All of this means that while Wal Mart pays a very low level of taxes, it consumes US taxpayer-supported services as a part of its worker employment model. 
When all these factors are combined, it is clear that Wal Mart is a parasite on the US economy and that if it were to be put out of business, the overall economy and the lives of workers would improve. (That is, other retailers, with the demand of Wal Mart shifted to them would be able to hire workers currently employed at Wal Mart)
The video describes a situation wherein small-town America, where Wal Mart is a dominant employer in some towns, as the manufacturing jobs have been sent overseas, those that need employment will work at a Wal Mart instead of the better paying and benefit offering manufacturing jobs. As nearly everything at Wal Mart is made in Chinese sweatshops, those that work at Wal Mart now help bring Chinese sweatshop products into the US. What a fantastic industrial policy this is! The best outcomes come from allowing private companies to do absolutely anything they want.
Furthermore, Wal Mart does more than buy products from China. Over several decades, in activities that have mostly already happened, Wal Mart has explicitly driven US manufacturers over to China. One example of this is Rubbermaid. Rubbermaid told Wal Mart they could not meet their price expectations, and Wal Mart directed them to move production to China. In this way, Wal Mart has not only had a terrible impact on US retail. It has pushed a significant amount of US manufacturing out of the country.
Why is Wal Mart's Profit Per Employee So Low?
According to The New York Times, Wal Mart has a low profit per employee.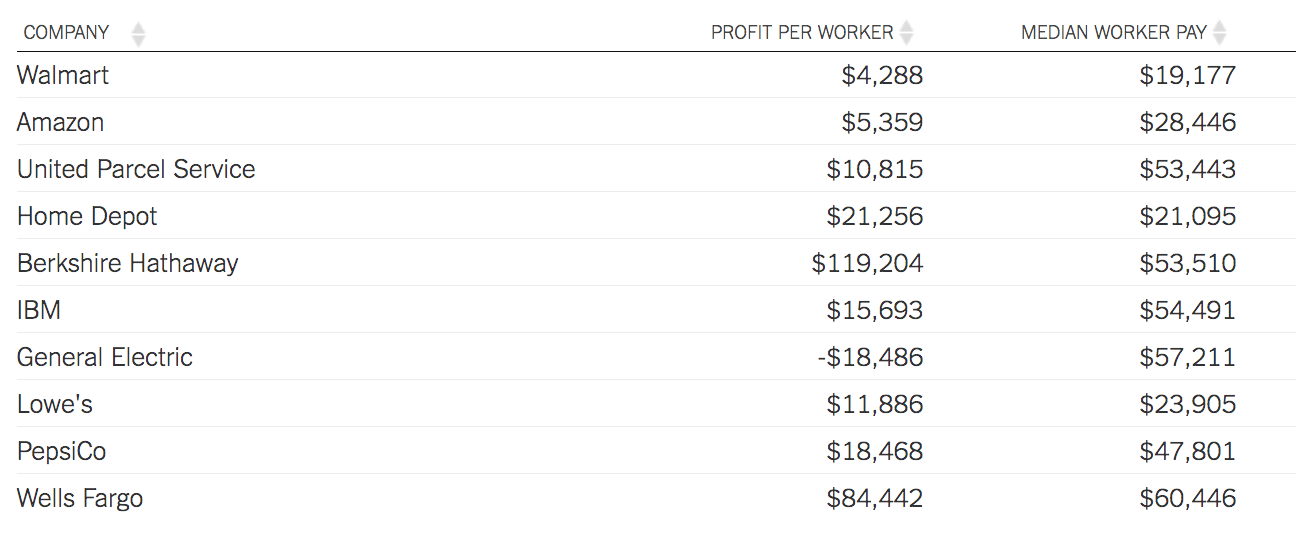 This means that Wal Mart, at the prices they charge, cannot afford to pay employees much more. Secondly, Wal Mart is a major source from China which has no real labor or environmental or other standards. So Wal Mart non only causes negative externalities for its workers, but also for the workers at their suppliers, where Wal Mart mercilessly pushes down prices. 
The Corporate Double Standard: Aggregating Power for Corporations is Fine, But is Wrong for Workers
Why does Wal Mart have the right to show anti-union videos to employees and pressure them to show they are against a union? Why does Wal Mart have the right to fire employees who support a union in violation of US laws designed to protect those that seek to unionize?
Isn't it odd that corporations claim the right to any level of aggregation of power?
Wal Mart has roughly 2.2 M employees (globally, around 1.5 M in the US). Amazon will soon pass a million employees. Companies like Wal Mart and Amazon claim and excise the right to donate to politicians and craft legislation to their will massively. They claim and execute the right to engage in partnerships with other companies to limit completion.
However, both Wal Mart and Amazon deny workers the right to organize. Is this not a double standard?
Under antitrust law, both Wal Mart and Amazon, and many other companies would be broken up. However, those laws are not enforced. Laws that are designed to protect those that seek to unionize are also not enforced.
What is the point of passing laws if they can sit on the books and not be enforced? 
Perhaps the companies would like to explain what happens when a corporation is given near unlimited power, and employees are excluded from their most basic right to unionize? Both Wal Mart, Amazon, and countless other companies have a specific definition of capitalism, where there are no unions and where their power is unchecked. This is a society that no one but the executives at Wal Mart and Amazon and the executives at other companies would want to live in.
Wal Mart and Scientology
Wal Mart was not the only entity that US authorities considered perfectly fine but not by german authorities. Another is the US church/scam organization called Scientology. This quote describes what happened when Scientology expanded into Germany.
The Church of Scientology has encountered particular antagonism from the German press and government and occupies a precarious legal, social and cultural position in Germany.

As of 2017, German courts have so far not resolved whether to accord Scientology the legal status of a religious or worldview community, and different courts have reached contradictory conclusions.[3] The German domestic intelligence service is constantly monitoring the organization and mention them in their annual review about anti-constitutional activities. The German government does not recognize Scientology as a religion; rather, it views it as an abusive business masquerading as a religion and believes that it pursues political goals that conflict with the values enshrined in the German constitution. This stance has been criticized by the U.S. government.

German federal and state interior ministers started a process aimed at banning Scientology in late 2007, but abandoned the initiative a year later, finding insufficient legal grounds. As of 2017, polls suggest that half of Germans supported banning Scientology, while over two-thirds considered Scientology dangerous.

German public discourse does not regard Scientology as a religion, but generally characterizes it as a Sekte (cult or sect), or as an exploitative profit-making venture preying on vulnerable minds.

Perceptions that Scientology had a totalitarian character were reinforced when Robert Vaughn Young, an American ex-Scientologist and former PR official in the Church of Scientology, visited German officials in late 1995 and wrote an article in Der Spiegel, a widely read weekly magazine, describing Scientology as a totalitarian system operating a gulag – the Rehabilitation Project Force – for members of Scientology's Sea Org found guilty of transgressions.

While there have been calls for Scientology to be banned, the Church of Scientology remains legal in Germany and is allowed to operate there.[14] Its precise legal status however is unresolved.[3] Two points are contested: first, whether or not the teachings of Scientology qualify as a "religion or worldview" (Religion or Weltanschauung; these are equal before German law[50]), and secondly, whether or not these teachings are only used as a pretext for purely commercial activity; if the latter were the case, this would most likely imply that Scientology would not qualify for protection as a "religious or worldview community" – Wikipedia
Scientology is most certainly a threat to the citizens of Germany. In the US, it is a laughingstock. Possibly the number one way to tell people you are clinically insane is to profess your love for Scientology. The endpoint of Scientology training, call OT8 level, proposes that one can transport their consciousness intergalactically. According to Scientology, an all-powerful being named Xenu lives underground in a forcefield protected habitat stopping him from re-establishing his domination over the planet. Reading Scientology writing out loud works best with a laugh track.
The strongest evidence against Scientology is their own published material. How anyone could watch these videos and read the material and think that Scientology is some legitimate enterprise is beyond my understanding. They claim to be able to "wake the dead."
It is an organization that uses religion as a cover to perpetuate a type of mind control based upon an enormous number of already debunked claims. How curious it is that, as with Wal Mart, the German government and German society had a major problem with Scientology.
But in the American model, any organization, no matter what its track record, is allowed to function — and even to break laws, with relative impunity.
Conclusion
Wal Mart's experience in Germany brings up the question that if the US enforced regulation on Wal Mart and ceased subsidizing Wal Mart (for instance, by paying for government income support for so many of Wal Mart's employees if Wal-Mart would be so successful in the US.
None of these things are secret. Yet, the US government does nothing to stop Wal Mart from doing what it does. Why would a government allow a company to operate where it underpays its taxes and also places enormous costs onto the government in the form of public assistance while also pushing higher-wage manufacturing jobs out of the country?
The answer is corruption.
Germany placed requirements on Wal Mart that make operating in Germany intolerable. These requirements were that Wal Mart not function as a parasite on the German economy. How did the German government manage to hold Wal Mart accountable? It's a highly nuanced story so let us take a look at the two primary factors.
First, they appear to be less corrupt than the US government.
Two (and this point is critical) they are not morons. You can't call the German government "communists" and expect to win the day with name association.
Anyone with 1/2 of a brain can look at the Wal Mart model and see that it is purpose-built to prey upon the US economy.
Imagine if the US were so lucky as to have the German government running the US economy. Is there a way to vote for the German government in the next election? Because the US government is clearly not up to the job.
References
*https://americansfortaxfairness.org/endorsements/
https://financialpost.com/news/retail-marketing/walton-family-fortune-balloons-to-175-2-billion-after-walmart-reports-hot-holiday-earnings
*https://americansfortaxfairness.org/issue/not-announce-benefits-workers/
https://en.wikipedia.org/wiki/Scientology_in_Germany
*https://americansfortaxfairness.org/issue/walmart-corporate-tax-dodger/
*https://americansfortaxfairness.org/issues/corporate-tax-dodgers/the-walmart-tax-subsidy/new-report-finds-walmarts-wage-hike-to-10hour-will-still-require-large-taxpayer-subsidies-to-compensate-for-walmarts-low-wages/
https://www.kiro7.com/news/local/report-amazon-walmart-workers-on-list-of-top-food-stamp-users/830854650/
https://www.reuters.com/article/us-walmart-workers/half-of-walmarts-workforce-are-part-time-workers-labor-group-idUSKCN1IQ295
https://www.thenation.com/article/archive/walmart-wages-are-the-main-reason-people-depend-on-food-stamps/
The wages are not only low at Wal Mart, but the treatment also appears abusive.
The store showed no more mercy in its treatment of workers than did the customers. My schedule, for instance, changed constantly. There was simply no way to plan things more than a week in advance. (Forget accepting a party invitation. I'm talking about childcare and medical appointments.) If you were on the closing shift, you stayed until the manager agreed that the store was clean enough for you to go home. You never quite knew when work was going to be over and no cell phone calls were allowed to alert babysitters of any delay.

And keep in mind that I was lucky. I was holding down only one job in one store. Most of my fellow workers were trying to juggle two or three jobs, each with constantly changing schedules, in order to stitch together something like a half-decent paycheck.

In New York City, that store was required to give us sick leave only after we'd worked there for a full year—and that was generous compared to practices in many other locales. Until then, you either went to work sick or stayed home unpaid. Unlike New York, most states do not require such a store to offer any sick leave, ever, to employees who work less than 40 hours a week. Think about that the next time your waitress coughs.

In addition to the fundamental problem of simply not paying people enough, there's the additional problem of not giving them enough hours to work. The two unfortunately go together, which means that raising the minimum rate is only part of any solution to improving life in the low-wage world.

About food: if a minimum wage worker in New York manages to work two jobs (to reach 40 hours a week) without missing any days due to illness, his or her yearly salary would be $18,720. In other words, it would fall well below the Federal Poverty Line of $21,775. That's food stamp territory. To get above the poverty line with a 40-hour week, the minimum wage would need to go above $10. At 29 hours a week, it would need to make it to $15 an hour. Right now, the highest minimum wage at a state level is in the District of Columbia at $11.50. As of now, no state is slated to go higher than that before 2018. (Some cities do set their own higher minimum wages.)

Many of the arguments against raising the minimum wage focus on the possibility that doing so would put small businesses in the red. This is disingenuous indeed, since 20 mega-companies dominate the minimum-wage world. Walmart alone employs 1.4 million minimum-wage workers; Yum Brands (Taco Bell, Pizza Hut, KFC) is in second place; and McDonald's takes third. Overall, 60 percent of minimum-wage workers are employed by businesses not officially considered "small" by government standards, and of course carve-outs for really small businesses are possible, as was done with Obamacare.
https://www.washingtonpost.com/business/2019/05/09/average-walmart-store-manager-makes-year-many-employees-still-earn-below-poverty-line/
*https://www.nytimes.com/interactive/2018/05/21/upshot/marx-ratio-median-pay.html