Why it is Time to Move on From SAP's UI Promises
Executive Summary
For several decades SAP has been promising a new UI.
The recent decline of Fiori shows how it is time for SAP customers to move on from this expectation.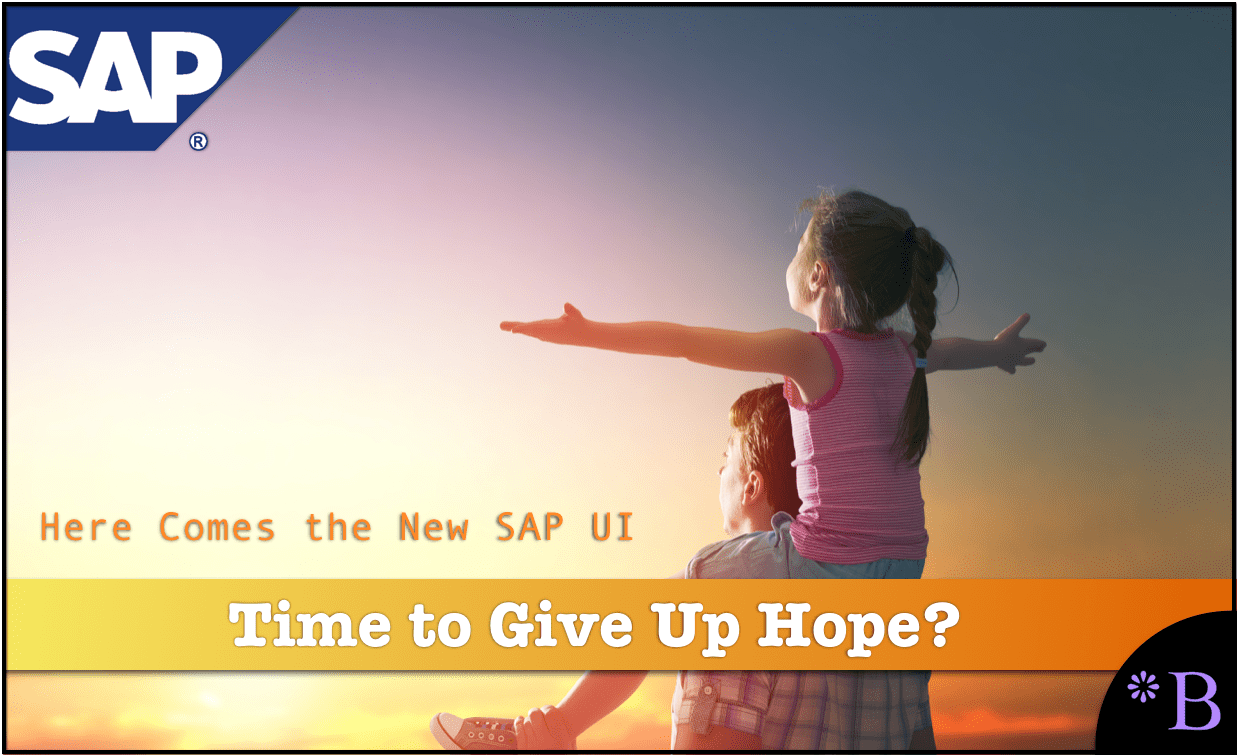 Introduction
We have sounded the alarm on Fiori for several years; a sampling of this coverage can be found here in the article What is Actually in the Fiori Box? And in the article, Why is the Fiori Interface so Slow.
See our references for this article and related articles at this link.
This was at the same time that SAP and their consulting partners were misleading customers about Fiori.
I was in sales presentations where SAP and consulting partners described Fiori as basically the second coming of Christ.
Hasso Plattner described Fiori as the "best UI in enterprise software."
Several years ago, the salesperson I was supporting told a client that the entire SAPGUI was going away and would be replaced by the beautiful Personas, which would be "stunning." Personas is now dead.
Getting Past the Hype: What is the Reality Around Fiori's Usability?
I have several hundred hours working in S/4HANA/Fiori at this point. While Fiori is ok in terms of usability, but by no means even close to the UIs of many other vendors, that come out of the box and without any of Fiori's overhead, this has caused us to question Fiori's future as we covered in the article Why Fiori is Unlikely to Survive.
It might be time to acknowledge that if you are going to use internally developed SAP products, you will take a hit on the UI. And after around 20 different promised new UI initiatives over the past 20 years, there is, at this point, no hope on the horizon for a better UI from SAP.
The Evidence is In on the "Future SAP's UI"
For even the most fervent supporters of SAP, it is difficult to support the notion that SAP has a feasibly way of developing an alternative to SAPGUI. Therefore it might be time to look to third-party UI add ons that provide far more efficient customize-ability and report integration.
Should SAP Customers Listen to SAP?
SAP and their compliant consulting partners (who repeat whatever SAP says) will recommend against third party solutions, which is just another reason it makes sense to stop listening to SAP and use them as passive order takers rather than advisers. We have observed a strong inverse correlation on SAP accounts between the positive outcomes on SAP projects and the degree to which customers follow SAP's advice.
We analyzed an article at E3Zine, which illustrates how SAP sales have become entirely transactional and just looking for a quick sale of any item or indirect access payment, as we covered in the article The Sales Reason for the High Failure Rate of SAP Projects.
How Many Customers Are Actually Using Fiori?
The fact is that Fiori is very infrequently used on projects.
The customers that sat through the demos you see being presented in this image at the SAP SAPPHIRE conference in 2019 saw almost no SAPGUI, but when they returned to their own companies the week after, this was nearly all they saw on their user's screens.
The dichotomy between what is presented at SAPPHIRE and what is used in SAP customers could not be starker. SAP marketing and sales live in one virtual world, while SAP customers live in an entirely different world where SAP's actual products are being used.
S/4HANA's Tiny Uptake
In addition to S/4HANA being implemented far less frequently than the official numbers suggest, Fiori is not activated in many cases. Johnsonville Sausage is one example of a company that went live without Fiori.
A major problem for existing customers is they are used to SAPGUI, and there aren't many benefits to using Fiori versus SAPGUI.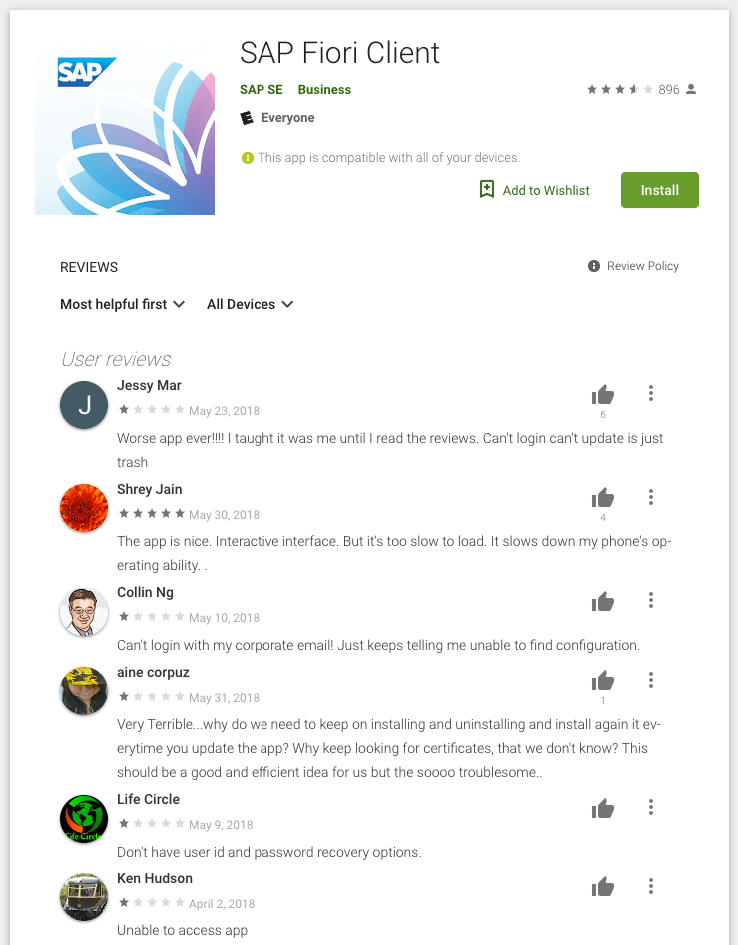 Something that SAP consulting partners will never discuss is the technical problems with Fiori. But Fiori is a draining UI because of these issues and its problems with latency. These problems stem from several origins.
The Origins of Fiori's Many Problems
SAP's Long Term Development Problems with UIs: SAP is just not very useful at UI design.
The Technologies that SAP Selected for Fiori: Fiori is based upon high overhead technologies and also proprietary technologies where SAP attempts to leverage its technologies rather than code with better open-source options. Fiori uses an application server called NetWeaver Gateway to connect to the application layer. This is an inferior technology that is only used to use an item developed by SAP. Anyone developing a competing UI has the distinct advantage of not being hamstrung by having to use any SAP technologies.
A Lack of Usability Testing: There is minimal usability testing with Fiori as there has been an emphasis on getting as many new Fiori apps out the door as quickly as possible to make the Fiori coverage look better than it is (which we covered in the article The Strange Changes with the Count of Fiori Apps)
Little Actual Implementation Usage Feedback: There are also apparent areas in Fiori screens that it is clear to have errors in them but have not been repaired. One reason for this is that the usage of Fiori is so low that SAP is getting little feedback from SAP customers on what to fix. 
Overall Product Management Disorganization: The latency with the Fiori Cloud illustrates the lack of effective management of Fiori development or product management.
Design to Sell Over Design to Use: Fiori's design is focused on infusing each screen with canned reports, which are designed to appeal to executive decision-makers, rather than the people that will use the system. In our testing, the more time we spent with each screen, the worse our impression of the screen became. That Fiori's best impression is when you first see it, and it declines from that point on as its actual usability becomes more apparent.
Great Analytics?
The one thing you can't access in SAPGUI is all the embedded analytics in S/4HANA — but it is not clear the analytics is worth the overhead of Fiori.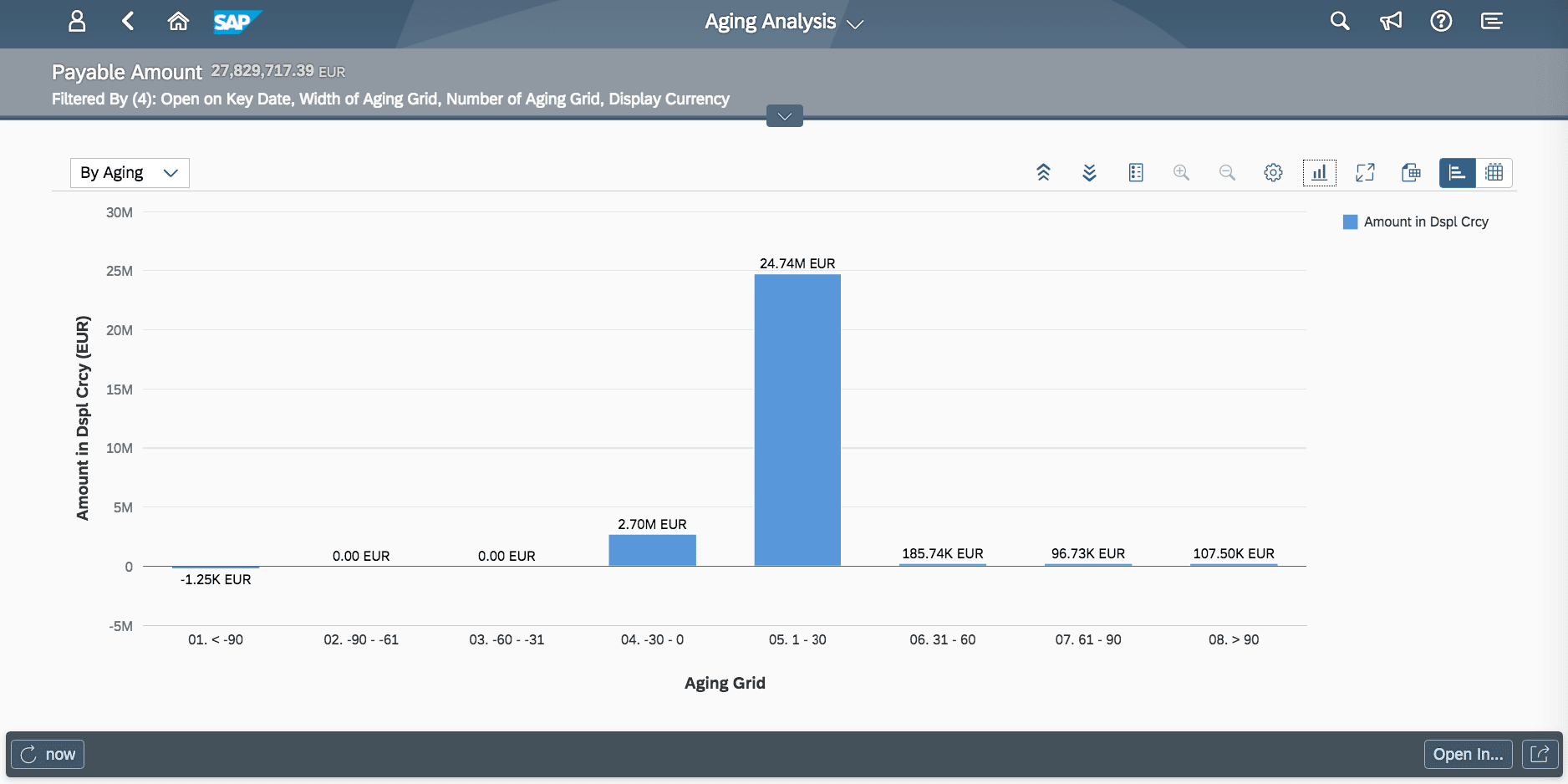 Fiori has some pleasant graphics, but they are canned.
In usability testing, the things we were interested in seeing were usually not available in a canned report in S/4HANA/Fiori. Fiori will simply lead to the continuation of using Excel rather than using reports in the system.
As a researcher who tests software, it is difficult to get excited about Fiori when it has so many problems and when its vaunted analytic integration is far more effectively performed in the third party UI vendor products.

Conclusion
SAP has had more enough time to come up with its promised viable follow on to the SAPGUI. And after decades of promises, and a forgotten partnership with Apple, its time for customers to move on. SAP will likely come up with another follow on "future UI" if Fiori continues to see such low adoption. However, given SAP's track record, there is no reason to pay the next announcement any attention.
The Problem:

SAP's Changed Strategy on Fiori

SAP has changed its strategy on Fiori, from one of charging for the SAP Fiori Apps to making Fiori as part of a packaged deal — that is packaged with HANA.

This is what is known as a Faustian bargain. It does not allow the SAP Fiori Apps to succeed on its own merits, but instead unnecessarily ties Fiori to HANA. However, there is no technical reason for this to be the case. SAP has put a significant amount of effort into Fiori. But Fiori has an abysmal future if SAP continues to limit the use of Fiori apps to customers that are running HANA.

Overall, SAP is presenting customers with a risky product in Fiori. I cover the topic of enterprise software risk in great detail in the book Rethinking Enterprise Software Risk: Controlling the Main Risk Factors on IT Projects, and the fact that Fiori is offered by a large software vendor like SAP does not change these risks.

Fiori is much more involved than is commonly presented. SAP and their surrogates want to make the use of Fiori sound as painless as possible. But because Fiori is not technically baked and because it is used to drive customers to HANA, it is often presented under pretenses.