How Effective is SAP in its Acquisitions?
Executive Summary
Why are SAP's new acquisitions forecasted without analyzing how SAP's previous acquisitions fared?
Find out how well SAP tends to do with acquisitions.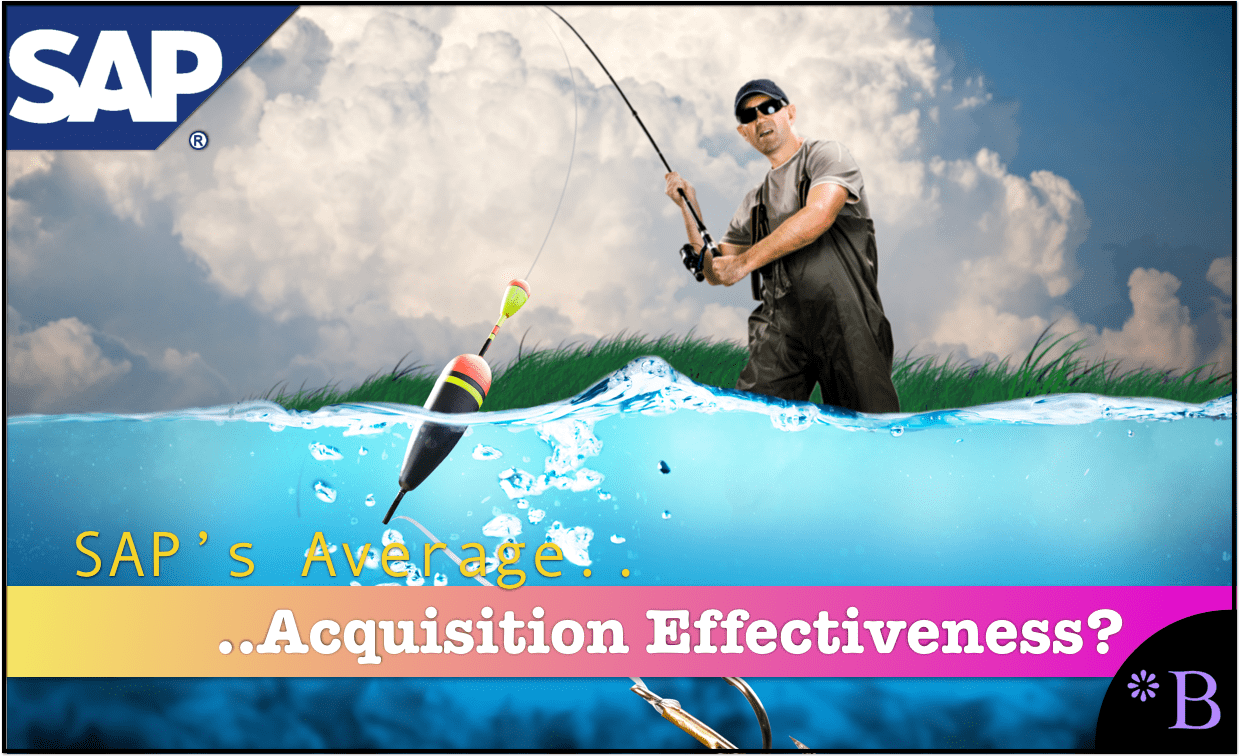 Video Introduction: How Effective is SAP in its Acquisitions?
Text Introduction (Skip if You Watched the Video)
SAP makes a large number of acquisitions of software vendors. SAP acquisitions follow a very familiar path. We call this the "acquisition algorithm," and it normally means the decline of that software vendor. Because of SAP's financial power, there is virtually no critical analysis of SAP's acquisitions by either IT media, IT analysts, or Wall Street analysts. Because we receive no income from SAP, we can objectively analyze SAP's acquisitions algorithm. You will learn about how we have rated SAP's acquisitions and our final overall score.
Our References for This Article
If you want to see our references for this article and other related Brightwork articles, see this link.
Lack of Financial Bias Notice: We have no financial ties to SAP or any other entity mentioned in this article.
This is published by a research entity.
Second, no one paid for this article to be written, and it is not pretending to inform you while being rigged to sell you software or consulting services. Unlike nearly every other article you will find from Google on this topic, it has had no input from any company's marketing or sales department. 
The Acquisition Algorithm
The acquisition target is announced.
Top executives go on a full charm offensive selling what a good idea the acquisition will be.
IT Analysts, Wall Street analysts, and media entities usually weigh-in that the acquisition fills some of the need or provides some "synergy," or they cover the topic merely announcing the acquisition without any commentary of any kind.
And this algorithm applies not only to SAP but also to the media coverage of non-SAP acquisitions.
The Important of Never Looking Back
In analyzing many articles from major IT media that cover SAP's acquisitions, one thing that is nearly never done is to analyze the previous history of acquisitions. Once the vendor is acquired, its financials are subsumed into the overall SAP revenues, and it becomes challenging to check how the vendor grew or did not grow post-acquisition.
In this way, SAP and those that promote the acquisition are never questioned on their projections' accuracy. SAP does not take out advertisements that say…
"we completely failed in XYZ acquisition,"
…and the IT analysts and IT media entities typically just move on to the next topic.
Our SAP Acquisition History Scoring Method
While researching the Qualtrics acquisition, we came across the Wikipedia entry for SAP that shows all of SAP's acquisitions. According to Wikipedia, Qualtrics is SAP's 69th acquisition. So the question we wanted to answer is, "what is the average score of an SAP acquisition.
In terms of our method, we scored each of the 69 acquisitions based on the degree to which the acquisition became an essential component of SAP. The scoring was not based on how good the acquisition was for customers. That would be a completely different scoring and would be lower. Let us take the example of the Business Objects acquisition to explain the logic.
The Business Objects Acquisition
The Business Objects acquisition was terrible for the previous Business Objects customers. Support for Business Objects severely declined not long after SAP made the acquisition, and prices increased. Many customers that did not want to work with SAP when they first purchased from Business Objects were now subject to SAP account reps. And SAP's acquisition of Business Objects leads to Business Objects stagnating as a product, undermining Business Objects customers' investment in the solution. When Business Objects was purchased, it was a frequently discussed vendor in BI circles. Now you barely hear about the Business Objects product. Years later, Business Objects is far less important as a product in the BI space than in 2007 because SAP has allowed the solution to stagnate.
Secondly, the promised integration with SAP BW, a primary reason given for the acquisition, never came. We tested a new crossover component on one project, which was supposed to replace the BEx, and it broke so often we stopped using it. At the time of the acquisition, there was all manner of promises by SAP of how SAP BW and Business Objects would work together. Every year that passes, we hear less about Business Objects.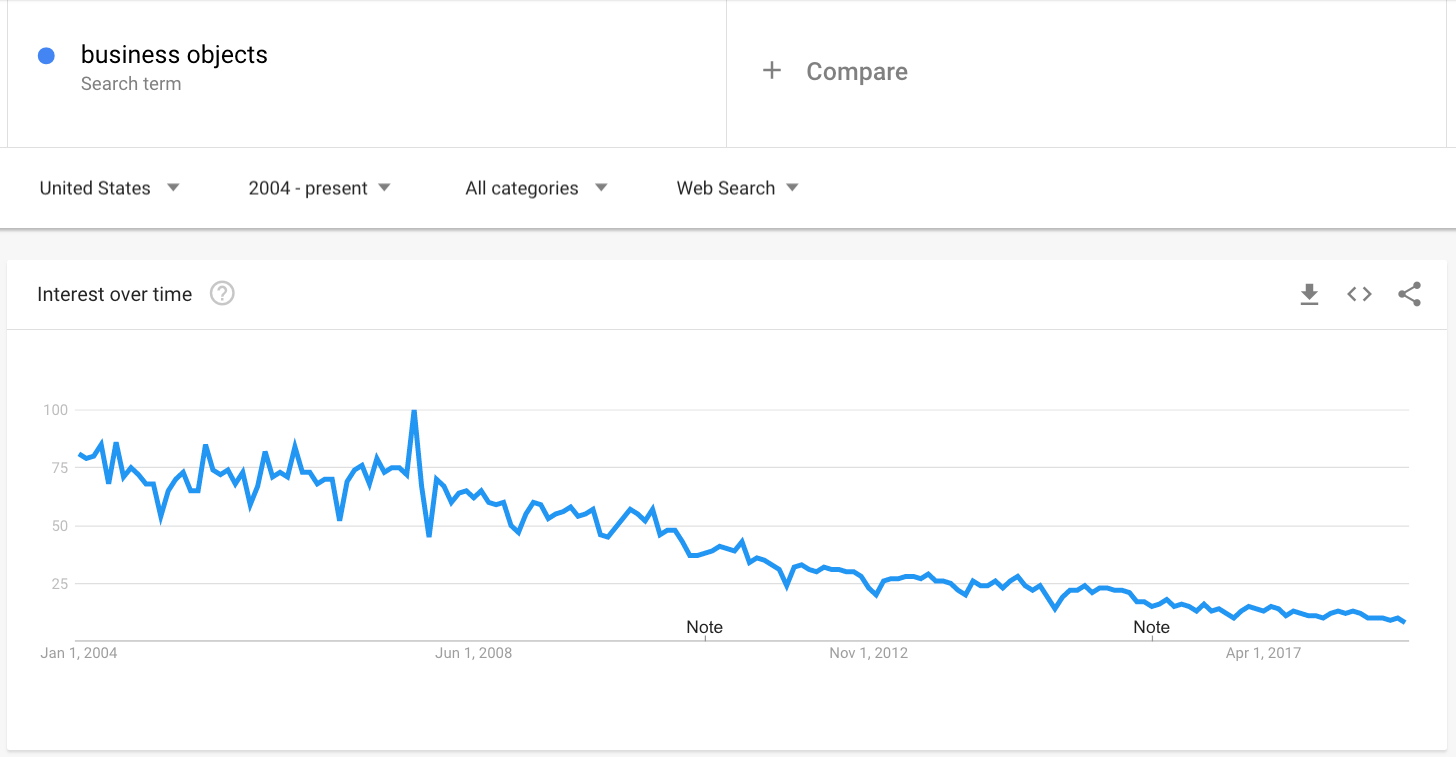 SAP never changed the name of Business Objects. Since the acquisition in 2007, the term Business Objects has declined from (in the US) a search term popularity of 72 to 8, where it stands now. Is this acquisition a success? It depends upon your perspective. One SAP resource told me that the acquisition was successful because Business Objects was cutting into BW sales, so the acquisition neutralized a competitor. This brings up the question of whether all of the promises made by SAP to make BW work with Business Objects were fake. 
If the rating were based upon how it benefited Business Objects customers, we would assign a score of 1 out of 10. However, SAP did get a temporary bump from acquiring Business Objects, received some customers, and was able to ruin a competitor, etc..
We assigned a 6.5 out of 10 in that it was leveraged to some degree by SAP. SAP failed to meet any of its promises around Business Objects at the time of the acquisition, but from a purely SAP perspective, and without considering the dislocation to Business Objects customers and how it undermined their investment, the acquisition was still mildly beneficial to SAP.
SuccessFactors
SuccessFactors was another of the most successful of SAP's acquisitions. Notice the increase in popularity as tracked by Google Trends.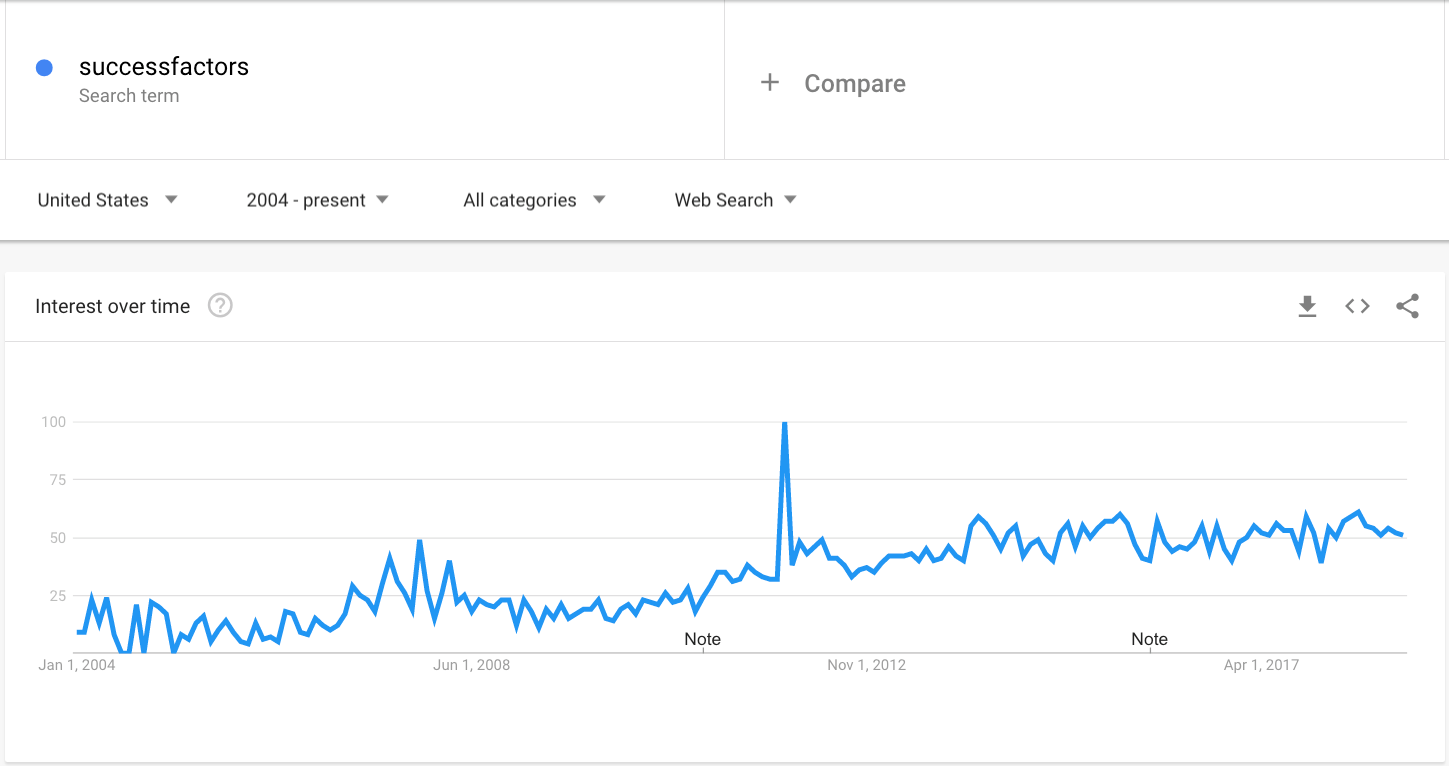 Just before the acquisition in 2011, SuccessFactors had a popularity of 32. However, recently, they have had a popularity/interest over time of 52. SuccessFactors, along with Ariba, have been two of the most heavily promoted acquisitions in SAP's history, with the joke being that when Bill McDermott wakes up in the middle of the night from a deep slumber, he often screams "SuccessFactors." 
However, any increase in SuccessFactors has not come from the initially intended place, which is migrating SAP HCM customers to SuccessFactors. According to Jarrett Pazahanick, our go-to resource for all things SuccessFactors, SAP has only successfully converted roughly 7 percent of pre-existing HCM customers to SuccessFactors Employee Central.
SAP has kept SuccessFactors on the front burner in its marketing for seven years, and that by itself would have helped SuccessFactors' market presence. SuccessFactors has also been pivotal for SAP in presenting itself as a cloud vendor to Wall Street. The acquisitions of both Ariba and SuccessFactors have been highly successful in giving the cloud SAP a cloud "halo" and helping to keep its multiple high.
SAP's High Number of Acquisitions with a Score of One out of Ten
Many of the acquired vendor products (or renamed products) have disappeared from SAP's focus, and the specialties they occupied are still not at all important to SAP. The promiscuous acquisitions are one reason why such a high percentage of SAP's product list is filled with dead products (which we covered in the article How Many Products Does SAP Have?)
Perhaps VW should "unpimp" SAP's acquisition strategy because so many of SAP's acquisitions "get an F." VW's headquarters is in Wolfsburg, Germany, which is only 275 miles from SAP's base in Waldorf, Germany, so it would be a reasonably short distance to travel. 
This means that these acquisitions (for which there are many) received a 1 out of 10 for acquisition effectiveness. If an acquisition is made, and then years later, the specialty is either barely known and or SAP receives very little revenue from the category, this cannot be considered a successful acquisition. Many of these acquisitions just seem to disappear a few years after the initial marketing push.
One prominent example is SAP's acquisitions in the 2005 to 2008 timeframe when SAP acquired multiple manufacturing execution-related vendors. Today SAP is not known for this software category in any way, even though they made three acquisitions in this space (Lighthammer, Factory Logic, and Visiprise).
Exclusions to the Scoring
The most recent acquisitions were excluded from the analysis. Qualtrics is an acquisition that has as close as possible to zero chance to be effective, but we did not want to mix up the future with the present.
Because the last seven SAP acquisitions are within a year or so old, it is not yet possible to evaluate if they have been successful. Therefore the most recent acquisitions are listed as "TBD" and not scored. Several other acquisitions were more of a consulting company than a software vendor, so we marked those as "N/A," and they were also not scored.
Having gone through these clarifying topics, we have included the following acquisition table.
The SAP Acquisition History Table
The columns in blue are directly from Wikipedia. The orange column is the Brightwork Research & Analysis score. Items in Orange text were adjusted after input from Mark Chalfen.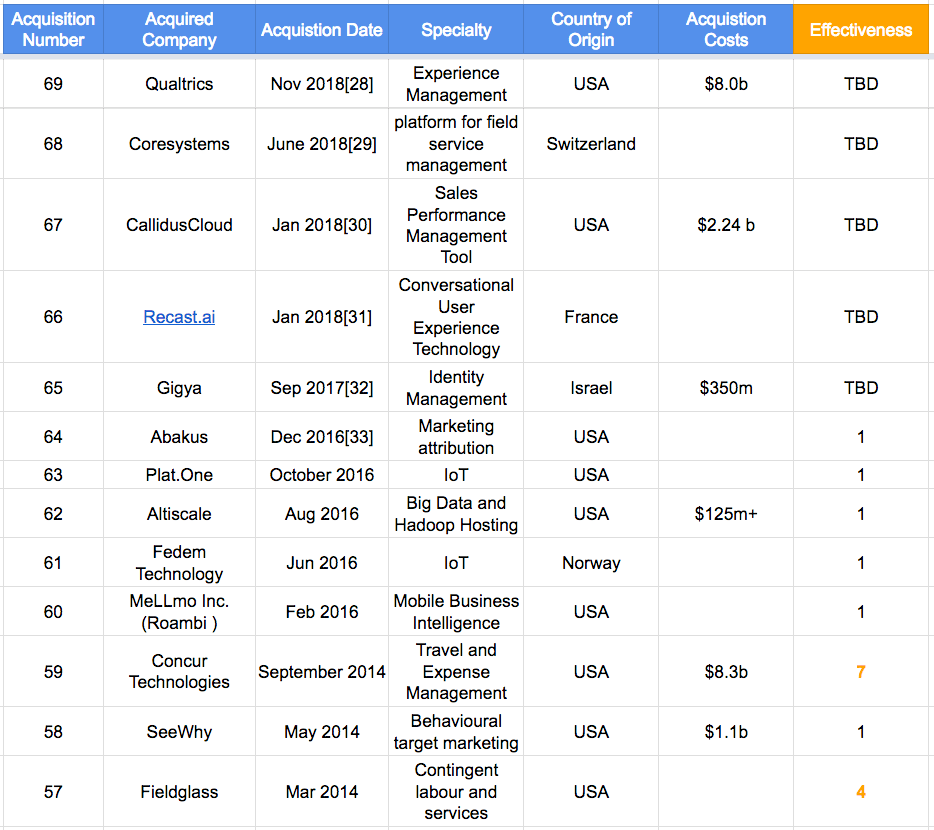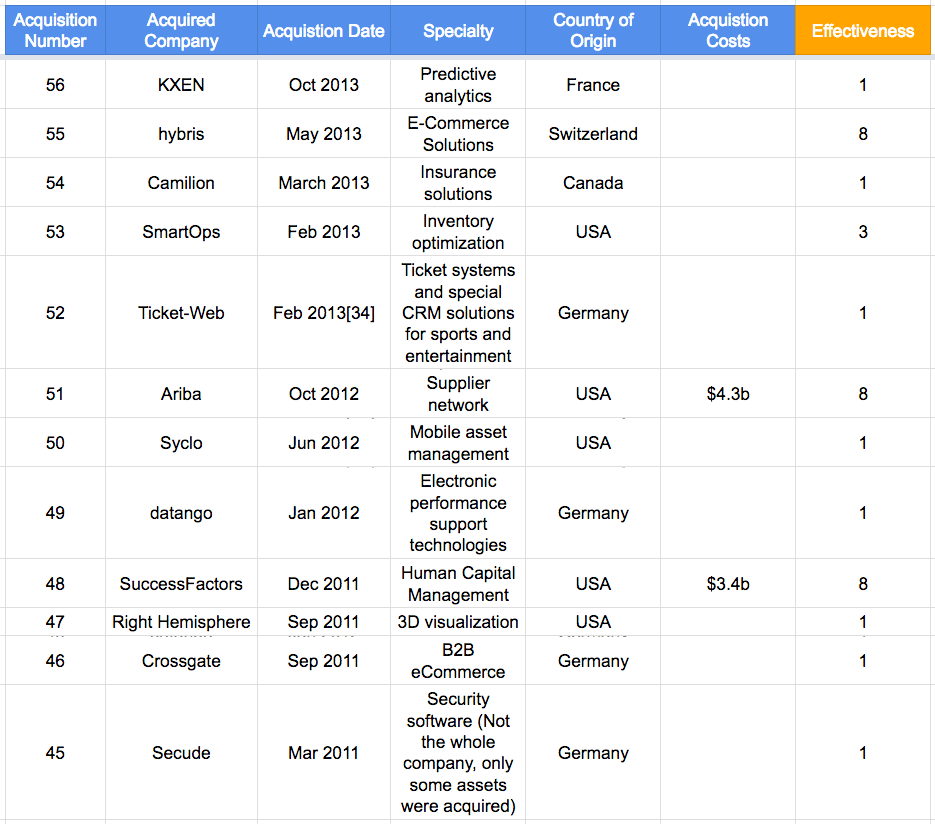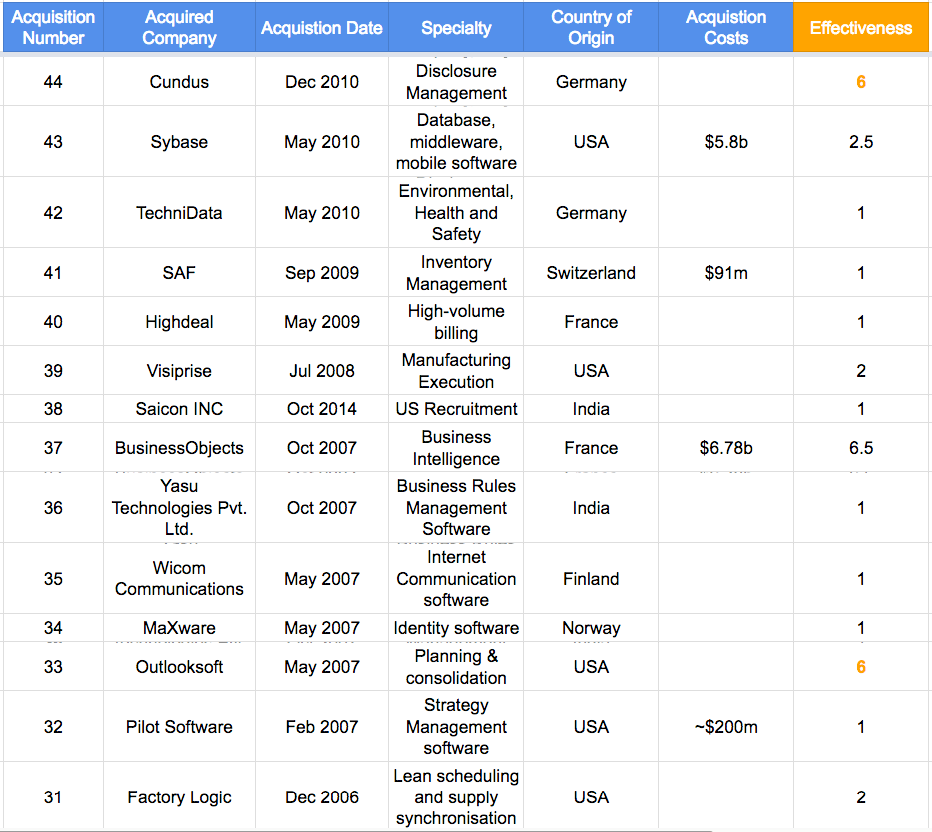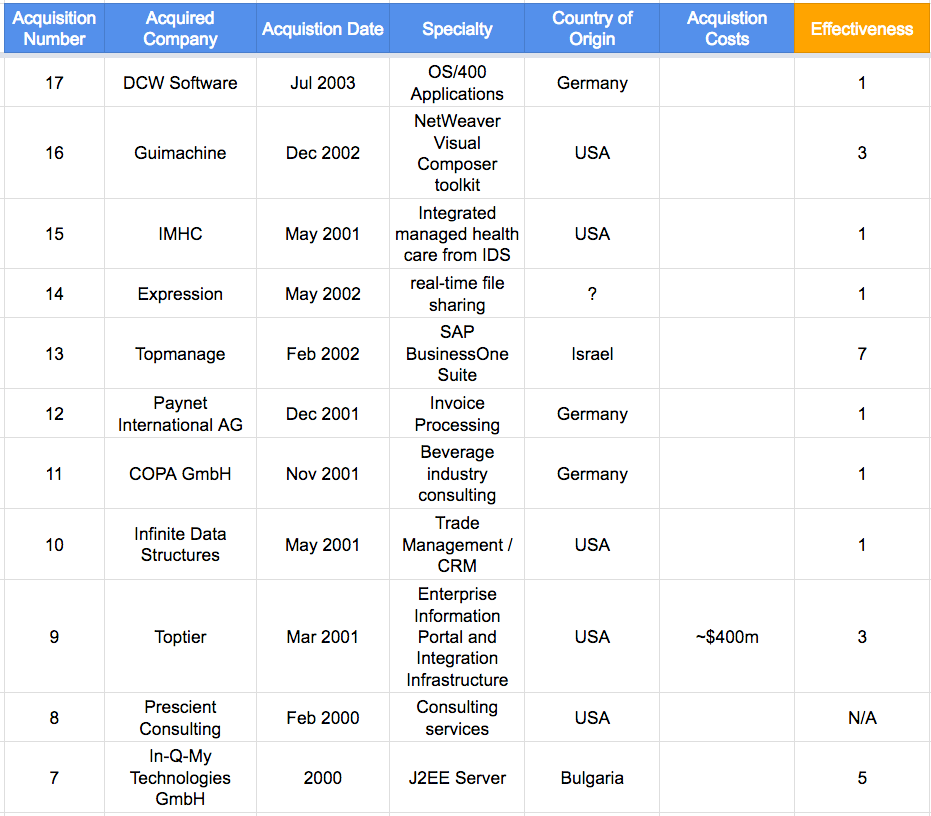 The average score for all of the acquisitions that were rated is 2.2 out of 10. 
The first thing to notice is the high number of scores of 1 in history. This is applied when SAP does not have very much business in that software category or when we have first-hand knowledge that the acquisition did not do anything for SAP. The logic for acquisitions is often that the acquired vendor will grow because they will have access to SAP's account base. But it is tough to find a small acquisition by SAP that did that. This means that the proposal that SAP makes sales increase because of account exposure is a myth.
Interestingly, SAP has been able to force weak products into customers. Applications were ranging from PLM to BW. However, SAP is far better in pushing internally developed applications into customers than acquired applications.
Many of the acquisitions were in categories that are never discussed in SAP circles or on SAP projects. If you told many people that worked with SAP that SAP had an application that covered the area, they would not know.
The Acquisition Outlier of Top Tier
There is one very prominent exception to this pattern of failing to grow acquisitions, and that is the acquisition of Top Tier. Top Tier is one of the only acquisitions we could find that grew in a way it could not have without being acquired.
Top Tier is one of SAP's most successful acquisitions, and we gave it a score of 7 out of 10. Top Tier may be a particularly controversial scoring. SAP acquired Top Tier to obtain a small ERP system named Menahel or Top Tier, which would be renamed to BusinessOne. BusinessOne became a popular SMB ERP system and one with a fertile ecosystem that developed industry-focused extensions to the core ERP system. However, BusinessOne was never very profitable for SAP, and it also served to distract SAP by putting it into a market for which it is a poor fit.
Secondly, customers that buy BusinessOne are not the right customers for other SAP products, and BusinessOne integrates with few other SAP applications. Therefore BusinessOne customers have little follow-on purchases of other SAP products, primarily because they can't afford them, and they are not designed to work with BusinessOne. Therefore while Menahel/Top Manage/BusinessOne did grow, it did not necessarily have a positive impact on SAP, and one could argue it simply distracted SAP. BusinessOne helped SAP get into the SMB market, but the SMB market is a poor fit for SAP.
SAP's bread and butter are extremely high-cost projects for large companies that can endure constant run rates of billing hours. This is not the SMB market. (See our TCO estimator for SAP ECC, and observe the difference in the TCO estimate for ECC versus BusinessOne).
Consultants that work on BusinessOne projects don't work on ECC projects. There is little overlap between BusinessOne and the rest of SAP. The term "red-headed stepchild" comes to mind.
The Top Tier acquisition also had adverse side effects in that it brought Shai Agassi into the company, which lead to problematic implications when he later headed up the Netweaver initiative. Netweaver was a failed program to modernize the integration and infrastructure of SAP. Many years after Netweaver, SAP continues to be as difficult to integrate to SAP and non-SAP applications as it was in the mid-1990s, a subject covered in the article How Non Programming Integration Hurts SAP Projects.
Netweaver left SAP with components that it continues to try to use but which handicap anything connected to them. Everything that is part of Netweaver has a better open-source offering.
Knowing what is known today, it is an interesting question to ask whether SAP would acquire Top Tier again.
An Incomplete Acquisition List
After we reviewed the list, we realized that this list is not a complete listing of SAP's acquisitions. We covered in the article Did Hasso Plattner and His Ph.D. Students Invent HANA?, that SAP suppressed acquisitions that it made that made up what eventually became HANA. This is because SAP contributed very little to HANA.
SAP purchased both Trek and P*TIME but likes to pretend that they didn't. This was to do to try to create a false storyline that attributed innovation specifically to Hasso Plattner that he had nothing to do with. Therefore, SAP's policy concerning publicizing an acquisition varies. If they want to pretend that they created something new, then they keep the acquisition secret.
I have not included a score for Trek and P*Time. However, their scoring would be complicated. HANA became a moderately famous database, but it has also been an enormous distraction. They are being sued by Teradata in what looks to be an expensive lawsuit to defend and have alienated customers and vendors in a way that will cost SAP for years to come.
IT Analyst, Wall Street Analysts, and Media Coverage
Throughout the years, IT analysts, Wall Street analysts, and media entities usually have framed SAP acquisitions in a positive light. There is a strong tendency of media coverage to put a positive spin on an acquisition, even though the history of acquisitions is quite poor. However, the evaluation of SAP's history with acquisitions demonstrates that IT analysts, Wall Street analysts, and media entities repeatedly provide inaccurate information on SAP acquisitions.
From a policy perspective, there is sufficient evidence for governments to deny acquisitions out of hand and only to allow them on exceptional grounds. This subject broaches topics related to how to maintain competitive markets. Issues in which IT media entities and Wall Street analysts have opposing interests. Media entities obtain advertising from large corporations that tend to make acquisitions, and Wall Street itself makes money from mergers and acquisitions and prefers monopolies. The perfect investment vehicle for Wall Street is a company whose customers have no options in the marketplace and are locked into a particular supplier. This is the end state that Wall Street would prefer for each industry as it leads to the highest possible profits.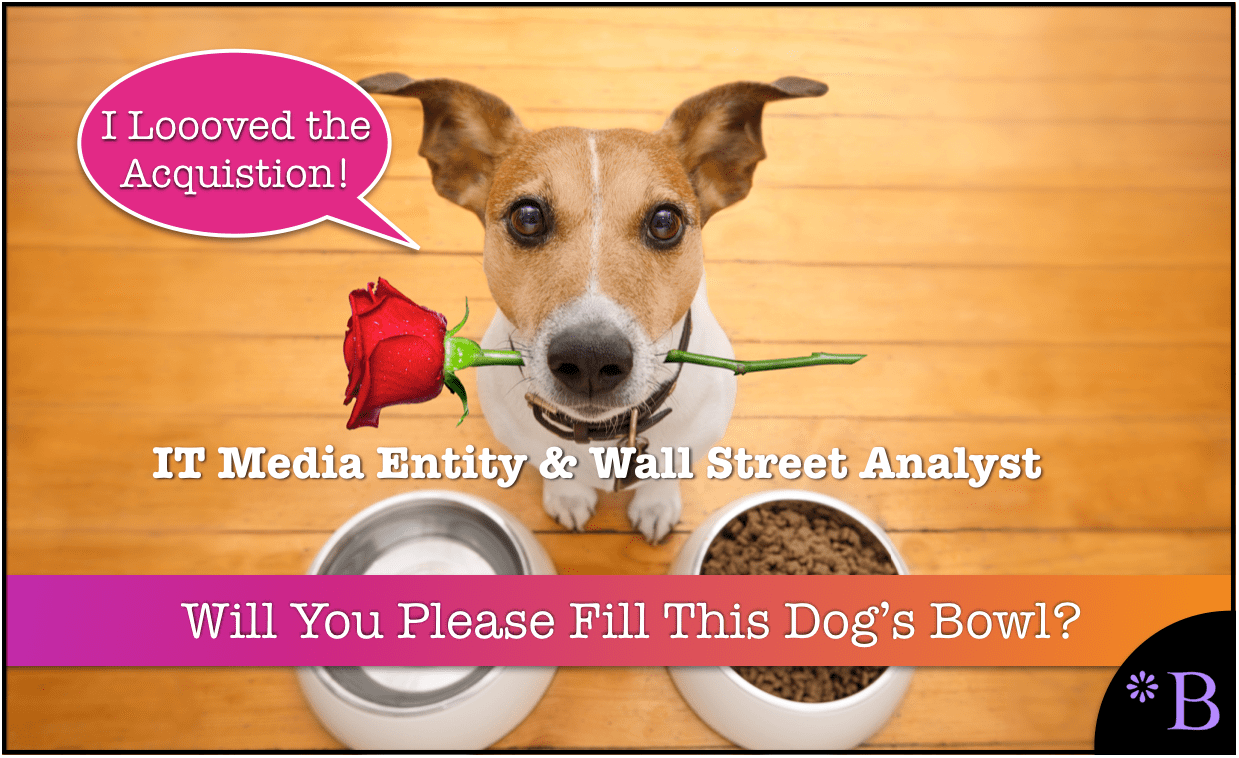 For these reasons, they both have undeclared financial biases when they make projections or otherwise comment on acquisitions. This brings up the question of when IT analysts, Wall Street analysts, and media entities cast a provide views on a new SAP acquisition, are they offering an honest appraisal or merely singing from their wallets?
The Implications of the Score in Forecasting Future SAP Acquisitions
An average effectiveness rating of 2.2 out of 10 is an abysmal score. It should be used to evaluate future SAP acquisitions to observe that SAP is not generally effective at performing acquisitions. And therefore, future acquisitions are also most likely not to be successful.
Motivation
It should be stated, and we don't care one way or another what the final score for SAP's acquisition effectiveness is. This is our best estimate of SAP's acquisition effectiveness. The curious thing is that no SAP partner or IT analyst would want to publish an analysis of SAP's acquisition as they would fear the response from SAP. This fear of SAP prevents any analysis of SAP that might come up with "the wrong answer." Not only will these entities not do it, IT media companies would never do it because a) they don't perform historical analysis, and b) they rely on SAP for revenue in the form of advertisements and paid placements.
For software buyers, this study shows that there is little reason to get excited by an SAP acquisition. SAP does an inferior job of managing its assets and seems to perform acquisitions first and foremost to make an impression or "splash" with Wall Street.
If someone were to reach out and make a compelling case that a score should be changed, we would consider doing so if the argument were compelling. We can't have specific knowledge of every single acquisition. However, even if several acquisition scores were increased or decreased, the overall tendency is quite clear.
Conclusion
History shows that SAP is ineffective in its acquisitions. Wall Street analysts and media entities have far more resources to do this simple checking than does Brightwork Research & Analysis. However, they have no interest in doing it. The reason I think this is cannot remember ever reading an article that analyzed SAP's acquisition history, yet, analysts are quite willing to discuss the synergies that await SAP after each successive acquisition.
Secondly, this analysis underestimates the problems that acquisitions create for SAP. SAP suffers from a distinct problem in accomplishing things that it sets out to do internally. Each new acquisition puts SAP as the overseer into a new vendor, which is frequently in software categories that SAP has no experience in managing. SAP repeatedly finds itself out of its depth in trying to manage an increasingly unwieldy software empire.
As SAP has continued to make acquisitions, it has blurred its focus that much more than it was already blurred and reduced its ability to execute.