A Brightwork Warning on SAP's Cloud Extension Program
Executive Summary
SAP has created a sales program that will cause several customers to convert their on-premises SAP environments to the cloud — on paper.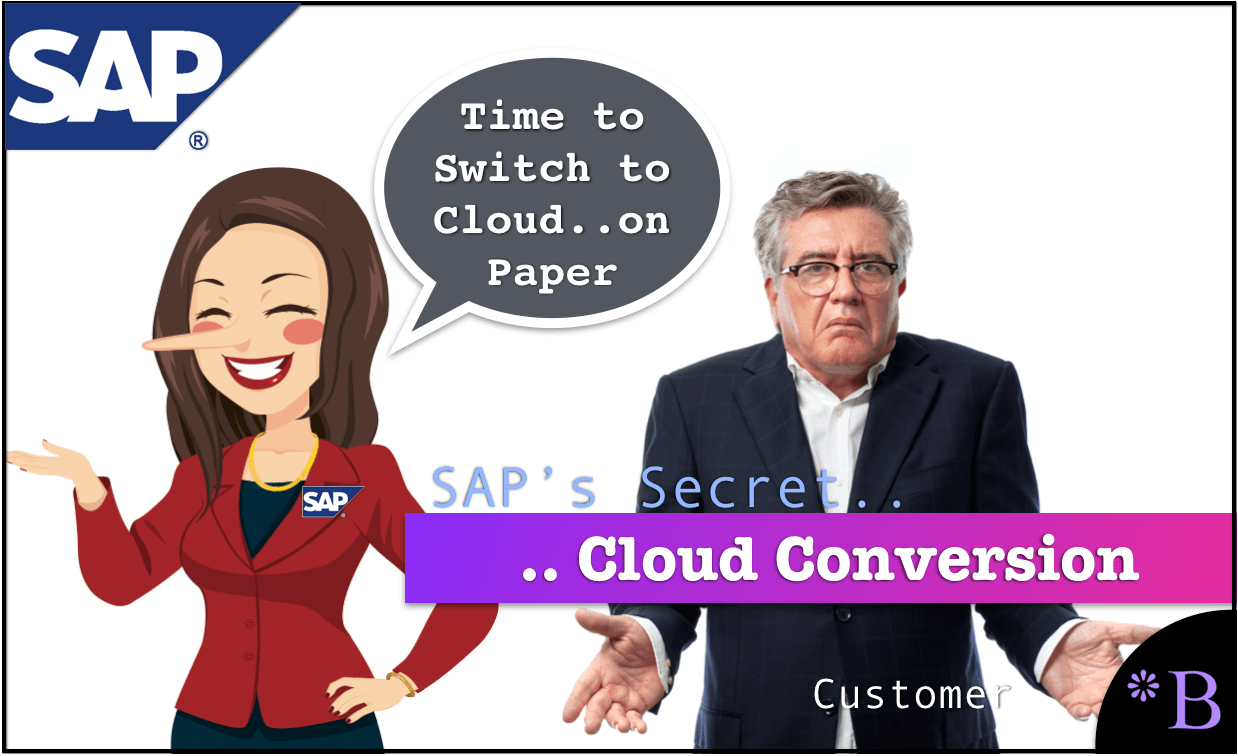 Video Introduction: A Brightwork Warning on SAP's Cloud Extension Program
Text Introduction (Skip if You Watched the Video)
SAP has introduced a program for migrating SAP customers to the cloud…but migrating them only on paper. While doing so, they make the customer sign a termination agreement for the on-premise portion of the licenses turning it all into a subscription contract. This is entirely premeditated and designed to create fictitious could revenue for Wall Street and lock SAP customers into purchasing low-value analytic applications by tying them into a multi-year license that converts support into a cloud subscription. You will learn how SAP designs programs like this that have nothing to do with the value provided to customers.
Lack of Financial Bias Notice: We have no financial ties to SAP or any other entity mentioned in this article.
This is published by a research entity.
Second, no one paid for this article to be written, and it is not pretending to inform you while being rigged to sell you software or consulting services. Unlike nearly every other article you will find from Google on this topic, it has had no input from any company's marketing or sales department. 
The Current Impact of the Program
Regionally, that has created a beehive of activity amongst SAP's salespeople because that's the easiest "sell" on the planet, they only need to justify a dollar transaction and get compensated for the entire maintenance base that was once an on-premise footprint.
This is true even if the conversion marginally touches those licenses. To understand how this program works, let us get into its details.
The Details of the Program
The following is from SAP's document Extension External Rules Cloud Extension.
The customer may partially terminate existing on-premise licenses and associated maintenance payments (services including SAP® Enterprise Support, SAP Standard Support, or SAP Product Support for Large Enterprises) in conjunction with a purchase of a subscription to cloud solutions from SAP. Premium support engagements (SAP MaxAttention™, SAP ActiveEmbedded and SAP Safeguarding) cannot be terminated in conjunction with a subscription to cloud solutions from SAP. SAP Business One is not in scope.
This is simply a transfer of the on-premises licenses (and the associated support liability) and converts the on-premises version to the cloud.
A company cannot transfer to the cloud quickly; therefore, the primary objective is to change customers' license type to the license type of customers from on-premises to the cloud.
The transaction requires an expanded investment with cloud solutions from SAP, given the substantial added value from this new hybrid scenario.

The contract term for a new cloud subscription is five years.
Notice how the term is five years, which is, of course, not at all cloud.
One of the definitions of the cloud is that it has flexible cancellation terms. This is just another way that SAP diverges from the cloud. But as these are on-premises licenses, SAP will not accept converting a support contract to a terminable cloud subscription.
Is SAP Auditing the Partial Termination?
In addition, SAP reserves the right to conduct additional license audits after the partial termination to confirm that software usage is terminated.
At first, this isn't very clear. Why would this clause exist if SAP intends to directly paper transfer on-premises licenses to the cloud? Analysis and discussion with a few people helped conclude that this is merely the "right," but it does not mean SAP will do it. If they did audit the account, they would find the on-premises version of the software is still being used so SAP won't verify the report, at least for a while.
But this creates a liability for the client. Per the conversion stipulations, they are not supposed to be running those on-premises versions, even though it is a "wink-wink, nod," understanding that they will.
The Effective Date of Partial Termination
The effective date for a partial termination of existing on-premise licenses and associated maintenance is January 1 of the following calendar year or the date of the initiation of cloud subscription payments, whichever is later.
No Refunds
There shall be no refunds of any fees paid, including software license fees or pre-paid maintenance fees, as a result of this termination.
Gartner's Error in Their Analysis and The Implications for S/4HANA Cloud
Gartner has the following to say regarding the extension policy.
Who Should Consider the Extension Policies?
Any existing SAP customer with unused, perpetual licenses that are shelfware (see Note 1) who is moving to SAP Cloud or any licensed solution offering should make use of the Extension policy. Reallocate support fees where possible as part of the S/4HANA migration.
This is a shallow analysis.
Gartner leaves it undiscussed if the software that is "extended to" is even a good fit for the company's requirements or is sufficiently mature.
Due to functionality footprint issues, Gartner also misses that excessively few companies can use S/4HANA Cloud. Most companies cannot use S/4HANA Cloud because its footprint is much smaller than ECC.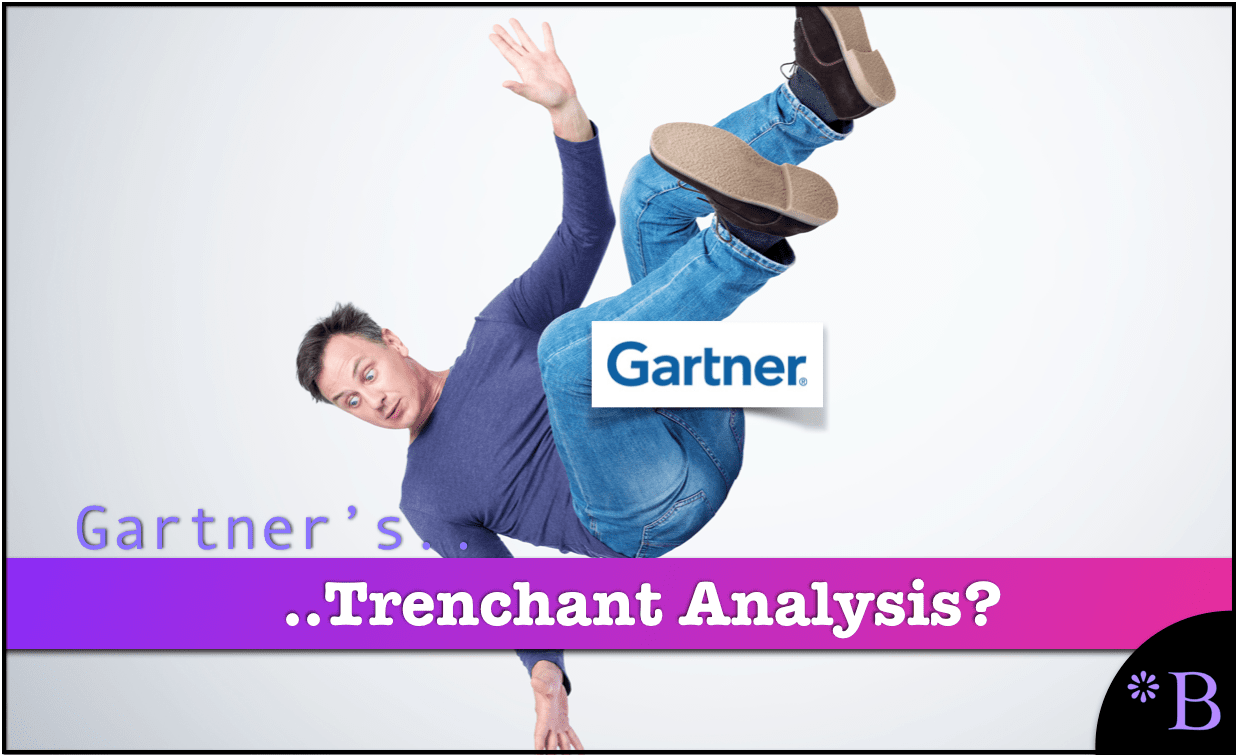 Gartner's analysis is typically designed for low-sophistication readers, but in their analysis of the SAP Extension program, Gartner has fallen, and they can't get up. Gartner needs to do a better job of hiding that they serve as a mouthpiece for SAP, and it is simply too easy to skewer them when they don't attempt to look like they are providing independent analysis. Regardless of how much Gartner sells out their advice to the highest bidder, they continue to be amazingly successful and sell financially biased material written by people who never actually touch the software they write about. 
How Are Common Successful S/4HANA Migrations?
The issue is that few customers are moving to the SAP Cloud. And few companies are moving to S/4HANA, and even fewer to S/4HANA Cloud.
The contract conversion allows a one-time reallocation of a customer's entire existing SAP license estate to a new S/4HANA purchase. Unlike a product conversion, the Contract Conversion Program is not product-specific and provides credit on an entire license investment to date. Using this option, SAP and the customer terminate all existing contracts, appendices and order forms, and execute an entirely new contract based on the S/4HANA license structure. – Gartner
There are at least two problems with this.
S/4HANA's Maturity: As we have covered in great detail in articles like Why Did SAP Fake S/4HANA Maturity so Aggressively? Why Do SAP S/4HANA Customers Have to Sign NDA? S/4HANA is still not ready to be implemented. It probably has the highest failure rate of any significant ERP application, with a new failure coming to light every few weeks. Again, none of the product understanding is worked into this analysis, making Gartner look like they merely repeat SAP's marketing talking points.
Contract Degradation: New SAP contracts are worse for customers than older contracts. For example, newer SAP contracts have more clauses around indirect access. Therefore, each new agreement that is signed imposes new liabilities on the customers versus the older contracts. This is one reason SAP wants customers on "new paper." Gartner, of course, does nothing to warn its clients about this issue. This is the problem with getting advice around SAP from an entity that receives around $150 million from SAP, as we cover in the article How to View Gartner's Financial Bias in Favor of Large Vendors and Understanding The Brightwork Estimate of The Amount of Money Paid by SAP to Gartner Per Year. Gartner will not share items with clients they know could help them negotiate with SAP. Companies relying on Gartner without investigating their enormous conflicts of interest poorly verify reliable information sources.
Other Gartner materials state the following.
For perpetual licensing: Obtain detailed price list information and use it to quantify license needs and determine the level of discounting required to make a deal within ERP budget constraints. Existing customers should fully leverage conversion and extension policies when transitioning to preserve the value of existing SAP ERP investments.
That is typical Gartner doublespeak.
Incredibly, Gartner charged someone for that analysis!
Gartner clients might well ask the question.
Why are you charging us for this "analysis" if SAP already paid you to restate SAP's sales proposal to us?
Secondly, "preservation" is not always the goal and is not always feasible. This is an approach that promotes emphasizing the sunk cost of the investment. Some investments, such as into BusinessObjects (as discussed soon), don't have a future. The only question is when to migrate off of them. Converting the support contract for BusinessObjects to SAP Analytics Cloud is not preserving anything. It is merely a wrong decision that saddles the company with a substandard application at a high price.
Gartner's Function as SAP's Marketing Machine
It shows Gartner's compliance with SAP and is just another in a continual stream of evidence that Gartner is an unreliable source of SAP. Gartner is essentially providing false coverage of SAP's issues.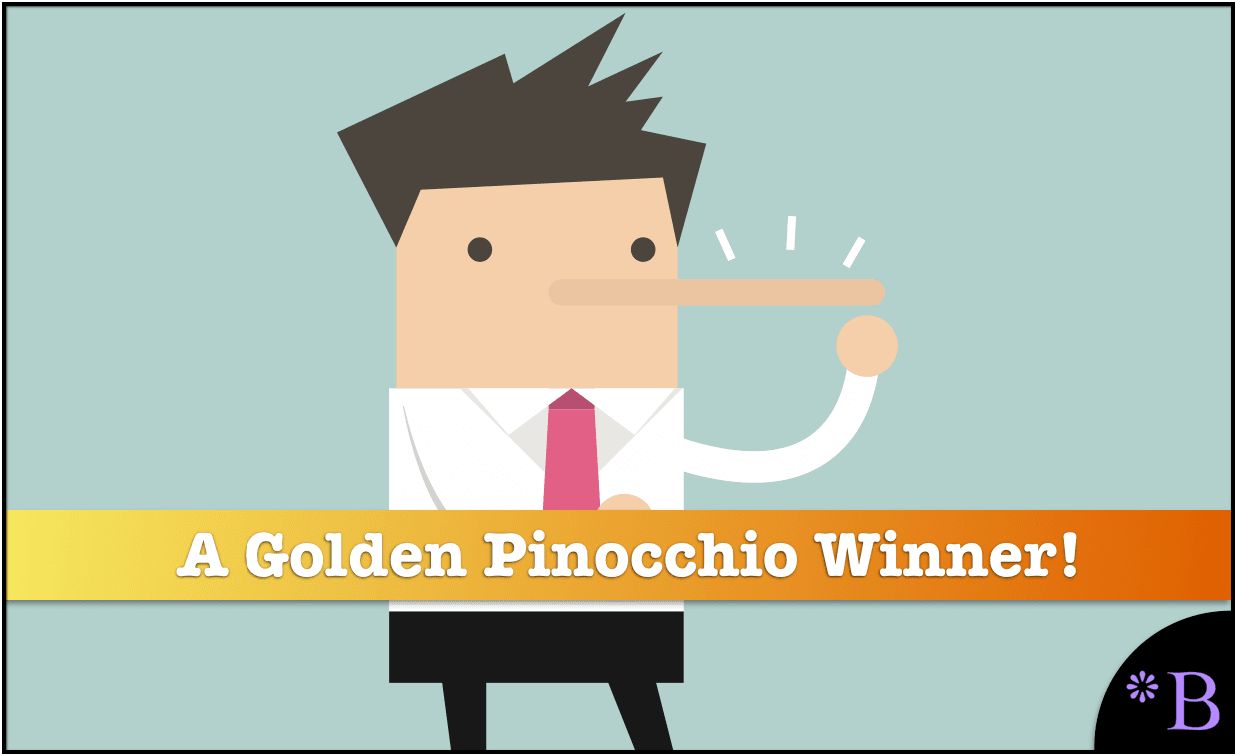 We can't believe that Gartner did not know that what they wrote about preserving investments was false and was included in their advice to appease SAP. For this reason, we award Gartner our Golden Pinocchio Award, an award only given for the most outrageous lies. 
How is the Credit Recognized?
However, SAP will not register this conversation as sales but as quota reductions.
SAP partners did not know that salespeople were getting compted on the entire maintenance base, not just the delta, as one would assume. This has begun as SAP salespeople can go directly to the partner-customer ground. They "leaked" this into the partner community early Q4 to ensure they could later say that they (SAP) gave everyone fair notice.
The rate at which SAP recognizes customer credit is either 1.4x, 1.75x, or 2.33x, depending on the term commitment. The same goes for SAP salespeople, not just for the delta (the pure cloud sell) but for the entire base.
Introducing A Program to Customers Based on False Assumptions
SAP makes the following assertion from the document Sales Play: Business Technology Platform – Modern Analytics from November 2019.
SAP has the largest BI install base of the industry, with thousands of active customers and most on-premise customers have successful deployments. SAP Analytics Cloud has an attractive vision: ONE SIMPLE CLOUD with smart features, integration with live SAP data and applications. Commercial incentives (Cloud Extension Policy) make it financially attractive to adopt SAP Analytics Cloud and stay with SAP rather than competitive tools. Customers can reduce their number of on-premise users, or exchange shelf ware and get started with SAP Analytics Cloud users. BI on-premise customers are slow moving and diverse, this is why we have a BI 4.3 release with Hybrid features to keep customers happy until they are ready or able to move their users to SAP Analytics Cloud. SAP Analytics Cloud Enterprise Readiness contributes to the modernization of analytics as part of the SAP Intelligent Enterprise realization.
SAP Analytics Cloud was recently introduced and is not ready to be used much. However, with this program, SAP will pretend to migrate customers to SAP Analytics Cloud.
Customers can accelerate adoption of Cloud Analytics to support Modern Analytics while continuing with proven, robust on prem BI. They can benefit from the innovations and simplification of the cloud by leveraging hybrid combinations of the right fit for the right use case as they continue to modernize.
But they won't be accelerating the adoption of Cloud Analytics, and it will accelerate the illusion of adopting Cloud Analytics.
The Increase in Revenues from the Cloud Extension Policy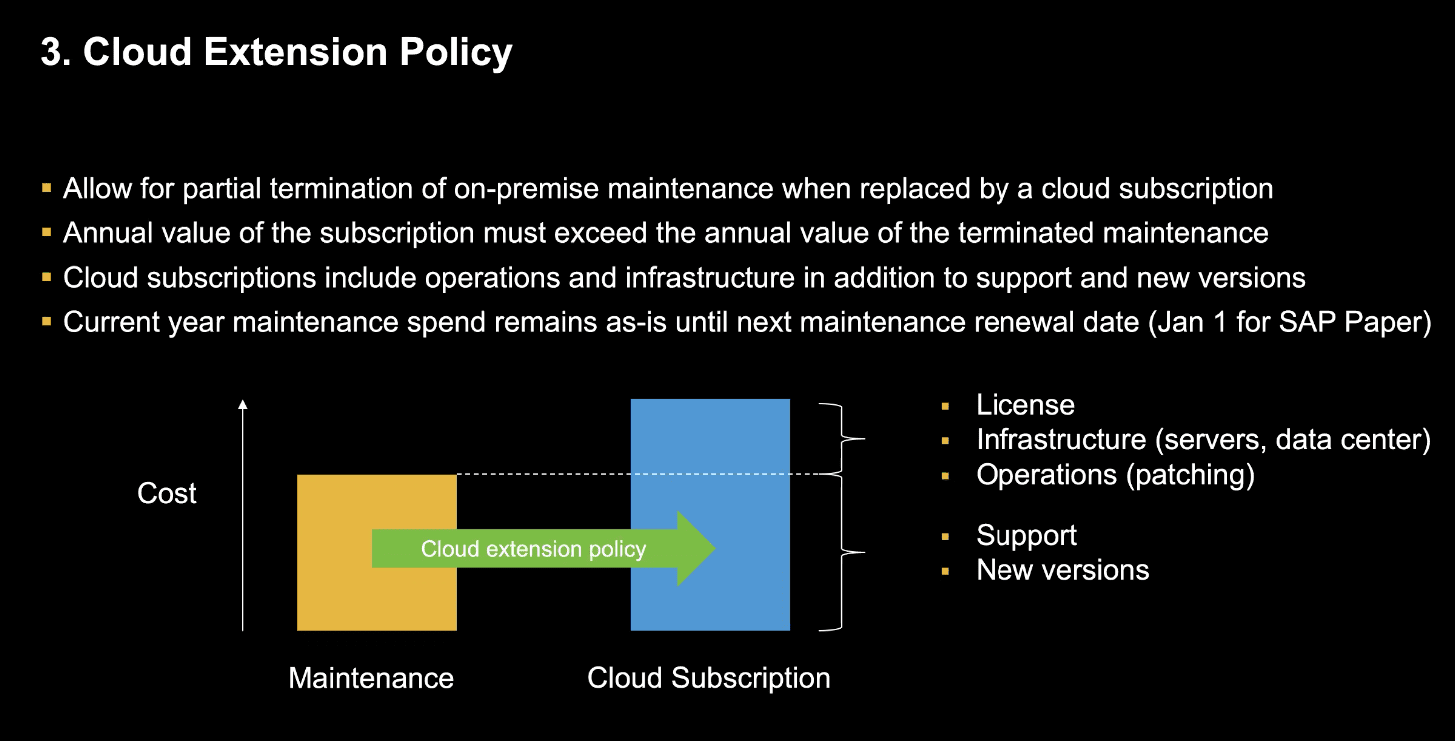 This shows the conversion of maintenance to cloud subscription. Notice the price goes up. And in most cases, the cloud version won't be used for years, but SAP will book enhanced revenues in the current period. This means that SAP is being paid for things their customers are not using. However, as pointed out in the article How SAP is Now Strip Mining its Customers, SAP accounts already have a massive overhang of previously implemented applications but are little used. This program will further increase the percentage of unused applications on SAP accounts. Yes, the documentation by SAP frames this program as helping customers.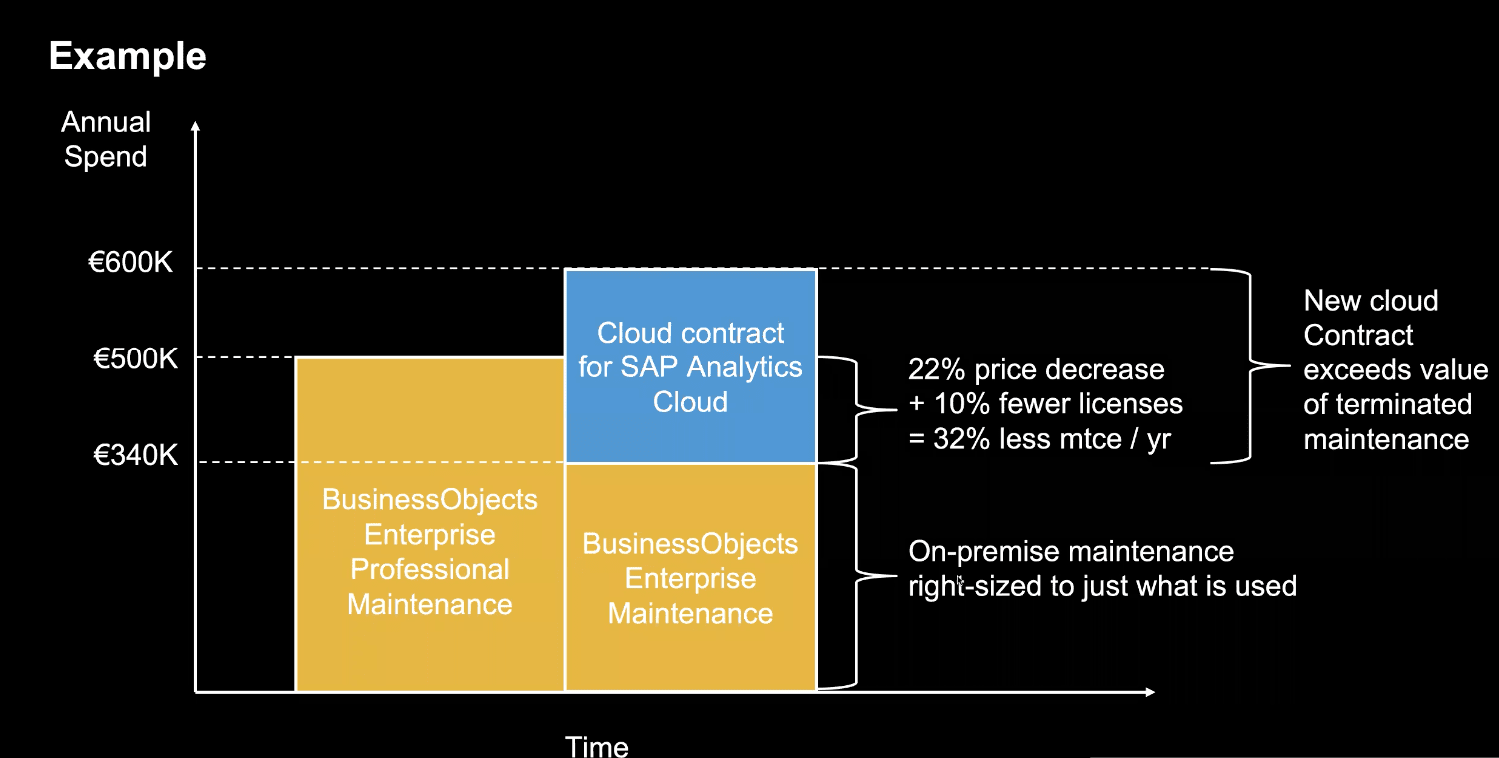 This graphic shows an example of moving from BusinessObjects on-premises to a combination of Enterprise Maintenance and SAP Analytics Cloud. This pushes SAP Analytics Cloud into the account, but it has nothing to do with whether SAP Analytics Cloud is a good fit for the report. Again, notice the price goes from 500,000 Euro to 600,000 Euro — and who knows when the SAP Analytics Cloud will be used. SAP Cloud Analytics is one of the weakest entries in the visualization space, but this program has nothing to do with application usage.
SAP sales will present this program without any analysis of the application.
The presumption will be that because the company has BusinessObjects (which is owned by SAP) and SAP has an application called SAP Analytics Cloud that has zero to do with BusinessObjects; SAP customers will naturally move to this new application.
And in fact, the following slide explains this logic in more detail.
The Flawed Logic of Upgrading to Incomplete or Weak SAP Cloud Solutions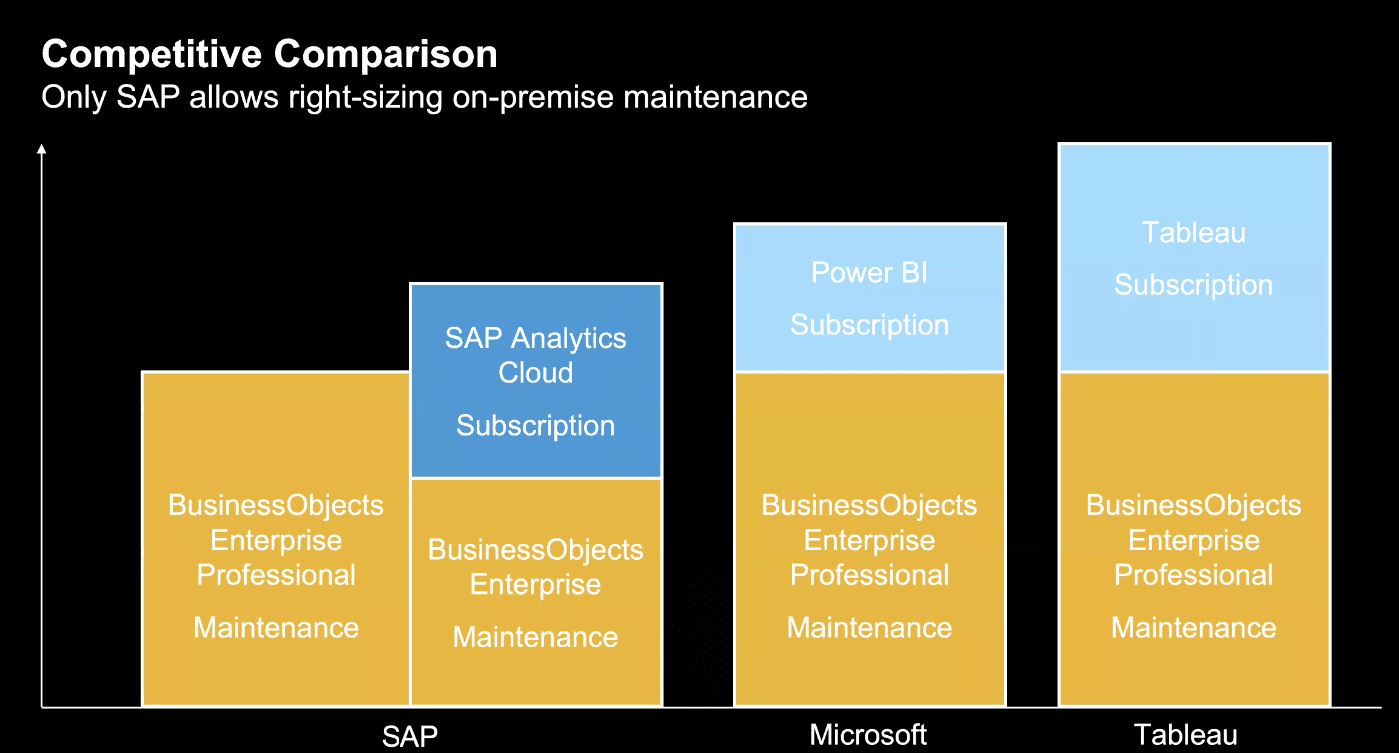 SAP argues in its video that only SAP can offer a visualization solution that substantially cuts the maintenance cost — giving them an advantage versus Power BI and Tableau.
This presentation is, first, an example of anti-competitive behavior. However, it again wholly ignores the capability differences between these applications. See our analysis of SAP Analytics Cloud in the article How Competitive an Option is SAP Analytics Cloud?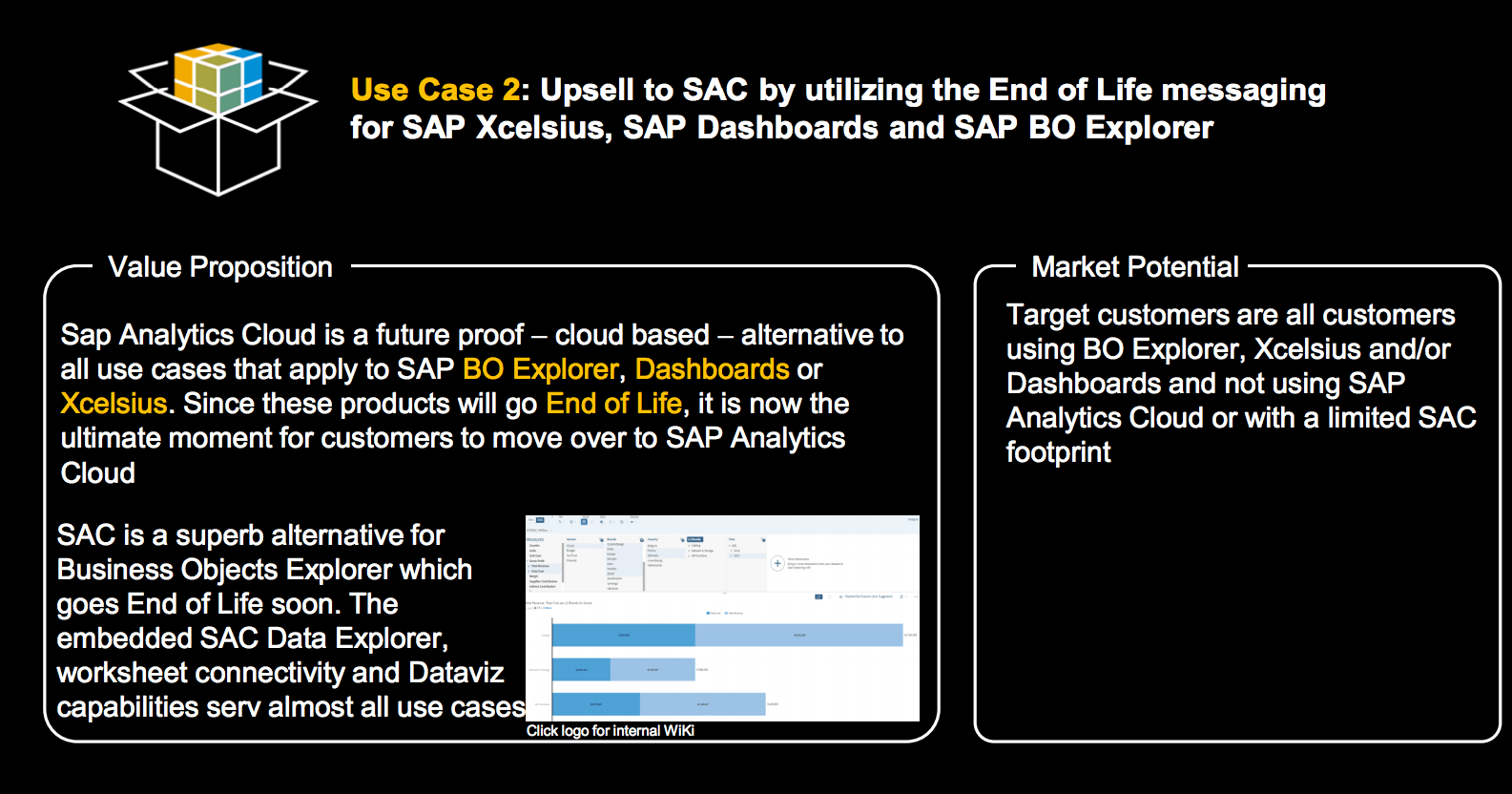 Notice again that SAP creates a burning platform by stating BO Explorer, Dashboards, or Xcelcisus are at the end of life.
SAP is not a superb alternative for the BusinessObjects Explorer. IT departments will push this application on business users without competitive software selection. Secondly, BusinessObjects has zero to do with SAP Analytics Cloud. Why would any company migrate to SAP Analytics Cloud without analyzing whether SAP Analytics Cloud is the best possible option? There is, of course, no discussion of this in any of the SAP documentation. SAP wants customers to migrate to SAP Analytics Cloud based on the logic of directly converting the support for BusinessObjects to SAP Analytics Cloud. However, there is a far better way to cut the costs of BusinessObjects. Drop the SAP support on BusinessObjects. Some companies know BusinessObjects well enough that they can self-support.
BusinessObjects is familiar with the SAP Analytics Cloud offered by the same vendor. There will be zero conversion of the many years of experience using BusinessObjects as they are entirely different applications.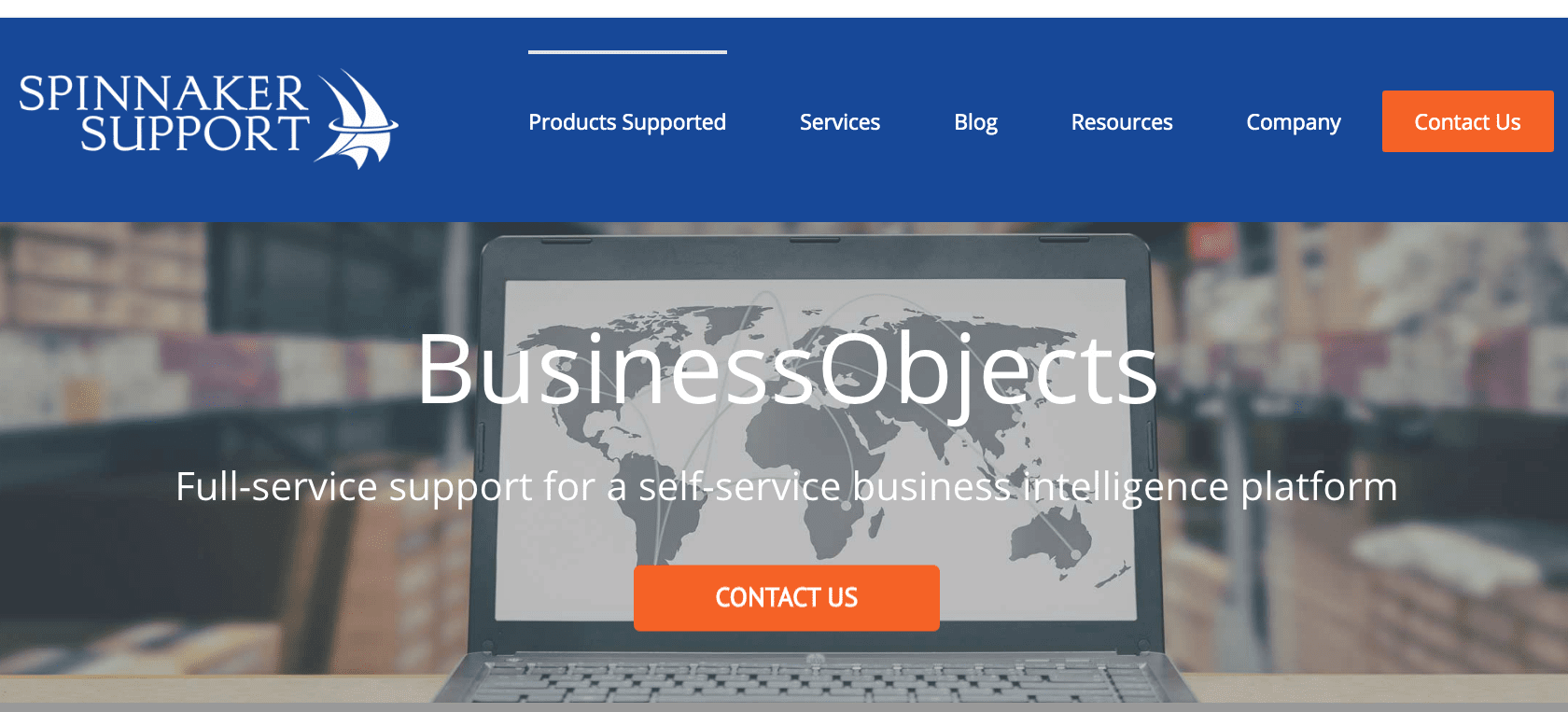 However, finding third-party support for BusinessObjects is a simple matter. In the following quotation, Spinnaker offers this — Notice Spinnaker's warning about forced upgrades. 
Forced vendor upgrades and "self-service" support models are pushing SAP users to seek and adopt alternative third-party business intelligence platform support options. Organizations turn to Spinnaker Support for SAP BusinessObjects support – stand-alone or packaged with other SAP offerings – to better align BusinessObjects maintenance fees with the level of support received. Our customers gain personalized, full stack SAP support services while reducing their costs by an average of 62%. As our BusinessObjects clients have experienced, there are numerous advantages gained by switching to Spinnaker Support.
This is what Spinnaker warns about — a scam-forced upgrade designed to falsify cloud revenues for SAP while removing the options for the customer.
Another option is.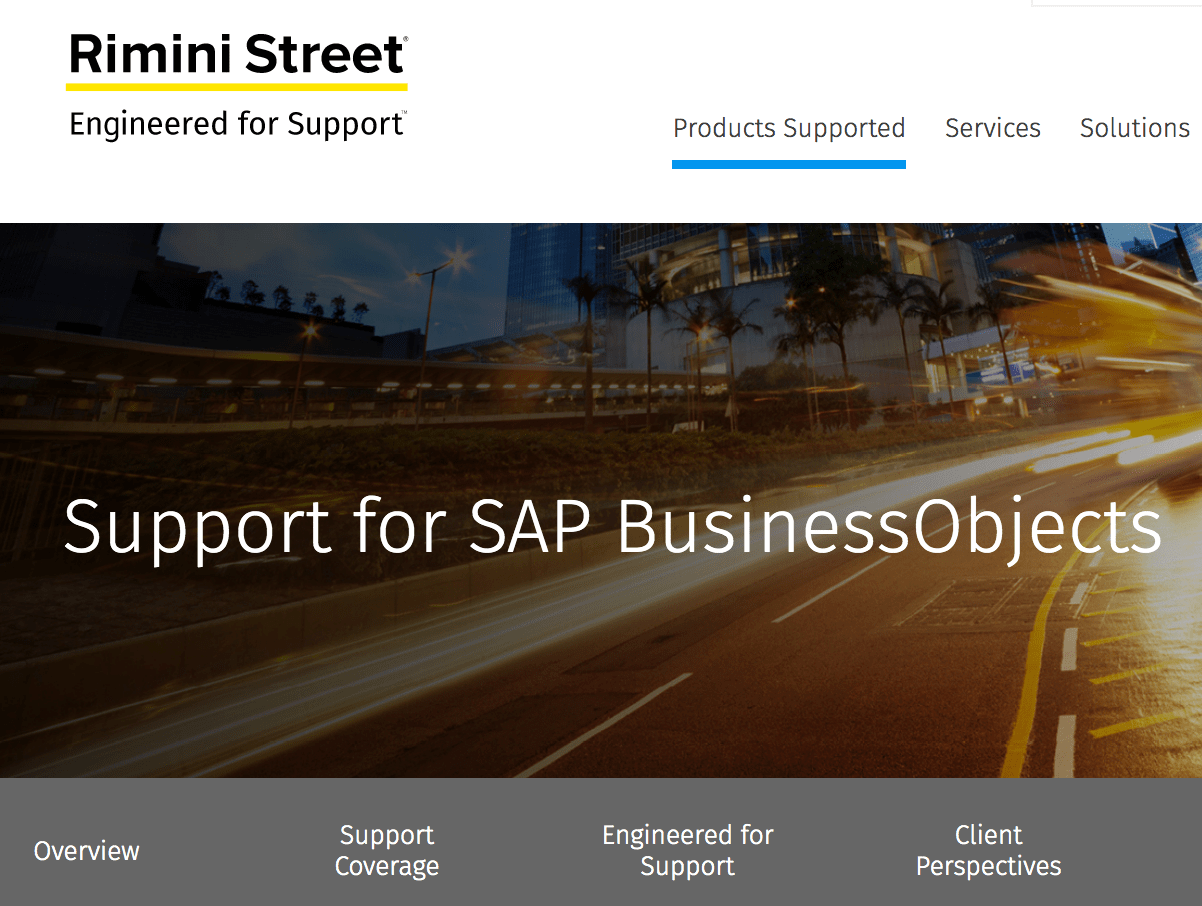 This is what Rimini Street states that it supports for BusinessObjects. 
BusinessObjects Platform

BusinessObjects Analysis for OLAP

BusinessObjects Dashboards (formerly Xcelsius)

BusinessObjects Explorer

BusinessObjects Web Intelligence

SAP Crystal Reports
A great way to respond to SAP's forced to upgrade and threats is to cancel support on BusinessObjects and then find the third-party support of one's choosing.
*Brightwork Research & Analysis has no financial relationship with either Spinnaker or Rimini Street. There are likely other BusinessObjects support companies that may be an even better fit for companies needs.
Therefore, it is probably a good time in the future to move off of BusinessObjects to leverage all of the new capabilities offered in cloud analytics and cloud data warehousing. However, the migration can occur on the company's schedule by getting third-party support and canceling SAP support. As we will cover further, one can bring up AWS services incrementally at a low cost, and the money saved in SAP support will quickly pay for the AWS testing.
More Specifics on the Program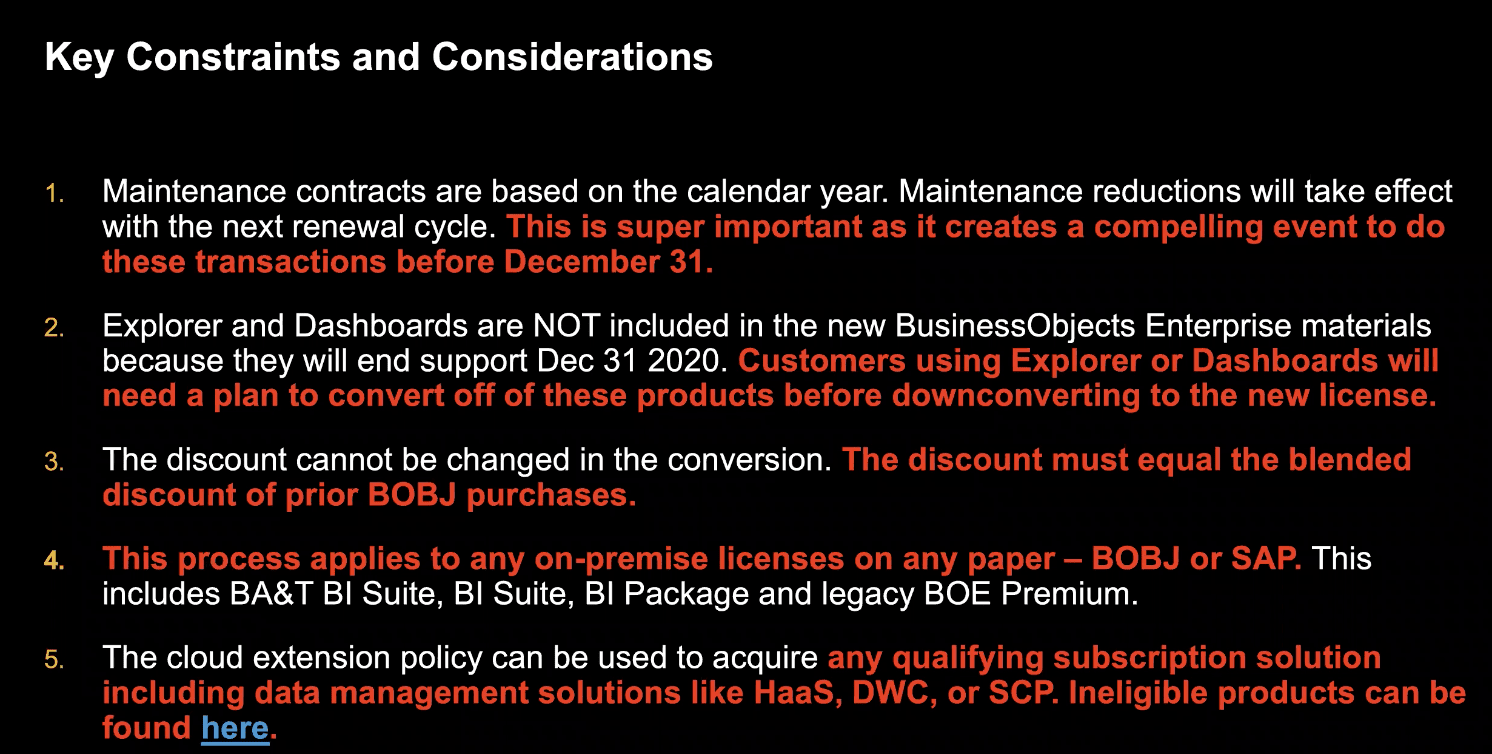 Just some more details on the program.
The Increased
Waste

That Will be Caused at SAP Customers Because of This Program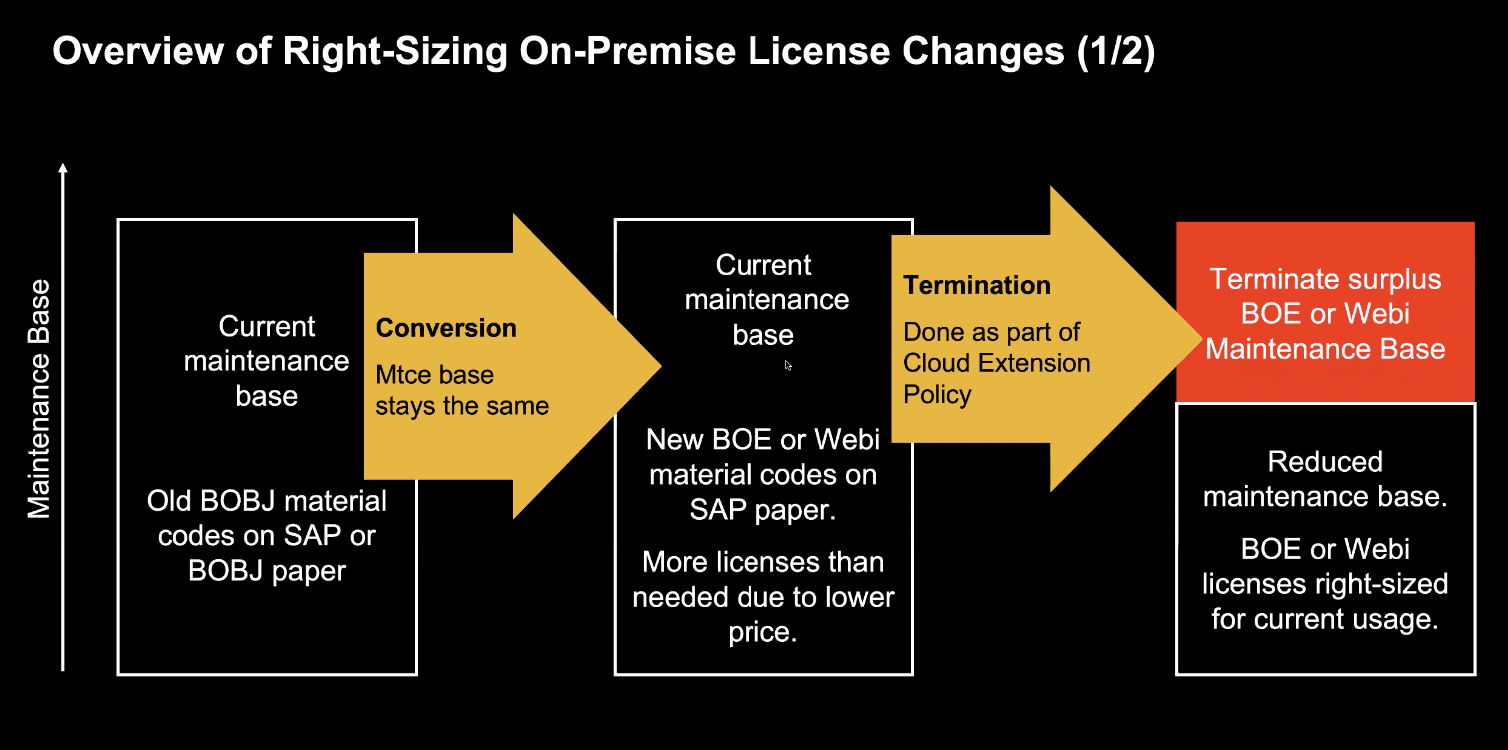 SAP uses the term "right-sizing" for its program. Yes, the maintenance base is reduced, but the overall costs (as shown in the previous slide) are higher. The customer ends up with an application they will not use in the short term and may not apply for a long time. 
This program has nothing to do with "helping" customers but allows SAP to manipulate Wall Street's cloud sales. Upon listening to Carol Clarke of SAP, she was utterly deluded about the solution. It is the case that SAP sales leadership has no idea what the truth is about SAP's applications. Carol Clarke thinks SAP BI is beneficial for customers when SAP BI is an inefficient data warehouse, which we cover in the article The Amazing Disappearing BI Reports and BW as a Roach. BusinessObjects is now a dated application that SAP has done little to upgrade, as we cover in the article The Problems with SAP's Business Objects Acquisition.
SAP Data Warehouse/BI Installations are Highly Successful?
Yet Carol Clarke presents these applications as highly successful. SAP sales and sales leadership are deluded about how SAP applications are used. Iver van de Zand, or SAP proposed in a sales leadership webinar, thinks they can compete with Tableau when SAP Analytics Cloud is nowhere near competitive.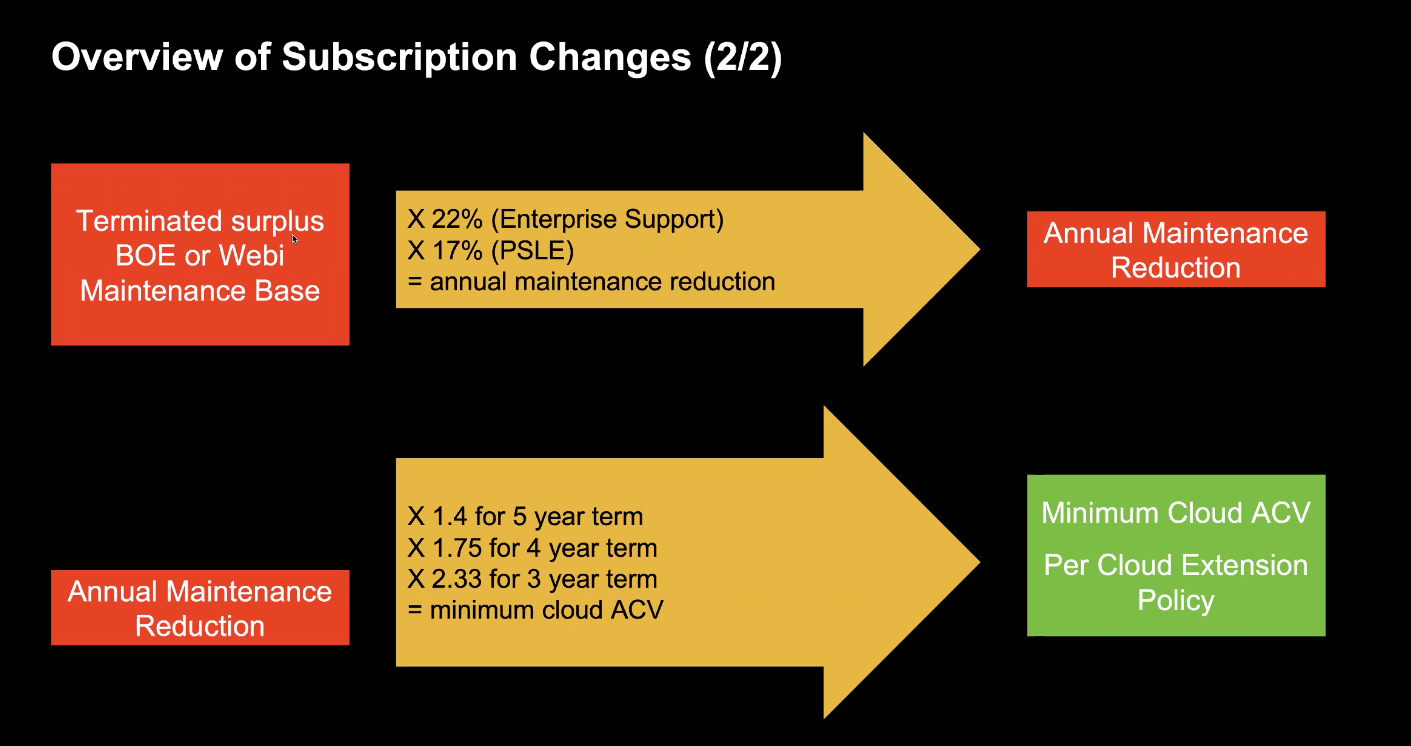 Here the annual maintenance reduction is shown per the years the cloud contract is signed. But of course, one will still use support. So this is just transferring the license to the cloud subscription column.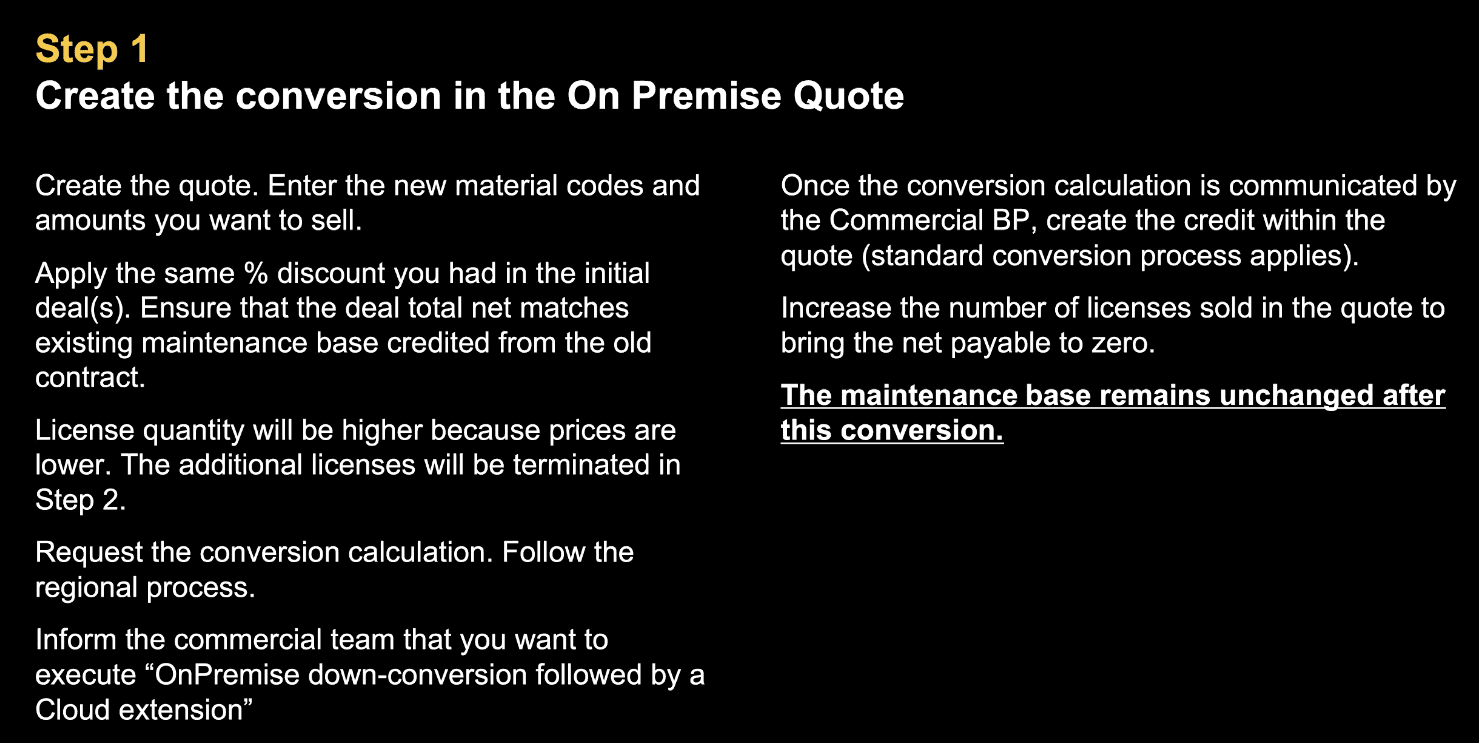 This shows the salesperson how to follow through on the process.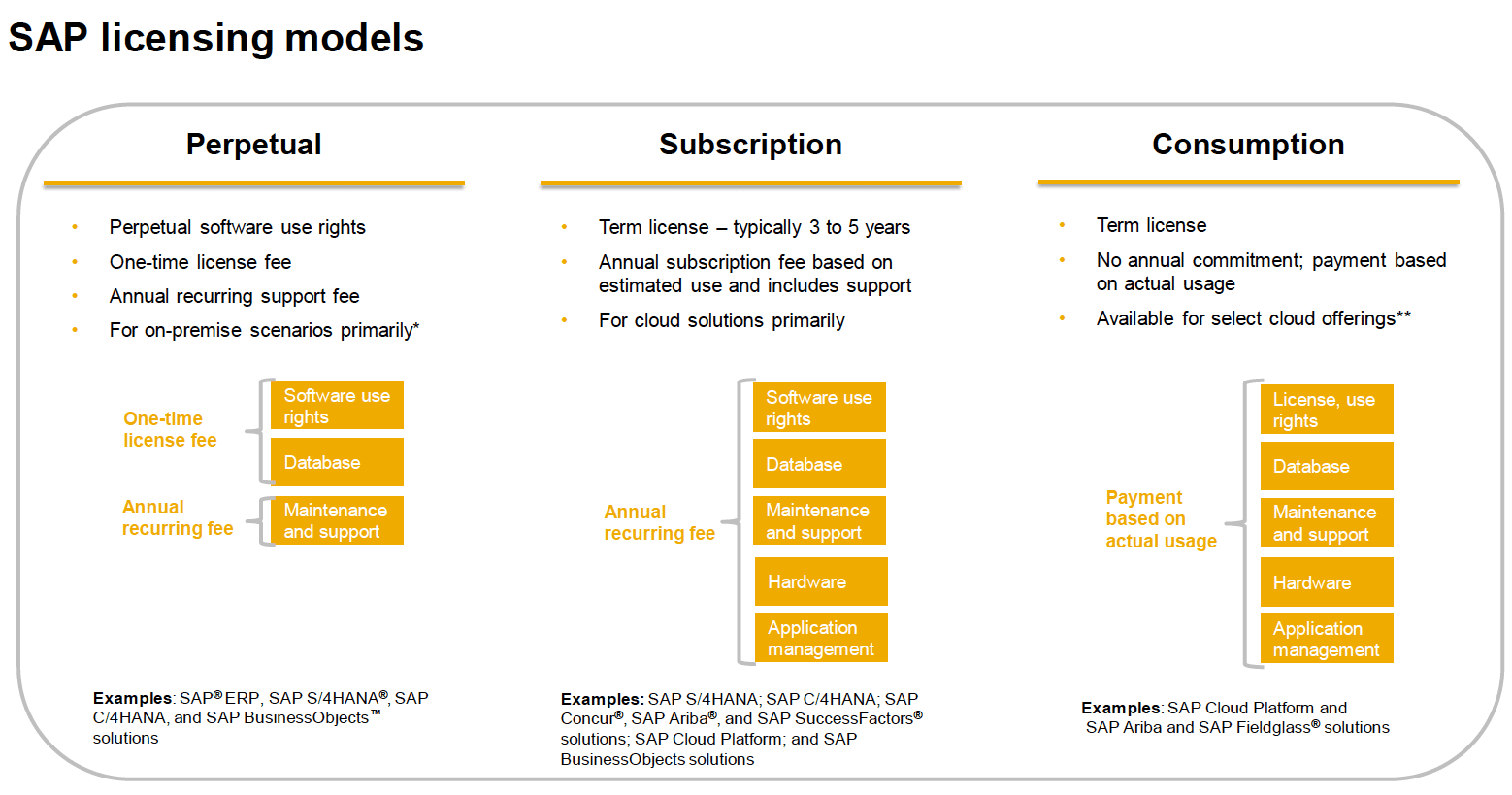 This shows the three different revenue models that SAP follows. The first is the most common one applied, and the second is the SaaS subscription — however, notice that the term again is far longer than what is typically considered the cloud. The final one is by transactions, but only a few solutions, with Ariba being the most prominent.  
FAQs on the Program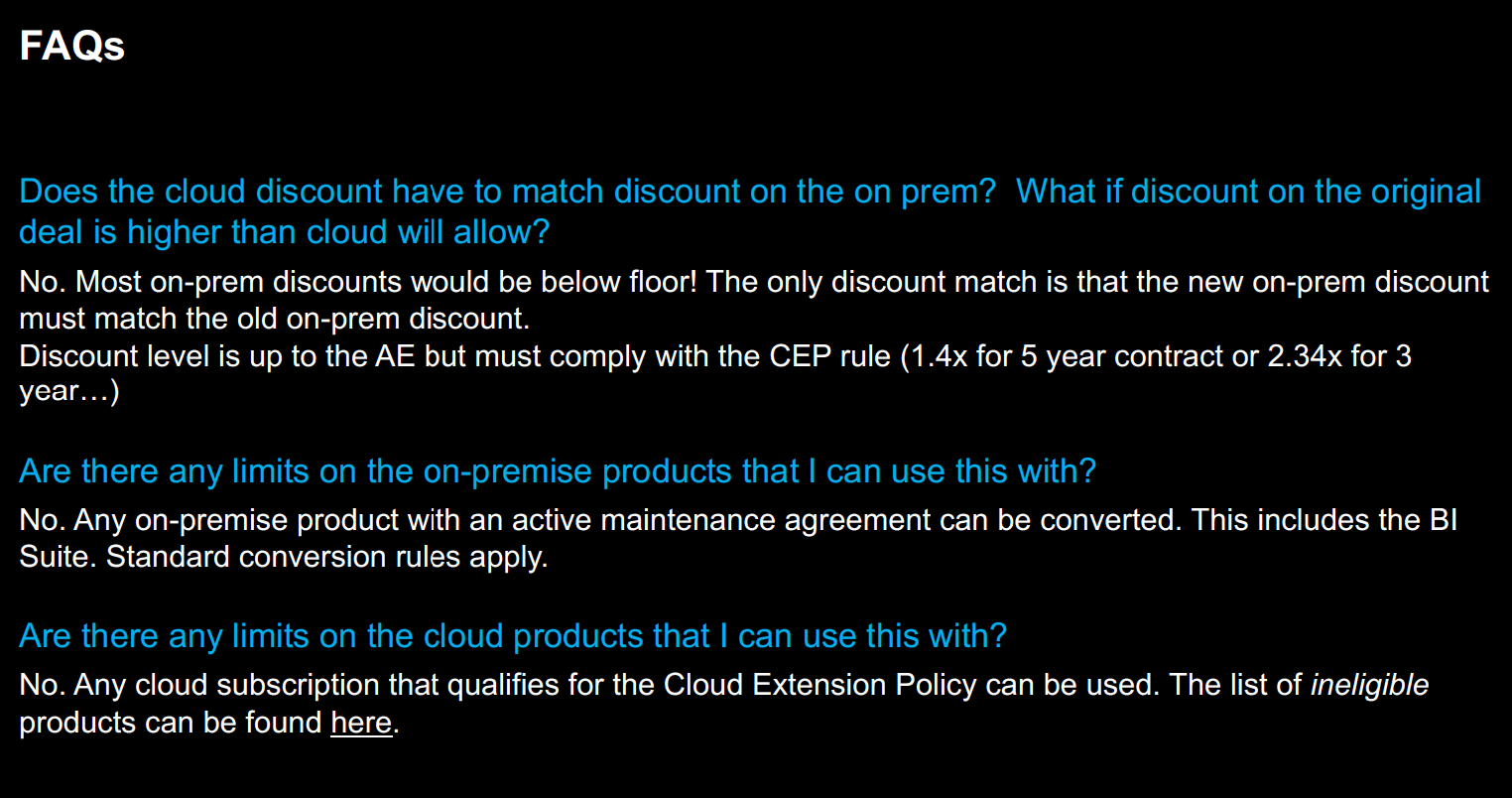 These are to advise SAP salespeople about their typical questions regarding the program. Notice that one of the questions is whether the program is "approved" by revenue recognition. Why would this need to be stated? The reason is that the program does not sound "kosher." So this is to assure salespeople that SAP's accounting has reviewed it. 
Is This All Legal?
The legality of this is dubious because, on their yearly fillings, they omit that these "sales" are nothing but paper signatures and don't mention that enterprises worldwide have on-a-click burned assets without knowing about it.
Conclusion
The intent is clear.
SAP intends to push its customers to the cloud…on paper so that it can report enormous cloud growth to Wall Street. This is why I chuckle when SAP sales reps reach out to me and tell me they are "helping customers." You can't "help" your customers if you work for SAP management to mislead its customers. SAP sales reps are a tool for doing this. "Help" does not seem like the correct verb.
Q4 of 2019 will show (we predict) some of the highest growth of cloud ever in SAP's history. SAP will then present this as an entirely holistic cloud demand — evidence that SAP's cloud strategy is a stunning success.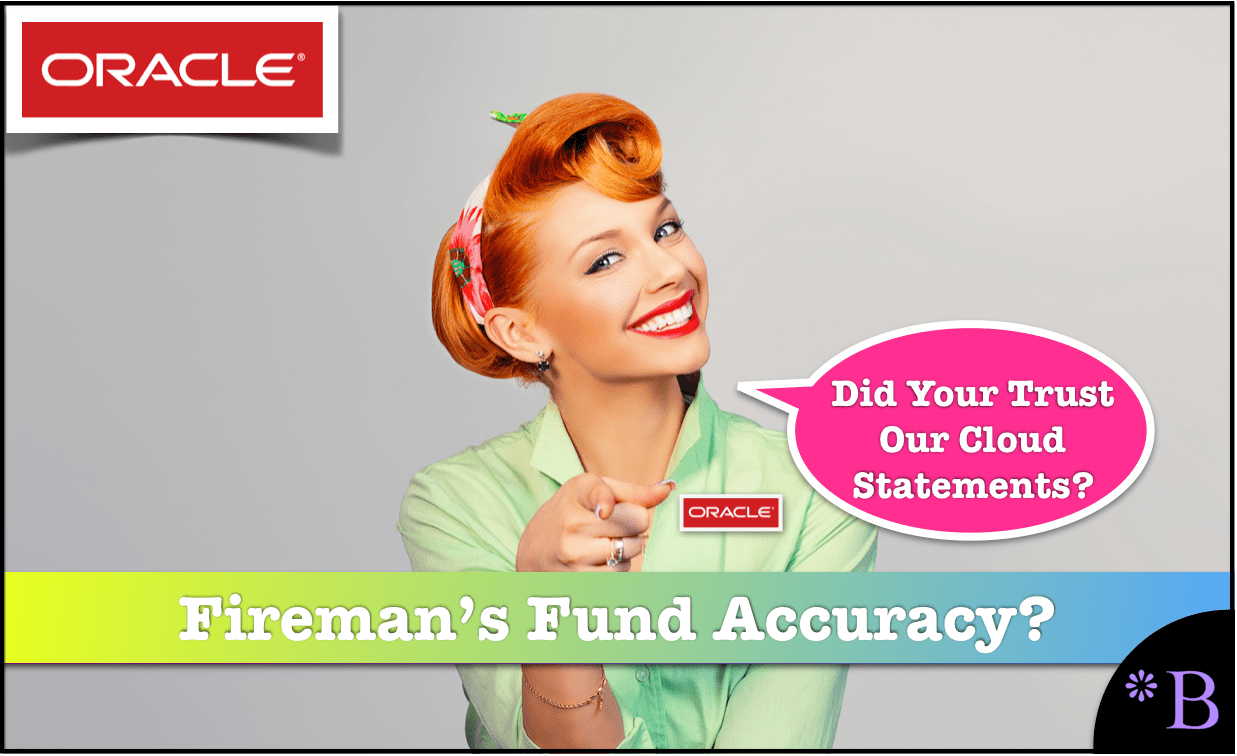 This is the exact type of behavior that led the Fireman's Fund to sue Oracle, as we covered in the article Oracle Sued for Making False Claims About Cloud Growth.
The Problem with the Support Assumption
SAP charges 22% for maintenance, which supposedly goes for R&D, which benefits "loyal customers," as they say.
Instead of doing the work, we all do it in the real world, which is upselling or cross-selling based on merits. SAP pulls a trick out of Sun Tzu: if the other party is unwilling to negotiate because their current position is good enough, they attack that "good enough" by making it worse.
SAP might say something like the following:
Since Lumira has not gotten the funding for R&D as promised, and Explorer and Dashboards are EOL, your money has been redirected to other products you are not getting part of. If you don't want to continue (mind you, this is what they say, they have not been funding accordingly in the recent past, so this is a fact) to be by paying maintenance for products we don't care about, sign this paper.
In the real (non-SAP) world, customers would be offered a manufacturer's newest best product, even if it was not part of the original deal, and upsell it to the current customer base.
Why go through all the paperwork of partially terminating things? That's just another part of the bait to get customers' attention and force them to "go cloud," at least in their minds.
The customer who won't go this route and currently pay maintenance for their BOBJ licenses shouldn't be offered something in return because SAP has not used that money (care for R&D) for their benefit but SAP's benefit. Shouldn't SAP reduce any BOBJ BI customer's maintenance base because they have publicly accepted that the 22% will not return to those customers?
The Problem With Incentivizing Sales to Push the Conversion
This is taken from page 143 of SAP's annual report.
Typically, we either do not pay sales commissions for customer contract renewals (emphasis added) or such commissions are not commensurate with the commissions paid for new contracts.

Thus, the commissions paid for renewable new contracts also relate to expected renewals of these contracts. Consequently, we amortize sales commissions paid for new customer contracts on a straight-line basis over the expected contract life including probable contract renewals.

Judgment is required in estimating these contract lives. In exercising this judgment, we consider our respective renewal history adjusted for indications that the renewal history is not fully indicative of future renewals. The amortization periods range from 18 months to eight years depending on the type of offering. Amortization of the capitalized costs of obtaining customer contracts is classified as sales and marketing expense. – SAP Integrated Report
This means that salespeople, who usually are not paid for the support revenues — are now being incentivized by sales to "convert" the support contract (for which they cannot be compensated) to cloud subscriptions, for which they can be paid. This means that salespeople are incentivized to do something wrong for their customers — and this is to paint a misleading cloud picture for Wall Street — and get the stock price up, and then get bigger payouts to the leadership at SAP.
This program is stated as beneficial for customers, but it is abysmal for customers.
We recommend not engaging in this program and not listening to Gartner on any topic related to how to purchase from SAP.