How The US Covid Treatment Protocol Maximized Hospital Admissions and Deaths
Executive Summary
The US NIH developed a deadly covid treatment protocol.
This article explains how this treatment protocol is terrible for patients.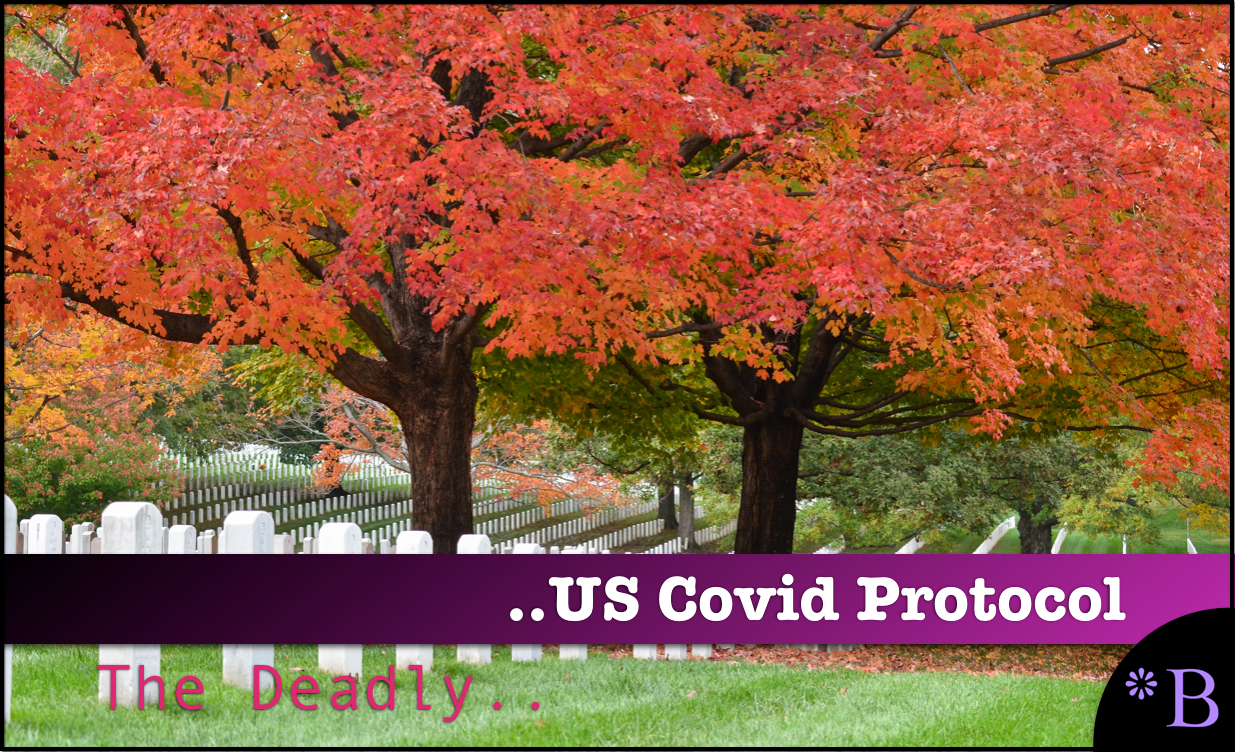 Introduction
This article explains the US covid treatment protocol that has come from the NIH and the CDC, which US hospitals are not allowed to question, and which does not improve the health of covid patients.
Keys To Understanding The US Covid Death Rate
There are several keys to understanding the problems with the official US count of the covid death rate. One of these was the deadly drug called Remdesivir. We cover in the article How Gilead Brought Off the NIH's Support of Remdesivir, how the only reason this drug was approved was that Gilead Sciences paid off members of the NIH and FDA to obtain Emergency Use Authorization. Here are a few quotations regarding Remedesivir.
For Remdesivir, studies show that 71–75% of patients suffer an adverse effect, and the drug often had to be stopped after five to 10 days because of these effects, such as kidney and liver damage, and death," Citizen Journal writes.

"Remdesivir trials during the 2018 West African Ebola outbreak20 had to be discontinued because death rate exceeded 50%. Yet, in 2020, Anthony Fauci directed that Remdesivir was to be the drug hospitals use to treat COVID-19, even when the COVID clinical trials of Remdesivir showed similar adverse effects.  – Mercola
To see more on how Remdesiri leads to frequent death, see the article How The NIH And Hospitals Used Remdesivir To Quickly Kill Covid Patients.
The Deadly Covid Treatment Protocol Designed by the NIH
Now that we have covered Remdesivir, which is the title of this article which, is the covid treatment protocol.
Here is the protocol for treating covid by stage.
First Stage
Before a patient is hospitalized, there no treatment is recommended. There are many effective treatments for covid, but the NIH did not recommend any of these be used for some strange reason.
The impact of this treatment will be to maximize the number of patients that end up being admitted to the hospital for covid treatment.
Second Stage
After hospitalization, oxygen, Remdesivir, and Dexamethasone are recommended. Dexamethasone is an anti-inflammatory and, surprisingly, is off-patent—the WHO has the following to say about Dexamethasone.
Dexamethasone is off-patent and has been marketed in different formulations (e.g., tablets, liquid, solution for injection) for many years. It is generally available in most countries. There are several manufacturers of the product. One manufacturer has already been prequalified by WHO (Kern Pharma in Spain) while another is under assessment.

According to preliminary findings shared with WHO (and now available as a preprint), for patients on ventilators, the treatment was shown to reduce mortality by about one third, and for patients requiring only oxygen, mortality was cut by about one fifth.
When this protocol was selected, the WHO did not have published findings but worked off the preliminary conclusions. The problem with preliminary findings is that they tend not to match the findings when the study is published. Dr. Fauci has repeatedly used preliminary findings to obtain Emergency Use Authorization before anyone can review the actual studies.
Interested in More?
Would you like to get access to 100% independent medical information?
Third Stage
The third stage is a continued combination of oxygen and Remdesivir, and Dexamethasone. But here, high-flow oxygen is recommended.
Fourth Stage
The fourth stage is a combination of intubation, a ventilator, Remdesivir and Dexamethasone.
Before we get into the topic of ventilation, one might ask where monoclonal antibodies are in the covid treatment protocol. The FDA approved monoclonal antibodies for treating covid but have been essentially blocked from use. I will cover this topic further in the article.
Something that makes no sense about the covid protocol is that no anti-inflammatories are recommended before hospitalization. This is an important topic covered in the article How the NIH Maximizes Hospitalizations by Not Recommending Anti-Inflammatories.
The Problem With Ventilation
There is no doubt that even before the NIH covid protocol was developed that includes ventilation, far too many people were placed on ventilators. Ventilators must be considered an absolute last resort.
Observe the following quotes.
Researchers in Wuhan, for instance, reported that, of 37 critically ill Covid-19 patients who were put on mechanical ventilators, 30 died within a month. In a U.S. study of patients in Seattle, only one of the seven patients older than 70 who were put on a ventilator survived; just 36% of those younger than 70 did. And in a study published by JAMA on Monday, physicians in Italy reported that nearly 90% of 1,300 critically ill patients with Covid-19 were intubated and put on a ventilator; only 11% received noninvasive ventilation. One-quarter died in the ICU; 58% were still in the ICU, and 16% had been discharged.

Older patients who do survive risk permanent cognitive and respiratory damage from being on heavy sedation for many days if not weeks and from the intubation, Gillick said. – StatNews
And this quote.
Most coronavirus patients who end up on ventilators go on to die, according to several small studies from the U.S., China and Europe.

And many of the patients who continue to live can't be taken off the mechanical breathing machines.

"It's very concerning to see how many patients who require ventilation do not make it out of the hospital," says Dr. Tiffany Osborn, a critical care specialist at Washington University in St. Louis who has been caring for coronavirus patients at Barnes-Jewish Hospital.

That concern is echoed by Negin Hajizadeh, a pulmonary critical care doctor at the Donald and Barbara Zucker School of Medicine at Hofstra/Northwell on Long Island, N.Y.

"We have had several patients between the hospitals across the Northwell system that have come off the breathing machine," Hajizadeh says. "But the vast majority are unable to."

The largest study so far to look at mortality among coronavirus patients on ventilators was done by the Intensive Care National Audit & Research Centre in London. It found that among 98 ventilated patients in the U.K., just 33 were discharged alive.

The numbers from a study of Wuhan, China, are even grimmer. Only 3 of 22 ventilated patients survived.

And a study of 18 ventilated patients in Washington state found that nine were still alive when the study ended, but only six had recovered enough to breathe on their own.

All the early research suggests that once coronavirus patients are placed on a ventilator, they will probably need to stay on it for weeks. And the longer patients remain on a breathing machine, the more likely they are to die.

"We're not sure how much help ventilators are going to be," Osborn says. "They may help keep somebody alive in the short term. We're not sure if it's going to help keep someone alive in the long term."