Is SAP Really a Cloud Provider or Just a Cloud Buyer?
Last Updated on February 28, 2021 by Shaun Snapp
Executive Summary
SAP presents itself as a cloud provider.
We evaluate whether this presentation matches how it operates its businesses.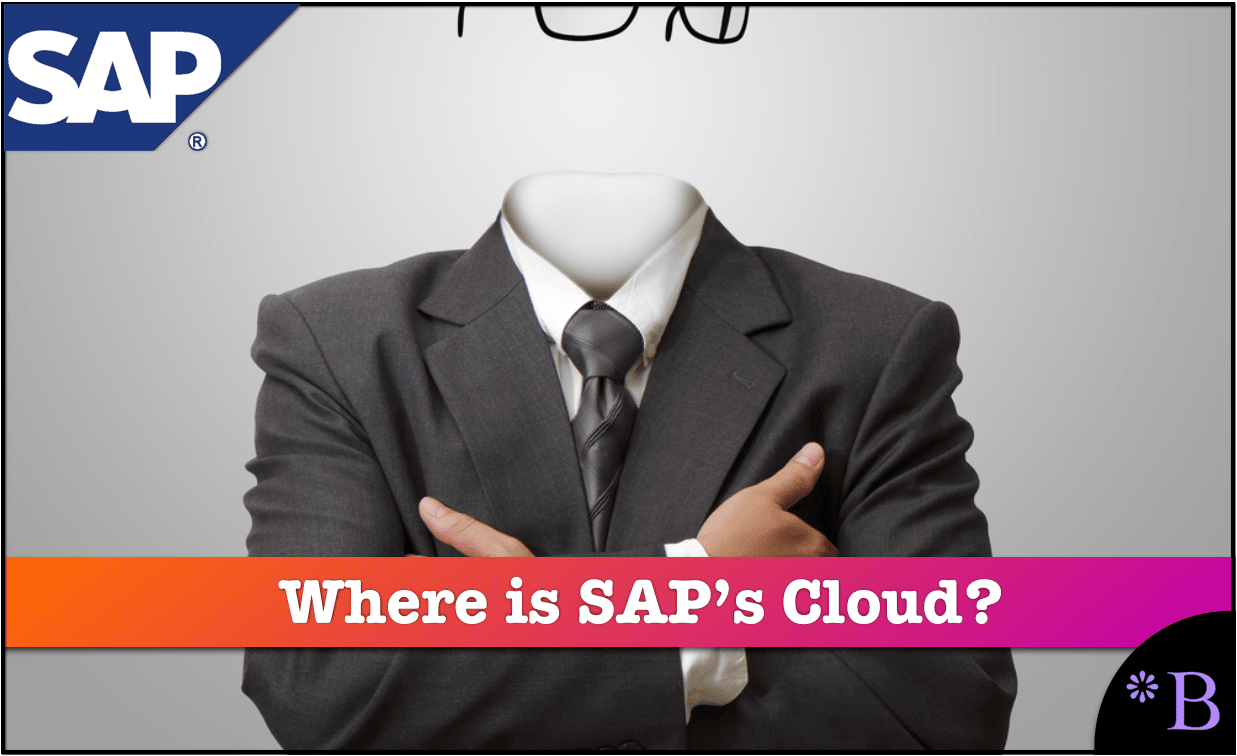 This article focuses on SAP, but the lessons cloud just as well be applied to Oracle. 
Introduction
This article began as a response to the following quotation from Vinnie Mirchandani.
Our References for This Article
If you want to see our references for this article and other related Brightwork articles, see this link.
Lack of Financial Bias Notice: We have not financial ties to SAP or any other entity mentioned in this article.
This is published by a research entity.
Second, no one paid for this article to be written, and it is not pretending to inform you while being rigged to sell you software or consulting services. Unlike nearly every other article you will find from Google on this topic, it has had no input from any company's marketing or sales department. 
The Quotation
Let us begin with the quotation from Vinnie Mirchandani.
"After two decades of cloud applications (NetSuite and Salesforce were born in late 1990s) if you look at a grid of applications by industry, by geography there is only 20% or soin the cloud. Most cloud apps are concentrated in HCM, CRM, accounting areas, not operational areas or industry functionality. Even there, if you look for support for Brazil or China or the Czech Republic your choices drop off very quickly. These industry and regional white spaces won't last forever. We are seeing startups target them, in industries like financial services, big banks are developing solutions to sell to others. The opportunities are limitless, but SaaS vendor investments have been grudging." – Vinnie Mirchandani
Not true in SAP's case.
But this gets to a basic question and a question that people tend to gloss over before jumping into discussions on SAP's cloud offerings and strategy. And that is…
Is SAP a Cloud Vendor?
We conclude that SAP is not a SaaS vendor. SAP is a SaaS buyer. Let us take a look at the evidence.
Buying SaaS Applications: Every single SaaS application SAP sells is acquired. Therefore, their choices are limited to SaaS companies they can buy since they don't internally develop any SaaS apps. In November of 2018, SAP spent $8 Billion on Qualtrics, which we covered in the article Does SAP's Acquisition of Qualtrics Make Any Sense? and another $2.2 Billion on Callidus in April 2018. And no one really has an excellent handle on how these applications complement what SAP offers. In our view, both acquisitions just added more noise to SAP's offering and increased their cost and management overhead. We analyzed C/4HANA (which Calladus has been rolled up into) and found the overall solution to be lost in space, as we covered in the article How Accurate Was Bluefin Solutions on C4HANA? Overall, none of these acquisitions looks like they are actually for SAP. Rather they are made to boost the stock price in the short term and to increase executive compensation. That is the major misinterpretation of many software acquisitions. Many of them are for the executives, not for the company.
The CEO said they want to focus on CRM and the front office. So SAP is investing in front office technologies when CRM is already saturated and dominated by Salesforce. Now SAP must integrate all their front office and SaaS apps with their back-office ERP to deliver the promised complete customer experience combining X data and O data.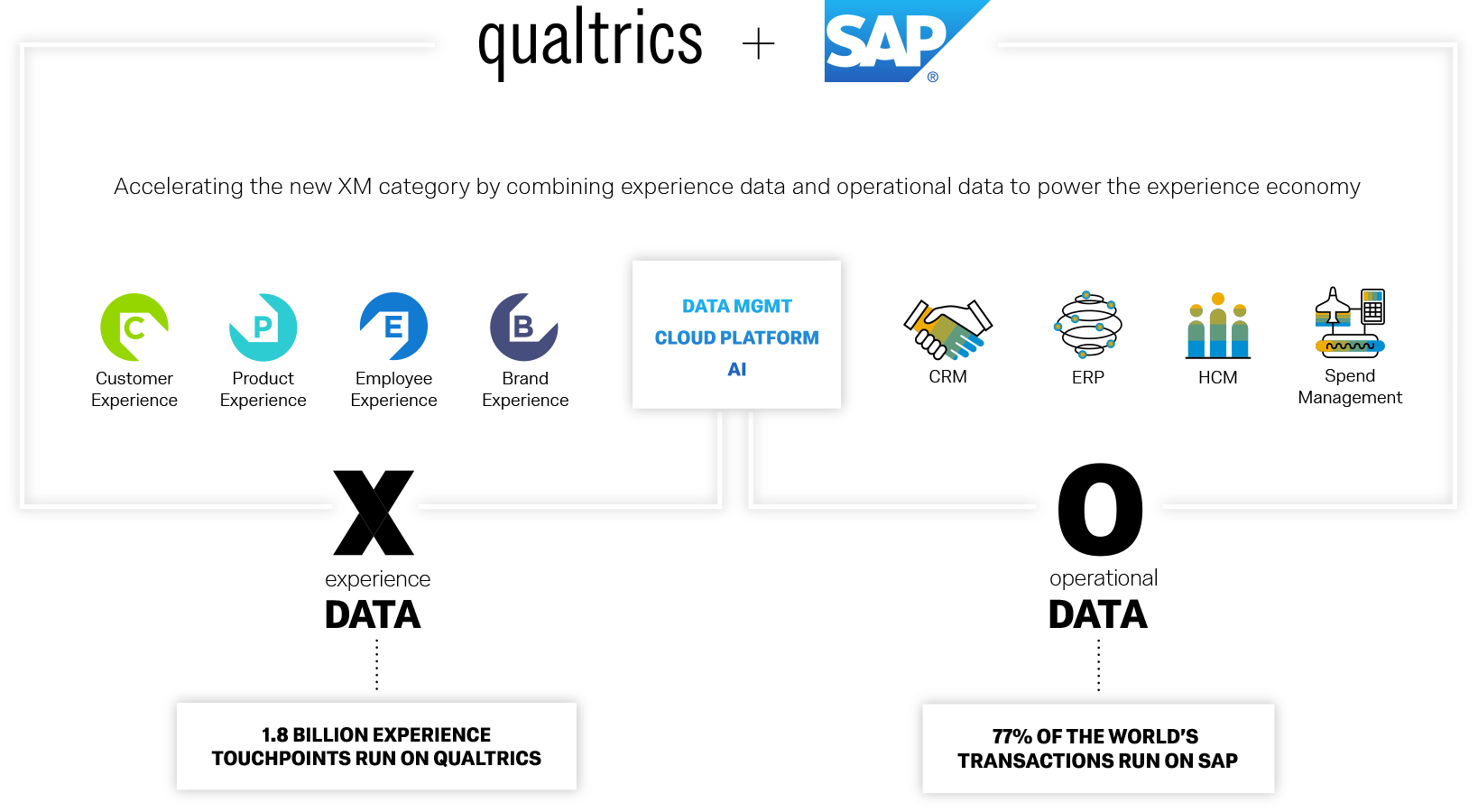 Remember X and O data? This was all the rage back in November when SAP acquired Qualtrics and trying to tell investors, customers, and the media what a great acquisition Qualtrics would be, but it will probably be an expired concept by the time you finish reading this sentence. SAP's marketing department may be on to a new slide. 
Where Are We Again?
SAP also invested in HANA, and now they are competing with Oracle and Microsoft as a databases company. They are competing in IaaS and PaaS with AWS, Azure, and GCP as a cloud company. And they are competing in AI and ML and RPA and and and… Don't forget that SAP also acquired SuccessFactors for $3.4 Billion, Ariba for $4.3 Billion, and Concur for $8.3 Billion.
That's a lot of investment. A lot of investment for applications that don't have much to do with SAP's primary offering. We found this quote of interest concerning SuccessFactors.
"In the SAP Universe, SuccessFactors is no longer really new, but integration in perfect ERP / ECC 6.0 (E2E) processes has not been successful to date."We are working on it and know exactly about our deficits," – E3
SAP acquired SuccessFactors in 2011 — how can we still be discussing integration deficits in 2019?
They even invested in Ticket-Web: A ticket system for sports and entertainment. This is because ticketing systems are……naturally connected to ERP?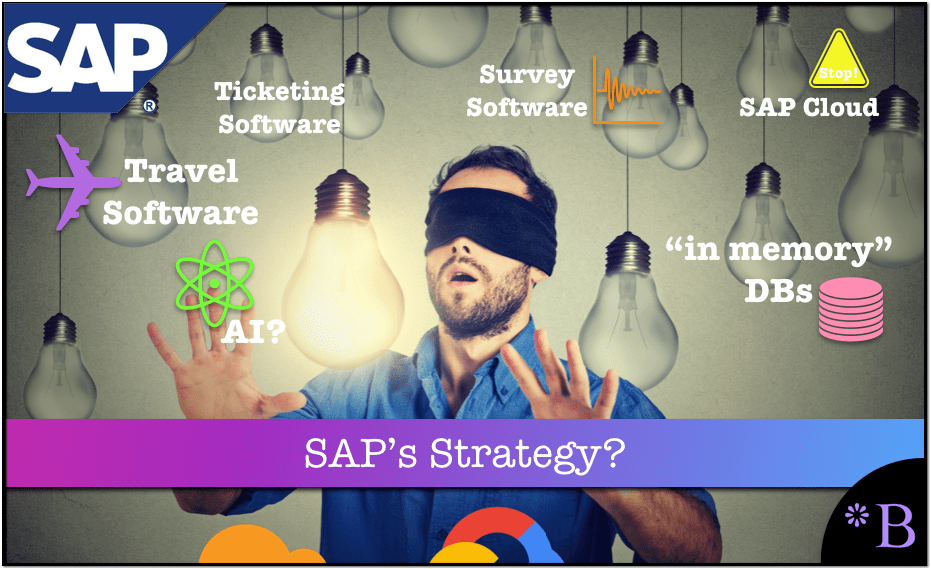 SAP has a strategy for all of these applications. Follow me on Twitter and be informed when we figure out what it is.
The Strategy is Everything
The one-stop shop for everything model, as proposed by SAP and so many SAP consulting firms?
How is IBM doing with this model?
SAP spent $10 Billion on Qualtrics and Callidus to go after the CRM market and integrate back-office ERP with front office apps and upgrade hundreds of thousands of ECC customers to S/4 by 2025 and become the best database in the world and the best cloud platform and the best AI and make the best vertical apps in specific industries to compete with HP in telecom and Bosch in IIOT.
And that is a lot of "ands."
However, Volkswagen Group and Amazon Web Services just announced they are developing the Volkswagen Industrial Cloud together.
Where was SAP when this happened?
What about the SAP Cloud that SAP has spent so much time promoting?
How likely is it that SAP pitched SAP Cloud to VW for this initiative and lost this opportunity to AWS (hint..very)
VW is a German company, and SAP is right around the corner, and they have a long-standing relationship. Why did VW reach out to far geographies when they can't see auto manufacturing opportunities inside Germany?
Conclusion
SAP poses as a cloud provider, but they really aren't one. They are a cloud buyer.
SAP feels they need to maintain the illusion of being a cloud provider because their cloud strategy for cloud services is to coerce (often through broadscale application discounts) customers to buy cloud services through them. This is so SAP can upcharge the actual cloud services providers, as we covered in How to Understand SAP's Cloud Upcharge on AWS Storage.
This is ultimately a short term strategy. But to pull it off, SAP will continue to pose as a cloud services provider, so this is what they will do. As with Oracle, there will be a lot of discussion around the cloud, but not much cloud.
As for SAP's SaaS acquisitions, none of them is important to SAP's strategy or long-term viability.