The Real Reason for Under Armour SAP's S/4HANA Problems
Executive Summary
Under Armour communicated the problems it has had with S/4HANA. However, the explanation by Under Armour in their earnings call was a "whitewash."
Bill McDermott, SAP's CEO, somehow sits on the board of directors of Under Armour.
How SAP consultants surface to defend waste at Under Armour.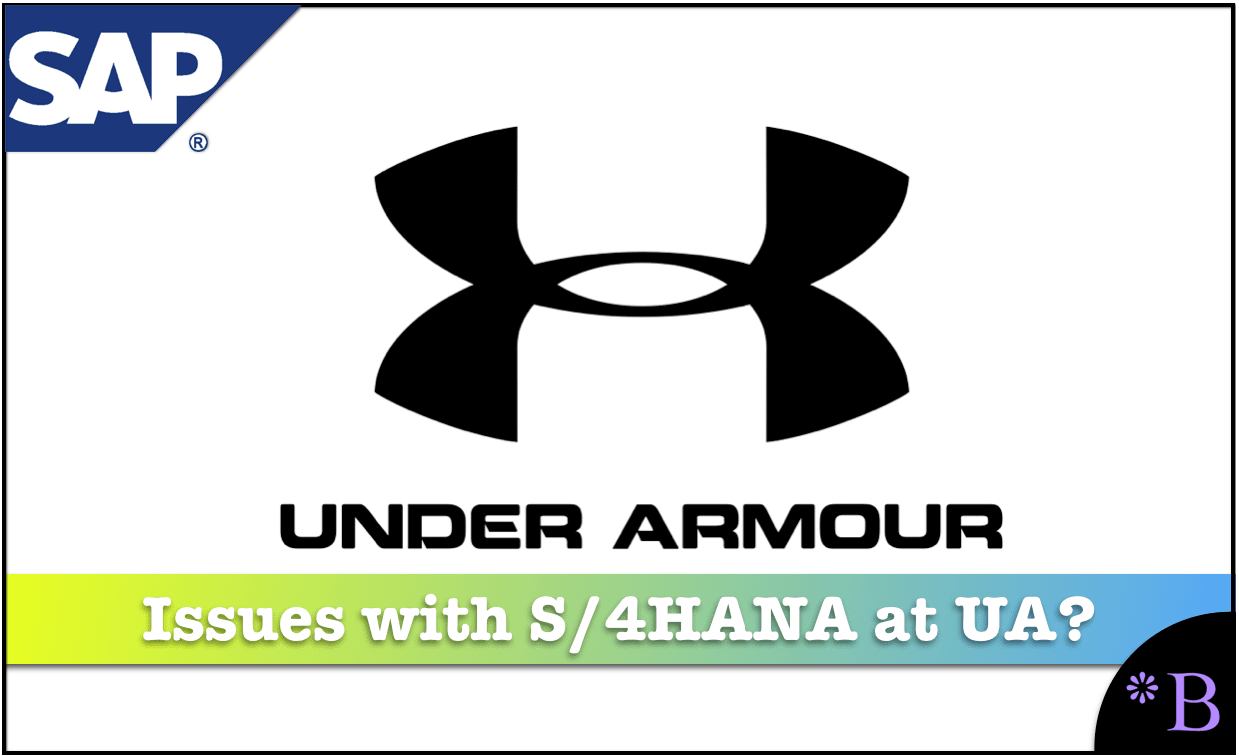 Introduction: The Problems with the Under Armour S/4HANA Implementation
Under Armour recently went public with problems in its implementation of S/4HANA.
Our References for This Article
If you want to see our references for this article and other related Brightwork articles, see this link.
Lack of Financial Bias Notice: We have no financial ties to SAP or any other entity mentioned in this article.
This is published by a research entity.
Second, no one paid for this article to be written, and it is not pretending to inform you while being rigged to sell you software or consulting services. Unlike nearly every other article you will find from Google on this topic, it has had no input from any company's marketing or sales department. 
The following was published in CFO.
"On Under Armour's third-quarter earnings call on October 31, Patrik Frisk, the company's president and chief operating officer, said the struggles with the July 1 launch of its integrated ERP business solution "negatively impacted" third-quarter results by causing disruptions in Under Armour's supply chain.

"During this system migration, we have encountered a number of change management issues impacting our workforce and manufacturing partners as they adapt to the new platform and processes," said Frisk. Those issues caused delayed shipments and loss of productivity, he added."
S/4HANA's Maturity Issues
So we have been pointing out the high-risk nature of S/4HANA for some time in numerous articles. We published the only independent study on S/4HANA implementations, which you can see at A Study into S/4HANA Implementations.
S/4HANA is still an immature application, and this makes it challenging to implement. Many parts of S/4HANA are not yet released, and many areas have been changed that customers relied upon.
SAP has dramatically exaggerated both S/4HANA's maturity and its value proposition to push up sales of both S/4HANA and HANA. So in this article, we will address the issue of S/4HANA and Under Armour and Under Armour and SAP.
Under Armour SAP's S/4HANA Future (Smooth Sailing?)
In the same article, Under Armour painted a positive future when it proposed that.
"Bergman emphasized that the system is now "operating well" and is "stable," but he did say that Under Armour is still working through "the change management and the learnings and the reporting." While those issues won't impact fourth-quarter earnings as much, Bergman said, "they won't be completely gone yet."
We doubt that will be the case.
Given what we know about the S/4HANA product, Under Armour is likely to continue to have problems. They are probably listening to their SAP consulting company and SAP on how things will get better. Furthermore, how much can Under Armour say?
We ask because if you check Under Armour's Board of Directors listing, you find the following:
This is odd. Why is Bill McDermott on the Board of Directors of Under Armour? 
Intelligent to Have Bill McDermott on the Board?
So let's review.
The CEO of SAP sits on the Board of Directors of Under Armour.
Under Armour is a major customer of SAP.
Did Bill have anything to do with Under Armour purchasing S/4HANA or any other SAP product? With Bill McDermott on the board, how open is Under Armour to non SAP solutions? Is there any bias that can be detected anywhere?
Maybe someone with a background in corporate governance can re-explain Boards of Directors to me, but ostensibly aren't they supposed to look out for the company's shareholders they sit on the board of?
If Bill McDermott is CEO of a significant supplier to Under Armour and also a Board Member with the ability to influence purchases of SAP, wouldn't that be considered a conflict of interest?
Also, how forthright was Bill McDermott as to the maturity issues with S/4HANA? Is Bill McDermott presently telling executives at Under Armour that everything will be fine with S/4HANA?
SAP Consultants Ready to Lie to Defend S/4HANA
The SAP market is chocked to the brim with SAP consultants who will make any excuse for S/4HANA, as long as they can bill hours for implementing S/4HANA.
Here is a perfect example of a comment on the CFO article on the UnderArmor SAP S/4HANA saga in CFO.
"Many companies struggle with smooth transition of their SAP systems to HANA because they fail to assess the HANA readiness of their systems. It is important for Organizations to engage with HANA providers in defining unique SAP HANA roadmap that would best suit their business processes giving a clarity on their system preparedness, time and cost involved. The project should cover a detailed Business Case, Measurable Objectives, Resource Plan, and Project Plan for leveraging SAP HANA and how HANA can impact your organization's ability to achieve short and long-term goals."
Is it clear enough?
Listen to the SAP defender….now you find yourself getting very sleepy.
Let us move to a visual aid.
A Helpful A Visual Aid
As you listen to the SAP surrogate that wants to protect his or her revenue stream, look into the center of this image. You should feel your arms and legs begin to get limp. Now repeat the following phrases.
The maturity of the application has nothing to do with any problems!
You have to have a good project plan and engage with HANA providers!
Issues with S/4HANA have nothing to do with the product!
After the SAP surrogate snaps his fingers, you should awake, with a warm feeling all over your body as to your future SAP investments.
How does this commenter know if these things were not present at Under Armor?
Also, does Under Armour lack a proper conduit into SAP? Bill McDermott sits on their Board of Directors. Did he not make sure that this angle was covered?
If this comment can be made about Under Armour, what does it say about SAP customers where Bill McDermott does not sit on their Board of Directors?
Is It Time to Bring in Michael Krigsman?
This explanation, some variation of which will be repeated by the SAP consulting Borg, is pure conjecture and shows a desire to change the reason for problems with Under Armor's implementation. In the political sphere, it would be called the Kelly Ann Conway pivot.
If the scrutiny gets more substantial, it may become time to bring in "the specialist." That is right, Michael Krigsman.
It's not time yet, but if Under Armour were to have more problems, then at that point, SAP will bring in Michael Krigsman. Michael Krigsman sometimes writes for CIO (a major recipient of SAP advertising) and pops up whenever there is a high-profile SAP failure. He will make statements about projects he has never been involved with and never actually analyzed that attempt to obscure any issues on the SAP part. This is covered in the article The Art of Blaming the Client When an SAP Project Goes South.
Activating Michael Krigsman After the Customer initiates the Lawsuit
Krigsman is particularly useful after a lawsuit is filed, primarily to muddy the water in the court of public opinion. Krigsman is the world's greatest expert on IT failures, except he will never actually find fault with a software vendor.
But why is it necessary to immediately move to how the product was implemented when we already know that S/4HANA is immature?
Finishing Off With an Inaccurate S/4HANA Quote
At the end of the CFO article, the following quotation is listed.
"According to SAP, it currently has 6,300 customers in 25 industries on S/4HANA."
That is highly misleading, and we have written quite a few articles about this very subject.
Six thousand three hundred companies hold a license for S/4HANA, but they are not customers in any real sense, and most of them either did not pay or paid very little for the license. We covered this in the article How SAP Controls Perceptions with Customer Numbers.
Roughly 1,000 customers have even attempted to implement S/4HANA, and the vast majority of those have not to lead to anything. Most of those implementations were most likely stopped.
CFO obtained these numbers from SAP, but they never verified if they were true. A simple Google search will bring up Brightwork Research & Analysis articles on the fallacious nature of S/4HANA numbers released by SAP, but perhaps CFO had a deadline and did not have time to check.
The Fake S/4HANA Customer and Implementation Numbers
This is covered in our research. Every quarter SAP misrepresents the number of S/4HANA customers and implementations to customers to analysts.
SAP published "case studies" are inaccurate and designed to promote sales. In independently verified public case studies with anonymous sources, we have found SAP's published information to be far off reality. 
Implementation Problems and Fake "Case Studies"
And there is another essential feature of UnderArmor and S/4HANA. Why do we even know about the problems at Under Armour? If you perform a Google search, you hear about how great Under Armour's digital transformation is going. Here is one representative quote:
"The data in the system also shows Under Armour that there is a walking trend happening in Australia right now. Could anyone at company headquarters in the United States predict that was going to happen? Doubtful. But now Under Armour can plan and react better. It can localize its marketing and get merchandizing and products to the right place at the right time.

The more Under Armour knows about its customer's fitness habits and health, the better it can serve them. "We are building, in partnership with SAP, something we call the single view of the consumer. This will truly tie together the fact that, if we know someone went on seven hikes last summer, they may want to look at our new hiking shoes," said Plank. Having that type of personalized information will open up many opportunities to improve the customer experience."
Wait…What is the Topic Again? S/4HANA or DP?
This gets into the topic of forecasting.
Under Armour uses SAP DP for forecasting.
As most people know who have worked in ECC, ECC has forecasting functionality, but it is cumbersome to configure that the vast majority of SAP customers do not use it.
On SAP customers, either Excel or other systems are used for forecasting.
However, let us step back for a moment.
This is supposedly a comment related to S/4HANA, which has not been enhanced in the forecasting area. And even if it had, Under Armour is still using SAP DP to forecast. So why does this quotation exist in a case study that focuses on S/4HANA?
Is this just a statement put together by SAP marketing that has nothing to do with what is happening on the project? It seems quite likely.
Who is Being Promoted in these Case Studies Again?
Remember that both Under Armour and SAP have been promoted in these "case studies" when these studies are published. The more SAP flatters the client in the "case study," the more willing the customer will be to appear in a "case study." So SAP published "case studies" are extensively wordsmithed by both SAP marketing and the customer's marketing departments to put each company in the most favorable light.
As with most information released by SAP, truthful information takes a serious backseat.
But returning to the primary question, the answer to why we even know about the problems with S/4HANA at Under Armour is because Under Armour needed to explain why they had a disappointing quarter. There are two circumstances when non-positive information comes from implementations.
When a company has a bad quarter and needs to point to something.
When a lawsuit is filed, and the public legal system's requirements require the public disclosure of the details of the complaint.
That is, companies release negative information when they have to. Under all other circumstances, negative information is not published about IT implementations.
Conclusion
Under Armour listened to SAP and most likely an SAP consulting company, which is nothing more than an SAP surrogate when deciding to implement S/4HANA. Our research shows that S/4HANA is a bad investment and a highly risky implementation.
Here is a question:
Why would companies that make money off of implementing S/4HANA care if S/4HANA is ready to implement? An implementation company can make even more money off of implementing an immature product. I have already heard that the major SAP consulting companies have been celebrating all of the custom development work they will have with S/4HANA. The ERP system breaks every single adapter and development object that connects to ECC.
And this is one of the major problems. Companies keep taking advice from SAP surrogates like Deloitte and Accenture regarding whether to implement this or that SAP product. Deloitte and Accenture conspire with SAP before they ever talk to the customer, and they have worked the same tricks on an unlimited number of customers before. Deloitte and Accenture, and many others are passive repeaters of whatever SAP says. So why would a company go to another company that pretends to be your advisor but has already worked out how they will sell to you (and what they will omit) with SAP?
Of course, this case is even worse. Here we have the CEO on the Board of Directors of the customer. I would assume, pushing S/4HANA into a company for which he has a major conflict of interest.