Is SAP S/4 HANA a New Application Architecture?
Last Updated on May 8, 2022 by Shaun Snapp
Executive Summary
Hasso Plattner provides a summary of the benefits of S/4HANA's new application architecture.
We evaluate the accuracy of Hasso's proposal.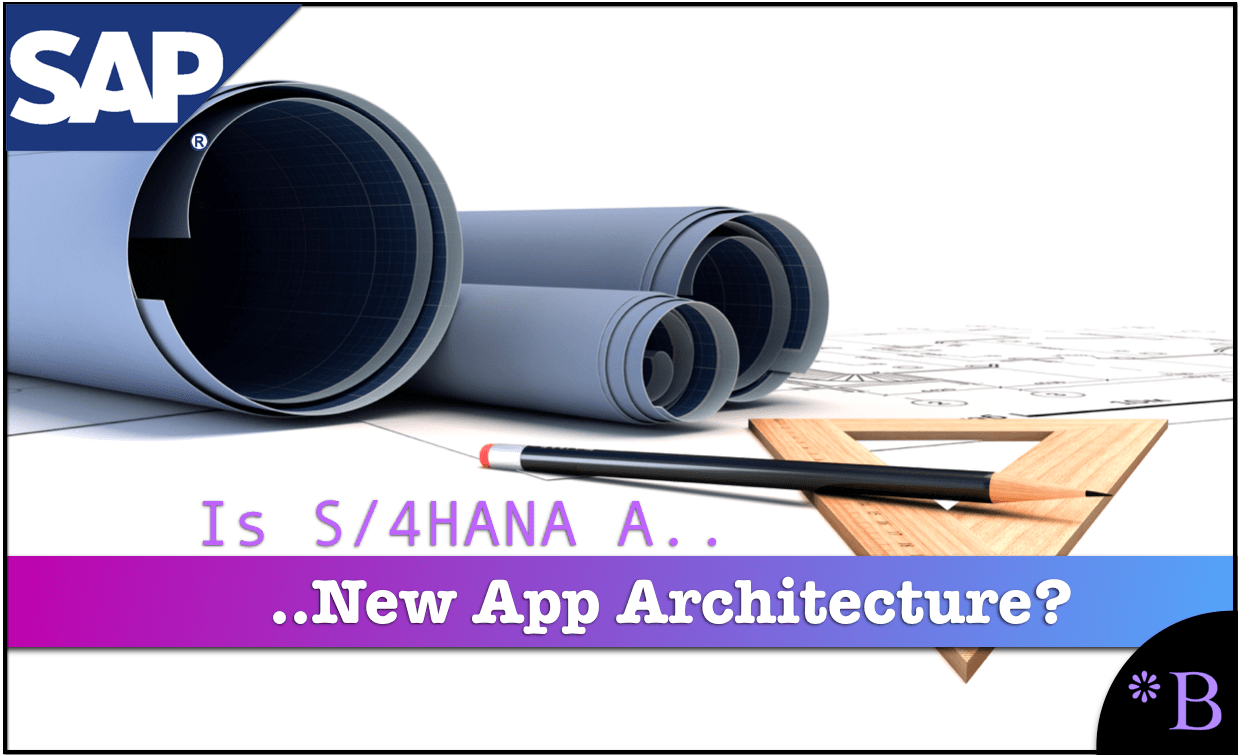 Introduction
Hasso Plattner has written a great deal of promotional literature about S/4HANA. One of his proposals is that S/4HANA is a new application architecture. In this article, we will cover this topic and analyze the legitimacy of the claim.
Our References for This Article
If you want to see our references for this article and other related Brightwork articles, see this link.
Lack of Financial Bias Notice: We have no financial ties to SAP or any other entity mentioned in this article.
This is published by a research entity.
Second, no one paid for this article to be written, and it is not pretending to inform you while being rigged to sell you software or consulting services. Unlike nearly every other article you will find from Google on this topic, it has had no input from any company's marketing or sales department. 
Hasso on S/4 HANA as a New Application Architecture
"The in-memory database SAP HANA allows for a radically different application architecture and a new philosophy with regards to the data model simplicity. While most of the business functionality of the business suite will be  carried over to SAP S/4 HANA, new workflows, larger transaction volumes, real time analytics on  transactional data, unmatched flexibility when changing reporting structures and even real time  simulation of business scenarios are possible. And all this comes with a completely new UI and a new framework for modifications and extensions. SAP S/4 HANA will continue to be developed at a different speed in order to match the new requirements of the digital age."
Hasso does not explain why the "in-memory database" allows for a radically different "application architecture." According to Wikipedia, the definition of application design is the following:
"Applications architecture is the science and art of ensuring the suite of applications being used by an organization to create the composite architecture is scalable, reliable, available and manageable."
Interpretation
I don't think Hasso's claim here holds true. He may propose that HANA creates more scalability — although that could be easily debated. I see no reason why HANA makes S/4HANA or ERP functionality more reliable, available, or manageable. SAP ECC is already quite reliable; it is available. It's hard to maintain, but that is only in a small way related to its database. Much more of the difficulty in maintaining ECC has to do with its user interface, learning curve, maintaining master data, and other non-database-related problems.
See our The S/4HANA Implementation Study. For the real story and details on actual S/4HANA implementations.
Conclusions
There is not much to take away from this section of the paper by Hasso Plattner. The statements are not substantiated.