The Hidden S/4HANA Home24 and KPS Failure
Executive Summary
Home24 failed in its implementation of S/4HANA, a fact that has been kept secret.
We cover this failed S/4HANA case study.

Introduction
We have been warning people about S/4HANA's implementation problems for several years now. We covered this in the article Why Did SAP Fake S/4HANA Maturity So Aggressively? and explaining how both SAP and consulting firms have significantly misrepresented S/4HANA's maturity. We covered this in the article Analysis of Mark Chalfen's Article on S/4HANA MaturityFailure at Home24

Home24 is a startup that sells furniture over the Internet in Europe and Brazil. This is their website.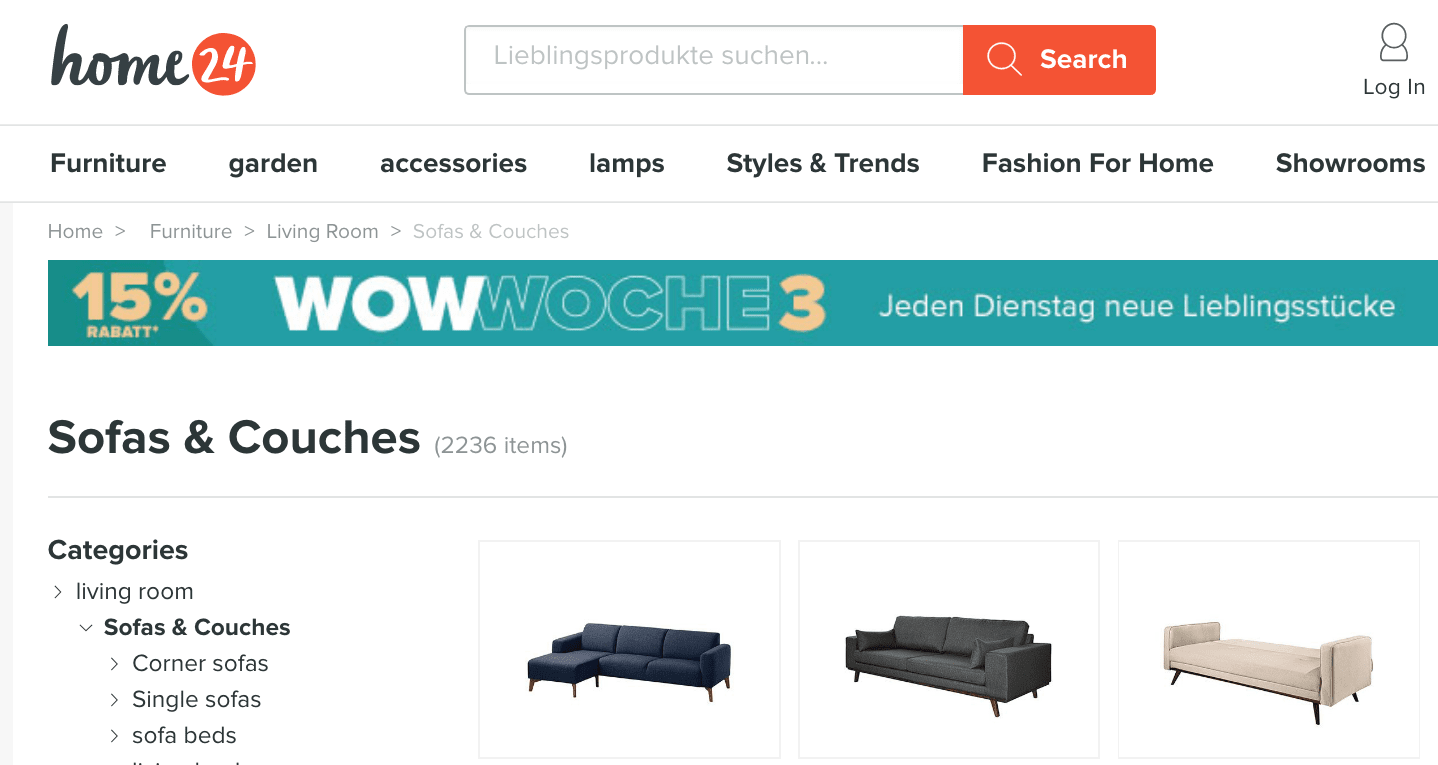 However, curiously, there is no mention of the problems at Home24 being related to S/4HANA.
Business Issues at Home24
Home24 has had major fulfillment issues, as is shown in the following TrustPilot score.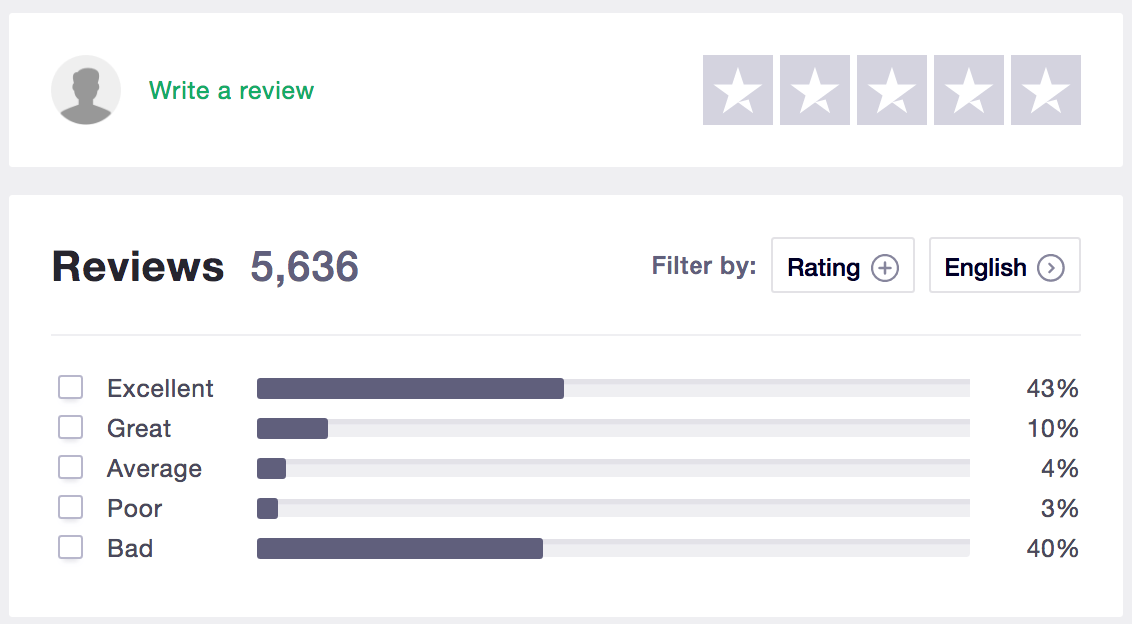 On TrustRadius 43% of Home24's ratings are poor or bad. Hold off judgment for a moment, as we later were to discover something else we did not expect to that calls the percentages listed here for each category into question. 

A sampling of the issues includes the following.
Review Example #1: Delayed Delivery
After relocating to Germany, only to be told that it would be delayed by 5 weeks (planned for it to arrive upon moving in). It arrive today to my relief + excitement, but it was the wrong product! I ordered a 160×200, h2 mattress (which was printed on the box), but when I opened it, it was a 100×200, h4 mattress.
Review Example #2: 10 Weeks of Waiting?
We have received the bed after 10 weeks waiting. However, the assembly instructions are missing. And all the items used for assembling the bed – bed bolts, screws and others are missing. We are not sure which are the items missing as we do not have an assembly instruction.

What should have taken two weeks to will now take more than one month. Also, they're good at selling quick, but they do take their time to give proper customer care.
Review Example #3: Never Again?
Never again!!!
ordered and payed end of April2019 – projected delivery end of August 2019.

I really wonder why this company is still exist, the worst purchase experience I have ever had!
Now I sleep on the ground ,sit on the ground, all clothes and trousers are in mess. I can't believe this will happen to me in Germany!
Update:
Now it's totally 8 weeks ,still no one contact me ,end up with cancelling all items , they return credit so quickly.
Review Example #4: Worst Purchase Experience Ever – Legal Action Eminent?
WARNING – DO NOT PURCHASE ANYTHING FROM THIS COMPANY – WORST SERVICE EVER, WORST COMPANY EVER – The Reasons are: 1) DELIVERY TAKES FOREVER: they quoted 8 weeks delivery time initially which then extended to 10 weeks and then extended to 12 weeks (with no explanation as to why).

Looking at the fact there are SO MANY terrible reviews for Home24 on Trustpilot, I strongly believe someone needs to take Home24 to court as they are likely in BREACH OF CONTRACT with regards consumers rights (as they have not supplied the goods/services that they were contracted [paid] to deliver) and certainly not in a reasonable time frame. I will now be seeking LEGAL ADVICE and how to pursue this.

**UPDATE 2**
it has now been 158 days and we still do not have the functional item. This is more than 22 weeks, or 5 months & 8 days. Obviously this is absolutely unacceptable. Legal action is now being pursued.

Worst experience I have ever had ordering something online. This company is a joke, and I am scared to admit that home24 is a scam. I ordered a sofa over two months ago, and they don't know where it is. The delivery status has stated 2 business days for the last 3 weeks.
Review Example #5: Home24 is Fraudulent?
Seriously, avoid this company like the plague. They are running a major scam.

Delivery date on order said 1-2 weeks. After ordering it was changed to 2-3 weeks. 3 weeks passes, and after calling home24 three times as well as the delivery company, no one can tell me when the couch is coming. I have canceled my order and will be indicating to my credit card company that home24 is fraudulent.
Review Example #6: The Worst Furniture Retailer in Europe?
No other furniture business I've given business to in Europe has exhibited to me a similar deceiving practice. Conforama, Maisons du Monde and Ikea have been 100% accurate in their delivery time in my experience.
Review Example #7: Potentially Problems with a Back Office Inventory or Partner Inventory System?
When one reads how many reviews share the same experience with home24 on delivery times, it looks to me that this is either a cultural problem within the company and a chosen business practice OR a broken back-office inventory and partner management system.
Review Example #8: A Major System Meltdown?
On the hotline, before you can talk to anyone, you are asked by the system if your order was made before the 20th or April. This probably marks the time some major meltdown happened in either their accounting or their logistics system,(emphasis added) and they have obviously messed up thousands of orders ever since, and have also been unable to fix it. It's too much of a coincidence that a major flow of 1-star reviews has started ever since that time, and is still going strong.
Interpreting the Reviews
Nearly all companies have bad reviews; however, the items listed above, as well as many others, illustrate a serious problem with delivering on orders.

There are many questions that arise.
If S/4HANA has available to promise functionality, why is there such a large discrepancy between when the items are ordered and planned to arrive and when they arrive?
According to Sven Deneken, S/4HANA has amazing inventory management capabilities. Yet, these comments and many more call into question what Home24 got from KPS in terms of managing inventory appropriately.
The most common problems seem to be unconfirmed delivery times, wrong/incomplete/damaged products sent, no refund, slow customer service, etc. The latest negative reviews are from August. So it is clear that Home24 is still struggling with S/4HANA.

It seems that even some of the customers writing reviews have at least guessed that Home24 had a major disruption with their systems.
What Appear to be Fake Reviews Posted by Home24
Furthermore, while we thought our first estimate of the number of bad or poor reviews was accurate. When we read the Excellent, we review we noticed something off.
Most of the Excellent reviews don't have details filled out. 
One of the reviews declares that the home page is Super. We found the repeated use of the word "Super" and also the use of multiple exclamation points in the Excellent reviews. 
The reviews in the Excellent category are faked by Home24. This means that the statistics that are listed in terms of the percentage that fall into each category are faked. 

And we weren't the only ones to notice this. This observation was pointed out by several reviewers, including this one.
I can't believe Home24 actually posted so many positive, probably fake reviews just to cover the real customers experience!

A week ago, most of the reviews were negative, not going over 2 stars, but now hundreds of new, 4-5 stars reviews appeared. That talks a lot of about transparency and actual worth of Trustpilot reviews.
The Implications for Home24
Home24 appears to be a company on the ropes that is falsifying its online reviews to keep from going under.

Recall, S/4HANA was supposed to revolutionize how Home24 manages its finance and supply chain functions. See the Sven Deneken video at the end of this article for what SAP and KPS would have promised Home24. What Home24 actually should have invested in is software that falsifies reviews, because it is too easy to tell that the reviews on TrustPilot for Home24 are falsified.

On June 19th, 2019, Handelsblatt covered a meeting of Home24 and shareholders in Berlin.
"We have experienced a course disaster within just one year after the IPO. This leaves scorched earth and is unprecedented, "railed Michael Kunert of the shareholders' association SdK.

Because not only several profit warnings pushed the share price in the cellar, but also constant share sales of Rocket Internet. Currently, Berlin still hold 18.8 percent of the shares, so have sold almost half of their shares since the IPO. "The partial exit from Rocket is not a good sign," angered Kunert.

"We are aware that we have lost confidence and are working hard to regain it," (CEO) Appelhoff announced. The time for the IPO nine years after founding was right. However, two effects had hit Home24 at the same time last year: a change in the merchandise management system had caused delays in deliveries,(Brightwork Insert: this is the SAP sales BOM) and the hot summer kept customers from buying furniture across the industry.
Interestingly Appelhoff did not declare what systems are part of this "merchandise management system." However, the timing matches the S/4HANA roll out. Furthermore, the evidence from reviews very starkly illustrates that Home24 has major problems in order management, inventory management, and delivery.

Notice this response from someone in attendance.
Shareholder protector Kunert appealed to Appelhoff: "As bizarre as I find the explanation with the hot summer – the hope that the course can work its up again, is quite there," he said.
That is right; the hot summer is a strange excuse. The hot summer does not explain Home24 enormous problems with basic sales fulfillment, and it does not tell why there are what appears to be a large number of fake reviews out at TrustPilot. Curiously, the article does not show shareholders asking for details about the change in the merchandise management system.
Why did it cause problems?
What system was used?
Who was the implementor?
We found out the answers to all of these questions, but not from Home24. And not from SAP. And also not from the KPS website.

The only information coming from any of these entities is inaccuracies around their problems.
KPS Strikes Again?
KPS Consulting, which was part of the ridiculous Lidl failure, which we covered in the article KPS Continues to Promote HANA for Retail for Lidl After Failure, was also the implementer with Home24. This is listed directly on the KPS website.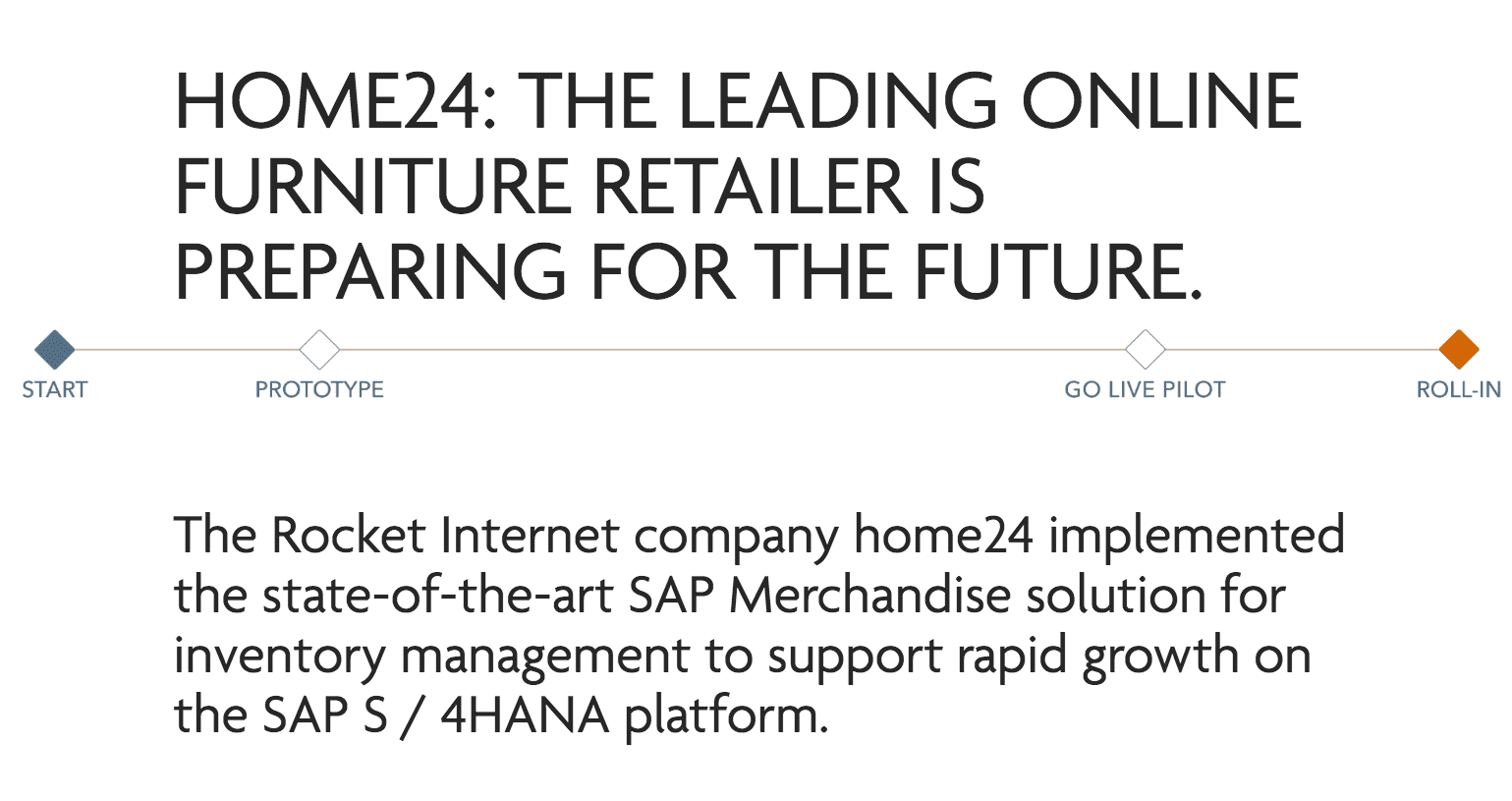 According to KPS, the Home24 S/4HANA implementation was a massive success.

Prepare to digest the impressive facts about the implementation (according to KPS)
CONTEXT

Innovative, ambitious company with a start-up character

Strong commitment from the executive team, business driven project

Historically grown, complex IT landscape that made process improvement impossible or extremely slow

High number of interfaces, inefficient and cost-intensive processes

Complex fulfillment requirements

Cloud hosting the new solution, "one stop shop" decision (emphasis added)

Aggressive timeframe: 13 months from prototype to go-live
It is unclear what the real cloud hosting solution was, but the customer when with what KPS and SAP recommended.

This is a problem for all SAP customers because SAP recommends cloud providers based not on the capabilities of the provider but based on their ability to mark up that provider. SAP's entire cloud strategy is now based upon marking up the services of other providers as we cover in the article SAP's Upcharge as a Service, and we get into the specific upcharge percentage in the article SAP's Cloud Upcharge on AWS Storage. For our review of a particular recommended cloud service provider, see the article Comparison of SAP HEC with Virtustream Versus AWS.
USE

Implemented end-to-end processes

High transparency, "single point of truth"

Fast and reliable customer service feedback to customers

Extension of the service portfolio

High availability, transparency and consistency of data

Reduction in the number of systems

ACTION

KPS Rapid-Transformation® method with rapid prototyping of end-to-end processes

Wide use of SAP standard processes, reduction of developments and deviations to an absolute minimum

Go live by country, big-bang approach

No migration of customer orders

Take note of these statements by KPS. Not only did the majority of these things not happen, but the project was no able to provide even fundamental inventory management, order management, and delivery management capabilities to Home24.

See our coverage of SAP's rapid tools in the article The SAP RDS Rapid Deployment Solutions?

TECHNOLOGY

SAP S / 4HANA Merchandise Mgmt

SAP EWM

SAP Customer Experience Suite

SAP Commerce Cloud (PIM, Billing)

SAP Service Cloud

SAP VIM

SAP BW / BI

However, what is listed on the KPS websites is not actually what happened on the project.

Scope Issues with the S/4HANA and Other SAP Application Implementation

The first thing we noted was the scope of the project versus the size of the company. Let us review some of the peculiar issues on an application by application basis.

SAP S / 4HANA Merchandise Mgmt: S/4HANA is not at the point of development where it has much in the way of industry solutions.
SAP EWM: EWM is very complicated and troublesome application. It is also far too expensive and complicated for a company the size of Home24. Home24 states 1364 people work at the company, but those that know the company dispute this. In Berlin, there are estimated to be between 100 to 150 people. This is where the implementation was performed. This is far too few people as only a small subset of this would have supported the EWM implementation.
SAP Customer Experience Suite: This is Qualtrics, which is fine; it does not take much effort to implement.
SAP Commerce Cloud (PIM, Billing): This is a very new application that is not mature.
SAP Service Cloud: This is also not ready to deploy the application.
SAP VIM: No comment
SAP BW / BI: This is again, very much overkill for a 100 to 150 person company at headquarters.

*All of the items in red are what we consider high-risk implementation SAP products.

The total expense of these combined applications both in terms of the license fee but, more importantly, the implementation and maintenance overhead is ridiculous for this size of a company. And this is not the extent of what was sold. S/4HANA requires HANA, which is one of the highest overhead databases that one can implement. KPS does not mention it, but S/4HANA can't be implemented without it.

KPS was not the only implementor involved; Logventus was as well. However, LogVentus is a warehousing/logistics specialized firm.

For this reason, it is unlikely they had much to do with the S/4HANA implementation but instead focused on EWM. 

Selling SAP Without Any Concern for Implementability

Our analysis of what was sold to Home24 is that it was entirely built around trying to sell the most recent items to Home24 rather than focusing on more sophisticated applications that worked. We recently had a client that was about to purchase a smaller set of SAP products, but the set or BOM included S/4HANA. We told them that their sales BOM was extremely risky. As we explained why it became apparent that the junior CIO did not want to hear this.

In our view, Home24 only had a reasonable probability of going live on just a few of the SAP applications they were sold, with S/4HANA being one of them.

This overall configuration of the sale brings up the question of Is it Right to Lead Clients into SAP Software Failure? Because this is clearly what SAP and KPS and potentially Log Ventus did by recommending these applications to Home24. SAP, KPS, and Log Ventus took advantage of what Home24 did not know. Without any concern for their ability to implement, they stuffed Home24 with an unimplementable combination of experimental applications, and applications that were not a good fit for Home24. 

What Was Implemented?

Information from the project also indicates that many products on the sales BOM or listed by KPS were not implemented. This means that KPS is lying about what occurred at Home24 in multiple dimensions.

KPS's Performance at Home24

After the project got underway, the information we obtained from an anonymous source very familiar with the Home24 SAP implementation is that KPS had no idea how to implement it. We won't be more specific than this, to prevent any readers associated with KPS or SAP from backward engineering our source from the information we provide. However, we can say that fundamental steps that are typically part of an SAP implementation were skipped, and KPS did not appear to have sufficient knowledge of how necessary these steps were.

One of the major issues is that the timing of the overall project was just completely unrealistic, and has nothing at all to do with the official duration — which is listed as 13 months — on the KPS website. One of the ways that KPS has been getting so many S/4HANA projects is that they have been bidding them at a fixed price. This makes it additionally difficult to properly implement the project when KPS has to hire so many contractors as they lack the internal resources in may areas that they claim to have employee coverage.

Secondly, these implementation problems lead to operational difficulties, which lowered Home24's reputation. That is, the SAP implementation was critical to undermining Home24 as a functioning company.

Home24's Fault in the Failure

Home24's first failure did not have advice that was independent of SAP. This meant they were told some fairy tales around S/4HANA and other SAP products and bought them.

How Prepared Was Home24 to Even Engage in This Implementation?

There is also a question as to whether Home24 was ready for such a comprehensive implementation as they simply did not have experience managing SAP implementations or anything like this scope before they embarked on this implementation.

How Incompetent is KPS?

After Lidl, the details of which read like they needed their laugh track, and Home24 where they (along with SAP) jammed in a vast scope of work and then lacked any understanding of how to pull off such a project. KPS is now on our list of highly problematic SAP implementation companies. While we were analyzing this case study, we received a separate communication about problems at another S/4HANA, which is a problematic S/4HANA implementation, which once again shows us a successful S/4HANA implementation on the KPS website.

This brings up the question of how many KPS projects have failed or are currently in the process of failing.

What is KPS Currently Doing at Home24?

The strategy used by KPS appears to be to come in an make a lot of promises, then get the project started, and then make it so they can't be removed. I cover this strategy in the article The Bait and Switch SAP Implementation Partners. KPS is very specific about not providing customers with documentation. This keeps the client from ever being able to replace KPS.

Information from the Home24 project is that the account is being milked. KPS has to keep bringing in new consultants, which while the project is a mess, it allows people to get S/4HANA on their resumes. KPS intends to stick around as long as possible.

The long term cost of the implementation will significantly exceed what KPS fixed priced the project for, but that was never a realistic number. Home24 is now afraid to fire KPS as they know how the systems are set up, and they are also scared to go public with the fact that they were tricked by KPS and SAP as to do so would signal that they don't know how to manage their software implementations. Therefore, they are stuck — in their mind — having to continue to pay KPS under the hope that eventually they can get it right.

How KPS and SAP Would Like the Story to be Told

If Home24 goes under and is eventually purchased by another furniture company unless this story about what happened with Home24 and how SAP and KPS drained Home24, the problems would have been attributed to other things. SAP and KPS would have got off scot-free. However, there are many case studies where SAP and a consulting firm combine to bring down a company due to two factors:

Massive project expenditures.
Damaging the business by reducing the operations of the business.

Both of these things happened with Revlon with S/4HANA, a story we covered in the article What Was the Real Story with the Revlon S/4HANA Failure?
In the case of Revlon, they have also been sued by shareholders for hiding their S/4HANA failure. Notice in the article that our analysis of Revlon's damage control was that it made no sense. Revlon will have problems for some time with getting their business back on track.

With Lidl, it took seven years and 500 million Euros until they canceled the project. That as a terrible project for Lidl, but it was an excellent project for KPS because of a significant portion of that total expenditure when to KPS. There is no reason that KPS can't continue to function this way, lying to get projects, dropping in a low fixed price bid, failing on the project, and then milking the account.

Will SAP, which is entirely knowledgable of what KPS is doing, stop them? Of course not, KPS is helping SAP sell deals. And with SAP's current quarter focus, the only thing important to SAP is selling software so they can make that next quarter. If you work in sales, and you don't make your quota, you won't be around to worry about whether what is sold works or does not work at your customer.

The consulting companies have some maturity issues they would like to hide from you. This is why they can't be listened to — the only thing they look out for is their interests. They are happy to recommend inappropriate applications and to create miniature disasters within their clients, as long as they can get their financial needs met. 


Conclusion

This project's outcome has been effectively hidden from view. KPS still shows it as a success, but there is no publication on the part of SAP or Home24. As we have been saying, S/4HANA projects have a very high failure rate. And this is not being acknowledged by the industry, because the coverage on these topics is mostly controlled by SAP and the SAP consulting firms.

This brings up the topic of what is implementation failure. If a system is live, but it has significantly degraded your business — then I count this as a failure. Vendors and consulting firms only want the benefits of their product/work measured — and any projects like Home24 removed from the discussion. Every time I discuss with a vendor or consulting firm rep about their projects, I am directed to their successes. When I discuss the failures — they switch the conversation very quickly back to the successes. After I check the successes, even the successes are overstated. It seems as if I am not allowed to discuss failed projects without causing a lot of offense and then receiving personal attacks. You have one right as a researcher in the software space, and that is to discuss project successes. One can talk about failures — but only if one is willing to point any blame at the customer. This is what noted "failure expert" Michael Krigsman does (or did as he has become less prominent as of late) as I analyzed in the article The Art of Blaming the Client When SAP Fails and in the article How S/4HANA Cost Overruns and Failures are Suppressed.

In the article Personally Attacking Those that Critique ERP Failures, I note how any investigation into SAP failures invariably leads to personal attacks. After this article was shared on LinkedIn, an SAP employee wrote a comment that the material was a "hot mess" and that it had inaccuracies which she could resolve if reached out to in private. Upon interaction, I found that she had no information about the Home24 implementation. SAP commenters intend to simply try to reduce the credibility of the author and the article.

The strategy of dealing with authors who dare to cover project failures is the following.

Every failed project, like Home24, is to be ignored and denied by vendors and consulting firms.
Every author writing about project failures either has wrong information, bad intentions, or lacks the background to write the article.
Any author covering project failures has an ax to grind (the specific ax is never to be mentioned)
All software failure is to be blamed on customers.
Any calculation of the average ROI of projects to have case studies like Home24 removed. The ROI is to be only of the top 25% of projects, with the rest of the projects buried from view.

This case study is significant for several different reasons. First, it should be a wake-up call to companies currently being proposed high-risk sales BOMs from SAP.

Projecting the Future for Home24

It looks quite likely that Home24 will not be able to recover from their systems implementation. Home24 was doing better before its migration than after the migration to S/4HANA and related SAP products. Home24 has not only damaged its reputation with customers, but the trust in the company among shareholders has significantly declined since the implementation. It is getting hit from multiple sides — both continuing implementation and remediation costs paid to KPS and declining revenues. Home24 is also burning through and burning out its employees. The sad feature of this is that it is entirely obvious that Home24 did not need most of the items that were sold to it by SAP and KPS.

References

https://kps.com/de/successes/home24.html

https://www.trustpilot.com/review/home24.de

*https://www.en24.news/2019/09/rocket-internet-repels-more-home24-stocks.html

https://www.handelsblatt.com/unternehmen/handel-konsumgueter/hauptversammlung-home24-aktionaere-machen-rocket-internet-fuer-kursdesaster-verantwortlich/

https://www.logventus.com/en/
You cannot copy content of this page