The Hidden S/4HANA S Oliver and KPS Failure
Executive Summary
S Oliver failed in its implementation of S/4HANA, a fact that has been kept secret.
We cover this failed S/4HANA case study.
Introduction
We have been warning people about S/4HANA's implementation problems for several years now. Did we cover this in the article Why Did SAP Fake S/4HANA Maturity So Aggressively? Explain how both SAP and consulting firms have significantly misrepresented S/4HANA's maturity. We covered this in the article Analysis of Mark Chalfen's Article on S/4HANA Maturity
Our References for This Article
If you want to see our references for this article and other related Brightwork articles, see this link.
Lack of Financial Bias Notice: We have no financial ties to SAP or any other entity mentioned in this article.
This is published by a research entity.
Second, no one paid for this article to be written, and it is not pretending to inform you while being rigged to sell you software or consulting services. Unlike nearly every other article you will find from Google on this topic, it has had no input from any company's marketing or sales department. 
In this article, we include a failed implementation that has yet to be published.
Failure at S Oliver
S Oliver is a clothing retailer that sells in multiple European countries. This is a screenshot from their website.
KPS Strikes Again?
KPS Consulting, which was part of the ridiculous Lidl failure, which we covered in the article KPS Continues to Promote HANA for Retail for Lidl After Failure, and also the Home24 failure, which we covered in the article The Hidden S/4HANA Home24 and KPS Failure. KPS was also the implementer with S Oliver. This is listed directly on the KPS website.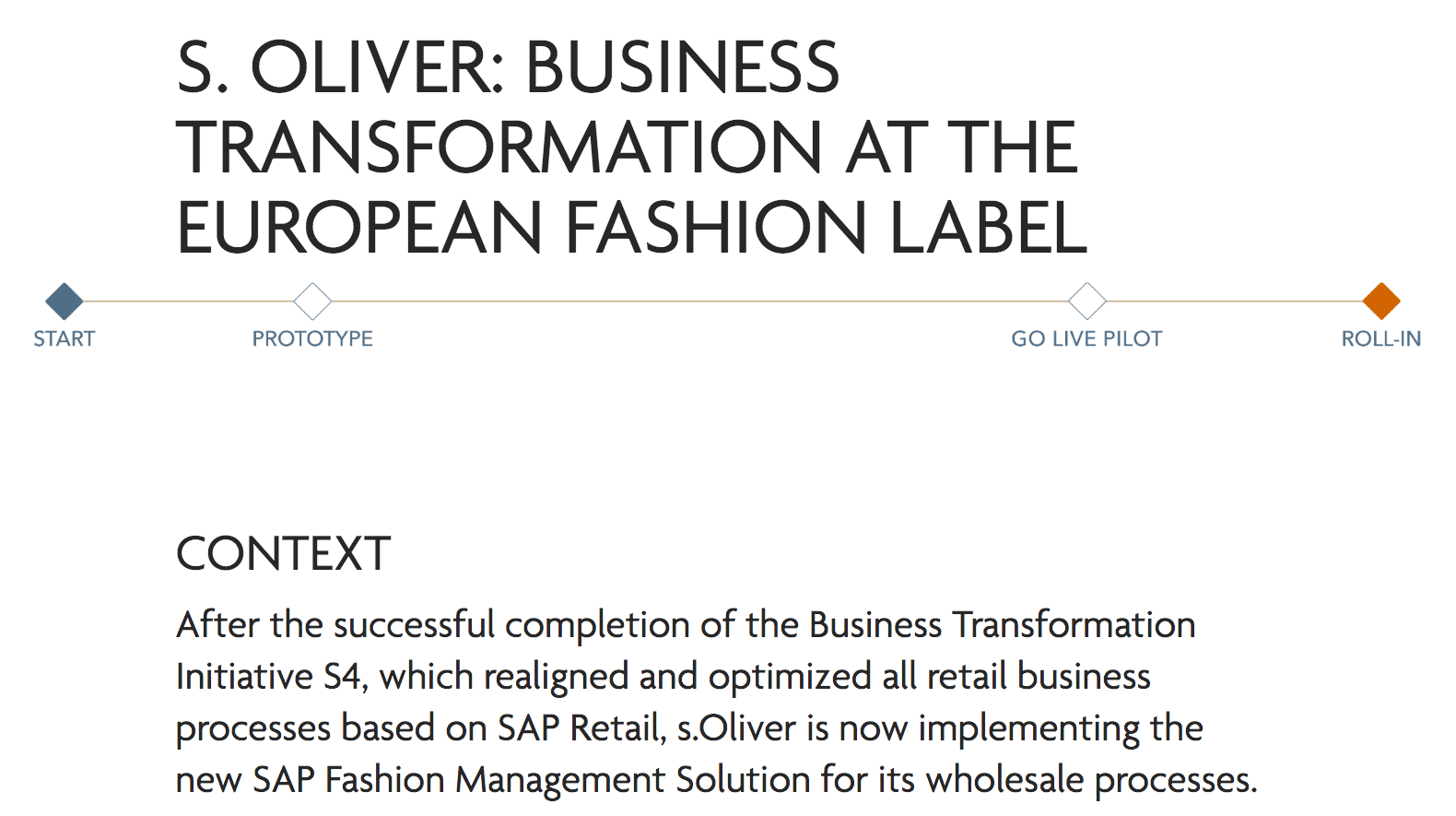 According to KPS, as with Home24, the S Oliver S/4HANA implementation was a massive success.
Prepare to digest the impressive facts about the implementation (according to KPS)
The solution portfolio to be implemented comprises SAP S4 FMS on HANA, SAP Retail, SAP CAR, SAP EWM, SAP BW, Finance, Controlling.
However, what is listed on the KPS websites is not actually what happened on the project.
Scope Issues with the S/4HANA and Other SAP Application Implementation
The first thing we noted was the scope of the project versus the size of the company. Let us review some of the peculiar issues on an application-by-application basis.
SAP S / 4HANA FMS: FMS is the Fashion Management Solution. S/4HANA is not at the point of development where it has much in the way of industry solutions.
SAP Retail: SAP Retail is another industry solution.
SAP CAR: SAP Customer Activity Repository is supposed to provide customer information in a central repository. It was introduced in 2014 and very rarely comes up as a solution sold by SAP.
SAP EWM: EWM is a very complicated and troublesome application.
SAP BW / BI: This is SAP's business warehouse.
*All of the items in red are what we consider high-risk implementation SAP products.
The total expense of these combined applications both in terms of the license fee but, more importantly, the implementation and maintenance overhead is ridiculous for this size of a company. And this is not the extent of what was sold. S/4HANA requires HANA, which is one of the highest overhead databases that one can implement. KPS does not mention it, but S/4HANA can't be implemented without it.
Notice the risk level of the multiple products that were sold to S Oliver.
Selling SAP Without Any Concern for
Implementability
Our analysis of what was sold to S Oliver is very similar to what KPS and SAP sold to Home24. It was entirely built around trying to sell the most recent items to S Oliver rather than focusing on more sophisticated applications that worked. We recently had a client that was about to purchase a smaller set of SAP products, but the set or BOM included S/4HANA. We told them that their sales BOM was extremely risky. As we explained why it became apparent that the junior CIO did not want to hear this.
In our view, S Oliver only had a reasonable probability of going live on just a few of the SAP applications they were sold, with S/4HANA being one of them.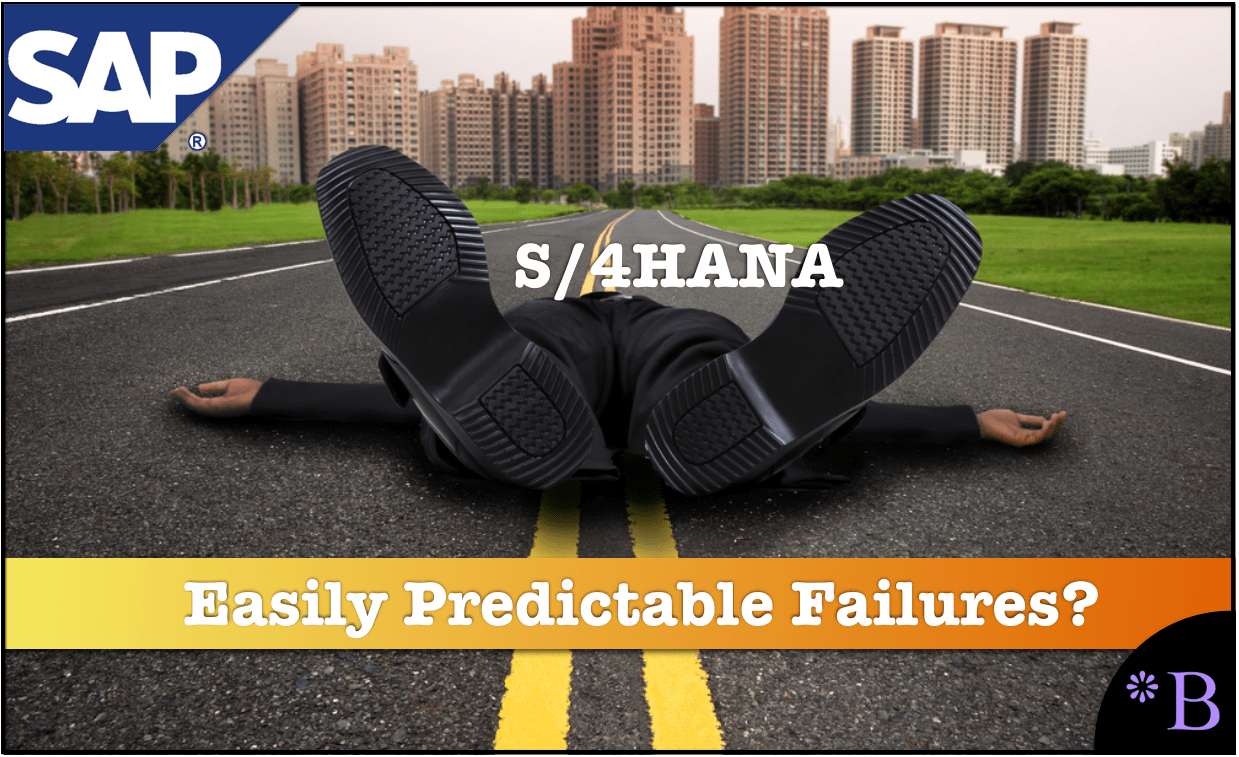 This overall configuration of the sale raises the question of Is it Right to Lead Clients into SAP Software Failure? Because this is clearly what SAP and KPS by recommending these applications to S Oliver. SAP and KPS took advantage of what S Oliver did not know. Without any concern for their ability to implement, they stuffed S Oliver with an unimplementable combination of experimental applications and applications that were not a good fit for S Oliver. 
EWM Implementation
This is a video from S Oliver that was published several years ago. The plan was to implement EWM first and then connect it to the S/4HANA system to replace the previous ERP system.
https://www.youtube.com/watch?v=jDdroxtjhtY
KPS's Performance at S Oliver
The problems at Lidl and Home24 have impacted the S Oliver implementation as well. KPS does not appear to have sufficient knowledge to implement SAP and is has a multi-project strategy of configuring the implementation so that they are required to be at the client for as long as possible.
S Oliver's Fault in the Failure
S Oliver's first failure did not have advice that was independent of SAP. This meant they were told some fairy tales around S/4HANA and other SAP products and bought them.
How Prepared Was S Oliver to Even Engage in This Implementation?
There is also a question as to whether S Oliver was ready for such a comprehensive implementation. They simply did not have experience managing SAP implementations or anything like this scope before they embarked on this implementation.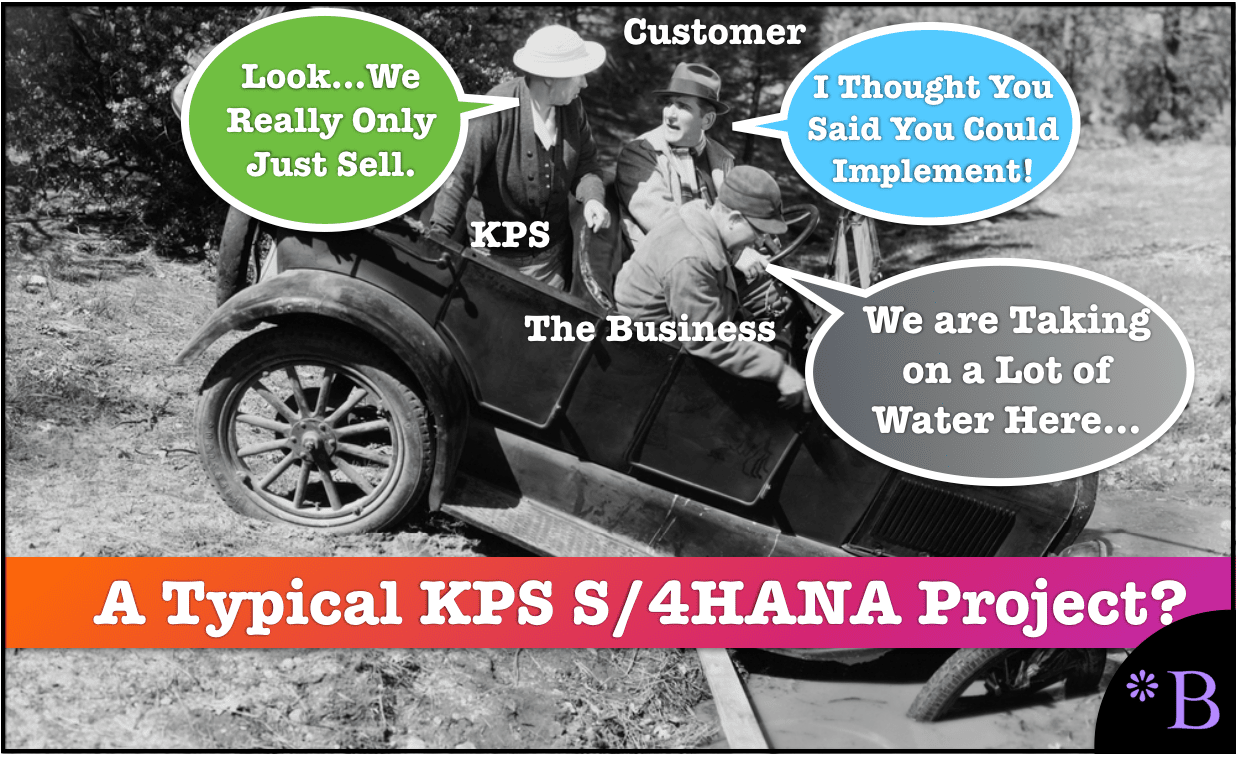 How Incompetent is KPS?
After Lidl, the details of which read like they needed their laugh track, and S Oliver, where they (along with SAP) jammed in a huge scope of work and then lacked any understanding of how to pull off such a project, KPS is now on our list of highly problematic SAP implementation companies.
This brings up the question of how many KPS projects have failed or are currently in the process of failing.
What is KPS Currently Doing at S Oliver?
KPS's strategy appears to be to come in and make a lot of promises, get the project started, and then make it so they can't be removed. KPS is very specific about not providing customers with documentation. This keeps the client from ever being able to replace KPS.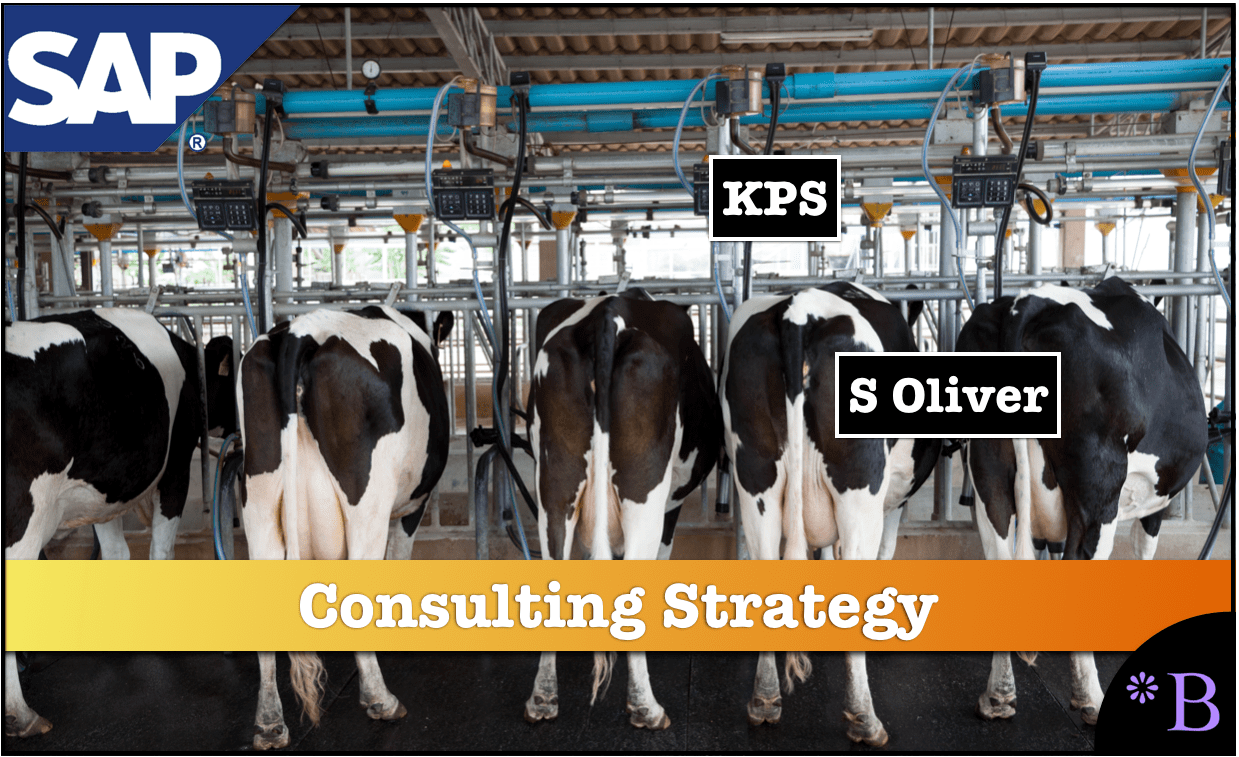 Information from the S Oliver project is that the account is being milked. KPS has to keep bringing in new consultants, which, while the project is a mess, allows people to get S/4HANA on their resumes. KPS intends to stick around as long as possible.
The implementation's long-term cost will significantly exceed what KPS fixed priced the project for, but that was never a realistic number. S Oliver is now afraid to fire KPS as they know how the systems are set up, and they are also scared to go public with the fact that they were tricked by KPS and SAP as to do so would signal that they don't know how to manage their software implementations. Therefore, they are stuck — in their mind — having to continue to pay KPS under the hope that eventually they can get it right.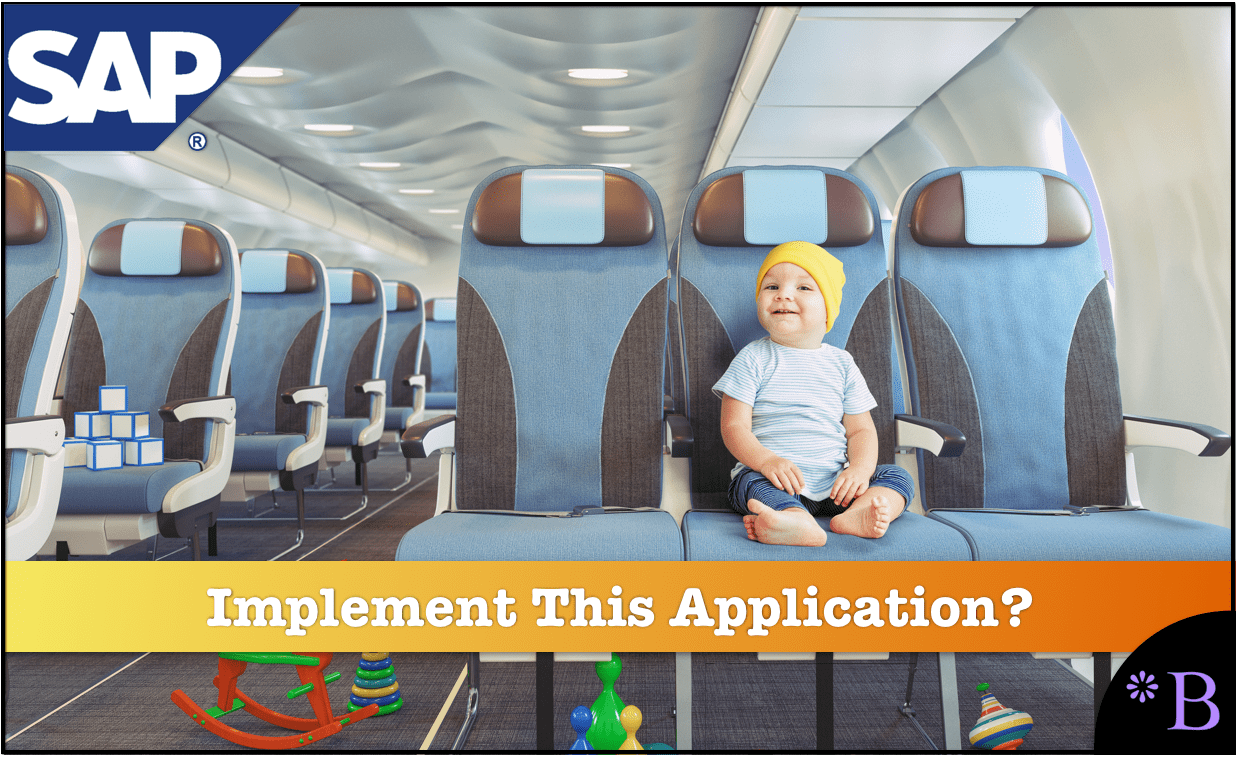 The consulting companies have some maturity issues they would like to hide from you. This is why they can't be listened to — the only thing they look out for is their interests. They are happy to recommend inappropriate applications and create miniature disasters within their clients, as long as they can meet their financial needs. 
Conclusion
This project's outcome has been effectively hidden from view. KPS still shows it as a success, but there is no publication on SAP or S Oliver. As we have been saying, S/4HANA projects have a very high failure rate. And this is not being acknowledged by the industry because the coverage on these topics is mostly controlled by SAP and the SAP consulting firms.