Is it True That Few SAP Customers Care About Databases?
Executive Summary
Should SAP's Claims About HANA Not be Verified Because Most People Don't Care About Database Performance?
How SAP Uses HANA's Performance Claims to Push for Customers to Switch Databases
SAP's HANA Claims Fact-Checked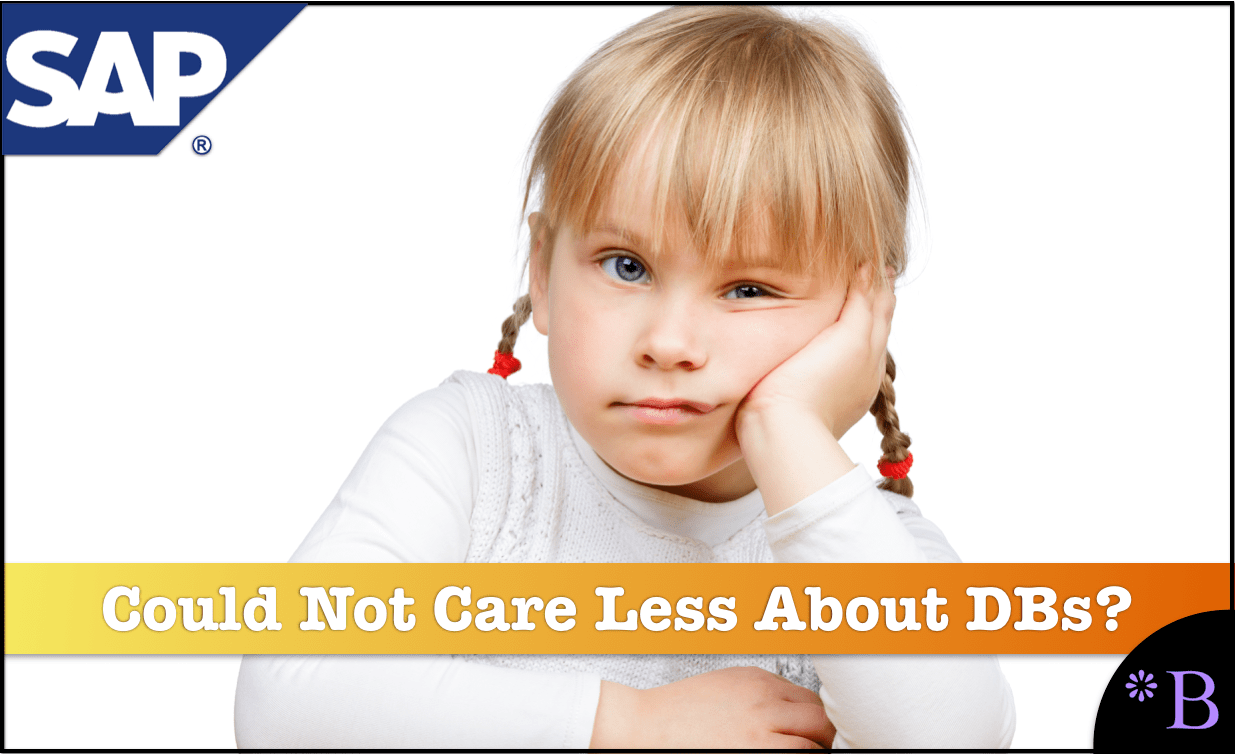 Introduction
In a recent article titled SAP HANA as a Mismatch for ERP and S/4HANA,
we received a response that seemed to minimize the importance of our verification of the claims made by SAP about HANA, as the commenter put it..
"…no one cares about the db outside of a very small tech bubble – it's all about people and process."
This statement seems to be an attempt to pivot away from the question of whether SAP's claims regarding SAP are true.
Our References for This Article
If you want to see our references for this article and other related Brightwork articles, see this link.
Lack of Financial Bias Notice: The vast majority of content available on the Internet about SAP is marketing fiddle-faddle published by SAP, SAP partners, or media entities paid by SAP to run their marketing on the media website. Each one of these entities tries to hide its financial bias from readers. The article below is very different.
First, it is published by a research entity.
Second, no one paid for this article to be written, and it is not pretending to inform you while being rigged to sell you software or consulting services. Unlike nearly every other article you will find from Google on this topic, it has had no input from any company's marketing or sales department.
How SAP Uses HANA's Performance Claims to Push for Customers to Switch Databases
SAP has very aggressively promoting customers to move to HANA under the logic that the database is incredibly essential.
Here are a few examples.
Restricting S/4HANA to HANA has been justified because no other database can offer acceptable performance versus HANA. SAP has stated that they need to design or optimize S/4HANA around a single database for performance reasons. According to Jon Appleby, a proxy for SAP, due to HANA's capabilities in innovation and unparalleled performance advantage over all other databases, SAP is finished Oracle DB, as is covered in the article Why Jon Appleby Was So Wrong In His HANA Predictions.
SAP is proposing, and SAP consulting companies are relaying the message word for word (I have many of the emails that are forwarded to me from this advice). That solution ranging from TPM to CRM needs to have HANA, or the applications will not properly support its functionality.
This is suspicious. It is dubious because other vendors that I track do restrict their customers' database options in this way.
SAP's HANA Claims Fact-Checked
Secondly, SAP's performance claims for HANA are not only not holding up; every data point we obtain works in the opposite direction from SAP's claims. One performance claim for HANA is true.
HANA will outperform a non-column data store database for analytics (but only within a data warehouse environment).
For all other database processing, the performance is worse. That is a serious issue that I am not sure how any pivot or alteration of the point of discussion can change what are now quite a few observations of this fact. We are not tracking performance issues with S/4HANA on multiple accounts. These observations tell a story of S/4HANA's performance negatively impacting the project.
SAP uses the argument of HANA's performance combined with what appears to me to be faux arguments about application compatibility between SAP's applications and their database to push existing databases out of the SAP account. If you have read the Brightwork Study into HANA's TCO, you might imagine that there are most likely severe implications for the customer's IT budget to following this advice.
Conclusion
As this is a primary SAP strategy, it would seem to be reasonable to validate if SAP's statements about HANA's performance are true. Therefore, we consider it highly relevant to whether SAP's claims regarding HANA's performance are true.
The compatibility argument that increasing numbers of SAP's applications are proposed by SAP and by SAP's consulting partners to only be supported by HANA is another topic.