What Was the Real Story with the Revlon S/4HANA Failure?
Executive Summary
Revlon failed at a S/4HANA implementation back in Feb of 2017, and this failure came to light in a quarterly call in March of 2019.
We cover this failed S/4HANA case study.

Video Introduction: What Was the Real Story with the Revlon S/4HANA Failure?
Text Introduction (Skip if You Watched the Video)
We have been warning people about S/4HANA's implementation problems going back to early 2017. We covered this in the article titled Why Did SAP Fake S/4HANA Maturity So Aggressively? and explained how both SAP and consulting firms had significantly misrepresented S/4HANA's maturity. We covered this topic of how senior members of SAP consulting firms misrepresented S/4HANA in a separate article titled Analysis of Mark Chalfen's Article on S/4HANA Maturity. And Revlon is now a perfect case study of these problems that we predicted. You will learn how these software maturity problems likely ended up biting a major company and how this company appeared to hide these investors' problems.
Our References for This Article
If you want to see our references for this article and other related Brightwork articles, see this link.
Lack of Financial Bias Notice: We have no financial ties to SAP or any other entity mentioned in this article.
This is published by a research entity.
Second, no one paid for this article to be written, and it is not pretending to inform you while being rigged to sell you software or consulting services. Unlike nearly every other article you will find from Google on this topic, it has had no input from any company's marketing or sales department. 
How S/4HANA Operationally and Financially Damaged Revlon
Notice this quote from Revlon's Q4 2018 call (which occurred in May of 2019).
As highlighted previously, the company has identified a material weakness in it's internal controls, primarily related to the lack of design and makings of effective controls in connection with the implementation of its new SAP ERP system in the U.S. We have already developed and begun to implement a remediation plan to address this finding and we'll continue to enhance our internal control environment as we move forward. The company expects that this matter will not result in any changes to its financial results."
The company's problems with the ERP system surfaced shortly after Revlon launched S/4HANA in February 2017.
The 2017 Statement from Revlon About the S/4HANA Implementation
Such systems are designed to integrate everything from a company's inventory of manufacturing goods to its customer relationships. In its annual report for the fiscal year 2017, Revlon revealed the difficulties at its Oxford, North Carolina, manufacturing facility:
[T]he Company launched the new ERP system in the U.S., which caused its Oxford, N.C. manufacturing facility to experience service level disruptions that have impacted the Company's ability to manufacture certain quantities of finished goods and fulfill shipments to several large retail customers in the U.S. The Company cannot provide assurances that it will remedy the ERP systems issues in time to fully recover these sales and/or that the ERP implementation will not continue to disrupt the Company's operations and its ability to fulfill customer orders.
The disruptions have continued, apparently, and Revlon's warning a year ago has come true:
To the extent that these disruptions occur in larger magnitudes or continue to persist over time, it could negatively impact the Company's competitive position and its relationships with its customers and thus could have a material adverse effect on the Company's business, prospects, results of operations, financial condition and/or cash flows.
The Remediation Plan?
I am not sure what the remediation plan will be for S/4HANA, but any ERP system that has been taken live running the business in production will cause significant issues across that business. According to the quotes from ComputerWeekly.
She attributed $54m of direct cost to remediating the SAP disruption.
Most likely, the actual number will end up being a good deal higher than this. Budgets for such remediation nearly always underestimate the total costs.
However, Revlon also stated the following.
There is not a plan for future implementations at this point.
This sounds like the project has failed. And this caused investors to note an inconsistency.
According to the class action lawsuit, the company made false or misleading statements and failed to disclose the extent of its issues with the SAP implementation.
How Revlon Could Have Avoided the S/4HANA Failure
It turns out it could have done so very easily.
We will cover something about this story that the mainline IT media entities, consulting firms, and IT analysts will not touch — and the reason being that nearly every entity that reports on SAP is also financially connected to SAP. And they do not declare their financial connections to SAP, appearing to be independent.
Revlon could have stayed entirely out of this by not listening

to their consulting firm.

This software was implemented back in 2017, so the project would have begun in 2016. This was a timeframe when the chance of taking S/4HANA live in a production setting would have been close to zero. However, Revlon was encouraged to implement this software by both SAP and the consulting partner. Since S/4HANA was first introduced, there has been every attempt by SAP and the consulting ecosystem to hide the maturity of S/4HANA from potential customers. As we covered in the article Why Did SAP Fake S/4HANA Maturity So Aggressively?
Let us review a sample of the public statements around S/4HANA by some of the largest SAP implementation firms.
Getting Inaccurate Information About S/4HANA from SAP Consulting Firm's Website
The Deloitte Website on S/4HANA
Deloitte's website, as is the material on all major SAP consulting companies' website, leaves of maturity.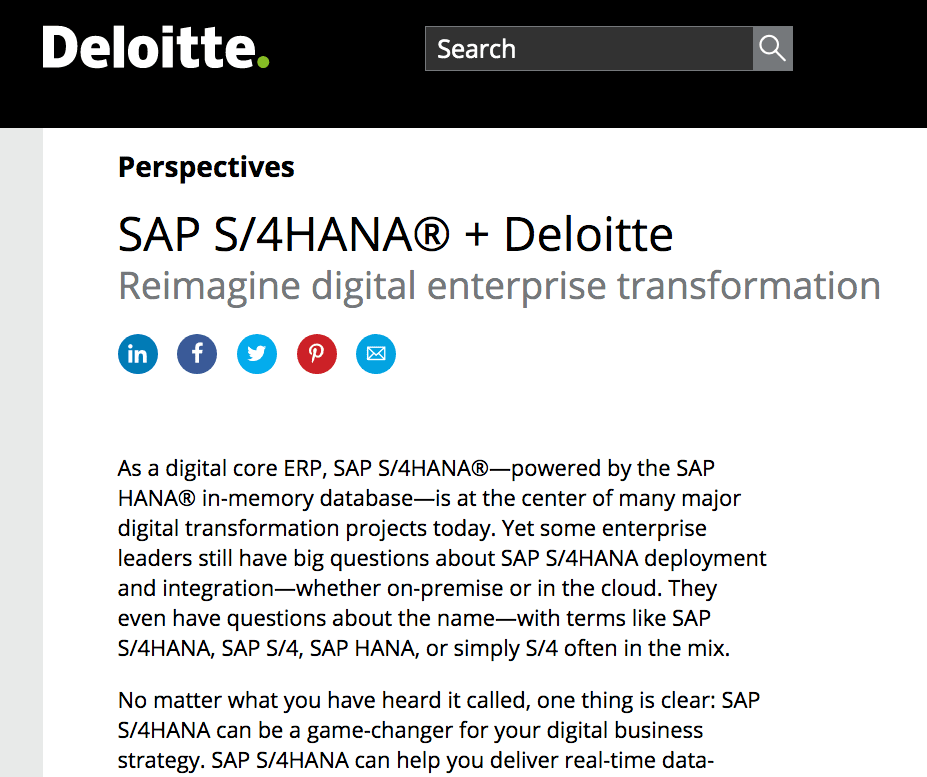 Consulting companies want S/4HANA implementations, which causes them to leave out the application's maturity entirely. Other claims untethered to the maturity of S/4HANA also are highly dubious.
Let us look at two examples:
S/4HANA "is at the center of many major digital transformation projects today." The number of ongoing projects depends on what "many means," but it is not widely implemented. Secondly, the number of S/4HANA projects that go-live is deficient. Is the system's success measured by how many projects are ongoing (and billing hours), or what percentage goes live? For Deloitte, the measure is naturally the number billing.
How is S/4HANA a "game-changer" if it has no new functionality over ECC, its performance is not very good due to the mismatch between HANA and TP, and Fiori is rarely implemented?
The CapGemini Website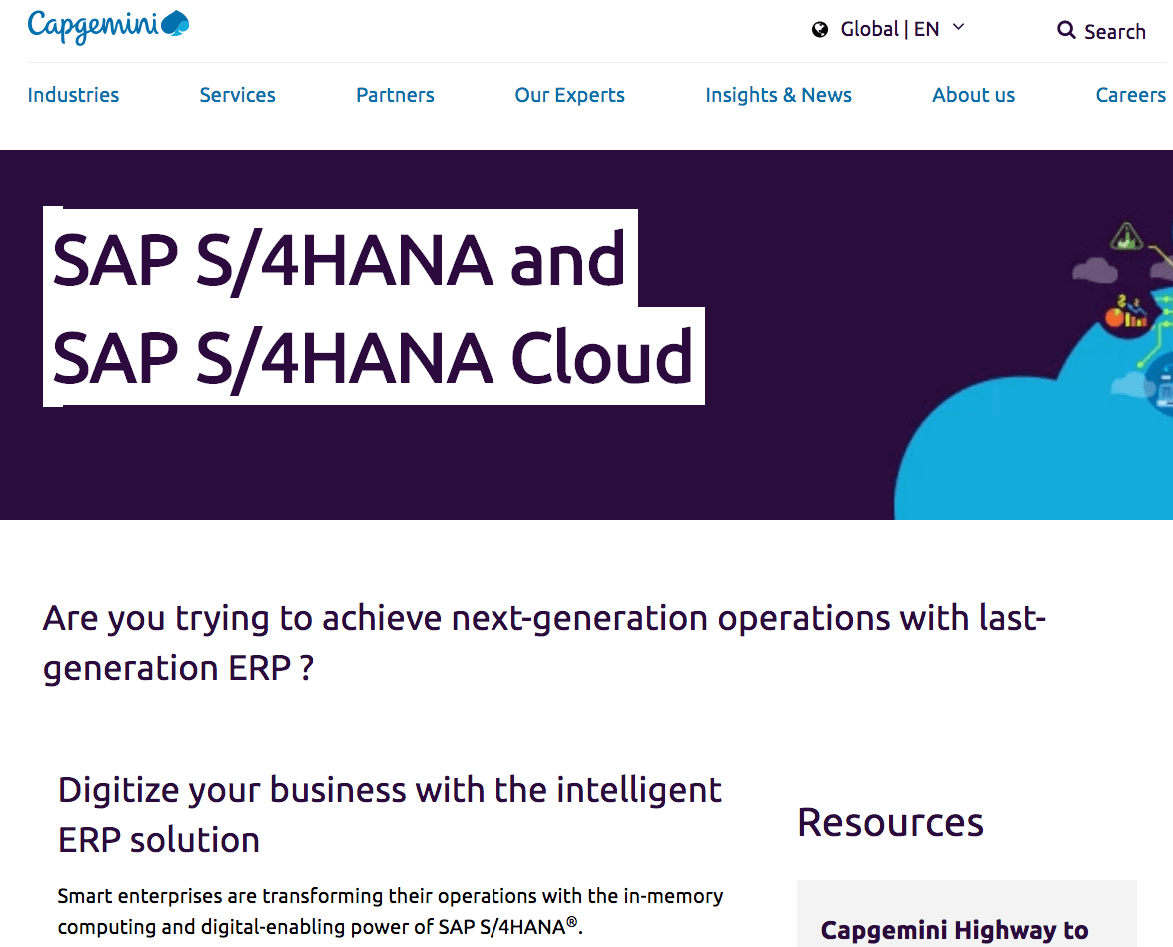 Many of the statements by the SAP consulting firms around S/4HANA are non-sensical. Companies that implement S/4HANA are replacing previous legacy or ERP systems; they are not moving from paper to digital and are therefore not "digitizing" their business. The digitization process for the vast majority of companies that can afford a CapGemini implementation of S/4HANA would have most likely occurred in the 1970s or 1980s. 
We covered the illogical term of digital transformation in the article The Problem with the Term Digital Transformation.
In working with several SAP consulting firms and reviewing others' material, it is clear that they have little interest in either knowing or communicating the maturity issues with S/4HANA. This is reminiscent of a quote from Dave McComb's book Software Wasteland.
One of the main problems with our industry is that there is far more money to be made by being incompetent than there is for being competent. There are still far too many contractors who make far more money not implementing systems that there are contractors that can implement productively.
Dave McComb's analysis is that consulting companies may even prefer if the applications they implement are immature. They are paid hourly, so whether the project goes live does not matter. If they can get the project sold, they can get paid even more as the innumerable problems require the client to keep the consulting company around even longer. And this translates to more billing hours.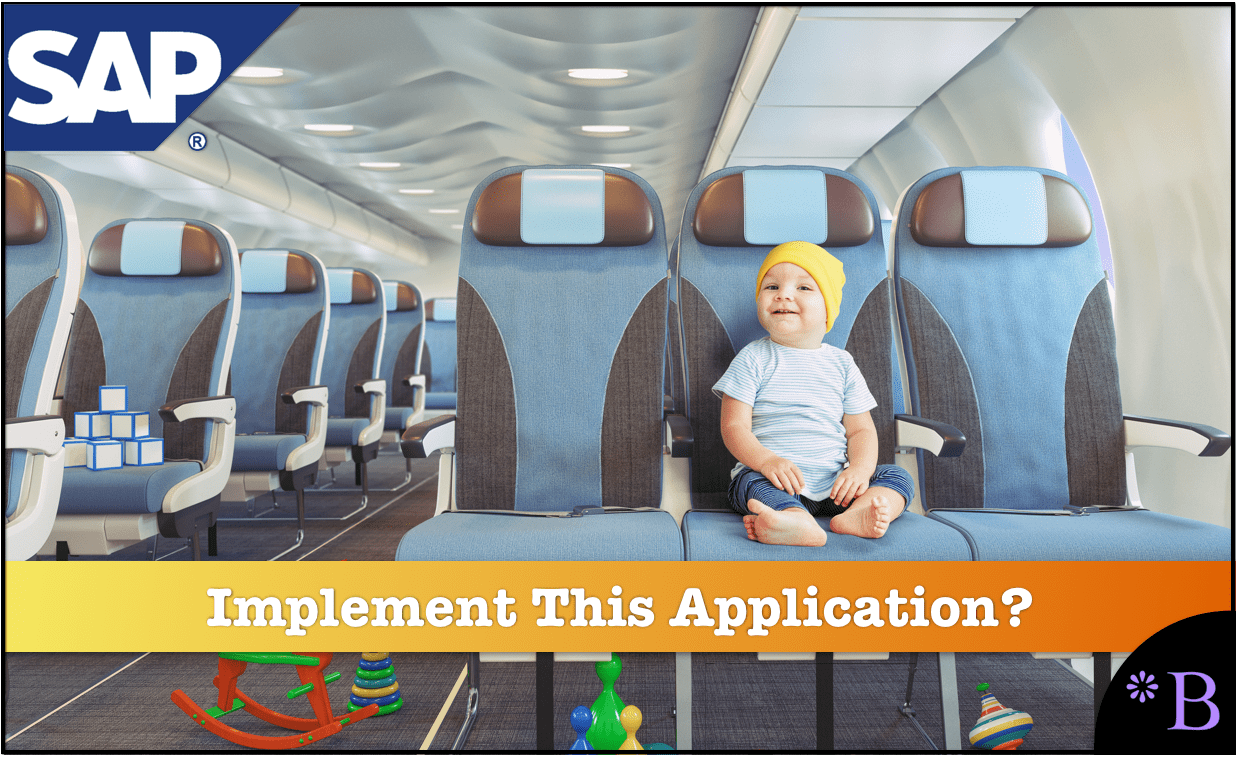 The consulting companies have some maturity issues they would like to hide from you. This is why they can't be listened to — the only thing they look out for is their interests. They are happy to recommend inappropriate applications and create miniature disasters within their clients, as long as they can meet their financial needs. 
If you talk to senior members of consulting firms in private (as I have), they will not acknowledge any responsibility except to maximize the consulting companies' revenues. The approach is that they present whatever they want, and it is the buyer's responsibility to do their own research to fact check the consulting firm.
If we look at the legal defense of WiPro versus National Grid, WiPro stated that while the references they provided were fake, it was National Grid's responsibility to check them. WiPro had no obligation to provide accurate references, as we covered in the article How to Understand Wipro's Position on Lying.
The Problems with Financial Bias in the S/4HANA Decision
Financial Bias: Revlon, based on financially biased information and perhaps financial bias within IT, implemented an ERP system with the highest level of risk associated with any ERP system that we track.
Financial Bias of IT and Consulting Firms: The financial bias of SAP consulting companies is indisputable, but IT departments can appear to act as agents of vendors than of the company's they "work for." This can be due to senior decision-makers' revolving door between implementing companies and consulting firms and the idea that implementing or overseeing the implementation of the most recent SAP applications is right for their career.
The Established Pattern with S/4HANA Implementations: The Revlon failure fits into a long term pattern of S/4HANA project failures being suppressed. This is covered in the article How S/4HANA Cost Overruns and Failures are Suppressed?
Revlon's Failure with S/4HANA Had "Nothing to do with S/4HANA's Maturity?"
Several commenters who specialize in ERP failure analysis have stated that Revlon's problems with S/4HANA had nothing to do with S/4HANA's maturity issues.
As we are the only entity that we are aware of that honestly tracks S/4HANA maturity (see our critique of ASUG's coverage in How Accurate Was ASUG on its S/HANA Poll?). As these individuals do not work on S/4HANA implementations, it is challenging to see how they know this. It is virtually impossible to find any industry commenters who will point out the maturity of products that fail as they look to vendors for payment or promotion. Therefore, without performing any research, they will offer the view that the application is reliable.
The previous version of S/4HANA, ECC, was mature — but this says nothing about S/4HANA. S/4HANA made many changes, particularly to the application's technical backdrop, that significantly reduced its implement-ability.
This is not to say that Revlon's management of the implementation was not problematic (we don't know if it was or wasn't) or if the implementation company did a poor job (they usually do). But if the product itself is not ready to be implemented, it is nonsensical to remove this issue from consideration as a prime contributor to the failure.
The S/4HANA Market is Filled with Entities Providing False Information About S/4HANA Readiness for Implementation
Virtually every SAP consultant that publishes or comments underestimates the difficulty with implementing S/4HANA and misrepresents S/4HANA to prospects. We have brought up whether these consulting companies are implementing projects that they know will fail or have the highest probability of failure but don't care. We covered this in the article, Is it Right to Lead Clients into SAP Software Failure?
If you are a customer interested in implementing S/4HANA and want the worst possible advice, don't forget to check our SAP Deception and Corruption Quadrant. Any of these firms will lie to you about S/4HANA, but they are all SAP Certified partners, so they are your approved sources, and you can choose from any of them. All of them will rob you. But there is a choice. As my previous clients have said…
"We know the consulting firm is lying to us, but they have been recommended to us by SAP."
Many characters like "Grima Wormtongue" consulting firms providing false information with its necessary for a Gandalf type figure to bring technical accuracy and reality to IT departments.
Conclusion
The Revlon S/4HANA case study provides valuable insight into how implementation failures are covered up.
It almost appears the release of information by Revlon was 1/2 unplanned. And the failure was not presented as a failure, but rather the failure was presented within the context of a ready-made plan to remediate failure. This shows the management as totally in "control of the situation," however, a more accurate depiction is they have been played for fools by SAP and their consulting partner. We can be quite confident that if we were to cultivate contacts within those that know at Revlon, they would tell us a very different story than that said in the quarterly call. The very amount of the remediation costs combined with the statements indicate that S/4HANA was cutover into production prematurely and that Revlon has had long term problems with S/4HANA.
Revlon said several inconsistent things: first, they lose money because SAP prevented them from fulfilling orders, and then that SAP was not stopping them from performing production. If Revlon is restricted in achieving, it is impacting production if it isn't stopping production. Furthermore, an ERP can't "stop" production. It does not have a body that can turn the production line "off." Therefore the statement here is misleading. The ERP system can order incorrect amounts of materials and, generally, create havoc in the manufacturing process.
Furthermore, Revlon would naturally be incurring all other types of internal costs. When National Grid failed in its SAP implementation (not S/4HANA), National Grid claimed the following remediation costs in their lawsuit against Wipro.
The problems were so profound that the cleanup took more than two years to complete with a calculated cost of $585M, more than $150% of the cost of implementation. – How National Grid's SAP Implementation Damaged a Company
The investor lawsuit was initiated because some investors felt they had not been informed of the SAP implementation problems.
Revlon is unified with SAP in hiding the failure of this S/4HANA implementation from investors. We have added Revlon to our current research into S/4HANA implementations.