Will Thomas Kurian Bring Oracle's Sales Sleaze to Google Cloud?
Executive Summary
Thomas Kurian, the head of Oracle Cloud, took the reins at Google Cloud.
The WSJ covered Kurian's plans at Google Cloud. We ask a specific question from this coverage.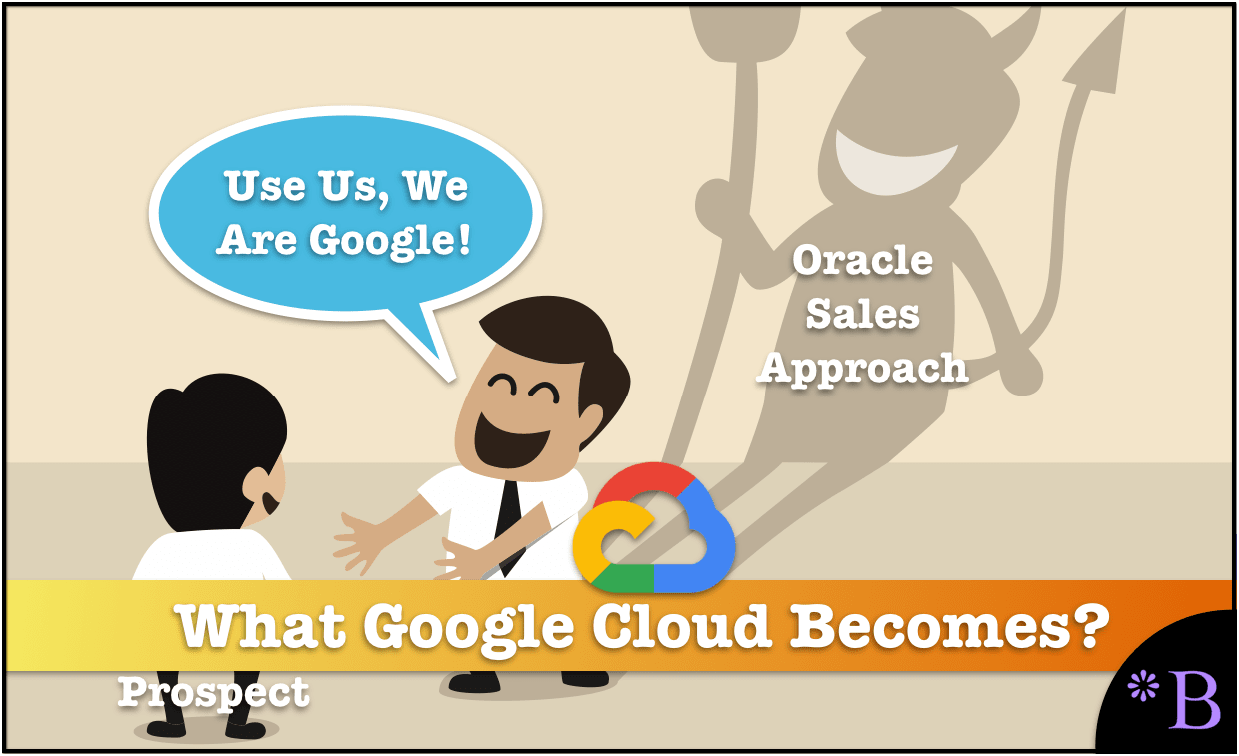 Introduction
The Wall Street Journal wrote an article (What's Been Lacking at Google's Cloud? Enough Humans), where the WSJ delves into Thomas Kurian's plans as the recently named head of Oracle Cloud. This article will review the most important quotations from the WSJ article and provide our take on the likely changes to be put in motion by Kurian.
Our References for This Article
If you want to see our references for this article and other related Brightwork articles, see this link.
Lack of Financial Bias Notice: We have no financial ties to SAP or any other entity mentioned in this article.
This is published by a research entity.
Second, no one paid for this article to be written, and it is not pretending to inform you while being rigged to sell you software or consulting services. Unlike nearly every other article you will find from Google on this topic, it has had no input from any company's marketing or sales department. 
Thomas Kurian's Observation on Google Cloud
The WSJ article points out Kurian's observations on Google Cloud after leading the organization for several months.
"Weeks into his new job as head of Google's cloud business, Thomas Kurian identified a chief complaint from big business customers: They often didn't have account managers to call.

Understanding corporate customers is precisely why Google hired Mr. Kurian, who spent two decades at longtime adversary and competitor Oracle Corp. , including running product development. Customers are happy with Google's technology, he said, but not their lack of access to sales managers to cater to their needs—a basic business tactic.""
Oracle is not an adversary of Google or any other cloud service providers because they have a nearly unmeasurable cloud services presence.
Something left out of this observation on the part of the WSJ is how do Oracle customers feel about the Oracle Cloud, the division of Oracle that Thomas managed before he left to work for Cloud.
So how do they?
Customers were unhappy with the technology and customer service. You could access Oracle customer service, but it was and is exceedingly poor, with high turnover.
Secondly, because the Oracle Cloud lacks self-service capabilities, you have to reach out to people. Oracle's solution to the Cloud seems to be people people people. It is ridiculous in that everything seems to require some engineer to set things up for you. This is one (among many reasons) that Oracle's claims to have reached equivalence with AWS and GCP have always been ludicrous.
Oracle Cloud seems less like something built and more like something that is built when requested. As Ahmed Azmi states, "if they come, we will build it."
Unsurprisingly, Oracle's CAPEX for the Cloud is tiny, as covered in the article The Problem with the Oracle Cloud and Colocation. AWS and GCP have built something; they are not just using their clouds to attract people and then put people to work building stuff after someone has asked for it.
Under Kurian, Oracle Cloud and now has no understanding of how to manage a cloud services operation, and they also have no idea how to build one, despite hiring people from AWS and GCP. This is something the WSJ should always keep in the back of their mind as they listen to Kurian.
The WSJ continues.
Simplified Contracts?
"Mr. Kurian said he has simplified contracts for different types of businesses instead of a one-size-fits-all approach, and has moved to more predictable pricing, in a way corporate buyers appreciate. He intends to dramatically boost Google Cloud's sales and support staff.
Google Cloud already had a simplified contract. Secondly, Oracle is known for the most byzantine contracts in enterprise software, and Kurian brought simplified contracts to Google?
That is a bit of a pill to swallow. Let's spit that pill out.
On pricing, Google's pricing has always been predictable and auditable, unlike Oracle Cloud's. All of this is easy to verify. Let us go to our Google Cloud account.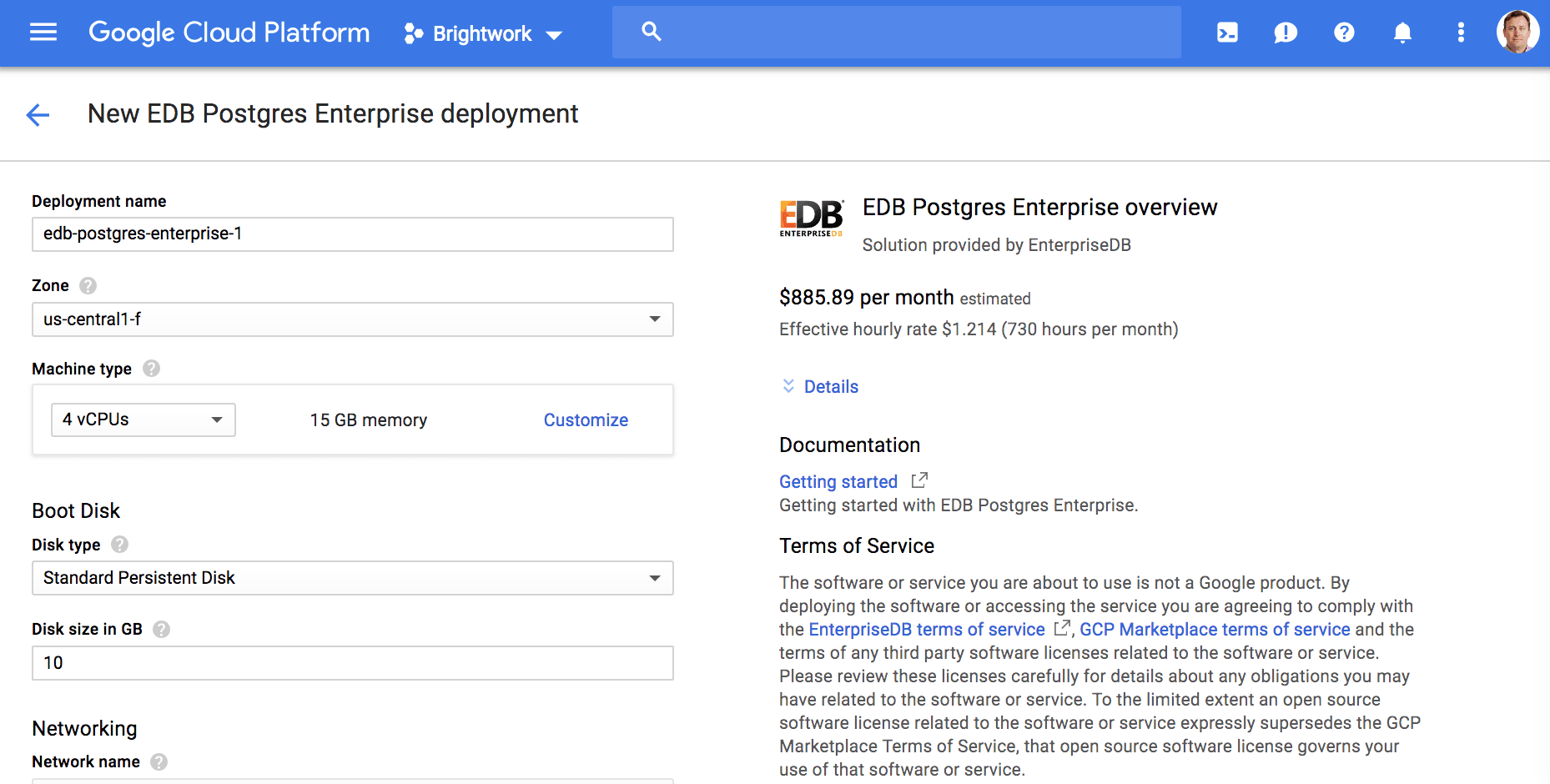 Google Cloud, like AWS, has predicted costs for various instances. The price auto-adjusts as soon as you make a change to the deployment. Oracle Cloud has never had this. 

And Google Cloud already has far more transparent billing than does Oracle Cloud. 
WSJ should recognize that Thomas Kurian will say that he will do some things, but only a portion of those statements will be true. 
The WSJ continues.
Kurian = Customer Expert?
"There are certain things that you learn having dealt with enterprise customers for 22 years," Mr. Kurian said in an interview."
Kurian may have dealt with enterprise customers for 22 years, but it is not clear that he satisfied them. If you check Oracle's customer satisfaction, it is the lowest in the software industry. So why does Kurian have any credibility when he makes this statement? Southwest Airlines knows how to satisfy customers. The Marriot Hotels know how to satisfy customers.
But Oracle knows how to satisfy customers?
The WSJ continues.
Kurian is Bringing Oracle Support Knowledge
"Google Cloud had prioritized developing technology over sales and support, said Gene Reznik, strategy chief at the consulting firm Accenture PLC, which helps clients deploy tech from major cloud services including Google's.

"There is a lot of hand-holding required" with big corporate customers, Mr. Reznik said. But Google often had product engineers rather than account managers handle customer calls. "It really wasn't their day job," he said, adding that Mr. Kurian brings a corporate credibility to Google's "consumer-centric culture.""
It isn't easy to see who besides Gene Reznik thinks that Kurian brings credibility for customer support from Oracle to Google.
Oracle routinely receives the lowest rating for support. Comments on Oracle support are frequently laced with profanity for how Oracle support let them down.
Oracle's support has a 90%+ margin because Oracle prefers to make its support revenue almost entirely margin versus investing anything in its support resources. We covered this in the article, How do SAP and Oracle's Support Profit Margins Compare to Pablo Escobar?
Oracle spends a disproportionate amount of its money on salespeople versus people that "hold people's hands."
It is a bit curious how Gene Reznik missed all of this. It's almost as if Gene Reznik has no idea how Oracle operates.
The WSJ continues.
The Disaster Area That is the Oracle Cloud Can Be Overlooked Because of the Oracle Database?
"Mr. Kurian, who regularly met with customers at Oracle even as a top engineering executive, said he recognizes the challenge. He has his first big chance to lay out his vision for closing the gap with Amazon and Microsoft when Google begins its annual cloud-computing conference Tuesday in San Francisco.

There, he plans to pull from the playbook of Oracle, which has struggled in cloud computing but has been a leader selling database software."
The assumption here seems to be that Oracle has been successful with their database because they are a leader in customer service or pleasing customers.
This is not true.
Oracle has very well documented monopoly power in the database market; it is not used because Oracle has demonstrated superior or even adequate customer service capabilities.
Time for Oracle's Sales Sleaze?
"Mr. Kurian will detail a dramatic ramp-up in Google Cloud's sales team and unveil new technology enabling programmers to develop applications that can run on Google Cloud as well as on services from Amazon and Microsoft—comparing it to Oracle's widely used Java computing language."
Well, of course. And where will these salespeople be primarily drawn from? Well, it begins with an "O."
The pattern with Oracle is for companies that receive Oracle executives to be quickly inundated with ex-Oracle employees.
This usually rapidly decreases the ethics within this organization, and soon the pre-existing employees begin to refer to the new ex-Oracle employees as "the Oracle mafia."
People who are good actors will often seek to leave a company after Oracle employees have infested it.
The overall morale tends to decline.
As for technology, it is doubtful that Kurian is enabling anything technologically within Google. Remember, the Oracle Cloud technology was and is terrible. Kurian had several hires from AWS and Google Cloud, but he could not get much out of them.
The WSJ continues.
Kurian's Sales Changes
"Mr. Kurian declined to provide specific figures but estimated his sales force is between one-10th and one-15th the size of sales forces at Amazon Web Services and Microsoft's Azure, which don't disclose such figures. Within two years, Mr. Kurian expects his sales staff to be about half their size.

Some customers, though, hope Mr. Kurian won't bring Oracle's famously high-pressure sales approach. "As much as he brings the enterprise focus to the table, there are some who worry that he brings Oracle to the table," said Andy Zitney, chief technology officer at the tech unit of McKesson Corp., referring to hardball sales tactics some Oracle customers had criticized."
But the problem is that Kurian will bring high pressure and hardball tactics and a sales force that makes fallacious claims.
Oracle type claims.
Oracle, by all accounts, has the most dishonest sales force in enterprise software, beating out SAP, which holds the number two spot in our rankings. Kurian has 22 years of working for a company that sets the low bar for honesty in software.
Why would Kurian not bring this sales approach to Google Cloud?
Alienating the Google Cloud Engineers
And this is alienating to engineers. Google Cloud has some outstanding engineers. How will they appreciate being held responsible for statements made by new Oracle sales reps who are lying out of every orifice in their bodies?
I can say that as a person who has been in this position, they won't like it.
When I worked out of the Singapore of i2 Technologies, I was covered on all sides by highly sleazy salespeople. This group would say anything to get a sale. The only experience any of them had with the software was reading marketing literature. One day one of the salespeople stuck their finger in my chest and told me…
"You need to get with the vision that the VP of Sales is creating for this company!"
He was hopped up on some sales extravaganza she had just attended. And took her ignorance out on my chest.
That particular office was just known for that. I was one of the few consulting resources in that office. The rest of the consultants in that office had been beaten down after years of abuse by these salespeople.
So what did I do?
I promptly found projects that were in other countries where I could get away from the sales team out of that office.
That is what unethical salespeople do to those with domain expertise, making them want to leave either the office or the area they inhabit. And recall, Google Cloud engineers are incredibly marketable. They can be snatched up at a premium over their current salary. This means that Kurian's legion of Oracle sales cheezeballs imported from Oracle has an excellent chance of reducing the technical talent within Oracle Cloud. The ex-Oracle salespeople will be looking for technical yes men, so there should be some turnover in Google Cloud organization as the less talented meeker replace some of the best talents that Google Cloud has.
In light of this, we developed the following advertisement for Oracle, which they can use against Google.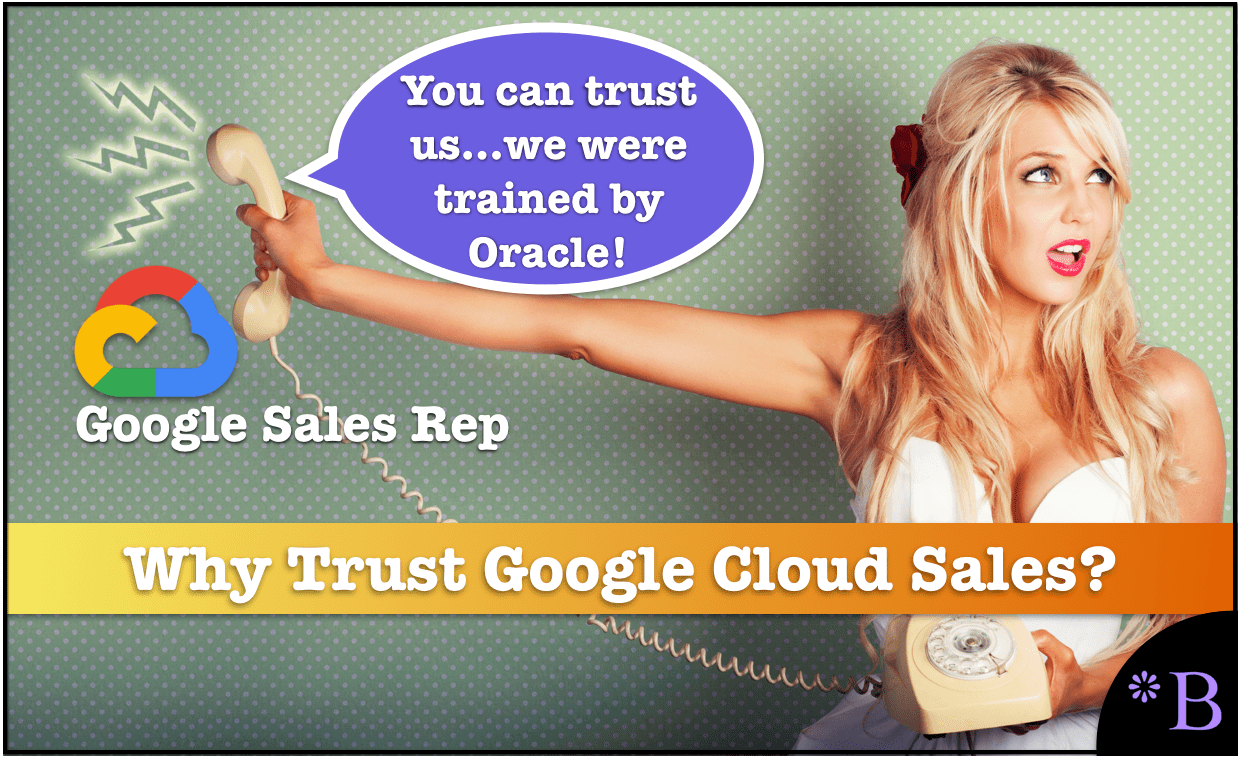 This could be an effective advertising campaign for Oracle against Google Cloud. It's a little confusing, but it could work. 
Kurian's History at Oracle
As well as the underhand tactics being used to create and prop up cloud sales, the suit also notes that 22-year Oracle stalwart Thomas Kurian, then President of Product Development at Oracle – and responsible for leading their transition to the cloud, started selling a significant number of his personal shares. During the class period (March 15, 2017 to June 19, 2018) he sold almost 4 million shares which amounted to over $191 million. The court documents detail how a number of these stock sales came shortly before Oracle announcements which caused the share price to drop.

Potentially relevant is that Kurian took a leave of absence at the start of September 2018, and then resigned before the month was out. Apparently, this related to a falling out with Ellison over whether Oracle should open up more of their portfolio to run on Amazon AWS and Microsoft Azure. – ITAM Review
What Google Cloud Needs
Google Cloud needs improvements, but it does not necessarily add unscrupulous salespeople from Oracle that will only increase business in the short term. We have little doubt that Google Cloud will see some growth in the next few quarters as their newly Oracle infused salesforce makes all manner of promises that can't be kept. However, Google Cloud is losing business right now because they could invest more money into making Google Cloud more self-service than it is. Google Cloud is decent in this area, but with their internal skills, they could get better.
This is the same issue that we see with AWS. Standing up Google Cloud and AWS instances in various areas would be made more logical and self-service. For example, just doing basic things, like connecting a backup to the Google Drive API, takes too long and is overly complicated. This should be dead shot easy, but it isn't. This is on our mind as we were doing this just recently. And we decided to go with a different backup provider because it was too complicated in Google Cloud. We were investigating ElasticSearch on AWS and ran into the same issue when attempting to create a sitewide search engine with more sophistication than is generally available. But again, this will be another research project for us. There are many opportunities to compete against the hyperscale providers, even if the price is higher, making the technologies more usable.
Why have these things not been made more straightforward?
So we have to spend hours reading the documentation to figure out how to get this done. We don't want to talk to anyone at Google, and we don't want our "hands held." This should be worked out so that the customer can figure out how to do this.
Self-service is what separates cloud services from on-premises vendors that have tried to offer cloud services. It is not adopting the high sales orientation and top consulting and service support of vendors like Oracle. That is the exact opposite of what the Cloud is supposed to be all about.

Conclusion
The quality of the information provided to the customers went down when Thomas Kurian joined Google Cloud, and the more he brings in "his people," the worse it will become. And it won't stop at just impacting the sales side, overzealous and unethical salespeople alienate technical resources. This is a major reason that Oracle has not developed anything outside of their database where they have a particular and historical advantage in development. Oracle has not made 137 acquisitions because it is good at internal development.
This article by the Wall Street Journal did not analyze Kurian's statements to see if they fit with Kurian or Oracle's history.
Kurian's strategy will make Oracle Cloud more like the offerings of the major on-premises vendors, with more sales, more overhead, more sales exaggeration, and less of an emphasis on what makes cloud services self-service. The idea of cloud services was to work against the on-premises vendor model, not to copy it.