How to Interpret SAP and Microsoft's 2017 Cloud Partnership Announcement
Executive Summary
SAP reversed its position on the Cloud with its 2017 position on partnering with Microsoft's Azure.
We make sense of SAP's puffery.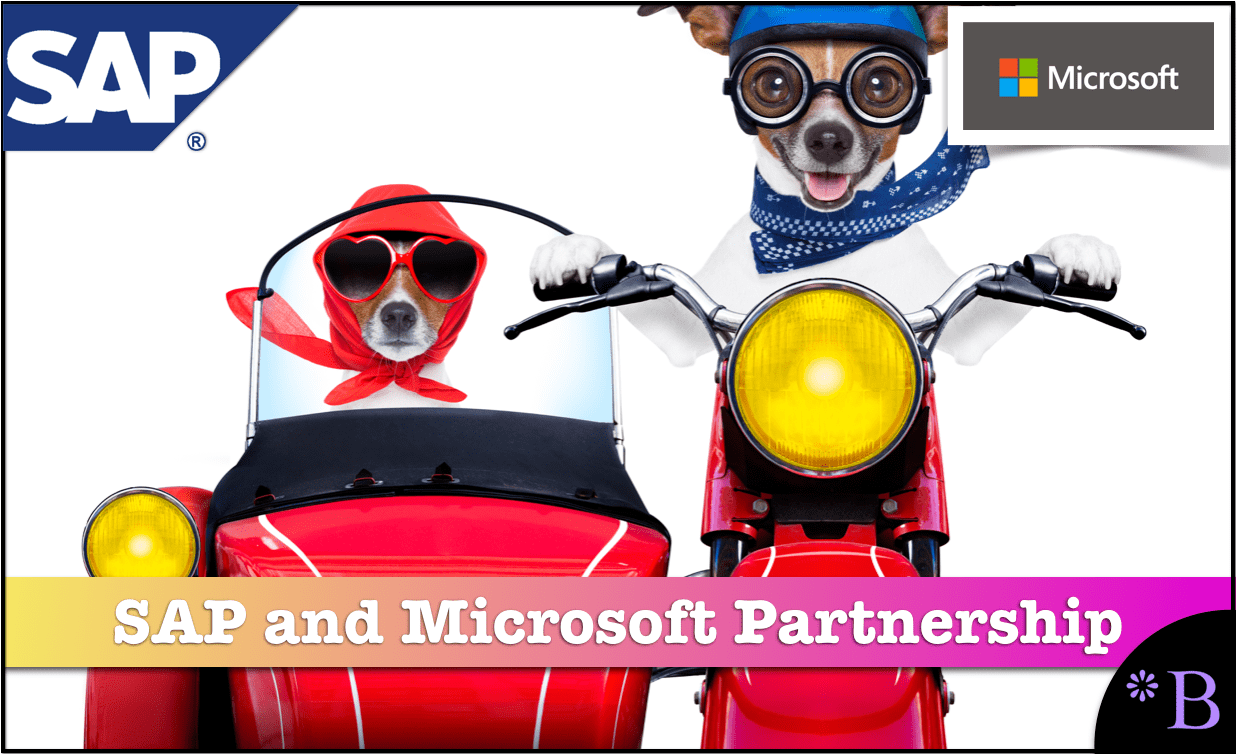 Video Introduction: How to Interpret SAP and Microsoft's 2017 Cloud Partnership Announcement
Text Introduction (Skip if You Watched the Video)
Recently we were asked about SAP and Microsoft's cloud partnership announcement of November 27, 2017. In this announcement, Microsoft stated it would implement S/4HANA. This is a curious thing to state, as Microsoft competes against S/4HANA with its Dynamics product. And in return, SAP stated that it was going to use Microsoft's Azure cloud. And that somehow this was all going to be a huge boon to SAP and Microsoft customers. You will see how mega-vendors create fake partnerships like this that are entirely around being used for marketing benefits.
Our References for This Article
If you want to see our references for this article and other related Brightwork articles, see this link.
Lack of Financial Bias Notice: We have no financial ties to SAP or any other entity mentioned in this article.
This is published by a research entity.
Second, no one paid for this article to be written, and it is not pretending to inform you while being rigged to sell you software or consulting services. Unlike nearly every other article you will find from Google on this topic, it has had no input from any company's marketing or sales department. 
Opening With The Standard Puffery
"Microsoft Corp. and SAP SE on Monday announced integrated offerings to provide enterprise customers with a clear roadmap to confidently drive more business innovation in the cloud. In a bold show of commitment, the two companies also announced they will be deploying each other's cloud solutions internally."
So the first part of this paragraph is throw away. Most announcements like this are often filled with gratuitous bragging on the part of the participants. The meat of this paragraph is the part about each company deploying each other's solutions.
For Microsoft, this is a mistake. As we cover in our Study into SAP S/4HANA Implementations, S/4HANA has had many problems being taken live.
Will S/4HANA become a production system for Microsoft?
Probably not.
It may never become something that Microsoft relies upon. Microsoft can simply run S/4HANA as a test environment. No one will check if Microsoft is really using S/4HANA, but Microsoft may want to get a version doing something so that they can use it for marketing purposes. Internally, the MS Dynamics team will most likely not appreciate this part of the announcement.
Now, will SAP be deploying Microsoft's Azure solutions internally? That would be curious if they did. But it may be to run some small portion of SAP. These are companies with enormous resources, and they can afford to run each other's products in a minor way if they like. But one should not merely take SAP and Microsoft's word for it. They may only be saying this to get a marketing boost.
The announcement says more things on this point.
"Additionally, Microsoft will deploy SAP S/4HANA® on Azure to help run its own internal finance processes, and SAP will move its key internal business critical systems to Azure."
This is a curious statement given that SAP had, at one point, said that it was going to beat AWS in hosting.
For example, in 2015, Steve Lucas of SAP was reported in Diginomica had a very different perspective.
One Hundred and Eighty Degrees Different from Steve Lucas's Comments on This Exact Issue in 2015
"He took the opportunity to explain why he believes SAP is a better option for enterprise buyers than Oracle, IBM, Microsoft and AWS. But does it make sense in today's world?

However, Lucas was also keen to highlight the benefits that owning Ariba's network has on application design for S/4 and the fact that SAP has built out its own data centre infrastructure. Lucas said that SAP had no interest in building on the likes of Amazon Web Services (which the likes of Infor have done) because it doesn't believe that this will cater to people's data protection requirements.

Lucas said:

We could have also said a long time ago that we were going to build this on AWS. It's cheap. Why not? The reason why not is because of the healthcare laws and the data privacy laws, which are so different country by country. For us really we want to be able to deliver a consistent, safe and secure offering.

We built our own data centers for the HANA Cloud Platform, this is really important. The reason that we have not put the HANA Cloud Platform on something like AWS, is because AWS doesn't adhere to all the global privacy laws where we operate. We actually own and operate our own data centers. That's incredibly critical." – (Steve Lucas) Diginomica
Wow!
Times have changed in a short time!
In 2015 Steve Lucas thought that AWS was…
Too insecure
It lacked privacy
He thought that SAP needed its own data centers.
Now SAP is promoting customers to place S/4HANA on Azure, which is no more secure or private or as much on SAP's data center as is AWS. This is consistent with SAP's announcement of the Multicloud, which we covered in the following article How to Best Understand SAP's Multicloud Announcement.
SAP did not move to promote SAP with AWS or Azure because it was or was not right for customers. They changed their policy because they failed to compete with Azure and AWS.
Hosting has been a long-term weakness of SAP, outside of the hosting offered by the companies that SAP acquired (liked SuccessFactors and Ariba) that were already in the Cloud before SAP acquired them. This was explained best in Vinnie Mirchandani's book SAP Nation 2.0.
Let us move back to the SAP Microsoft Announcement.
On Ariba
"Finally, SAP Ariba is currently utilizing Azure and is exploring further use within its procurement applications."
This is a long-term trend. Even Salesforce, the largest pure SaaS vendor and a vendor that was well regarded for very competent hosting capabilities, outsourced their hosting to AWS in 2016.
A Unique Partnership?
"Through their unique partnership, the companies will co-engineer, go to market together with premier solutions and provide joint support services to ensure the best cloud experience for customers."
So this paragraph is just fluff. It can be disregarded as it does not carry any information.
"SAP HANA® Enterprise Cloud — SAP's private managed cloud service — on Microsoft Azure will allow customers to run SAP S/4HANA in a secure, managed cloud."
Ok, but that is not particularly relevant. The reason for this is because SAP has extremely few cloud customers.
The reason is twofold.
Installed Base: As mentioned earlier, S/4HANA is very lightly installed. The numbers provided by SAP (over 1000 live instances of S/4HANA) are highly exaggerated.
Customization: S/4HANA requires customization to meet customer's requirements (ECC was customized in 92% of cases). For this reason, S/4HANA cannot be multitenant. This is covered in the article Is S/4HANA Actually Designed for the Cloud?

This image is designed to allow your brain to rest and to prepare you for an extensive section of puffery. Get up and get a drink if you like. 
A Rather Extensive Section of Puffery
Breeze through this next paragraph as it does not actually contain content.
"Together, SAP and Microsoft will help companies make the most of running SAP applications in the cloud. Bill McDermott and Satya Nadella sit next to each other on stools SAP CEO Bill McDermott (left) and Satya Nadella, CEO at Microsoft, double down on their commitment to partnership "As technology transforms every business and every industry, organizations are looking for the right platforms and trusted partners to help accelerate their digital transformation," said Satya Nadella, CEO of Microsoft. "Building on our longtime partnership, Microsoft and SAP are harnessing each other's products to not only power our own organizations, but to empower our enterprise customers to run their most mission-critical applications and workloads with SAP S/4HANA on Azure."

"Enterprise companies are increasingly moving business-critical systems to the cloud for the benefits digital transformation provides: better customer relationships, more empowered employees, streamlined operations, new business models, and new products and services. According to research firm Gartner Inc., two-thirds of all business leaders believe that their companies must pick up the pace of digitalization to remain competitive.* As leaders in enterprise software, SAP and Microsoft are aligning closely to provide customers with the safe and trusted path to digital transformation."

"We are taking our partnership to the next level with this new capability to run SAP S/4HANA in the Microsoft Azure environment," said SAP CEO Bill McDermott. "The world's significant businesses trust Microsoft and SAP. Together, we will help companies win the customer-driven growth revolution."
That is enough, as I said.
There was more, but I cut the quotation at this point.
Surprise…….Big Companies Use SAP and Azure!
"Enterprise customers of all types, such as The Coca-Cola Company, Columbia Sportswear Company, Coats and Costco Wholesale Corp., count on SAP and Azure today for their businesses. "The strategic partnership announced between Microsoft and SAP is an extremely important development for the Coca-Cola System," said Barry Simpson, senior vice president and chief information officer at The Coca-Cola Company. "The value of aligned engineering, sales, and delivery between these two strategic partners will allow our system to accelerate our digital agenda. This is a very positive and exciting development for us."
This is the social proof part of the announcement. There were several other companies listed, but you get the idea.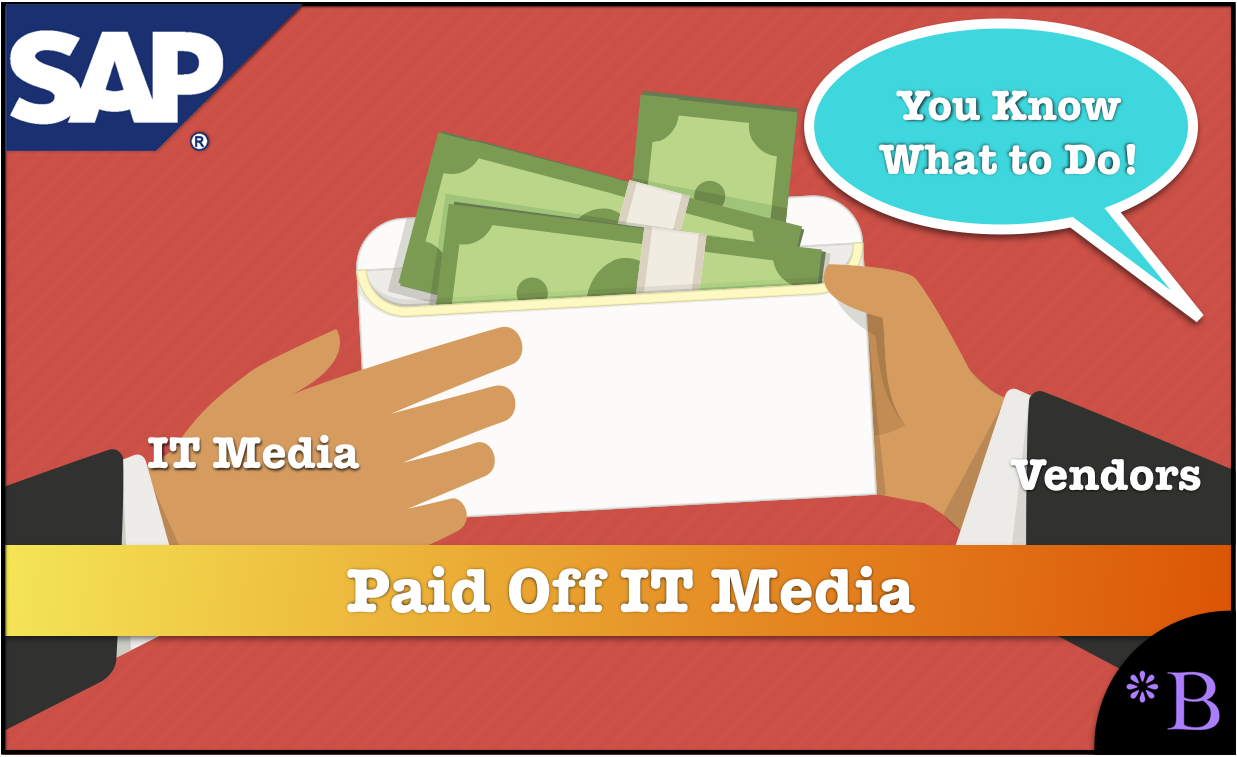 Paid
Not to

Notice the Change in SAP's Cloud Policy?

The most interesting thing is that the about-face between SAP's position in 2015 and their position in 2017 is so drastically different. Steve Lucas's arguments in favor of not using a 3rd party for hosting did not make any sense when he said them by then or now. We have a full critique of Steve Lucas' statements to Diginomica in the article The Problems with Diginomica on Steve Lucas on HANA, Oracle, IBM, AWS, and Microsoft.

We were not able to find any place where it was mentioned that SAP pulled an about-face on this topic.

Forbes had some coverage of the partnership that was quite amusing. Here are a few quotes from Forbes.
"(the partnership) It directly involves the high-profile CEOs of each company: Microsoft's Satya Nadella and SAP's Bill McDermott, and it extends—signficantly and dramatically—the long-time alliance that's existed between the two software powerhouses.

It's not just some deep-tech code alignment but an end-to-end partnership: Microsoft and SAP say they will "co-engineer" new products and services, "go to market together with premier solutions, and provide joint support services."

Against that backdrop, here's what some world-class customers had to say about the benefits they'll gain from the deep cloud collaboration between SAP and Microsoft.

So: amid the saber-rattling and bombast and blunt-force competition that have been the hallmark of the Cloud Wars, it's quite compelling to see two of the world's leading enterprise-software and cloud-computing companies embrace the opportunity to collaborate deeply and broadly for the benefit of some very, very happy customers."
It's just too funny! This is obviously a paid placement on the part of SAP or Microsoft or both. The level of analysis provided by Forbes is nill. The author could not care less if anything they are writing is true.
And that, ladies and gentlemen, is how you make big money in the media business.
Conclusion
As is usually the case, the money in both media and consulting comes from repeating what SAP says to you.
The compliant nature of the coverage of things like the SAP and Microsoft announcement demonstrates that when SAP and Microsoft have their marketing departments craft such statements, they know that the media entities they pay to cover these types of things will report it almost word for word.
Overall, the announcement most likely does not amount much. It is further reinforced that SAP is no longer trying to fight the powerful trend of specialized IaaS and PaaS vendors.