Oracle Sued for Making False Claims About Cloud Growth
Executive Summary
Oracle is being sued for making false claims about cloud growth, and we review the accusations brought by the Fireman's Fund.
How it is common for Oracle to lie both to investors and customers.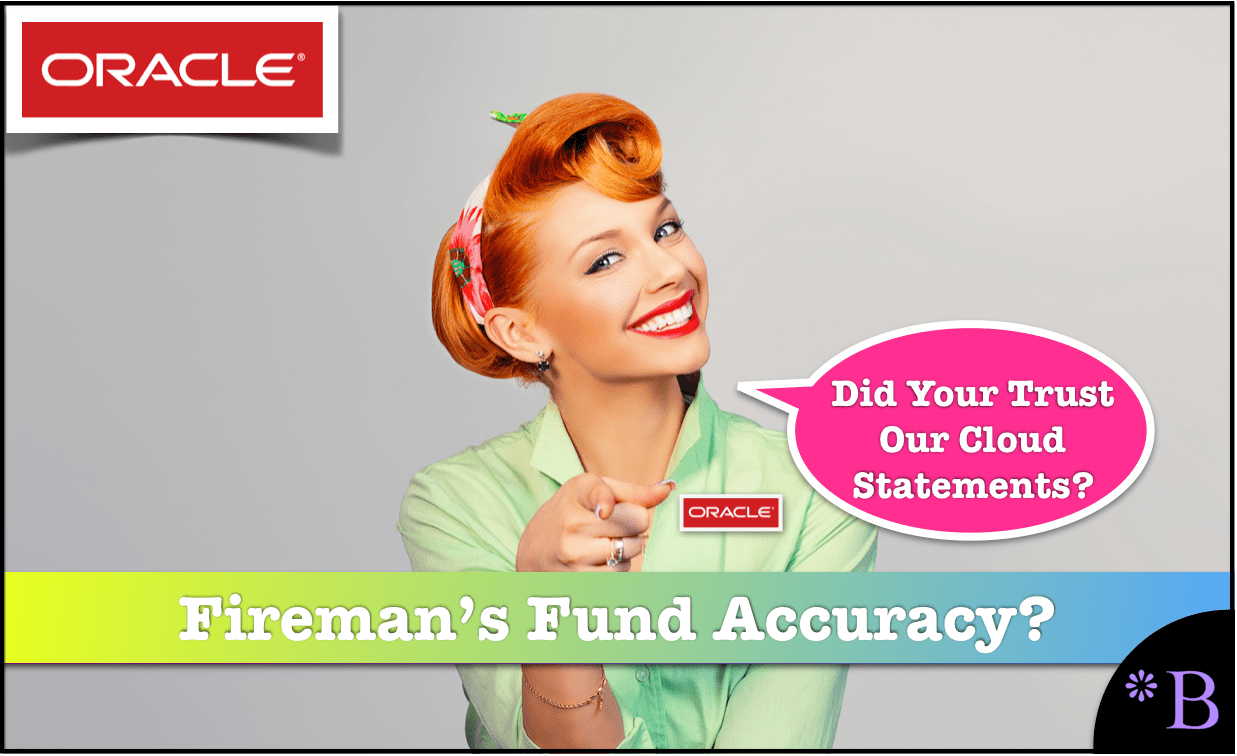 Introduction
We have been exposing areas around Oracle's exaggerations of its Cloud. However, Oracle is now being sued by the City of Sunrise Firefighters' Pension Fund for these exaggerations. In this article, we will review quotations from the complaint.
Our References for This Article
If you want to see our references for this article and other related Brightwork articles, see this link.
Lack of Financial Bias Notice: The vast majority of content available on the Internet about Oracle is marketing fiddle-faddle published by Oracle, Oracle partners, or media entities paid by Oracle to run their marketing on the media website. Each one of these entities tries to hide its financial bias from readers. The article below is very different.
First, it is published by a research entity.
Second, no one paid for this article to be written, and it is not pretending to inform you while being rigged to sell you software or consulting services. Unlike nearly every other article you will find from Google on this topic, it has had no input from any company's marketing or sales department. 
Oracle's History with the Cloud
"Historically, Oracle's revenues were driven by the sale of the Company's on-premises software services, but those revenues have stagnated in recent years as customers shifted to cloud-based programs. Although Oracle initially hesitated when deciding whether to enter the cloud storage business, as cloud storage became mainstream, Oracle began to rapidly expand its cloud offerings.

This matter arises from Defendants' misrepresentations regarding revenue growth within Oracle's cloud segment and the drivers of that growth. Throughout the Class Period, Defendants falsely attributed the Company's revenue growth in its cloud segment to a variety of factors and initiatives, including, among other things, Oracle's "unprecedented level of automation and cost savings," as well as the Company being "customer-focused" and "intimate partners with our customer."
This history presented by the Fireman's Fund is accurate. We covered the twin claims of automation and cost savings in the article, How Real is Oracle's Automated Database.
This matter arises from Defendants' misrepresentations regarding revenue growth within Oracle's cloud segment and its drivers. Throughout the Class Period, Defendants falsely attributed the Company's revenue growth in its cloud segment to a variety of factors and initiatives, including, among other things, Oracle's "unprecedented level of automation and cost savings," as well as the Company being "customer-focused" and "intimate partners with our customer."That Oracle has been increasingly making false claims around automation. These claims seem to be part of a coordinated marketing strategy to claim that unrelated Oracle products are now magically automated. As for cost savings, Oracle's Cloud is not known for cost savings, and internally Oracle has proposed that cloud margins by 80%. Oracle has not historically focused on reducing the customer's costs but is known for constantly increasing prices. Therefore Oracle's cost claims ring hollow.
"In truth, Oracle drove sales of cloud products using threats and extortive tactics. The use of such tactics concealed the lack of real demand for Oracle's cloud services, making the growth unsustainable (and ultimately driving away customers). Among other things, the Company threatened current customers with "audits" of their use of the Company's non-cloud software licenses unless the customers agreed to shift their business to Oracle cloud programs."
Oracle is well known to use extortive tactics and audits to control the purchases of their customers.
Can Gartner be Introduced as a Credible Source?
Gartner is a faux research firm with a long history of conflicts of interest and sells its rankings for money. https://www.brightworkresearch.com/gartner-makes-money/ But for whatever reason (even though Oracle does pay Gartner), Gartner has tended to have a conflicted relationship with Oracle. The Fireman's Fund lists the following quotation from Gartner.
"Gartner, Inc.—a leading research and advisory company—observed that Oracle had to rely on coercive practices because its cloud-based offering is a "bare-bones minimum viable product." These revelations caused Oracle shares to decline by $4.90 per share, or nearly 9.5%—the Company's largest single-day stock drop in over five years."
How Larry Ellison was so Wrong
"In 2008, when cloud-based software products began to gain popularity and technology companies such as Google and Amazon were starting to expand into this new area of data storage, Oracle stated its intention to stay out of the cloud business. At the time, Defendant Ellison, called cloud storage "complete gibberish" and questioned when this "idiocy [was] going to stop?" By 2015, however, as cloud storage entered the mainstream, Oracle publicly acknowledged the importance of developing successful cloud services in order to compete with platforms offered by Amazon and Microsoft and began to aggressively pursue several acquisitions in an attempt to expand its cloud offerings."
This is true. The Cloud caught Oracle and Larry off guard. Furthermore, the Cloud operates against Oracle's business model, which is based upon making large exaggerations as to its product capabilities and then under delivering. Oracle is likely to have a problem with the Cloud because Cloud, particularly in its purest form, provides far more freedom to the customer.
Railroading Customer into the Cloud with Audits?
"As a late comer to the cloud space, Oracle had ceded significant market share to its competitors.
Oracle's Cloud is complicated to use, is poorly documented, and is so far behind market leader AWS that there is not much to talk about. The only people who spend time discussing the Oracle Cloud are Oracle sales reps and other people working at Oracle.
 Instead of focusing on creating a better product, however, Oracle relied on improper sales practices to railroad its customers into purchasing the Company's cloud offerings. One such practice was to "audit" customers' use of the Company's non-cloud software licenses and charge those customers hefty penalties unless they agreed to shift their business to Oracle cloud programs. Oracle's use of audits was well known within the industry, but the extent to which the Company was using threats of audits to coerce customers to purchase cloud products was not known to investors, and expressly denied by the Company.

In addition to threatening customers with audits, Oracle also decreased its customer support for certain of its on-premises and hardware systems, in an effort to drive customers away from such systems and into cloud-based systems. Oracle also strong-armed customers by threatening to dramatically raise the cost of legacy database licenses if the customer chose another cloud provider."
Unmentioned here, and perhaps unknown to the Fireman Fund, Oracle has changed its incentives for a sales rep only to compensate for cloud sales. The problem? Oracle does not have much to sell in the Cloud…..so sales reps often sell both the Cloud and the on-premises version of the Oracle software, with the Cloud being reported to Wall Street and the on-premises version being used by the customer.
An article in Business Insider covered this topic.
"One of the ways Oracle's sales people beefed up cloud sales — and their own commissions, which were heavily tied to how much cloud they sold — was a tried-and-true method, according to the salesperson. It involved including cloud credits on a customer's contract even if the customer didn't want the cloud product, this person said.

But there was a second, more questionable tactic being done three and four years ago, according to the people familiar with it, which could have impacted Oracle's business in its fiscal 2018, which ended in May.

It's known as "cancel and replace," according to Craig Guarente, CEO of Palisade Compliance. Guarantee is a former Oracle vice president who now works on the other side of the table, helping Oracle's customers negotiate contracts with the software giant.

"Cancel and replace" is essentially a grand bargain with customers that lets them out of paying a lot of money for a support contract on those unwanted products, if they agree to spend that money instead on Oracle's cloud even if they don't want and won't use the cloud (emphasis added), Guarantee and the salesperson said."
Oracle's Lock in Model for Support
And this gets to the heart of how Oracle locks customers in and how they make money.
"To understand "cancel and replace," it's important to understand how Oracle makes its money. The company makes three times more money on support contracts and on renewing licensing with existing customers than it makes on selling new products to customers."
Fifty-six percent of Oracle's revenues come from support, and most of its profits as Oracle reports a 93%+ margin on support.
"And Oracle has become a master of locking customers into paying more and more for their support and renewals over time through tough contractual terms, Guarente said. Anything that lets them out of those contractual terms would make customers happy, but wouldn't be as good for Oracle's bottom line. For instance, companies that want to use Oracle's database or its popular HR or financial software will get discounts on those products if they also agree to add products they don't want to their contracts, products Oracle wants them to try, and to pay for support for all the products on the contract. Support helps companies properly install and troubleshoot their software.

The tactic of "cancel and replace" allowed customers to cancel their long-term, expensive support contracts and replace them with ones that had them paying for "cloud credits," aka hours of usage of Oracle's cloud, even if they never planned to use the cloud"
A Highly Problematic Statement
This next area gets into a highly problematic area as it was not disclosed but is an example of extreme financial engineering on Oracle.
"At first salespeople were offering a dollar-for-dollar trade, too, Guarente said. So if a customer was paying, say, $2 million annually in support, the salesperson would allow them to convert that to $2 million in cloud credits, even if they didn't want to use the cloud. And when the three-year contract was up, they could stop paying. Then the salespeople upped the terms. They started requiring customers to agree to $2 of cloud credits for every $1 of support revenue they cancelled and replaced, Guarente said. At the end of three years, customers could stop paying, so it was still a good deal in the long term for customers. Internally, these were considered sketchy deals, but tempting ones, the salesperson said. "I personally know people who made $500,000 to $1 million in commissions doing this," the salesperson said."
Oracle salespeople are undercutting Oracle's primary strength, its support stream, in exchange for what Oracle incentivized them to sell. However, the Oracle Cloud is not usable by most customers, meaning that the cancellation rates for the Oracle Cloud will be high.
"And if a salesperson didn't go along with the team's plan for making numbers, "they'll make your life hell," said the salesperson. For instance, the manager could do everything from rejigger a territory to subject the person to a lot of nitpicking when trying to get deals approved, this person said.

While plenty of Oracle customers have legitimately signed up for Oracle's cloud and use it, ultimately, many of these deals for unwanted cloud credits didn't entice the customers to use the cloud, both the salesperson and Guarente said. They merely allowed them to stop paying big support bills when their three-year contracts expired.

Oracle saw the light sometime last year on this practice and stopped letting those types of deals get through, both the salesperson and Guarente said. And Geraffo's email drove the point home, the salesperson said.

While some customers have since successfully negotiated an exchange of support payments for cloud credits, Guarente said, they can no longer stop paying at the end of the contract. If they don't use the cloud and want to cancel it, they'll be billed for support instead, he said. "
The False Statements by Oracle Called Out by the Fireman Fund
"The Class Period starts on May 10, 2017, the first trading day after Oracle presented at the Jefferies Technology Group Investor Conference. During the conference, which began after the market closed on May 9, 2017, Defendant Bond touted that Oracle's cloud business was growing, stating that "[t]he good news . . . growth in cloud is actually getting bigger." During the conference, an unidentified analyst questioned how much of Oracle's revenue growth was attributable to the Company's practice of auditing its customers. In response, Bond immediately deflected the question, stating that "[i]t's funny. This is one of those things where – gets talked about a lot. And I think this is one of those things where the story is a lot bigger than the realities." Bond further assured investors that the Company's auditing practices were not used to coerce customers into purchasing products and that Oracle approaches its audits in "as gracious [a] way as we can," and stated that "as we go to cloud . . . this conversation is going to go away."
Hilarious. Utterly hilarity occurs in Oracle. Oracle is known for running the most punitive audits against customers of any software vendor. This statement by Bond is clearly a lie.
The proposal by the Fireman Fund as to this statement is the following.
"The statements and omissions set forth in ¶22 were materially false and misleading. In truth, the growth in Oracle's cloud revenues were driven, at least in part, by improper, coercive sales practices, which include: (1) threatening existing customers with "audits" of their use of Oracle's non-cloud software licenses and levying expensive penalties against those customers, unless the customers agreed to shift their business to Oracle cloud programs; (2) decreasing customer support for certain Oracle on-premises or hardware systems, in an effort to drive customers away from such systems and into cloud-based systems; and (3) strong-arming customers by threatening to dramatically raise the cost of legacy database licenses if the customers choose another cloud provider. These tactics alienated and angered the Company's customers, which in some cases have not only refused to purchase Oracle's cloud offerings but have also looked to terminate their existing business relationships."
Oracle's tactics should drive companies away from Oracle. I have my own view that many of Oracle's databases can be migrated to open-source options like PostgreSQL that do not only audit accounts but are open source. The departure from Oracle products has begun, and this is why Oracle is applying such tactics. Without them, Oracle will lose significant market share, which is a topic we covered in the article Is Oracle in Trouble (Longer Term).
Ellison on Oracle's Cloud Earnings Going into Hyper Growth?
"That same day, Oracle held a conference call with analysts and investors to discuss the Company's earnings and operations. During the conference call, Defendant Ellison told investors that the Company's cloud revenues would "accelerate into hyper-growth" as existing customers "begin to migrate their millions of Oracle databases" to Oracle's cloud-based offerings. Also, during the call, Defendant Catz attributed Oracle's cloud revenue growth to "the increasing preference of customers for cloud." During the call, an analyst questioned whether the Company's "phenomenal quarter around this aggressive cloud transition" was a "1-year phenom[enon]." Defendant Catz responded that "this is absolutely not a 1-year phenomena. In fact, what you should see, as this goes on, is we will have less drag from the [cloud] transition and the base will continue to grow."
Having analyzed Larry Ellison and Safra Catz's quotations on many occasions, I can state unequivocally both of these people lie with great frequency.
The truth is coming out from other sources and covered in an article from Business Insider.
"In August, 2017, Oracle's massive salesforce received an email from Rich Geraffo, Oracle's executive vice president responsible for North American sales.

In it, he told the 35,000-strong sales team to essentially quit gaming the system in the way they were landing cloud sales, according to the email viewed by Business Insider.

Some 10 months later, in June, Oracle surprised the financial world by changing the way it reported cloud revenue, blending it into its traditional software sales, which essentially hid cloud revenue from view. Oracle didn't wait until the fiscal year ended. It made the change to the fourth quarter results, which ended in May. That meant it did not report the full year's final cloud performance, even though cloud has become critical to the company's future.

When concerned Wall Street analysts asked if this change was an attempt to hide problems in Oracle's cloud business, Mark Hurd, one of Oracle's CEOs, called the change a "nothing burger," and attributed the change to adopting new accounting standards.

However, an Oracle salesperson who's been with the company for several years told Business Insider that the change could reflect something else: that not all of the cloud revenue was from customers who were really using Oracle's cloud."
The Truth Comes Out
"The truth about the Company's practices and their impact on Oracle's business was revealed on March 19, 2018, when the Company disclosed that cloud revenue growth had stagnated and forecasted significantly slower sales growth for its cloud business than its competitors. Specifically, the Company reported that quarterly cloud revenue rose only 32%, or just half the average reported quarterly growth over the past two years, and Oracle projected that cloud sales growth would decline even further to only 20% in the following quarter. As a result of these disclosures, Oracle shares declined by $4.90 per share, or nearly 9.5%.

Oracle's "Safe Harbor" warnings accompanying its forward-looking statements issued during the Class Period were ineffective to shield those statements from liability. Defendants are also liable for any false or misleading forward-looking statements pleaded herein because, at the time each such statement was made, the speaker knew the statement was false or misleading and the statement was authorized and/or approved by an executive officer of Oracle who knew that the statement was false."
The individuals knew that their statements were false when they made them. They made these statements because they are so overcompensated with stock options. Even after acquiring enormous fortunes ($58 billion for Ellison and $1/2 billion for Catz), the lying continues to acquire more and more.
Conclusion
Top executives at various software vendors, with both Oracle and SAP featuring prominently, think they can say anything in quarterly updates with impunity. I have been noting this in SAP's increasingly ridiculous analyst calls in Q1 and Q2.
In a filing, SAP has been accused of shocking behavior by Thomas Waldbaum, their formal internal auditor. We analyze the claims made in this filing.