SAP Reverses its Cynical 2025 ECC Support Deadline
Executive Summary
Since SAP introduced S/4HANA, it stated it would stop supporting ECC by 2025.
SAP reversed this deadline, precisely as we predicted.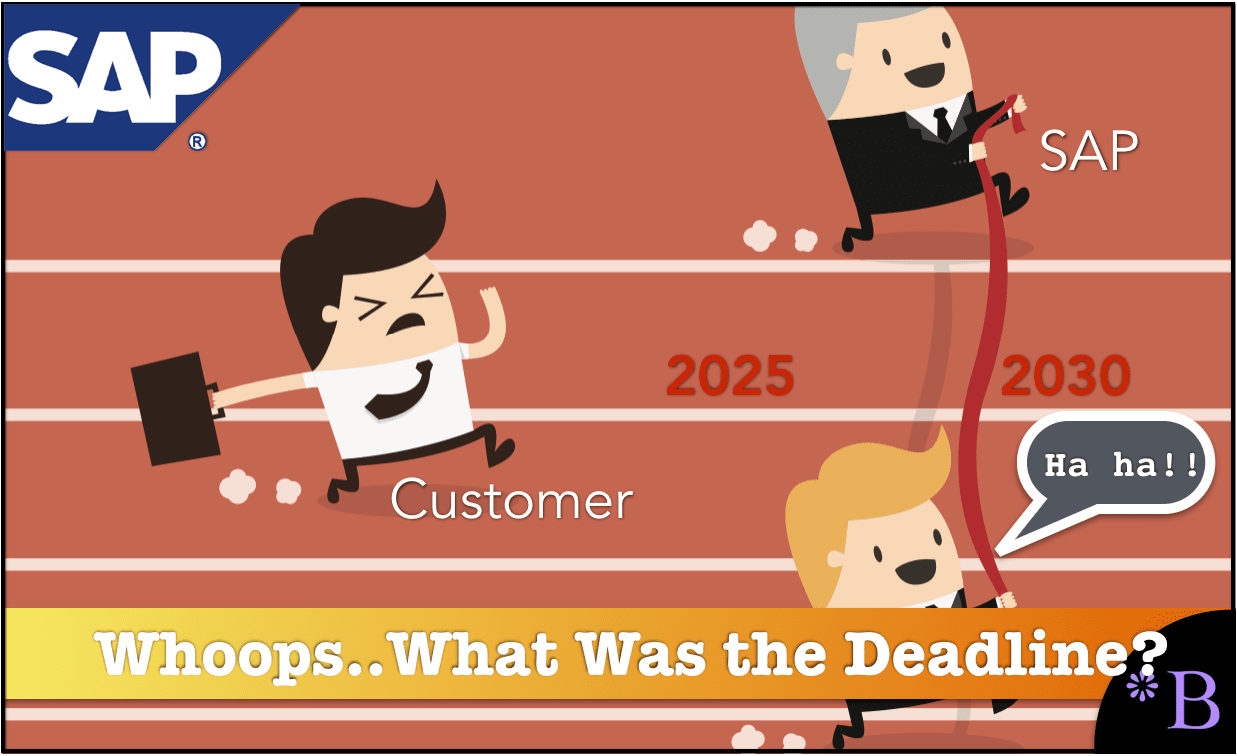 Video Introduction: SAP Reverses its Cynical 2025 ECC Support Deadline
Text Introduction (Skip if You Watched the Video)
Ever since SAP announced the 2025 end of support for ECC, and has been using this as a hammer against customers to get them to move to S/4HANA. This deadline was used along with a large amount of other false information about the technological benefits of S/4HANA that have been thoroughly debunked here at Brightwork Research & Analysis. In this article, you will learn how SAP deliberately mislead customers about the support deadline for ECC to get them to move to S/4HANA, and how SAP has been playing this trick on customers for decades and how SAP consulting firms help SAP mislead customers in upgrading their software under this false assumption.
Our References for This Article
If you want to see our references for this article and other related Brightwork articles, see this link.
Lack of Financial Bias Notice: We have no financial ties to SAP or any other entity mentioned in this article.
This is published by a research entity.
Second, no one paid for this article to be written, and it is not pretending to inform you while being rigged to sell you software or consulting services. Unlike nearly every other article you will find from Google on this topic, it has had no input from any company's marketing or sales department. 
The Official Statement on Feb 4th on The Change to the ECC Support Deadline
Here is the official change in the ECC support policy.
SAP will provide mainstream maintenance for core applications of SAP Business Suite 7 software*(ECC) until the end of 2027 followed by optional extended maintenance until the end of 2030. – SAP
This is how Co-CEO Christian Klein "spun" the announcement.
"Our customers show us that SAP S/4HANA is their future direction and that they expect a long-term commitment from SAP to this platform," said Christian Klein, Co-CEO and Member of the Executive Board, SAP SE. "We know that our customers have deep business transformations underway using the unique capabilities of the solution. Our user groups confirm this. A recent survey from the Americas' SAP Users' Group did not show a single customer not planning to migrate to SAP S/4HANA. In addition, the German-Speaking User Group indicates in their lately published survey that customer investments in SAP S/4HANA are increasing significantly. In response to this and to our customers' demand for choice, SAP will provide additional flexibility to fully embrace the groundbreaking opportunities of SAP S/4HANA that reflects the individual pace and complexity of our customers' projects." – SAP
This quote deflects from the main point of the announcement to make a false claim around the health of S/4HANA in the market, which has been a colossal failure for SAP, with many SAP consulting firms now decreasing their internal emphasis on S/4HANA.
Secondly, Christian references ASUG, which is not a research entity, and routinely publishes surveys without any supporting data, as we cover in How Accurate Was ASUG on its S/4HANA Poll?
When we predicted that SAP would extend the 2025 support deadline, we predicted that they would justify it because of their customers' love. And this is precisely what happened when Thomas Saueressig of SAP commented.
SAP's Newfound Interest in Choice?
After five years of telling customers that they had no choice and moving to both S/4HANA and HANA (HANA is obligatory with S/4HANA as it only runs on HANA), SAP now changes course and becomes interested in choice. This is expressed in the following quotation from Thomas.
SAP is committed to our customers' success and choice. Offering these maintenance periods is further delivering on transparency and trust. The significant growth in 2019 confirms our SAP S/4HANA strategy and demand." – SAP
Why wasn't SAP committed to trust and choice back when they were force-feeding S/4HANA into accounts with the fictitious 2025 deadline?
Like Christian, Thomas adds that S/4HANA, which is not in demand, is in demand. This change in support policy is yet another sign that S/4HANA's usage and go-lives can't support any claims regarding ending SAP support, but of course, SAP spins it the exact opposite way.
A Deluge of False Information
The SAP announcement goes on to say the following, all of it incorrect.
SAP S/4HANA is the next-generation intelligent suite, enabling the move to a digital intelligent enterprise based on next-generation best practices and artificial intelligence–enabled automation. At the same time, it is paving the way to the cloud and hybrid architectures, driving a substantial level of landscape simplification and TCO reduction. Over 13,800 customers have already chosen SAP S/4HANA. – SAP
When we say this, we mean it. There is no single assertion in this paragraph that is correct, and we have fact-checked all of them individually in separate previous articles.
SAP then sets its new claim at 13,800 customers, which is only customers that have a license. SAP is never admitted because many of these customers never paid for the S/4HANA license they own, or they were coerced to purchase S/4HANA as part of a settlement for an indirect access claim, as we cover in the article How Indirect Access Drove S/4HANA Purchases. This means that the 13,800 "customers" number is not a true reflection of the interest in holding a S/4HANA license. However, when SAP reports this number to Wall Street, they state that the number is clear evidence of authentic customer demand. How the customers ended up with the S/4HANA licenses is left out of the conversation. SAP is not the only vendor to do this, and it is the crux of the lawsuit by the City of Sunrise Firefighter Fund against Oracle as we cover in How SAP and Oracle Coerce Customers into the Cloud.
The actual number of live customers is far lower than this, and the number of real live S/4HANA customers far lower than this reduced number. We are repeatedly contacted by various people trying to analyze the S/4HANA numbers by people who work for customers who don't know what they are doing, and report SAP's false numbers to their higher-ups, and call this analysis. The questions are odd because they can't seem to imagine that the official numbers are incorrect.
The conversation invariably goes something like the following.
I just wanted to verify a few things with you. "So the number of S/4HANA is X, and the number of live S/4HANA is Y, right?"
The overall PR release by SAP is roughly four times longer than it needs to be. This is because it contains so much marketing literature around S/4HANA, which is available in many other places on the SAP website and does not have anything to do with the change to ECC's support deadline change.
Time to Ask Josh Greenbaum
The PR release then switches to a quote from Josh Greenbaum. Josh Greenbaum is a captive analyst for SAP and is yet another source that can be relied upon to repeat what SAP says, as we cover in the article Why Josh Greenbaum Continually Carries Water for SAP.
And he does so again in this quotation.
"Customers making the commitment to SAP S/4HANA for their digital transformations need a partner that is equally committed to supporting innovation across their businesses and processes. Providing maintenance for SAP S/4HANA until 2040 represents a commitment to SAP customers that should give them the confidence to plan for the future," said Joshua Greenbaum, principal, Enterprise Applications Consulting. "These customers also need the flexibility to plan their transformations carefully and with a minimum of disruption to their ongoing business processes.
This is not really Josh speaking, he is just being puppeteered by SAP, so this comment should be considered an SAP statement. Speaking from logic, it is unclear why SAP saw the need to include the maintenance date for S/4HANA in this PR release, except perhaps to distract from the fact that it was waving the white flag of surrender on its ECC support deadline, which it previously said was immovable.
SAP's Specifics Around the ECC Support Deadline
SAP then provides the most critical part of the PR release, which details the support extension for ECC.
Following this phase, SAP will offer customers a choice of how they would like to continue with the maintenance for core applications of SAP Business Suite 7 from 2028 onwards:
Customers needing support for their applications in longer conversion phases to SAP S/4HANA can leverage the proven extended maintenance offering. This comes with a premium of two percentage points on the existing maintenance basis for core applications of SAP Business Suite 7 for all support offerings. It will be available for three additional years beginning at the start of 2028 and ending at the close of 2030.
Customers who do not decide for the extended maintenance level of support by the end of 2027 but choose to carry on with their SAP Business Suite 7 software systems will automatically be transferred to the customer-specific maintenance model. This includes problem solving for known issues at unchanged fees.
This is interesting, but nothing that SAP says about its support deadlines is reliable anyway (as this recent extension yet again proves). SAP will continue to support products as long as it is economically beneficial for them to do so. This can be predicted by merely analyzing the usage of various SAP products.
However, it is important to note that SAP uses this idea of extending the support deadline to squeeze even more money in support out of customers. So support, which won't increase in cost for SAP, will increase SAP customers' cost after 2028. Before the deadline was changed, they were proposing a premium after 2025.
What the Ecosystem Said About the 2025 Deadline
The entire SAP ecosystem was required by their SAP partnership agreement to parrot SAP's statement that ECC would no longer be supported. This deadline was also repeated ad nauseam by SAP consultants on forums like LinkedIn.
What We Said About the 2025 Deadline
The 2025 deadline makes little sense from the first time we heard of it because it presumed the type of conversion to S/4HANA without precedent, even in previous versions of ECC. But this would be particularly problematic for the migration to S/4HANA as the only entity to publish realistic estimates of S/4HANA migration (all of the other sources are financially connected to SAP and try to help SAP promote their programs). We knew that the live S/4HANA instances were far below what SAP was telling customers and the media. We have been uncovering hidden S/4HANA failures, such as we cover in the article The Hidden S/4HANA Failure at LeasePlan, and The Hidden S/4HANA S Oliver and KPS Failure. S/4HANA failures are harsh…they exceed ECC wipeouts, and they are one of the most covered up failures of the implementations that we track. We have covered the reasons in many other articles. However, the upshot is that SAP would never have enough customers on S/4HANA to move so many customers off of support for ECC to have the 2025 deadlines make any sense.
We took an official position predicting the deadline would be extended in June of 2019 in the article What is the Reality of SAP's 2025 ECC Support Deadline? This was not the first time we had told people or had been writing on forums that the 2025 support deadline would have to be extended, but the first time we got around to writing an article on the topic.
The first cracks began showing when SAP began to tell customers that they could buy their post-2025 ECC support, albeit at a premium, as we cover in the article Why SAP Will Charge a Premium for 2025 ECC Support.
Creating the Burning Platform…to Push S/4HANA
SAP has better access to the actual numbers in many dimensions than we do. However, they kept to the 2025 support storyline because it helped them create a "burning platform" for customers to move to S/4HANA. SAP and their consulting ecosystem are responsible for providing false information about the deadline (SAP for license revenue and consulting firms for billing hours).
Furthermore, they were trying to get customers to move to an application that was not ready to be implemented. We have read several accounts of the extension of the 2025 deadline and yet to have run across a single article noting how deceptive it was to tell customers that was obviously not true. This is like analyzing any topic only from the announcement of a change while projecting into the future without asking the question.
"Why was this stated as a policy in the first place?"
SAP, this burning platform trick, is adopted, but it was initially perfected by IBM, as the following quotation from a comment on The Register explains.
Our IBM sales engineer told us that support for the DOS/VSE operating system would likely be dropped within 18 months, and that we could get a license for MVS for free for the 1st year.

After that, the license would go from $4200 / month to $11400 / month. Is that a great deal or what?

The upgrade commenced but performance on the 4381 mainframe declined 20%. no problem, there was an upgrade available to fix that. the monthly lease went up by many (MANY) thousands of dollars.

I left the mainframe world in 1987 while all this chaos was taking place. came back 20 years later for a visit and there were no mainframes of any kind to be seen anywhere.

But – interestingly enough, DOS/VSE is still available as a virtual machine in the latest incarnation of z/OS. IBM never dropped support for it.

Heck, Hewlett-Packard supported the HP3000 minicomputer environment from 1978 through 2010.

The SAP folks will be fine if they don't upgrade.
Who at SAP Knew The Reality of the Fake 2025 Deadline?
In terms of who lied, it would be all of the senior people at SAP who trafficked in this fake SAP deadline. SAP continues to reduce the experience level of its salesforce, and its salespeople often have very little knowledge and are normally highly mind-controlled by SAP. Many of the salespeople likely thought the deadline was real. Furthermore, SAP salespeople don't live in a world where things are true or not true, and they would generally see such a deadline as something to help them close a deal. SAP says something, tells them to say something. Therefore that thing is true. If later that thing turned out to be false, and a new thing is stated, then that new thing is true.
What Did the SAP Ecosystem Know About the 2025 Deadline?
The 2025 ECC support deadline was plastered all over the major SAP consulting firms' websites and peppered in their conversations with their clients. It is difficult to say what percentage of the senior members at the major consulting companies knew the 2025 deadline was fake or unrealistic. Still, either way, the fact is that they were once again wrong about SAP and provided "official" information from SAP to their customers, but were once again wrong.
What did The Media and IT Analysts Know about the 2025 Deadline?
As for the media and IT analysts, the vast majority don't know enough to know if SAP tells them something if it is true or not true, and they know they have to publish what SAP tells them so that they can keep advertising and other associated revenue coming in from SAP. In analyzing the articles by IT media and analysts, I could not find a single entity that predicted the deadline's extension.
If any reader can find an example of any media entity or IT analysts that predicted the extension of the 2025 ECC deadline, reach out, and we will add links to that article here.
What did Third Party Support Providers Know About the 2025 Deadline (
A Hint of Why the Deadline Was Extended

)

But I was able to find an insightful article that proposed that the 2025 deadline was actually working against SAP. The author is Mark Smith, the CEO of Support Revolution. Therefore a financially biased entity (as they want to have the SAP support contract migrated away from SAP), but this quotation rings true.
Six years to go, and SAP's 2025 deadline still doesn't seem to be convincing businesses to move to the cloud. The ticking clock means that in 2019 many more businesses will start to make decisions on what to do about their legacy software and many of them will decide to stick with what they have. Securing and supporting what a business knows to work is likely to beat rushing to the cloud to meet a deadline. The 2025 deadline is having an effect, but not necessarily the one SAP wants.(emphasis added) Users are feeling abandoned due to SAP's not being able to provide support as from the stated date and are focusing on its flagship S/4HANA. "We provide investment protection for the current on-promise solutions of businesses, they can move to the Cloud this way"says Bernd Leukert, member of the Executive Board, Products & Innovation.

But we can say that the stated promise of moving to the cloud is actually not completely true. S/4HANA forces its clients to move to a new data base due to its design and structure. This situation will bring along a complexity within itself without a doubt. Organizations have two options with regard to the 2025 Deadline in the decision stage;
This may be the most insightful reason why SAP extended the ECC support deadline. If you had asked us when we made our prediction about the extension's date, we would not have guessed the very beginning of 2020. The reason? Because we would have thought that SAP would have wanted to continue to use the fake 2025 deadline to batter its customers into moving to S/4HANA. This "early" extension of the 2025 deadline (5 years before the deadline was to take effect) is evidence to us that this deadline was working against SAP and causing SAP customers to "explore their options." SAP does not want this. They want everyone in the SAP bubble, drinking from the fountain of false information provided by the SAP consulting firm, paid off IT media and IT analysts. As soon as one begins looking at options and takes "the red pill," other options begin to look very appealing. A very high percentage of SAP's continual revenue flow is built around its customers not having the interest or time to investigate their options. And the SAP consulting companies sit out at accounts, providing a steady stream of false information about SAP.
What Did Customers Know About the 2025 Deadline?
Some customers knew the deadline would be extended. This is expressed in the following quotation.
SAP user and industrial vacuum manufacturer Edwards is considering this move to S4/HANA, but is finding the business case for process change difficult to justify.

Rob Moore, SAP business information manager at Edwards, said users were aware of the proportion of the community yet to move to the new platform. "Given those figures and the fact that the deadline is only five years away, I think SAP is going to have its work cut out to get everyone moved in that time, and then be able to declare that support is finished." – The Register
A customer can say this, but no one else who covers SAP could say such a thing. They would be immediately reprimanded by their manager/partner/etc.. and told to take down the comment, article.
Support for ECC After 2030?
This is an excellent time to make a further prediction.
SAP will extend the support of ECC past 2030.
The reason is that even by 2030, there will be a sizable number of customers that have not migrated to S/4HANA. Something that is never discussed in the SAP ecosystem will also be a large number of companies that never move to S/4HANA. They will eventually move off of ECC onto something else.
To drop support for ECC would be to lose out on a great deal of money. As we cover in the article How do SAP and Oracle's Support Profit Margins Compare to Pablo Escobar?, SAP, similarly to Oracle, has an 85% margin on its support. Neither entities that traffic in blood diamonds, international drug lords, or SAP, or any other company will ever turn down 85% margins.
SAP is proposing that companies can now have support post-2025 if they pay a premium. However, with an 85% margin, why is a premium even necessary? Because SAP can pitch it as a win for customers. This is just a ridiculous mind control tactic. And once again, while scouring the Internet, I could not find a single article that even brought up this subject.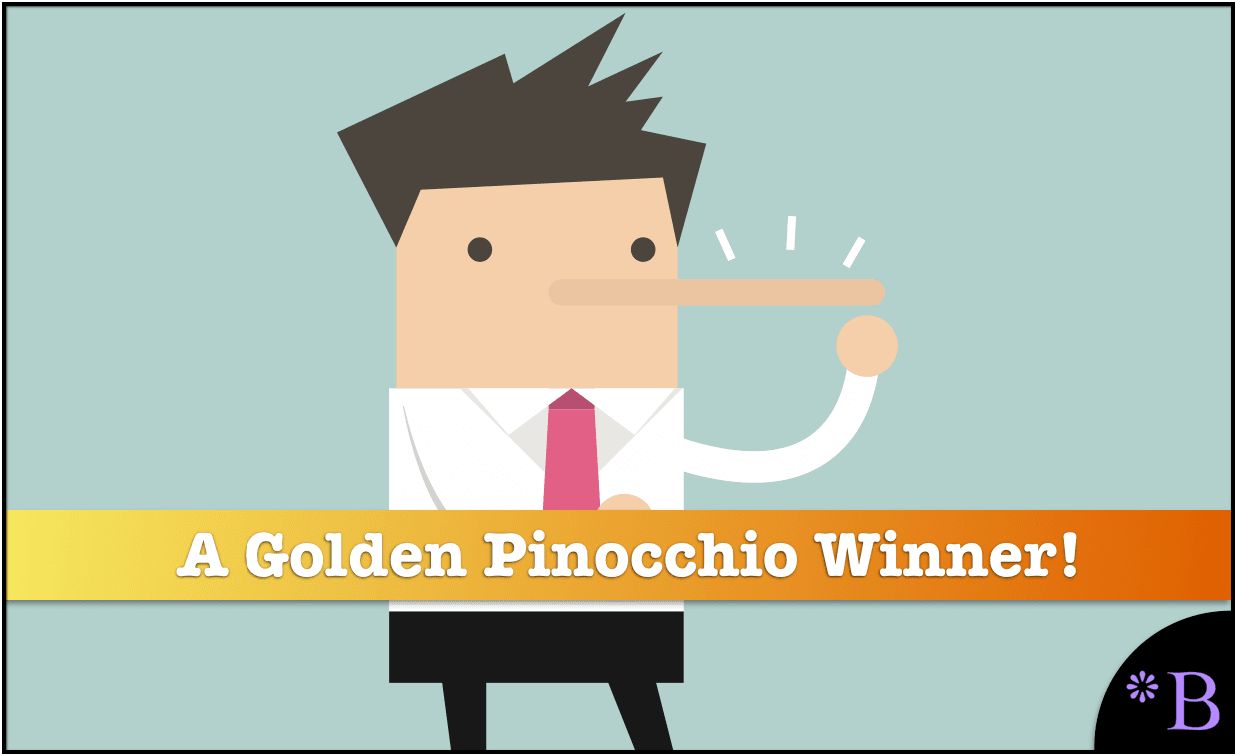 SAP receives our Golden Pinocchio Award for telling its customers what it would have known would end up being untrue. 
Conclusion
This was not a particularly difficult prediction to make, but we were one of the only entities to publish this prediction. This illustrated how restricted the vast majority of entities that publish information around SAP are censored in what they can publish.
We have added this accuracy data point to our accuracy measurement of SAP predictions that you can view in the article A Study into SAP's Accuracy. As you can see in the article, we are far better at predicting what will happen with SAP than in SAP (or, of course, any of the ecosystems that merely repeats what SAP says).
Honorable Mentions
In 2018, Jarret Pazahanick, a SuccessFactors consulting, previewed the change from the 2025 deadline. This quote provides an excellent example of how SAP puts its customers in no-win situations and how the 2025 deadline caused a large amount of unnecessary hand-wringing, all for a deadline that was eventually extended in any case.
The bottom line is SAP has really struggled to convince their 12.5k SAP HCM customers to move to SuccessFactors as the last provided info has 600 out of the 2,000 SuccessFactors Employee Central customers coming from SAP HCM. Many of these customers understandably want some assurances that SAP will continue to support SAP HCM further out than 2025. which could easily have been provided by getting an agreement to move the entire Business Suite out to 2030. Instead, SAP has decided to introduce a new license offering called SAP HCM On-Premises S/4HANA that will be built by 2023 and will be based on SAP HCM so they are counting on customers trusting SAP will deliver something five years from now, being willing to do an upgrade, signing up for a new license, moving to HANA all to get virtually the same functionality they have today and an extension of support until 2030.

My thought is eventually SAP will realize that slow adoption in FI to S/4 + all the areas in the SAP Business Suite where S/4 does not have enough functionality to date will drive them to revist the entire strategy and extend the business suite to 2030. Time will tell and will be interesting to look back on this comment thread in 3-4 years.