Lean In: Just Not at Facebook: FaceBook's Mass Hypocrisy on Workers and Discrimination
Executive Summary
Facebook's COO, Sheryl Sandberg, has made a big name for herself advocating for female leaders.
However, Sandberg's commitment to women's careers is contradicted by her management of Facebook.
Introduction
Sheryl Sandberg is the COO of Facebook. She has been a major proponent of placing women into leadership positions. I will evaluate her proposals and the evidence she brings while comparing it to Facebook's actual behavior.
See our references for this article and other articles on Indian Discrimination at this link.
See our references for this article and other articles on Facebook at this link.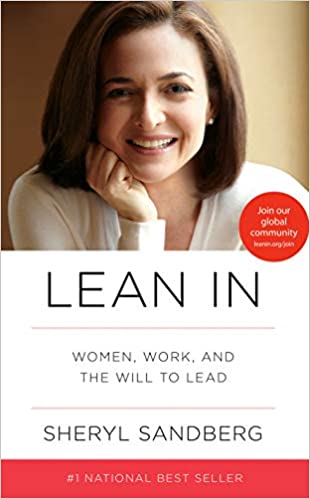 Sheryl Sandberg has been presented as an expert in women making progress for women in the workplace. 
Media companies that presented Sheryl Sandberg in this way to their viewers have a strong conflict of interest that they did not express or explain to their viewers. Each of these major media entities is highly reliant on Sandberg's company Facebook. These companies were instrumental in providing Sandberg with free advertising to push the book to the bestseller list.
Perhaps it might have been good if these media companies had declared their collusion with Facebook before promoting Sheryl Sandberg to their audience. The fact that none of them did this is an enormous critique of the honesty of their programming. In nearly all cases, the viewers assumed that Sandberg was being presented to them because her book and what she had to say was so important, rather than the reality, which was several corrupt media entities wanted to suck up to Facebook.
Sheryl Sandberg Wants to Empower Women..And Who Could be Against That?
In the following video, Sandberg presents the country's goals to get more women into leadership positions as if she has been appointed as the person who decides these things. 
Sandberg only appears to focus on female executives. Sandberg may want to know that the vast majority of female workers are not executives. As for non-female executives? Sandberg does not have much to say about them. For Sheryl Sandberg, who cares? Furthermore, Sheryl Sandberg may want more women in leadership positions in other companies, but from how Sheryl Sandberg operates within Facebook, any woman competing with Sheryl Sandberg for a position will likely find her throat with a slit in it. 
Sheryl Sandberg As the Hero That Women Need Right Now?
The establishment media has completely eaten up the story presented by Sandberg. However, what is curious is how little analysis there has been of Facebook's own behavior. Facebook has always been known as a highly unethical company that violates its user's privacy.
But naturally, the establishment media has been only too happy to provide Sandberg with an enormous platform for her book. They would like their viewers and readers not to know that they collaborated with Facebook to help them surveil Facebook users using cross-site surveillance technology. Both Facebook and non-Facebook users could be tracked wherever they went on the Internet.
The Department of Justice Lawsuit Against Facebook for Discrimination
The Department of Justice charged Facebook for discriminating against US domestic workers by referencing the hiring of H1-B workers and blocking US workers from jobs for which they were qualified.
The claims by the DOJ are explained in the video above. The claims are most likely true and part of a pattern of employment discrimination against US domestic workers practiced by most of the Big Tech firms. However, it is infrequent for a Big Tech firm to receive such an action by the DOJ. For this to happen, the abuses by Facebook must be extreme. 
As we cover in the article How the Pay-Level of H1-B Visa Workers Contradicts Industry's High Skills Arguments, the H1-B program is about enormously profitable companies like Facebook becoming even more profitable by "selling US citizenship" to lower-paid and more controllable workers. Once in the country, Indians discriminate further against US domestic workers, as we cover in the article How Indian Workers Discriminate Against Non-Indian Workers. 
Sandberg's Vacuous Commentary
In addition to not being a role model, Sheryl Sandberg does not have anything interesting or unique to say on women's topics in leadership roles. The method Sandberg uses for presenting her ideas is simply making assertions like "it is time for XYZ." How did we determine that it was time for this or that? Was there a vote taken on these issues that I am unaware of, or is this just Sandberg phrasing what she wants as what it is time for?
Sandberg also makes assertions without providing the evidence to support her contentions. For example, there is evidence that women have a tendency to take fewer risks, and therefore are better choices for roles such as managing banks, where their natural tendency to not "push the envelope" is better suited to the risk management of banks.
Some issues complicate more women being in leadership positions for working women.
For one, women tend to be more interested in a work-life balance than many men. Most men in leadership positions work very long numbers of hours.
A second issue is that women have demonstrated a strong preference for male rather than female bosses for a long time. While sexual harassment exists, it is not a major factor in European-based countries (all of these polls referenced were taken in European-based countries). The very high-profile cases of sexual harassment have come from mighty men like Russell Simmons, whose influence overwhelms the companies' HR controls. This brings up a problematic feature of HR. HR is designed primarily to protect the owners and managers of the company against the workers. When the abuse is not among the workers but by the owners and managers versus the workers, HR goes about pressuring the abused worker into signing NDAs to protect the company's interests. The fact that women dominate HR has not changed the outcome that in virtually 100% of cases, the HR department will cover up the abuse — if it comes from on high. Let us remember, HR reports to the managers of the company, not workers. A legitimate HR department would be managed by the government, which could more reasonably be expected to be more objective in managing disputes between workers and abusive management. However, if this specter were to be raised, companies would absolutely lose their minds at the onerous regulations that had been imposed upon them. 
However, women often will complain of harassment or bullying from females in organizations. So sexual harassment is not the only type of harassment. Generally, females tend to respond that female boss are much more difficult on them than male bosses. This brings up the question of how much more female leaders would benefit female workers.
Sandberg does not mention the topics I just referenced. And as previously explained, Sandberg only focuses on women in leadership roles and does not spend much time talking about non-executive or non "leadership" women. Sandberg claims that as soon as we push more women into leadership positions, everything improves.
Sandberg's Problematic References and Dishonesty Come into Play
Sandberg does provide references in her book and at her Lean In website, but when I checked Sandberg's references, they did not support Sandberg's statements.
One example is the reference she uses that supports the contention that women in leadership positions increase their financial performance.

You can see the highlight to footnote 15, which is supposed to support the contention that companies with women in leadership produce better business results. 
If true, it would be an enormous insight and should lead to the immediate alteration of the executive suite in companies, as it promises better profitability. However, the footnote points to a study titled "The Sexual Harassment of Uppity Women" from 2007.
I read this study, and a description of the study is found in the following quote.
The original prototype of sexual harassment was a male boss sexually coercing a female subordinate. Sexual harassers were assumed to be motivated by sexual desire for their targets. If sexual harassment is motivated by sexual desire, then the most frequent targets of sexual harassment would be individuals who meet gender ideas. I suggest the opposite is true. The most common form of sexual harassment is gender harassment, a form of hostile environment harassment that appears to be motivated by hostility towards individuals who violate gender ideals rather than those who meet them. By implication, this sheds light on whether sexual harassment as traditionally construed, not just gender harassment, is motivated by sexual desire or by sexist antipathy.
This proposes that sexual harassment is used to punish women who do not fit the female gender stereotype and how are "uppity." This researcher, Jennifer L. Berdahl, does not appear to understand men, as we don't pursue women that we are not first driven to pursue through the attraction. Just play out the harassment action for a moment. Let us say that the non-female gender-fitting woman agrees to your overtures? That prize you win is a sexual relationship with someone you are not attracted to, but to whom you are "punishing" with your sexual attention?
That does not at all hold-up.
Furthermore, there are other ways to punish people rather than sexually harassing them, such as ignoring them or dismissing their views in meetings in front of others.
But let us say for a moment that Jennifer L. Berdahl is correct, and sexual harassment is a form of punishment rather than being driven by sexual desire — what does this have to do with what Sandberg states that it supports, that businesses that have women in leadership have better financial outcomes?
Explaining References for Executives
I offer a training program for Big Tech executives that can help them understand what a reference is, why it is important, and how it works.
The reference is supposed to support the contention, not support an entirely different contention. Five of Sandberg's 23 references on the LeanIn website are from McKinsey, not a research entity. Still, a highly corrupt consulting firm recently found to have helped pharmaceutical companies increase opioid addiction in the US. I will not bother reading a McKinsey study, as this company is a factory for false information. McKinsey's credibility in real research circles is zero. However, it makes sense that Sandberg would be impressed with McKinsey, as this is an elitist and dishonest company that lies to and rips off their clients, just as Sandberg and Facebook do with their users.
But, naturally, we don't want to take our research from Sandberg in any case, who has no background in research. As I have observed on many occasions about companies like Gartner and Forrester the produce such shoddy research, I regularly lampoon it on this website. If you are dishonest and corrupt, your research conclusions don't matter. The bedrock foundation of research, before one gets into topics around hypothesis testing and source evaluation, and collecting data points, is that the researcher and research organization are honest. If this first assumption is not true, then the later assumptions will not matter.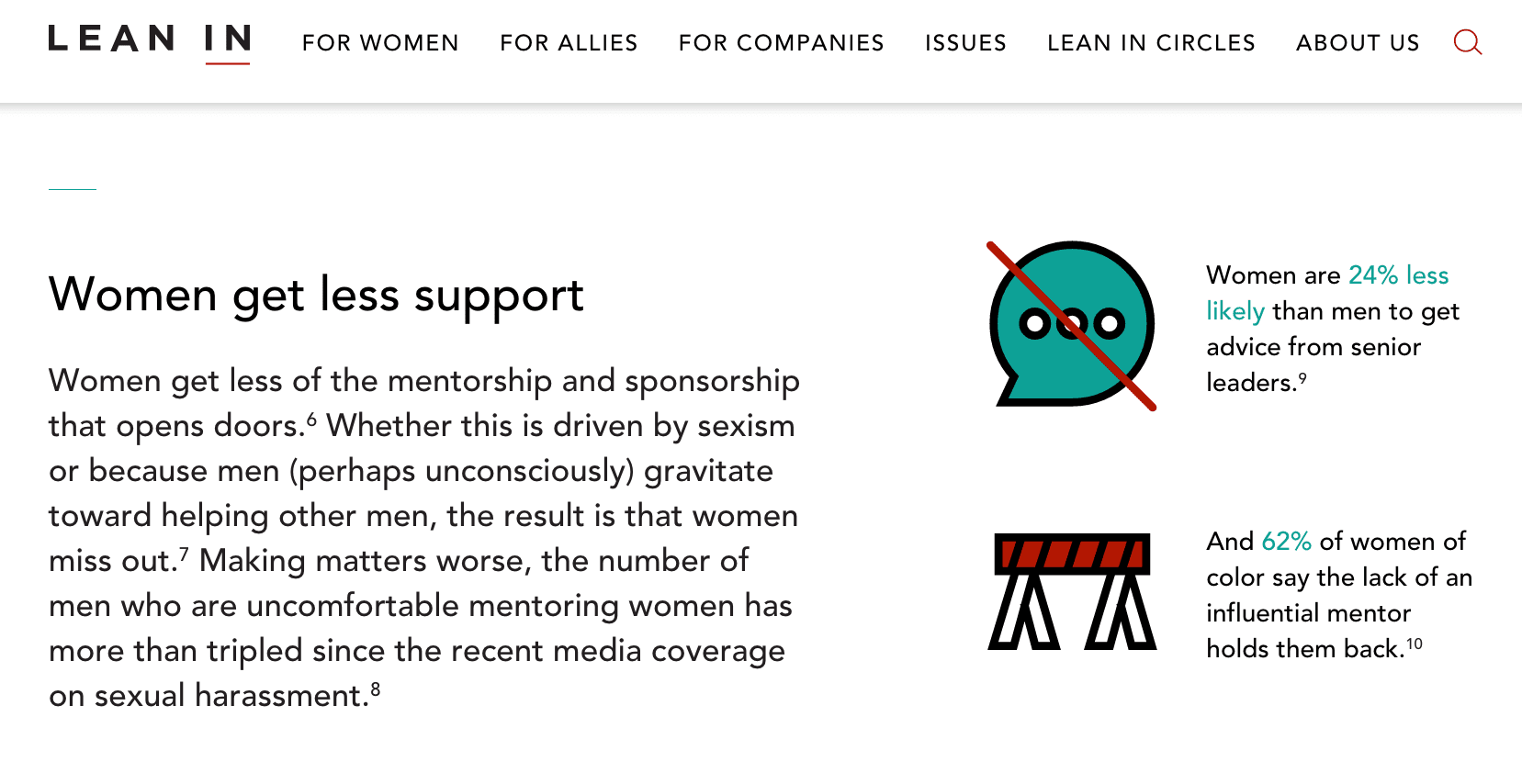 Sandberg's Lean In website makes several discriminatory claims. However, the change in mentorship was very much driven by Weinstein and the lesser severity of sexual harassment accusations. This caused men to try somewhat to limit their exposure to private situations with women. Mentorship tends to involve significant one-on-one time in closed offices or off-site locations. Sandberg lacks the nuance to evaluate these things and tells men to "get over it" and "put more women in leadership positions."  The curious thing is the second part of the paragraph in the screenshot above in part explains the first part of the paragraph, yet, there is no incorporation of the second part of the paragraph with the first part of the paragraph. 
Something else that comes to mind regarding mentorship is the creation of "cliques." And what is the quality of most mentorship? I had many bosses interested in getting as much work out of me as possible or supporting their agenda in my career, but I don't recall much actual mentorship. Much of the advice I received from consulting firms was how to falsify data to clients and how to be corrupt.
Can I Get a Refund on My Mentorship?
According to Sandberg, I am a white male — so where was the mentorship that apparently was to flow me to like wine from a bottle? Sandberg seems to presume that quality mentorship happens for you if you are male and does not happen to you if you are female. As if as soon as the women leave for the office for the day, we then ask if the coast is clear, and then we (all the men) break out the brandy and the cigars and begin mentoring each other. And of course, we all get along swimmingly because we are all men. And when in history have men fought with or disagreed with other men? I have had to participate in off-site meetings and tedious after-work team dinners with bosses trying to manipulate my mind, and for which I was not paid, that I would have gladly pawned off on the first woman, man, or bicurious entity who would have been willing to take my place.
Sandberg has served up this mess with deference, not because there is anything original or differentiated, but because she is COO of Facebook, which is unique to get its messaging carried in the establishment media.
Sandberg and the Weinstein Case
Sandberg's analysis of the Harvey Weinstein case leads her to restate the recommendations in her book Lean In. It also proposes a series of changes that entirely ignore what enabled Harvey Weinstein and which we cover in the article Similarity of SAP and Harvey Weinstein and the Abuse of Power, which is that Harvey Weinstein was enabled by The Weinstein Company HR and attorney, NDAs as well as around 1/2 of the PR firms in Hollywood. And that Weinstein did what he did for decades, with the full knowledge of much of Hollywood. However, Sandberg makes it appear as if how Weinstein got away with it requires some extensive change to corporate rules.
Fewer Tropical Storms From Women in Leadership Positions?
In watching several interviews, it was apparent that Sandberg is just a broken record on women's subject in leadership roles. Every problem can be solved with her pet project of getting more women in leadership roles.
Want fewer Weinstein's? Put more women into leadership positions!
Want to address the overuse of pesticides in agriculture? Put more women into leadership positions!
Want to reduce the severity of tropic storms in the summer in the Gulf of Mexico.
..well, guess what, it's women in leadership roles.
The number one problem with executives is not what sex or color they are, but how corrupt they are and how much more they are paid than their companies' workers.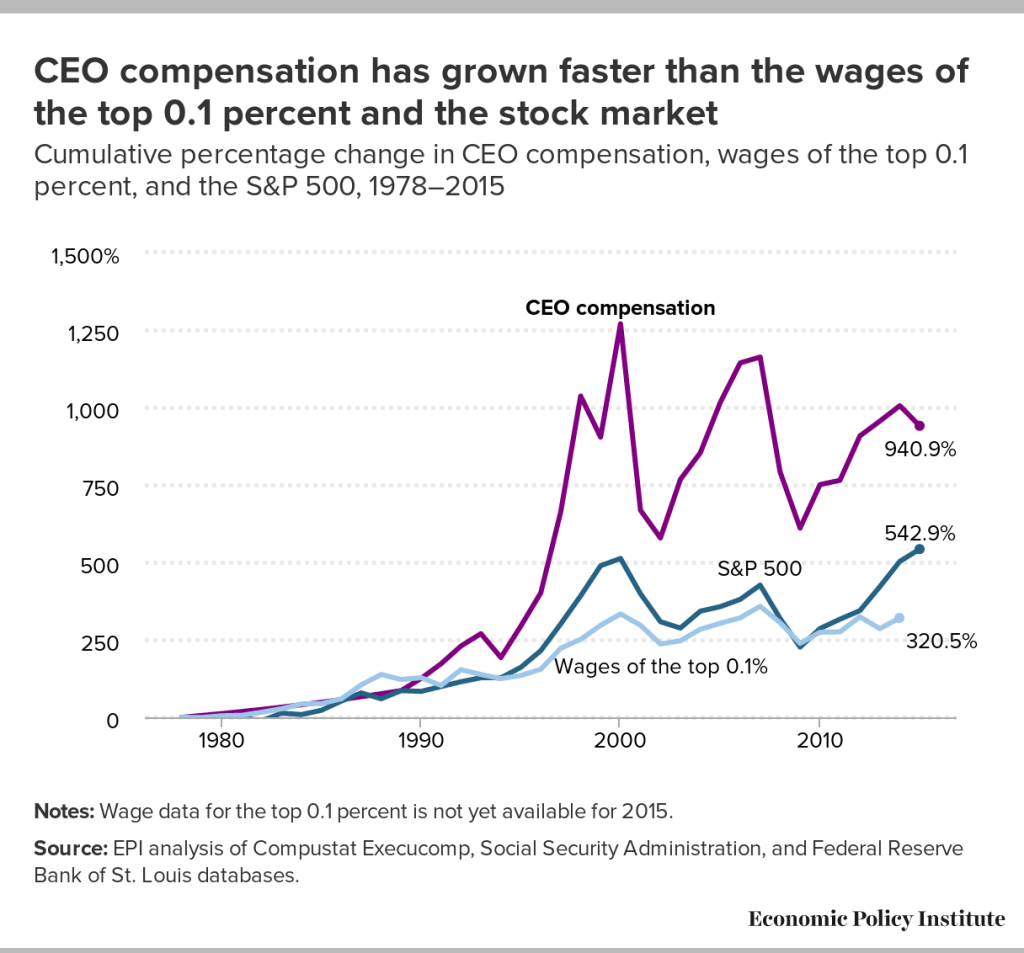 The typical CEO is now paid at all-time high levels versus history and the rest of the world. This compensation is paid out primarily with stock options, which allows each company to overstate its earnings (as its executive compensation is not part of the income statement). And it is a type of control fraud. Control fraud is where the individuals running the company loot the company. 
The details are explained in the following quotation.
CEO compensation is very high relative to typical worker compensation (by a ratio of 278-to-1 or 221-to-1). In contrast, the CEO-to-typical-worker compensation ratio (options realized) was 20-to-1 in 1965 and 58-to-1 in 1989. CEOs are even making a lot more—about five times as much—as other earners in the top 0.1%. From 1978 to 2018, CEO compensation grew by 1,007.5% (940.3% under the options-realized measure), far outstripping S&P stock market growth (706.7%) and the wage growth of very high earners (339.2%). In contrast, wages for the typical worker grew by just 11.9%.

Why it matters: Exorbitant CEO pay is a major contributor to rising inequality that we could safely do away with. CEOs are getting more because of their power to set pay, not because they are increasing productivity or possess specific, high-demand skills. This escalation of CEO compensation, and of executive compensation more generally, has fueled the growth of top 1.0% and top 0.1% incomes, leaving less of the fruits of economic growth for ordinary workers and widening the gap between very high earners and the bottom 90%. The economy would suffer no harm if CEOs were paid less (or taxed more). – Economic Policy Institute
Is Sandberg going to address this issue? Naturally not. She is part of this problem. She wants to divert attention and virtue signal to the "female empowerment" issue, which means replacing men in the executive ranks, robbing their companies with women, who will rob the company.
And the plebiscites (that is, you and me) are supposed to cheer this on?
Oh, yes, very exciting. This famous cartoon comes to mind.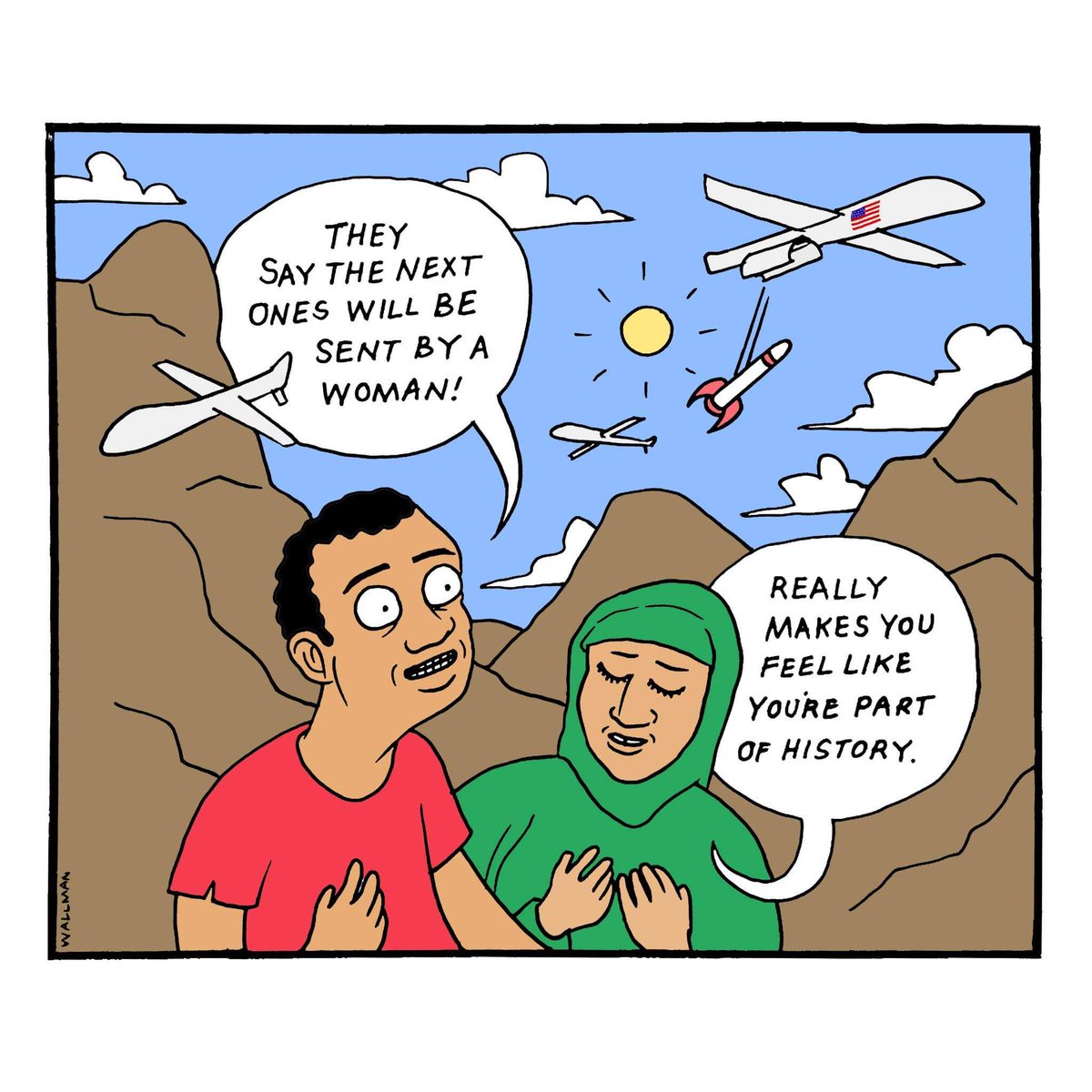 How about we do something about the enormous control fraud occurring rather than focusing on gaining "representation" of who is performing control fraud? If executives could have their compensation brought down to historical and international levels (which would mean a massive pay cut for both Sandberg and all of the Facebook executives who are grossly overcompensated), we could have more for the people that work in the company — which surprise surprise, many of which are also women.
Interpreting Sandberg's Hazy Understanding of the Weinstein Case
She would know if she bothered to read the Weinstein case's details because there were women in The Weinstein Company's leadership roles. And they enabled Weinstein to do what he did. There were also plenty of female actresses in Hollywood with great influence who knew what was happening, who could have said something, but none did. There were female PR agents who took The Weinstein Company's money and would have known they were communicating false information about Weinstein and covering up his behavior, and would likely lead to more women being harassed. But, let us be clear on the ethical standard. What do we think PR firms do for a living? If you don't want to herald for scumbags, PR will not be a good career choice.
Sandberg is simply projecting what she wants on the Weinstein case, rather than observing the evidence of the Weinstein case. Sandberg's proposals indicate that this deeply broken record feature indicates that she is projecting from her interest rather than using evidence to drive her conclusions. She will backward engineer any situation to match her personal interests. This is a dishonest individual and one who greatly overestimates her own intelligence level.
How Would Facebook Respond to Accusations of Sexual Harassment of Mark Zuckerberg?
Let us perform a thought experiment.
What would Facebook do if Mark Zuckerberg were doing the same things as Weinstein was doing?
The answer is straightforward.
Facebook would cover it up. Furthermore, they have a "fiduciary responsibility" to their shareholders to discredit any of their top officers and buy off any accusers and bind them with NDAs. This is because a legitimate case would depress Facebook's stock price, and Sandberg is duty-bound by her position as COO to make any claim like this go away.
Combining Extensive H1-B Hiring Along With Female Empowerment?
Something else that neither the establishment media nor Sheryl Sandberg will notice is that one cannot both have H1-B visa employees and have "female empowerment." The more Indians that infuse the US and international IT employment markets, the more discrimination will happen to all women who work in this sector. In the article How H1-B Indians Create a Hostile Workplace for Women, workers on foreign work visas and previously on foreign work visas from countries like India are among the primary factors that drive women out of STEM fields and IT.
This brings up the following questions.
Did Sheryl Sandberg ever consider the impact on female employees of bringing in enormous quantities of men from a country routinely ranked as one of the world's worst countries to be female and blocking out domestic workers from Facebook?
Does Sheryl Sandberg know how many women reach Brightwork Research & Analysis to say how much they dislike working with Indian men?
Does Sheryl Sandberg really care what happens to the careers of women at Facebook?
Well, not if it reduces Facebook's ability to maximize profit. Sheryl Sandberg might say that creating a culture that discriminates against US domestic female workers is a small price to pay to increase diversity.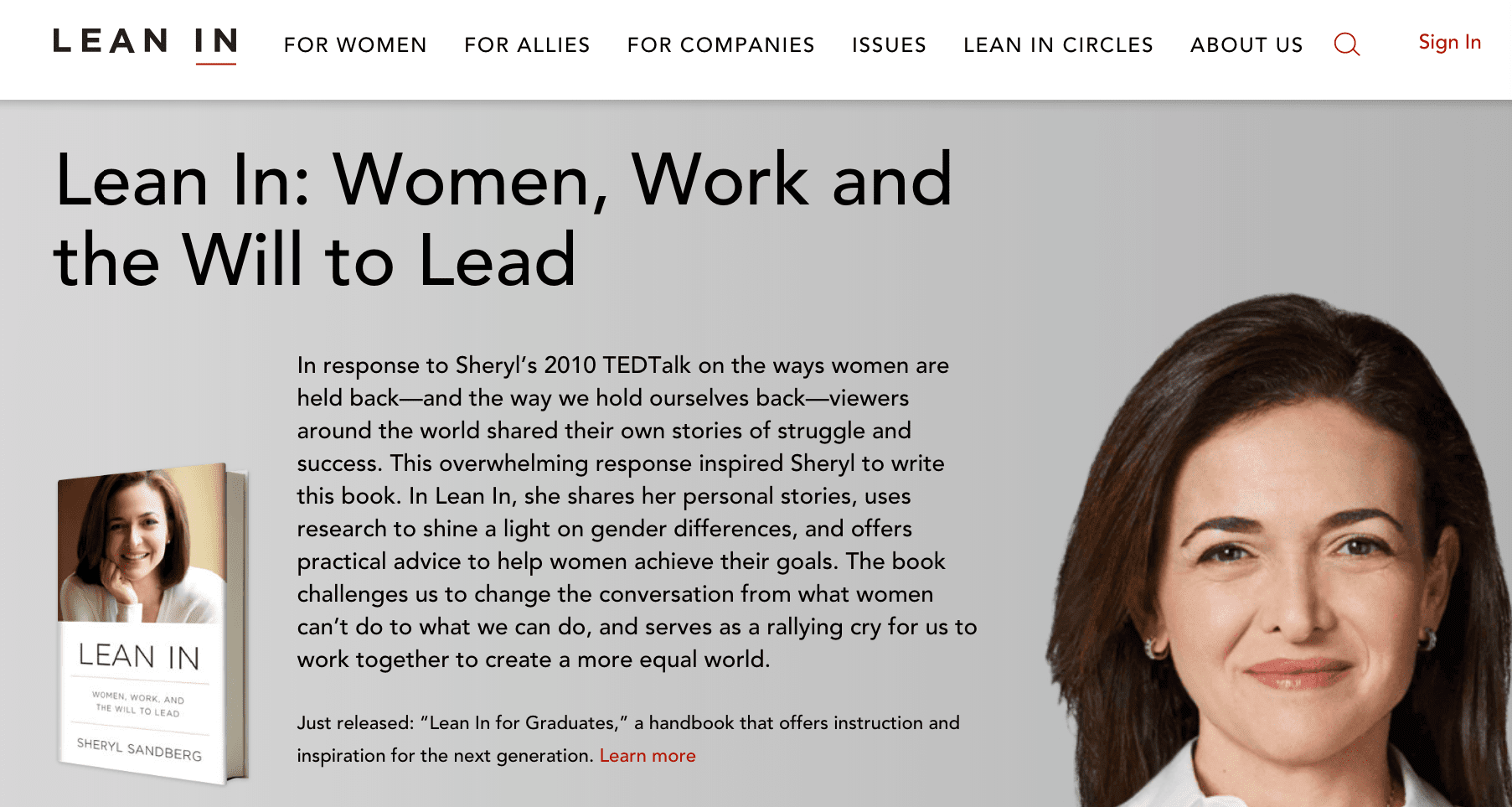 After the DOJ case illuminates how Facebook engaged in both US domestic worker discrimination and violated antitrust law, will we have to keep being exposed to Sandberg's cult of personality? 
Potential New Names for Sheryl Sandberg's Book
In her book, Sheryl Sandberg must be talking about empowering women who don't work at Facebook or women who don't work alongside Indian men in the IT sector.
For this reason, I propose a new title for Sheryl Sandberg's book.
Lean In, Just Not at Facebook
A second title would be…
Lean In, Just Not if You Are Not H1-B or an Telugu Speaking Indian of the Approved Caste
A third..
Lean Out, If You Plan to Get Past Our Indian Controlled Interview Process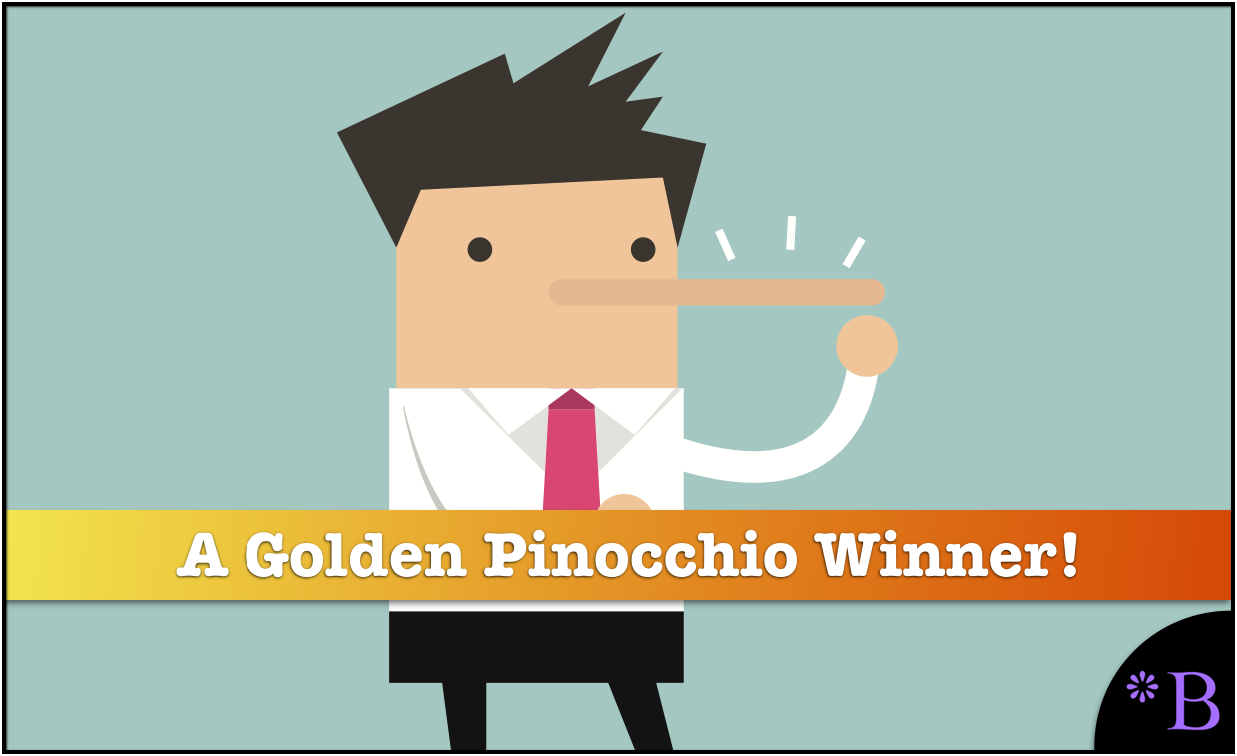 Facebook and Sheryl Sandberg receive our Golden Pinocchio Award for how they lie about this issue of putting women in leadership positions while undermining US domestic workers with the H1-B program and only caring about executive positions and not workers. 

Conclusion
There is no reason to listen to anything Sheryl Sandberg says about empowering women. Sandberg can't even run a company that operates ethically, treats user data with any respect (recall the Facebook scandal around how Cambridge Analytica used user data), and does not violate the H1-B law. This is because Sandberg does not care what is best for workers. Sandberg leads a company with absolute contempt for its users.
Is Sherly Sandberg a Role Model for Female Executives?
The idea that Sheryl Sandberg is some role model is absurd. Sandberg is exactly the type of "leader" we don't want. Male, female, or transgender, or just bi-curious. Facebook is a monopoly with a deficient user satisfaction level. According to a second recently filed case, Facebook has engaged in anti-competitive actions, as we cover in the article Why Facebook Needs to be Broken Up By the FTC.
Sandberg is not "ancillary" involved with Facebook's violations of user privacy. She was brought over from Google, where she was an expert in marketing manipulation of users. She set Facebook on the course of leveraging user information and then lying about what Facebook was doing. 
Let us say that we put more women in leadership positions, as Sheryl Sandberg proposes. Sheryl Sandberg is the COO of a vicious and dishonest monopoly that has used illegal and deceptive methods to force competitors' acquisition and lied to its users and regulators and even its media partners and potential employees since its inception. Sandberg's behavior with Facebook illustrates why virtue signaling is no indicator of what the person will do. While Sandberg would score a 10 out of 10 for virtue signaling, she would have to receive a 1 out of 10 for her real-live behavior.
Is Sheryl Sandberg proposing that we can have more of this type of behavior if we do as she proposes? Is that what we get from "empowering women to take leadership positions?"
Perhaps it might be better if someone else takes up this argument for women in leadership roles. I recommend a woman who is not entirely evil and can present a logical case with supporting evidence for the role.