How the South Africa Decline Mirrors the Decline of Eskom
Executive Summary
South Africa has been in a free fall since ANC took over South Africa.
The South Africa decline has been mirrored in Eskom, SA's power utility.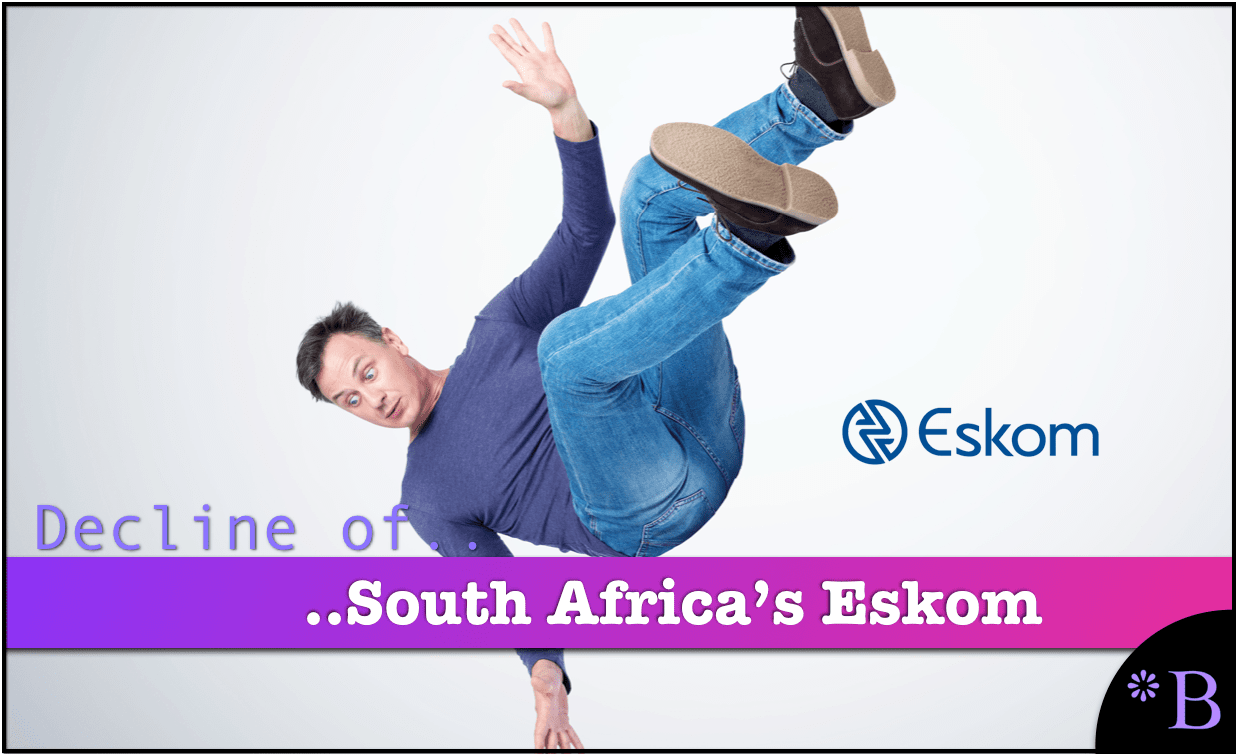 Introduction
Nearly all problems in Africa are normally presented by the political elites as due to colonialization. For decades African leaders have tried to dispel the notions about the ineffectiveness governance of African countries by stating that they are "recovering" from colonization.
See our references for this article and related articles at this link.
Since independence, all of the African countries have been placating their populations that the sad state of affairs is not due to their kleptocracy or nepotism but to colonialization. This is curious because colonizers ran much more efficient operations than African leadership. If we want to discuss the evils of colonialization, we need to evaluate the full picture. This means realizing what African countries accomplished under independence, and also recognizing how much Africa relies on the technology from colonial countries. Otherwise, it is a rigged view.
Let us look at the power generation capability of some of the African countries.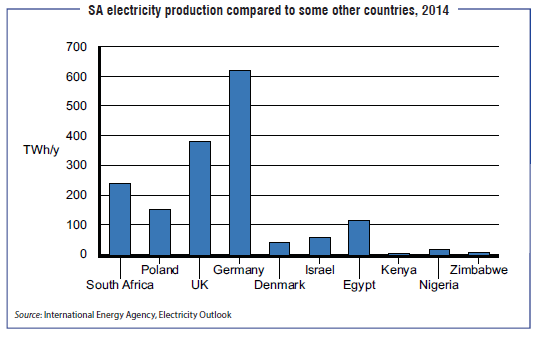 Notice how much more power generation capacity South Africa has than other African countries that have larger populations? Nigeria has a population roughly four times as large as South Africa, yet look at its power generation capability.
Is South Africa's European built power system also a legacy of apartheid that SA must recover?
How much power were African countries generating before the arrival of Europeans? The answer to that is zero. Are black South Africans willing to give up that power to "decolonize" or do they want to take possession of the SA Eskom power utility, and push whites out of the utility? Well, we know the answer to this already. Eskom is now featherbed with an enormous number of black employees that are not qualified to work at Eskom but know the right person at the ANC.
What Has Happened to Eskom Since the ANC Took Power?
To answer this, let us review the history of SA's power utility.
Eskom was free of this from 1923 until 1994. Its brief was simple: to make sure that South Africa had enough electricity. It was very lightly regulated, much less so than private electricity utilities in the United States of America (USA). It was an autonomous organisation run by technocrats. Engineers were in charge and were appointed entirely on merit. Even under apartheid, there was no attempt to Afrikanerise Eskom's senior management. Eskom's greatest CEO was Ian McRae, an English-speaker.  Eskom was entirely self-financing.  There were no state subsidies for electricity.

In about 1969, after South Africa's economic growth rate had topped 6% in various years in the 1960s, electricity demand threatened to outstrip supply. In those years, growth in electricity demand was double economic growth.  Near panic set in. Then Eskom made its best ever strategic decision: it decided to embark on a concerted programme of building huge coal stations of standardised design, each one having six identical units. The result was that vendors and contractors from all over the world tripped over themselves to give Eskom the best prices and conditions. The stations were built on time and on budget. They were funded via cheap debt and all the debt was timeously repaid.  The taxpayer didn't have to pay a cent.  By the end of the programme, Eskom had plentiful and very reliable electricity at probably the lowest prices in the world – lower than that from private utilities in other countries.

South Africa's vast reserves of cheap, easily mined (although low quality) coal was partly responsible for this success. More important was the clear-sighted, well-planned, consistent programme of new building, which was based entirely on technical and commercial considerations. – PoliticsWeb
The Decline of South Africa's Power System
This was a utility that worked quite well when whites ran the country. It worked very well, even though, according to black South Africans, it was a "colonial" artifact.
Let us review some of the many issues around Eskom.
In January 2008 Eskom controversially introduced "load shedding", planned rolling blackouts based on a rotating schedule, in periods where short supply threatens the integrity of the grid. Demand-side management has focused on encouraging consumers to conserve power during peak periods in order to reduce the incidence of load shedding. Following the national power shortage in 2007 Eskom embarked on an aggressive electricity production expansion program during the administration of President Jacob Zuma. The Zuma administration decided to focus expansion efforts on building additional large scale six-pack coal-fired power plants.[11]

In 2017 Eskom was the focus of a major corruption scandal involving the Gupta family and the administration of then President Jacob Zuma.

The National Energy Regulator of South Africa denied an application by Eskom to increase electricity tariffs by a future 19.9% for the financial year 2018/19. The regulator instead granted a 5.2% increase and gave a list of reasons for the refusal to grant higher tariffs that the South African newspaper Business Day stated painted "a picture of inefficiency, inaccurate forecasting and cost overruns" at the power utility. Part of the refusal was the finding that Eskom had an additional 6,000 employees that were not needed, costing the company R3.8 billion annually.[14]

Corruption during the Zuma administration has been noted as a major factor in the cost overruns and long delays in completing Medupi and Kusile power plants that has had a knock on effect leading to the 2019 power shortages.[16] The power shortage and related troubles at Eskom was blamed as a significant contributing factor to a 3.2% decline in GDP growth in the first quarter of 2019,[17] prompting fears of a recession in 2019.[18]

In 2011 eight out of ten Eskom board members were controversially sacked by the Zuma administration.[11] From 2015 to 2017 the Zuma administration appointed Ben Ngubane as chairperson of the board. Ngubane's tenure as chairperson was controversial for his involvement with the Gupta family and for attempting to blacklist newspapers perceived as unfriendly to Eskom.[69]

In July 2018 it was announced that Eskom had taken out a R33 billion loan from the Chinese government owned China Development Bank.[104] The loan conditions were controversially[105] not made public with accusations that it was an example of debt-trap diplomacy by China.[106][107] During the Zondo Commission of Inquiry into state corruption a senior Eskom executive stated that an additional R25 billion loan from the China-based company Huarong Energy Africa was improperly and controversially taken out by Eskom.[108] After the loan had been issued Eskom chairperson Jabu Mabuza stated to the Zondo Commission that Eskom would not be repaying the Huarong loan due to irregularities and corruption involved in the issuing of the loan.[109]

Eskom was forced to suspend its Chief Financial Officer Anoj Singh in July 2017 when the Development Bank of South Africa threatened to recall a R15 billion loan if no action was taken against Eskom officials (including Singh) who were involved in corruption allegations involving to the Gupta family.[76] In September 2017 Minister for Public Enterprises, Lynne Brown, instructed Eskom to take legal action against firms and individuals involved; ranging from Gupta family owned consultancy firm Trillian Capital Partners Ltd. and consultancy firm McKinsey to Anoj Singh and acting Chief Executive Matshela Koko.

An investigation done by the amaBhungane Centre for Investigative Journalism found that the Gupta family had received contracts worth R11.7 billion from Eskom to supply coal between 2014 and 2017.

– Wikipedia
The Guptas are a major corrupting force in South Africa and were intertwined with Jacob Zuma.
The crisis is also described as follows:
 Our Eskom crisis has three major interlinked causes, the largest of which is the dysfunctional and tardy construction of two of the world's biggest coal-fired generating plans; Medupi and Kusile. According to Wits Business School energy fundi, Professor Rod Crompton, they are probably the largest single disaster in South Africa's economic history. The answer to the question why is the second contributor to our predicament; patronage networks or State Capture, and their attendant corruption and poor management leading to over-staffing and neglected maintenance, resulting in constant breakdowns. The third factor? Electricity theft and an enduring culture of non-payment. – BizNews
The problems are further explained by this quotation. It is more than featherbedding. It is also state capture.
Eskom has become the poster child of state capture and failed state-owned enterprises, and is by far the biggest risk to the South African economy.

The power utility's debt is sitting at a staggering R450 billion, with 62% of this debt government-guaranteed.

Debt, however, is only one of its problems. It is massively overstaffed, it lacks critical skills, it has ageing power stations, and its maintenance is a mess.

Eskom's dismal state was in full display this month when load-shedding hit a record stage 6, plunging the country into darkness. – My Broadband
Filling Eskom With Low Competence Black Employees
Furthermore, through political patronage, the ANC has been active in replacing white workers with black workers, and overstaffing Eskom, increasing its costs. Eskom now has fewer competent workers and has an overall culture of nepotism and corruption that has been installed by the ANC. This is covered in the following quotation.
There has been a "significant loss of critical skills," with "poor quality of maintenance" and "poor workmanship" causing breakdowns, of which 40% is due to human error, according to Gordhan.
The company is suffering from "systemic corruption, malfeasance, fraud and state capture" that has "compromised the credibility of the organisation and eroded investor confidence", Gordhan added. – Fin24
The following quotation reinforces this.
In 1994, when the ANC took power, there were unfortunate changes at Eskom: some of them predictable, some of them surprising.  Race-based affirmative action, political interference, and political appointments were predictable.  Highly skilled and experienced white engineers, managers, and technicians were given generous 'packages' to get out and make way for persons of the correct skin colour and political affiliation.

Instead, they were preoccupied with other goals, such as racial transformation and keeping the price of electricity artificially low for social purposes.  Accountants replaced engineers at senior levels, and those accountants lost sight of Eskom's fundamental purpose, which is simply to provide electricity and cover its costs – not make a big profit or a high rate of return.

Eskom's incompetence has added other problems to the generation shortage.  In January 2008, during a period of heavy rain, a large number of the big coal stations failed, plunging much of the country into blackouts and shutting down all the gold mines.  The economic losses were enormous.  The reason was a disastrous decision by Eskom to shift some of its coal supply away from its established contracts with big coal mines and instead start buying coal from a variety of small, black-owned mines.

This was done for reasons of racial procurement.  As a result, Eskom started receiving poor coal of varying quality.  This problem was compounded by an idiotic decision by Eskom accountants to reduce coal stockpiles at power stations so as to save on stock costs.  When persistent rain fell on low, messy stockpiles of bad coal, it turned them to sludge, which clogged up the mills, chutes and nozzles feeding pulverised coal to the boilers.  They shut down.

– PoliticsWeb
Is this decline of Eskom also to be blamed on the "legacy of apartheid," or will it be placed at the foot of the ANC, that has had total control of Eskom? Isn't it entirely clear that African rule is degrading the infrastructure that was put in place by the white individuals that built up South Africa?
As the ANC has been using Eskom for their purposes. White South Africans are increasingly discussing "going off the grid," because they see the future of Eskom as uncertain.
This is explained in the following quotation.
"Eskom's inability to supply electricity and the ever-increasing prices have provided an incentive for users to replace inefficient equipment" and shift to solar panels, Elena Ilkova, a credit analyst at Rand Merchant Bank, said by email. This "will leave Eskom to supply increasingly higher-priced electricity to consumers who can barely afford to pay and many more consumers who either can't or will not pay," she said. – BizNews
Conclusion
African countries are not "recovering" from colonialization. Colonialization was the high point for African countries. Analysis of the degree to which European powers colonized various African countries shows that those that were the most colonized have fared the best. Countries like South Africa that stayed white governed did very well until they reverted to black African rule. The same is true of Namibia — although they continue to have white rule.
None of this is to turn a blind eye to abuses under the white rule of South Africa — however, these abuses were better than how Africans in other parts of Africa were treated. The blind eye that is turned is by those that only observe abuse if the abuser is of European descent. Again, Africans from African run countries immigrated into South Africa during the apartheid period.