Expanding Section: The Reality of the Oracle Autonomous Database
Larry Ellison has a low accuracy when he delivers statements. And in this video, he delivers some quite preposterous quotes in his explanation of the Oracle Automated Database.
Let us review some of Oracle's claims.
AWS Costs More Than Oracle Cloud to Run the Oracle Database?
"On an Oracle database running at Amazon, will cost you 5 times what it costs you to run in the Oracle Cloud because it will take you 5 times the amount of computer to do the exact same thing. A Redshift database will cost 10 times more to do the same thing at Oracle Cloud.  And that is not counting the automation of the database function. That is not counting the downtime as Oracle Cloud has virtually no downtime." 
Oracle which is known as being the most expensive database to maintain short of SAP HANA (HANA's costs are also related to its immaturity and quality problems and therefore can be viewed as a bizarre outlier), the statement by Ellison around the amount of compute power presumes that Oracle has some advantage over AWS in compute power. Oracle has the Exadata appliance, but Exadata is far more expensive in computation than AWS servers. This is in addition to Oracle being far less sophisticated in their cloud capabilities than AWS.
Other points of contradiction versus Larry Ellison's contentions.
AWS is considerably more advanced than Oracle in its cloud and can run many customers in a single RDS database.
On Ellison's last point, Oracle Cloud has more downtime than AWS, not less. A major reason for this is that Oracle violates all of its SLAs as they are able to blame failures on the facility locations, that they do not own. AWS cannot do this as they own all of their core data centers and only have co-location facilities at the edge of their network, which are used for hybrid cloud. This information can come from many people reporting around Oracle Cloud from the field.
The Autonomous Database Automates Data Lake and Data Preparation?
"Examples of automation Oracle said it would offer are automated data lake and data prep pipeline creation for data integration; automated data discovery and preparation, with automated analysis for key findings; and automation of identification and remediation of security issues in a developer's code during application development."
These are all highly suspect claims as none of these items is known to be able to be automated.
At OpenWorld in 2017, Larry Ellison claimed
"The new database uses artificial intelligence (AI) and machine learning. It's fully autonomous, and it's way better than AWS's database, Ellison said."
Our Work in Database Research
We perform extensive database research, review database benchmarks, we were the first to report how HANA differed in reality from SAP conjecture, and are in frequent discussion with database experts from around the world and in different database disciplines. And the claims around the Autonomous Database simply do not make sense.
When Oracle first announced the Autonomous Database, the Wall Street analysts, by in large, proposed that Oracle had something new and exciting on their hands. They did not seem to consider the fact that it might not be real. In our view, the reason that the Autonomous Database can only be deployed from the Oracle Cloud, and not on premises, is that the Autonomous Database is actually a managed database service, and the "AI" is actually just Oracle engineers making the changes in the background.
The Autonomous Database as an Example of Oracle Reacting to AWS
The Autonomous Database concept is simply an attempt to staunch the loss of on-premises licenses to AWS (migrating the database to AWS can improve processor and thus license efficiency). It also allows customers to reduce their renewal of Oracle support as AWS providers a managed database service, which in effect, outside of upgrades, is better support than what Oracle provides, and it is included in the price of AWS RDS.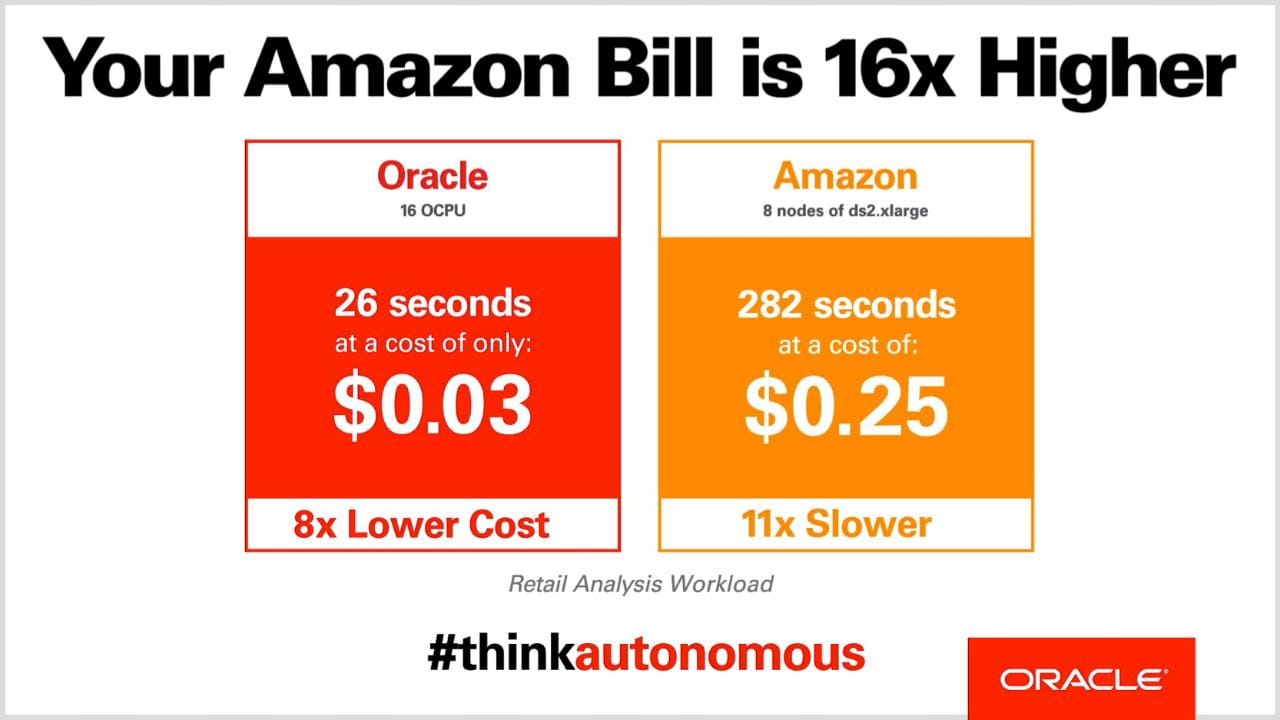 A common advertisement from Oracle against AWS. Larry Ellison has something negative (and false) to say just about every time he speaks.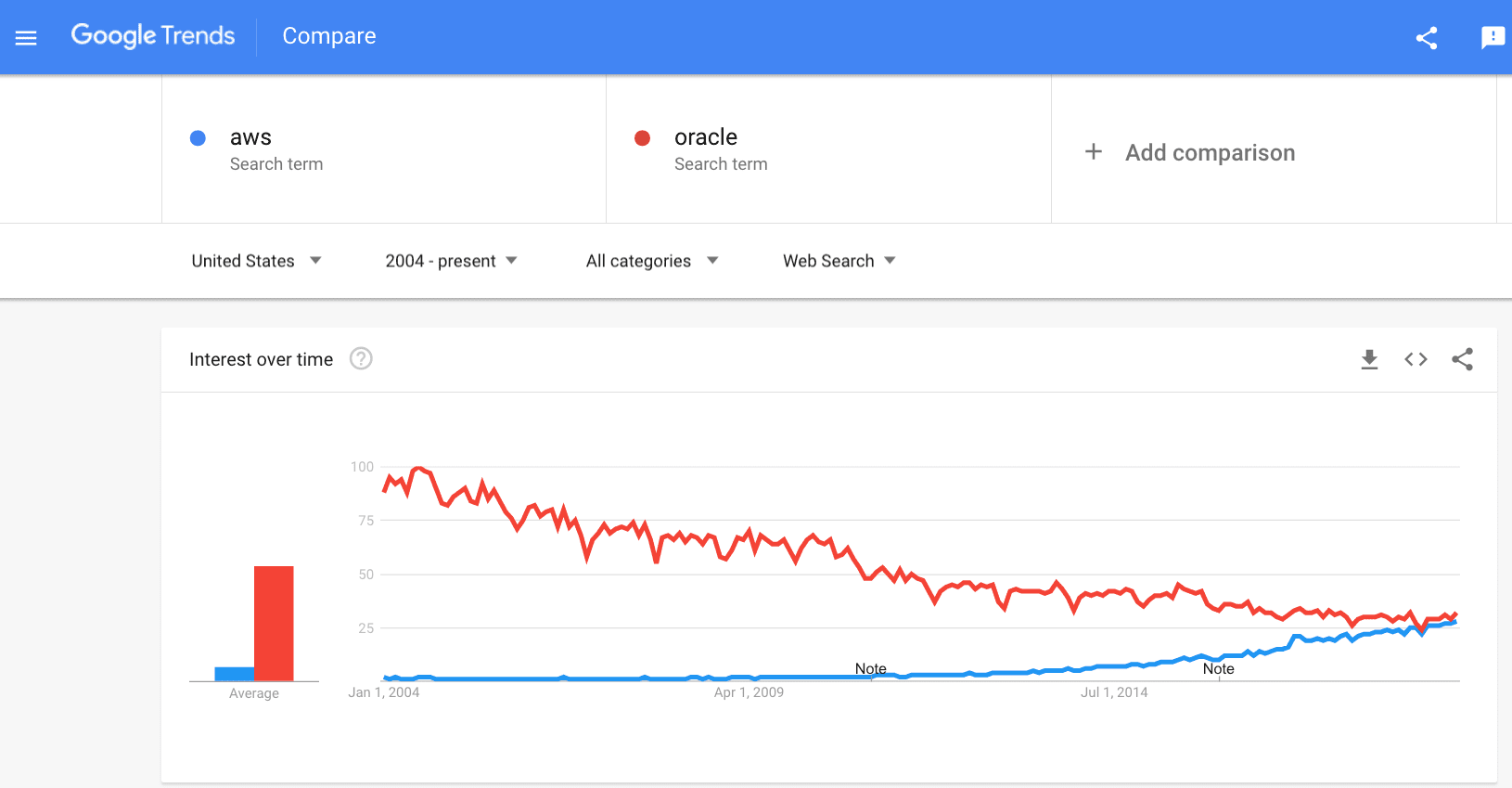 One wonders if this Google Trend comparison of Oracle versus AWS in website searches, representing the rise and decline of interest in each company is related to Larry Ellison's commentary. 
Without the success AWS has had in migrating Oracle databases to the AWS cloud, the concept of the Autonomous Database is never introduced.
Over the long term, Oracle will lose increasing numbers of on-premises Oracle instances to AWS migration because the value is excellent.
Category: Oracle