The Decline of The South African Police After Apartied
Executive Summary
South Africa's police went into steep decline after the takeover by the ANC.
This has led to more South Africans being victimized by crime.
Introduction
The ANC projected that the South African police would be incredibly improved after it took over, as it would no longer be a racist form of policing. Let us see how the ANC performed.
Our References for This Article
See this link if you want to see our references for this article and other related Brightwork articles at this link.
Massively Rising Crime Rates
This is explained in the following quotes.
South Africa, almost 7,000 people were murdered during the final 90 days of 2021.

During the same time period, 11,300 women and girls were raped, according to police.

The latest crime statistics for South Africa—a nation populated by 60 million people—show dramatic increases in all violent crimes, including homicide, carjacking, and armed robbery.

"With 75 murders a day now, I think it's time to accept that our rainbow is now soaked in blood," Bantu Holomisa, leader of the United Democratic Movement Party – The Epoch Times
Many blacks, who refuse to acknowledge the decline of South Africa have come up with a false claim that South Africa is still "recovering" from apartied, and therefore the ANC performance should not be negatively judged. However, South Africa never had this crime rate under Apartied and before the ANC took power. This is shown in the following quotation.
"What's really worrying is that there's been a 21 percent increase in murder from 2017/18. That's massive. We've seen a similar trend of attempted murder of a 17 percent rise over that 5-year period," Lamb said. "Car hijacking is up more than 30 percent; cash-in-transit heists up by a jaw-dropping 40 percent."

A survey by Statistics South Africa shows that nearly 80 percent of South Africans don't feel safe in their own homes. Many feel "besieged" by criminals. – The Epoch Times
Critiques of South African Police Under Apartied
It is a fact of history that policing in South Africa was traditionally highly centralized with total disregard of human rights and authoritarian. While these characteristics ensured that police were effective under apartheid in controlling the political opponents of the government, it meant that they were poorly-equipped for crime control and prevention in the new democracy.

Under the apartheid rule, the police force lacked legitimacy and functioned as an instrument of control rather than as a police service dedicated to ensuring the safety of all citizens. For example, police presences in townships were used to anticipate and respond to collective challenges to apartheid. In transforming the SAPS we needed to be real about what was working and what was not.

In the past, national security was pursued primarily through military and paramilitary means. The effects of this approach to security were evident in that we experienced high levels of violence and crime, economic decline, destabilization and perpetual insecurity throughout the sub-continent.

In 1994 we ushered a new dawn for our country. The Constitution of the Republic as adopted in 1996, boldly stated the aspects of recognising our inherent negative past however paving a way for a democratic future. – South African Police Services
Seems straightforward enough. According to the ANC, they were going to create a far more effective police force than existed under apartied, and it would serve everyone.
Police Dealing With a Much More Difficult Environment
South Africa has seen a complete system decline since the ANC took over. This means that the problems the SA police face are worse than at any time under apartied, as explained in the following quotation.
This "flight syndrome," as the consultants put it, is driven by fear of crime, as well as an official unemployment rate of 35 percent, the highest in the world. "Sixty-five percent of young people who should be working don't have jobs," Holomisa said. "It's a time bomb. It's not old people who are hijacking cars and blowing up money trucks: It's young, angry, frustrated, strong men. This government's economic policies have failed; any fool can see that." – The Epoch Times
And the number of police has declined, due to budget cuts as is explained in the following quotation.
Security officers now outnumber police members by more than two to one, according to government statistics. The state has responded by introducing tougher regulation of the private security industry while simultaneously cutting policing budgets by billions of rands. – The Epoch Times
The gangs are now attacking protected areas as is explained in the following quotation.
Criminal gangs are now so brazen that they're attacking heavily fortified security complexes and gated communities. These posh fortresses once were considered to be the safest places in the country, with their high, electrified walls and armed guards. That's no longer the case. The gangs carjack trucks and use them to smash their way into gated communities to steal, relying on the police's usual slow response time to make their getaway. Sometimes the criminals use fake IDs and QR codes to gain access to complexes, often in cooperation with security guards. – The Epoch Times
Who Was Central to the Reduction in Police Effectiveness?
As with many things, it is tracked back to the disastrous reign of Jacob Zuma, as is explained in the following quotation.
The man responsible for this "casting aside" was former South African President Jacob Zuma. Shortly after he became president in 2009, Zuma fired experienced intelligence operatives and disbanded key law enforcement units.

He replaced them with political allies who had little to no policing experience. This gave him license to allegedly plunder state-owned enterprises, knowing that law enforcement wouldn't investigate him.

"The police no longer have the skills necessary in order to do a proper analysis of crime trends," he said. "With no proper analysis, they can't send resources to where they are most needed. – The Epoch Times
This is a constant feature of ANC leaders and the ANC's reign since taking over the country over 30 years ago. People with expertise are removed and replaced with people without expertise. And because Zuma was himself a criminal, and wanted no law enforcement that would stop his own corruption.
Police Protection for Rapes Under Under the ANC
The following quotation illustrates how rape has been policed by the ANC-controlled South African Police Service.
Moreover, 1 in 3 women can be expected to be raped in her lifetime (Moffat 2006, 129). These shocking statistics are worse still by the fact that many sexual attacks in South Africa are not reported; the Medical Health Council suggest only 1 in 9 attacks are (Rape Crisis, Cape Town Trust 2015). The Women's Health Project, 1992, survey showed 50-60% of marriages involved physical and sexual violence (Hassim 2009, 66), showing violence against women is a normalised part of society, including in intimate relationships.

Additionally, just one in four hundred rapes in South Africa end in a conviction due to the incompetence of the police, often losing evidence (Anderson 2000, 793). In Soweto, between 5-50% of reported rapes go to court but out of that number only 7-13% result in a conviction (Jewkes and Abrahams 2002, 1232). Moreover, there are suggestions the police will take bribes by the accused rapist to make the charges 'disappear'. In Southern Johannesburg, it is estimated 1 in 20 pieces of evidence is lost in a fraudulent manner (Jewkes and Abrahams 2002, 1232). It is, therefore, no surprise women are not inclined to report sexual abuses and why sexual violence is still so prevalent within South African society. – SA History
However, between apartied and when the ANC took over, the effectiveness in prosecuting rapes does not appear to have improved?
Trust in Police Since the ANC Takeover
The police are no longer considered reliable. And many times the police are not called, as is explained in the following quotation.
Police in Cape Town, South Africa, arrest a suspect on Nov. 21, 2021. Citizens' trust in the police, though, has plummeted after decades of high crime.  Police in Cape Town, South Africa, arrest a suspect on Nov. 21, 2021. Citizens' trust in the police, though, has plummeted after decades of high crime.

Lamb said citizens don't trust the police to protect them. In fact, people now take the law into their own hands.

"Residents will pay these non-state actors to recover stolen goods or to mete out street justice to suspected killers and rapists," Lamb said. "The suspects are stoned to death and burned, often in sight of children, who begin to accept brutal violence as normal and the way to solve problems.

In many townships, inhabitants no longer bother calling the police when they've fallen victim to a crime. Instead, they call "neighborhood watch" groups or taxi associations, whose drivers sometimes moonlight as vigilantes. – The Epoch Times
Reducing Brutality Caused by the South African Police Services
A constant complaint of black Africans was that apartied the South African Police were brutal towards blacks.
How did that change once the ANC took over? The following quotation is illustrative on this point.
In South Africa, the hope was that Black officers would help transform policing into a human rights endeavor. In fact, South Africa has one of the most progressive constitutions in the world, which was finely crafted to abandon the historical vestiges of its apartheid past. It protects socioeconomic rights and reflects an affirmative duty to of the police to protect women from gender-based violence. These steps were necessary because the South African Police was the enforcement arm of apartheid and the face of apartheid. For a smooth transition into a true democracy, it was important to demonstrate the police organization's commitment to human rights norms in the new political environment.

The police force went from a white-dominated force to a Black-dominated force, with 81 percent of officers identifying as Black in the Gauteng province that includes Johannesburg. Despite all the transformation and adoption of human rights protocol and handbooks, police violence remains. – The Hill
The question is not merely if it remains, but the incidence of police violence, whether it went up or down.
The quote continues.
South African Police Service killed 34 people during a protest in Marikana in 2012. The police have ignored or were actively involved in xenophobic-motivated attacks against foreigners in 2019, 2015 and 2008, and the police used force to break up protests against the wave of xenophobia. In my own interviews with Black police officers in South Africa, I was surprised to learn that many of them look back at apartheid with nostalgia, as a time when police had more absolute power to use force and "be police."

Within societies that are with a history of anti-Black racism, police will enforce white supremacy regardless of whether their troops are white or Black. – The Hill
This is a curious accusation, and it is also an unfalsifiable hypothesis that presumes black police are acting out white supremacy. Furthermore, many police throughout Africa are as violent or more violent than the black police in South Africa.
African countries have high levels of police brutality. 
There is no black country in the world that has the human level of policing that matches the US. However, blacks in the US for some reason think that they have the answer for how to produce effective policing. BLM states that the answer is to end all policing entirely. It's curious how black-run countries don't seem to be able to eliminate their policing.
If police brutality is common in Africa, more common than in any other region (with Latin America being 2nd) how are South African police acting out white supremacy? 
It appears that the primarily black police force in South Africa has a similar pattern of violence as the mostly white police force under apartied.
How does this author know that blacks are enforcing white supremacy? Did the author attempt to test this hypothesis before writing this statement.
One of the worst police forces in Africa is the police force of Nigeria. They are quite brutal. However, they did not live under apartied. Are Nigerian police also enforcing white supremacy? They never went through apartied.
Furthermore, is this something that black South African police themselves say, that they are enforcing white supremacy?
Do they believe in white supremacy?
Lack of Law Enforcement and Public Safety In Part Due to Decline of South African Rail
Under apartied, the South African police were able to protect the rail system. However, after several decades under ANC rule, personal safety could not be provided, which led to a steep decline in passengers and passenger revenue.
This video explains that the South African police and the private security firms could not stop the looting of the rail system. 
More on this looting of the SA rail system is explained in the following quotation.
Railway tracks have been stolen all over the country, and there is virtually nothing left of the six miles between Brakpan and Springs, on this line. Rails and ties have disappeared. Overhead power lines have been stolen, supporting poles are bent or broken, security fencing has been carted off in trucks and wheelbarrows. The Springs railway police, responsible for this corridor, doesn't have a single patrol vehicle. Throughout South Africa, our once world-class railway system is being plundered piece by piece.Most of our secondary roads have become like the rest of Africa: potholes, no shoulder, grass growing into the center of the road. There are small forests, with trees as tall as a man growing out of sidewalks and right up to roadsides. Everyone sees the decay, but the ANC doesn't seem to care. Someone said they see nothing ugly, and they see nothing beautiful. Years ago, I heard a former Transkei official tell a visiting American that "we don't care if the roads turn to dust, as long as we get rid of the whites." Their roads turned to dust. – American Renaissance
An image taken from the top of the pedestrian bridge at the Old Benrose train station, Johannesburg, showing the remains of what was once several railway lines. (Photo: Shiraaz Mohamed) (From the Daily Maverick)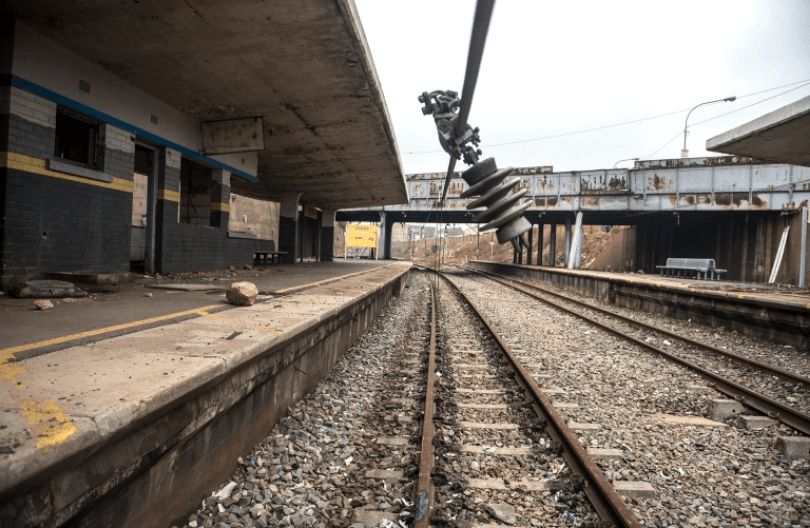 An overhead cable hangs close to the tracks at the Jeppe train station. Thieves cut the overhead cable to be sold as scrap. (Photo: Shiraaz Mohamed) (From the Daily Maverick)
Underground cables were not spared, with the vast digging up and hacking at train stations. Coaches have also been targeted by criminals, and have been stuck at some stations such as Midway for some time.

Distribution boxes at many stations have been torn and disembowelled of their tiny copper cables. In some instances, the boxes are torched.

The mining of the country's rail infrastructure has been going on for years.  But during lockdown, with no security personnel around, perpetrators escalated their efforts. The extent of the looting of the country's rail network has been highlighted in various media outlets over recent months.

On any given day, people can be found scratching for whatever little has been left behind at George Goch station. Extensive damage was also caused to the walls of some buildings at the station.

Perpetrators are not all individual pilferers. Some operate within organised networks. This is how they have managed to steal even the rails, missing along a stretch of the station.

Metrorail Gauteng spokesperson Lillian Mofokeng responded to queries from Daily Maverick, agreeing that it was "unfortunate" that the looting of the rail network would directly affect people who depended on rail for travel.

"The Metrorail market comes from mainly disadvantaged communities and with the high level of unemployment the lack of service will unfortunately strain further the same communities," said Mofokeng.

"The vast open nature of the Gauteng Metrorail network means there are 218 stations and halts (10 super core, 29 core, 49 intermediate, 48 small and 82 halts) and 1,380km of rail track, 157km of rail network, making it difficult for Prasa to effectively secure both the stations and the rail network.
Some of the looting was of power lines, and this looting is common in South Africa, which is something I cover in the article How South Africa's Decline Mirrors the Decline of Eskom.
Conclusion
The ANC was not successful in creating an improved policing function in the country. They lied to the people that supported them that they would improve policing in the country. The ANC presumed they would be able to outperform the previous government and they have significantly underperformed the previous government.
Furthermore, the ANC is less capable of protecting South Africans and even South African infrastructure than was the South African police under apartied.
I cover in the article Why Did The Incidence of Rapes Increase After Apartied, that it is far more likely than not that the incidence of rapes increased in South Africa far more than the reported increase. The ANC cannot maintain statistics as well as The National Party could, and it is very likely that all forms of crime have increased since the end of apartied.
Finally, the ANC has dramatically degraded the South African legal system. And policing does not work in a vacuum but works hand in hand with the legal system.
See these quotes on how to pull South Africa out of its death spiral on the South African rail system video.
Not only railways are collapsing. The whole country has collapsed due to crime which the government failed to control. Top professional people are leaving the country. Bring back the death penalty to stabilise the country. – Anonymous
And this reply.
The death penalty can not be trusted in SA. Innocent People will be killed because of the incompetent justice system. – Anonymous
This illustrates how the ANC has degraded not only the SAP police but the overall judicial system.